EMYR Part 2


EMYR 2010 Part 2 – From Turkey to Cyprus, Syria,
Lebanon and Israel
From Alanya,
a 98nm overnight trip to Girne, Northern Cyprus. No yacht marina but a fishing
boat harbour with no jetties which meant rafting yachts alongside as well as
bow to stern, a very precarious as well as potentially dangerous situation as
we found out when the wind unexpectedly turned to West. We were stuck in the
inside corner, 6 vessels alongside and 3 to stern. Thankfully the wind only
came up to about 15kn and lasted only an hour one afternoon while we were on
board so with hasty teeing off of boats and movement of a couple to another
spot, disaster was avoided. Most everywhere we went in Northern Cyprus we were
treated to the political views of Turks (North Cyprus) versus Greeks (South
Cyprus), no friendship lost here! A couple of more visits to look at ruins, one
huge castle where we spent some hours, stood out.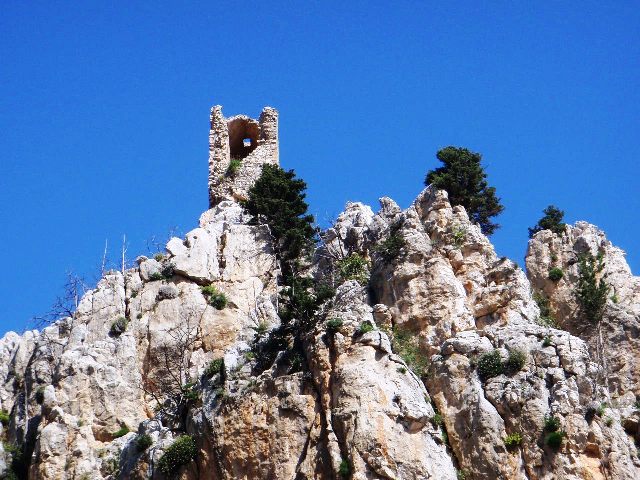 The story of the St Hilarion
castle fame goes something like this: Prince John of Antioch, brother of Peter
I king of Cyprus started living in the castle to be protected from the Genoese
attacks. But because he was lead to believe that his Bulgarian mercenaries were
secretly plotting against him, he called his guards, one by one to the castle,
and dropped them off the highest point – now called Prince John Tower.

The tour
organisers treated us with a lovely lunch at Bellapais Monastery gardens. The
visit finished with a stroll around the streets of Nicosia, where a separation
"green" line was a major attraction. We were treated to cocktails and dinner in
a wonderful setting, the courtyard grounds of Girne Castle.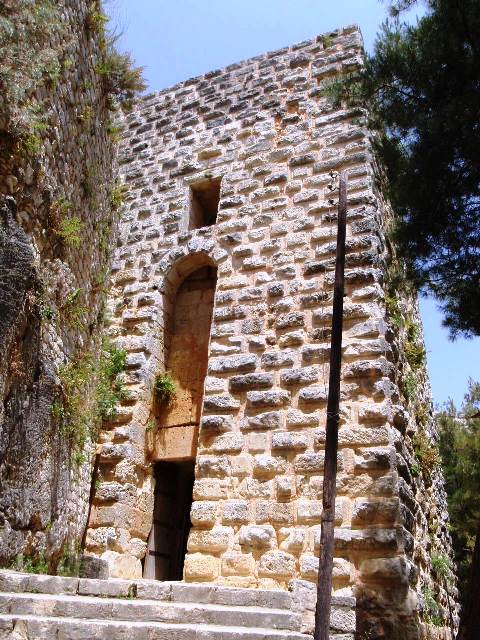 On a foggy
afternoon the fleet set of for Mersin back on the Turkish mainland, 148nm away,
alas more motoring than sailing. Another fishing boat harbour, this time with
ample jetty tie up space that the local fishermen had vacated to give room to
tie up the 70 yachts now in the rally fleet. Here we had a true cultural
experience, a night a full symphony orchestra playing Mozart Violin Concerto
and Rimsky Korsakov Scheherazade. The first violin concerto had a most
enthusiastic soloist, not quite my thing but Sasha really enjoyed. The
highlight of Mersin for me was the huge selection of Turkish sweets and
chocolates all locally made at the many such specialist shops, we stocked up!
On the morning of our departure for Lattakia, Syria, we still had a few Turkish
Lira left when we found a wonderful street local fresh fruit and veg market,
must have been over 50 stalls. With our big back pack filled for a whole 5TL, about
$3 we staggered back to the marina. One advantage of being on the rally is that
just hand in your documents, ships papers, passports etc in your rally bag then
collect them later all stamped and ready to go, this time an overnight passage
to Syria. With the rally now at 70 boats the vessels were split into 6 groups
based on size, we were asked to be group leader for group 2, orange group, 10
yachts. This entailed attending briefings given by the rally organisers, in
turn briefing my group, conducting 4 hourly radio skeds to check on all group
vessels then report progress to the rally leader, Dave on Mashona as well as
organise the arrival and berthing of the group at the next port. All a little
more than we had bargained on, especially given that of 10 yachts we had 8
different nationalities.
Just as we
finally picked up our passports in Mersin we were free to leave Turkey for
Lattakia in Syria. Mind you, the rest of the rally boats, all 69 off them did
exactly the same. So here we are again trying to move well away from the fleet
so not to bump into anyone. It's been hard work acknowledging
"dangerous" alarms generated by our chart plotter's Target tracking
from AIS or Radar Marpa. Our watermaker is also suffering badly due to lack of
operation, we got it going as soon as we left the harbour, spending the days on
end in filthy waters of various marinas is not our idea of having the fun.
First 2 hours we get beautiful sailing in 12 knots of wind, bit on the nose,
still pleasant. As I drift into the first shift sleep in the cockpit, the wind
gradually diminishes into mare 4 knots and ever annoying engine hum dominates
the sounds of the night. Since Alanya, we have motored the most of it - to
Girne in Cyprus and then to Mersin, now to Latakkia the main tank is already
half empty. With the Turkey's national and Israeli international political
incidents that happened on 31 May, EMYR planned rally route had been altered,
we no longer visiting Iskenderun, and Israel visit is put in doubt. Well we
know that this area has its problems, we just need to monitor the next few
weeks to determine how much we would be at risk.
Arrival in
the filthy Syrian fishing boat harbour of Lattakia turned into a bit of a
debacle when one of the boats that was to be tied up stern to the dock with
anchor out to hold the boat did a wonderful job of backing his boat in, but
forgot to drop his anchor. With no dingies or other boats to help he drifted
against one of the fishing boats and got stuck on the bottom. It took quite
some time to sort out while other members of the group sailed around outside
the harbour getting most agitated at the delay.
In Lattakia
we took on a crew member, a lovely Canadian 
lady, Leanne, who, with two others, could no longer continue on their
original vessel Manca. It was a fairly traumatic time for all involved, we gave
Leanne a key for Ednbal, cleared out the aft cabin and head to give her room to
move in. At the same time friends of Jim and Corolla off Koza, Aussies Jim and
Jenny, were organising a small tour group to do "our own thing"
instead of joining the rest in big bus loads. We ended up with 14 and a guide
to tour the Qala'at Saladin, dead cities, Damascus, Palmyra and Crac des Chevaliers
castle over 4 days. When we arrived in Lattakia our passports were taken by
immigration and we were given shore passes. On the first tour day we were, as
usual, running late for various reasons, one of them visiting Qala'at Saladin,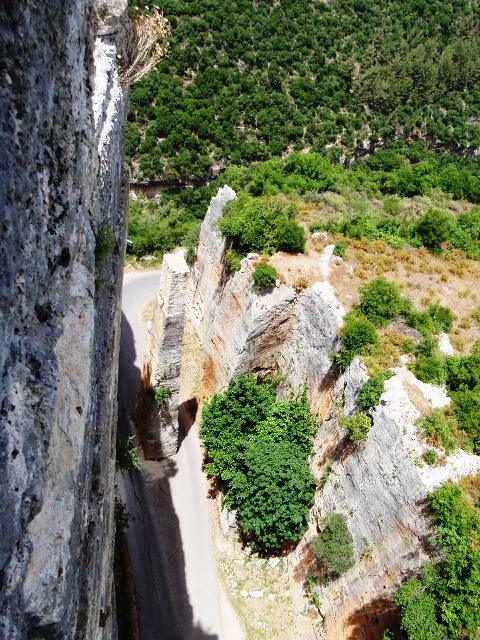 and did not arrive at our hotel in
Damascus until 11pm. Small problem, the hotel would not allow us in without our
passports, shore passes not good enough! After considerable negotiation by our
Syrian tour guide we all had to squeeze into a minivan taxi to the local police
station to try and get special permission to stay in the hotel with no
passports. The police station was more like a military post, armed guards a
plenty. More negotiation. We knew things were on the up when one of the guards
bought out a flask of espresso coffee (with cardamom) and 4 small cups to
share. Eventually permission was given, visa signed document and we all
returned to the hotel, now after midnight and hungry for dinner. Out in the
back streets we found a cafe that looked less dodgy than most and risked
dinner. A few of us had the squirts the next day,  we spent almost two days checking out the
sights (mosques, museums etc)  and sulks
(markets) of Damascus,
something that just had to be done.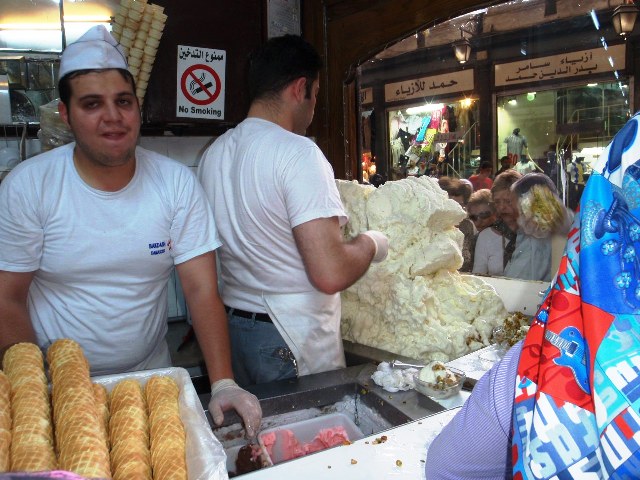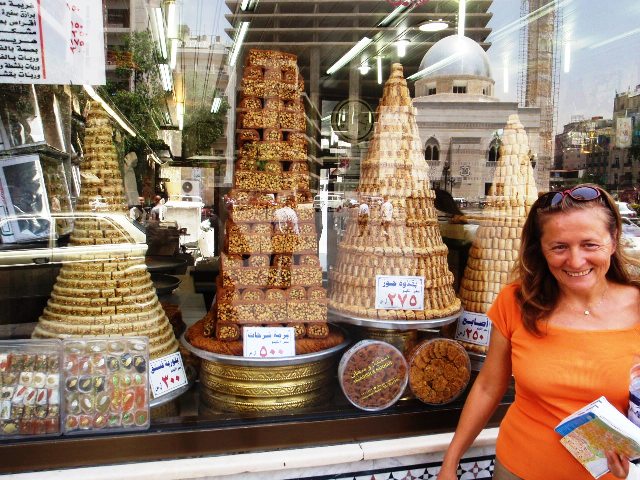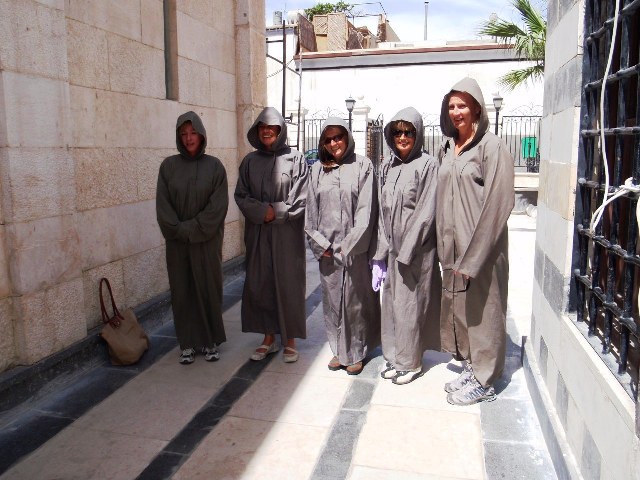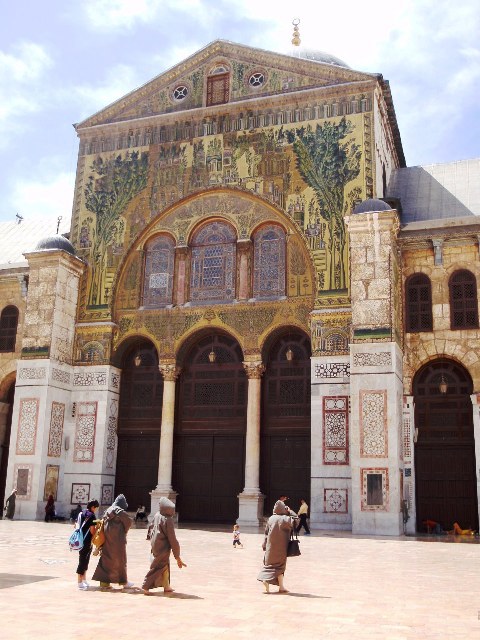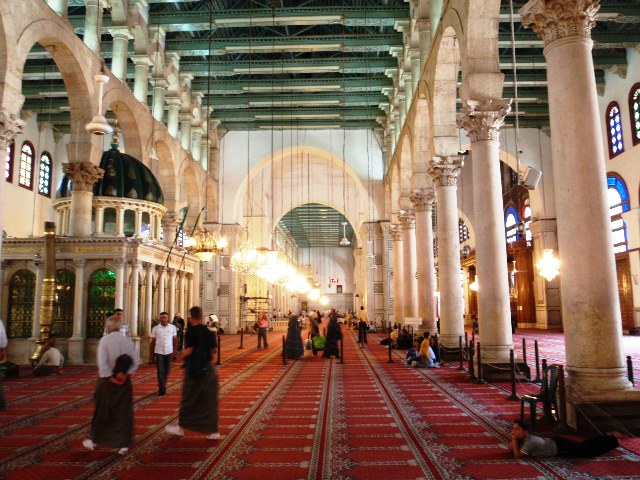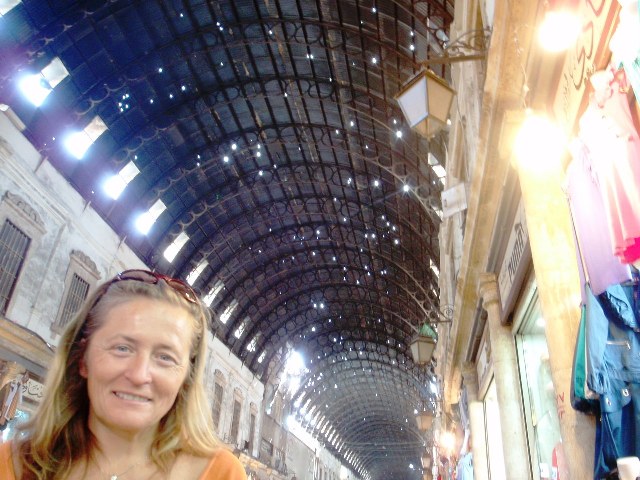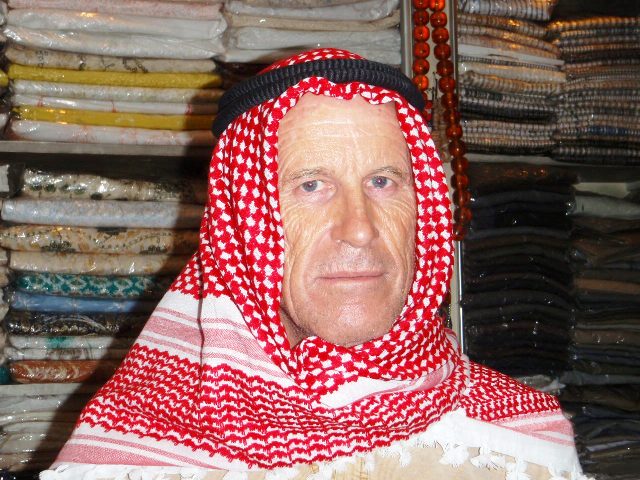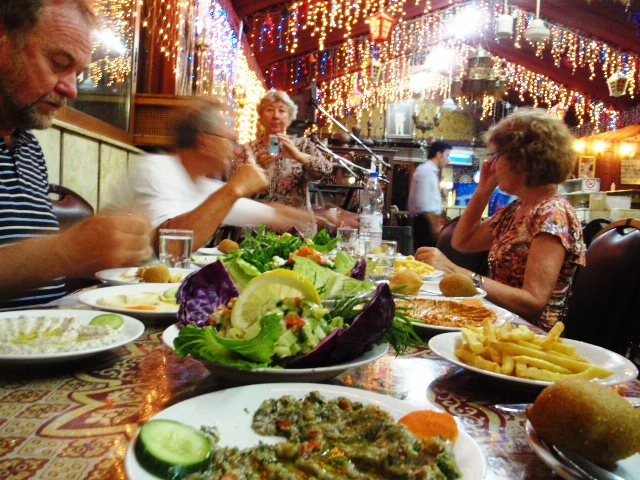 The best for Sasha of course was to see the
small plaque from 13 century BC - tablet with writings from Ugarit, which is
widely accepted as the earliest known alphabet.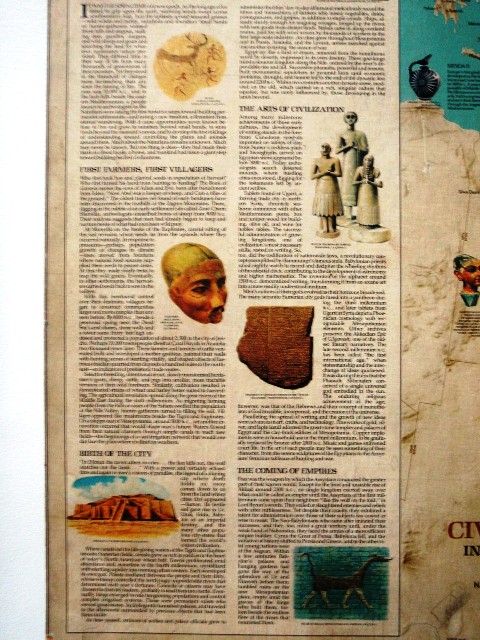 Next stop, Maalula, Convent of St Thecla, an
old monastery where the people still speak the same language as in the days of
Jesus. To demonstrate, one young lady said The Lords Pray in the Aramaic
language. Best part was chatting to the priest in the souvenir shop who spoke
perfect English and gave us a taste of locally made wines, showed us an old
door locking mechanism with screws for key grooves.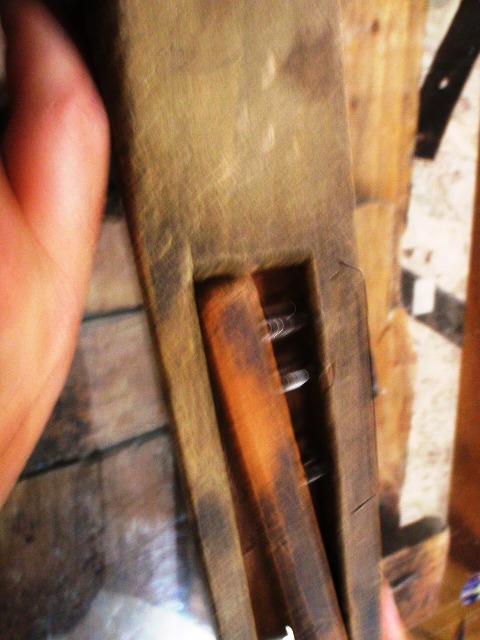 Another couple of hundred kms inland we were
in the Oasis town of the ancient site of Palmyra but before stopping off at the
Bagdad cafe 66, a camel rider's overnighter in the middle of the desert. I must
say that the scale of the ruins of ancient Palmyra just have to be seen to be
believed.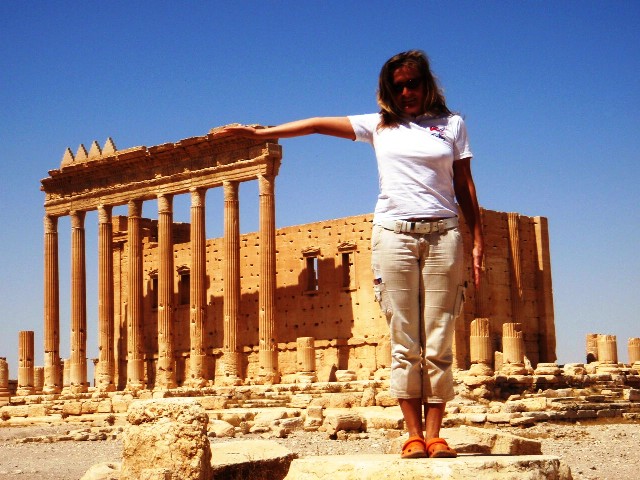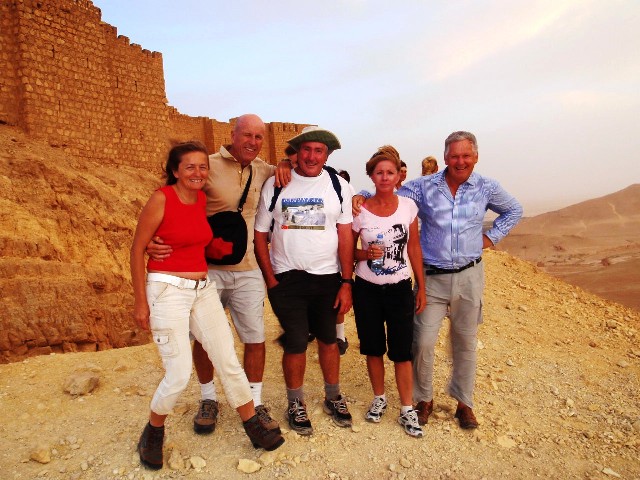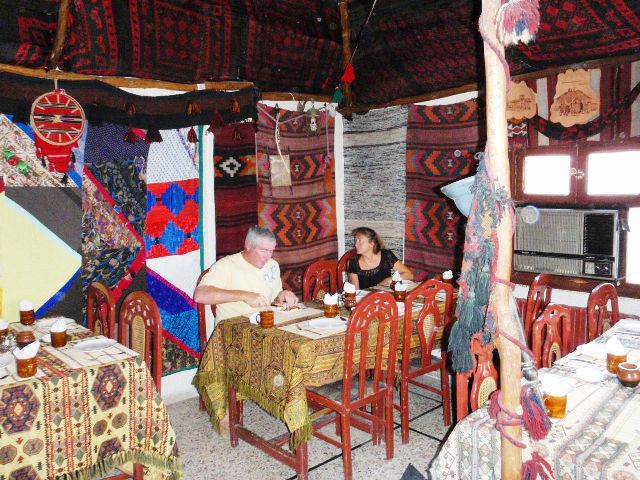 Syria is a pretty dirty and poor country so it was no surprise that
after another dinner at a local restaurant a few more of our merry band were
ill, thankfully neither Sasha nor me. For the final day it was a couple of
hundred kms to the huge Crac des Chevaliers castle before returning to the
harbour and a formal rally dinner.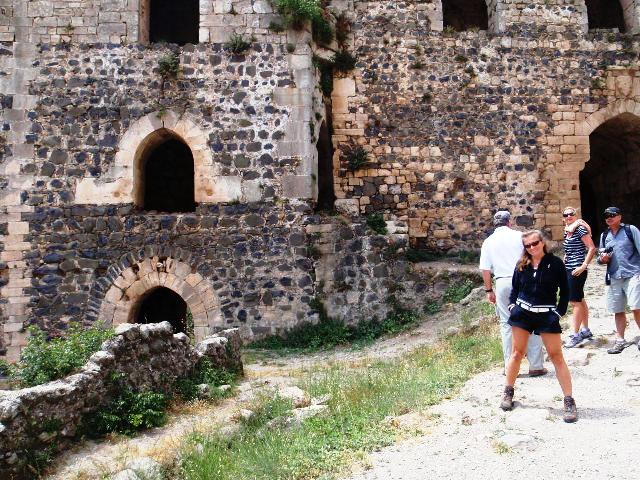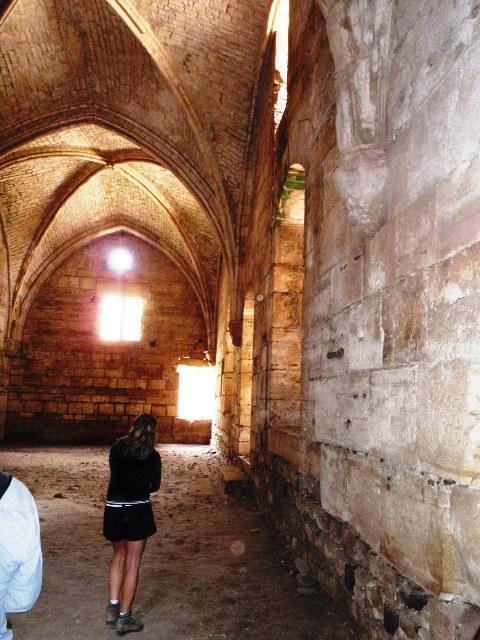 What a joke "formal dinner" turned out to be. With all
the rally members plus an equal number of locals there were long queues for
drinks and dinner, which was just a typical donner kebab stand. Many of the
locals just barged their way in causing tempers to flare. Probably the less
said the better.
Next day,
with our new crew member we sailed on another overnighter to Jouniah, Lebanon.
What a delight, I got more sleep than any other overnighter and Leanne was an
absolute delight to have on board, she and Sasha spent half the night chatting.
Of course, some jokes about our experience in Damascus and our take on a new
crew member, were circling around the other EMYR yachts and we found an
inscription left in the cockpit:
By Order of Her Gracious Majesty Queen
Elizabeth II
and Bashaw al Assad, President of the Arab
Republic of Syria
THIS SAILING SLOOP REGISTRED
"DAME    
EDNA    BAL  "
is hereby ARRESTED
for ILLICIT TRANSPORTATION OF
CONVICTS beyond the territorial waters of her
Majesty's Penal Colony of Australia.
By Order and 
Ä seal with "Honi Soit Qui Mal y
Pense"
Jouniah was

supposed to be a top notch up market marina. Unfortunately, there was not
enough space allocated to take the flotilla so we were rafted up side by side
all over the place. The saving grace was the sports club being part of the
marina with a full Olympic swimming pool, bar, restaurant etc where set up on
the first day to do a few things on the net and for Sasha to "fix"
someone else's PC. I saw a guy on the next table drinking a dark beer and,
having gained a liking to dark beer, asked him if it was a local brew. I took a
note of the name Almaza full malt. About 10 minutes later a waiter came to our
table with a cold bottle of  the dark
beer and a frosty cold glass, mine host was keen for me to try his favourite
brew! Just reinforced our view "its all about people". This time we
down sized even further for touring, we hired a car, first the two of us and
had a most enjoyable time doing the things we like to do, save the frustrations
of getting lost now and then. We trekked up the highest peak in Lebanon, 3080m
where were still patches of snow at over 2,000m.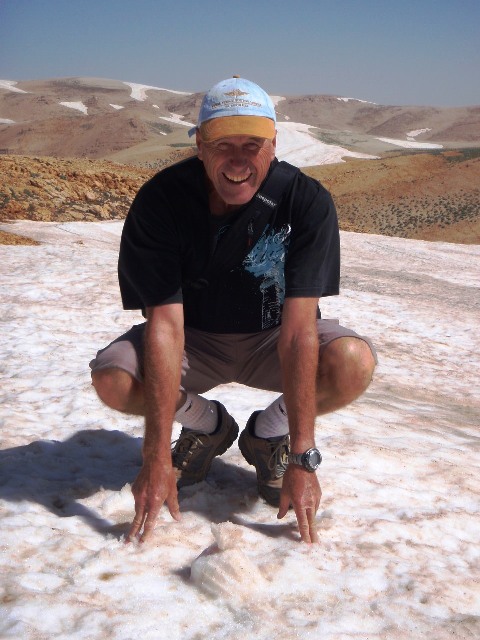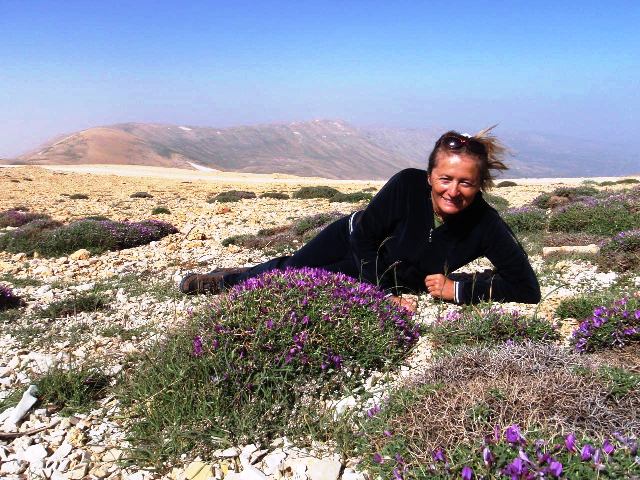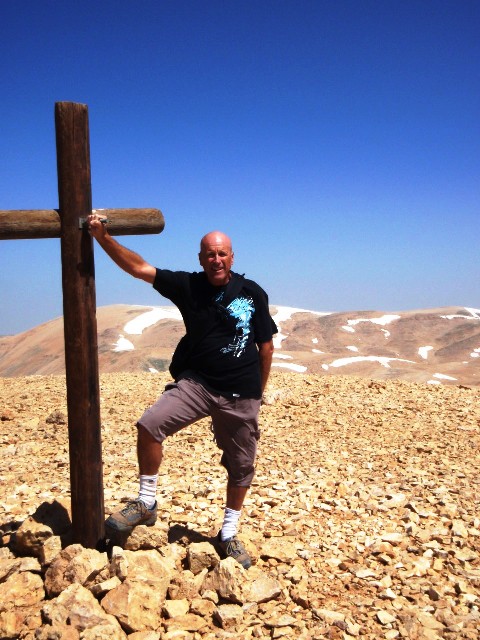 I made a snowman and we  threw snow balls! On the way down it really
blew, even had trouble standing. Views were wonderful and we even had Bedouin  Sheppard moving their flocks across our path.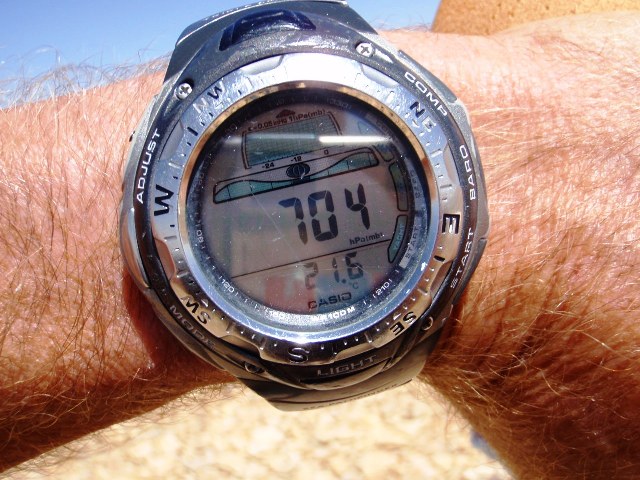 A little down we stayed overnight in a small hotel at the village of The
Cedars, named after the famous, but now scarce, Lebanon Cedar trees. Turned out
the hotel owner had lived for many years in Sydney. Through one of the Muslim
areas we stoped by the roadside under the shade of a few trees, next to a stone
fruit orchard, for lunch. Next thing the farmer walked up to us and gave us
some fresh apricots. We could not speak Arabic, he not English but it didn't
seem to matter.  On the way back to the
marina we stopped at the Ksara and had very enjoyable tour of the cellar in the
natural caves and excellent wine tasting session afterwards.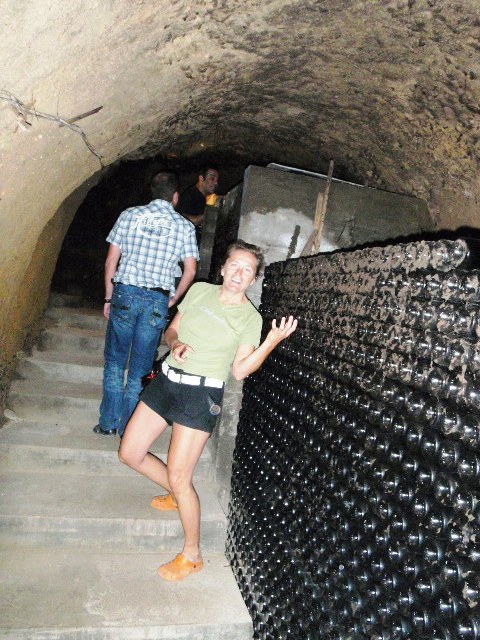 That evening we had
the best formal dinner, with belly dancer entertainment and dancing until the
late hours.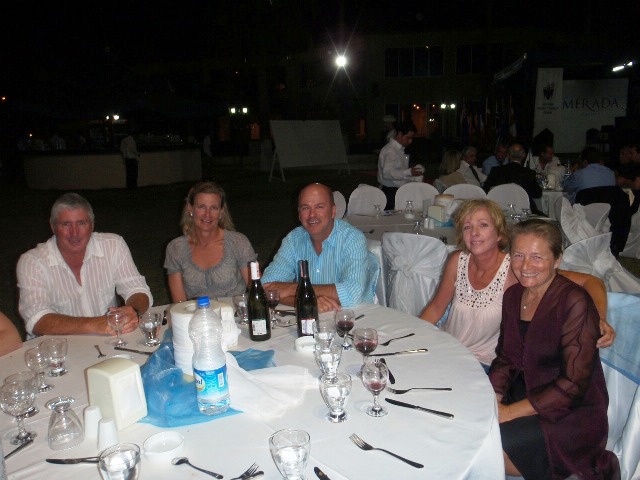 A few people ended up in the pool. Its all fun and games, well to
outsiders it seems that way, as far as the 
Israel situation is concerned. Seems they are still at war. On Lebanese
maps, there is no Israel but Palestine. When we checked out we had to put on
our official documents that Larnaka in Cyprus was our next port of call
although all knew we were going to Haifa in Israel. 
So off we
went, strict rules about staying in the official shipping corridor, no taking
any short cuts and be listening for a call on the VHF16 from the Israeli navy
when we are about 6nm out. Another overnight sail. Again made easier with
Leanne on board, this time she could take her own night watch. In Haifa there
would be no marina as such, more a fishing port, again boats rafted up  with very basic facilities, but man what a
welcome after you got past the incredible Israeli security. You may think the
yanks get carried away, should see it in Israel. For example every perron entering
a shopping centre (mall) is searched as you would be at an airport. Seems they
have had a few bombs go off. Anyway, once we got off the boat we were welcomed
by yacht club members with tea, coffee, cold water, gifts of roses, chocolates,
hats, T-shirts, maps and more. All spoke very good English as did most of the
people we met. In schools Hebrew, English and Arabic are compulsory languages.
We arranged, with friends Trevor and Leslie, to hire a car to see some of
Northern, central Israel as we knew them from Marmaris and have similar
interest - no more rocks! Next morning we went looking for a taxi to the hire
joint when a guy in the marina grongs was driving by and stopped. He knew we
were with the rally and immediately offered us a lift straight there, from
Haifa we drove North to the city of Akka, famous for its castle and connections
with the crusaders where wandered the streets and got had for coffee and cake
that tasted awful.

Our map showed a forested area inland towards the Sea of Galilee
and a highway heading in the general direction of the Golan Heights so off we
went. Forest, what forest, a few scattered trees not even enough to go for a
walk for GnT time. By the time we got to the turn to head North we had decided
another 2 hours driving wasn't worth ticking off the Golan Heights so headed
instead for the Northern shore of the Sea of Galilee. Finally we found a small
side road that seemed to head for a few larger tree so off we went. A few
hundred metres down the track were 2 big buses and a couple parked cars.
Students on some sort of excursion and probably 
some picnickers like us. By now, early afternoon it was good and hot,
certainly in the high 30s so we headed for the trees on what looked like a well
trodden path. What we had stumbled on to was a small stream of the river Jordan
feeding into the Sea of Galilee, all sounds quite biblical. By the stream we
found a spot, again well worn, to perch and have our GnTs, crackers, sausage
and cheese that Sasha had prepared. Soon we found out why it was well worn,
seems like it was one of the few natural picnic areas around. We were soon
joined by others all set up with Turkish style carpet rugs, grill plates and
open fire settings. Another family with 4 small children walked by in the
shallow stream, quite a thorough fare!
Back in the

car we headed for the Eastern shore of the lake where, according to the guide
book were numbers of places to swim, beach might be an exaggeration, stony
shore line perhaps. We tried 3; they all wanted stupid money to enter, the next
turn off the main road was a kibbutz entry so we drove in, parked and walked
through to the "beach" just like the natives.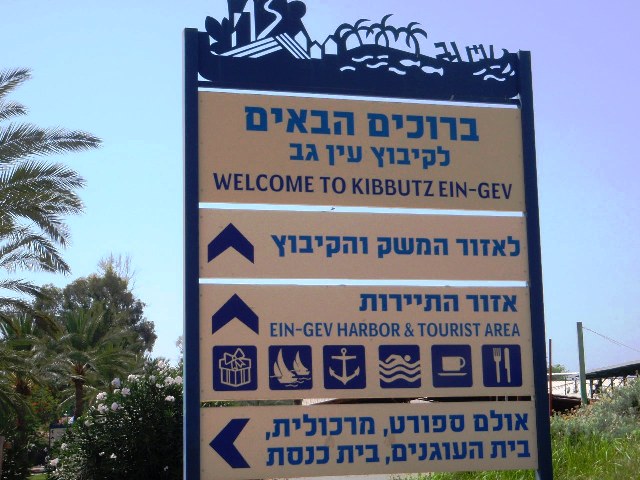 To our surprise the Sea
of Galilee was fresh water, not too sure you want to drink it. We went for a swim
right where Jesus had parted the waters! Spent an hour or more swimming and
sitting in plastic chairs at the waters edge, thoroughly enjoyable.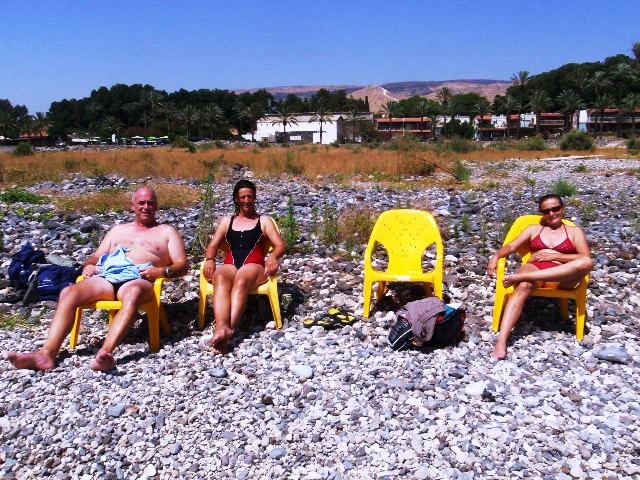 Next stop a
kibbutz on the Southern side of the lake with a store selling local produce,
especially a huge range, variety, of dates. Sasha made suitable purchases.
After an accidental drive around the kibbutz it was back to the marina for
"dinner with a friend". Members of the yacht club invited crews of
rally boats to their homes for dinner. Our host Moshe (Moses), a popular Hebrew
name, picked the 3 of us up and drove us to his apartment where his wife,
Stella had prepared dinner out on the terrace-balcony.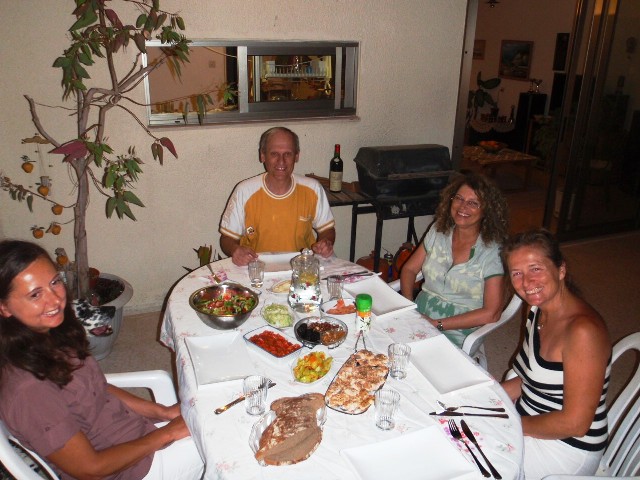 A unique experience to
get some insight to Israeli life, a very prosperous country of 6 million
surrounded by 250 million Arabs. Unfortunately our hosts were not drinkers so
the lovely wine we had bought sat on the shelf to make way for the water that
went with a magnificent salmon and mezze meal. After dinner Moshe and Stella
took the three of us for a drive to look at the views of the city and the Baha'i
gardens that, are the grounds surrounding the temple buildings of the Baha'i
religion, one of the worlds youngest. We had a quick look at the RADAR
installation that can pin point any vessel 50 miles to sea before returning us
to the harbour.
The day after was an early start, before
dawn for the bus trip to Masada and the Dead Sea.
Man, was it hot, I took my watch, with thermometer off and in the shade it was
43 degrees.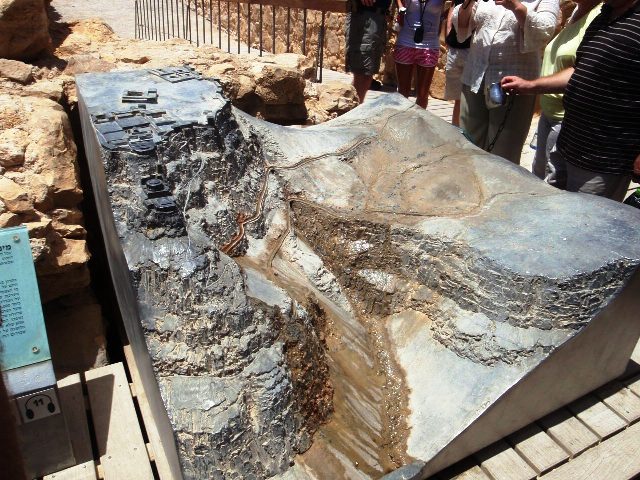 We trouped up the mountain, a key defensive position in centuries
past, on a hot and dusty track, with pressures little to stop you falling into
completely barren ravines below. Atop was another wonderful rock relic of
millenniums past, o-joy, but Sasha was somewhat more impressed. Our guide
provided some history, very interesting I'm sure.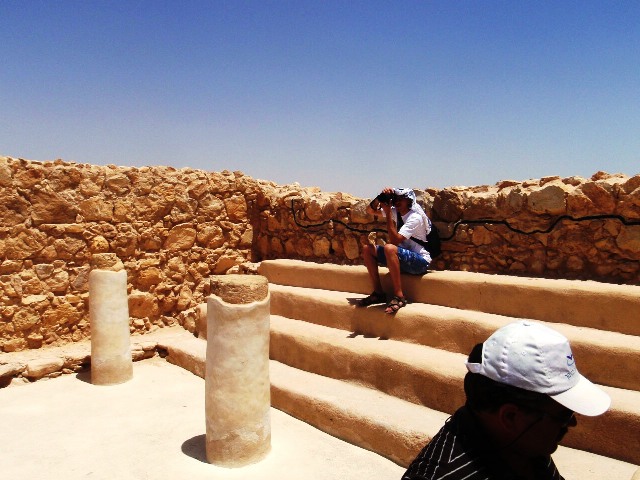 The trip back down was
somewhat more leisurely, a recently installed cable car, why the hell didn't we
take that on the way up?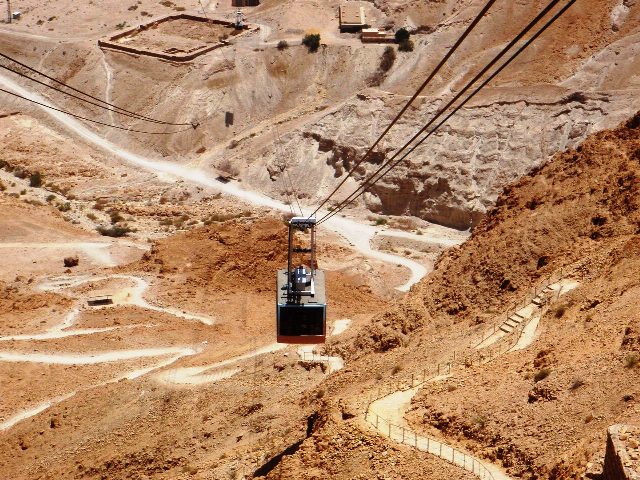 A brief lunch stop, then off to the Dead
Sea, which was visible in the distance form the top of the
mountain. We learned that the Dead
Seas is receding at a
rate of about 1 m per year since the Israelis have diverted all of the fresh
water that use to flow into it. They now have an enormous project under way to
canal salt water, desalinate it and pump it into the Dead Sea from Red Sea. Truly amazing in the waters of the Dead Sea, you literally cannot sink yourself, although
with all the notices about the dangers of the water you probably wouldn't want
to do so anyway.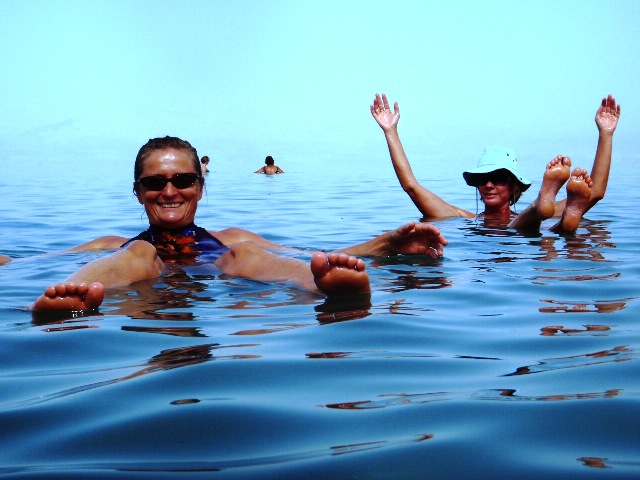 Along bus trip back to the marina, our last organised
excursion.
Our next
leg took as to the marina in Ashkelon, Southern Israel, not  far from Gaza. Our rally leader, Dave on Mashona  and his offsider, Hasan on Ibis 2, were well
back near the end of the fleet and my group was scheduled to arrive early to
suit whatever berthing arrangements had been made. When we arrived there were
10 yachts, of various groups,  circling
around outside the marina not knowing what to do so we went in, tied up Ednbal
and, with one of the other group leaders, Steve off Scott Free, yelped the
marina staff to get boats into the marina in some sort of orderly fashion. I
spent 3 very hot hours roaring around in a large dingy with the marina manager
directing boats into the marina while Steve worked on getting into berths. Just
as we finished we were treated to a spectacular aerial display by a stunt pilot
directly overhead with many low passes not far above mast height. From Ashkelon
the rally plan was to sail 130 miles to Port Said, spend 2 days in Egypt,
largely to visit the Pyramids, and sail 140 miles back to Herzliya, Israel. As
we are planning to spend time in the Red Sea in winter it did not make much
sense for us to go to Egypt
for two days, many  others thought the
same, so only half the fleet went. In the meantime we relaxed on board, got
Ednbal prepared for the next voyage 1,400nm to Venice, and took and overnight
trip to Jerusalem. Like many things it just had to be done, thankfully, as far
as I was concerned, our last trip. We travelled by bus without a hitch, only
that part of the way there we realised we had left our passports on the boat!
Some people can be really thick given recent episodes! So, we devised a plan,
go straight to the hotel in the old city and see if we could check in without
passports, if not, see what could see and catch a late bus back. With a little
convincing and old Panamanian identity card, that had our old assort numbers on
, we managed to check in, phew. The rest of the day was spent essentially
wandering the streets of the old city from Christian, to Muslim, to Jewish to
Armenian quarters. Being westerners we were only allowed to a very small part
of the Muslim quarter. The iconic stand out was the wailing Western wall, the
only remanent of Joudism's holiest shrine.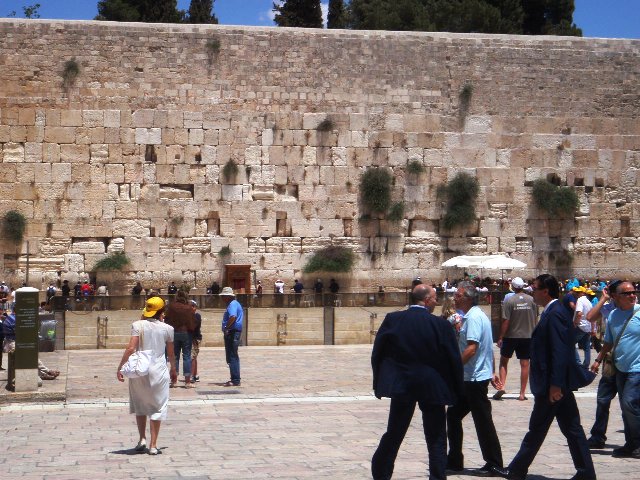 In the evening we walked to the
renound American Colony Hotel for a beer in the beautifully appointed inner
courtyard, and then to New City, Nakhalat Shiv'a, a popular local restaurant
area for a very nice (one of the few) dinner before returning to our tiny hotel
room in one of the old city buildings.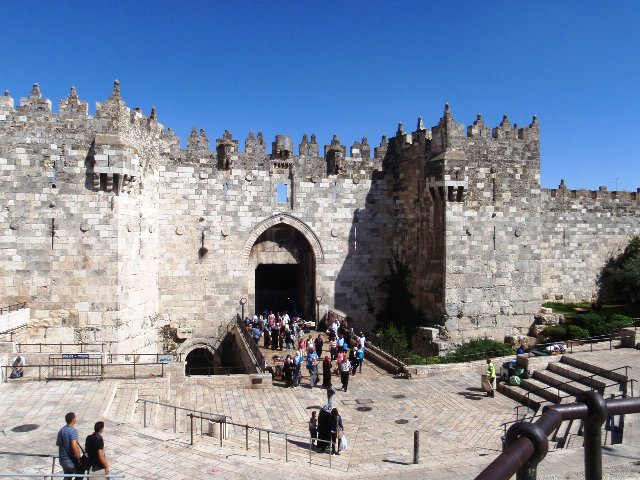 Next day we walked from the old city to
Mahane Yehuda Market.  The local,  huge fruit, veg, meat, fish and almost
anything else from clothes to gadgets, market was wonderful place for brunch.
We bought a few gastronomical specialties to take back as well as to munch on,
with beers, on the bus. Before returning we visited the holocaust museum,
opened 3 years ago. Very well done, but very sad. When Sasha became tearful, as
many other visitors, we left the museum for a walk through surrounding park and
memorials to victims.
Back on the
bus we had a late lunch of cold beer, nuts, beautiful black olives and cheese.
Next day, 26 June we sail North 30 miles to Herzliya for the final rally dinner
on the 28th. Before the dinner we had group presentations, each boat was given
a commemorative 2010 rally plaque and each vessel crew member a certificate.
Our group presented Sasha and I with a lovely paper with notes of thanks and
signed by all the group members for our efforts in our group leader role, very
rewarding and something to truly treasure.

While dinner was no highlight, there was plenty of booze, dancing and
the opportunity to say our goodbyes as we were off to Venice the next day.
There was couple of memorable moments at the dinner, our dancing to D.I.S.C.O
and  perhaps the "highlight"
was friends, a couple, Poms, Chris and Steve, Chris's statement "I don't
condone violence" after Steve had kneed a yank in the nuts for drinking
his wine.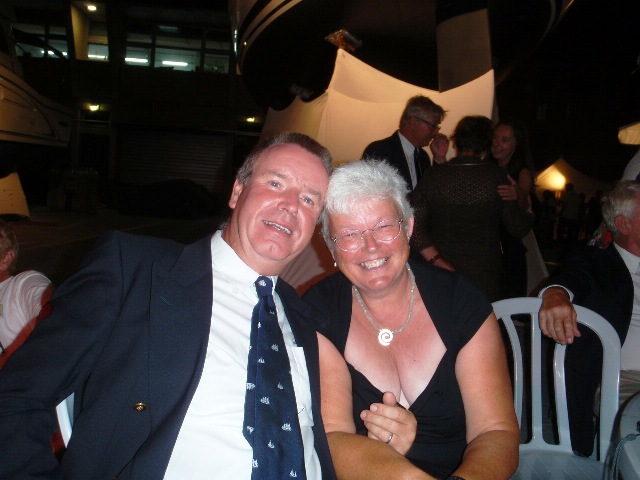 It went something like this.

The yank, Dave, off the only power boat
in the fleet, a 60ft US trawler style thing, picked up Steve's glass, Steve
said "men have died for less", the Dave made some comment and started
to drink Steve's wine for which he was kneed and had to be carried back to his
boat. Mind you we are talking about retirees here, not youngsters  Ah, its all good fun!! We checked out of
Israel on Tuesday morning, did some provisioning for the 1400nm trip to Venice,
said our goodbyes, refuelled and motored out of the marina. Just got everything
stowed, ropes, fenders etc and had the sails when we got an order from the
Israeli navy on VHF16 to return to the marina. Sails down ropes and fenders
back out and back to the marina. Apparently, despite being assured in the
morning that we had completed formalities, we had not been checked out of the
immigration computer system. A stamp on a piece of paper and requisite clicks
on the immigration PC later and we were finally able to leave without being
called back.