Mid morning on 27 June 2015, set sail Hapatoni bay for Raroia Atoll about 415nm South with a strengthening 20 to 25kt Easterly breeze. The first 24 hours was a little lively but then things settled, the wind moderated to a lovely 12 to 15kts and backed to NE giving us a very comfortable and quick passage enabling us to arrive at the pass onto Raroia lagoon not long after first light on the 30th, with strips of Tuna drying from line strung across the back of the bimini.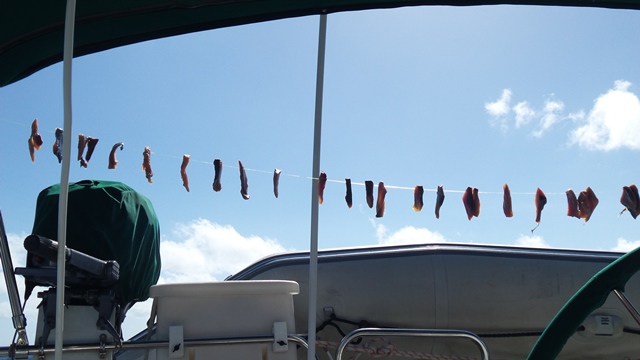 Now the tricky part and our first learning in sailing the Tuamotus. Raroia, like most of the lagoons, is fairly sizable, about 20 by 6 miles. The navigable, and only passage deeper than a metre or so at high tide, is about 100 metres wide, around 6m deep and a couple of hundred metres long. So, even though the tidal range is only about half a metre there can be a significant current or tidal steam flowing through the pass, at times over 6kts! This current sets up large, a metre or more, "standing waves", waves that appear to be stationary but are in reality moving with the current. Such waves, especially if against the wind, are almost vertical. If the current is outgoing the waves are worst at the ocean end of the pass, on incoming, at the lagoon end of the pass. On top of that the current sets up numerous whirlpools and eddies that can quickly throw your vessel off course. Then the timing of the current. It does not coincide with the tide because the rise and fall water level in the lagoon lags behind the change of tide in the ocean. There are no published tide tables for the lagoons, only two locations in the Tuamotus, so you have to calculate the tide times by applying the normal offsets for the differing latitude and longitude. Not only is there a lag but that lag is variable depending on how much water washes over the fringing reef which depends on the swell and wind. In extreme cases there may be no incoming current at all, only an outgoing that varies in strength. Rule of thumb is allow about a two hour lag after high tide and three hour after low tide. To say the least you need to get the timing right to get a reasonable smooth, least dangerous, ride through the pass! We arrived at about low tide and waited for an hour or so before "testing" the strength of the outgoing current. As we motored into the first of the standing waves that were not too bad, maybe half a metre, our speed over the ground dropped from 6 to 3kts and we were only on the outside. We quickly turned around to wait longer, another couple of hours, time for a leisurely breakfast. The standing waves had settled to what looked like a few ripples, the sun was higher (we were heading East through the pass) which made it easier to judge water depth and this time were got into the pass before the current took effect. Even so we had at worst 3kts against us and a couple of times I had trouble keeping Ednbal on course. It was a sigh of relief once through and onto the calm 20m deep water of the lagoon for the two mile sail south to the small village. Here we found ourselves in the company of three other yachts, one German, one Dutch and one American, and our first experience of anchoring amongst the coral bombies and rocks for which the Tuamotus is renowned. Of course we had read about it, anchors being badly snagged, chains caught on bombies directly below the boat when no wind then snatching so badly when the wind and waves came up that the chain broke. It seems the most popular solution is to tie floats to the chain to hold it off the bottom. These lagoons have many pearl farms that use hundreds of plastic floats that lift about 25kg and many break free so there is always plenty to salvage and use for the purpose. We decided to anchor normally and swim over it to see how things looked. Yes well certainly plenty of coral rocks guess we'd just see how it goes.
Ashore we found the little Raroia village, about 300 people, to be showing signs of prosperity, substantial concrete wharf, modern two storey community building housing medical and administration as well as a communications/post office building and at least 3, albeit small and sparsely stocked, "supermarkets". Fresh produce limited to potatoes, onions, garlic, ginger, a couple of cabbages and a few apples. No abundant local fruits on these infertile coral atolls except of course for coconuts, by the thousands! Adult obesity was as bad as we had seen in the Marqueses particularly amongst the women, quite sad to see really. The most popular form of transport were full size tricycles with a small cause box at the back, there is only a couple of kilometres of road anyway but obviously enough for the several cats, utes and 4x4's. At one end of the village was an on shore pearl farm facility, one of at least three on small islands (motus) around the lagoon. With the lagoon being quite large there is enough fetch to create significant waves when the wind comes up such that you need to be mindful of where to anchor to be comfortable. After a couple of days the wind was forecast to back from NW to SE and we were at the village on Western side of the lagoon, time to move East. Up to date guide books for the Tuamotus are virtually non existent but there is a popular Web site started by the owners of a yacht called Soggy Paws to which other cruisers have contributed so Sasha had downloaded it. Soggy Paws had a few recommended anchorages, on the Eastern side of the lagoon, affording good protection from the frequent strong SE trade winds. We headed over to one of them, close to another pearl farm processing station, soon to be joined by the other three yachts where we spent some time with the German couple Klaus and Rosemary. A couple of days later the other three yachts moved on, like most they were heading for Australia or New Zealand. We moved to another anchorage a little further south where we were joined by a French yacht, Sodric with Jean Pierre and Isabel. Together we visited the pearl farm facility where we spent a couple of hours seeing how it was all done. Unfortunately for me all in French but the others did their best to interpret the important parts for my benefit. They do everything from breeding the oysters through seeding, done by three Chinese, to harvesting the pearls.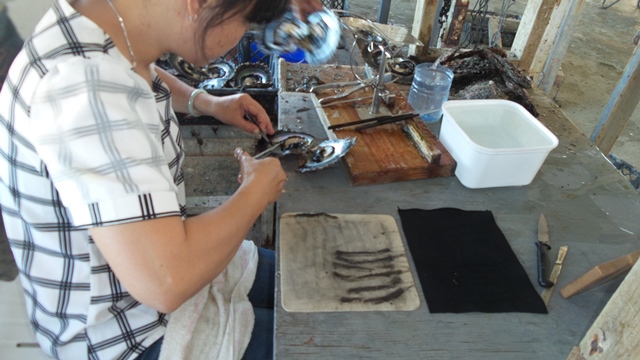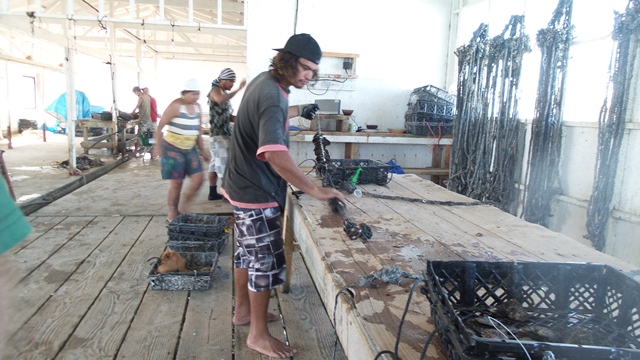 Fourteen men and women, all but the three Chinese, from Tahiti working on the Motu in complete isolation for about 6 months at a time, not even any interaction with the village on the opposite side of the lagoon. The next night we had a bbq on the beach, the first time Jean Pierre and Isabel had done such a thing!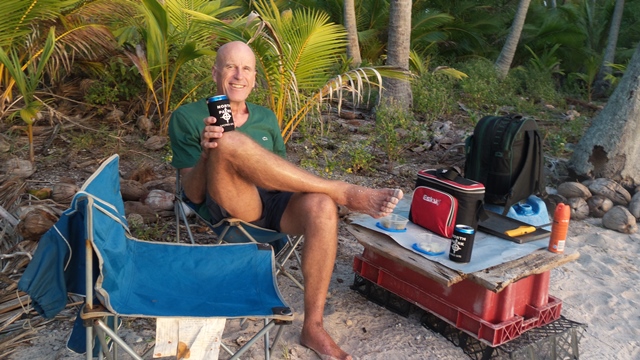 Then our first mishap. Sasha was stepping out of the forward head when she slipped on the floor and went guts up bruising her upper left arm and the three lowest ribs on her left back. Naturally she was pretty unhappy and site sore but we didn't think too much of it. That was on the 6th of July, ten days before her birthday. The next few days were fairly quiet, lovely bbq bonfires on the beach, relaxing in the hammock string between two coconut trees, walks on the coral grit,, hardly sand, covered motus, exploring the narrow shallow passes, some of which joined the ocean to the lagoon at very high tides, in the dinghy, and catching dinner, fish and coconut crabs.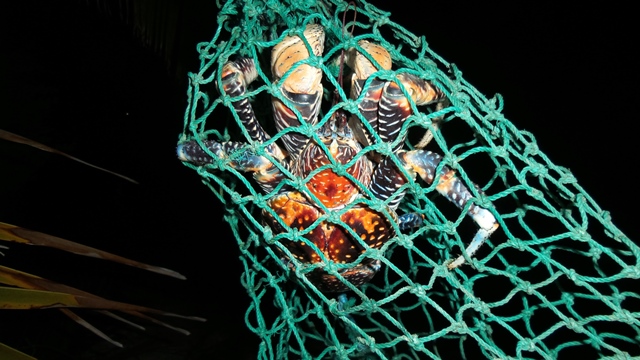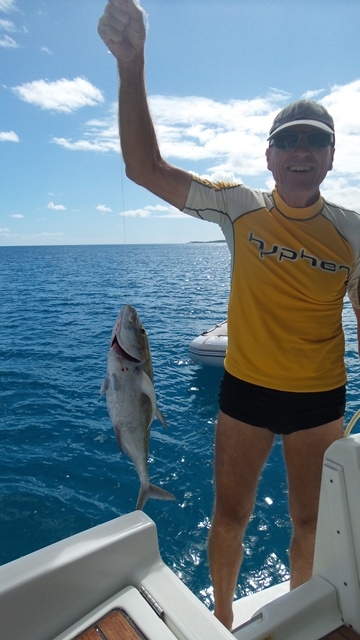 And bird watching. One of the reasons we had picked this particular anchorage was the Sooty Terns, it was nesting time. There were hundreds of nests in twenty or thirty trees. The meagre nests are reused each year with just a little touch up by the addition of a couple of soft dead leaves. They did not use leaves from the ground but only those floating on the water, diving down and carrying them back to the best in their beaks. Some were still preparing nests others already had a chick. From what we observed only one egg per nest. I put the GoPro on the end of my aluminium gidgee and tied that to our extended boat hook to get the camera up high enough to photograph a couple of the nests.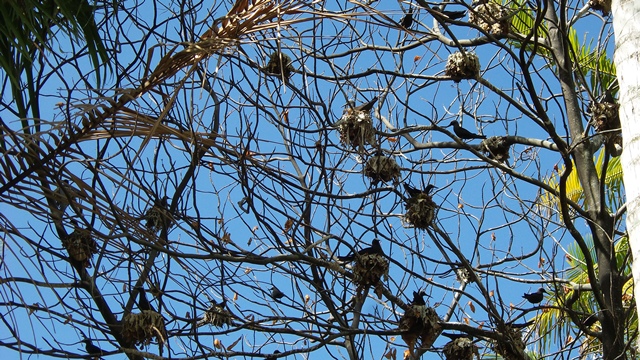 When at the village one of the guys told me in French with a smattering of English and a lot of sign language, how to catch coconut crabs. They are basically a huge hermit crab without a shell to hide in. With your trusty machete split a coconut and tie it, important to tie it, to a tree, otherwise the crab will carry the coconut away. Yes they are big buggers, over a kg and man you don't want to let those claws get you, they can climb a tree, cut away a coconut then go back down and open it to get to the flesh inside.
Before we knew it was Sasha's birthday, Champagne and roast leg of New Zealand lamb and her first swim since going guts up. Alas the next day she wished she had not tried to swim, more pain in the ribs surely it had to be more than bruised. A few days later we were joined by Muneera a 44ft ketch, Nick and Andrea along with their two teenage daughters, Ella and Millie on board. We had first met them in the San Blas and thoroughly enjoyed their company so were very happy to hear them on the HF radio when they arrived in the Marqueses and even happier that they were also visiting Raroia. It was like a big reunion celebrated with perhaps a little too much beer and wine the evening they arrived still very tired from the 3 day sail from Tahuata in the Marqueses. They too had had rigging problems having both back stays come away from the main mast while under full sail. The only thing that saved losing the while rig was the mizzen mast's connection to the top of the main mast. With the mizzen taking so much load it also suffered but Nick and the girls were able to salvage the situation. Now it was time for them to relax in the lovely Raroia lagoon. It was calm, the water glassy in close to the shore, ideal for wake boarding. They had a 15hp outboard do no problem for the girls who were right into it. Then Nick, a little heavier decided to have a go. I drove his dinghy with all weight forward and finally succeeded in getting him up using one of the old water skiing tricks, a whip start, and he loved it. A day or two later we were joined by a smaller yacht, a 27 footer with single hander Josh on board accompanied by three locals from the village. We had seen a small shelter on the island, corrugated iron sheets over a rudimentary wooden frame. Turns out this is their "weekender". We were in for a treat, learning some of the ways of the local Polynesians. Fish here, as in many Atolls is subject to ciguatera, a poison from bacteria that grows on dead coral that is eaten by fish and concentrates up the food chain. It does not affect the fish but can make humans very sick. The books are not specific about which fish are likely to have, or not have, ciguatera, they suggest you check with the locals. We had caught a few fish and checked with some people living in a house on a Motu a mile or so south of us. The guys visiting from the village had invited all of us to join them for four a bbq dinner. I had caught a nice coral trout so took the filets in to share on the bbq. However when I showed the photo of the fish they said it was a 50% chance of having ciguatera. It was given to the hermit crabs for their dinner! Nick and Andrea had bought in some steak so that together with the fish that the locals, Freddie, Cedric and Bill had caught off the shore and their huge pot of rice, was enough to feed everyone. Next was coconut crab catching time, they split a dozen coconuts and distributed them around within about a 100m radius of the hut that attracted many crabs but they kept only the 3 largest. After several rounds of checks for crabs on the coconuts it was waiting time, waiting for the moon to set before the lobster hunt on the knee deep shallow water of the reef on the ocean side. This night however not so fortunate only one reasonable size and two small. All was cooked by the guys, along with two styles of bread one in hot water the other in the coals and more fish, for lunch for everyone the next day. Now we learned another thing. The coconut crab has a large bag like tail section that, on the larger ones, hold a couple of hundred millilitres of creamy constancy "sauce". When you squeeze it out of the bag it doesn't look so appetising but with the crab meat and the breads was really very nice, even a little salmon like flavour.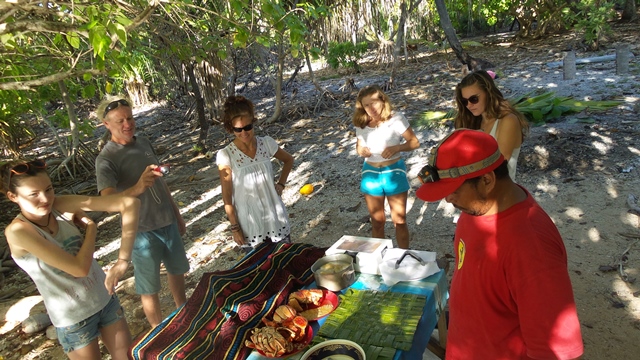 In return we took the guys wake boarding, they loved it, must have towed Cedric around for an hour or so. Said he'd never done it before but by the end he was doing 180s and cutting across the wake like a professional.
The light wind slowly backed around again to the SE and strengthened, finally, on 28th July, enough to try kite boarding. With Nick I took the 12m kite to a rough coal sandy spit with a rocky shore, not flat but about the best available. Unpacked the kite to find the bladder valves completely disintegrated. Luckily we had a complete spare bladder set on board but no time to replace now so I went back and got the 9.5, set up and Nick took the kite ready for me to launch. This is when things went pear shaped. As the kite started to lift the depower line came out of the jam cleat on the bar and suddenly the kite was at maximum power. It shot around to the wind power zone and launched me sideways across the coral rocks in an instant. Next I knew I was trying to stand up as Nick ran to secure and deflate the kite so that it couldn't drag me again. I looked myself over, oh shut, big toes poking out of a bootie with nail torn off, blood pouring from a deep gash above the other ankle and miscellaneous other scraps and cuts on arms and legs. Luckily I was wearing my helmet and life vest so nobody or head damage. Nick helped me into the dinghy and off back to the boats. Sasha and Nick went to the house about a mile south to try and contact the medical station in the village on the other side of the lagoon. The people contacted a friend who was about to come across the lagoon in a sizable open boat, about 22 feet with a 70hp outboard. He came to Ednbal and took Sasha and I back across the lagoon which by now was rough with 20 plus knots of wind. A very bumpy ride with Sasha trying to nurse her ribs, the boat skipper dressed in a raincoat getting drowned in spray and a young guy keeping lookout for surface level coral outcrops. At the village wharf the community car, ambulance, general transport van was waiting with the community nurse and driver, Dave whose lovely figure was adorned in a short floral dress and moderate high heels. If it wasn't for the deep voice you would never know. At the medical centre it was a quick clean out of the deep gash, that was apparently to the bone, to remove as much debris, mainly sand, as possible. It was decided not to stitch in case of coral infection and I was to take 1gm of antibiotics per day. A quick clean up because the same boat would take us back to Ednbal over the equally rough lagoon so that the skipper could get back to the house south of us where he also lived, before dark. In the rush of it all I didn't even get his name but managed to get him to accepted a hundred bucks for all that he'd done. Next day, with the help of Nick and Ella we took Ednbal across the lagoon, while Sasha, perched on the bow looked out for coral bombies, and tied up to the village wharf where the nurse, Joanne, came to the boat to redress my various injuries. You've no idea how pissed off with myself I was, no going in the water, let alone kiting, for some weeks.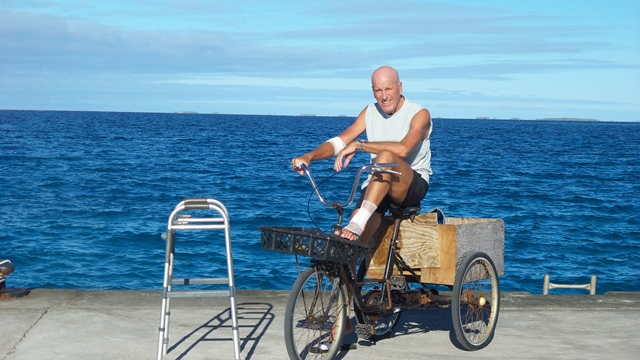 Finally Sasha asked about her ribs as she was really sore after the trips across the lagoon. After examining, pushing and prodding Joanne was certain Sasha had cracked ribs if not worse but not a lot could be done about it but to take Anti-inflammatory pain killers. No wonder she'd been in so much pain! Ednbal was tied up on the inside of the wharf completely protected from seas and wind from any direction. Unfortunately the next day there was a visit by the mayor of the islands district based in Makemo about 80nm to the east and his go fast boat would park in "our spot" so we moved round to the Northern side of the wharf, far more exposed. After the mayor and his entourage left two days later Muneera came over from the Eastern side of the lagoon and tied up in the same spot, it was very nice to have them around again. One of the attractions of Raroia is the possibility of buying or trading for black pearls. We'd least learnt that pearls are graded, A, B, C and D, dependent on size, colour (they are generally not pure black but dark shades of green, purple, blue and grey), evenness/roundness and lustre. Most pearls are cultured but you can also get natural ones that are not round but "out of shape" and, in our mind more attractive for that reason. Generally pearl farmers sell their pearls to the wholesale market in Tahiti but are also sometimes willing to sell or trade locally. It was very handy for Andrea to have two beautiful young ladies, the local boys were immediately attracted one gave Ella a beautiful big pearl. Cedric had access to pearls and Andrea managed to trade a bottle of rum for 10 assorted pearls that she was very happy with! Having been in Raroia for a month we were feeling the urge to move and having heard very good reports, especially from young Aussie friends Matt and Kate (well Kate is American but because she is with Matt who is/was a cray fisherman from Kalbarri she can be Aussie too) on Tamata whom we had met in the Galapagos, decided on Makemo, an 80 mile overnight sail with me hobbling around and Sasha moving very cautiously. We sailed in company with Muneera on a comfortable sea with a lovely 12kt beam on breeze arriving at the east pass at about 8am. By our "calculations" slack water should have been at around 9. There was quite an outgoing torrent so we both stooged around and waited but it didn't seem to be getting better. Nick decided to go in and when Muneera made it in one piece we plucked up the courage and followed. It was a bit bumpy so we stayed as near to the edge as I dared to see only 3kts of current against us. We both anchored on a very coral rocky bottom near the wharf off the village of the main island or Motu that is home to about a thousand people.
I was still not walking so Sasha went ashore with Andrea and the girls to do some fresh food shopping and check out the pearl market. Makemo sees more in the way of tourists so there is some pearl jewellery making, of particular interest was the pearl and intricate bone engraving done by Beko. Although there were larger supermarkets there was little in the way if fresh fruit and veg, maybe more when the supply ship comes in in a few days. Sasha also saw the doctor who confirmed that she had cracked ribs and strongly advised patience, at least another month to recover! She also met Lea the nurse who lived on a 31ft yacht tied to the wharf. Matt and Kate had said to be sure to look her up as she was a very nice and helpful person with a lot of local knowledge, they were right. After a couple of days two supply ships came in but still very little fruit and veg, surprisingly virtually no tropical fruit but apples and oranges from New Zealand. Time to move away from the village with a forecast of winds backing to the north and slowly to SE then strengthening to 20 plus knots. The Eastern end of the lagoon, 10 miles away was the place to go. Our Navionics charts showed the bigger coral outcrops in the lagoon so Muneera followed us with fishing lines out. On the way we caught a nice 5kg Job Fish but were unsure about ciguatera. A quick email to Lea who replied immediately to say no problem so it was fish on the bbq on the beach with me hobbling about and not much use to anyone.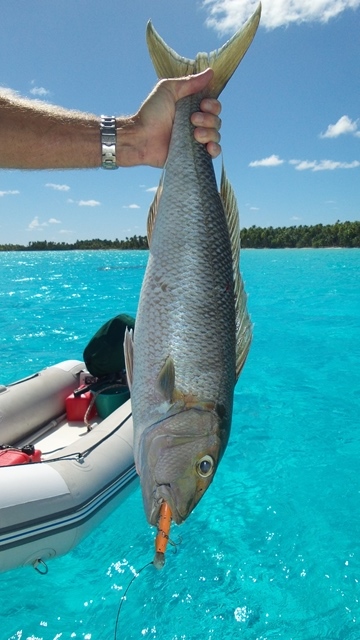 We thoroughly enjoyed our time with the family Muneera, walks along the rough rocky ocean side although very rough with only large coral rocks to walk on above the water line and almost as rough but more solid rock, almost exposed at low tide, for the 50 or so metres out to the drop off to deep ocean. The lagoon side however a different story. Mostly coconut trees with some other scrub bushes interspersed with rocky outcrops and short sections of sandy beach ideal for beach bbqs fuelled by old dry coconuts and somewhere to hang the hammock. Nick and I got good practise at opening green coconuts to pour out the lovely coconut flavoured water that went very well with gin or rum. Ednbal was anchored to the North West of the shore and to our South East was a long, a couple of hundred metres, sandy spit, well out of the water at high tide and sometimes awash at low tide, to make a great set up spot for kite boarding when my leg wad right again. Nick and family were on a schedule, needing to get back to Australia before cyclone season and for the girls to go back to "normal" school. Nick discovered that they had perhaps overstocked with rum and they would be unlikely to drink it all before Fiji where there are restrictions on bringing in alcohol aboard so he sold us ten bottles at cost price for which I in particular was must grateful given our limited supply and the cost, over $50 per bottle, in French Polynesia. Before long they were waving goodbye as they headed West up past the village, on to the Western pass out of Makemo Atoll and out into the Pacific. We stayed a few more days then sailed back to the village to restock with fresh fruit and veg. This is when we had our first lagoon whale encounter. We'd heard that Humpback whales sometimes come through the pass onto the lagoon but were unsure that it could be. On one of our evening walks we just happened to look out into the pass to see two Humpback swimming against the outgoing current. No acrobatics or anything special but lovely to see none the less.
See Whales short video in Makemo East Pass by clicking on .
Sasha's ribs were now pretty much fully recovered do she was swimming again. We were tied up to the town dock just inside the T end and next to Lea and Vincent. Around and on the other side of the dock was an enormous number of colourful coral fish and their coral outcrop home for Sasha to spend time snorkelling over and around. She loved it.
We'd heard about another fairly protected anchorage about 15 miles further West along the northern shore of the lagoon so thought we'd check it out. In a light SW breeze we spent most of a day tacking and dodging coral outcrops that come to the surface in the normally 40m deep water, catching one and three quarters Job fish on the way, you gotta be quick to beat the sharks! At 4 or 5kg each we had too much for the freezer so it was another fish drying opportunity. The anchorage has about a half mile long surface level reef extending out into the lagoon affording protection for winds from anywhere East of South. On shore there is a big sandy beach area with a gazebo made from tree branch wood and coconut fronds. Although it looked like it hadn't been used for some time it had a couple of rough tables and wooden plank seats. The only down side, as we discovered on our first bbq night, was the local rat population. As we sat still they would venture to within a few metres of us, didn't thrill Sasha too much at all. Next day a locally flagged catamaran anchored not far from us and we met Alain and Odile on the Australian built cat called Moemoea Nui. They had been living in Nuku Hiva, Marquesas for the last 26 years where Odile had been the hospital's doctor and Alain, amongst other things, commercial fisherman. Now, in their retirement they spent several months of the year in the Tuamotus, returning to the Marquesas to do a bit of chartering and fly to France for a couple of months. What a wealth of knowledge on the two regions of French Polynesia they are, with similar tastes to us we hit it off immediately spending time walking the outer reef, fishing and of course beach bbqs. We learnt so many practical tips from them, we had a great time for a week or so until they had to leave, return to the Marquesas for an upcoming charter. After over a month of keeping my leg injury dry I finally started going into the water again, fanatic to swim with all the reef fish and small sharks again. After Odile and Alain left we headed back to the village for fresh stuff and back to the East end as there was wind enough for kite boarding forecast. Sure enough a day later there was a 15 to 18 knots South Easterly, perfect for kiting. Only one problem, the water level in the lagoon had risen, due to the wind and a big 3m plus swell that pushed more water in over the fringing reef, completely submerging out kite setup and take off sandy spit at high tide. We went to another small piece of sand surrounded by fairly shallow, knee deep, water and set up. This was the first time out since my crash in Raroia so a little nervous! Incredibly it was like riding a bike, off I went just like it was the next day back in the San Blas. Next Sasha did the same, we were both thrilled to be back into it again although we were both badly out of form only able to go for about half an hour before being completely stuffed, legs feeling like jelly. Over the next few days we gradually got going longer but not necessarily better.
Finally kiting again, this is snip of Sasha with the red helmet.
A couple of days later I woke up not feeling 100% but not too bad. We did our usual yoga and other exercise before I started to feel worse. Within an hour I was trembling uncontrollably and started getting pain in my upper legs. Sasha took the dinghy ashore to see a couple of locals who were collecting copra to see if my symptoms could be ciguatera poisoning. They really didn't know so we upped anchor and motored as fast as possible the 10 miles back to the village to see the doctor. Sasha had checked my temperature, normal, and given me some pain killers as the pain in my legs was the worst I'd ever felt. At the medical clinic Lea checked my temperature and blood pressure, pressure 39.6C and 105 over 67. Apparently my leg injury had succumbed to some sort of marine infection. It had been weeping a bit but nothing terrible and did not have any undue redness and was not at all sore but straight away Lea said it was infected.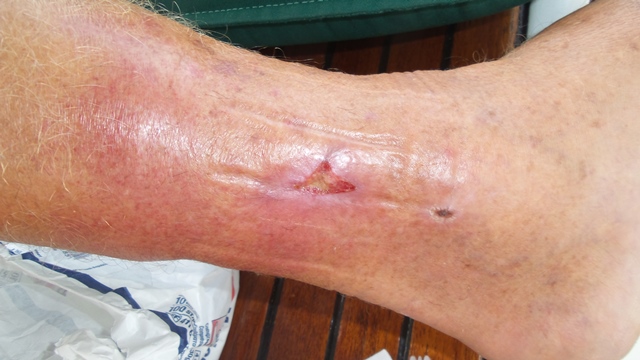 Onto bigger and dual doses of antibiotics, rest the foot and no water for at least a week. Well a week turned into a month before I was, very cautiously, back in the water. In the meantime, for the first week, back to the medical centre every second day to check and on the antibiotics for almost two weeks.
With a light Westerly breeze forecast we decided to sail up to the West pass as we'd heard that there had been whales seen there and it would be an ideal opportunity. We had enough wind to sail most of the 27 miles and anchored amongst big coral bombies in 6m of crystal clear water. The wind did drop, for almost two days, to absolutely nothing, the whole lagoon glassing over. Sasha went wakeboarding and, with the mighty 9.9hp Yami Enduro, aided by a whip start and stretchy nylon tow rope, she managed a deep water start on her single water ski that we'd had stored on Ednbal for the last almost ten years.
Sasha single ski deep water start behind 9.9HP Yamaha with a bit of help from Roger.
She snorkelled the pass sharing the water with big fish and sharks as I followed in the dinghy, NOT getting my foot wet. On one calm morning we went out through the pass to the open Pacific on the dinghy in the hope of seeing some whales. After cruising around, up and down the coast for a mile or two we figured our chances of seeing much from the dinghy with eyes less than two metres above the water when standing were not too good. Heading back towards the pass I thought I saw the flukes of a whale in the distance, maybe my eyes playing tricks on me but we headed off in the general direction, stopped, turned off the outboard, stood up, watched and listened. Couldn't see anything but dead calm water. Then we both heard what sounded like a whale breathing so off again towards the sound and repeated. Again we heard but could not see so swy off again. This time we saw the whales breaching and blowing, what looked like one big, one small, maybe mother and calf. We just stood in the dinghy in owe not daring to go any closer as they were only about a hundred metres from us. A few minutes later, after surface breathing, they dived and were gone. On our way back to the village a few days later we also saw whales in the lagoon from Ednbal but did not go close. Back at the village anchorage we were joined by Canadian friends Maria and Maurice on board Cattiva, an exact sister ship of Ednbal, whom we had last seen just before we left Panama. They had sailed direct from Panama to the Marquesas taking forty days and from there to Tahiti to leave the boat in a marina for a few week trip back to Canada. Now they were going our way, back up to the Marquesas for cyclone season. It was great to catch up with them, Maria, an ex language teacher especially full of life.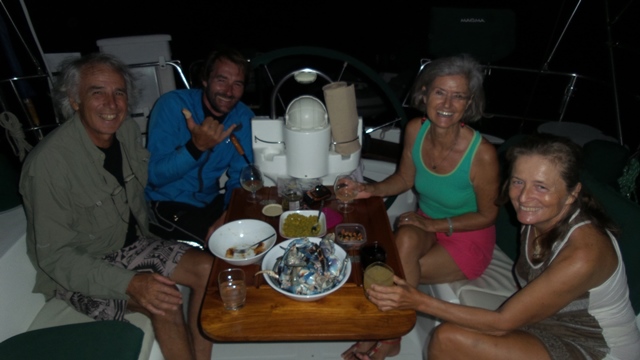 Together we sailed back to the Makemo east anchorage along with a French single hander Gail who was right into spearfishing and windsurfing. The breeze came up again so we had a few more days kite boarding however Sasha didn't fare quite so well getting a control line caught on the same leg she hurt in the San Blas and in another fall whacking her knuckles against the edge of the board and bruising them quite badly. Again more beach bbqs, getting quite proficient at opening green coconuts with the machete to pour out the lovely flavoured water to mix with rum, gin or the French favourite Pastis. Some local Polynesians came from the village to collect copra and they joined us as well. Our attempts at catching coconut crabs were not found so well, only small ones that we did not keep, so they have us some before they left. The two women also, Anna and Kolika who worked just as hard, if not harder, than the men also gave us a fruit bowl and hat woven out of coconut fronds. Just fantastic, all the local people we've met in both the Marquesas and Tuamotus, so friendly and generous.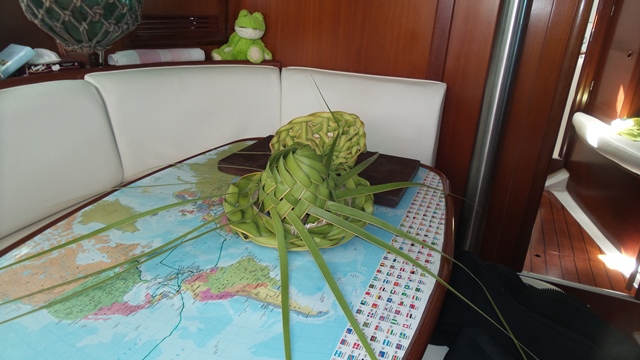 By now it was into October and time to start heading back up to the Marquesas for cyclone season. The historical wind information on our software package Passage Planner showed the winds between the Tuamotus and Marquesas becoming less likely to have any south of East component as the year progressed, none at all in November and December. Our course will be 20 degrees so need at least East, preferably South of East for a comfortable sail up and by the weather forecast our chance was coming so back to the village anchorage again ready for an exit through the East pass to head for Raroia and on up to the Marquesas. Back at the village we found three other yachts had arrived with the same objective on mind. We had checked the current through the pass and seen that it was slack mid-afternoon which was a good time to leave for Raroia, about an 80 mile overnight sail. On 13 October we lifted the anchor at 2pm, just after a rain squall and headed out with about one knot of current and fifteen knots of wind against us making for a nice smooth exit. Once out in open water we set sails turned to head south of Taenga Atoll before turning more northwards up to Raroia. The forecast was for the wind to back from north to northwest so with luck we could make it without tacking. Several other yachts had planned to leave at about the same time but when we went through the pass no one else was under way maybe they were waiting for completely slack current. Shortly after we got sailing we saw another very dark squall behind us heading for the pass. We learnt later that two yachts waited for the squall to settle then exited while another three decided to stay put. One that stayed was our friends on Cattiva. When they tried to lift their anchor it bought up a big piece of coral rock that they were unable to dislodge from their anchor so decided to drop it again and wait until the next day to sort it out. Our sail was pretty much hard on the wind all the way but we made it in one tack, arriving at the pass about 6:30, two or three hours before our estimated slack water time so we just drifted and waited. The other two yachts, Canadians Jack and Edith on Nave and Oliver and Vivian on Mary Ann arrived a short time after us. The water on the outside of the pass was very rough; standing waves caused by the strong outgoing current and just didn't seem to be subsiding. At about 10 o'clock Nave went through the pass getting a very rough ride. The 54 feet Mary Ann followed and had one wave crash right over the transom. We decided to wait after hearing from another yacht already in the lagoon that the next slack water would be at 1pm. By 12:30 the water had settled to smooth so we went in, a long wait bit very comfortable.
Tied up to the dock in Raroia we renewed a few acquaintances made when we were last there and traded a few things for a couple of black, well dark coloured, pearls. Two days later we had an opportunity, a weather window as yachties like to call it, to sail the 450nm North (course 20 degrees) to Nuku Hiva where Sasha was scheduled to pick up her Carte de Sejour or long stay visa, by the end of October. On Friday 16 October we left Raroia on the afternoon slack water along with two other yachts, Nave and the French Lares, no problem, and sailed up the west side of the Atoll before turning East with the wind almost South. We wanted to get as fast East as possible as the forecast was for the wind to back to East and then Northeast. All went well until the next morning when the first of the squalls hit us. As another squall caught us the headsail tore along the foot of the sail so we had to drop it and put up our spare. This meant turning downwind and motoring to reduce the apparent wind while at the same time holding the mainsail out to blanket the headsail. It all worked out and within less than an hour we had the replacement headsail up and were on our way again having lost about 6 miles of the "easting" we had made. Next the toilet wouldn't pump properly, then we went to start the generator but no go until we switched in our additional main engine start battery, seemed our main house batteries were on the way out. The water maker started leaking salt water and twice the autopilot went into standby mode causing Ednbal to round up and go about, not desirable but no great harm done then I was lying on the seat on the upwind side of the cockpit and must have nodded off to sleep, next thing I found myself on the floor. Now, as all good sailors know boat should never leave port, harbour, anchorage, on a Friday, we'd never done it before and I'm sure we'll never do it again!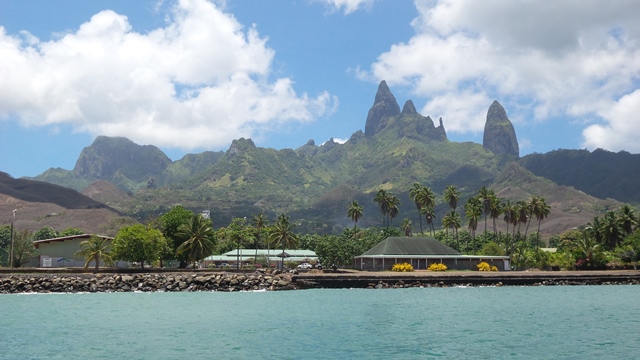 The last two days of our four day sail we had lovely, light winds of 10 to 12 knots, ideal for close hauled sailing. At about first light of our fourth day the 1,000m plus high mountainous Island of Ua Pou, about 30 miles South of Nuku Hiva came into sight so we decided to call on there for a few days. Inside the breakwater we saw Nave so anchored nearby and were later joined by Lares.