Beaufort and Oriental
Beaufort and Oriental
We were tossing up whether to go to Moorhead City or the couple of miles further in to Beaufort.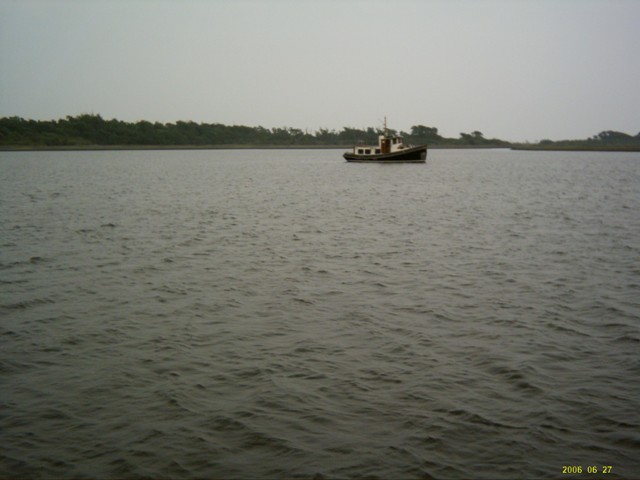 As the anchorage options in Beaufort seemed better we went past Moorhead City and the turn to the Northern ICW, a couple more miles to Beaufort. The river traffic was horrendous, jet skis, boats of all shapes and sizes all seemed to want to get to their destination in the shortest time possible. Upon approaching I95 bridge at Beaufort we requested the next opening, not until 4pm Monday, not an option. Fortunately there was another path, somewhat longer that could get us to the same destination, in front of the Beaufort town centre. There was very little room to anchor and it seemed that most vessels had two anchors out which fitted with the waterway guides comment of strong currents. Having practiced once before we were now of course experts at the bohemian moor!!!! Sasha set the primary Delta anchor into the current so that we could drift back and set the secondary Bruce. All went without a hitch, settled back for a G&T.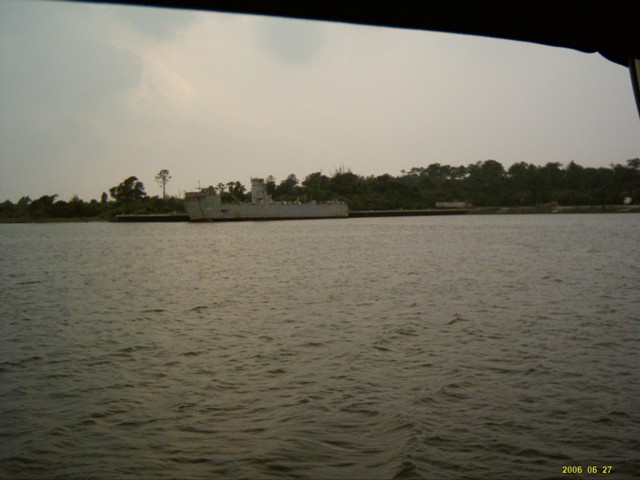 Next morning we took the dingy to the small floating town dingy dock, about 10ft (3m) square with dingys tied up 3 deep to be greeted by a middle aged woman want a boat ride around the harbour and offering $20.00. I took her and her daughter provided there be no payment. The lady spent most of the time talking about looking for a partner. Once ashore we found a huge amount of activity. With the Front street closed off and big signs up "Sale America 2006". Apparently over the American Independence weekend over July, 4th there was an event called Pepsi Sail America 2006, a tall ships event, being held of the coast of Morehead City and Beaufort. The previous event, four years ago, have been held in Jamaica and was won by a Beaufort registered tall ship that was water scale seventeen century vessel owned by the local "pirate" Sinbad. Sinbad, we saw a couple of times, dressed in 17th century sea captain outfit with long, almost white, hair in a big plat half way down his back. Sinbad is quite a local identity and very much the start of the show.
Over the next two days we wondered the streets of downtown Beaufort especially the foreshore boardwalk area. Many of the paths had oyster shells spread along their sides similar to woodchips or pebbles are used in a garden. While at the visitor centre, we spoke to one of the attendance about the purchase of fresh oysters, and followed her directions to the local seafood wholesale outlet. Here we found fresh prawns and oysters sold by the bushel but the shop sign said two day advanced order for oysters. I pleaded ignorant Australian and we managed to get a dozen large un shucked fresh, still muddy, oysters. The shop owner was kind enough to through in a shucking knife so it was off back to Ednbal for freshly shucked oysters and prawns for dinner. What a feast!
The next leg was a half a day or so run trough the ICW canals to the Neuse river and Oriental. We elected to anchor out in the river away from small anchorage immediately in front of the prawn trawler fleet harbour. It was hard to believe that only five months ago we had been freezing in Oriental, now the days were in the mid nineties F (around 35 degrees C) – hot and sticky, although quite comfortable in the boat with the hatches opened and a through breeze.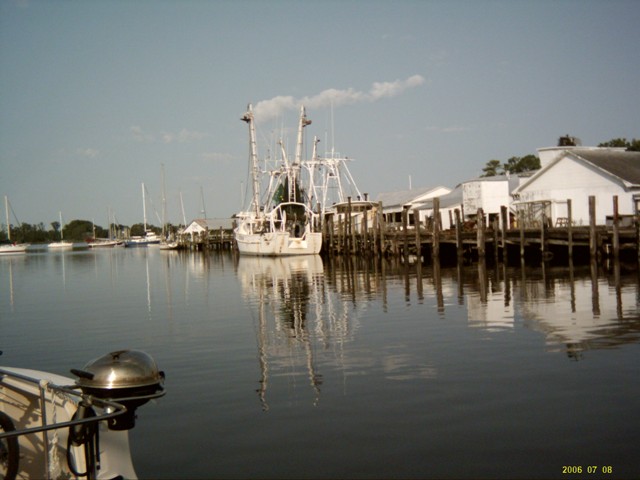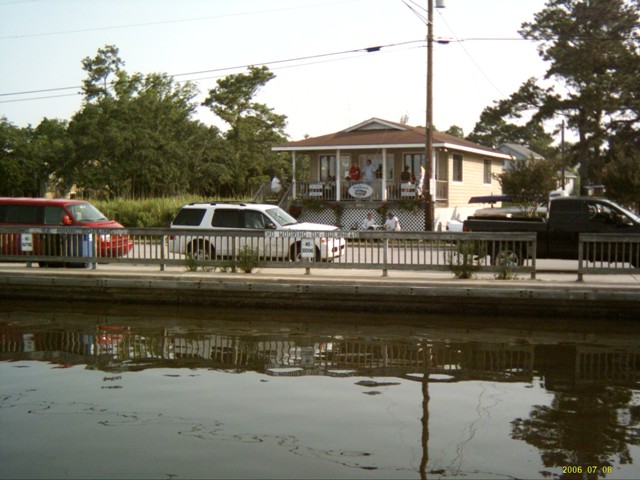 First stop was St Brats Yachts to see what items, ordered from Beneteau, and had arrived for us. Short answer – nothing! A couple of phone calls to Beneteau and the response next day indicated that we could expect to start arriving later in the week. Our main issue now was energy consumption, even with 400 Ah house batteries we could at best expect three days of fridge/freezer running before recharge would be required. Sasha had data on larger capacity alternators produced by Belmar to fit directly onto our Yanmar in place of a standard 55 Amps unit. We worked our way through the options and selected a 120 Amps capacity alternator with external programmable regulator. We placed the order with a two day delivery time. It was also plainly obvious that the standard Beneteau fitted Voltmeter was completely inadequate for monitoring batteries on a long term basis. So we ordered a Victron BMV-501 battery monitor from New Zealand the same day. Both items arrived within three days. So it was a frantic installation exercise. Unbelievably at switch on everything worked, but not for long! Two days later after returning from some motoring to charge batteries everything appeared OK, but the next time we started the engine there was no output from the new alternator. It happened to be the day that we had attempted to fit the radar only to find that the mount brackets did not fit our mast. We had been at the town dock for the radar fitting exercise and started the engine to head back out to our anchorage when there was no output from the alternator, what a great day!. Fault finding revealed no field current even with the direct connection of the field to the battery. Next morning we dispatched the alternator back to Belmar, where they found a broken brush, repaired the unit and returned it to us. In the meantime various items ordered from Beneteau arrived as did the radar mast mount extensions. Our large primary anchor had been difficult to retrieve, running up over the one bow roller and we had decided a pivoting extension to the anchor roller was required. We managed to get a local fabricator, David Crawford, recommended by St Brats, to design and make one for us. After a couple of trial runs and some slight modification, it worked a treat. One evening we started the engine to leave the city dock and move to our anchorage spot. We found that the starting battery hardly turn the engine over, as though it was flat. Upon checking the battery cells we found one was bubbly and electrolyte opaque, seem one cell had died. This was the lead acid battery we had purchased in Oriental from the Inland Waterway Marine Store back in February. Sasha searched and found the original receipt so we paid the store the visit and found that the battery was still one hundred percent covered under warranty. Since we had replaced the house batteries with the zero maintenance AGMs, we decided to upgrade starting battery also to AGM. Not only we have the same batteries throughout, but we could program the regulator specifically to suit AGM charging cycle. We found the people of Oriental to be very helpful and friendly in contrast to some of our previous experiences. When walking along the main street with backpacks on to go shopping people would readily stop and offer a lift. After one grocery shopping excursion, a guy saw us walking out of the store with backpacks bulging and asked if we were on a boat and then gave us a lift to "the front door" of Ednbal at the city dock. On top of that, the staff of St Barts Yachts, Buddy Floyd and David Wright were extremely helpful and generous with their time ferrying us even to adjacent town to stock up on booze and lending us one of their cars when we needed to stock up on supplies. Indeed we had very positive experiences with all St Barts personnel in Jacksonville, Charleston and Oriental.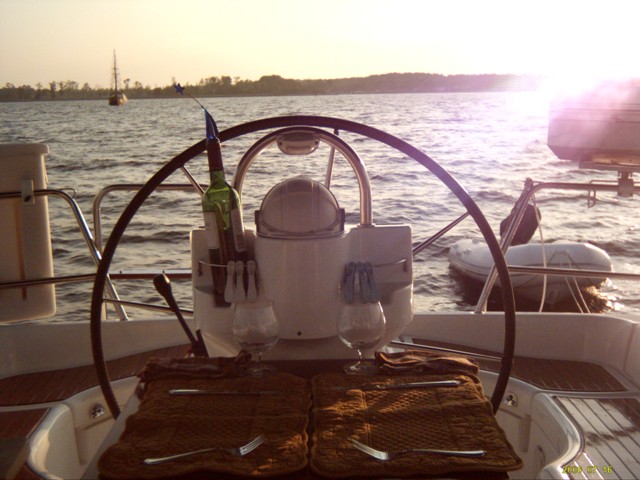 Finally, nearly two weeks after arriving we had received all the items, that had been ordered, and had contacted "a minor refit"so that Ednbal was ready to move on. We left Oriental at around 18:45 on 19th July and traveled a couple of hours North up the Neuse River to charge batteries before anchoring for the evening. Neuse River is largely fresh water, some fifty miles long and over ten miles wide and we look forward finally to some sailing on ICW route.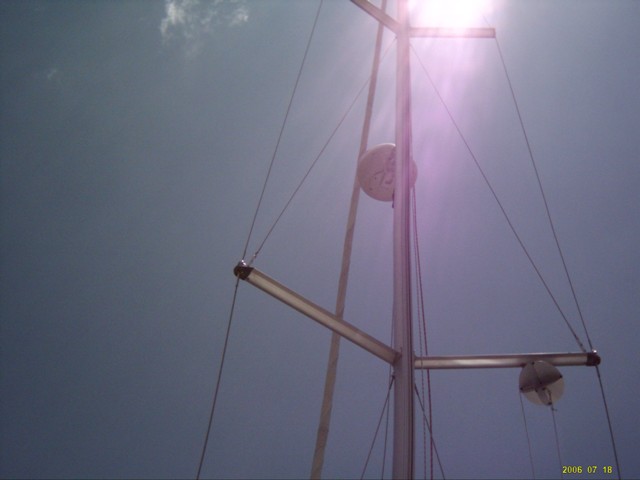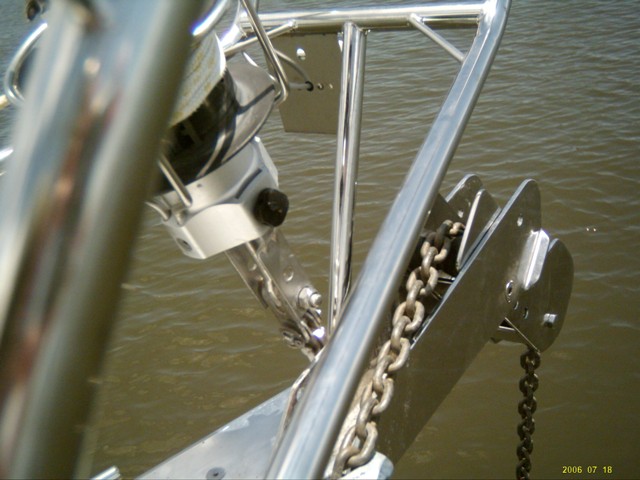 Next morning however river was mirror calm and remained that way the entire day as we motored for 11 and a half hours. All went reasonably well until part way up a fifteen mile stretch of man made canal we came to another sudden stop. On entering the canal we had been keeping green markers to Port, however that changed and the first green marker I took to port took us aground. In my usual frantic attempts to back off Sasha was unable to retrieve dingy rope quickly enough to stop it been round up on the prop. Now we were adrift in the narrow, less than one hundred meter wide, shallow canal. It was over the side with mask and fins to investigate, only to find visibility less than few inches. I could feel rope around the prop shaft but was unable to free it, the only answer, cut it away. Without a dive tank and unable to see each time I went under I first had to feel my way to the prop shaft before I could start cutting. After eight or ten attempts and quickly running out of energy I finally cut through the line and flop onto the swim platform about stuffed. We managed to complete the rest of the day without event and anchored in a quite corner of the ICW for the night. Again, we decided to have early start next day as there was a chance that we could just about make it to Norfolk, Virginia in one long day, if all went well! Of course all did not go well. With Sasha skippering and closely following the recommended ICW route, shown as a red line down the ICW dredged channel on the NOAA chart, we again managed to come to sudden stop. This time a little more tricky as we were under a full sail doing around 4 or 5 knots. By now our run aground panic was becoming almost routine. With Sasha dancing around blaming everything possible and me start the engine, powering up in reverse and hauling in sails. After a few minutes we did find deep water using a technique of heading towards one side of the channel until the depth starting coming up again and altering course slightly back the other way. Behind us another yacht that had been following us for some hours apparently did not learn from our experience and did exactly the same thing. The later part of the run up the ICW to Norfolk showed some long narrow canals as well as bridges and a lock that opened only on the hour. It soon became obvious that we would not make it in daylight hours, so we selected what seemed to be enough room off of the ICW canal to anchor for the night. After circling around searching for an area big enough to anchor at a reasonable depth and still allow for swing due to wind changes, for about half an hour we finally dropped the pick in 10 feet of water. Although there was a quite a bit of traffic on the ICW we spent a comfortable night after spraying the inside of the cabin for "bugs" such as mosquitoes, flies and various other biters, and putting up the anti bug mesh at the companionway as well as one of the forward hatches.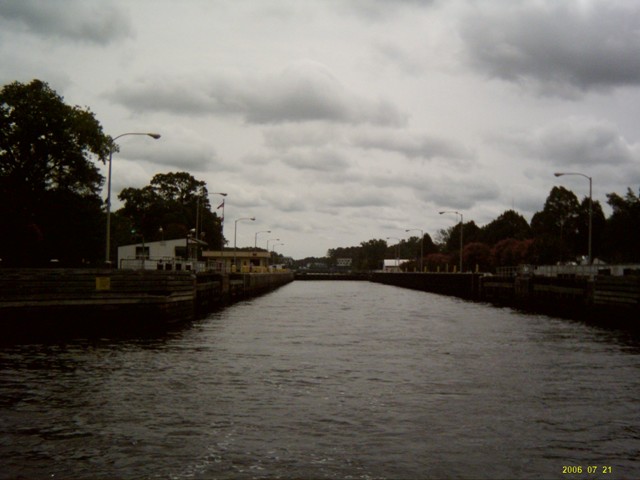 A leisurely start on Friday 21st July, had us at the Great Bridge at around 10:06 am. Motoring along the canal we could see the bridge, that opens on the hour, still open. However, when we were less than a minute away it started to close, so we tied up at Atlantic Marina in Chesapeake to take on fuel and water while we waited the hour for the next opening. Along with several other vessels we passed through the bascule bridge and entered the lock, to tie up as directed, starboard side on. With the current going with us this proved easier said than done. For as soon as I engaged reverse gear to slow us, the side wash of the prop swung the stern of Ednbal to Port. Very embarrassing when there are several other vessels at close quarters with their captains having very worried looks at some dumb Ozy trying to maneuver his yacht without hitting them. On a second attempt, we successfully berthed Ednbal and waited for the lock water to drop its two feet before the forward gates was open to allow us to progress. It was not long before we were into industrial heart of the Norfolk shipping area. Huge barges, tug boats, and ships line the waterway as we proceeded trough several other bridges along Elizabeth River to Norfolk Port smith city centres. Norfolk is home to primary US Atlantic Naval Base and we went passed over a dozen naval vessels, many undergoing refit, before we anchored in the gazetted small vessel anchorage area next to the old Naval Hospital site. And adjacent to Tide water marina. At Tide water we were finally able to replace our stolen VHF handheld and purchase charts for the next ocean leg North towards New York.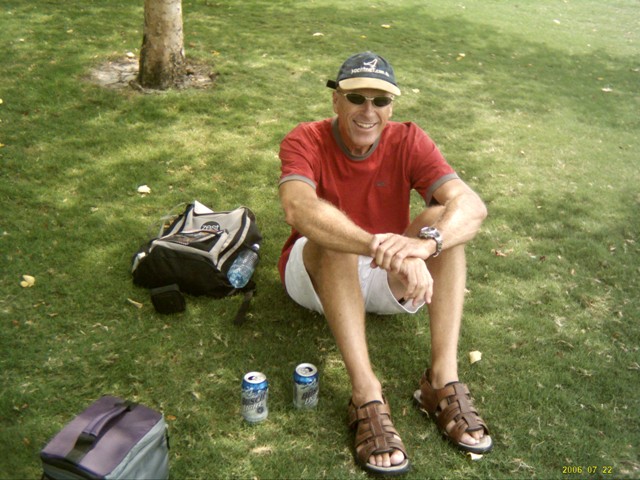 By now fresh food provisions and the red wine were started to run low, so Saturday was off to the nearest grocery store. After traveling a short distance in the dingy we were pulled over by the local US Coast Guard for inspection. It appears that the safety requirements operating in Virginia are different to those in Florida, as we were informed that we should be carrying a PFD (person floatation device) that could be deployed to someone overboard – some sort of life ring. In addition our dingy licence was not displayed nore were its North Carolina registration numbers. After a brief conversation we were instructed to return to Ednbal and get her life ring into the dingy before going any further. At the second attempt we managed to make it to the town dock unhinded where we tied up tadpole and headed for the grocery store a mile or so away. Sunday was sightseeing at the main maritime attraction in Norfolk called Nauticus. Nauticus has a significan naval flavour covering US Naval history but also has natural marine life and general marine science orientated exhibits. Monday was to be a major excursion by dingy up the river to a shopping complex that included Sams Club where we could stock up on a few items at good value (M&Ms!) Sasha put the route into a handheld GPS and off we went covering the five odd miles in about half an hour. The last bridge shown on the chart turned out to be a large pipe under a road so we had to tie the dingy up to a small tree and continue on foot. We soon found that Sams Club was not quite where we thought it was. After asking directions of a number of people and getting verried responses we walked to Virginia Beach Hwy where we found a marine store and hardware store at both of which we spent too much money! We sat on the lawn under the tree outside the hardware shop (Lowes) and had a couple of hotdogs for lunch. By the time we got back to the dingy it was after 14:00 and the tide was well on its way out. We were able to launch the dingy but very soon became stranded. We both went over the side, up to our knees in soft gooe mud and tried to drag Tadpole into what looked like deep water but the outgoing tide bit us. Before long we gave up sat on the side of the dingy and cleaned most of the mud of our legs and started the wait for the tide to come back in again. Luckaly we had water couple of bananas and muesli bars and couple of cans of Pepsi on ice in a small esky (cooler). Ther was very little breeze, no cloud coever and fairly worm. To break the boredom we took turns in reading the only magazine we had, a Vistors Information magazine on Norfolk. After about an hour tied turned, water slowely began ot rise. Two hours later we had enough flotation to paddle Tadpole through the mud towards deeper water.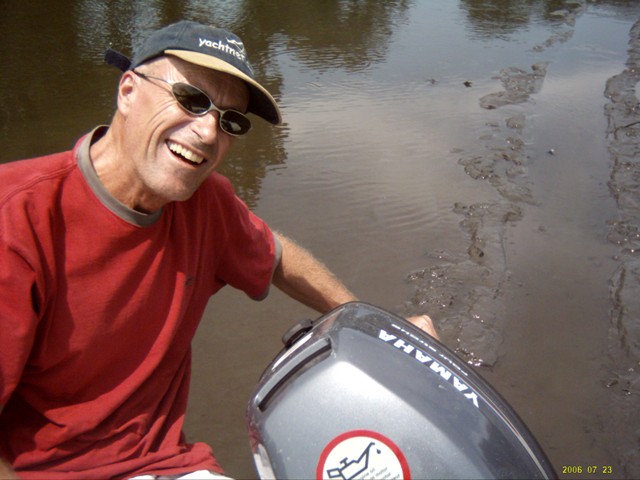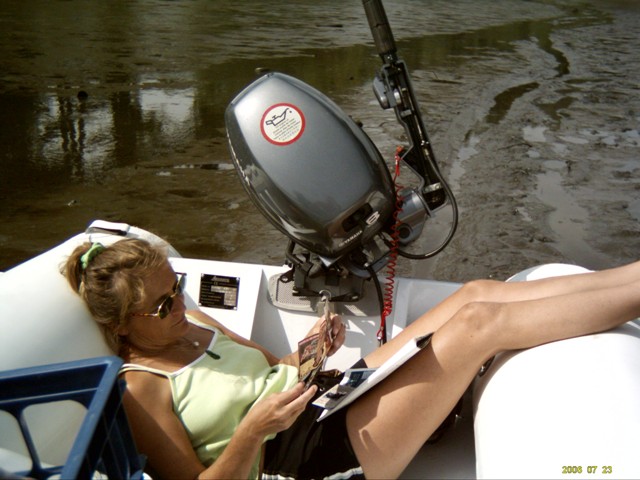 It was seven o'clock by the time we finally got back to Ednbal – long, hot frustrating day, but we certainly learned our lesson to prepare better for any exertion or adventure even in Tadpole.
With NOAA weather predicting 10 knots of South Easterly breeze, the next day, Tuesday we prepared for the ocean leg North.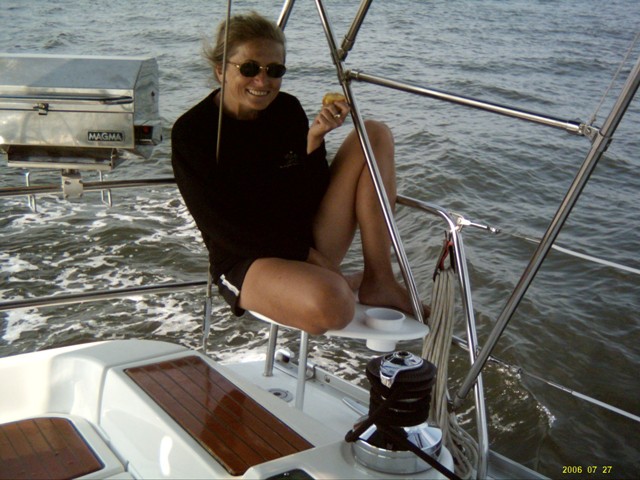 It was a farily early start, half past 6 and on the way by seven to head through Cheseapeake channels out into the open sea some twenty odd miles away. By the time we had gone passed the complete harbour area I had counted 33 naval ships including four carriers. As we approached the bay entrance heading out an aircraft carrier requested us to alter course outside of channel in order ot meet the clearance required by the all US naval vessels.