Thank you Bill & Lesley for providing such a comfortable stay on your island welcoming cruisers from all over the world.
Early 2007 sailing the Bahamas was our first experience of any real island cruising life. The first time to experience checking into a country, the first time to anchor in bays of sandy beach, palm and mangrove covered islands of pretty much a tiny but third world country. Many of the hundreds, if not thousands of islands of the Bahamas banks have been bought by foreigners, mostly Americans. Virtually all have big signed on their shores, NO TRESPASSING. We had hear about an island called Manjack from another cruiser we initially met in Maine, recommended as a beautiful island with a well protected anchorage a little off the beaten track. After checking in and paying our $300US cruising permit we headed for Manjack bay. The bay was a mile or so in diameter, 2.5 to 3 meters deep with a sandy bottom, water clear as a bell, absolutely beautiful. As soon as we anchored we were in the water, a little cool, about the same as were used too at home, off the South West coast of Australia. How nice to be able to see and check the anchor! Sasha marinated the flathead we had caught under way which I cooked on the bbq and Sasha served with chilled squash and gnocchi, first ""caught"" meal for a long while.
We stayed at Manjack Cay for the weekend, just kicked back and relaxed, a couple of swims a day, and met the owners Bill and Lesley after being hailed to come ashore, a little unusual we thought as we had heard that these privately owned islands had their privacy fiercely protected at least with big signs about "keep out" or "no trespasses". But not so Bill and Leslie, believe it or not their beach sign read "YES trespasses"! Not only that, they beamed free WiFi from their house out to the bay, invited anyone interested to walk their island breach trails as a social get together at about 9 each morning and facilitated fantastic beach bbqs. It was on our first walk that we met crew of the only other boat in the bay at the time, Lulu and Gigi, a couple from Switzerland who had been cruising for 25 years! The walk trials were fantastic a, a few miles through the dense sub tropical undergrowth. Not many big trees, but for the most part the trails are fully shaded. One section is even a board walk through the mangroves and all this created by one couple, largely for others to also enjoy, no charge. On the following day we joined in for the walk and since it was an off shore breeze on the ocean side, Bill had decided a beach rubbish collection and bonfire was the go. We all took large plastic bags and walked along the brilliant white soft sandy beach picking up plastic items of all sorts, drink bottles, shoes, cups, rope, pipe, sheets etc and filling bags. Once a bag was full it was left on the beach for Bill to pick up with his 4 wheel motorbike and trailer. After a couple of hours there was a huge 4m pile of mostly plastic. A few large pieces of driftwood were added for good measure and then it was lit up. A veritable raging inferno.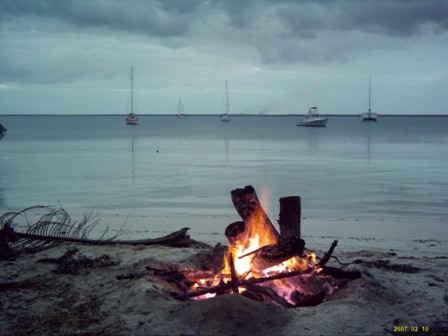 Oh what fun for any pyromaniac? Next it was full moon night, the night when Bill invited everyone to a bonfire on the beach, BYO drinks and nibbles. Sasha made a batch of wonderful Empanadas, puff pastry stuffed with chopped ham, cheese, olives and egg. Along with sweet chilli dipping sauce they did not last long on shore. Our hosts provided a wonderful setting on the beach, sun setting over a still bay with the yachts in the background. I was introduced to run and coke Bahamas style where run is a couple of dollars a litre, much the same price as choke do it was more like rum with a dash of Coke. About 15 people ate, drank and chatted around the bonfire for several hours. We learnt a lot about places to go and places to dodge, just had to remember it.
Turns out Bill and Lesley are ex cruisers living the sustainable life style on the island, selling off acreage to pay the bills but also getting help from cruisers building walk paths through the bush and boardwalks over swampy areas. In turn they also beam out free to use WiFi into the anchorage. On the walk we chatted with Gigi and Lulu in what became a long term cruising friendship.