There is no need to have a BIG boat, if you like sailing and adventure, GO FOR IT!
Late 2010 we had sailed from Turkey down to Egypt to transit the Suez Canal and spend the Northern winter diving in the Red Sea. About mid morning of our last day's sail the breeze started to come up, albeit light, from the West, as forecast, off our aft quarter. Unfortunately it was, for most of the day, too light to sail and still make it to Port Said in reasonable light so we continued to motor sail, getting to the fairway buoy, entrance to the main channel into the harbour, just after dark,6;30pm. There were ships everywhere, assembling for the night South bound canal crossing. As required we contacted the Port Said Port Control centre on VHF, in amongst ships doing the same thing. Eventually we were given the go ahead to proceed towards the "Yacht Club" 5 miles to go. About a mile from the Yacht Club we were met by a pilot boat and a pilot stepped aboard to "guide" us to the Yacht Club. Our pilot book said we could anchor just North of the Yacht Club entry but, despite exhaustive argument, the pilot kept saying it was forbidden so we had to set up to Med moor at the Yacht Club, between two super yachts.
In the morning we woke to see one of the super yachts gone and, tied up at the dock, a small, surf cat.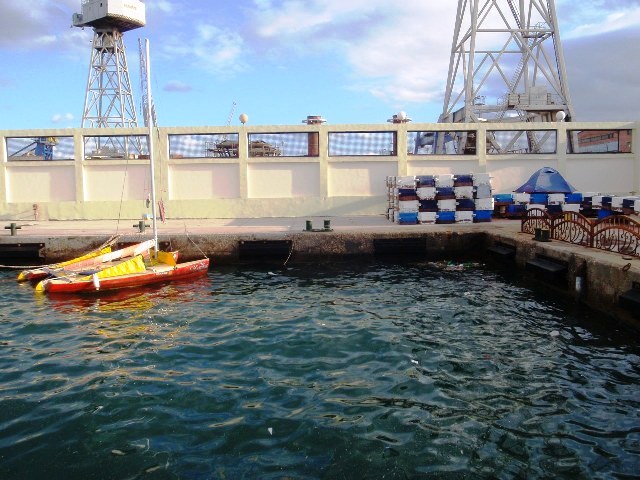 Didn't quite fit the normal description of a surf cat as it had little, what could only be described as spray sheets, running back from each bow to about mid ships. Then on top of some huge plastic pontoons was a tiny one man tent. It turned out that the occupant of the tent was from the Ukraine registered surf cat.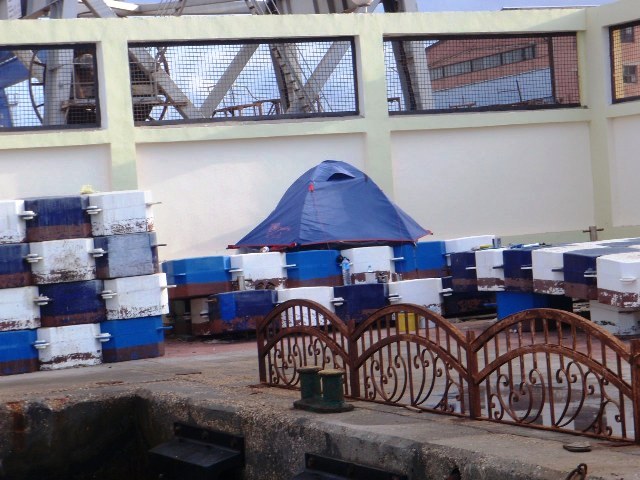 Yes he had sailed a couple of thousand mile from Crimea, Black Sea, believe it or not.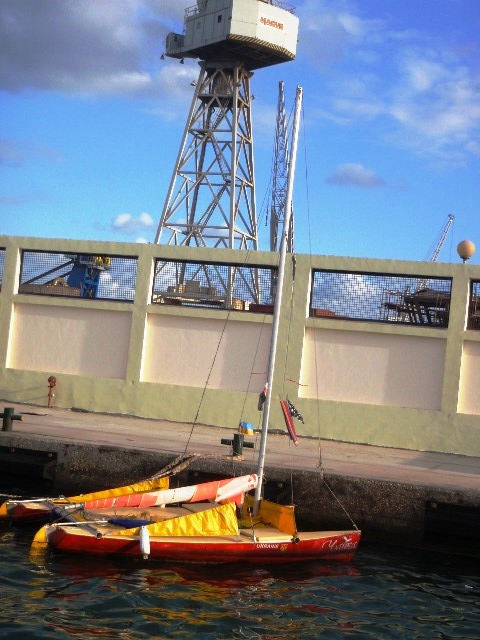 Where possible he had sailed shore lines, pulled his yacht up on a beach, wherever and pitched his tent for the night. On longer trips, when at sea he nearly dropped the sail and settled down on the trampoline for a few hours kip. He had a tiny atlas z about 4cm square and 1cm thick as his "navigation charts" and a small hand held gps. His English was quite understandable, whenever he wanted to talk he would say "I speak you" certainly got the point over. But, he had a problem here in Egypt, he had been confined to the Yacht Club for the last three weeks because the Egyptians would not give him a visa, apparently something to do with his time in Israel. Not a good idea to tell anyone in this part of the world that you have been to Israel, not the best of mates! He couldn't even go out to get food so bought in for him. He was really pissed off at not being allowed to sail through the canal to visit his girlfriend who was working at some dive hotel in Sharm-El-Sheik, down the bottom of the gulf of Suez. To gain some sort of notoriety he had some following by Russian TV, another mistake because when he now needed diplomatic help from his native Ukraine they apparently didn't want to know him How he thought he could Sail through the canal I'll never know. Just goes to show there are many ways to sail the seas.