Angra do Heroismo on the Island of Terceira, Azores in July 2009. Little beknow to us, right in the middle of the sun festival week, Sanjoaninas, A Festa do Sol, there were bulls running the streets.
Every day of the week long festival there was activity, street parades, open concerts (several in different locations each night), bull fights at the nearby arena and, one of the highlights, the running of the bulls in the mains street. For this "event", part of the main street and a couple of side streets were blocked off by trucks and simple wooden barricades were set up. Street stall selling local fast food, beer and Sangria, to assist in "anesthetising" the men keen to run with the bulls, did a roaring trade but some did suffer damage from the moroarding bulls.
We took up a vantage position sitting on the tin roof of one of the stalls where a great dark guy cooked bbq chicken out back to be sold with appropriate beverages out front.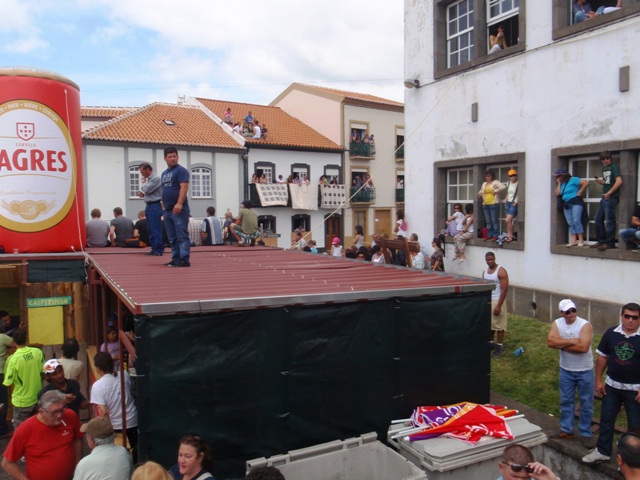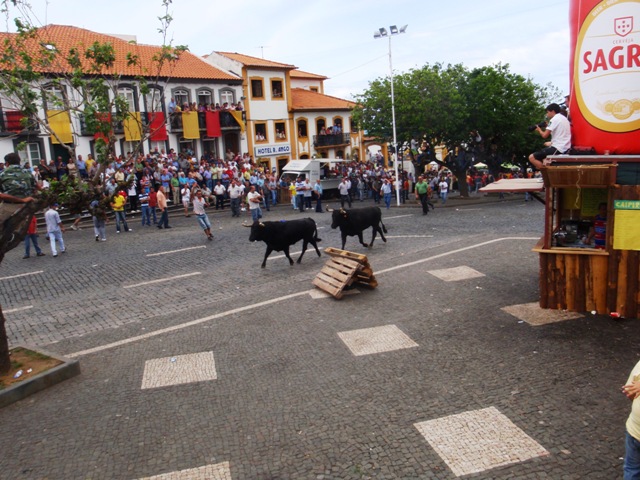 With the sound of a couple of large explosions, probably fireworks, the bull were set loose. For the most part men ran out in front of bulls but quickly jumped over barricades or clambered up trees as the bulls got close. And all is on the video - Bulls Running free on the streets

We heard that at least one guy was carted off to hospital when he was run down by a bull, tossed by horns and trampled. We thought about attending one of the bull fights but in the end decided to leave it for some other time.