A hair-raising voyage that started off poorly, veered back and forth between tortuous and terrifying, and then turned into a near-death experience. Since you are reading this email, we obviously survived – but just. SY Antidote
I know am at fault as I didn't ask for the permission, but could not resist not to publish this email received from Maroth and Janice from SY Antidote explaining their fate at sea [Note: Sasha]:
Our heroic passage from Cartagena, Colombia, to the San Blas islands of Panama.
A hair-raising voyage that started off poorly, veered back and forth between tortuous and terrifying, and then turned into a near-death experience. Since you are reading this email, we obviously survived – but just.
Starting can be a problem
We decided to leave Cartagena - a beautiful and historic city, lively and enchanting – on December 30, 2007. After leaving Club Nautico marina, where we had stayed for 2½ months, we took on fuel at another marina and returned to the main anchorage. Maroth dinghied over to the Club to retrieve our dock lines, which were being cleaned while we refueled, since lines in Cartagena waters are quickly encrusted by masses of slimy marine life. Janice stayed on Antidote, slowly circling awaiting Maroth's return. When Maroth returned, he found Antidote surrounded by a flotilla: about 6 sailors were on the boat or around it in dinghies. He wondered why he couldn't leave Antidote for a brief moment without Janice inviting over the fleet. But she had a good reason: while motoring around, Janice lost control of the vessel, thought she was going to hit an anchored sailboat or two and sensibly requested assistance over the VHF radio.
Maroth chased off the horny sailors and quickly diagnosed and fixed the problem: the transmission control cable had separated from the transmission, preventing her from changing gears.
We finally left and went to the pretty and pleasant Rosario islands, about 20 miles from Cartagena. We spent a couple of splendid days there, swimming, snorkeling and relaxing – the standard Caribbean experience, between long periods of boat maintenance.
Leaving the Rosarios early on January 2, 2008, we had a fine sail until very late in the day, when wind and seas piped up. We reduced sail, aware that we might be in some rough stuff, but still thinking that, by early morning, we would fetch the island of Isla Pinos, in the San Blas archipelago of Panama. This turned out to be extreme optimism, almost Ronald Reagan-esque.
That miserable dinghy
Late that night, our dinghy, a rather large 12-foot RIB, came loose and began swinging wildly on its davits. Maroth did his best to prevent the wilder swings but could not tie it down properly; he also became quite seasick and saw his dinner again a number of times. At this point, the swells increased to 10 feet and the wind to 25 knots, with higher gusts. We dropped sail and started the motor in an attempt to ease our motion so Maroth could free a jammed cleat and settle the dinghy. This was a very bad idea – when we rolled up the jib, the sheets went for a swim: Maroth had not put stopper knots at their ends (truly, he is Sailbad the Sinner.) Now we were in real trouble: not only did we lose use of the engine when a sheet wrapped around the prop shaft, but we also lost steerage – probably because a sheet jammed between the rudder and the skeg, preventing rudder movement.
Inability to motor would only have been an inconvenience, but inability to steer was a crisis.
We decided to wait until daybreak to make a decision and spent a miserable night being pounded by the big seas. Some time in the middle of the night, a line holding the dinghy broke; now the dinghy was being held by a single davit, in a vertical position, swinging wildly, destroying our expensive BBQ and slamming our stern. We worried that it might also pull out the radar arch (which has our radar, solar panels and wind generator), so Maroth cut the dinghy loose.
We were not all that sorry to see it go; we believe this dinghy was ill-fated or jinxed from the start. Those of you who recall our adventures from a previous email know what we mean.
The Colombian Coast Guard attempts to rescue us
Now we were unable to steer the boat or use the engine, Janice insisted we call the Colombian coast guard and get towed back to Cartagena. We did this by using our satellite phone, a very handy item in any emergency. They sent out a vessel to tow us in, which supposedly left Cartagena at 0700. It reached us after 1800 – a rather slow trip, since we were only about 65-70 miles from Cartagena, but perhaps justified by the conditions, which now had worsened to 12-foot seas and 30 knot winds.
They approached Antidote and tried to throw a messenger line attached to a large tow line. After repeated failed attempts, they finally managed this task. However, Maroth was unable to pull in the large and heavy tow line attached to the messenger line – the latter was not much larger than thick twine and cut into his hands. Worse, it wrapped around their prop and they went off for a while to prepare another prop, or so they said. By this time it was a dark and stormy night (thanks for the phrase, Snoopy and BL), wind still 30 knots or so and seas still 12 feet or so. The Colombian Coat Guard vessel came by on our port side and attempted to throw another messenger line, came too close to Antidote and damaged a long section of our teak caprail. On the second attempt, they came on the starboard side and again hit us, this time gouging out a chunk of fiberglass and caprail. At this point Maroth, standing at the bow waiting for the line to be thrown, would have liked to call the whole thing off, but they gave him no time to do so. They backed up to Antidote's bow, threw a very reasonable messenger line attached to a large but heavy plastic ball. Maroth began pulling this line while the Colombian sailors were yelling "pull!" Unfortunately, it was they who should have pulled away; instead, they kept backing up and their stern (the arse-end of a boat) hit our bow head-on! When a steel Coast Guard cutter hits a fiberglass sailboat, it is no contest: the latter will always suffer and so Antidote now had a broken nose.
Maroth, who had a moment of sheer terror as the Columbian arse-end approached and hit immediately in front of him, threw off the messenger line and went to the radio; he told the Colombian captain that, while grateful for his assistance, we wanted no further rescue attempts that night, as they might yet succeed in sinking us. They agreed to stay the night near us and get back in touch at daybreak. So we spent another night tortured by large pounding seas.
The damage
When day broke, we examined the damage: the bow pulpit was totally destroyed, its stanchions broken and the rest just a sorry twisted wreck. Our bow anchor roller (a very large, heavy piece of stainless steel solidly attached to the boat by 6 stainless bolts, ½" in diameter), was almost completely uprooted, moved back about a foot, and almost turned around. This held our 66 pound Spade anchor, which was now hanging off our port side, banging and determined to gouge a hole in the hull. More importantly, our headstay and roller furling system was attached to the anchor roller, but since that was no longer in its proper place, we were essentially without a head stay, perhaps the most important wire holding up the mast. The head stay, with its furled jib, was now doing a merry dance, banging wildly into the staysail stay and furler. To avoid destroying our jib, Maroth tried to drop it and remove it from the furler; unfortunately, not all of it came down – the aluminum extrusions of the furler had a damaged spot which didn't allow the upper swivel to drop beyond it. Maroth tied down the larger portion of the jib and secured what he could of the rest.
Finally a piece of very good luck: our rudder had somehow broken loose and we could now steer the boat. A decision was quickly made: we asked the Colombian Coast Guard to go home, unfurled our staysail and began to navigate towards Isla Pinos, which with luck we might even fetch before nightfall. This was not to be. Lacking a headstay, we didn't want to risk losing the mast by putting up the mainsail; this made for slow progress. Also, more damage: the wildly swinging roller furling system separated from the jib halyard and managed to create an aluminum saw, which promptly put a tear in our brand-new staysail. Luckily, the tear was not too large and was not much affected by subsequent attacks. Under calmer conditions, with a bow pulpit present, Maroth could have released the headstay – but the swinging furling drum was one danger too many and he was not fresh and rested.
Mayday! Mayday! Mayday!
As if everything so far had not been exciting enough, we now come to the highlight (or lowlight, if you insist) of the voyage. This is where we issue "Mayday!" calls on our radio, fire off both our EPIRBs (non-sailors should Google this), and wonder if our wills are in good order.
Since we weren't going to reach Isla Pinos before nightfall, we decided to pass the night at least 4-5 miles off. By this time the seas and winds had moderated and we had a somewhat easier night.
At first light we headed up towards the island, now visible. However, fate had one last trick up her miserable sleeve: the wind was now more on our nose, making progress even slower. Worse, the still heavy swells were on our starboard beam, pushing us towards a lee shore. To get to the island, we needed to clear a reef on our port side.
As we approached the reef, Maroth realized we weren't going to clear it – a sailboat lacks pointing ability without a main. Since we couldn't tack (lack of speed), we turned towards the shore where swells were breaking into 6-7 foot surfing waves. We expected to turn and avoid the breakers, but Antidote came around very, very slowly and we realized we would be in the breaking surf, with a high probability of ending up ashore.
Panic time – Janice issued a "Mayday!" call, we activated our EPIRBs, attached ourselves to the boat, and prepared to hit the coral rocks fringing the beach. The waves were breaking on our beam, rolling us to a near-horizontal position, and each time this happened we moved about 6 feet closer to shore. We were about 45-60 feet from the shore. A hard landing seemed inevitable, so much so that Maroth, a fervent agnostic, took the chicken route and began praying. He prayed only that Janice would survive unhurt.
At this point, Maroth was steering and realized that now, with the wind assisting us, we were moving slightly away from the shore, albeit slowly, during the moments we weren't being rolled by a wave. After an eternity (and a possible lull between breakers), Maroth became hopeful that we might actually crawl away from there, steered to effect that, and ever so slowly we moved away from shore, which fortunately now curved away from us.
Peace at last
Of course, we were very shaken by this close encounter with rocks and perhaps with the Grim Reaper. Janice began sobbing uncontrollably and did so for quite a few minutes.
We now were safe and in radio contact with 2 American boats – "Traveler" and "True Companion" – who had heard our distress call. They helped us formulate a plan, which was to go into a bay just south and east of Isla Pinos. We had passed this bay earlier and for the life of Maroth he can't understand why we didn't go there instead of foolishly trying to fetch Isla Pinos at (almost) all costs. Perhaps lack of sleep, exhaustion, dogged insistence on not changing course, all played a part in this mistake.
Anyway, we sailed into this bay, rigged up an anchor (the main one was still hanging off the port bow), dropped it, and anchored near the village of Mulatupu. Peace at last. A surreal moment occurred shortly thereafter: a magnificent older Kuna Indian woman, gold ring through her nose, sat in her dugout and tried to sell Janice a "mola"!
We are now in Colon, Panama, the entrance to the Canal from the Atlantic side. The town itself is ugly, dirty, and violent. We have personally met 4 cruising sailors who have been assaulted there, in broad daylight and on a major thoroughfare. But we are in the upscale Shelter Bay marina, safe and sound and Janice will leave for California on the 20th, hoping to make some balboas to pay for the repairs to Antidote, which we estimate will be about $8,000.
To get to Colon, we came via the San Blas islands, or Kuna Yala as it's called by its indigenous population, the Kuna Indians. We will have much more to say about these islands and these people in another email; suffice to stay that the islands are very beautiful and the people very interesting, with a unique culture.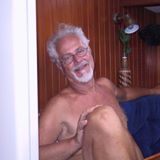 Love to all from Janice and Maroth.