Category: South Pacific
Created: Wednesday, 21 June 2017 11:03
Written by Roger Boxall
Hits: 1550
Mangareva, Gambier
We had already decided that we would enter the lagoon at night and make our way to the island of Mangareva and the main anchorage at Rikitea as it was shown on the chart to be a fully marked ships channel with lit buoys. First we found that the only outer channel marker was not lit then we could not see the fairway centre buoy that was also supposed to be lit. This one was a bit more of an issue as it is right in the middle of the channel, there to guide you not as a warning of shallow water. Sasha was up on the bow with our new whizz bang LED spotlight but still only saw the huge steel buoy when we were just metres away. Once the mild panic of rapid course change subsided we were able to see the first lit bouy, well at least some of them must be working! From then on Sasha was able to pick up all the lit and unlit markers as we weaved our way in to the anchorage where we dropped anchor just behind Raynad right on midnight. Although it had been blowing a lovely fifteen knots on the way in, the anchorage was dead calm, so we settled in for a comfortable nights sleep.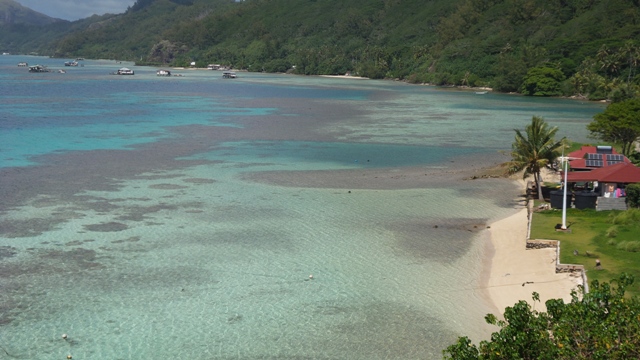 In the morning we got our first glimpses of the Gambier archipelago. Indeed there were both mountainous Islands and flat, coconut tree covered Motus, a true combination of the Societies Islands and Tuamotu atolls. We had anchored close to the ships wharf and with a supply ship, the Taporo 8, due in the next day we relocated to the other end of the anchorage where we had Kirsty and John over for sundowners. Two days later Pitufa arrived but Biergit and Christian decided to spend some time on their favourite island of Taravai.
Rikitea is the main village of the Gambiers, one main Street, part of the one road that circumnavigates the island of Mangareva, that is about 10km by 2km, four small "supermarkets", none of which is walk in, you are served at the front counter from where you can see some, well I guess most, of what they have for sale, a post office, medical centre with a doctor, police station (where we checked in and reported the inoperative buoy lights), council chambers, bakery, a cathedral and several churches to service the Gambier population of a few hundred people. The big incomer earner is the famous Tahiti pearls, most and the best apparently coming from this archipelago.
Christmas would soon be upon us, the two supply ships that come to Rikitea had been, one day after the other, so maybe we could move from the island of Mangareva to one of the Motus. With the wind of around fifteen knots forecast to back to the north east I figured that Totegegie Motu where the airport and a shallow unnavigable pass are on the eastern side of the lagoon might be a nice spot, so we upped anchor and set of on the five mile trip. Only problem was that the wind did not back to east but stayed south east leaving us pitching uncomfortably in the short wind driven waves. The admiral was not happy! Thankfully, during the night, the wind did turn and it settled down. On shore we found what appeared to be a recently vacated shack, a sort of local weekender, with a couple of big bunches of bananas left hanging from a tree. Couldn't let them go to waste, if too many to eat then we could dry some to keep for leaner times when we head back to the Tuamotus next year. It was a quiet Christmas, the one of only two that we've not had the full traditional Aussie Christmas lunch of roast chook, ham, veggies and too much Champaign, this time it was a duck breast with Sasha's home made mlinci and gnocchi washed down with white wine. On Boxing Day the occupants of the holiday shack arrived. Oh, oh better go and apologise for taking some of their bananas. We meet Maroi who was there with his wife and three grand children, his wife and one of the youngsters were out fishing. We, well Sasha, tried to explain about the bananas but all Maroi wanted to do was give us more bananas, they certainly had no shortage, but I think Sasha finally got over the apology and returned the next day to give the family a box of freshly baked banana muffins.
With New Year approaching we decided to return to the Rikitea anchorage and see what major New Years Eve events might be on the go. We saw a temporary building, simple wooden frame with galvanised corrugated iron walls and roof about fifteen by twenty metres, get erected on a grassed park on shore and found that was a temporary restaurant to sell meals for three days, including a part new year, as a fund raiser to help pay to send a sporting team to New Zealand. Inside on the grass floor big trestle tables were set up with just made, rough sawn local wood, long bench seats. The inside was lined with huge pieces of fabric, the whole thing quite impressive. There were several English speaking cruisers of various nationalities, French, Austrian, Swiss, Dutch and American so we all got together on the Dutch Yacht, Silverland with Marco, Maria and 8 year old Mathise on board, a 65 foot timber Brigantine (two masts with the forward mast having two square rig sails) for new year's eve sundowners before heading ashore for the "big show". It was a lovely starry evening to be out on the deck of Silverland, most enjoyable. Ashore not quite so. We bought meals from the understandably limited menu but didn't expect the steak and chips to be served cold! I know I must be getting old but there was just no getting away from the very loud techno music that made dinner conversation impossible. New Year came and went with no announcement or count down but we made our own, all pretty quiet really.
There are a couple of very nice walk trials and a single road that virtually circumnavigates Mangareva island. First we unloaded our fold up bikes and rode leisurely around the island stopping off here and there to "see the sights" views of the ocean, lagoon and pearl farms from the mostly pine tree covered hills, stopping at a spot on the waters edge for our picnic lunch.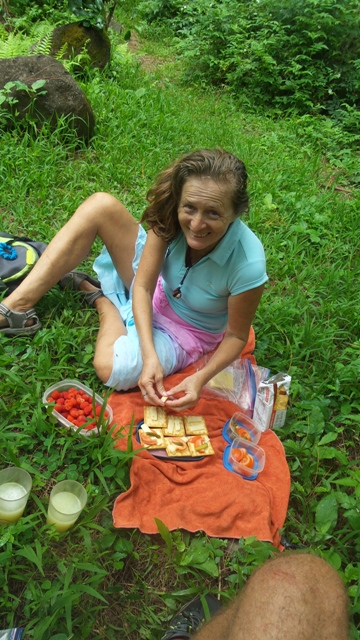 For the most part it is a dirt road with concrete sections when going up or down a steep hill. Along the way we saw a couple of old, barely readable, signs for the walk trails, two traversing the island and one up to the two the 440m high Mt Duff. In subsequent days we walked all the trails that are almost entirely beneath a canopy provided by a variety of trees. The walk up Mt Duff was especially memorable because of the abundance of ripe raspberries, we ate to almost bursting point and took a couple of large containers of the fruit back with us, some for raspberry puffs a la Sasha and some for fellow yachties.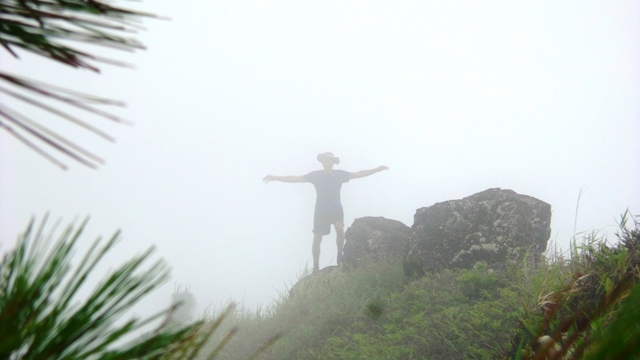 The next social event was a house warming. Biergit and Christian had friends on the island of Taravai whose house was vacant while they were in Tahiti and needed some attention, especially the large garden. Being able to house sit was most convenient as Pitufa had a leaking aluminium water tank that would be much easier to deal with if not also living on board. It was a pot luck sort of house warming, byo everything for a big get together. We made nori rolls and raspberry puffs a la Sasha that proved very popular. The three families currently residing on Taravai brought a whole cooked piglet, and a baked goat shot the day before. More food was thrown on the BBQ and with many side dishes it was a feast to behold in the shade of a huge tree right at the water side attended by about thirty people.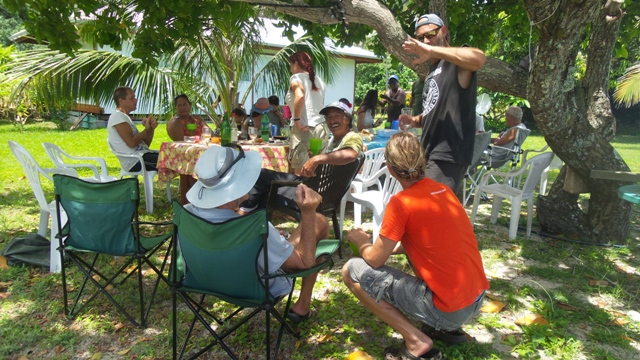 We had decided to try and put our aging expertise to some use by putting up a small one page advertisement on the local Rikitea notice boards to be found at the medical centre, the local council chambers and some of the shops, offering free electrical and software repair. The first couple of items were TVs, alas not repairable as parts not available. We also got involved with the local internet and power generation. The internet issue was more out of self interest as our Vini (the local voice and data service provider) data connection was more disconnected than connected and on the occasions it was connected, so slow as to be almost unusable even for emails, forget attachments, and weather reports. So off we went to see the local technician who was quite keen to show us the installed system and explain that it was bad at the moment because one of the DC power supplies was dead and he was waiting for a plug in replacement to come by plane from Tahiti. He believed it was damaged by spikes on the power system that, according to him, was most unreliable. We took photos of the equipment and Sasha managed to find some of the documentation but we couldn't do much as not even the local technician had access to things like modem passwords!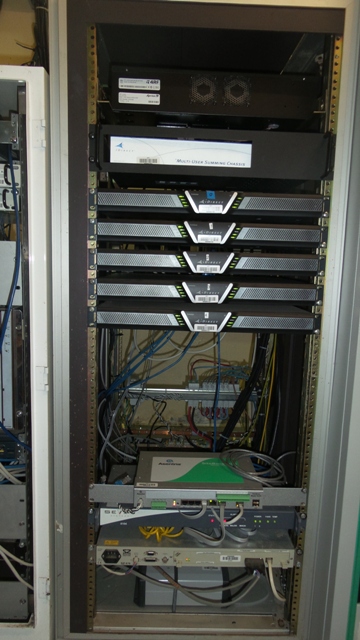 So off to the power station where we also found acceptance. There diesel generators were installed, one 400KVA and two 240. Apparently one of the smaller machines had a major mechanical problem, something to do with the crank shaft, and was out of commission, repair timing completely unknown. The second small machine could be synchronised with the big unit but it would not work the other way around that is if the big machine was running you could not synchronise the smaller one with it. According to the maintenance guys the island load was too much for the small machine so they just used the big one and if something went wrong with it then end of story! For anyone with some knowledge of small power systems it didn't make much sense and most of the documentation, connection diagrams, synchroniser manuals etc were non existent. Couple that with my zero, and Sasha's limited French, made for an interesting investigation, at the time of writing, ongoing! Next came an IPad no longer able to connect by wifi. Sasha found that the wifi Mac address was missing, only chance to get out back would be to install/upgrade to the new operating system version for which you need good internet, catch 22 here. Even when the local tech got the new power supply it didn't seem to make any difference! Not going too well so far. Next a PC, would turn on but nothing more. Turned out to be a failed HDD, Sasha put in one of her old ones and bingo! By now it seemed the word had got around, even though we'd not had too much success more people were calling us and we began to get some interaction with the local society.
One of the reasons for sailing to the Gambier Archipelago was for kite boarding. Until the third week of January we'd had very little wind at all, then finally the expected SE trade winds were forecast so we left the Rikitea anchorage to sail, well motor, the 6 miles to the small, about 150 metre long Motu of Tauna.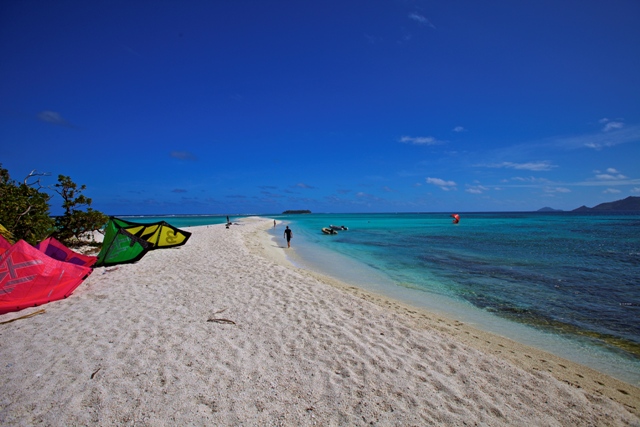 Tauna had a lot of birds nesting, mostly small white Terns and Noddies, a black bird with a white patch atop the head, about the same size as the Terns. It also has a long sand spit ideal for setting up the kites and providing calm water for beginners such as us. Only down side, a lot of coral, some exposed at low tide which of course I managed to crash into and did myself a mischief, luckily nothing serious, but had to keep out of the water for a while to allow the cuts and scrapes to heel. Another "kiting yacht" was with us the very impressive yacht, Silverland, with even more impressive, world class, kite boarders, Maria and Marco to really show us how it's done. Maria used to be sponsored by the very popular kiting equipment manufacturer F-One and they both have the latest and greatest gear.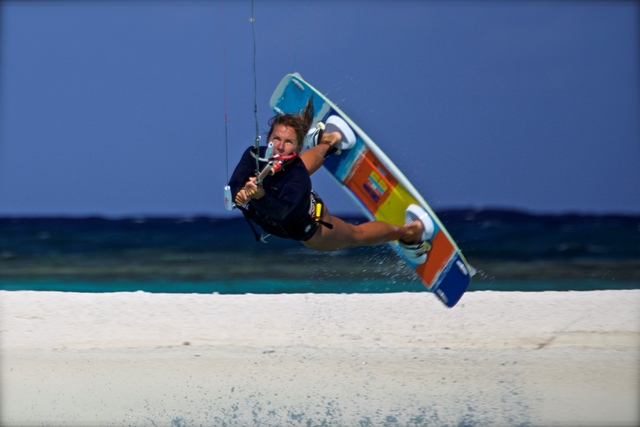 They of course had no problem dodging any of the coral and spent most of the time doing complex tricks incorporating spectacular jumps turns, somersaults etc. We enjoyed beach bbqs with the Silverland crew but unfortunately there are no coconut crabs to be had anywhere in the Gambiers. Mathias is an extraordinary fisherman more especially for his age, fishing is his passion. He knows what fish do not have the ciguatera and how to catch them, he spends many hours fishing from Silverland and while on shore. Not only did he catch some on our BBQ evening but he scaled, cleaned and cooked them in his own small fire that he set up for the job! He always has fish available for any meal that requires them on Silverland.
From Tauna it was back to Rikitea where I kept out of the water for a few days to make sure there was no infection of my few scrapes and grazes. Once they were healed we headed North, well a few miles North to a couple of Motus in the North East corner of the lagoon where we anchored in the lee of Puaumu Motu. We had hoped to anchor in close to the shore but could not find a spot with enough anchor swing room amongst the coral bombies so anchored out a little in deeper, 15m of water. Like most of the outer islands and motus of the Gambier Archipelago the coconut trees on Puaumu were in a pretty poor state. Apparently there is some sort of insect infestation that makes the coconut fronds go grey and brittle while the tree hardly bares and fruit so very slim pickings for green coconuts and their lovely water. We explored in the dinghy and walked around the island that was, in keeping everywhere else, very rocky on the outer, or ocean, side put towards the breakers. Between the breakers and the low water mark on the island is a relatively flat old coral rock area. In the daytime we walked out to the breakers where we had to be very careful not to stand on live coral but where we saw a lot of fish, mainly parrots, eels and, right out in the open a big octopus. It was fascinating to watch the octopus as he glided over rocks changing colors as he went to blend in perfectly with the background. We also saw our first Stone Fish again superbly camouflaged in a hole in the rocks. The best however was our night walk, a lovely moon lit night at low tide with our new powerful headlamps. Small crabs of all sorts, cowreis out in the open feeding on the thin algae, numerous Moray Eels, fish caught in the tidal pools and a variety of sea cucumbers, some not so attractive to say the least.