Category: South Pacific
Created: Wednesday, 19 October 2005 22:20
Written by Roger Boxall
Hits: 1839
 Tahiti
This is Roger's first journal. He called it "From The Other Side - The Start of a Cruising journal". Every day out of nine spent in Tahiti was wonderful. It was not on Ednbal however. Have a read and judge by yourself:
From The Other Side - The Start of a Cruising journal
Leaving Perth
The last days in Perth were absolutely hectic. Packing up Sasha's house, packing all our clothes, for ever, into 4 cases, picking tested dive gear, move furniture back in Sasha's house after floor varnishing, move Sasha's parents and do the rounds of saying goodbyes, last lunch with my "rock of Gibraltar" friend Rick, Nat and Mark, Mum, Helen and Doug, Les and Glor. Last was saying goodbye to Sasha's parents about 2 hours before the plane was to leave. I dropped off the Western Power car and Grant and Naomi picked us up then took us the rest of the way to the airport. After a small negotiation we checked in 7 pieces of luggage, the heaviest just 1kg under the 32kg limit, and got away with 4 pieces of hand luggage, yes 11 all up! Plane departed 00:20 17 October 2005. A new life about to begun.  
Into Sydney, no problem, through to the carry on baggage check and my fishing gear was picked up. All was confiscated, hooks, sinkers, lines,  lures etc. I should have known better, any possible terrorist object is strictly forbidden!!
Tahiti
Arrived in Papeete about 8pm 16 October (on the other side of the date line) to expected to see our SEVEN pieces of luggage on the carousel. Well it was close just one case missing and one broken. After waiting in line at baggage claim the delightful Hinein filled out the paper work to hold the missing case until we fly out of Tahiti in 10 days time and gave us another case to repack the broken one. Just one small problem, it would not fit the tennis rackets. So, instead she gave us 100,000 Polynesian Francs to buy a new one, should be able to get a decent one for that much thought I. Turns out that is about USD$100, even so Henein assured me a reasonable bag at Champions supermarket, but 10 minutes walk from the Sofitel Meava Beach where we were booked, could be purchased. All that done it was time to store luggage that we would not need at the hotel (a 2 night stay) and catch a taxi to the hotel. Now to find the luggage storage. It is outside the airport and just follow the signs - real easy I hear you say - well not quite so! After a frustrating quarter hour of so we found a small old hut at the back of the car park with an elderly Polynesian lady attending. Put your bags on a shelf, count them  (we had 4) and pay the money - 38,000 (about 50 Aus). Now, with reduced load, transport to the hotel. A phone call to the hotel reveals no such thing as an airport shuttle or bus - taxi is 1,500 plus 100 for luggage. We go to the taxi line, by now no one is waiting, to negotiate the price since there is no meter. 1500 plus 50 for each bag, we still have 6 as we came with two pieces of hand luggage each. We begrudgingly settle on 1,800 for the trip that turns out to be about 5 minutes!
 The hotel was booked by Sunsail, the yacht charter company after the internet booking made by Sasha at the Radisson wanted to increase the rate advertised on the net by over 20% which made my Scottish ancestry come into play, and it was already expensive as it was. In deciding whether to take the Sofitel Sasha checked the net for feedback - it was not good, but I wasn't keen on the Radisson deal so we took it. Funny how expectations turn out,  the hotel had been recently renovated and was quite "acceptable". I think that jet lag combined with the good sleep I had on the plane and all the things that I did not get done before I left got the better of me. I spent most of the night with SMS and phone calls back to Perth. Part was the HBF travel insurance. I found they had not processed the application I made the previous week and with everything else going on I hadn't checked. Now because I had left on the holiday they refused to cover me. Thankfully Naomi, the insurance broking Guru, arranged cover straight away. 
We slept, on the 7th floor, with the balcony door open listening to dogs barking most of the night. In the morning we were rewarded by a beautiful clear day looking out over the bay with over 1000m mist covered mountains in the opposite direction. The previous night we had decided to catch the bus into town to visit the market that starts at 5am. By 6 we were on the bus. Bus is a fairly liberal description, more like a little truck with a wooden box on the back, bench seats down the sides, sliding windows of sorts and vinyl floor swept be one of the "passengers" using the head of an old broom - at least it was clean.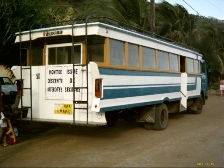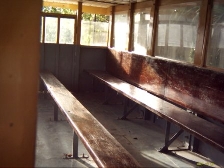 The "city" seemed to have the main drag along the water front with the market one block back and taking up a block. Two stories with fresh produce, flowers, eating stalls and locally made trinkets at ground and what looked like clothing and more sophisticated stuff on the upper level. We did not go up to the dizzy heights. After a look around we booked a half day tour for the afternoon and headed back to the hotel to find the nearby super market, buy the new case and get picked up for the tour. 
 The tour van was a 9 seater skippered by William. There were already 4 passengers and another Aussie couple joined us to be picked up at our hotel. It was the standard tourist stuff, look at some water, visit a museum (some painter guy that Sasha was very keen to see - Paul Gauguin) a waterfall and an underwater aquarium.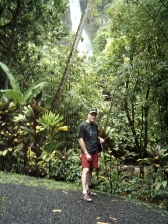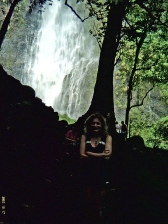 Back to the hotel, a too expensive dinner and early night ready for a 4:30 rise and 6:30 flight to Raiatea.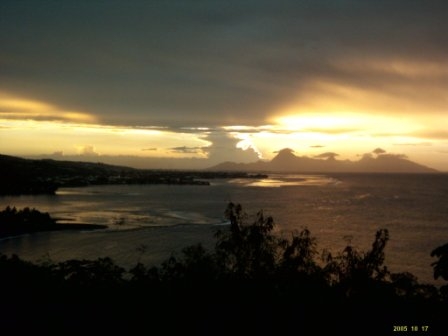 We were late waiting for a taxi, 1500fr this time, picked up three stored items, stored the new case as we did not have time to repack and headed for check in. No special deals for Qantas frequent flyers here. Strictly one piece of luggage up to 20kg per person. We paid excess baggage for the two dive cylinders and 31kg dive gear bag. The check in girl then saw our two items of carry on. Only one each allowed so two had to be checked in. On the bright side she waived any further excess baggage charge.
Raiatea
 Arrived on Raiatea, population 11,000, at about 7:15, picked our bags and tried to get a taxi. There are plenty of taxis but no drivers. Then Sebastian from Sunsail found us. A lift with him would cost about the same as a taxi, 40,000fr and we could get dive tanks filled on the way. It was a short drive to the main town Utuora, and another half hour via a hotel with a dive shop to the Sunsail office where our yacht lay. The 37 ft Jeaneau Sun Odyssey, Mica. Mica was moored stern on next to two 43 footers and a 50 ft Beneateau.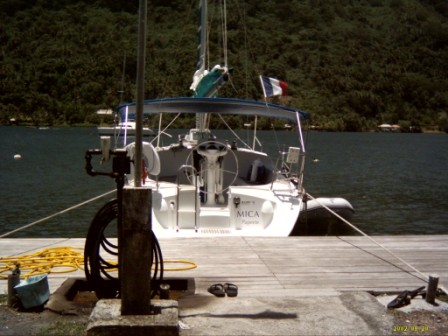 An arrangement had been made with the dive shop guy to pick up the filled dive cylinders from the Shell service in the main town of Utuora. I was to call him when we depart on Mica from Sunsail. We went through the sailing instructions with Sebastian and conducted the inventory, safety and vessel checks before preparing to depart. During the vessel checks we noted that one of the water tank gauges was not working. The technician had a look and suggested the tanks be topped up just in case. This is where I got involved and things went horribly wrong. The technician started filling the aft port tank and when it overflowed I move the hose across to the starboard aft tank. After a few seconds I smelt something familiar - dieseline. Yes I was putting water into the fuel tank. I have never had a boat with the same fittings for water and fuel. The fitting did have diesel stamped on it but in my usual haste I didn't see it. After a short discussion with Sebastian and the technician it was decided to drain the water from the tank. By now it was lunch time and the technician wanted his break. We had not had anything to eat bar a few small bananas. Sonya, one of the Sunsail staff pointed us to a small restaurant up the hill. The "restaurant" was a veranda on the side of a house, no sign to identify it so it took a while to find. The middle aged waitress/cook/owner let us in. There was no menu so we suggested some salad and fruit. She suggested adding some spring rolls, so, with a bottle of water we settled back to waited for lunch. A couple of visitors came and chatted to the waitress/cook/owner and after about 40 minutes I checked on progress, it was almost ready. Coleslaw, tomato, cheese followed by mango, pineapple and grapefruit.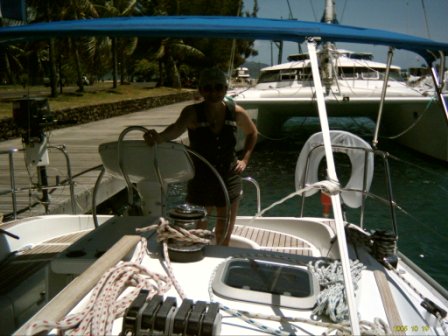 Back at Sunsail the technician was now pumping out from the fuel pipe to the fuel filter/water separator. Twelve litres later only diesel was coming through.
Now it was after 3 and we had to sail the 6 to 7 miles up to Utuora, pick up the dive tanks and provision for our 8 days. By the time we berthed alongside the small wharf at Utuora it was after 4:30 and the guy with the filled dive tanks was waiting for us. Luckily the Champions supermarket stays open until 6 so a shopping we went.320,000fr later we were wheeling our shopping trolley over the road to Mica. By the time we sorted everything out, had a swim, bathed, gin and tonic and a light dinner on board it was time to sleep. Not a terribly comfortable bed, our yacht will definitely have a decent bed, a bit noisy at the wharf but a reasonable night's sleep. 
 The next morning, 19 October was warm and sunny. Time to have a look around Utuora and pick up the extra items that weren't on the list last night. We soon found that there were other places cheaper than Champions! Uturoa is about 9 blocks by 3 blocks so it didn't take too long check it out. We found a shop with fishing tackle and bought a few hooks, swivels, a lure and trace wire for me to add to that bought in Tahiti and catch some fish! At about 9 o'clock we also fund the market that was supposed to operate from 5 till 11. At 9 o'clock there was not much left. Sasha bought a bag of tomatoes got two for the price of one. We picked out mango, paw paw, passion fruit, pineapple - enough to keep a dozen people going for a week!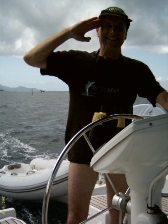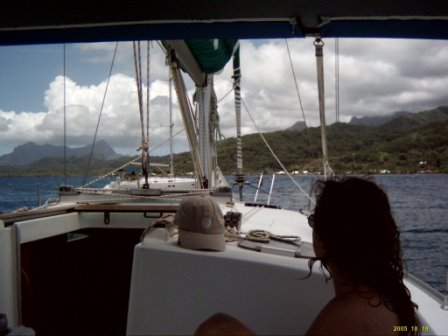 By midday we had sailed a couple of miles to our first lagoon island Taurus. We anchored in about 7 metres of water and had a snorkel around - not much to see although very clear with about 25 metre visibility. Mid afternoon we decided to set off for our night anchorage. Just one problem, couldn't get the anchor up. I had a look with snorkel and mask, the anchor had caught in a coral bombie. We drove Mica well forward over the anchor and up it came. 
 We sailed South East down the coast of Raiatea about 7 miles to an inlet near village Opoa. Close by was an old (circa 1500) Polynesian ceremonial ground called Marae Taputapuatea, an apparent "must see" spot. This was to be our first use of the rubber dingy that we had been towing since we left Sunsail. The 4HP outboard was stowed on a bracket mounted on the starboard pull pit. With some trepidation the outboard was slung over into the dingy and secured to the stern mount. The outboard had been started for us by Sebastian to demonstrate that it worked so I just pulled the cord, again and again etc. No go!! Sasha made some bright comment about needing the fuel tank. I pointed out that there was a built in tank but thought I had better check it - bone dry. Closer inspection revealed a normal outboard fuel line connection. Sasha passed me the fuel tank which I connected and, after a few more pulls the **!!## Outboard started.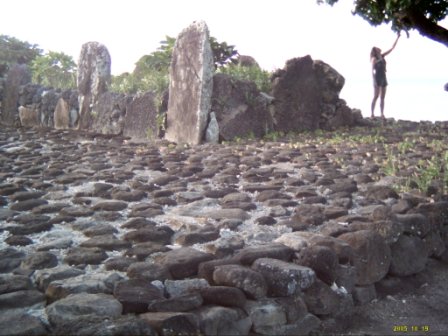 Ashore, with the dingy tied to a post on a small concrete sea wall, we set off to find the Marae. A short way along the road was a small shop - well more like the front of a ramshackle house with a Coca Cola sign out the front. After a few bonjours we got the attention of the Polynesian lady pretty much asleep behind the counter. Sasha's French was a bit rusty but we finally got directions to the Marae - about 100 metres up the road. We walked past a couple of houses then just native vegetation leading up to the mountains on one side and the lagoon on the other, no sign of Marae. About 1Km further there was a sign. As we approached we saw it was an entry to a hotel. Where was this famous Marae? Off to one side of rhe road we could see a cleared area and thought we would take a look. There was a large, roughly stoned area about 50m by 50m with a few other larger stone sections at one end. We then saw some other signs that turned out to be descriptions of the Marae site and its history.
After "reading all about the Marae" we sat on some of the stones and watched crabs building their burrow homes and defending their territory. It seems that Marae was the cultural, political and religious center of Polynesian society, but for me the crabs were just as interesting! On the way back we picked up a coconut to use for one of our yacht master drills, man overboard retrieval. It was quite a job selecting the most appropriate coconut for the MOB practice!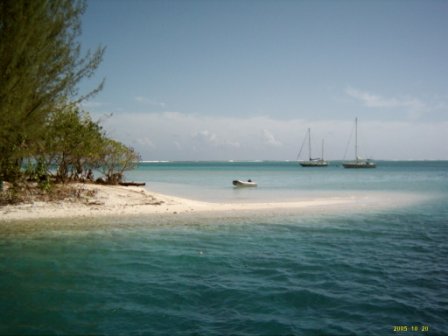 Back on Mica it was time to start consuming some the mountain of food we seemed to have. Time to try out the bbq. The bbq kettle was retrieved from one of the lockers and mounted, outboard, on the pull pit. We had been given a few heat beads by Sunsail and had purchased firelighters as part of our supplies. I stoked up the bbq and attempted to light it in the normal 15kn or so of breeze. After wasting about 10 of the only box of matches we had, there had to be a better way than just trying to light the fire lighters with a match. Sasha suggested using some paper to get the firelighters going, which worked! After dinner of steak, mash (mixed with onion and wasabi) peas and tomatoes we settled for the night. Well not quite settle as we were anchored on a coral bottom and every time the boat swung there was a terrible crunching sound sent up the anchor chain and transmitter through the boat. Still, when you are tired what the hell! 
 Next day, after breakfast, my bacon egg and fried tomato and Sasha's fresh fruit and yogurt, we headed off for another small lagoon island, Naomao, near the southern tip of Raiatea about 5 miles, an hours sail. I figured it was also time to practice some yacht master skills, sail in and anchor without motor. Sounds easy but coming in from 20 meters of water to almost zero over a distance of less than a tenth of a mile and anchoring in about 6 metres of water, only metres from the shore with the 15kn wind almost parallel with the shore is not as easy as it sounds.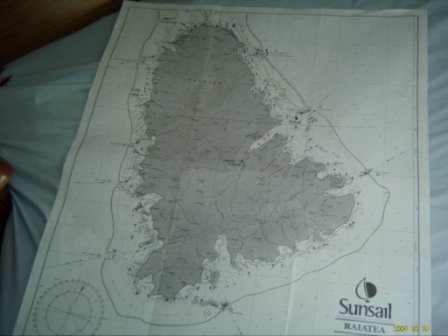 Sasha dropped the anchor on command but I didn't get the mainsail down before it filled an the 1.9 metre draft Mica was perilously close to the bottom. After some "excited" shouting we had the anchor secured and were in the beautiful clear water for a swim and to check the anchor. With all Ok it was soon time for a beer and some lunch, coleslaw, tomatoes, cheese and smoked salmon, followed by fresh pineapple next to a small coconut tree lined tropical island. 27 degrees, warm breeze, truly paradise. 
 After lunch we went for a swim around the corner of the island, past where some other yachts were anchored, to an area reported by Sebastian, to be good snorkeling. We swam along the shoreline in about 1.5 metres adjacent to a very steep, maybe 45 degree, drop off. All sand, great visibility but little else. Then the first coral bombie, home to a myriad of small fish, brightly coloured clown fish, other vivid blue, yellow, some with horizontal stripes, fish of all sorts, 10s if not 100s of them. Further on there were more bombies with more and larger fish. We spent quite a while just drifting around the coral bombies just watching the fish. 
 Back on board Mica we decided to move to the Raiatea side of the lagoon to a very sheltered anchorage in the lee of another lagoon island, Maio. Maio was about half a mile from Raiatea and the village of Tautare. Again the water depth changed rapidly from 20m to 5 or 6 m where the coral bombies became obvious. In the lee of the island the wind was light and variable so I wasn't keen on anchoring close for fear of bumping the bottom if Mica swung on the anchor chain. We moved out to deeper water almost in the middle of the inlet and anchored in about. 15m of water. Again on a coral bottom, all sorts of horrible noises coming up the anchor chain again as Mica swung in the light Easterly breeze.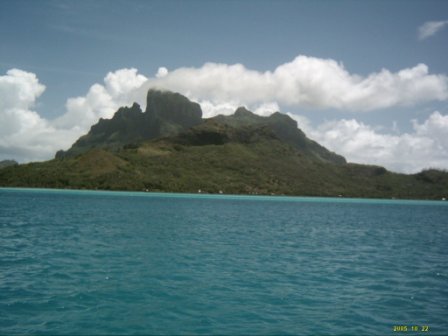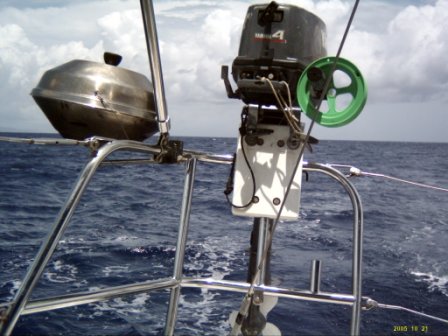 We took the dingy to the village and tied it up to a mole about 80m long and 3m wide. It had had coral stones and jaggered concrete down the sides with a well grassed path on the top. Tautara was not a very clean village with a very pongy open drain next to the mole. We went to a small store an bought a couple of essentials - more matches and a couple of ice creams on sticks! Back to Mica and Sasha's dinner of Tuna Polynesian style. Raw Tuna marinated in grapefruit juice and served with coconut milk carrots and tomatoes and vanillin highly recommended! An early night for a 5am start to sail 35 miles northward past the island of Tahaa to the holiday makers paradise of Bora Bora. 
 Bora Bora
We woke before 5 to the grating sound of the anchor chain on coral, made a coffee and prepared to head out from Raiatea through Toamaro passage to Bora Bora.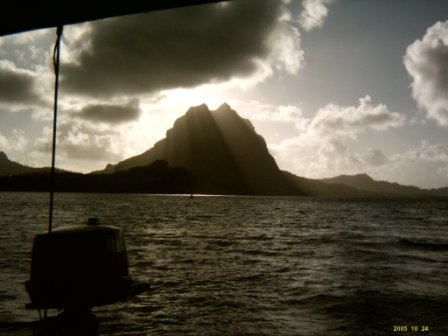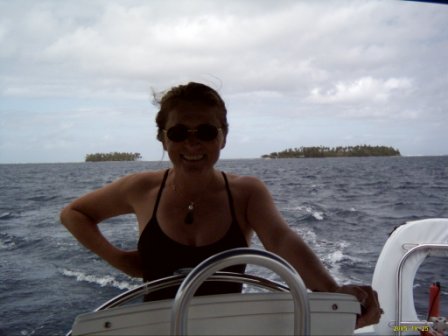 Under full sail we traveled the 6 miles from our anchorage to the pass with a catamaran behind us and falling further behind, much to Sasha's delight. Once out of the passage we on a broad reach with autopilot set to 312 degrees magnetic. The magnetic variation is about 12 degrees East and with unknown compass error we were on a true course of 324 degrees. I put out a trawling lure as we were making about 6kn with a 20kn Southeasterly. Breakfast was the usual yogurt and fruit for Sasha, bacon, egg, fried tomato and fried bread (baguette) for me, enjoyed under sunny sky in the cockpit. About 10 miles out from Bora Bora we were hit by a squall, 30kn or so that had us shorten the furling headsail and put one reef in the main. It only lasted about 15 minutes then it was back to mostly sunshine. 
 It was time practice some more of our yacht master skills, man overboard retrieval under sail, no engine. I had tied some 10mm rope in a groove that I had cut with the ships hacksaw in the coconut that we found at the Marea ready for the drill. The coconut man was dispatched over the side and Sasha and I took turns at trying to retrieve the unconscious coconut man. Most of the time he survived! 
 The entry into the lagoon that surrounds Bora Bora, Teavanui passage, is well marked but like anywhere you have never been before, requires care. We made our way through and tied up to a mooring close to the main village of Vaitape. We went ashore, ignoring the signs in French prohibiting tying up at the small wharf, after all we only had a small rubber dingy. Off down the main drag, a lane and a half of bitumen with dirt either side. There was a small car park for about 20 cars from coral sand. Cars parked in all directions, no such thing as car park spaces. There were a few stores, a small street side vendor selling fresh fruit where we bought water melon and numerous shops selling black pearls, we did not buy any of those! After a scroll up and down the main street we were getting a bit warn, time to go back to Mica and a swim. By now it was mid afternoon and time to head off to our selected night anchorage. 
 Apparently one of the hotels had a Polynesian show on Friday nights (yes it was Friday night) and was only a couple of miles away. We negotiated the sometimes narrow and in places shallow, channel to Mohip, near the hotel. There seemed to be a lot of traffic going in the opposite direct but we didn't think anything of it. We anchored in 6 metres about 100 metres from the shore and swam down to check the anchor, nicely dug into a lovely sandy bottom. No grating coral bottom tonight! A gin and tonic and bbq the last piece of meat for dinner. The wind began to pick up so if lighting the bbg was difficult before then how in 20 to 25 knots. We tried the old light the piece of paper trick but this time with a towel wrapped around us to protect from the wind. After a couple of tries the firelighters were burning fearlessly. Success!! Potato, sweet potato, carrots and peas were cooking inside on the gas stove quite nicely so I threw the piece of steak on the barbie. A few minutes later I took the serving fork out to turn over the steak - simple enough. I stuck the fork into the meat but it was stuck to the grill of the bbq. I pulled harder and it let go. Unfortunately the fork was not in the meat so well and the meat flew off the fork and over the side! I pronounced to Sasha that we had a problem. She thought the vessel was sinking or something, the loss of the steak seemed far less important to her than me - no more meat, how was I to survive? Sasha substituted the steak for Swiss cheese in egg and flour then fried in butter. It was the first time I had tried such a thing, not bad! 
 Mica was swinging all over the place in wind (based on the wind speed instrument) varying from 4 to 33 knots. This was our introduction to what Sebastian had described as the tunneling effect on a lee shore of the main islands. With mountains well over 1000 metres, the wind is tunneled and locally intensifies. Large wind variations can occur, no wonder there was so much traffic in the opposite direction. By now the Polynesian show was out of the question, we were both about dead, we would be blown away trying to get ashore and it just seemed like time to retire. Now, instead of a coral grinding anchor chain we had a howling wind gusting to over 30 knots about once every 2 minutes. Mica would sail up the anchor chain, swing 90 degrees to the wind and jerk on the chain. At the same time something in the stern would creak and groan. I swore to Sasha that we would never buy a Jeanneau yacht!!! When you are tired you sleep regardless. 
 By morning the wind had dropped off but still gusting to 25 knots. We slept in, had coffee, breakfast, swim and off to the next point of call, around to the opposite side of Bora Bora, one of the lagoon islands, Motu Tofari. The channel to Motu Tofari, about 7 miles was well marked but the anchorage showed only 2.4 metres depth. Now Sebastian had said that the echo sounder was celebrated to "depth below the keel" but based on some other chart depths and echo sounder readings I was not so sure. In Polynesia the tide makes little difference as it is less than 0.3 metres. Off we motored, Northwest into the breeze of 20 knots as usual. 
 We stopped for a swim and lunch at Temahu where we also had a short scuba dive. There was a single large bombie just off the stern of Mica. Neither of us had dived for some time so it was much a reacquainting exercise as look and see dive. Still, the bombie, about 4 metres round, had so many fish of all colours, sizes and variety. We only stayed down for about 20 minutes and had enough air left for another dive later. 
 As we approached our intended overnight anchorage the depth slowly decreased. Still a couple of hundred metres from shore I chickened out. With the echo sounder registering 2.0 metres we dropped the anchor. Over the side with snorkel and mask to check the depth and anchor. A beautiful fine sandy bottom, as smooth as a baby's, but less than 0.3 metres under the keel. The anchor was well in so we checked the tide chart. Variation high to low 0.4 feet (tide chart obviously made for Yanks) - no problem!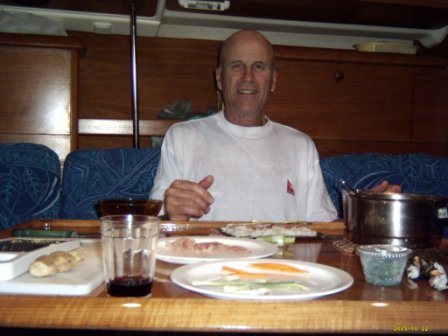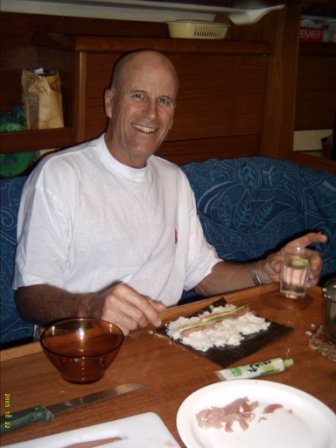 Time for drinks and dinner. By the way the booze and food was kept cold in the eutectic fridge which required, according to Sebastian, to be run off the engine driven compressor for an hour per day. We found more like 2 hours to keep the booze acceptably cold. Anyway, time to make some Nori rolls. We had cooked the rice on the way, in sea water. Mica has two sources of water. Fresh water in the tanks (340 litres) delivered by the battery operated pressure pump, and salt water through a separate tape at the galley basin delivered by a foot pump. Fresh water was from Sunsail, straight out of the river, not so good for drinking. Hence drinking water was purchased as bottled water, we bought 30 litres, I can say that cooking rice in salt water is not a good idea, it is very salty! With salty rice we lined up the ingredients for Nori rolls, fresh tuna, spring onion, carrot, wasabi, fresh ginger and made 7 rolls, at least 3 meals. Nori rolls, seaweed salad, sweet chilli sauce and soy sauce washed down with a bottle of red and very sleepy. 
It was the first night on a sandy bottom with just 15 knots of breeze, even cool enough to have a sheet on. We slept in! Today, Sunday 23 October was to be one of little activity. We went for a swim, probably 1km all up, over to some huts being built out over the water, part of a hotel complex. There are several such hotels. Ver a 100 units built on concrete stilts about 1.5 metres off the water connected by walk ways. Each built in the Polynesian style, timber with leaf thatched roofs. Each had a cental room with a glass/perspex section about 1 metre square in the middle directly over a
Strategically placed coral bombie with its own sea life environment. On this one the buildings had been structurally completed but nothing was inhabited. We swam up to one of them and climbed the ladder to the sundeck. Quite incredible, the whole concept right down to the wooden plugs that covered all the stainless screws in the floor and wall timbers. We had a quick look and swam back to Mica.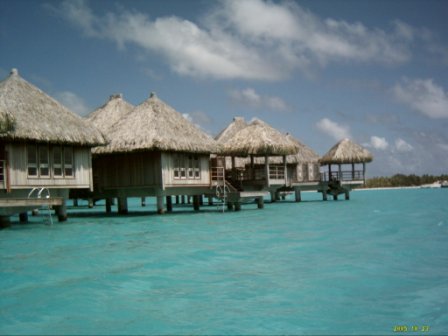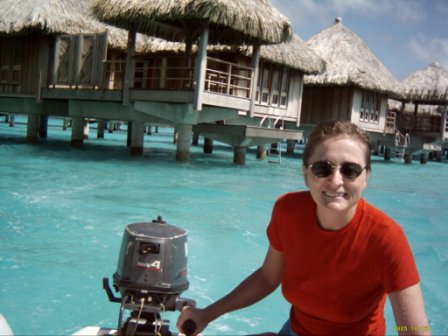 Time to explore this huge, under construction complex, further. We took the dingy ashore for a walk around. Although not complete the major parts, down to tropical plants were in place. The whole complex would be well over 1km by 2km (you would get all the exercise you need just walking around the place) with units on shore as well as those over water. It spans two lagoon islands with a foot bridge between the two as well as a couple of other man mad inlets/lakes, not to mention numerous swimming pools. Huge entertainment areas, it just went on and on, all on one level. No multistorey stuff. A large wharf (no road so only boat access) at the main guest entry, never seen anything like it. There would have to be several rooms! As we were walking back to the dingy we were "politely" asked to leave, no visitors allowed. 
 We motored, without touching the bottom, over to the main Bora Bora Island side of the lagoon and through a very narrow winding passage to Haamaire Bay. According to the chart there was a huge drop off with the depth changing from 20 metres to 5 metres. As we motored the water colour changed from almost a purple blue to I light turquoise . I've found a spot on the lee shore where it looked like there was enough sand to anchor without damaging coral. A couple of other yachts were anchored a little further up the shore line. Time to get wet. There was an almost continues line of bombies along the edge of the drop off. At the bottom of the drop off was sand and old broken coral at about 18 metres depth. We swam from bombie to bombie. Each had its own little colony of fish darting in and out amongst brilliant blue and yellow lipped clams. While the visibility was only about 10 metres there was plenty to see. Sasha had fright when she disturbed a small black tip shark. She frightened the poor thing! 
 Back on board Mica, Sasha took her out through the narrow channel to our night anchorage near Papuaa. As Sasha has done the sail plan, route and skippered from Raiatea to Bora Bora, it was my turn for the trip back Tahaa. I spent the evening plotting the course, putting way points into the PGS and cross checking to find my mistakes. Once comfortable that I had the 30 mile trip set in my mind I went to bed. Earlier in the evening we had experienced a full 180 degree wind change, from South East to North West. The anchor chain must have snagged on something so that now, with the wind freshening again Mica was snatching every time she swung. Iet out more chain and went to bed. There were the now, almost to be expected, grinding noises coming from the anchor chain but I fell asleep. A couple of hours later there was a thump and Mica jolted, we had swung and touched a bombie, chain was taken in! 
 Tahaa
Monday morning 5am came far to soon. In the early light navigation marks were still flashing as we had a coffee and prepared to sail to Tahaa. The plan was to motor out through the lagoon entry then sail. Our initial course took us North West to go around the top of Bora Bora, East the South East before squaring away for the main run of about 15 miles. So, most of the passage to Tahaa would have us close hauled with the wind off the port bow. Luckily the wind had more East in it today but even so, with 20 to 25 knots of wind we crashing into the waves at only 3.5 knots going around the top of Bora Bora. As we were leaving A ship was coming in.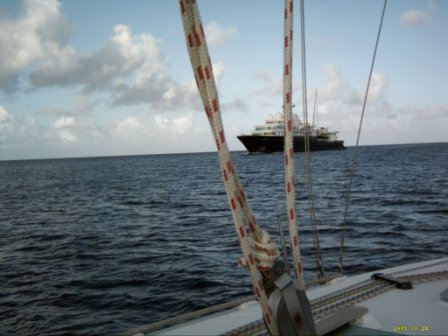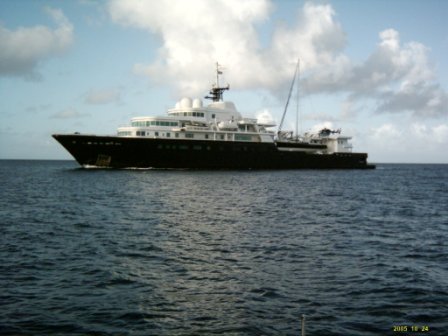 At first I thought it was a small freighter but it went past it was obviously a privately owned palace - Greg Norman's machine has nothing on this one! One the port side deck was a yacht about 40 ft, on the starboard side a sport fishing launch of similar size with a large crane between them to be able to launch and retrieve them from the water while at the stern a helicopter sat on its helipad. Life must be tough! We were soon motor sailing with only the mainsail up. Once on our longer run it was quite comfortable with the autopilot, now called Rick (after my life long friend who has always been with me and watched over me and whom I already miss badly) doing all the work. We sat in the cockpit looking back as Bora Bora, with the tip of its sharp mauntain peak disappearing into the clouds as the swell rolled under us. before midday we were lining up the South West entry into the lagoon of Tahaa Island.
We motored into Hurrapit Bay and were well inside before the echo sounder registered at less than the 100 metre scale limit. Underwater must have been as steep as the lush green covered maintains on either side. Past the Vanilla Tours spot, as marked on the chart by Sebastian that Sasha was keen to see, to near the end of the bay and moorings. A mooring for the night, no anchor chain noises, I could feel the sleep coming on already.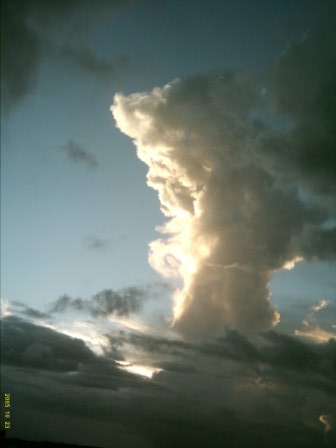 It was off in the dingy to try and find the Vanilla Farm. No such luck so we went over to the other side of the bay to go ashore for a walk and look around. The bitumen road wound around the shore line with houses on either side. Those on the ocean side were small, a couple of rooms, built at the end of a small jetty, in the shallow water out some 20 or 30 metres. Some were pristine, others look as though ready to collapse. Others were built with entry direct on the shore, some with very colourful and ornate pot plants. There were "photo opportunities" but the camera was still on board Mica.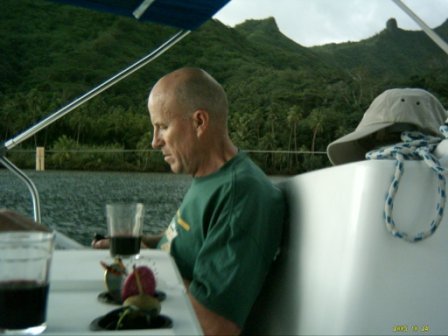 There was rain overnight necessitating several closings and openings of the sleeping quarters hatch. The morning was beautiful and fresh with the overnight rain having washed the salt off Mica's decks. We had a long swim along the drop off where water depth changed from about 2 metres to about 7 metres. Coral along the drop off edge was mostly hard and not very colourful but still had large numbers and varieties of fish. We planned to sail almost right around the island to ..................Bay to and go to a restaurant called Hibiscus. It was recommended by Sebastian from Sunsail for they have dinner and a Polynesian show every Tuesday. Sasha sailed Mica away from the mooring, managing to dodge two huge 50 ft cats moored down wind of us. We sailed down the bay and close to some of the houses on the ends of jetties to take a couple of photos. We were close to the mouth when Sasha went to the loo and I took the wheel. Next thing a very strong gust of wind, from the tunnelling effect induced by the mountains, hit us. Mica immediately healed severely and turned almost 180 degrees into the wind. Needless to say that Sasha, who was almost thrown through the toilet door, was not impressed! The breeze was strong enough to make 5 knots on just the mainsail so we enjoyed the sail northward watching a ship go past, passing another lagoon island hotel and checking out the lush green mountains. 
 By lunch we reached the two small lagoon islands that mark the only other entry into Tahaa's lagoon. The breeze was a steady 20 knots so we anchored in 6 metres on a lovely sandy bottom amongst isolated bombies. During the trip from the other side of Tahaa, Sasha made our 3rd loaf of bread, this time strictly to Helen's beer bread recipe and very successful. Mine was the first try at Bora Bora where I tried to make a half mix, we ended up with something more resembling a large flat burnt biscuit. The second was Sasha's but she substituted beer for coconut milk and vanilla to give a Polynesian touch. It was more like a cake than bread but still very eatable. Lunch was a combination of fresh bread and left over spaghetti Bolognese from last night. This was obvioussly a very popular spot as there seemed to be a continuous stream of open boats with outboards and canopies full of people coming for a look around. We swam in the very clear water with a fairly strong current. One small bombie just off the stern of Mica had some lag sea enemenies hosting quite a number of colourful clown fish. At about mid afternoon we motored the mile or so over to Tahaa to look for some sand to anchor or a mooring that was supposed to be available for Hibiscus customers.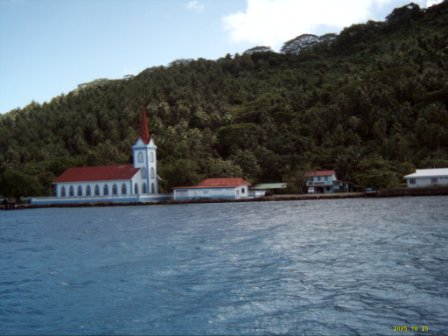 There were already yachts on the Hibiscus moorings so we went further up the bay but couldn't find any sand and, apart from the now to be expected, shore drop off. Virtually the whole bay was 20 metres plus deep and with only 40 metres of anchor chain shackled to a dodgy rope with no eye fitting, I wasn't keen on anchoring in that sort of depth in 20 plus knots.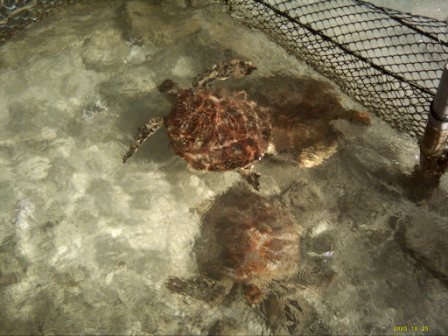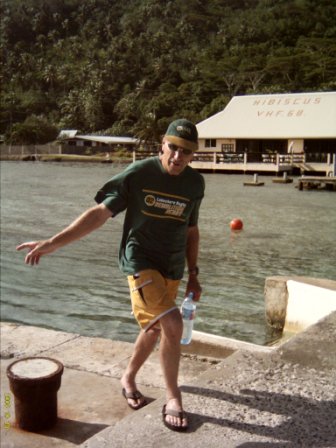 I bought Mica around a small point that afforded some protection and, judging by water colour, had a more gentle drop in water depth. Sasha dropped the anchor in 12 metres and let out all bar about 5 metres of chain. The anchor dragged a little and then held. As Mica swung the echo sounder registered 14 to 4 metres. We waited a while then went ashore in the dingy for a look around and to check out Hibiscus. Hibiscus was built partly over the water, was run by an elderly Frenchman and his much younger Polynesian wife. It also had a somewhat run down turtle "sanctuary" attached. At some stage tourists could sponsor a turtle by donating and letting a small turtle go back to the sea. All we saw was 3 turtles in one very small, about 2metres by 1.5 metre pen. We booked for the Polynesian buffet and show then continued to walk for a couple of hours. By the prearranged time of 6:45 we were back at Hibiscus bathed and dressed for dinner. It was packed with additional tables being made up as people were arriving, we counted 45 people in an area about 6m by 9m including room for the show..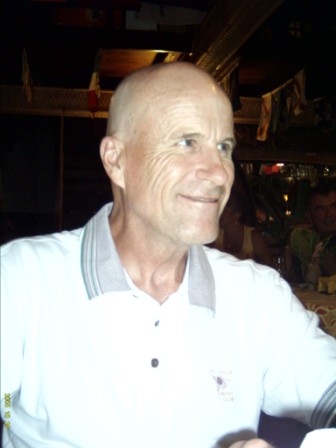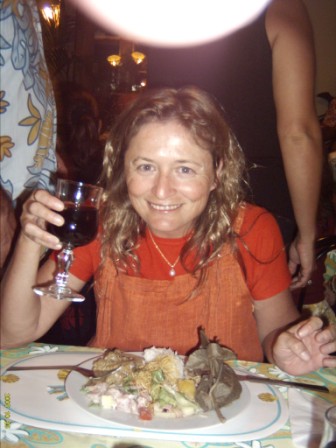 The show started with a Polynesian band, 3 guitar like instruments, one banjo style and one single string base. The based looked like a piece of fishing line on a stick connected to an old upturned metal half drum. Later the band was joined by the Polynesian dancers, 3 young teenage girls and an even younger boy. They danced various hoolas and then began enlisting audience participation. Sasha chickened out but made the normal fool of myself. Buffet dinner was then laid out and served by some of the performers. It consisted of: raw Tuna, Tuna salad (raw Tuna in coconut milk, tomatoes, cucumber etc), roasted carver pork, a large grilled fish served on banana leaves, chicken curry, various baked and boiled vegetables, rice, rice noodles, individual leaf wrapped parcels of dumpling and fresh tropical fruits.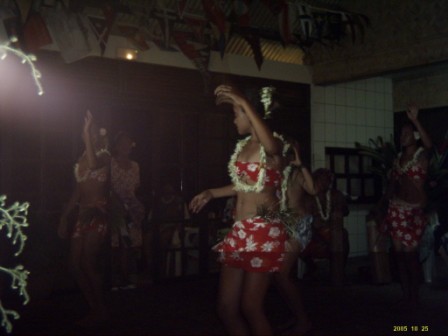 We waddled back to Mica! Again the joy of anchor chain grating over hard coral, we had had enough to eat and drink to fall asleep only to be awoken by rain through the hatch. Then the wind died and Mica swung towards the shore into 2m of water. We had to get her out to deeper water before she started bumping the bottom. I joined our mooring lines to make a rope long enough to reach a small dingy mooring parallel to the shore and us. I took one end in the dingy and tied it to the chain on the dingy mooring and Sasha started to pull Mica over. The echo sounder showed deeper the it began to shallow again. It was time to play tug boats with the dingy. With the dingy I pulled the stern of Mica towards deeper water. At one stage Sasha shouted that the depth was showing 0.9m, how we didn't end up aground I don't know. By now the wind was back to South East, I retrieved the rope and went back to bed but didn't sleep much.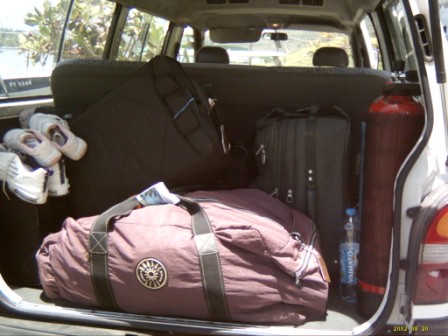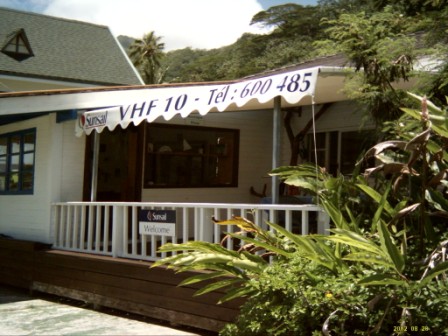 Next day was an early start to travel the 13 miles South to return Mica to the Sunsail base and fly out. The passage down past Tahaa and on to the bay where Sunsail is located was well marked and only required normal piloting techniques.