British Virgin Islands
Category: Caribbean
Created: Sunday, 17 May 2009 16:54
Written by Roger Boxall
Hits: 3075
British Virgin Islands
Anguilla
On Monday we head off, to a far away island, Anguilla a whole 6 miles North of St Martin. This time a British island, very laid back, nice beach and a couple of very small islands to investigate with, as it turned out, many tourists ferried in by huge catamarans. The anchorage at Prickly Pear Cay was somewhat rolly so we stayed only a few hours to do some snorkeling over fairly ordinary coral outcrops before moving back to Anguilla and a Little bay to tie to a mooring in the lee of huge vertical rock cliffs. Finally back to the main bay and town of Road Bay to check out before heading off down wind for an overnight sail to the BVIs.   
British Virgin Islands
All sailing has its challenges, even down wind. For down wind it is how to set sails so that they stay put, don't flap and full of wind. If the wind is less than 15kns then we fly the asymmetrical spinnaker but not at night. It's about a 20hr sail so we leave about midnight. Having been in and out of the bay during the day, leaving at night is OK but once out in open water we remember that there are fish traps with ropes and buoys attached, so I am nervous about running over one and getting it caught up on the keel or rudder. We take the shortest route to deep water, over the 20m bank and see one set of floats pass by, thankfully nothing hooked up. After breakfast up goes the spinnaker but twists around the forestay to cause some anxiety and help from Mish up on the fore deck to get it sorted out. John isn't feeling too flash, a bit of seasickness but is still quite chirpy. I always marvel at people who still want to sail if they get seasick, madness if you ask me!
Arrival to the BVI group was to be the Southern end of Virgin Gorda but 20 miles out, the navigator and admiral decide it might be nicer to spend the first day and night in one of the Northern bays, perhaps even the little Neckker Island belonging to Richard Branson. The anchorage at Nekker has very little sand over rock so we back out and head for the Northern most bay of Virgin Gorda, surprisingly with only 5 other boats. In the morning, after a swim to shore and a walk along the beach it's off to Spanish Town for check in. Now that was fun. Pulled the dingy up on the beach and wandered up to the customs and immigration at the end of the ferry jetty. Three guys behind glass windows in 3 rooms next to each other. One other yachty gave us the drill. First to give you all the forms and check in immigration, next window for customs and last the cashier. We collect all the forms and fill them in using what pens we had as none were provided. Sasha had a red pen which she used to fill her any my immigration while I did the vessel and customs papers. We present to the first window to be told red pen is not acceptable, we must write over the red with blue or black, we could not have new forms. Mutter, mutter, mutter we go and write over the red and represent. Not good enough you can still see the red, this time we are given new forms to start again. This was just not Sasha's day. Amid much muttering, threats of bypassing the BVIs to go straight to Bermuda and accusations that we were being deliberately harassed we finally got the forms filled out to the satisfaction of immigration. Customs and payment, no problem, still the admiral was "most displeased" to say the least!
After a look around the area, visit to laundry and supermarket we departed for the major Virgin Gorda tourist spot of Spanish Town and the caves at The Baths. Snorkeling and a walk trail were reputed to be excellent. The walk trail to the caves, huge granite boulders along the beach, was interesting, the snorkeling, very limited due to poor visibility. The water was full of small particles, looked like thin strands of vegetable matter. We saw the same everywhere else we dived in the BVIs, apparently due to some sort of algae that had come up from South America. Our overnight stay was a little rolly so next day we set off for the short 10 mile sail West to the main island, Tortola, the anchorage in Road Harbour and village (capital city) of Road Town. Our main interest was the Northern Lights generator agent for Caribbean. We had, since getting a batch of bad fuel in Martinique, had trouble starting the generator and, more recently, it was varying about 100rpm in speed for no apparent reason. The trouble diagnosis in the manual suggested a number of checks which we had done but also suggested that injectors may need servicing. As the normal injector service period was 1000hrs, ours was now over 1300hrs, and I had found a lot of water when I changed fuel filters it seemed a good bet. So off to Northern Lights. Seemed that to get the injectors serviced was only marginally cheaper than new ones so we bought new fitted them. Hey presto, problem solved, she ran just like a new one. Next day a familiar yacht came in and anchored near us, Scorpio. They had their generator back in and were here to do battle with Northern Lights about their warranty claim. Alas however no luck for them. Despite all the evidence Northern Lights flatly refused to entertain a warranty claim. Certainly will not get any future recommendations from either of us!
Next stop, Little Harbour on Peters Island. By now I was getting concerned by our guest, Johns, illness. He seemed to be suffering from motion sickness but not so much to cause him to vomit. Never the less it was obviously debilitating. I thought that after a few days at sea he would come well but even on slightly rolly anchorages he was feeling decidedly off. Now we were looking for calm anchorages, how would he go on the trips to Bermuda and the Azores? We snorkeled near shore and saw schools of small fish in abundance as never before. In less than 2m of water, you couldn't even see the bottom from the schooling fish, a few centimeters long.
Over a couple of islands to Norman Island (otherwise known a Treasure Island after the Robert Luis Stephenson book) to anchor, along with a hundred or so others in a lovely calm bay, out in front of Pirate Bight bar, free wifi! A short dingy ride took us around treasure point to the caves. Again, unfortunately, poor visibility in the water but we could still swim into the huge caves carved out of the shear rock face by the ocean. From Norman over to Salt Island for a rendezvous with Scorpio and a dive on the famous wreck of the sailing steam ship the Rhone. The Rhone lies in water 6 to 20m deep and only about 50m from shore, so a very easy and popular wreck dive spot. Jan and Rich had dived it before and were somewhat disappointed with such poor visibility this time. Apart from the wreck itself we saw as multitude of resident fish and even a nice size turtle from close quarters. Mish and john snorkeled over the shallow parts that were only just visible from the surface. Salt Island anchorages are all fairly open to the sea so we went back to Peter Island, past Dead Chest, an island so named for its likeness to a giant coffin, to Great Harbour bay, Peter Island. Much to John's relief, a calm anchorage. Here again we snorkeled among huge schools of bait fish that parted just enough not to touch as you swam through them. As you may have gathered by now, sailing the BVIs is a lot of island hopping..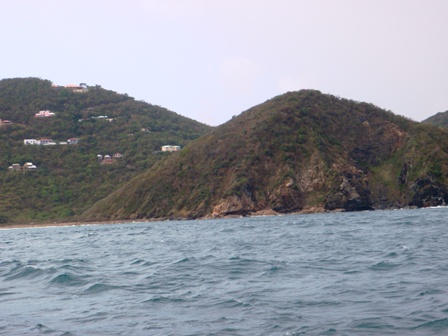 Next on the list Little Jost Van Dyke and the adjacent Green Cay, Sandy Spit. We had heard of "the bubble bath" on Little Jost Van Dyke (incidentally named after a pirate of that name who made the island his home and refuse) where the wave come into a tiny beach through a tiny rock entrance that causes the water to foam and bubble. Unfortunately on the day we were there the tide and swell were both down so not much of a bubble bath although that did not dissuade Mish and Sasha from testing the bath. Here again were a number of dive sites so Jan and Rich picked the best looking one, off Sandy Spit, from their Dive BVI guide book. Visibility was down to only a few meters which made it barely worthwhile and we even cut the dive short. In the afternoon we sailed a few miles across to the Northern Tortola bay of Cane Garden. A very narrow shallow anchorage gave way to a beautiful big open sandy beach lined bay. Locals told us that when cruise ships are in Road Town, CaneGarden is packed, there were obviously no cruise ships in, so we had a leisurely stroll along the front road to continue our survey of Caribbean rum distilleries. CaneGarden is home to Arundel Distillery, owned by the Callwood family for over 200 years and was still making rum as it was done back then, even with some of the original storage bottles still being used. Unfortunately they were not producing while we were there, but fortunately there was ample to sample.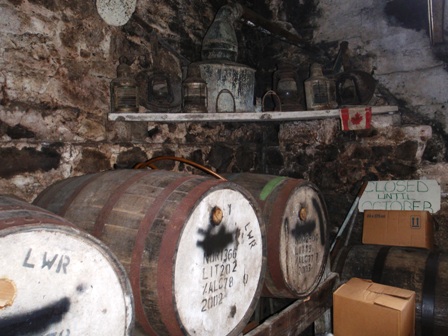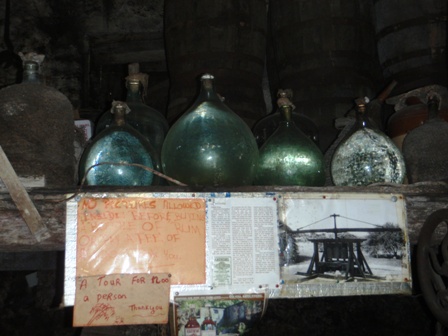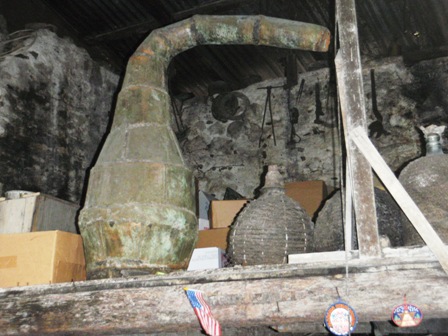 Tonight would be our last with Jan and Rich, we owed them so much, time for a drink and dinner. We had heard about a local food disk called fish and fungi. Now this is very confusing. No, fungi is nothing to do with mushrooms (in some parts of the BVIs you can get "magic mushrooms") but it not only a food name but also a style of music. At first we confused as to whether fish and fungi meant eating fish and listening to fungi music. At the restaurant we asked for fish and fungi but were told that they did not serve fungi, a corn meal based puree with chopped up green local fruit called Okra mixed in, as it was more something people made at home, not asked for by tourists. I later chatted to the two ladies that had  come to our table to take orders and after a little persuasion they agreed to make us fish and fungi, only problem, no Okra. Mish had seen Okra at the supermarket down the road so off she went to buy some and we all had fish, of one sort or another, with fungi, for dinner.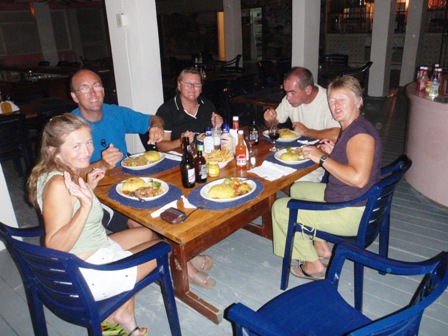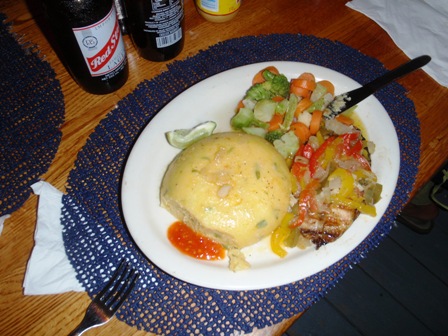 For some days we had been monitoring the weather waiting for suitable winds for the first part of our Atlantic crossing, the 850nm trip due North up to Bermuda. Wednesday or Thursday looked promising with the wind more East than North East as it had been the last week. We moved to the Western end of Tortola and Soppers Hole Marina for Wednesday night to refuel, reprovision, cook meals to be frozen and make sure all was stowed and ship shape for the 6 to 7 day trip. Then on Wednesday, 29 April 2009 at 10:30 we set off for Bermuda. Initially the wind was from the East at around 15kn and we were able to make a little East of our North heading but by late afternoon it was back to North of East and we were close hauled and starting to bang into the waves. Mish and Sasha were feeling a little squeamish but John was definitely sea sick. The big bronze oz of course was a well as ever, the down side being I was the one to spend time below heating meals Sasha had spent pre preparing over the last two days. Generally we were 10 to 20 degrees off course and it continued much the same for the next couple of days as we averaged 5.5kn close hauled and banging into it. At least we were sailing and the forecasts kept saying the wind would turn more South East as we got closer to Bermuda. About half way the admiral suggested we ease the sails and bare away a few degrees to make it more comfortable as John was still down and out and the wind change would soon help us anyway. And it did, only now, sailing faster, we looked like getting into Bermuda at night, we would have to slow down. Alternatively speed up to get us in earlier, needless to say John was all for this option as land could not come soon enough for him! Reefs in the sails were let out and we were soon sailing at 7 to 8kn while making up ground on the 60 miles we were off course in 15 to 20kn of South Easterly breeze. What wonderful sailing, if we could average 7kns we would be in Bermuda by 3pm, two days hence, Tuesday. For the last two days we averaged 6.95kns, arriving to anchor at 14:03, but not before a little excitement! We sailed all the way from Tortola to the fairway buoy at Bermuda before having to start the engine, then when we did there was no throttle control. The throttle Morse cable was broken! Mish volunteered to work the throttle, at the engine, for our short trip to the anchorage, most of which, as it turned out, we were able to sail. Top priority in Bermuda, a new throttle cable. Anchoring was achieved without too much excitement and we soon had John on terra firma and out for his first full meal in six days.