Guadeloupe
Category: Caribbean
Created: Friday, 27 March 2009 16:52
Written by Roger Boxall
Hits: 1917
Guadeloupe
Guadeloupe
Back in French territory again things get easier. Plenty of information, huge variety of foods and goods for restocking. The strike had been over for almost two weeks so no problem. Well almost, we found that still there were a lot of empty supermarket shelves and the big supermarkets were only just reopening. There was considerable evidence of rampaging, even close to the marina there were a number of burnt out shops and slogans spray painted on walls. Most items were procured with the exception of cooking gas, butane used here. Problem was no filling station would fill our US (same as Australian and UK) as the fitting is different to French. We could have filled in Dominica but were not aware of such a problem in Guadeloupe. Only solution, cook on our only two electric appliances. With stock up as complete as possible we headed South for the island group, Isles De Saints, popular for snorkeling and walk trails. Although just 5 miles off the Southern coast of Guadeloupe it was a 20 mile sail from Pointe A' Pitre, a lovely beam reach. As we exited the harbour, early afternoon, we were immediately hit with South East wind at 20kns, oh no, not into it again. Sasha just about blew a fuse, I was none too happy either, would we make it by night fall? After half an hour we were slackening sails as the wind swung to East, then North of East. We should know by now the effects islands have in bending the wind around. There in plenty of time, swim in clear water, sundowner, the finish to another near perfect day. Les Saints was not only a busy anchorage but also a tourist hot spot with ferries coming and going almost all the daylight hours, their wash making for a rolly stay.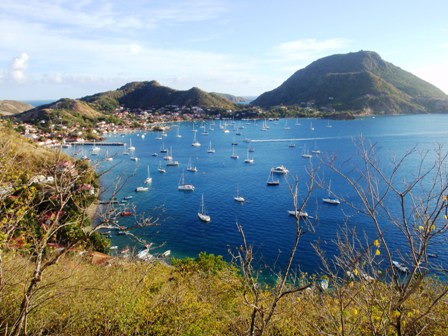 One of the walks was up to a fort built by, or for, Napoleon. A gentle kilometer or two walk, perfect for an evening stroll and GnTs from the fort headland overlooking the ocean back to Guadeloupe. Man did they know how to build things to last in those days, what an incredible fortification, looked almost like it could have been built yesterday.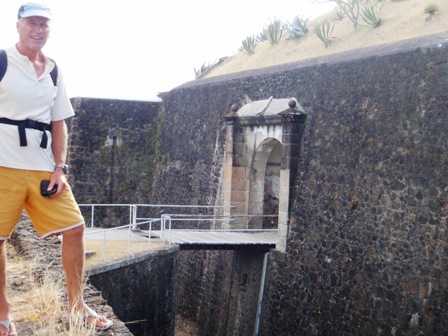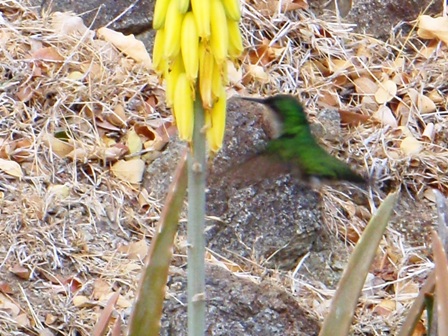 To escape the ferries and for some snorkeling, as recommended by the guide book, we relocated to another anchorage behind Ilet A' Carbit Some nice swimming in clear water, a few boat maintenance jobs done, just the thing but soon time to start heading North again, this time up the West coast of Guadeloupe. We heard there was a famous diving spot (a Cousteau Reserve) around Pigeon Island, suppose to be one of the best in the area. After anchoring in the adjacent bay we went for a bit of a snorkel exploration. As with most things French it was well organized with dive moorings scattered around the island, but our initial snorkeling impression was not real flash as we did not see much in the way of corals or fish. Next day we went for a dive, that was another question! What an incredible abundance of fish and coral along the drop-off that was recommended to us by a couple of locals. This was our best diving since Belize.
Although in the lee of the island, with mountain peaks to over 1000m, still enough wind to sail most of the way to Deshaies. Nothing real special about the town and it seemed, from the numbers of yachts coming and going, that it was more of a stopover type of place for those coming South, a port of entry, for those heading North, like us, a port to check out of the country. The winds were forecast to be North East for a few days, not ideal for our next 100 mile leg to St Martin. We decided to wait for more favourable wind and explore the local area, both water and land. We snorkeled and considered diving but didn't get around to it but we did one trek. Set off mid morning to walk to one of the nearby peaks, with lovely views, up 600m, for a picnic lunch. As usual, although walking on narrow concrete road, it took a little longer than anticipated, up 600m in 4km means that some of the hills are rather steep to say the least. At the peak, the sign said 615m, we found a spot for GnTs and lunch with views down over the forest to the ocean. From there we continued on the round trip to another lesser peak, 430m, and another road back to Deshaies. So far so good, until we saw a walk trail. Off the road, heading down, to the river that ran to Deshaies. We had heard you could follow the river so no problem, walk down to the river, turn right and follow it to its mouth. Now, the French are very good with marking walk trails with paint on signs and trees. Red, most difficult, blue, medium and yellow, easiest. This was a red trail. It was so steep down through the forest that you had to hang onto trees and skid on your bum to stop from tumbling out of control, a bit scary in places.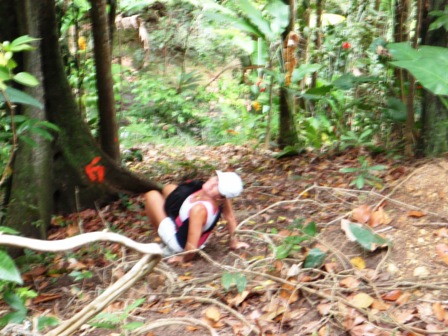 Eventually down at the stream the marked trail went left, up river so we started to follow the river down stream, no marked trail. Shouldn't be too had, ha ha!! After less than 1/2km we came to a dead end, shear rock cliffs on both sides of the river, no chance of following it. What now, try and go back the way we came, to the road, try and climb up and around the cliffs of make a B line for the road, through the forest to our North.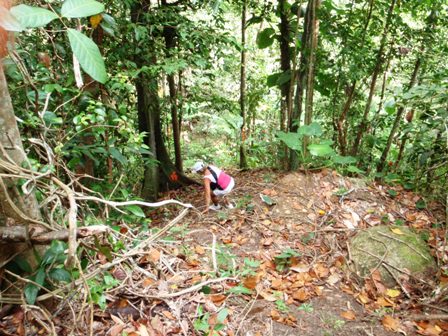 We chose the latter, now 5pm and only an hour and a half of good light. It became real bush bashing, luckily not too heavily forested but long runners of grass, the blades of which had serrated edges to cut like a knife. We both ended up with shallow skin cuts to arms and legs. Up a hill down a valley, luckily my watch has a compass so direction wasn't much issue but we didn't know exactly where the road was. Six o'clock and light fading when we heard a car somewhere to our right, then through the trees a glimpse of car lights, ten minutes later we were on the road, somewhat bruised and battered but heading into town for a beer!
Next morning we woke to discover that our fishing rod and reel had disappeared. Someone had lifted it from the rod holder. Although we reported it to the police the chances of recovery were extremely remote. Well there goes fishing for a while. With nice 15kns Easterly wind forecast we set off for the 100 mile trip to St Martin. Unfortunately an increasing Northerly swell as forecast so the chances of stopping of in Montserrat's notoriously rolly anchorage were slim. Instead we bypassed the active volcano and continued on but not before some spectacular views of steam and smoke rising from the crater. Again, sailing these islands there always seems opportunity for change of plan. As we sailed the night read some more about the island of St Barts and discussed the option of a short stay there as it is only 10 or so miles South of St Martin. In addition, since we had not been able to check out from Guadeloupe, due to customs being closed, it would probably be easier to check into and out of another French Island. The only issue was to slow down to ensure we arrived during day light so for a couple of hours we sailed with barely any sail up at all and arrived in the outer bay area about 6am.