Dominica
Category: Caribbean
Created: Tuesday, 10 March 2009 16:51
Written by Roger Boxall
Hits: 2249
Dominica
Dominica
After attempting to check out of Martinique but finding the customs office closed, as it had been since we arrived, we headed off for Rouseau, Dominica. Wind on the beam, 15kns, for the 20nm sail but alas no fish. In the Rouseau anchorage we met an English couple, Peppy and Steve (otherwise known as big bear) on board Bees Nees. We also had a drink with a couple of Aussies, Pam and Jim off Delicado and we all planned to hire a car together to explore the island and a couple of its more spectacular waterfalls. We arranged a 7 seated 4WD for 9am pickup but best laid plans. It turned out the hire company had only one 7 seater and at 9 it had not been returned. The user rang in to say half an hour late, an hour later, Sasha and I patiently waiting at the counter knowing that 4 others were waiting for us, no sign of the car, replan the plan. Pam and Jim decided to opt out, they were heading South next day so we dropped back to a 5 seat 4WD. By mid morning, with Steve and Peppy, we were on the road, with the next day free for the inconvenience.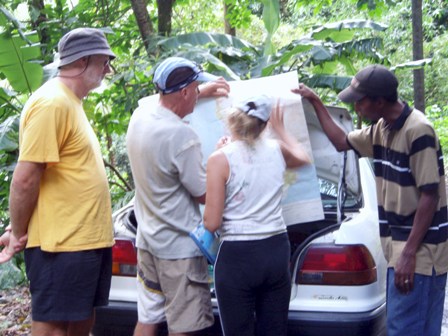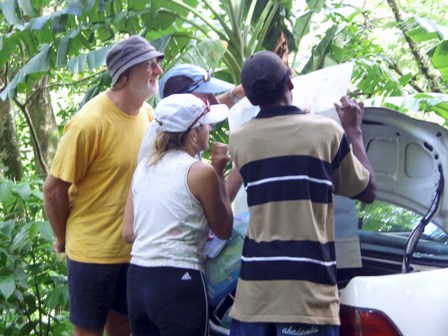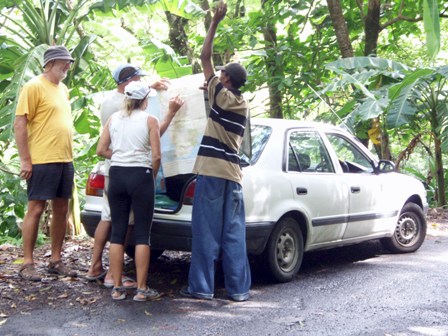 Took a while to get "directions", but finally we were on the way. First stop sulfur water warm pools at Screws. Five pools dug into the hillside fed from streams yellow/orange water of varying temperature, just the thing to relieve the stress of a ballsed up car hire. Almost an hour of immersed relaxation followed by a platter of mixed fresh local fruits.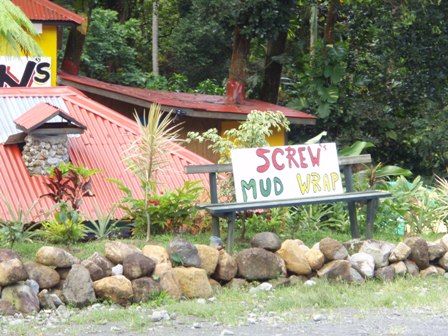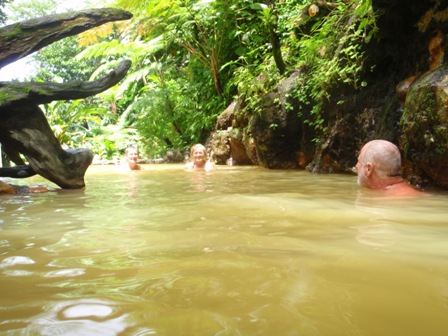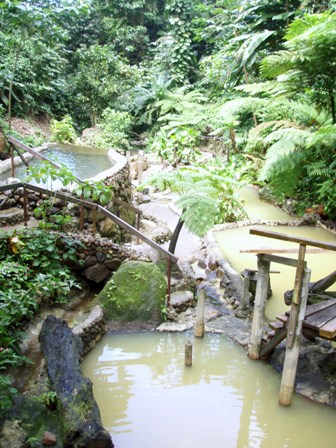 Next off to Trafalgar falls, although very nice it is hard to get excited after the AngelFalls in Venezuela. Especially nice was the rain forest greenery, nice, no just spectacular. Green almost beyond belief, all round, often so much foliage you couldn't see any sky at all.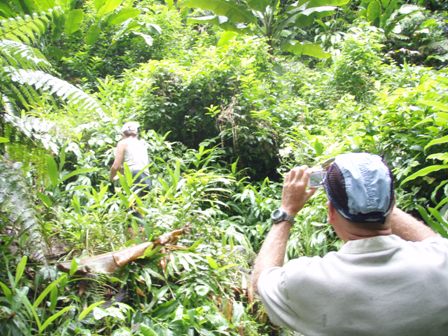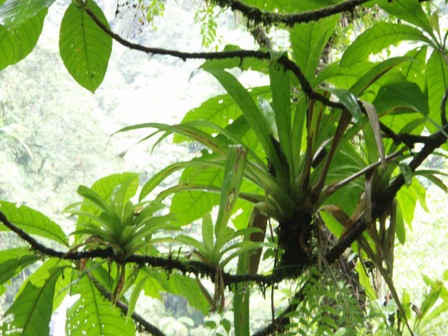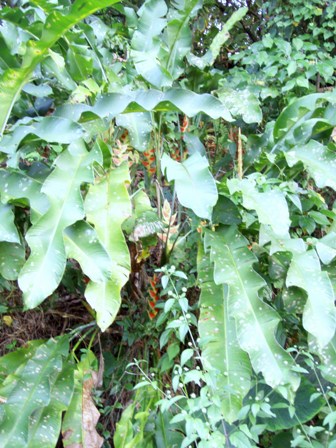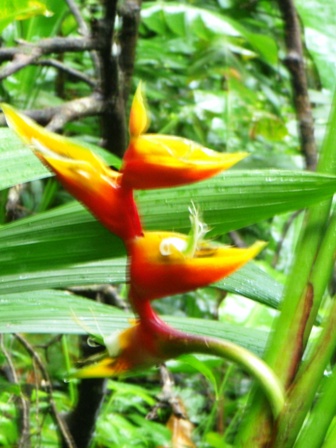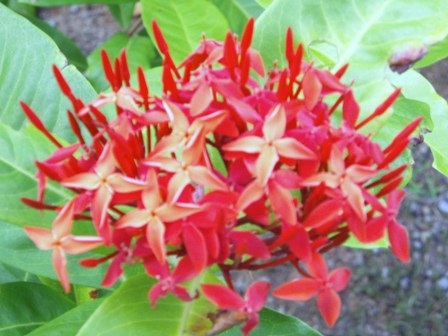 Next day we drove to the start point for the hike, an hour or so, to MiddlehamFalls. Relatively easy largely because most of the up and down was on steps made from wooden logs.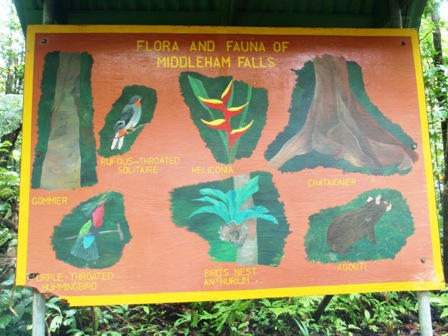 We could hear birds but only saw a couple of small ones. The falls, 100m or more high, hit the pool at the bottom with such force that the wind created across the water was very strong.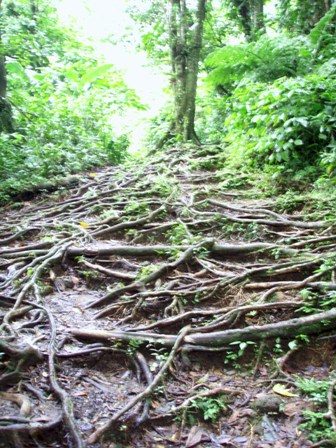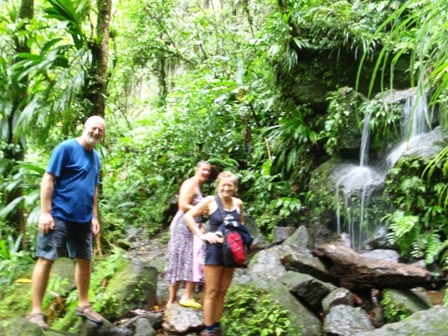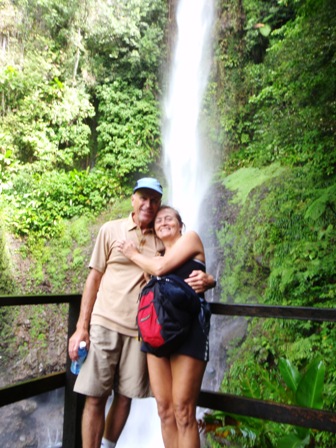 From the falls off to the Eastern side of the island for picnic lunch overlooking the Atlantic then on to CaribTerritory, an area of about 4,000 acres to accommodate some of the few remaining pre Columbus, inhabitants. We had a guided tour of the "show" Carib cultural grounds with many explanations of the interaction of Carib and nature, food, medical, protection from the elements and religion.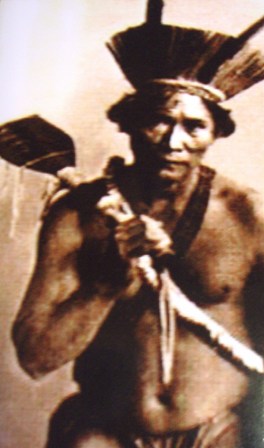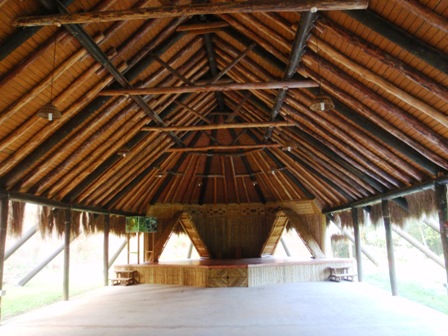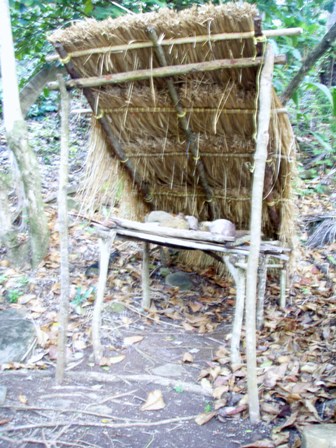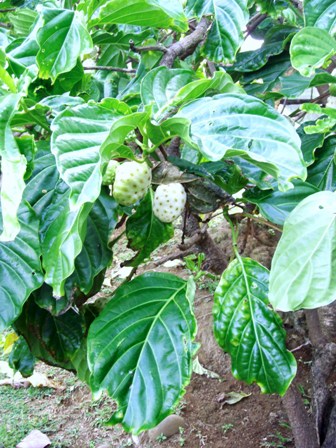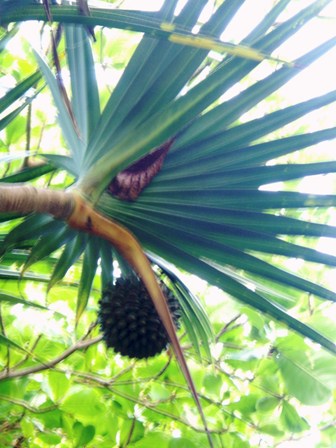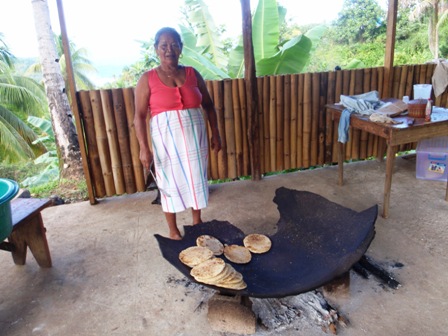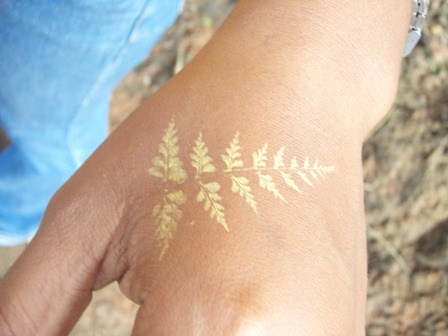 After a drive back across the other side of the island it was off to the open air market for fresh fruit and vegetables followed by local bbq. Friday night is street bbq night with vendors on almost every corner with sizzling bbqs of fish, meats and vegetables all served with special sauces. Many of the bbqs were made from old propane gas cylinders cut length ways and hinged to keep in the heat. Sasha and Steve  opted for fish, Pepe and I went for chicken.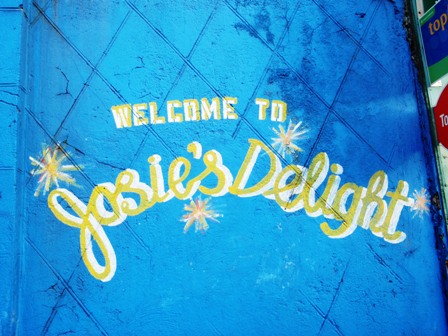 As we sat on some make shift seats, food on our laps, beers at hand, we got talking with the vender, Josianne, her daughters, as well as other family members.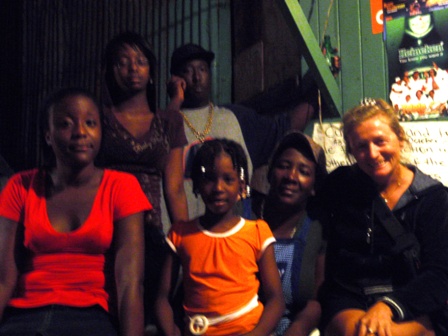 Josianne invited the 4 of us for Sunday lunch, we could hardly believe such hospitality. So, at the prescribed hour, 2pm Sunday, dressed in our best clothes on board, complete with shoes, we were on Josianne's door step, small gifts and bottles of wine in hand. Inside the tiny house, where some children sleep in the same bed, a table in the corner of the living room was laid out with all manner of mouth watering dishes. The specialty, as we had discussed on Friday night, was rabbit, just fantastic. We ate, drank and chatted until late afternoon, a truly memorable experience.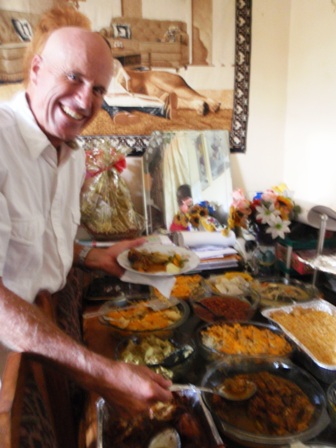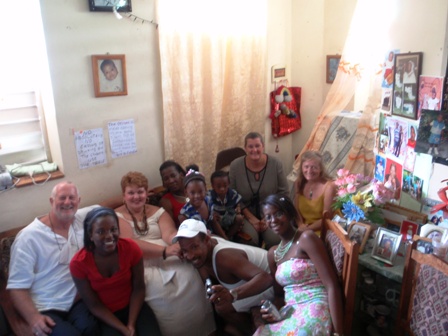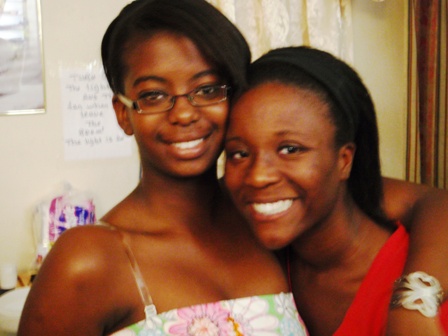 Monday was time to move, a short sail to the North Western end of the island and the town of Portsmouth. Some 60 yachts were in the anchorage and we were greeted by boat boy Martin. I must explain boat boys. First, boy or boat boy is by no means any sort of derogatory term. Generally it is one man on a brightly painted dingy, 15ft or so, with a reasonable size outboard, around 40hp, who comes alongside your vessel as you are approaching the anchorage, up to half a mile out. Keeping just a couple of feet away he stays the same speed and strikes up conversation, welcoming you to the area, telling you a little about the place and some of the services he can provide. This is how they make their living. Most are pretty good but you always have to be careful. Martin had been recommended by some other cruisers. Our main need was for a trip up the nearby Indian River. To our surprise Martin could do this personally and he had a couple of spots available for one at 7 in the morning, perfect. Right on time we were picked up and joined by 6 others for the boat trip.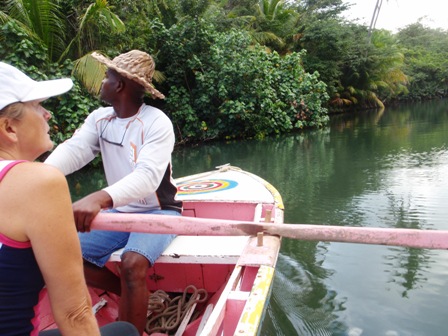 A few hundred meters over to the river mouth that was almost entirely blocked by a small ship, maybe 100m long, that had gone aground during a recent hurricane and, at the time, completely blocked the river entrance. Locals had dug away the bank on one side to enable their small boats to access the river. Once under the road bridge, Martin stopped the outboard and was out with the oars. We were now in the national park, no outboards allowed so as not to scare the wildlife. It certainly worked we had rarely been so close to birds, although it must be said there was not exactly an abundance of wild life. At the slightest trace of movement, cameras were into action. After an hours row to the end of navigable water we went for a walk along a short track with Martin describing various flora and flora before stopping at a pool for refreshing grapefruit. While enjoyable we found the much reputed Indian River trip to fall a long way short of our river trip experiences in Venezuela.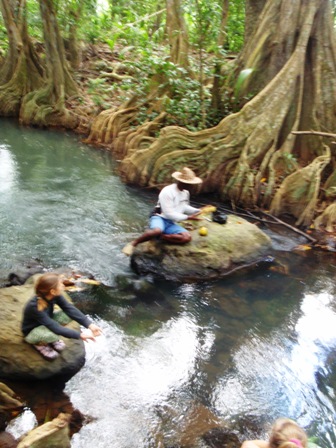 On Monday, at first light, it was off to Guadeloupe, another French island almost due North. With a forecast of 15kn out of 70 to 80 degrees, a lovely 40 mile sail. Not to be. Once we cleared the protection of the island into open sea we found the wind to be more like 20 degrees, so into the wind and tacking again! We looked at alternatives. One of the incredible things of sailing the Eastern Caribbean is the close proximity of islands. Rather than head for harbour of Pointe-A-Pitre we could head more West for Iles De Saints or more East for Marie-Galante. By heading for Marie-Galante we would always have the option of "bearing away", to have a far more comfortable sailing angle, to either Pointe-A-Pitre or Isles De Saints should the wind start shifting more to the east as forecast. As it turned out the wind, after a few hours, did start to swing more to the East and we ended up changing tack to sail quite comfortably to Pointe-A-Pitre, arriving late afternoon. Alas another trip with the lure in the water the whole way but no fish.