Venezuela inland trips
Category: Caribbean
Created: Wednesday, 17 December 2008 16:49
Written by Roger Boxall
Hits: 2591
enezuela's inland trips
Venezuela and inland trips
The Bahia Redonda is one of several marinas in a huge development of canals, initiated by one man who bought an entire former salt farm for the development. The area, known as El Morro, is several square miles with mostly European style town houses but also a number of huge mansions along the banks of canals. The main arterial canals are large enough and deep enough to allow big yachts with other smaller offshoots, some with ornate bridges, for smaller vessels only. Development and building is ongoing with still many acres of grass and small trees.
We had an objective to do some inland travel, a couple of major attractions, Angel Falls, the highest waterfall in the world and the mountains near the city of Merida.    
Trips, adventure tours, are made available by tour agencies, who, we found out later, add at least 50% on top of a tour conducted by others. The agencies have flash, well air conditioned offices, while the actual tour operators work from home and their tour vehicle. The most popular vehicles are big Ford F350, 4 wheel drives with large well made cab to seat 12 in aircraft style seats, and smaller 4 wheel drive such as Toyota Landcruisers and Jeeps.
Editor's note: For anyone visiting this part of the world we can thoroughly recommend Sylvain Lanctin who maybe contacted directly via This email address is being protected from spambots. You need JavaScript enabled to view it.
Most tours are environmental one way or another, to see wildlife or spectacular mountain scenery but they are also the more thrilling such as white ´water´ rafting and parasailing off 1000m or more mountain cliffs. We opted for the wildlife and scenery, with a little trekking and horse riding thrown in, must be getting old! First up a bus ride, 700km to Barinas where our tour guide would pick us up, sounds easy. We embark at 18:30 and proceed to freeze, on go sweaters and even our wet weather gear, why they have air-conditioning down so cold I don't know. We arrive a little ahead of schedule at 05:50 and call the guy to pick us up.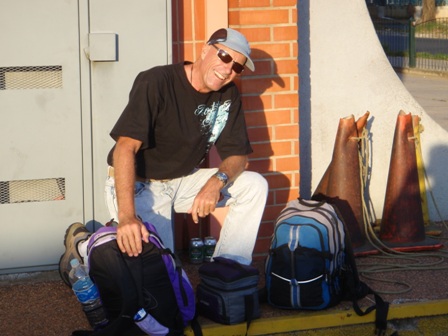 Problem, he is still 400km away so we sit around for 8 hours and wait. Eventually we unite with driver Sylvain and guide Ingrid along with 3 other intrepid tourists, and charge off in the 97 Toyota Landcruiser. A quick but pleasant local chicken lunch and off to the Savannah of Los Llanos. This is the first time I have ever been a real back packer in my life, its fun. An hour out of Barinas the traffic on a country road comes to a standstill, two trucks had collided on a small bridge, not wide enough to take two trucks! Sylvain decides to go back to Barinas and take an alternate, longer route as it may take many hours to clear the bridge. Seven hours later, with only a brief stop for a watermelon bite,
rief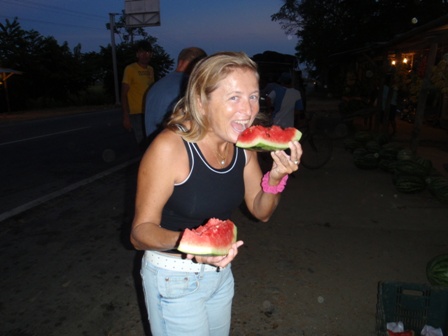 we reach our camp,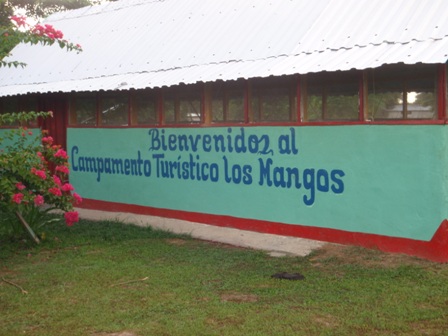 3 dormitories, and two toilet blocks, one with showers and a kitchen /eating area. Our dorm had 5 sleeping hammocks and one double bed.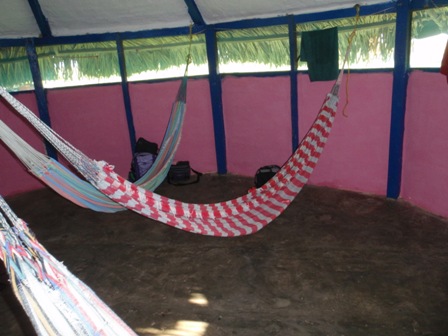 The sleeping hammocks just had to be tried. For those uninitiated a sleeping hammock is wider than the usual hammock you have swung in for short while. You sleep sort of diagonally, neither lengthwise nor straight across. Not sure about anyone else but I was asleep in seconds and, from accounts next morning, so were most others. Before sleep however it was shower time, now that was an experience. No light, attracts the bugs, so we intrepid back packers go in with torch to find the shower recess and toilet to be home to numerous frogs. Sasha went arse up as she stepped into the shower recess which was even tiled, well sort of. The water tap was a 90 degree lever action shut off valve, only cold water, no problem here, and no shower rose, just a pipe out of the wall. Welcome to backpacker paradise, all good fun.
In the morning, after lovely fresh fruit, cereal, scrambled egg style omelette and coffee in the communal dining area, it was off to the first activity, horse riding. I hadn't been on a horse for 40 years and was surprised at how quickly it all came back, barely even ended up with a sore bum.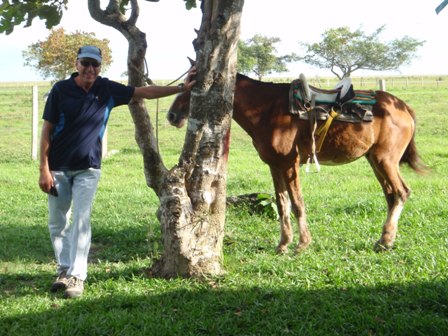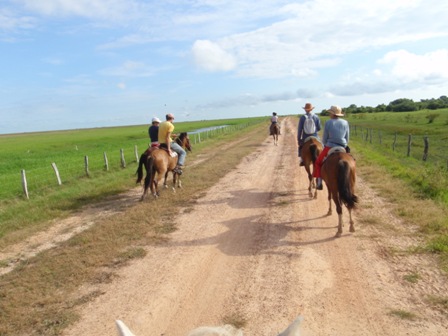 Along the way we rode among thousands of water birds, mostly big whit Egrets, saw Piranhas, Caymans (local crocodiles)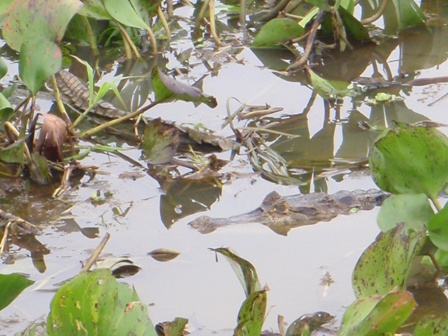 Capybaras, (largest rodent in the world) all very close up. For the afternoon it was off on "safari" with the main aim to find and Anaconda in the swamps. For the best view, climb up and sit on a plank of wood tied on the roof rack and hang on for dear life. The technique for finding Anaconda entails walking through knee high swamp water, with or without footwear, and prodding around with a long stick to feel for a snake. Alas, no luck but there was a Cayman caught for close up viewing and a female  Anteater with baby on back herded in towards the car by a couple of the local guides who were with us.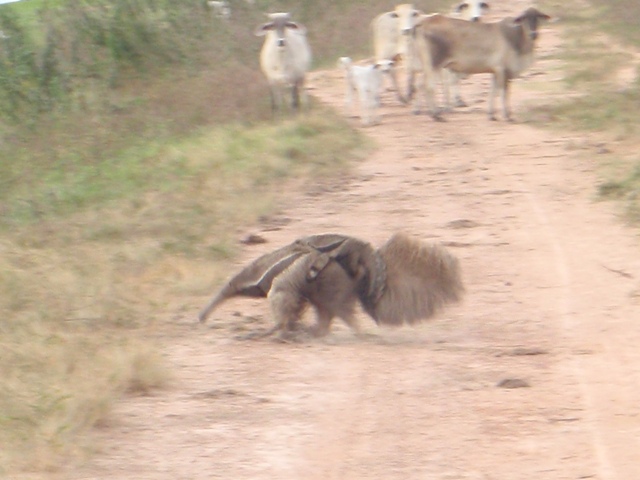 Another beautiful night's sleep in the hammocks followed by a long boat ride along a Piranha infested creek through the swamps.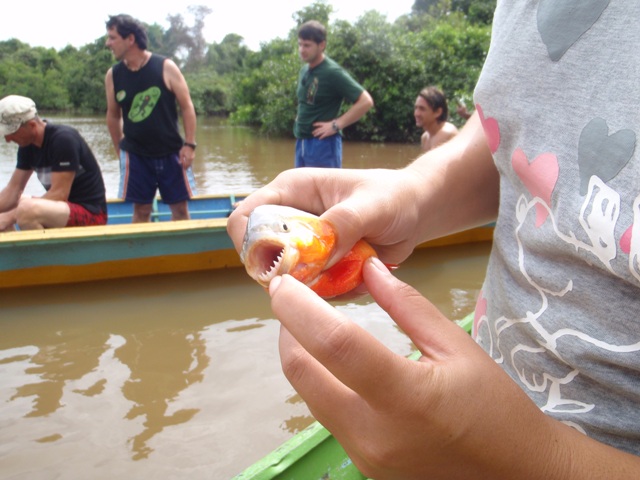 Again a plethora of animal life including, as our guide described, "prehistoric" birds and tortoise,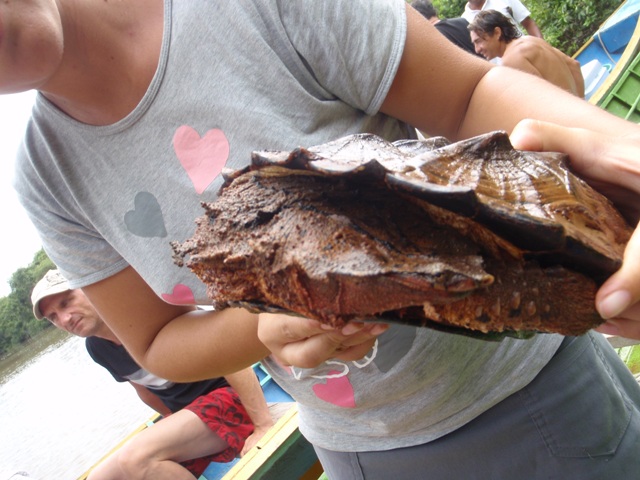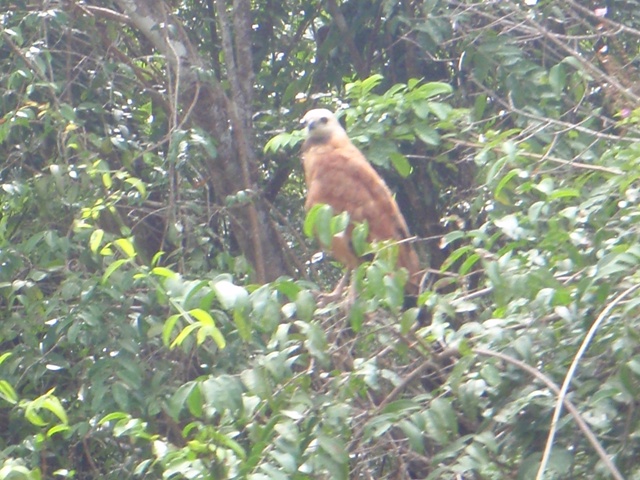 as well as pink Dolphin. At first I thought someone was kidding, pink Dolphin, not only pink but living in fresh water several hundred Kms from the sea but sure enough we saw some; their colour coming from eating Piranha. We zoomed along in the 1m wide 15m long dough out boat, through some passages just wide enough for the boat, ducking under overhanging branches and generally having a great time.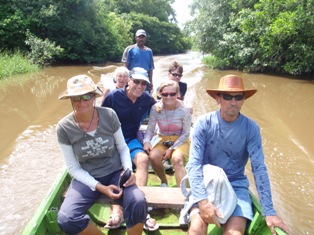 On the way back to the camp, getting on towards sunset, we stopped at a bridge over the river and got out the fishing lines already set up with wire traces, made from fencing wire, and some red meat bait for a spot of Piranha fishing to catch dinner. Just dangling the meat at the top of the water bought snapping Piranha to the surface, hundreds of them, certainly didn't want to fall in! Soon it was a competition, first to catch one and who would catch the biggest. Aussies won both! Our driver, Sylvain took out the big prize however, with half a Piranha on the hook a Crocodile idled up to it as he held the bait just above the water and latched on. Hooked, one croc about 2m long, a bit too big for the line however! We took a dozen or so Piranhas' back to the camp where they were deep fried and presented for dinner.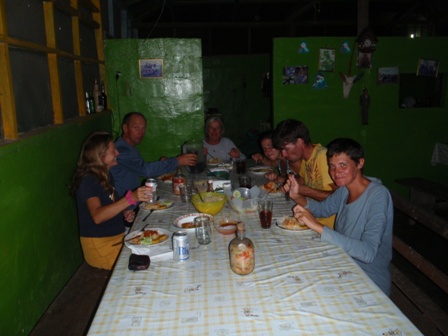 The following day it was pack up and head for the city of Merida, about 8 hours drive.
Merida and Angel Falls
The mid way point was Barinas where we dropped off 3 of the intrepid tourists while Sasha and I continued on to Merida via the mountain pass of Apartaderos and a lake, Laguna de Mucubaji, at 3,300m. We parked and took the scenic walk down to the lake, a bit chilly at that altitude and, on the walk back up a short hill to the car, noticeably less oxygen!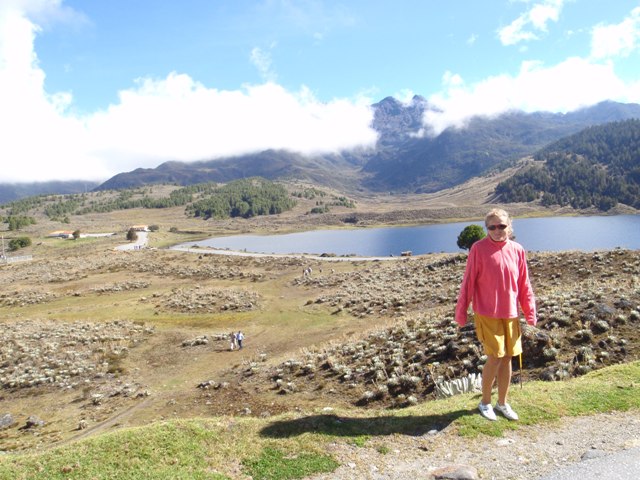 Half an hour later we were on the outskirts of Merida but it took almost 2 hours through the traffic to get to our Posada. A Posada is something akin to a "bed and breakfast", a bit better than the cheapest hotel, with rooms like a hotel, ensuite bathroom with hot water (but not always as we later found) but also common room areas and one one interaction with the owner. Ours had about 30 rooms. We slept well! Merida is at 1,600m with surrounding steep mountains to 5,000m and valleys to less than 100m.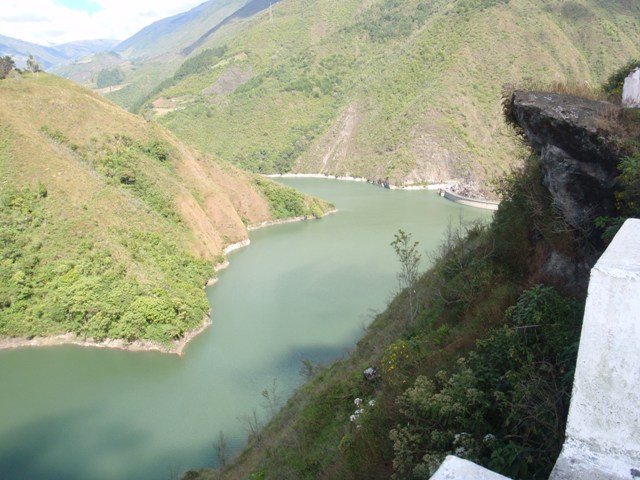 After a day to look around the old city our 2 day, one night, tour of some of the mountains and local Indian villages of Acequias, San Pablo and El Morro. Our first stop off was at a popular parasailing launching point, 1.500m above the valley below where we even helped one of the "flyers" to get airborne. It was dark by the time we reached our newly renovated but deserted Posada at night. Why should such a nice place be deserted?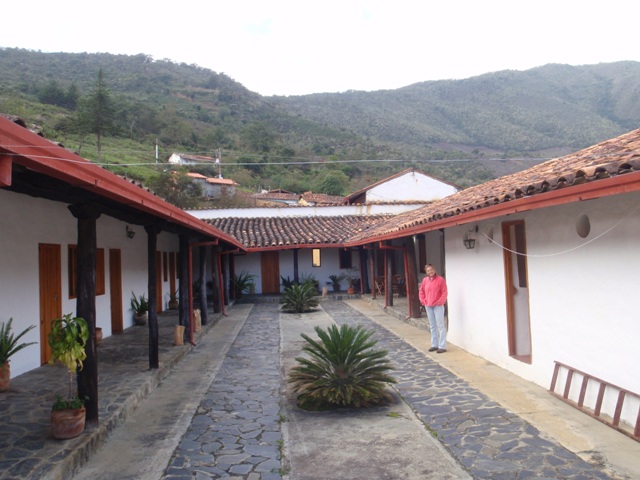 Apparently the whole village was given a face lift and the 15 or so room Posada, with beautiful dinning room and wood fire kitchen, renovated to accommodate tourists but it is not featured in the popular guides like Lonely Planet so no one visits. Dinner was put on by a local Indian family in their house a block of so from the Posada. Traditional tasty local food, corn meal patties with a sort of egg omelette, accompanied by Tamarind fruit juice and fresh melon.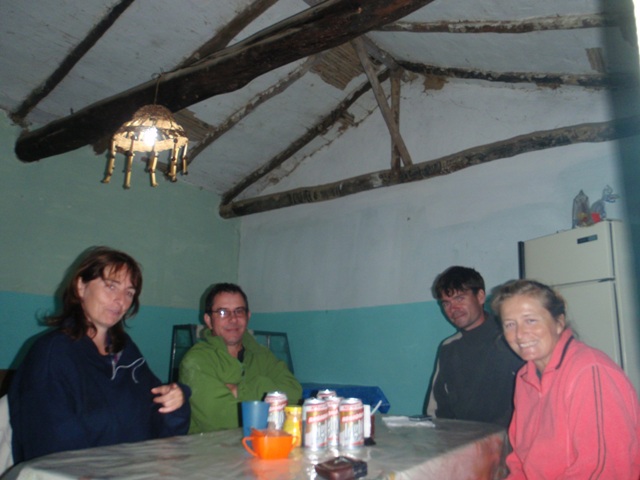 The night was cold, jumper and jeans weather and the morning saw us covered, on and off, by cloud. The scenery, spectacular, reminding us of our time in the mountains of Panama.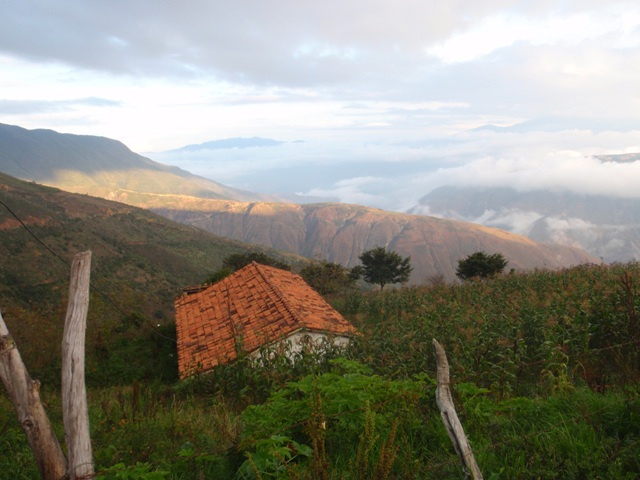 The day was spent partly walking mountain trails but mostly F wheel driving. Tiny Indian villages connected by just one road that was for the most part a two wheel track. In one of the valleys the small stream at the bottom had an option for diversion to a little water mill. The mill was housed in a little building, the paddle wheel on its vertical shaft all made of wood, something out of centuries ago, clearly visible below the floor. Apparently the paddle wheel shaft connected to a small mill to grind corn into corn flour.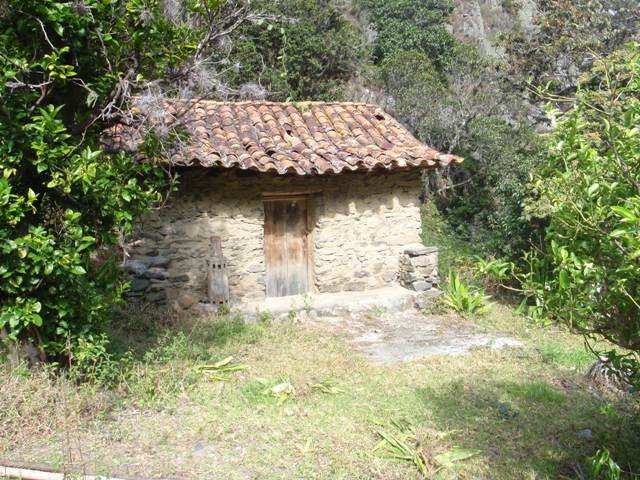 Unfortunately it was all locked up so we could not see the mill itself. All this time we had been in relatively arid mountains with only short bush and cactus trees. Sylvain had promised we would also see rain forest but we were quite unprepared for the change. If I had not seen it for myself I would not believe it. As we drove down the road there was a sudden change, within the space of 20m, yes twenty metres, from arid cactus land to full lush rain forest with trees growing over the top of the road so that for much of the time you could not see the sky. It was absolutely amazing. According to Sylvain, the rain stopped just on the lee side of the mountain, the clouds having drooped all their moisture ascending the mountains on the windward side. Whatever the case the change was dramatic. Now, later in the afternoon we continued up and down mountain side with the scariest shear drops and hair pin bends, all without any safety rails, imaginable. Some bends so sharp that Sylvain had to turn, back up and turn again to get around. A short stop in the village of El Morro for a beer and a chat to the store owner, a friend of Sylvain's. Back in Merida we stayed the night in La Montana posada and walked to the bus the next day for the 18 hour ride back to Puerto La Cruz. On the way back, in the middle of the night the bus was stopped at one of the many police check points. Traffic must slow down at each check point (we probably went through 5 or 10 in the whole trip away) and if the police want to check the vehicle you must stop and comply. The Policeman came on the bus and wanted everyone's identity papers. We always carry a copy of our passports but that was not good enough, luckily we had the originals in our bags and were able to drag them out. After a very one sided conversation, we could not understand his Spanish, he seemed satisfied and left us alone. 
Back on Ednbal Sasha came down with a cold and spent a couple of days convalescing. We had wanted to see Angel Falls, another inland trip to the highest waterfall in the world so as soon as Sasha came good, just a week before Christmas we departed on the 4 day 3 night trip. By road F hours to Ciuadad Bolivar for an overnight stay in Don Carlos posada,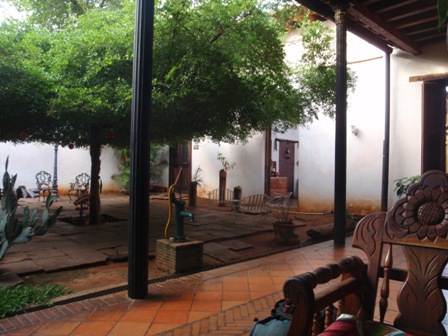 this time no hot water, the hot and cold taps were connected to the same pipe, but a lot of character, beautiful big timbers, wooden staircase, wooden ceilings and shutters. Cleanliness left a little to be desired but we survived! Ciuadad Bolivar is on the shore of the Oronoco River, about 400km from the river mouth and even here it is almost a mile wide with swift flowing water.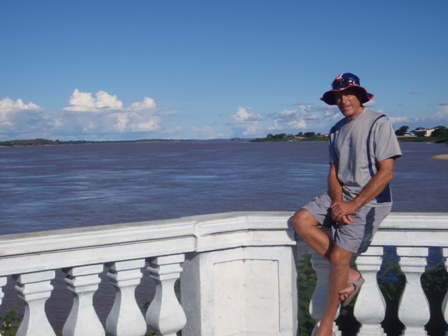 At the airport the next morning we waited for our names to be called to climb into one of the many 6 seater single engine aircraft on the tarmac. Through the security check the buzzer went off but no one seemed too fussed and into the "departure lounge". Our names were called along with many others, we were disappointed o find our flight to Canaima National Park was a 19 seat prop jet, not much fun in that and not much to see. Would have to organise better for the trip back. The posada at Canaima was a little more basic but still with ensuite bathroom and even hot water.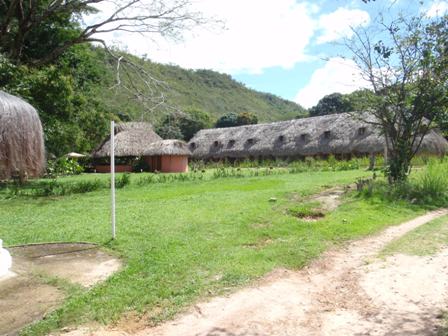 We found ourselves in a tour group of 10 people, an Englishman, an Italian, around our age group, and 6 young Venezuelans. Our first adventure was a walk under, behind, El Sapo Falls, a 100m long 10m high waterfall. What a buzz to say the least, bathers only, you get absolutely drenched.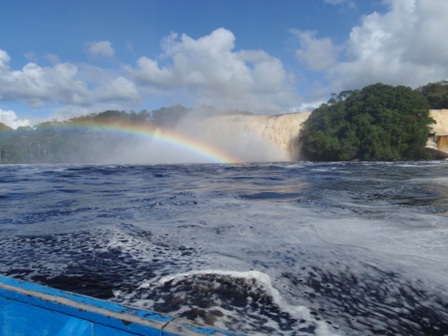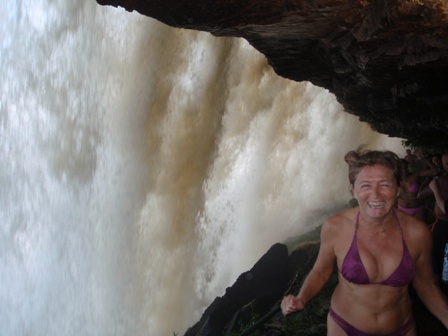 Once on the other side a chance to swim in pools and take in the spectacular scenery of the Tepuis.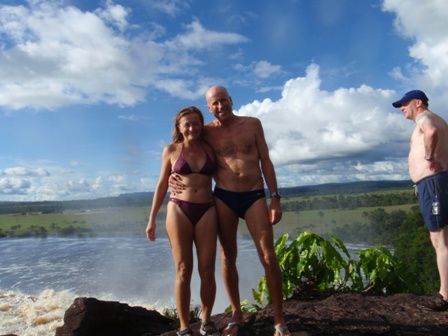 Tepuis are flat topped, vertical sided mountain that rise 1000m above the surrounding land. It is the heavy rains on the Tepuis' that create the abundance of waterfalls, although Sapo was one in a river.  After dinner we all got together at the bar to become a little better acquainted.
With interpretation by one of the girls and a lot sign language we had a fun evening. The morning was an early start for the 80km journey, part by boat, part trekking, to the base of Angel Falls. The boat was fairly basic. A dugout log about 12m long, 1m wide with a plank of wood on top of each side to provide some additional freeboard and a 48 horsepower outboard. We were put down the back, dumb Aussies, we got drowned going through the rapids later. Off we went. Half hour or so to the first stop, we all had to get out and walk a couple of miles while the skipper took the boat through the worst rapids, not safe enough for passengers.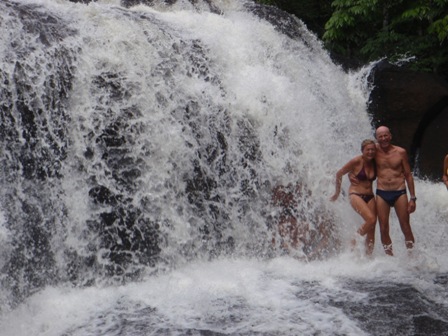 Back in the boat it was soon time for the first drowning, in seconds we were completely drenched in water and spay came over the side, but of a worry as the bilge pump came into action, man with a bucket. As we travelled further the biggest Tepuis with many small waterfalls, hundreds of metres high, came into view.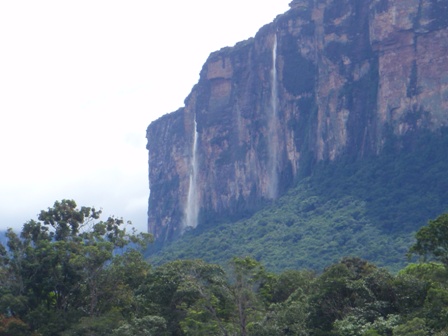 More rapids as the current increased out ground speed reduced and the skipper weaved all over the place for deepest and smoothest water.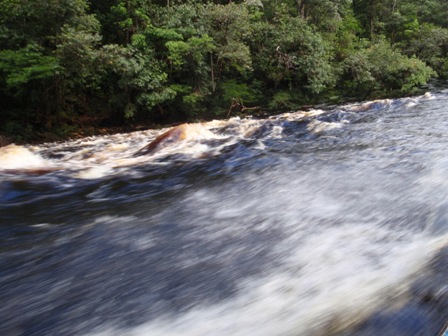 By early afternoon, after a sandwich lunch underway, we arrived to our overnight camp site with Angel falls in the background and the raging river right in front.
On with the hiking boots and off for the climb to the base of the falls. A narrow path, muddy with a base of interwoven tree roots. An hour and a half of brisk climbing through rain forest bought us to the spectacular views of Angel falls, plenty of photo opportunities and a swim in the pool.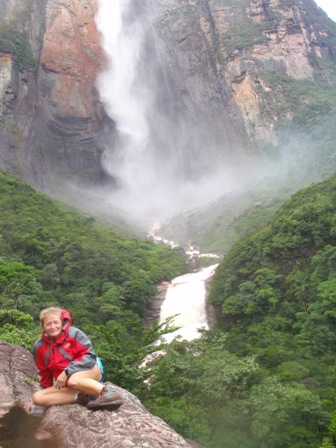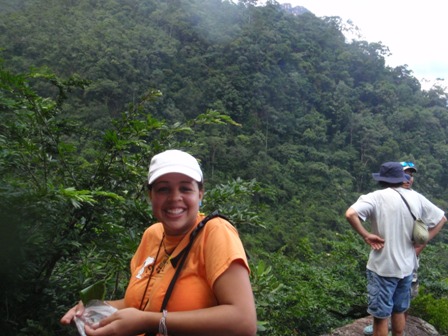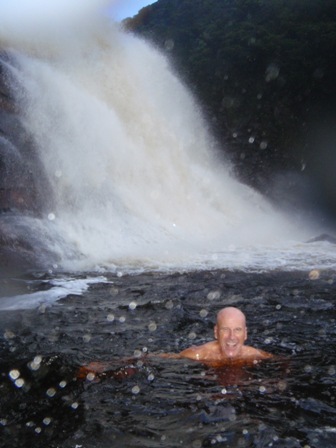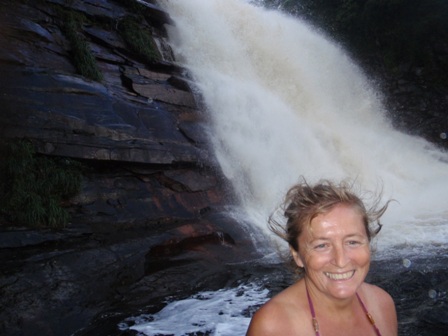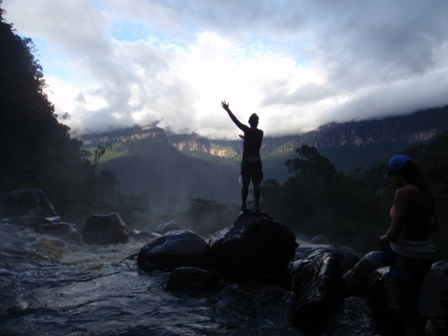 On the way back our Italian friend was leading when he suddenly started yelling and carrying on about a serpent. He had almost trodden on a large, deadly poisonous snake. It was so well camouflaged against the ground and tree routes, he was very lucky to see it move.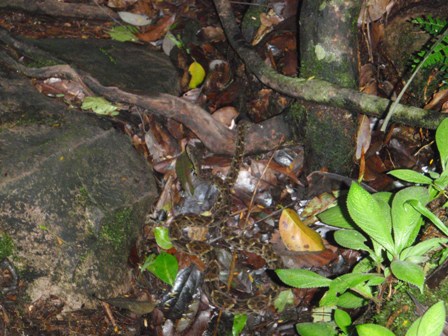 By the time we were back in the camp it was almost dark and had started to rain. We were served roasted "vulture" pieces, having been promised some local game for dinner. Of course it was chicken.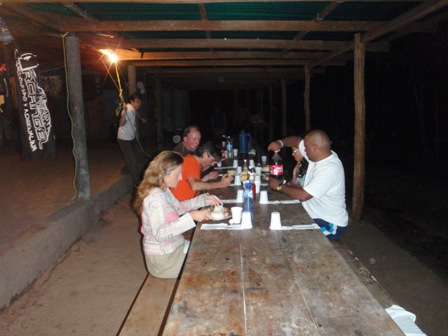 Our camp was big open shed, sand floor, with hammocks for a good nights sleep. A couple of people cooked with big cast iron pans and pots over open wood fires and food was served a long rough wooden table. This was real back packing!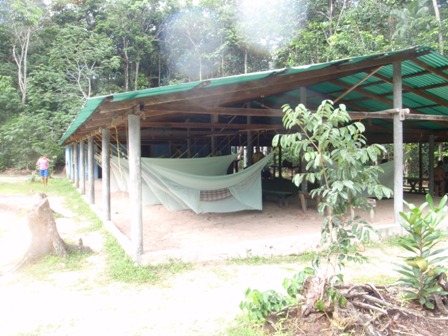 The return trip in the boat took have the time, with the current, so we were ready to catch the plane back to Cuidad Bolivar by midday, this time a single engine 6 seater, much better view, much more fun. Straight onto the bus and by 8pm, 22 December 2008 back on Ednbal.
Christmas in the marina, not quite what we had planned but the weather was not right for moving in a North Easterly direction to our next port of call on the island country of Grenada. Sasha kept a close watch for the right wind through a number of weather forecasting sources. 30 December was the day with a few days of lighter winds, less than 25kns forecast. We were very nervous about the dangers of pirates as there had been 2 fatal attacks off the Venezuelan coast over the last 2 months. One vessel, with the wife of an American shot and killed in an attack just 2 weeks before we arrived, we in a pen (slip) just 5 boats away from us. We set out at first light, 05:45, and were going between two islands when a local boat, a pirogue, with 2 men in it started heading straight for us. As it got closer we were about  ready to put our emergency plan into action, sending our automated emergency calls from all 3 radios and locking ourselves inside with flares ready to fire, when the vessel veered away. It took some time for the heart palpitations to settle!!