Las Aves and Los Roques, Venezuela
Category: Caribbean
Created: Monday, 17 November 2008 16:48
Written by Roger Boxall
Hits: 2269
Las Aves and Los Roques
Los Aves and Las Roques
Heading East from Bonaire brings you into Venezuelan territory, firstly the Los Aves Islands, Aves De Solavento, well protected from the trade winds by a long, water level, barrier reef to the East. To the West of the 6 mile long barrier reef is a 1 to 2 mile wide area of relatively shallow water, 5 to 15m deep, littered with coral outcrop reefs and on the Eastern side, a few tiny islands. The most Southern Island, Isla Larga, has a Venezuelan Coast Guard outpost under Commander Luis whom we called on the radio to advise of our arrival and the package we had for him. Within a few minutes he was out in an old dilapidated rubber dingy to fill out the paperwork and collect his package. Things must be tight for the Coast Guard, there was no proper fuel tank in the dingy, and the fuel line for the outboard was held into the top of an old plastic 4 litre oil container with water sloshing around in the bottom of the dingy. We swam over the anchor in 5m of water, not real clear but good holding sand and spent our first night rocking around in a swell roll that was coming in from the South of Isla Larga. Next day we had a lovely walk on the powdery sand beach and decided to move to the next couple of Islands about 4nm North, Isla Palmera and Isla Ramon where we anchored just East of Isla Palmera. On the way we had been trawling and caught a small Barracuda but lost it during a minor emergency to dodge a few coral outcrops. A while after we anchored another yacht, Chinook, arrived and anchored not far from us. It had, earlier in the day, been decreed by the Chef, that it would be fish for dinner. Amid great scepticism I dropped a line over the side with a bit of chicken for bait and came up with two small but very eatable grouper.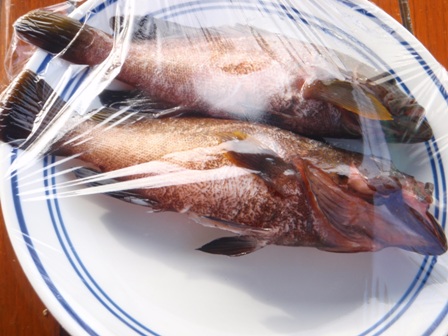 "Oh ye of little faith!!" It the afternoon we went for a trawl along the edge of the drop off, only a hundred or so metres behind us and Sasha reeled in a beautiful 5kg Cero, the first decent sized fish we had caught from the dingy, then lost the lure to another big fish. On the way back to Ednbal we met up with our English neighbours, Cathy and Andy off Chinook, made out like it was an every day event to catch fish after a few minutes trawling in the dingy and invited them over for Sushi and beer. While we were all stocked up, Cathy and Andy were depleted, having left the Venezuelan mainland almost 5 weeks ago to enjoy the islands we were just starting to visit. Next afternoon, just before sunset they dropped off a lovely lobster, one of three that Andy had just caught. Sasha and I had been out snorkelling over the coral for part of the day but hadn't even seen a lobster. Now the challenge was on, I could not be outdone on lobster catching by a Pom!!!  
From Isla Palmera we moved 2 miles further North to anchor between the islands of Saki Saki and Curricai where we had lovely shallow coral, to snorkel over and perhaps catch lobster, either side of us. At about 5pm the hunt started!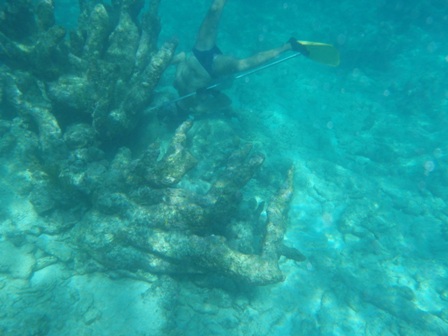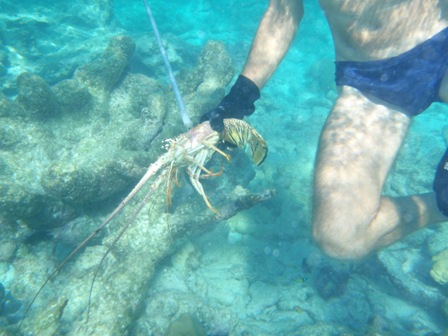 Success, two nice lobsters, to the surprise of "ye of little faith" who thought it just beginners luck!!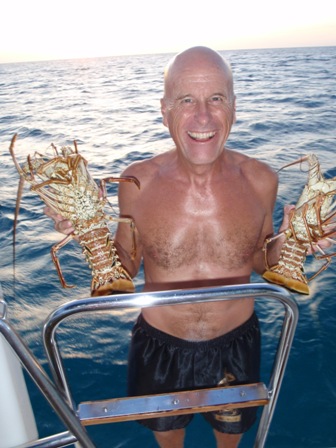 So this is how it is on isolated coral islands, moving from one to another, walking soft beaches, snorkelling over coral, catching fish and lobster, enjoying lovely sundowners as the sun sinks over the sea, man this is real cruiser life.
Sometimes things don't go quite as planned. On Friday evening 7 November, we checked the weather, downloaded from one of the data providers, wind from about 125 degrees in the morning swinging East by afternoon, light 5 to 10kns. We have decided to sail to the next island group, the Aves De Barlovento's, a whole 16nm eastwards. We have a choice, go around the South of the Aves De Solavento and almost due East to our next anchorage or North then more South of East, about 125 degree to the anchorage. For most of our stay in the Solavento's the wind has been predominately South of East but we take heed of the forecast, for East to North East winds as the day progresses and, at just after 6am, head slowly North with a 5kn breeze from about 130 degrees until we are clear of the reefs then sail as close to the wind as possible waiting for it to start swinging East before changing tack. It is a gorgeous day, clear skies, a huge pod of dolphins joins us for about half an hour. The wind began to swing to almost due East at around 8 kn so we changed tack that put us on course almost directly for our anchorage, wonderful, for about an hour before it swung back to the South East again,  stayed there and died out. We ended up motoring!  
Aves Barlovento is similar in structure to Solavento with a long, water level barrier reef to the East, a South Island and a West Island (Spanish, Isla Sur and Isla Oeste) as well as other numerous tiny islands. We motored into one of the bays on the Northern side of the relatively heavily wooded Isla Sur. According to the guide book there were large mangrove trees, some with trunks to over a foot thick, and an abundance of birds especially Boobies. Not wrong! Some of the mangroves were 15m high full of Red Footed and Brown Boobies as well as Pelicans, Frigates, Terns, Gulls and a myriad of smaller birds.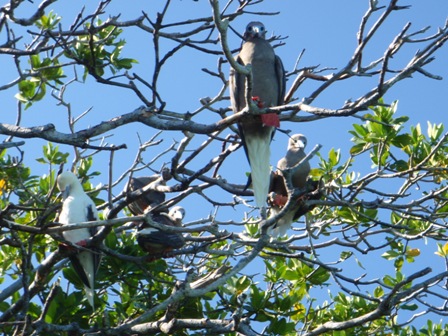 Dingy rides along the banks and into the little estuaries were fascinating, especially being able to get so close to the birds that, for the most, seemed not to be the least bit concerned about us. The down side however, as we were soon to learn about most of the islands we would visit, was the bugs, mosquitoes and no-seeums, necessitating liberal coatings of toxic repellent on ones person. From Isla Sur we sailed a couple of miles around coral outcrops and over sand banks to a big, about a mile long, sand beach bay on Isla Oeste. Sasha had the trawling line out but, although the reel buzzed a couple of times there was no real success until she reeled it in as we approached the anchorage. She had caught half a fish, some hungry predator had taken a liking to the other half!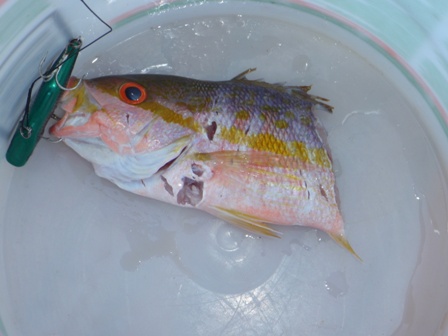 We were the only vessel there but our peace and tranquillity was soon disturbed by another who, with almost anywhere in a mile long bay, had to anchor right behind us. That night I turned up Men At Work's "Downunder", along with a few other Aussie rock-n-roll numbers, real loud. While not as numerous as on Isla Sur there was still a healthy bird population, we stumbled across a Brown Booby nest amongst the grassy ground cover.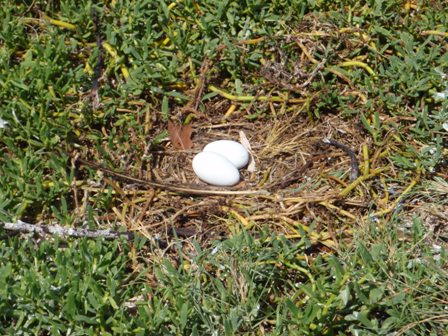 We even managed to find time in our busy retirement life to practise our kite flying. We have hopes of stepping up to kite surfing at some time.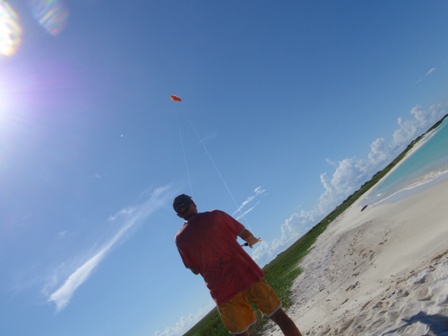 On the other, South side, of Isla Oeste there was some lovely snorkelling over long coral outcrops, although nothing special in themselves, there were home to a huge number and variety of fish including some enormous dark blue Midnight parrot fish.
From Aves De Barlovento we had a 30 or so mile hop to the much larger island group of Los Roques, again East, also against the current and wind. Each time we sailed from one island group to the next, tacking all the way, we marvelled at our luck of having the wind behind us for that much bigger, 650nm, trip from the San Blas to Curacao. Not once since then had we seen anything other than East wind varying from South East to North East but generally almost straight East. Having sailed all the way, we ran out of wind 4 miles from our first stop, Elbert Cay, at the Western end of the near 20 mile wide Los Roques island group. The entire Los Roques is a Venezuelan national park one of the few places still with an abundance of Conch. Our guide book recommended an anchorage, in 3 to 3.5m of water over a sand bottom, at the Eastern end of Elbert Cay. After weaving around fairly deep coral for a mile or so we eased into the recommended area but backed off when the depth shoaled to 1.8m. Moving a little further East we found a good spot over a fine sea grass bottom. And yes there were Conch all over the place, not only that but also Turtles bobbing their heads up all over. Apparently they feed on the fine, so called, Turtle Grass, funny about that! Here were all by ourselves, the nearest boats nearly 2 miles to the South in the Agua Cay anchorage.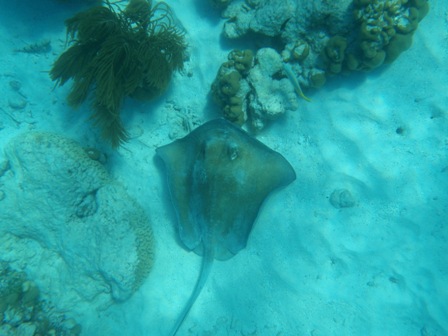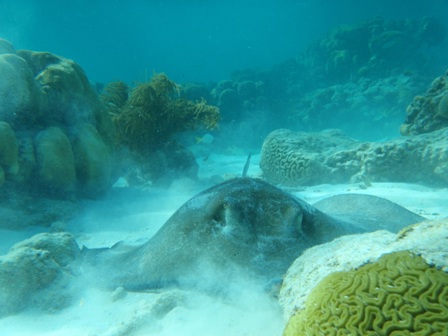 There was plenty of coral for snorkelling and white sand beach to walk, of course with requisite application of toxic bug repellent. It was here that we made another very useful discovery. Burning incense sticks make excellent mossy repellent. We decided to stay a few days, nice calm anchorage, good swimming and we had a few "boat jobs" to do. The plastic fitting that holds the seat in the dingy had come unstuck from one pontoon and needed reglueing,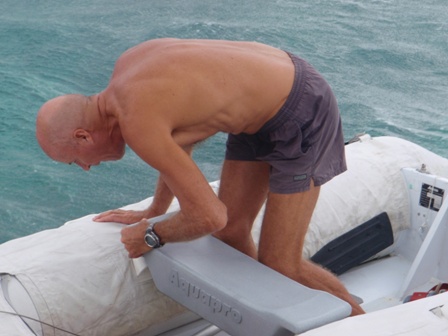 our dodger and bimini needed rewater proofing, winches had to be serviced (a Sasha special job), the electronic security system to be finished and the outside, power point to be installed.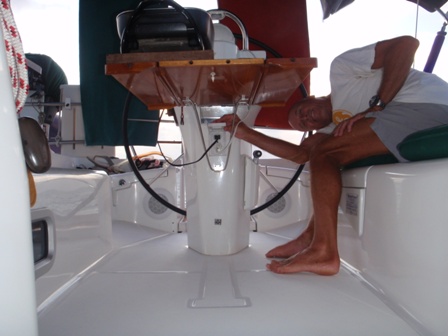 We had been using our electric frypan come bbq more frequently and were sick of running an extension cord out from inside all the time. So, over the next few days the jobs were completed before Sasha came down ill. She had been feeling off for a few days with recurring bouts of diarrhoea. Since we both eat the same food we couldn't work it out, during the night especially she suffered stomach cramps and diarrhoea. Consultation of our medical books didn't shed much light only that Sasha thought it must be ciguatera (a coral poison that accumulates up the food chain with the predatory fish that eat the coral eating fish having the highest concentration and so being the most risky from a human consumption point of view) but I was not effected. For a couple of days she was really not well so she started on anti diarrhoea and stomach settling type medication and, eventually came good. This further extended our stay at Elbert Cay, to a week, before we set sail for Carenero, another island to the North East, of course against the wind. We left Elbert Cay just as a rain squalls descended on us, the good thing was a reasonable breeze, at times over 20kn, that enabled us to make good time tacking around island and shallows up to Caranero's tiny but fully protected anchorage. When we arrived there was one other yacht anchored but still enough room for us. The guide book said "crystal clear water to the 25ft (8m) bottom". Well that may have the case 5 years or more ago but not now. Another down side, killer mossies, never seen so many mosquitoes, extra layers of toxic stuff were applied and more incense sticks burnt! On the up side went snorkelling and found dinner, a Snapper and a nice lobster, so not too bad.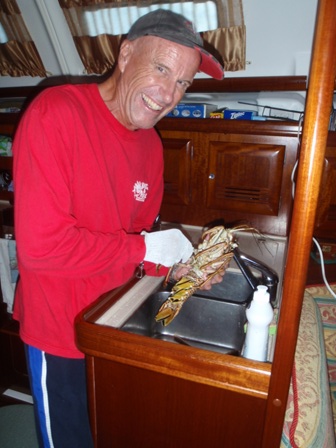 Next morning it was raining again, we'd had rain on and off for the last 5 days, apparently unusual. Anyway it was raining, not hard, with a lovely 15kn breeze as we sailed out for Sarqui, a small island to the East, well just South of East. As luck would have it the breeze was from North East so we were there with just one tack to join two other vessels in the much larger bay. The water was much clearer so we swam over old coral, new coral and sand for ages. A lovely spot, the highlight of which was catching 3 squid, the first we had caught since Australia, what a lunch, calamari and wine by chef Sasha. We had heard a lot about Noroqueses, an island close to the main tourist island of the area El Gran Roque. Some other cruisers in Bonaire had given us glowing report swimming with turtles at Noroqueses so we were eager to see for our selves. After another nice sail of only a few miles we made our way through numerous coral outcrops to a relatively deep anchorage (13m) just a few metres from the shore. The sea life was prolific to say the least. Around tired worn out coral were all kinds of fish, and yes, even turtles to be seen. By this stage we'd had our fill of mossies and thought, with relatively few mangroves nearby we would be free of them, no chance! Another night of slapping, banging, toxic stuff and incense. In case you are wondering, yes we do have mossy screens on Ednbal but we also treasure our time out in the cockpit.
From Noroqueses its East again to El Gran Roque, a small settlement with airstrip  and island tourist destination for richer Venezuelan mainlanders. Our first chance to restock, spend money, for 21 days! Some bare essentials were running low, beer, wine and spirits mixers, oh and of course fresh fruit and veg. We were also getting low on diesel for the generator but could probably make it to the mainland if need be. First stop change money, US dollars for Bolivars, we chatted to an adjacent cruiser, Danny who gave us the low down, change money at the pharmacy, a bit strange but oh well, and the expected rate, should be 4 Bolivar to the dollar. For fuel there is a blue barge at the end of the anchorage, the guy should be there in an hour or two, and the cost, don't know, maybe 50 cents a gallon. Since we were used to paying $5 per gallon this sounded too good to be true, although had heard that Venezuelan fuel is very cheap. Ashore we found the pharmacy, closed, now what, a few inquiries turned up a bar to change money, a bit risky but not many options. A lovely young lady greeted us and yes could change the money, no problem. We bought the essentials at the liquids distributer (beer and soft drinks by the case) and the supermarket before heading back to Ednbal to pick up jerry cans for refuelling at the blue barge. It really turned out to be something else.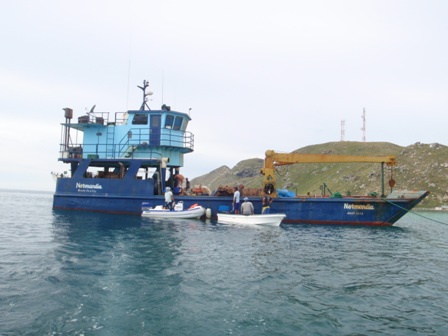 There already 3 dingy tied up alongside with their jerry cans lined up on the barge but the operator was not ready yet. He connected an engine driven pump to a 3 inch hose to one of the barge's fuel tanks and reduced the pump outlet, with a series of hoses and makeshift fittings, down to about 3/4 inch for the long hose, with a simple stop valve on the end,  to fill the jerry cans. After he finally managed to get the pump primed, filling operations could commence around other plastic drums of petrol and 50 or so LPG cylinders, several of which looked decidedly worse for wear. At least no one was smoking! In a short time a total of 7, 20 litre jerry cans were full, the total cost 60 Bolivars, US$15 or a bit over 10 cents per litre! Next the petrol, syphoned out of 60lt drums, between the 3 of us, 120lt, cost 20 Bolivars, US$5. Incredible!!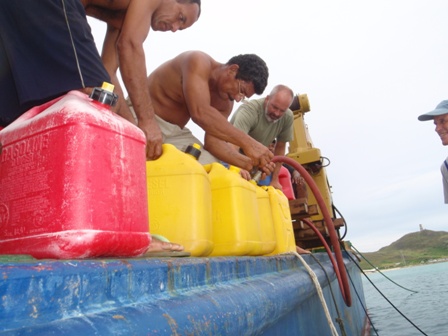 The waters of the Gran Roque anchorage also provided the most extensive wildlife water activity we had seen anywhere. Virtually from dawn til dusk there were hunters on the prowl. Every now and then the water would erupt with tuna of one sort or another annihilating bait fish, immediately followed by marauding Boobies, in their hundreds, and Pelicans spearing into the water to also take their share if the bait fish.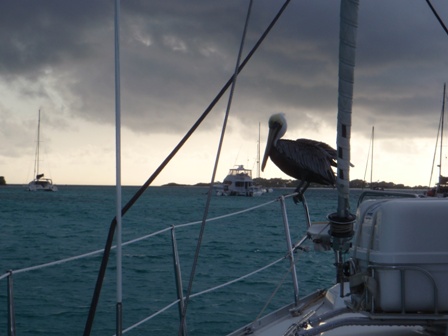 The level of activity was truly astonishing. This was also one of our first encounters with true honesty in the Latin American area. Given the easy access and price of fuel we decided to fill our tanks buying another 160 litres of diesel. I went to the barge and gave the guy a note, could we get 160lt for US$20, 80 Bolivars, the answer, no only 50 Bolivars. It must be said that not everything is cheap, two ice creams of dubious quality were 25 Bolivars ($6).
After 3 days we were off to the next stop, a very well protected anchorage surrounded by barrier reef and 3 small low sand  islands, called Fransiqui. The weather was nothing special, squalls forecast to 30kns or so and the continuous trades of 15 to 20 which kept most of the cruisers tucked up in the anchorage in the lee of high Gran Roques. Result, we had Fransiqui all to our selves for 2 days. Yes it rained a bit but Ednbal sat nice and still, no roll from the ocean waves that was the down side of Gran Roques. We even managed to get a few more boat jobs done. It was soon apparent that this was the spot for kite surfing, calm protected water with little to interrupt the wind. Our enthusiasm to get an outfit was again renewed, doesn't look that hard! Apparently Margarita Island, on our planned route, was the place to get one, we'll see. Here fish were easily caught by just leaving a line hanging over the side although we did lose a few hooks to ones that were either too big or chewed through the line. 
From Fransiqui we weaved in and out of shallows, mostly weed on sand and corals to the Western side of the tiny Vapor Island from where we would back track a little to go out through one of the passes to the ocean for our next South East leg to Puerto La Cruz about 160 miles. We had planned to stay a few days at Vapor to explore it and other nearby islands as well as snorkel over the corals however the weather intervened. Another to good an opportunity presented itself. Sasha had been following the local weather pattern, downloading the weather data via "grib" files and displaying on our MaxSea PC navigation planning software, to find we could expect North East winds of 15kn or so for the next couple of days; we decided to leave the next day for the island of Tortuga right on our path to Puerto La Cruz and about 2/3 of the way, 100nm. Strange how it works, once you have made up you mind to move you don't really want to do anything else but get organised and prepare. We left at just after 11am to make sure we had plenty of time to get to Tortuga in case there were any changes in wind direction or if it died out at all. The passage out had us straight into the wind with very lumpy sea as the water shallowed but once clear of the islands we were soon under full sail with the 12kn of breeze at 70 degrees to the port bow we sailed very comfortably as the sun set behind us. En route we had to dodge one other spot, the Venezuelan military island of La Orchilla. Our chart indicated that all vessels must maintain at least a 5nm clearance. It was well dark by the time we started to approach Orchilla and the way point I had put in our route was a little closer than 5nm, a little too close for Sasha's liking, in order to keep us at the best sailing wind angle. As we approached to pass South we could see the lights of a vessel to the North of us moving down the Western side of the island but didn't take too much notice. Just as we were having dinner we were hailed by, what turned out to be the Venezuelan navy, on VHF 16. Needless to say Sasha was a little concerned! After a protracted, part English, part Spanish conversation I managed to convince the navy that we were genuine Australians sailing the waters and not the enemy and, after being told a few times to keep 5nm clear, we were allowed to keep going. Cold dinner for me. The rest of the night passed quietly and by mid morning we were approaching the island of Tortuga, a little apprehensive for we had heard of some recent piracy acts on Venezuelan islands, one Frenchman killed and two Americans shot in separate incidents. Admittedly ones much closer to the mainland but still concerning. We anchored close to other vessels, a couple of cruising yachts and a couple of big local power boats that must have travelled the 60nm from the coast. There were a number of expert sail boarders on the bay enjoying the protected water but with a good breeze blowing over the low sand point.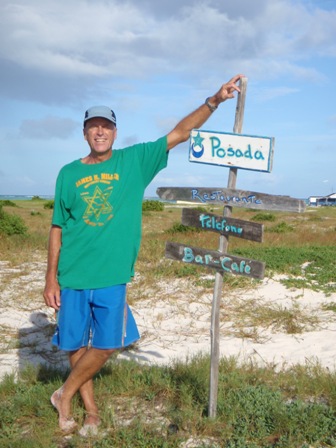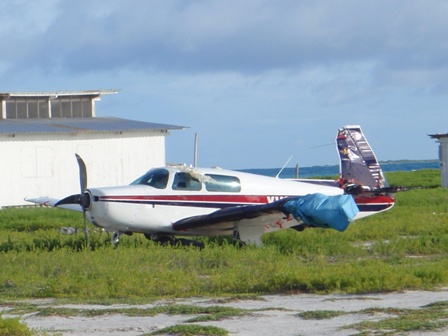 Ashore we found a few basic fisherman's huts and, on the other side of the point, a Coast Guard station, "restaurant", more fishermen's huts, a light aircraft landing strip and a couple of planes that must have had very rough landings, unlikely to ever take off again! The beach was long, soft and white, ideal for some lovely beach walks, and spotting lizards on the way.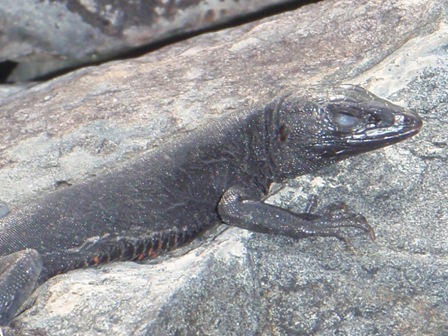 The down side was the relatively uncomfortable anchorage, not quite enough protection from the swell which meant we rolled considerably to the point that, at times we had to hold plates and glasses to stop them moving or spilling. With 60nm to Puerto La Cruz, on the Venezuelan mainland, we decided to leave Tortuga at night to give us plenty of time to sail to Puerto La Cruz in case the wind dropped or we had to tack. It is always a bit nerve wracking sailing out from an anchorage at night without any buoys or lights to show the way and being completely dependent on the GPS and depth sounder. All went well and we were into the Marina Bahia Redonda by midday.