Dutch Antilles: Curacao & Bonaire
Category: Caribbean
Created: Monday, 27 October 2008 16:47
Written by Roger Boxall
Hits: 1660
Curaçao & Bonaire
Dutch Antilles: Curaçao & Bonaire
Captain Goodlife had related to us the damage caused by Omar, he said just as well we had not been there a week earlier. For us, of course, Omar had been god send, giving us such a lovely sail from Panama.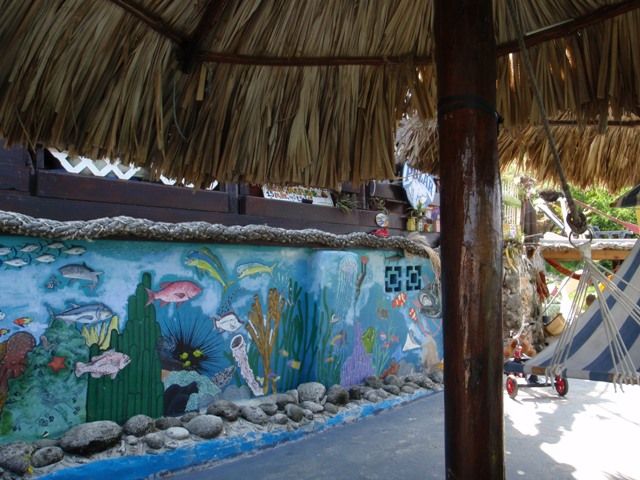 After a couple of beers, a chat and watching the bay scene in front of us we headed back to Ednbal to get ready for an early start and 25nm sail, against the wind and current, South East, down the coast to the town of Willemstad and the big lagoon anchorage area of Spaanse Water.
On the way down we passed an American aircraft carrier tied up outside the main harbour of Curacao with its two requisite little work boats to maintain the US requirement of a 200m exclusion zone around its warships. Of course we passed as close as possible just to be annoying and had one of the work boats shadow us. Apparently there were war games, the US, French, Dutch and English were all in town because the Russians were playing with Venezuela, just 60 miles away.  Spaanse Water is completely enclosed with a mile long very narrow channel connecting it to the ocean. It was a warm clear Sunday; it seemed that every boat owner in Curacao was out, most having no clues about the "rules of the road". We kept to the starboard side of the channel but still had boats passing to starboard even while one was overtaking on our starboard; it was truly mayhem, even worse than Australia day on the Swan River back in Perth. After playing dodge 'em with boats and shallows we made into the expanse of Spaanse Water, phew! There were several hundred boats, mostly anchored, some at one of the 3 marinas. It appeared no rules apply with boats of all sizes, from jet skis to big game fishing boats roaring at full speed amongst the anchored vessels. Later in the afternoon there was a small rain squall which only made people go faster and even closer as they weaved in and out of the anchored vessels, how there wasn't an accident I'll never know. Wouldn't be staying here any longer than absolutely necessary!
Of course always things to do, apart from the check procedure and reprovisioning there are various bits and pieces to buy and, with web access, to arrange. The bus to town was very much a social affair, as with so many boats in the anchorage there were always several cruisers at the local bus stop all willing to have a yarn. Willemstad, well really just another town, in pretty Dutch fashion and colour yes but still just another town. One feature was the unique bridge across the port entry.  A floating bridge hinged at one end and "motorised" at the other.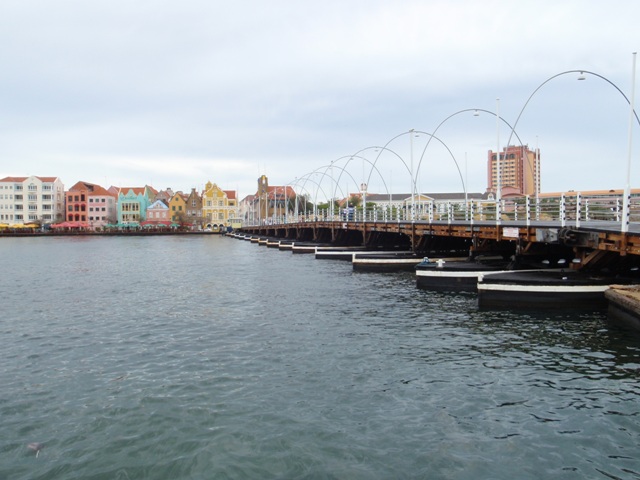 To open and close the bridge would be swung open, pivoting at one end as other end motored it in a big arc to provide an opening sufficient to let through the vessel requiring transit.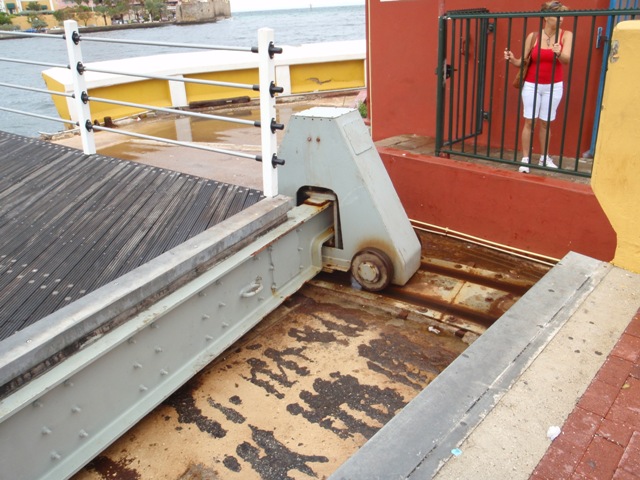 In earlier times it was the only bridge and used to carry motor traffic but now only pedestrians since a new bridge, enough for ships to pass under, was built a couple of decades ago. That bridge also has some history as the first time one was being built of aluminium it collapsed before completion. Another highlight of Curaçao is the booze, well Curaçao liqueur anyway. Yes that usually blue citrusy tasting stuff. Of course we had to go take a look at the distillery.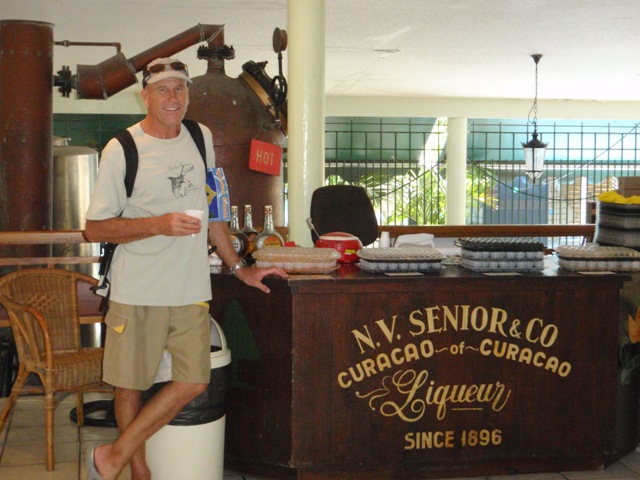 Apart from being able to say we saw it, it wasn't much although we did find out that the liqueur, distilled and flavoured from a particular orange peel also comes in other flavours, all of which we sampled while there.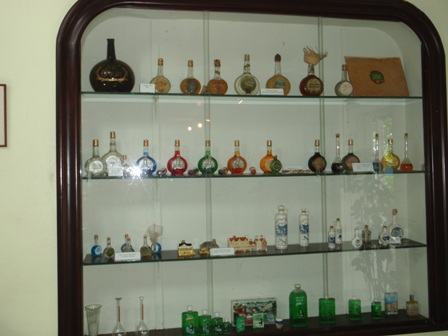 We also met another Aussie cruising couple, Bronty, originally from Carnamar in Western Australia but now resident with his partner H in South Africa. Both live the life of work a while cruise a while. After too long we were off to Bonaire, a 40nm trip against the current and wind, broken by a stop at the island of Klein Curaçao, 10nm from the main island. It was a lovely overnight anchorage with the anchor in 6m of water and the stern of Ednbal over coral 15m down.
Bonaire
We had been looking forward to Bonaire for months with all the reports of wonderful diving right off the back of your moored boat. No anchoring is allowed, you must use one of the $10 per day moorings but the bonus is the stern of your boat is over the drop off. There is a line of moorings about 30 or 40m apart for a mile or so along the coast so when most of the moorings are occupied it is fairly close living. Unfortunately Sasha developed a mouth ulcer from her snorkel mouthpiece so we didn't do much diving although daily we had others diving along the drop off right under Ednbal.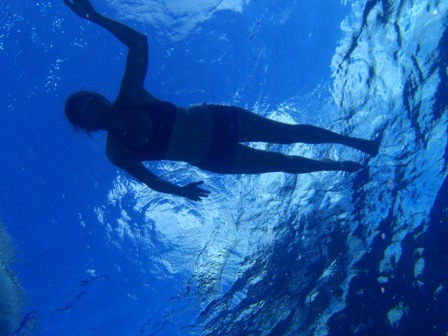 In Bonaire we had our new gypsy for the windlass finally delivered and enjoyed a scooter trip around the Southern part of the island. We had the power plus 50cc Italian go fast (40kph max) scooter for a day so did the coastal road "tour" stopping off to see the sights, old slave hut that one could barely stand,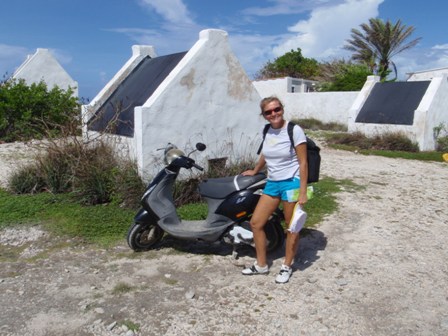 the salt production operation (where slaves were originally used),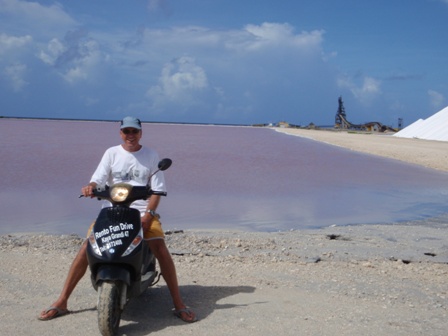 a large wind turbine that supplied power to the nearby resort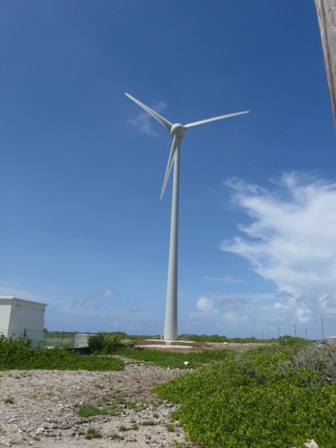 and of course the obligatory GnTs followed by picnic lunch.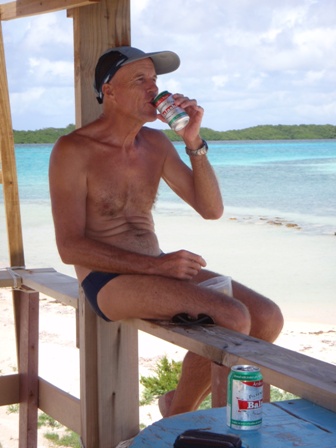 Our picnic was atop a rickety lookout tower that, along with other parts of the island, had suffered from the effects of Omar. After lunch we turned inland to a more marshy area in search of pink Flamingos and were rewarded by seeing two flocks.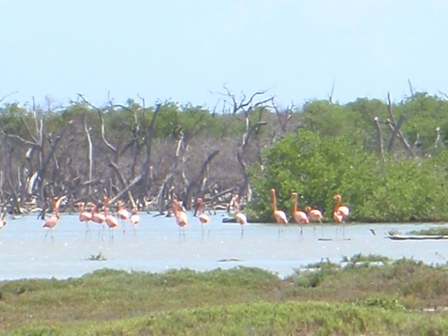 Just in case you are unaware the flamingos get their pink plumage from the shrimp they eat. Back in town we used the scooter to pick up the last of our stock up intended to see us through the next month until we get to the next shops on the Venezuelan mainland. While at the supermarket we bumped into Melissa, another Aussie cruise whom we had met with husband Nick and 2 year old son Benjamin. Melissa and Nick work part time, when not cruising on their 44ft cat, on large, 50m plus, luxury boats, Melissa a professional chef and Nick a skipper. Melissa had the ships "crew car" and offered to take our stuff back so we loaded up with a little extra beer and wine! Next day, early morning, we off to the Los Aves Island group about 40nm East, again into the wind and current.