Bocas del Toro, inland trip to Volcan, Boquete, Chiriqui
Category: Caribbean
Created: Thursday, 17 July 2008 16:43
Written by Roger Boxall
Hits: 2509
Bocas del Toro
Bocas del Toro
With the official entry fiasco put aside we got on with enjoying Bocas anchored outside of Bocas Marina and a short dingy ride from Bocas town, both located on Isla Colon, one of 200 or so islands in the Archipelago de la Bocas Toro. For the most part people were very friendly and we felt safe walking the streets although it was definitely recommended to lock your outboard to the dingy and dingy to the boat at night, several had disappeared! As with most of Central America, booze is cheap, fruit and veg is plentiful, of good quality, naturally ripened, not picked green and transported great distances, sometimes not looking as good as one might be used to but the taste is what counts, and cheap. Non perishables on the other hand were noticeably more than we had experienced in Colon last year. My best find was Guinness extra stout from the beverage distributer at $15.5 per case of 24.
Almost as soon as we arrived MaryEllen began making plans for "the fleet", minus boats, to visit inland to where she and Randy lived. Very soon "the tour director" had a full schedule, transport (combination of water taxis, personal mini bus, hire van and plane) and accommodation all planned out for a one week trip of shopping, site seeing and mountain hiking. What a lady. In the mean time we moved into the marina so that we could go on tour and confidently leave Ednbal in good hands. While there we had a good internet connection, provided by the marina which gave Sasha the opportunity to do some web site publishing, PC updates and investigate problems we had been having with our DVD drive. As with most marinas catering for transient cruisers the life is fairly social. The bar/restaurant has a daily happy hour, dinner specials (especially Fridays) and social games, here the game seemed to be Mexican Train Dominos, whatever that is! Consequently "the fleet" got together regularly and we also met many other cruisers.
Inland Trip to Chirqui Region of Panama
The following Tuesday we set off, under the wing of tour guide MaryEllen. Water taxi to Almirante on the mainland to meet up with a small van/bus.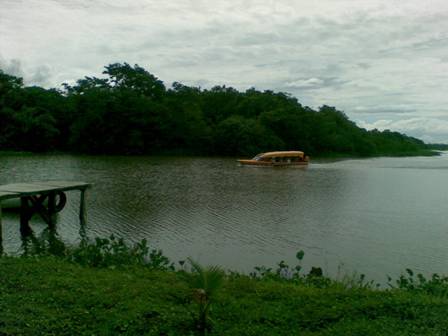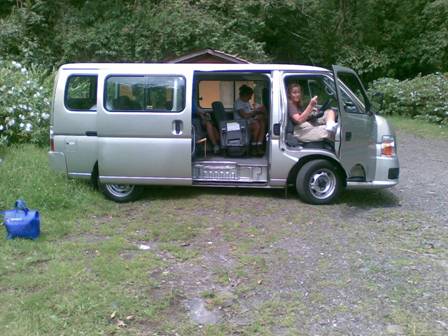 Unfortunately the touring party was down to 6 as Jan and Richard had some bad medical news from their daughter in law and were making arrangements for a quick return to the UK. By late morning, after driving over the central mountains to the Pacific side of Panama, we were in our hotel Castilla in David (pronounced more like Dahveed in Spanish), the second biggest city, after Panama City, in Panama. MaryEllen knew all the spots, casino for lunch, $3.50 lunch special, then to the city square to check out the shops, all a short walk from the beautiful clean hotel at only $30 per room. As it had been some time since we had been in a city (last was Cartagena 8 months ago) we had quite a list of things to find. All went well except for the damage to the wallet. After a day of shop til you drop, we headed North the town area of Volcan, close to the Costa Rican boarder and on the edge of Volcan Baru National Park. The park is partly in Panama and partly in Costa Rica, on hiking trails you can walk from one country to the other. To call the mountainous volcano (last eruption 4 or 5 hundred years ago) terrain spectacular is a bit of an understatement.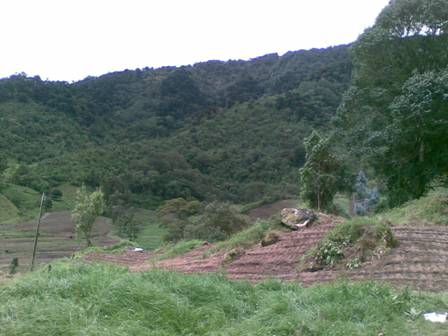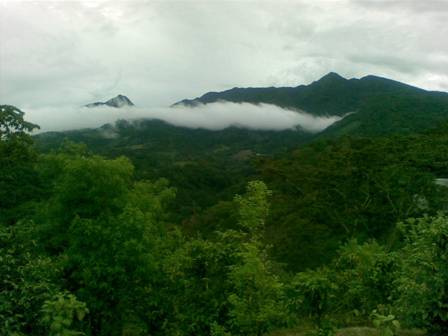 Clouds in the valleys, rain forest everywhere, even on near vertical slopes, except where cleared for vegetable and coffee growing, and that all done by hand on some slopes the you can't walk straight up. With the steep slopes there were paths through the field at oblique angles to the slope so that people could walk carrying implements, seedlings etc. After a little site seeing Randy (tour guide's driver) drove us to the start of Volcan Baru hiking trail. We all set off full of enthusiasm over that was, initially, a rocky vehicle track, most definitely 4 wheel drive stuff. After about 1km we found the start of the hike trail up Volcan Baru, 600m, not far at all. It was steep but well marked some along the edge of sheer drops and as we climbed you could feel the temperature drop.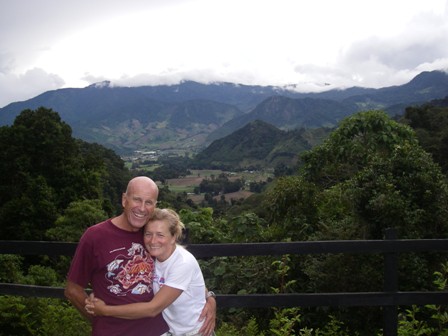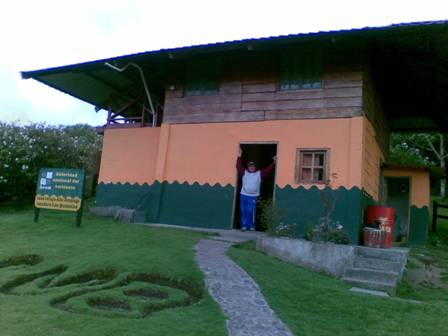 Over an hour later we came to the peak to be rewarded with spectacular views and the local ranger's house with lovely grassed gardens home to many different humming birds. The Humming birds were almost tame, there did not seem concerned by our presence at all.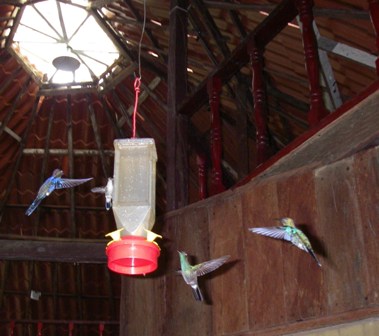 We paid our $5 per person National Park fee and signed the visitor's book; I counted over 40 visitors for the day. From the peak the trail continues down the other side, about 14km to the town of Boquete when Randy and MaryEllen live. To get there by car is about 80km, back to David and out on another road to Boquete. There were thoughts of some of us to walk it the next day and meet up again in Boquete but nothing came of it as there other trails and things to see. On the back to the hotel in Volcan we stopped off at another hotel restaurant, Dos Rios, for dinner, a beautiful spot with the hotel built next to a small stream with extensive gardens out into the rain forest. It was so good that we unenamously decided to move there for the next night.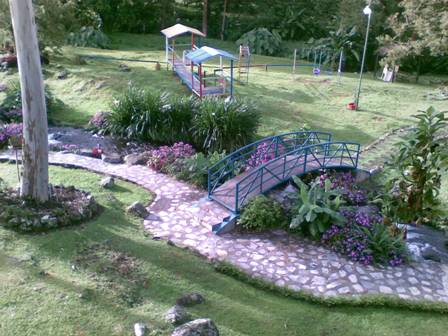 The following day we visited an orchid farm, huge, over 2600 varieties and a million plants.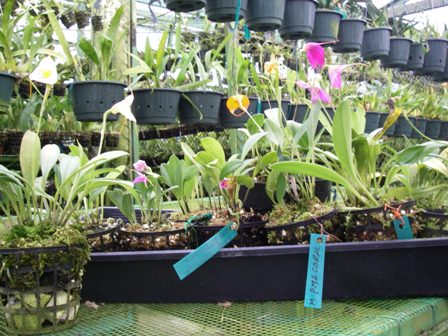 It was called Dracular, after the famous Dracular Orchids for which it is famous. Our "tour" of the nursery took most of the morning. We saw Dracular orchids, "Monkey Face" orchids, orchids that flower only 8 hours once a year, etc, etc..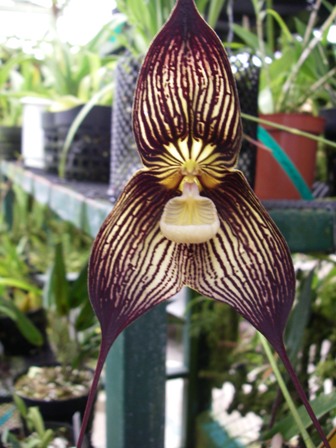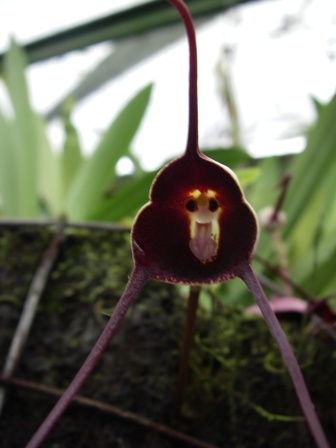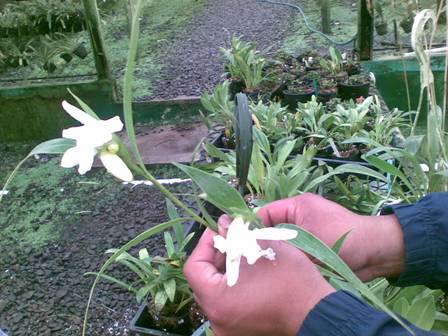 While there we met a young lady backpacker, Lyn, originally from Hong Honk, studying medicine in Panama City.  From there to lunch, where we met up with Lyn again, to another hiking trail about 3km in another part of the National Park, where again we met up with Lyn. If that was 3km then the one the previous day must have been 6km! So the afternoon was spent site seeing and walking through rain forest that I had never seen the likes of before. Huge trees growing almost on top of on another, vines and various parasitic plants virtually covering trunks and branches.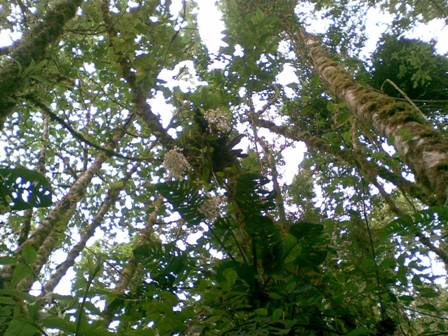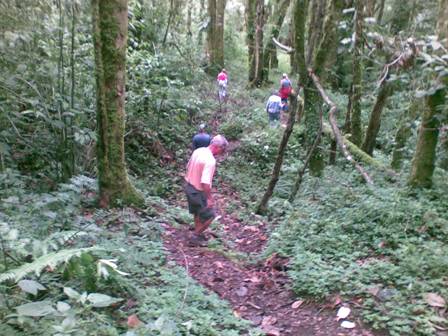 While we could hear birds every now and the foliage was so dense that it was difficult to any but those within a few metres.  During the day the tour director booked us in to a well known Greek restaurant. When we arrived for dinner we were the only party there. Apparently MaryEllen had caught the owner, George, on his way back from Panama City by car and he thought he had plenty of time to get things organised for dinner. When we arrived George entertained us with the story of tragedy about his trip back to Vulcan. To cut his very long story short he was in the car with his wife when he took the call from MaryEllen, late morning, for the restaurant booking and thought he would be at the restaurant by early afternoon, plenty of time to prepare. Then, he was stopped by the police and when he produced his drivers licence it was expired, major problem. Somehow he talked himself out of it without having to pay too much. On his way again but again was stopped and had to go over it all again until the police noticed he also had a flat tyre. He then had to take it to be repaired (hat about a spare, who knows) so by the time he got to the restaurant he was very late. None the less he had picked some beautiful big prawns and was offering them done in some traditional Greek ways. Nice guy but we all figured he got away from the cops because they got sick of listening to him! In any event we had a lovely meal finished off with a shot of Ouzo.
After a night in a wonderful hotel, waking to birds the sound of birds and the babbling brook outside, we set off for Boquete, via David. Along the way we stopped at a roadside shop for some of the most incredible smoked cheese we have ever tasted, a few extra bought to take back to the boat. By early afternoon we were in Boquete, about 2000m above sea level, what a climate, 16 to 25 degrees year round and only mild humidity, no wonder to many Americans have moved here. Panama provides incentives to Americans move, notably easy citizenship, so many, as we found, particularly cruisers, have bought land and built in and around Boquete. Lots varied from 1000sqm to many hectares, mostly former coffee areas on the mountains with sensational views. Randy and MaryEllen had bought a few years ago, right on top of one of the mountains where they built a two level house surrounded by garden, they had planted, and coffee trees. The slope of the driveway had to be seen to be believed, even on the paved part our hire van had trouble getting up. On the other side the mountain was so steep and vegetated that Randy had only walked to the bottom of their property once! Certainly a great spot to retire to. The tour directors took us site seeing, first stop a gourmet coffee shop selling locally produced coffee and guess who we ran into again, Lyn. She had set off from Volcan at 6.30am, hiked the trail of 14km and arrived in Boquete about 10:30. The rest of the day was spent touring and the evening at one of Randy and MaryEllen's friends' houses, sitting on their porch sipping a few quiet ones with views out over the mountains.
In the morning we off on a hike with another friend, Sarah, along pipeline trail, so called as it essentially follows a water pipeline up one of the mountains to a waterfall catchment area. At the end of a fairly easy walk, mostly along a single file track through the rain forest until we came towards the end where there were a few creek crossings and some tricky climbing. Finally we ended up at a very high waterfall. Our average estimate was 80m high, although there was not a great deal of water cascading down it never the less a very rewarding end of the hike trail.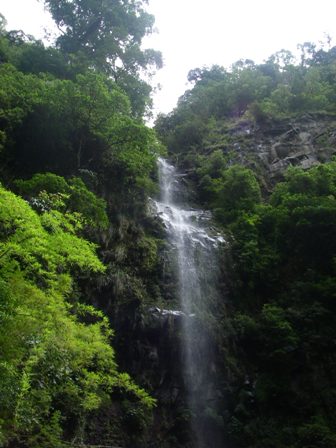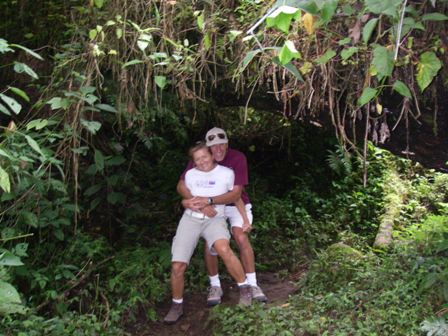 On the return walk back to the van we arrived just as it was starting to rain, well timed! Off to friends Sarah and Craig's for BBQ hamburger lunch. What a house, what a view, what a garden and coffee plot. Sarah was formally a pilot for ships crossing the Panama Canal, the first woman pilot; she and Craig had also been cruisers but had been based in Panama for many years. There were some interesting stories of earlier time, the Noriega times and when the US moved in to through him out. It was a great afternoon, our last before leaving to return to Bocas the next day.
Randy and MaryEllen drove Sasha and I back to David to catch the plane to Bocas, Steve and Deborah had decided to stay a couple move days. A wonderful tour provided by two of the nicest people you could ever wish to meet, truly memorable.
Exploring the Island of Bahia Almirante
Back in Bocas we found Ednbal all safe and sound. The next couple of days were spent reprovisioning and finalising various things for which we needed an internet connection. Richard was still there with Jan having returned to the UK to help their son with their young family while his wife was in hospital. Richard was booked to fly out in a couple of weeks, in the mean time he would spend a few days cruising in company with us to some of the other islands in the archipelago.
First stop a short 5nm sail to Bahia Honda in Isla Bastimentos, a small very well protected bay completely lined with mangroves but with several other tiny mangrove islands, just metres in diameter, within the bay area. Really not much so next day we set off for the twin Zapatilla islands, about 10nm as the crow flies but 20nm to sail out around Bastimentos and down to the islands. Unfortunately not much wind but we managed to sail part the way before engaging the engine again. The two islands were low, well forested with a narrow beach all around that took about half an hour to circum walk. Sasha was not well, possibly suffering a reaction from the hepatitis B shot we had a few days before so she was left behind as Richard and I went for a dive. Not much of a dive on the ocean side. Very poor visibility and not much to see anyway.
Next day, with Sasha feeling better we snorkelled around the boat where there was quite a lot of coral in about 5m of water, even found a lobster for dinner entree. Mid morning we set off for Crawl Cay, another anchorage on the Southern tip of Bastimentos Island. There we found a local fisherman paddling his dugout canoe, known as a Cayucos, and bought 3 more lobster for BBQ dinner on board Scorpio. Again the water was fairly murky but we could sill see the coral in the 6m deep water as we snorkelled around where we were anchored. Here Richard left us to head back to Bocas and prepare for his trip back to the UK. We moved to Gallegos Cay, another lovely spot, not a soul around, many islands and great dingy exploration.
After another overnight stay we took the challenge of negotiating "the gap", a narrow, in some places shallow, channel that separates Bastimentos and Nancy Cays to take us back into Bahia Honda. We managed to get though the very pretty rain forest lined channel without incident and headed for an anchorage called Short Cut. According to our guide there should be a walk trail across the other side of Bastimentos to Playa Red Frog (Red Frog Beach), so named after an abundance of small red frogs that inhabit the area. Ashore we found a small jetty that seemed to have a path from it so we followed. It had been raining quite a bit during the night and in the morning so things were a little damp. None the less the rain forest was just fantastic, with water droplets hanging off leaves and even a few of the tiny red frogs. The beach on the other side was a bit of a let down, very much targeting tourists, complete with bar and music booming out from a very tired old sound system. Although we had our bathers on the water did not look sufficiently inviting to indulge so before long we were walking back towards Ednbal.
The next couple of days were spent in the Bocas Marina anchorage, internet stuff and reprovisioning, mainly fresh foods and of course booze. Amazing buying Guinness at $15 a carton but tonic at $13 a carton although the gin was only $5 per litre. Part of the reason for going back to Bocas was to extend our visa. On entry we were only given 30 days so we had to go for an extension available in the town of Changuinola about 15 miles away by water taxi. On Monday I phoned Benita, Changuinola immigration, to check what we needed in the way of documentation and her office hours. She would be there until 3 so off we went at about 10:30 to catch the water taxi. Unfortunately they were all sold out for the rest of the day, and the cost was $7 per person one way, bugger! What now! Well we could wait until Thursday when Benita would be next in the office or go by dingy, about 7 miles across the bay and 8 miles up the canal. Sounds easy enough, the bay is reasonably protected and the canal, hand dug around 1900 to permit access to the banana plantations, must be straight forward, should get to the other end, where the water taxis stop, in 2 hours easy. Off we went, under way at 11:30, a couple of beers in the little esky and a few snacks along with the GPS to find the canal entry from the bay. Finding the canal entry was OK and we made good time along the narrow, almost straight, tree lined canal. It was very picturesque. After a few miles we came to a tee junction, no one mentioned that! We turned to port and went another 3 miles to a dead end, so back and go the other way. A short time later we saw a couple of locals fishing and asked them for directions. From our limited Spanish it was straight on then left. Straight on took us to a river, to the right we could see the ocean entrance with breakers all the way across so a left turn seemed the thing to do. As we went further up the river the current against us became stronger and stronger. There was more floating debris but no sign of any water taxi landing. We saw a couple more fishermen, "which way to Changuinola?" keep going we understood. Soon were in the rapids, inevitable that we would hit the bottom, and of course we did, much to the disgust of the poor propeller. Now it was not a case of how to get to Changuinola but could we make it back to Ednbal as it was already 2:30. Due more to good luck I managed to nurse the dingy and outboard back down the river and, with significant vibration and reduced speed from the damaged prop, back to Ednbal. At least we had a beer on the way!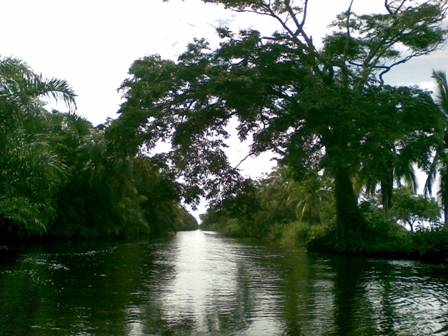 With the outboard out of the water and on the mounting bracket aboard Ednbal we could see the damage. Nothing a couple of hammers and a bit of filing couldn't fix. Will try again Thursday.
After a goodbye dinner at the Calypso Cantina (Bocas Marina) for Richard and a drink or two to Sasha for her birthday the next day, we headed off to a bay of Colon Is called Ground Creek. After arriving mid morning we settled into a birthday brunch for Sasha's birthday. Champagne that had been in the freezer all night, bacon, tomato and eggs on the BBQ, with more champagne, fresh passion fruit and coffee with cream rum. Man its a tough life in a bay all to yourself!! Ground Creek itself is only about half a mile long, a creek a few metres wide completely lined with trees, mostly Mangroves, that we explored to its end where there was a family living. A guy came over to say hello, we were intrigued by the small dead sharks on the bottom around his small jetty, guess he must have caught and discarded them. Around the house was a herd of cattle, a real rural atmosphere.
On the 17th, one day to spare on our visa expiry deadline we had a second try at getting to Changuinola, this time leaving Ground Creek at 7am with a full Sasha picnic. This time we found the water taxi landing and tied up the dingy, charge $5. Caught the bus into town, passing the first full production banana plantation we had seen. The banana bunches are transported from the trees by an overhead conveyer system that seemed to be almost endless. Once in the packing shed they were put into boxes by hand and loaded into refrigerated containers. The bus was something else. A small van, 3 rows of bench seats in the back, all literally falling apart, not much left in the way of upholstery, I am sure no suspension at all, not sure how it was able to get to town through some of the badly potholed road but it did. A street from the bus stop we found the immigration office, already with 12 people waiting. It seemed that Benita, the lady immigration officer was very busy, her assistant told us we needed copies of our passports, current visa documents and ships papers, no problem there is a photo copy place over the road she told us in perfect English after Sasha had been trying to talk to her in Spanish. We got the copies and left all the documents with to return "a little while later". Since the office closed at 12 for lunch we got back at 11:30 to find the door locked but were let in as we had been there earlier. It was after 12 by the time we saw Benita, what a wonderful busy, busy lady.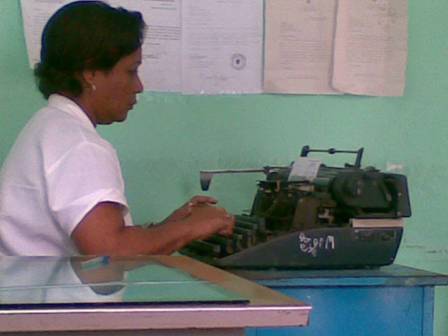 She was answering questions from others, filling out our forms and some for others all at the same time. Another guy gave her his passport with money inside, the usual latin bribe arrangement but she gave the money back saying "that is not necessary", what a difference to our experience in Bocas! With one month visa extensions in hand we did a little reprovisioning of things we couldn't find in Bocas and caught a taxi back to the dingy. On the way back to Ednbal we stopped a small park, park of a turtle sanctuary, on the bank of the canal for our picnic lunch.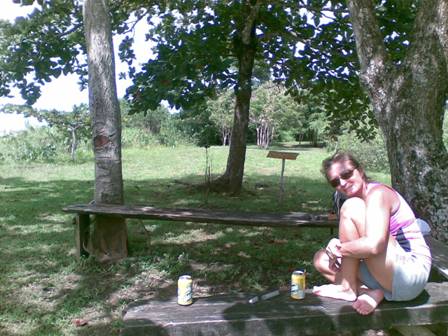 The day was not over. When we got back to Ednbal we found tiny fish inside the transom trim.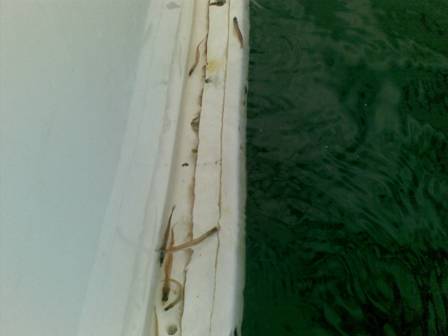 After a short swim we could see why, they were being chased and eaten by some larger fish. So, with a ready available source of bait, got our light line, with small hook and put on one of the tiny live fish. Instantly, as soon as the bait hit the water we had a fish on and into the bucket. As fast as we could bait the hook we had fish, some even took the bare hook! In 10 minutes we had a dozen small pan size fish, Jacks (small Travelly?) and Tuna enough for about 3 dinners for both of us. A most successful day.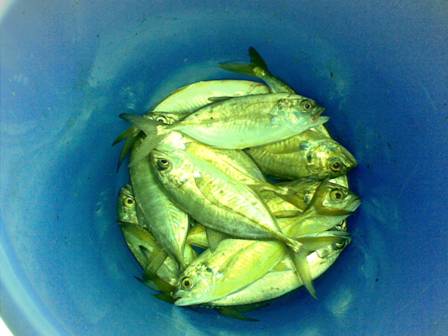 From Ground Creek we moved back towards Bocas to anchor in Saigon Bay on the opposite side of the town from Bocas Marina. Our replacement CD/DVD drive had arrived from Dell, after much coercing and aggravation, so we picked it up and Sasha put it in, hey presto problem solved. Dell provided a DHL prepay for return of the old one but the DHL representative in Bocas wanted $115 to send it, no thanks! MaryEllen was booked to fly back to the US in a week so would take it with her and drop it off to a DHL office. Next stop, Bamboo Bight on Isla Cristobal, a well protected deep anchorage with a small native village up one of the creeks. It turned out to be a beautiful bay but completely lined with mangroves and, in the perfectly still evening, plenty of bugs, especially noseeums. Sasha made pizza for dinner which baked in the electric grill, it was just superb.
In the morning we ventured up a creek, at low tide so we were mostly in mud, to the little village of Puerto Escondido, set back from the mangroves in small lush green hills. I find one of the hardest things about cruising and visiting such places the so, so little some people have to exist. No electricity, no sewage, water only from rain storage and tiny single room dwellings, it makes one feel very embarrassed to be there. Unfortunately we did not know what to expect and had nothing with us to even give anyone.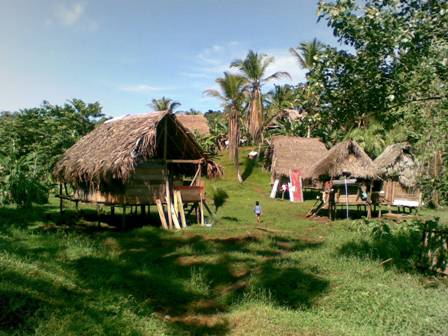 Next stop Boca Torritos on the other side of Isla Cristobal, 3 miles as the crow flies, 15 miles by boat. Bocas Torritos is a tiny village of about 10 houses and a small store come bar/restaurant built on stilts over the water, lovely green hills as a backdrop to the higher rainforest. In the morning, after a bit of a rainy night we went ashore for a walk. Sounds easy but rather wet and muddy so what looked like lovely green hills were very muddy and slippery under foot. We spoke to the owner of one of the houses and land to get permission to look around the area but didn't go far as all was very muddy. In return for his permission the guy asked if his children could have a look at our boat later in the afternoon. As walking was out of the question we went exploring in the dingy and saw several groups of kids paddling their dugout canoes to school. By mid afternoon we were ready to move so I took Ednbal in close to shore and 3 kids paddled out to see us.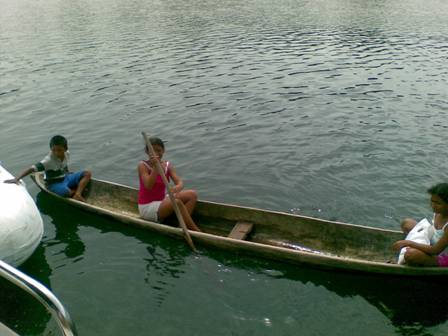 We entertained them on board "chatting" in a combination of very sparse Spanish and English until it was time for us to leave.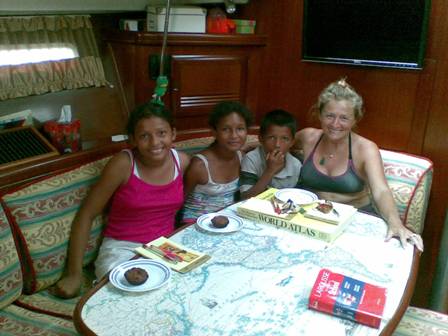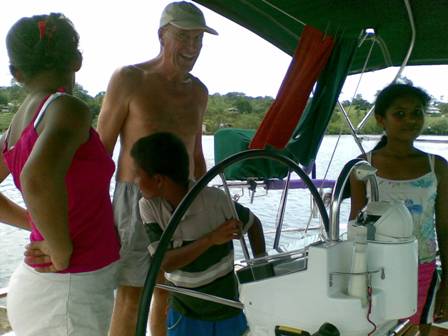 Across the other side of the bay a few miles away was another inlet known as Dolphin Bay where a US ex cruiser has set up home and made a name for himself producing pure chocolate on his hobby property called Green Acres.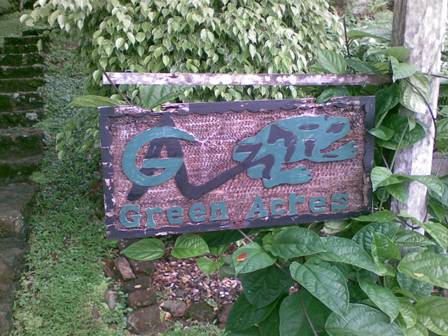 Ashore we met Dave and Linda who built their house, 11 years ago, amongst Cocoa trees. They learnt to make the pure cocoa chocolate from a local Indian lady and now produce it from the fruit of their Cocoa trees that produce year round.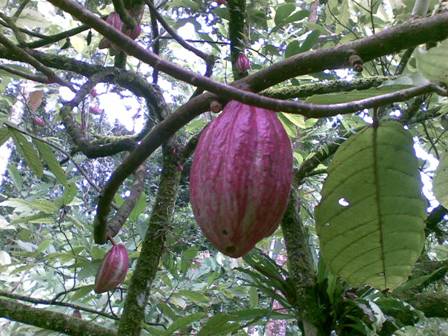 Dave collects ripe cocoa pods, removes the seeds, that are covered in a delicious sort of nectar, allows them to ferment, dries them in the sun (sometimes it stops raining!), roasts them in his home made roaster, crushes the seeds, blows the husks away to be left with pure cocoa "nibs".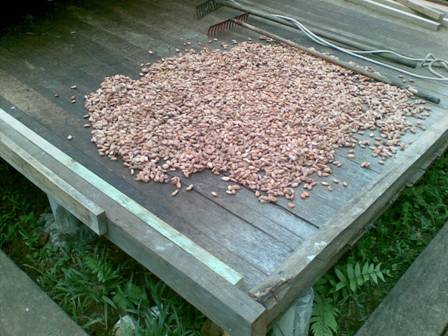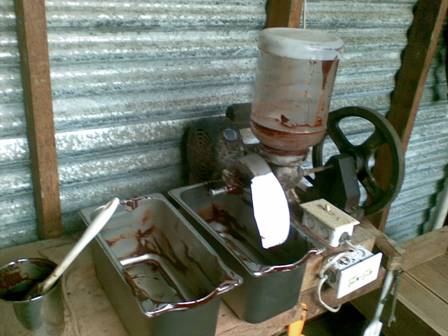 He finally grinds the nibs to a paste, chocolate which is finally poured into moulds, cooled and wrapped. Of course we bought way too much but then it is not every day you come across pure chocolate.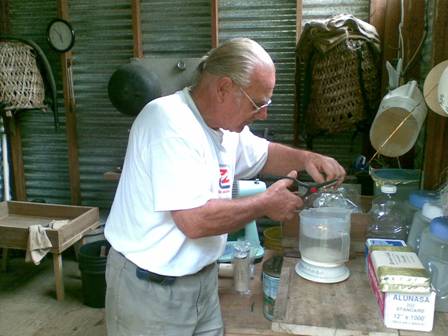 From Dolphin Bay we stopped off for a night near Crawl Cay before motoring (there is rarely any wind more than 5 knots here during the wet season) to another big bay, Bluefield Lagoon. The attraction, walk trails that traverse the hill separating the lagoon from the Caribbean Sea. We dropped anchor in behind a small sand spit that was home to an even smaller village, 7 or 8 hut style houses and a small store on stilts out over the water as most customers came by canoe. In the morning we headed for the first trail over to the beach, "well prepared" in shorts, thongs and backpack with the other beach, drink/food, essentials. Big mistake!! To say the path, under constant use by locals to get between villages, was wet and slippery is a real understatement. We walked over stones and logs or through waist high grass trying to miss the worst of the stinking black water before we came to the hilly slippery mud part. After one and a half hours I decided that discretion was the better part of valour and talked Sasha into turning back to try another day perhaps wearing our galoshes style sailing boots like the galoshes that we saw locals wearing. We had our picnic on board Ednbal! For the next 2 days it rained and it rained. One afternoon and night I emptied out the dingy 3 times, each knee deep water, we must have had close to a metre of rain and, of course to keep us on our toes, lighting and thunder.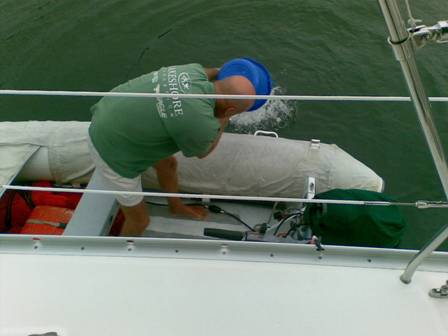 After having hit by lightning last year we were very sensitive and for almost every lightning flash found ourselves counting the seconds to the thunder, about 300 metres per second. One was less than 2 seconds, far too close for comfort. With lightning like that we disconnect all mast wiring (all plug and socket connected since last year), turn off all the DC circuit breakers and all the battery isolators so that Ednbal is effectively electrically dead. PCs and other hand held electronics go into the oven or an aluminium foil covered box (faraday cages).  We just sit, or lie, and hope! Rainy days can be good for inside, especially engine, maintenance - oil changes, sea water pump impellor changes etc. After 2 days it stopped raining early morning, so thinking positive, we set after lunch, to walk another, shorter trail, to the beach side. A 2 mile dingy ride to the very end of the bay and another small village where we asked direction t Tobobe, the beach village on the other side of the hill. A lady, bare footed, walked with us, in full galoshes this time, through black mud, water and mangroves to the "path" over to Tobobe.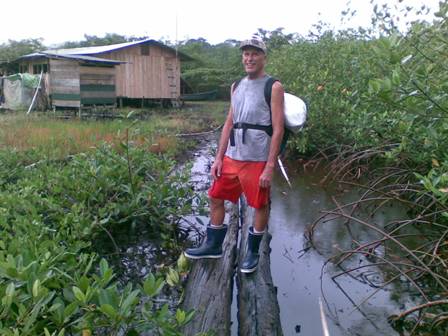 Part was on a "dual carriageway" of logs through black mud. It had been raining for two days hadn't it so even in knee high galoshes it wasn't at all easy, slipping, sliding, and trying to avoid the worst black water. As we started up the first reasonable high it started to rain again so, having only just got through the water sogged lower land, we decided to return. Just as well as a short while after we set out in the dingy for Ednbal it really bucketed down, visibility down to 30 or 40 metres! Another night of lightning, this was starting to wear a bit thin!
After three days of rain it started to clear so we had enough visibility to start heading back to Bocas Marina by way of Agua Cay and Ferro Cay. The anchorage at Agua Cay was just in behind the island which faced directly on to the Caribbean Sea, so a bit rollie. The highlight of our stay was a visit from a couple of fishermen in their dugout canoe with lobster flapping around in the bottom. We bought three spiny lobster, one quite large, and one slipper lobster (known in Oz as a Morton Bay Bug) for 10 bucks and Sasha cooked up a storm. It was a feast! Next on to an anchorage between Isla Popa and Ferro Cay, another 10nm closer to Bocas. At last, on Isla Popa, we found walk trails through the rain forest that were, after 3 days of little rain, passable. We took full advantage, a beautiful lookout spot under a thatched roof shelter, thick green rain forest with some lovely bright blood red flowers and the odd very noisy parrot. Not far away we also found a nice snorkelling spot. There was a bit of current so I tied the dingy to myself and we drift snorkelled in about 2m of water for about half a mile. Some of the most colourful soft corals we have seen but not too much in the way of fish.
Before long we were back in "civilisation" at the Bocas Marine anchorage and the internet. We are so dependent on the net these days, it's incredible. Most enjoyable was our planning for our time in Beijing, only a month away, to watch my son Grant playing wheelchair rugby for Australia. Three days later we had our zarpe, clearing out documents, from the harbour master, were reprovisioned and ready for the 200nm trip East to the San Blas archipelago.