Isla de Providencia, Colombia
Category: Caribbean
Created: Tuesday, 17 June 2008 16:42
Written by Roger Boxall
Hits: 2327
Providencia
Isla de Providencia
Providencia, a Columbian island, is quite mountainous the peak being 380 metres, but just 20 or so miles in circumference. It is a few hundred miles from the nearest Columbian mainland, much closer to Nicaragua and is still disputed, with Nicaragua claiming it should be theirs. Never the less life goes on in Providencia with little concern. After getting through the check in procedure and being told we had anchored in the channel, my excuse was coming in at night, we re-anchored off the adjacent Catalina Island, connected to the main Providencia by a foot bridge. It is a gorgeous outlook to the green, green little mountains, by ourselves and with coral reefs to snorkel over right from Ednbal.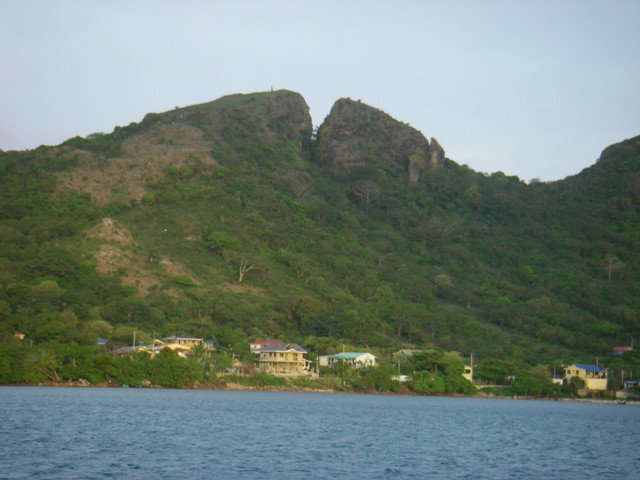 The above outlook is known as "Morgans' Ass", island being used refuge in 18th century by a famous pirate.
Anchored in 6m of water we could easily see the bottom. The rest of the "fleet" remained anchored in the main Providencia anchorage along with 8 or 10 other yachts a few hundred meters from us.  
Now a little time to reflect having just past our second cruising anniversary. Yes 2 years, over 9000 sea miles, 11 countries in and around the Caribbean Sea. The highlights and lowlights. Without a doubt the biggest highlight was friendship, sailing with Roi Soleil, Lulu and Gigi. The 900 mile crossing from Puerto Rico to Panama with them was so memorable. They stayed with us and stood by us all the time it took to get Ednbal refitted after the lightning strike. We then cruised together in the San Blas and to Cartagena where we explored the city and surrounds together. After separating there, to meet up again on in the Bay Islands of Honduras was wonderful. As far as cities are concerned, we have found none better than Cartagena, for island cruising, the San Blas, for pleasant surprise, Negril in Jamaica, for thrills, hooking Marlin, for satisfaction, having a well running Ednbal with all her navigation, communications, computers, power, water, etc, for friendly people, our time in Grand Cayman Island and for something out of the ordinary, Chichen Itza in Mexico. For the lowlights, both occurred in Colon, Panama, hit by lightning and hit by street thugs, worse it was Gigi who suffered injury at the hands of the thugs. Are we still enjoying it, you bet we are, the daily things, Sasha's cooking from full breakfasts to cakes/cookies and bread to the wonderful dinners the recipes for which are usually discussed over sundowners looking out over the ocean or nearby islands, always eating in the cockpit enjoying the view and each other, and, of course the swimming, snorkelling and diving. 
Meanwhile back to Providencia. Having been away from "civilisation" for a while one of the first things on the agenda was reprovisioning. The small supermarkets had all the basic essentials with fresh fruit and vegetables delivered by ship once a week. Better still were the local fruit, pineapple, mango (it was mango season so mangos for the picking everywhere), avocado, papaya. Of course beer and other alcoholic beverages. Our first adventure was to tour the island on hired motor scooters. The whole fleet decided to go so there was a bit of a problem getting enough scooters to go round. MaryEllen and Randy off Wanda Jeane (American, although now living in Panama), Deborah and Steve off Argo (American), Jan and Richard off Scorpio (English) and Katherine and Joules off Anesthesie (French).  As the gang assembled MaryEllen took off to lead us out, immediately down a one way street, the wrong way.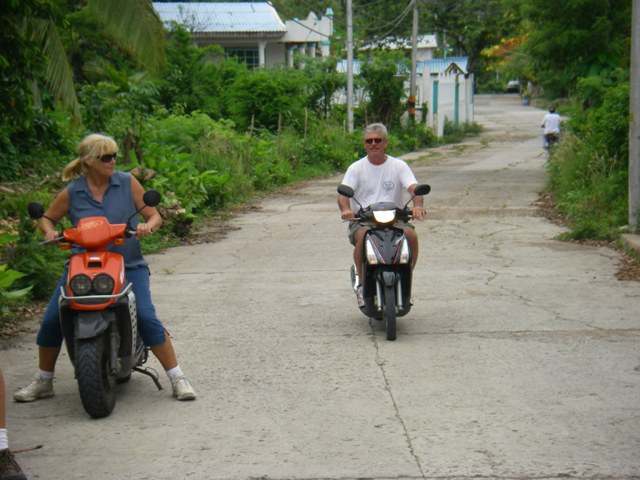 It didn't seem to worry anyone. There was no need for any road map as there was just no sealed road that ran around the island. There were a few diversions for the intrepid bikers down a few rocky dirt tracks to beaches and the water catchment reservoir up in the mountain. One such track took us down to a beach bar and restaurant called Roland's. To say rustic may be somewhat of an understatement but the sand floors and outside tables with bench seats under big trees was clean so we all had beer and local fare.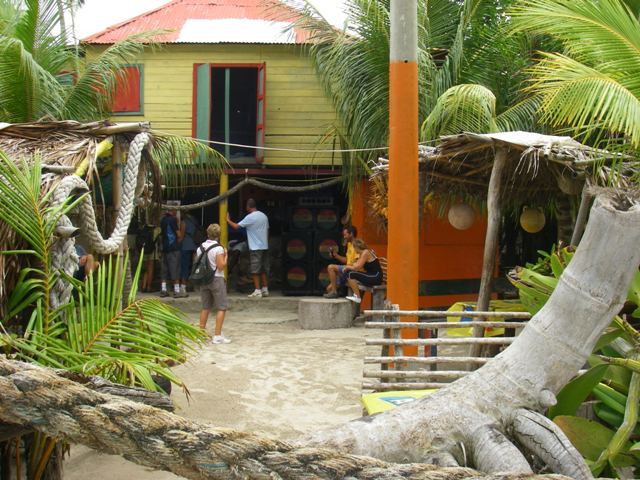 On the way around we looked for a rum distillery, apparently a somewhat clandestine affair, operated by a local. After seeking directions a number of times we eventually found a house belonging to the rum producer. Yes the still was up in the mountain where there was a clean, clear fresh water spring, apparently essential for good rum. We were treated to some samples and bought the top shelf stuff, in old wine bottles at $5.00. The suggestion, to give the perfectly clear fluid a bit of colour was to add some sultanas or raisins, which Sasha duly did and put the bottle away for a "special occasion".
Providencia also had a number of walk/hike trails. One Gigi and Lulu told us about and had drawn as a mud map on one of the paper charts. It was on the North West side of Catalina so off Sasha and I went in the dingy to try and find it. Finding the start point, an old stone jetty in one of the little bays, was the easy part. After making our way ashore we found a black plastic bag full of fermenting mangoes on the roots of a very large fallen tree on the beach. We remembered Gigi describing how she had gathered mangos in a bag but had forgotten them and left them behind - they were still there! The trail took us up past an abandoned house and through a small banana plot but there we lost it after being bitten numerous times by fire ants on the way. As usual we were not well prepared, no proper shoes, no water so it was just as well. We did, however, have a couple of plastic bags so we filled them with mangoes from the abundance of mango trees. Back on Ednbal Sasha made 5kg of beautiful mango chutney that we shared with the rest of the fleet.
Over the period of our stay, about 10 days, we had many outings and social gatherings with "the fleet" as well as meeting several other cruisers including one Australian on Godot.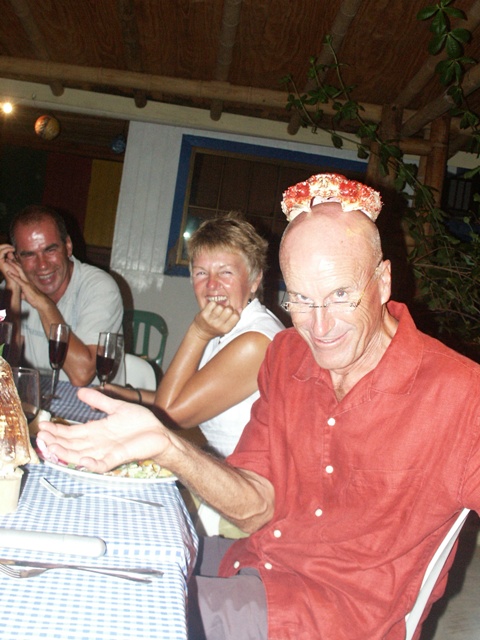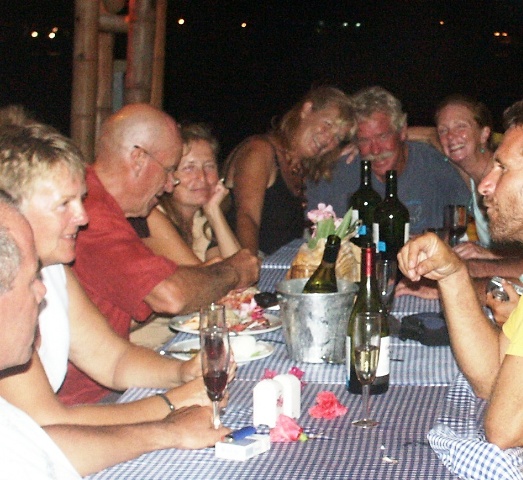 One the day Godot sailed out, passed us at anchor, we played From a Land Down Under by Men at Work, at full volume as a rousing farewell. While cruising we meet many others, some become acquaintances, others, friends and others more than just friends, people one can really relate to. Such is the case with some of "the fleet". While in Providencia MaryEllen and Randy visited us one day to give us something very special, a water colour of an Angel fish done by MaryEllen with a lovely inscription.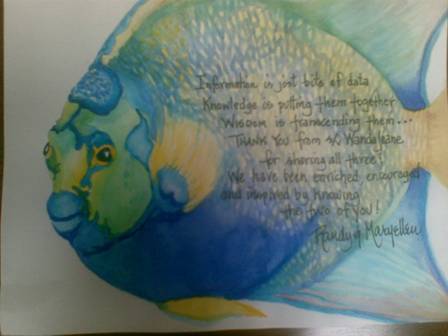 Time was marching on and the hurricane season was approaching. It is generally accepted the hurricanes, in this part of the world, do not affect below 11 degrees North and our insurer stipulates that we must be below that latitude by 1 July to maintain storm damage coverage. We still needed to sail a couple of hundred miles south and it was now almost mud June. We also wanted to call in at a spot or two on the way it was getting time to move. "The fleet" decided that a stop at Cayo de Albuquerque, an easy overnight sail down past San Andres, would be nice. Only small problem was out departure date· Friday 13 June. Thankfully nothing went wrong and we sailed all the time, arriving mid morning 14 June in good light to pick our way through almost 2 miles of coral outcrops to get into the anchorage area. Cayo de Albuquerque consists of two tiny islands, each about 200 metres in diameter. On one there is a Columbian military post, the other a small very rudimentary fishermen's camp. Shortly after we arrived the 6 military guys, teenagers, swam out to our boat a hundred or so metres from the shore to say hello and welcome us. From us they swam over to Scorpio but a couple were not strong swimmers and really battled to make it back to shore.
Shortly after we went ashore to look around. The military guys kept their island pristine. Little Conch shell lined paths perfectly clean all over, outdoor gym under a palm thatch roof and the small main barracks building with communications tower. The Commander produced a visitor's book and asked us to put in our details and our comments about the islands.
Next day we went SCUBA diving on the lee side of the island and although not great diving, enjoyed being under water again. A few fish were caught so a lovely fresh fish dinner. Our guide book made mention of a large Hammerhead shark frequenting the anchorage area so each time we swam from the boat to snorkel over nearby coral it was always a bit concerning! A couple of days were spent in this absolute paradise, two islands literally in the middle of the ocean with coral and fish abounding, even creatures like slipper lobster and cuttle fish.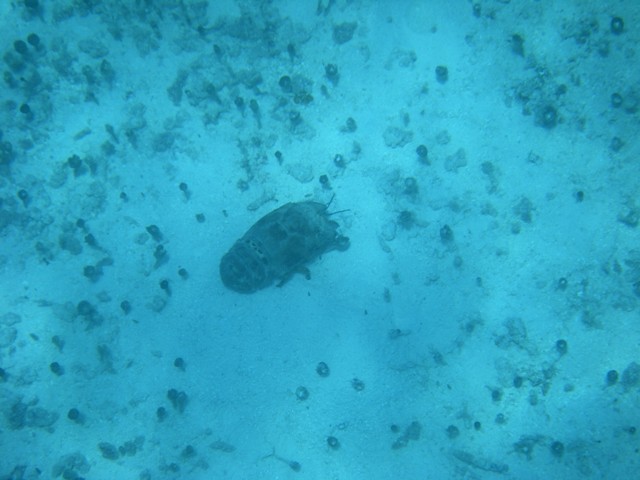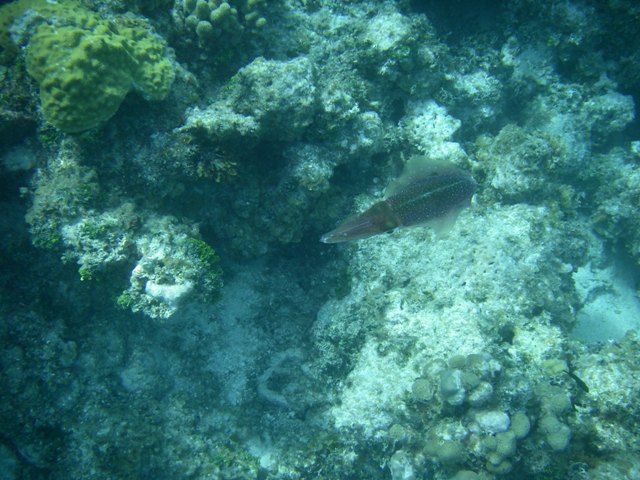 One night we all got together for a beach BBQ - various dishes bought in with fish and potatoes wrapped in aluminium foil cooked in the coals all washed down with suitable quantities of beverages.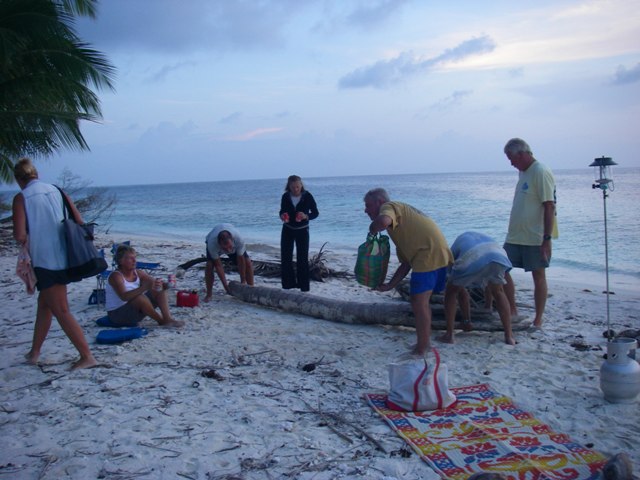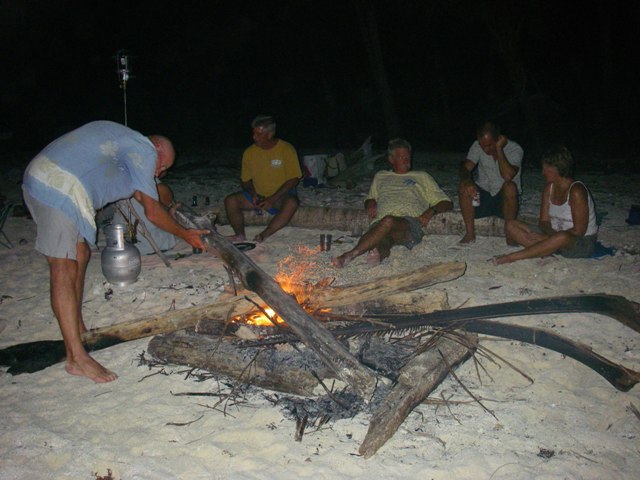 As with all goods things, they must eventually come to an end and with what looked like sailable winds for a day or two we headed out to the South West, next stop Bocas del Toro, Northern Panama, 170nm, about midday 17 June. Once out of the coral maze and in deep water up went the sails for a delightful beam reach doing 5 to 6kn in an 8 to 12kn breeze. By morning the wind had swung to the aft quarter so up went the asymmetrical spinnaker to give us some more speed until we hit an almost 180 degree wind shift. The last 30nm was spent motoring and we dropped anchor at Hospital Bight in Bocas just on dark.
And so the fun began! Another dose of corruption, this time with check in. I decided to do the right thing and call the Port Captain on VHF to advise of our arrival and that we would sail to the town dock first thing in the morning to complete the formalities. The Port Captain wanted to see us right away and asked for our position so I gave our coordinates but no one arrived. Panama was the first country that we had already been to so we knew how things work and the costs involved.  Next day we went to the Port Captain's office, as we had done in Colon Panama last year. We were told, in no uncertain terms to go back to the boat and wait to be boarded by the officials to conduct customs clearance and quarantine search as well as immigration and port clearance paperwork.  a couple of hours later a water taxi arrived with 4 officials who boarded Ednbal and sat in the cockpit, spread out their papers and started filling them out. All were dated the previous day, 18 June stating boarding time as 20:35, the time I had advised our arrival. No inspections were carried out, none of the 4 officials even got up until they were ready to leave. The cost, $250, over $100 more than the cost in Colon. As we did not have that much cash on board we would have to go to the bank and they pay, which we duly did. But the receipt did not add up to $250, surprise, surprise. I insisted on receipts for all and was presented with 5 pieces of paper each an "account" for $20, one from 3 of the officials and two from the Port Captain who went to great pains to explain that they were trying to make it less costly for us. Less costly, yes, against the threat of a $200 fine, plus $50 per official document because "there is a law in Panama that all visiting vessels must advise the Port Captain of there intending arrival 48 hours in advance" and of course he did not want to do that! Never mind that the "law" applies to big ships not to sail boat that have no means of calling 48 hours in advance. Yes, the Port Captain agreed we had no way of calling but that was the law! So each official pocketed the bribery and we left, no happy. We later found that the rest of the fleet were similarly charged. Official complain was required so we scanned all the "receipts" and drafted an email to be sent to several recipients in Panama City that we found through the web, to be sent once away from Bocas.