Honduras
Category: Caribbean
Created: Saturday, 17 May 2008 16:41
Written by Roger Boxall
Hits: 2977
Honduras
Honduras
To get to the main town we had a mile or so dingy ride to the other, Southern, side of the island though a small canal, part natural, part dug a number of years ago. Apparently it used to have a controlling depth of 10 feet but how had silted up at the Northern end to just 3 feet. In the small town of Bonacca we again went through the usual check in procedures, both the Port Captain and Immigration guys were very nice and helpful, on problems at all. Bonacca is on a tiny island just off the South East end of Guanaja, every inch of land is built on, many wooden houses on stilts, no cars or roads but many tiny canals where residents tie their narrow boats up alongside. Guess that's why it is know as the Venice of Honduras.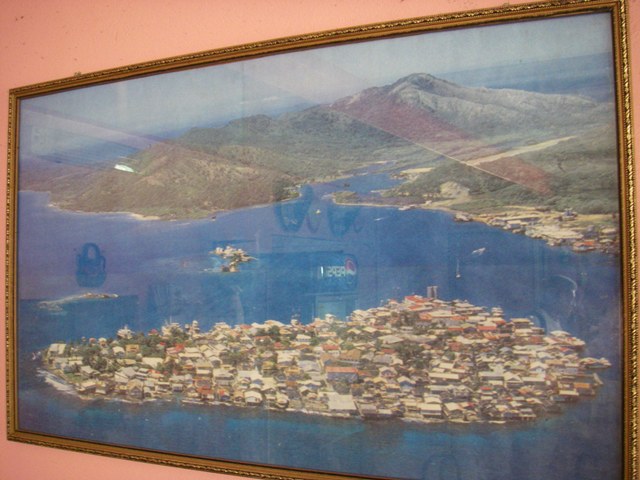 We had to get some local currency, although most shops take USDs at an exchange rate of 19 Lempira to 1 USD, so off to the one and only bank. Not only was there a line up inside but outside too, all being controlled by two uniformed guards dressed in bullet proof vests and carrying what looked like pump action shotguns. Once inside we were ushered to a counter marked "Tercero Adad" which translated to third age, for the elderly!!!!!! Once I realised, on subsequent visits to the bank I refused to go to that counter even though the locals seemed to disbelieve that I was not over 60! Guess I must be aging badly.
We were the only boat in the very large bay that really didn't have a lot going for it so we soon moved further East along the coast to an anchorage called Michael's Rock. A lovely white beach, mountains straight up, still plenty of room in a sort of hook bay giving good protection East and South. Lovely coral along the part of the shore that was not white sand and a small wooden jetty. This is the spot the locals "go to the beach", by boat of course as there is only one road on the whole of Guanaja, going from Mangrove Bight, further East of us, on the North side to Savannah Bight on the South side. Most days the beach was raked clean by someone. There is also a small fresh water creek running into the ocean from the mountains. One thing that Guanaja does not lack is clean fresh water; it comes out of the ground all over the place to create waterfalls and small streams of fresh drinkable water running down into the ocean. Less than a mile up the beach to the East is Bo's place, accommodation in "Island House" and the restaurant/bar, on the end of a wooden jetty, called the Green Flash Bar.
A little past Bo's is a sign to mark a path up to a reported lovely small waterfall and rock pool at the bottom. Just the spot for a Gin n tonic picnic. After walking the flat track for about 15 minutes we started climbing, and I mean climbing, often using both hands and feet, for two hours up a boulder strewn dry waterway all the way to near the top of the first mountain, we were about done and, NO BLOODY WATERFALL!! So back done again to find out where were went wrong, yes we had missed an arrow on a tree that had pointed us in another direction, oh bugger. Half an hour and a couple of other arrows later we were upon a beautiful cool water fall and pool, no one else around so it was quickly off with the gear and a lovely cool down, now well past gin n tonic time!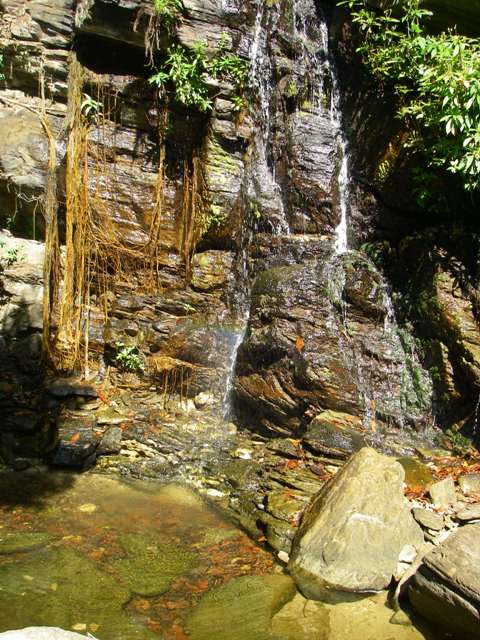 Later, back at Bo's Green Flash Bar we had a couple of beers and ordered dinner. Now it is not like ordering at any "normal" restaurant bar. There was no written menu, the choice was chicken (today it was wings) fried, fish (fried but you could "request" it done differently, served with standard rice, and salad. Oh, and dinner is between 6 and 7PM but you must order early, before 5. Friday night but the bar was not exactly packed, Sasha and I along with one of the long staying guests, Bob. We chatted to Bob, a rather ancient wiry gentleman who had spent many years in this part of the world while watching the sun set over the ocean but no green flash. Dinner arrived, after a few more beers, yes chicken wings, well fried, and fish, not grilled as requested but fried. It was supposed to be Grouper but it was tough and thoroughly over cooked. Once more a lesson, food out is almost always a disappointment, much better on the boat.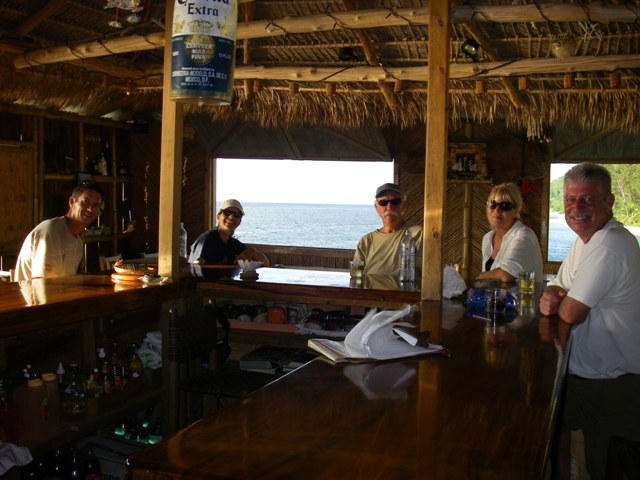 Next ay we decided to sail around to the other side if the island to join Gigi and Lulu at Joshes Cay. A guy, originally from Grand Cayman Island, by the name of Graham, owns the 3 acre island of Joshes Cay. He has built a small resort, bar/restaurant, bungalows for up to about 20 guests and his "pets".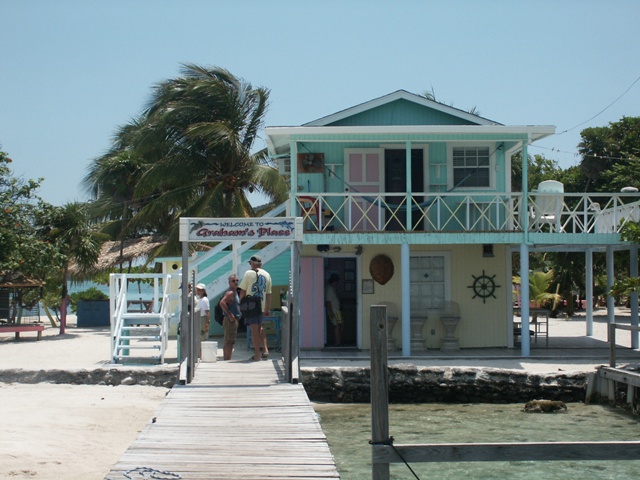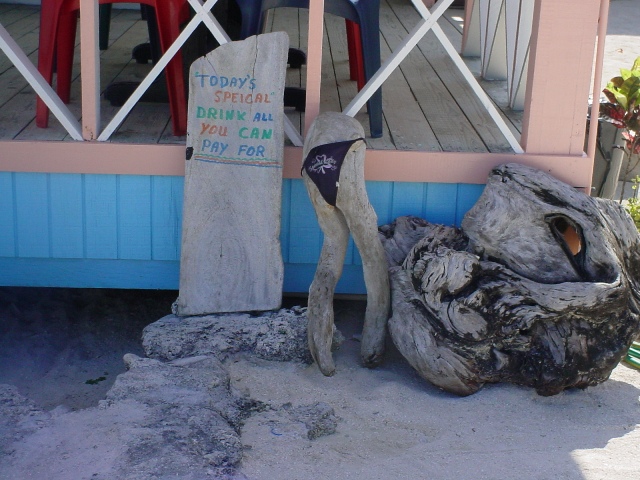 There were large bird cages filled with a variety of birds from very large parrots to doves, small local animals (), about the size of a large cat but looking more like a small dog with extra long back legs, sea creatures in ocean water pens with wire mesh separating them from ocean freedom.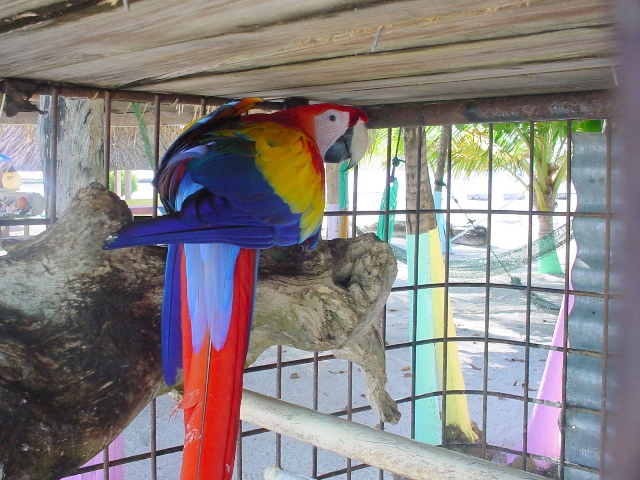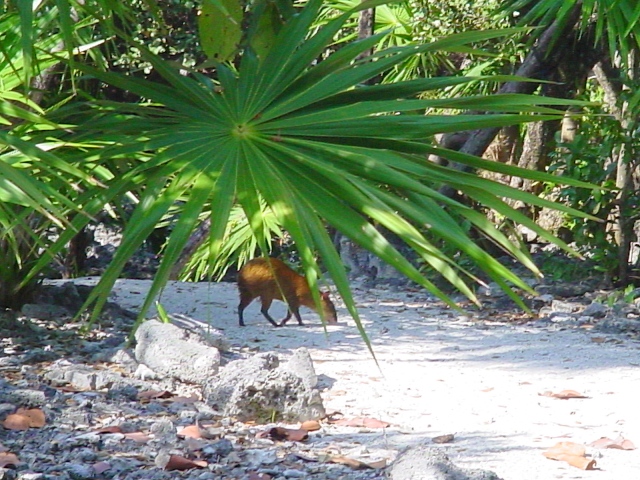 Turtles, sharks, barracuda, some huge grouper, lobster, conch and a myriad of other smaller fish.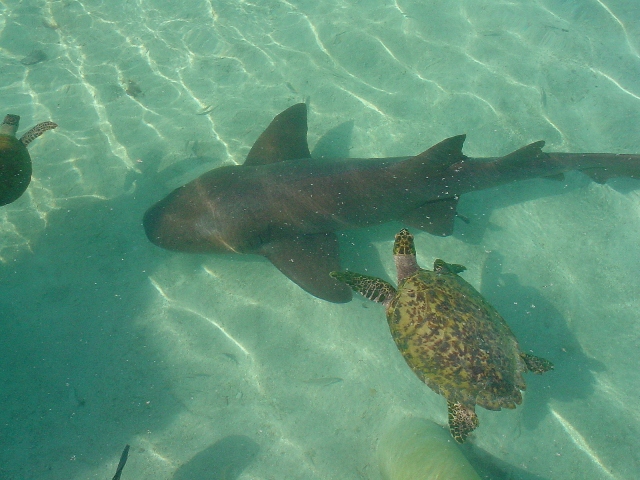 One could be forgiven for thinking they were there for guests to select for dinner but definitely not the case, they were Graham's pets and his resort was called "Graham's Place". Graham was very cruiser friendly with internet, water and ice all readily available. Again it was great to be with Gigi and Lulu, dinners on board, a drink or two and catching up on lost time. Josh's Cay is relatively exposed to the weather and we had heard of a restaurant/bar a little further West along the island coast in a bay known as El Bight. There we found Annette and Carlo, originally from Germany, running The Mango. It was sad that on Saturday nights live music was on. Unfortunately however when we were there one of the staff and drummer was away so no live music but the German faire was just fantastic, Sasha had German sausage and I, Vienna Schnitzel. Next day we walked around the area with Gigi and Lulu looking at lots of land for sale. This was the best Island we had been to and we toyed with the idea of buying some land between us for the dual purpose of safe keeping and a possible location for the eventual land habitation if and when the cruising comes to an end.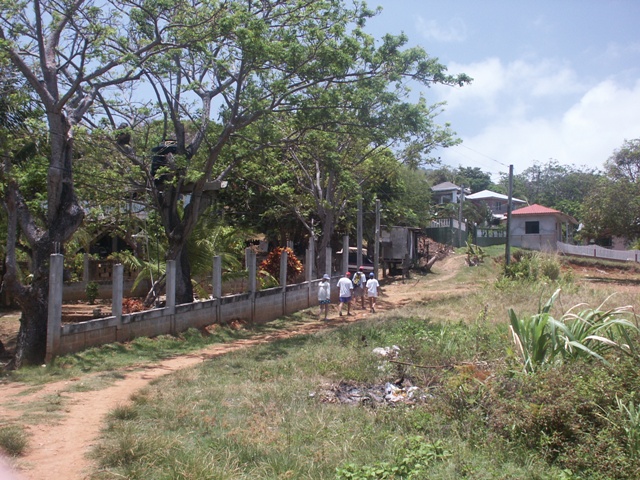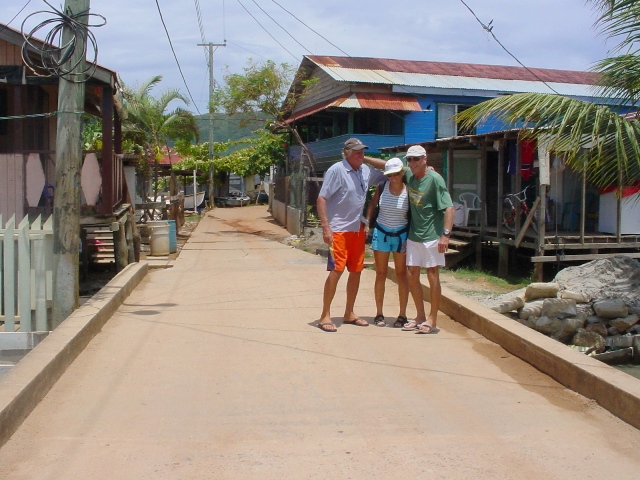 One area had full concrete road up the side of the mountain that effectively went nowhere. It connected the housing lots with fantastic views out over the ocean to the waters edge only. Perhaps it was only dreaming but a good dream anyway!!
As Gigi and Lulu left to head North to Virginia, USA, we went back around to the tranquillity of Michael's rock to wait for favourable winds (no wind at all or anything from North or South) to make the trip East along the Honduras coast before being able to turn more South and head down to Panama. At Michael's Rock we met up with two other yachts, Steve and Deborah on Argo and Randy and Maryellen on Wanda Jeanne, who had the same idea.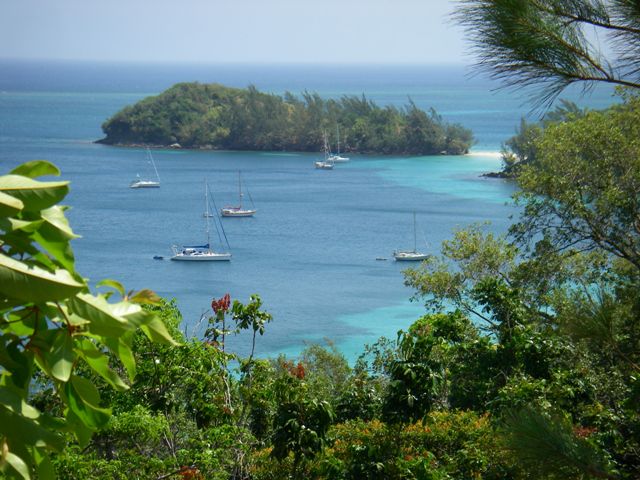 The passage east to "the corner" where you can turn and head more in a Southerly direction is infamous, even from the Christopher Columbus days. It is said that it took him, on one of his later voyages of discovery, 40 days to make something like 150 miles, some days going backwards, that he exclaimed Cabo Gracias a Dias (thank you God)when he finally was able to turn southwards.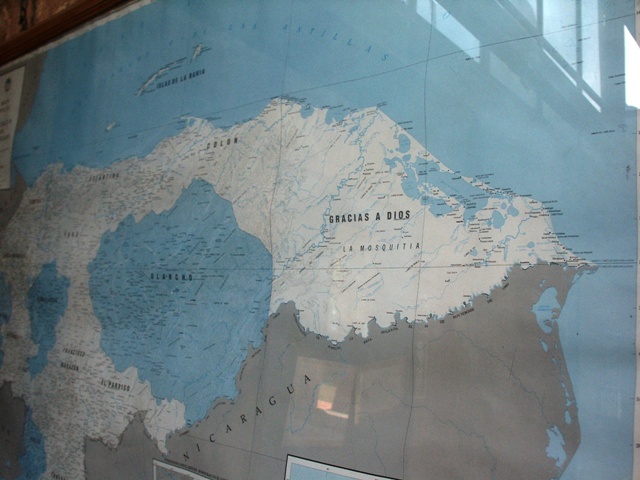 Still there must be worse places to wait for the right winds, green mountainous scenery, a white sand beach (manicured by locals each day even though almost no-one used it), coral reefs full of fish and lovely warm clear water to swim in. Somehow the days drifted by in the protected anchorage while it blew 20 knots plus from the East out in the ocean day in and day out. A couple of other vessels came and left, we went for walks, went into town (a couple of miles by dinghy along the protected side of the island) and generally enjoyed good company.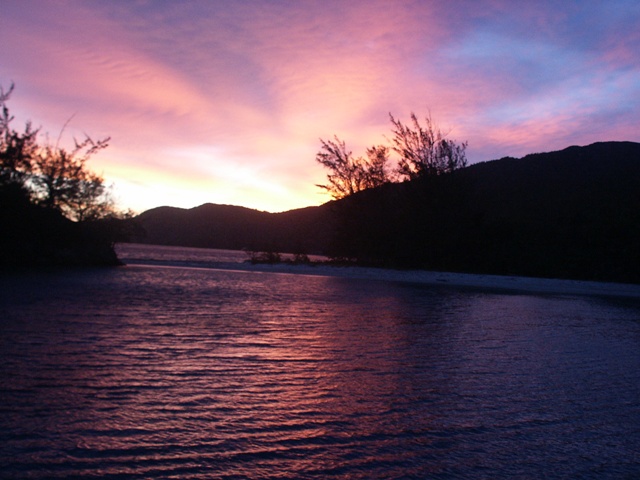 Then things started to change, unfortunately not for the better. A "tropical wave" was forecast to interact with another weather system with a risk of forming a tropical depression that could turn into a hurricane. Unlikely so early in the season however there were warnings to put contingency plans in place. We all decided to head to the coast and a large bay called Trujillo, a nice half day sail. We sailed in and anchored in the far eastern end of the bay at about 2pm on 27 May 2008.
We had been made aware of a small resort catering mainly for backpackers called The Casa Kiwi and had anchored almost right out the front. The very first sight was cattle roaming the beach!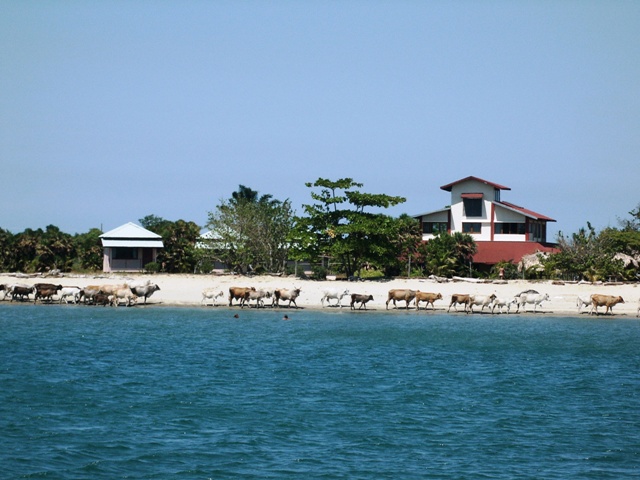 Ashore we indeed found that it was run by a very energetic Kiwi lady known as Chas. A wonderful welcome with a bar exhuming a great local atmosphere. From The Kiwi we explored the local area, mainly the nearby town.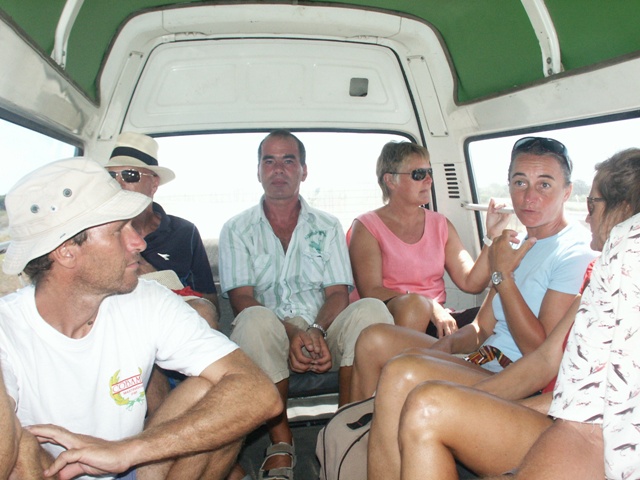 One of the "highlights" was a visit to the local museum and fun park. The museum was a collection essentially bric-a-brac in a very dusty old corrugated iron shed. All sorts of crap, old typewriters (50 or so), stoves, irons, bank notes, stamps, sewing machines, washing machines, then, occasionally something out of the ordinary things like Maya clay figurines and old stone household utensils that were used by the Maya. The fun park (the was no one else there) looked like something out of time, maybe 50 or 60 years out of time, no mechanical rides, some swimming pools made by diverting a nearby stream so no chlorination, a small suspension bridge across the stream that I wouldn't even think about trusting my life on, some old coloured tables and chairs under corrugated iron roofs. This was certainly a reminder that we were not in a first world county.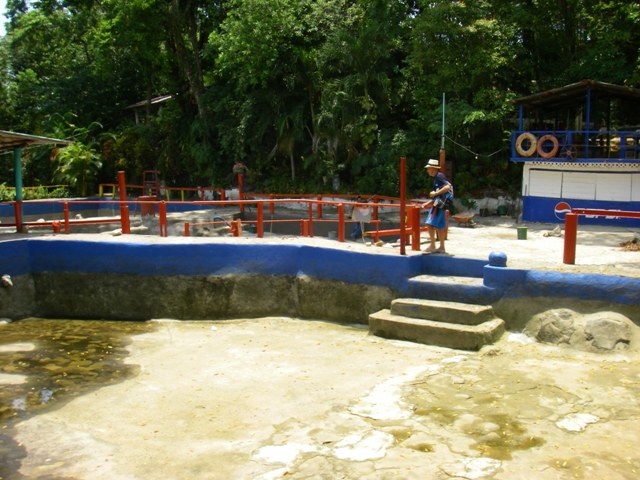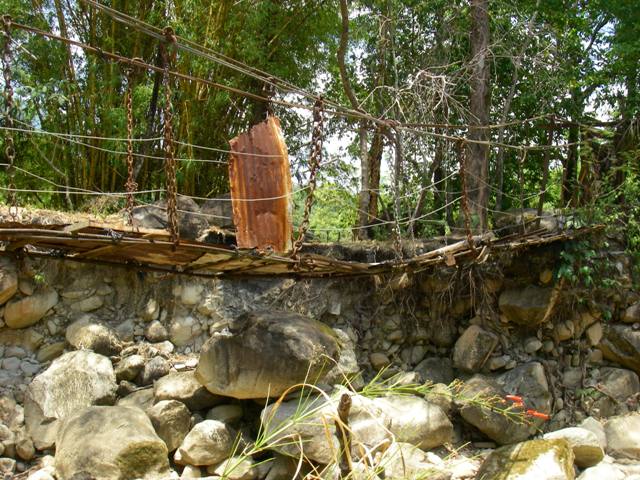 The plus side was the wonderful array of fresh fruit and vegetables from the many small roadside traders. 
As it happened no storm developed in our area but as always better to be safe than sorry. A few days later however a tropical depression did develop just to the North of us and was named Arthur. We had a lovely lunch with the rest of the cruisers just before the departure from Trujillo, it was such a fun.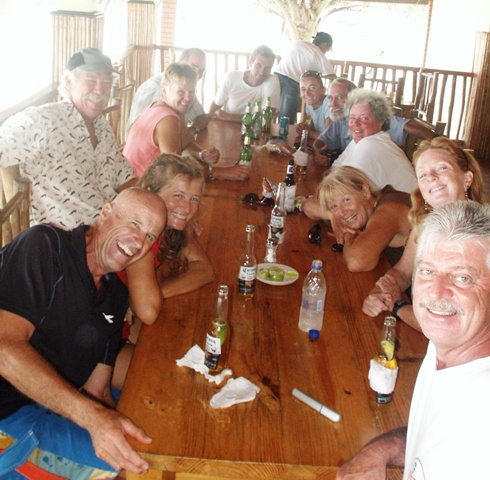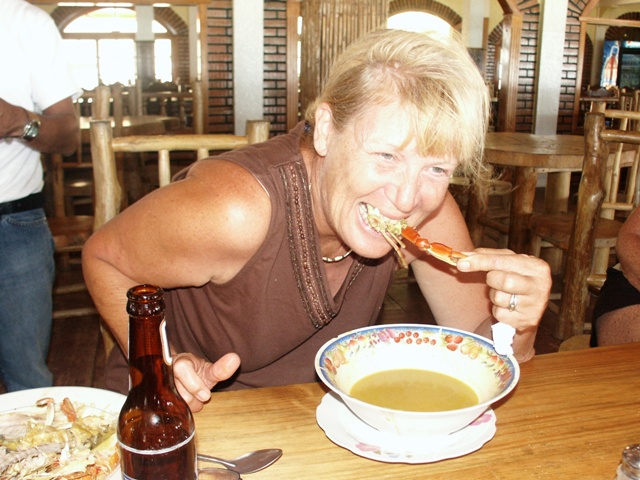 By this time we were on our way East, heading to a stop over point at an Island, part of the Vivorillo Bank. We left Trujillo at about 5.45am on 30 May 2008, in the company of 5 other yachts, for the 36 hour or so trip. As it turned out the wind was at first to light to sail and at the end almost direct against us. Never the less we only used the engine for 12 hours, so really not too bad for a case where we thought we may have to end up motoring against the wind all the way. The last part of the trip, about 50 miles into Vivorillo, was motor sailing and as the small islands of the bank had no navigation markers it was important the one of us got in daylight to guide others in case there were any major reefs to be avoided.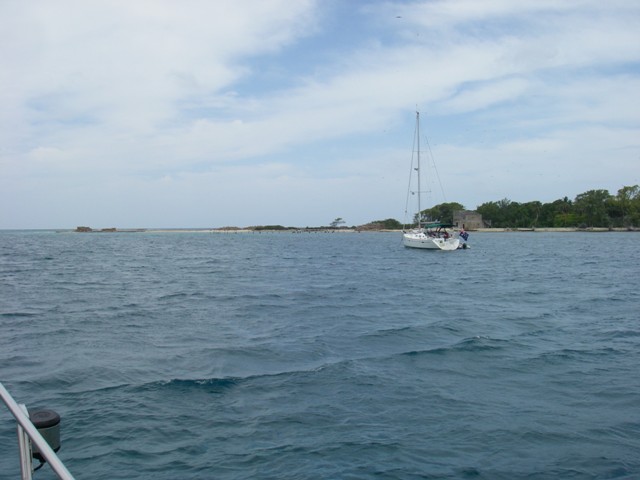 A couple of the yachts in front of us developed mechanical problems so we soon found that we had to make the last fast run to get in, motor sailing at over 7 knots crashing into waves blown up by a 20 knot wind just 20 degrees off our port bow, before dark. As it turned out the chart was very accurate so we able to tell the others to come in anywhere from the West and anchor to the North of us. In the middle of the following day the French vessel that started out with us limped in, no engine (water in fuel), water in the bilge and broken anchor winch. The sixth boat that had left with us had returned, after making almost ¾ of the trip, because his engine broke down. All the boats had some problem; two had minor mainsail issue, so it seemed we were the lucky one to have no damage at all. There were a couple of tiny deserted islands, one with wooden lobster traps stacked 10 high on the beach, there must have been a couple of thousand of them. Our chart showed a lighthouse but all that remained were the ruins of a large concrete building and what looked like mounts where engines had once been, not even a light tower could be seen. We guessed all a victim of a hurricane and in this part of the world people, governments, have other priorities. Snorkelling was fantastic, coral and fish everywhere; we even managed a lobster dinner!
As usual we were really only waiting for the right winds to continue our trip South. We all pitched in to get the French vessel back in going condition and two days later could see and opportunity to continue the next morning. The next leg took us South East past the Gorda Bank then almost South (160 degrees) down to the Columbian Island of Providencia. We had two weather forecast models, one said East wind turning North East (given by one of the US boating weather Gurus, Chris Parker and the other South East turning East, downloaded electronically and based on NOAA's "detailed Caribbean model". It was decided that if the wind was South East in the morning we would tack North East to go outside the Gorda Bank and then turn South, If it was East then head more South, inside the Gorda Bank to go more directly to Providencia. The wind was South East but all the boats decided to motor into it hoping for an East change. We decided to sail North East close hauled as was our original plan. However we chickened out and did not go out past the Gorda Bank, instead turning prematurely to head down the inside. So we ended up motor sailing as the wind was almost on the nose and we did not have a lot of room between coral islands and reefs to make long tacks. Once we were past Gorda Bank and out of the shallows we were able to turn more South, 160 degrees, and sail very nicely all the rest of the way to Providencia, arriving there about 9pm. With well lit buoys marking the main shipping entrance it was fairly straight forward to get to the anchorage provided one took no notice of the charts which showed us going over exposed reef when we were actually in the shipping channel.       
Providencia, a Columbian island, is quite mountainous the peak being 380 metres, but just 20 or so miles in circumference. It is a few hundred miles from the nearest Columbian mainland, much closer to Nicaragua and is still disputed with Nicaragua claiming it should be theirs. Never the less like goes on in Providencia with little concern. After getting through the check in procedure and being told we had anchored in the channel, my excuse was coming in at night, we re-anchored off the adjacent Catalina Island, connected to the main Providencia by a foot bridge.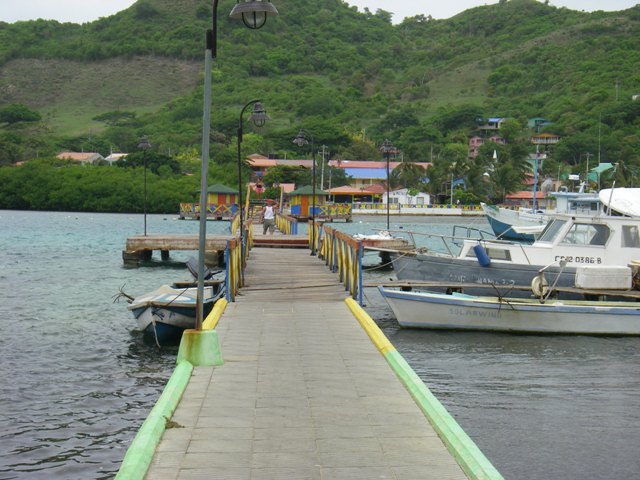 It is a gorgeous outlook to the green, green little mountains, by ourselves and with coral reefs to snorkel over right from Ednbal. Anchored in 6m of water we could easily see the bottom. The rest of the "fleet" remained anchored in the main Providencia anchorage along with 8 or 10 other yachts a few hundred meters from us. They all had a wonderful wiews to the hills of Providencia, the most famous called in memory of pirate Morgan - Morgan Ass.