Belize
Category: Caribbean
Created: Thursday, 17 April 2008 16:40
Written by Roger Boxall
Hits: 1956
Belize
Belize
Once anchored outside of San Pedro, with 10 or so other cruisers, we went ashore for the entry formalities. Having the customs office next door to immigration was a bonus and, as there was no port captain there was no fee at all, extra bonus. On top of that, immediately out front was a lovely open air bar serving very cold draft beer. The bar maid informed Bob and I that having a beer mid morning was quite OK and was known locally as having a Belizean cappuccino!  What more could one ask for on entering another country. It had been a few days since we had access to fresh fruit and veg so that was high on the agenda. Belize is one of the few central American countries where English is spoken although many of the people still speak Spanish. In contrast with Mexico we found the price of important things, such as beer, wine and spirits to be considerably higher, as was the fresh fruit and veg and food in general. Fuel was over double. The standard if living, houses, the appearance of people in general seemed very similar so we could not quite work out the "cost of living" difference.
We enjoyed San Pedro, a small town 4 streets wide 15 or 20 streets long. The small supermarkets had all the basics we needed and the beach front eat outs and bars were friendly and not too expensive. Much of the architecture was more Spanish that English with many small buildings painted in bright blues, yellows and greens. It was obviously a tourist spot, certainly low key compared to the USA and Australia. We had heard that another smaller village South called Cay Caulker was certainly worth a visit so a couple of days later we headed off. A little reminiscent of the Bahamas, sailing of sand and grass banks 2 to 3m deep, at times only a couple of hundred centimetres under the keel. Cay Caulker was after the same sort of style as San Pedro but on a much smaller, perhaps more intimate, scale. One nice hotel on the water with very friendly staff and internet so we were able catch up with the world again, well at least some our little part.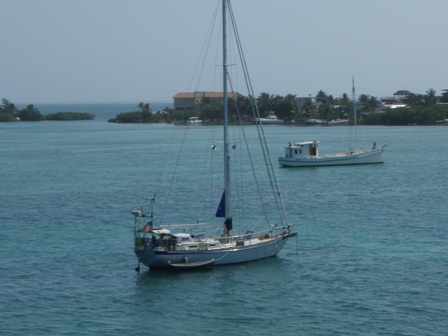 Belize telecommunications have tried to block the use of computer voice communication, namely Skype but the program we use, VoipStunt worked only the internet was so slow that the voice was distorted too much to use. Ah well, back to mobile phone, with another new SIM card and pre pay. Cay Caulker has small sand streets and a nice waterfront beach on the mile or so long Island. Quite a lot of tourists and several bars to just chill out.
In Cay Caulker I also checked Ednbal's rigging and used the moment to capture her from the top.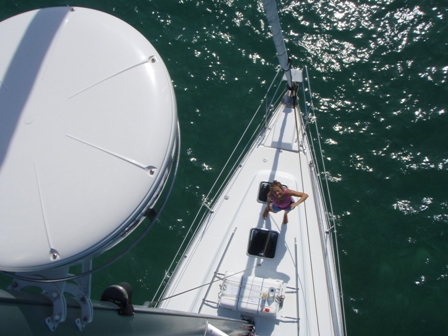 After topping up with fuel and cooking gas we set off for another lovely 25nm sail over sand and grass banks in company with Bob and Bonny on Spray for Water Cay to stay overnight before continuing to Turneffe Islands. Water Cay is a mangrove covered Island with no beach but several small channels that made good exploration in the dingy. In one of the channels we came across some local fishermen who were catching snappers to use for bait to catch big fish later in the night. We traded 5 pan size Snapper for 3 cold beers!
Back out in the ocean via Buzzard Shoals we continue on to Turneffe where we had heard there was nice beaches and diving. Alas, not to be found, not by us at least, It seemed to be just more mangroves and crocodiles, although we were assured the crocs only come out at night. From Turneffe we headed back to the barrier reef and the very small island of Rendezvous Cay.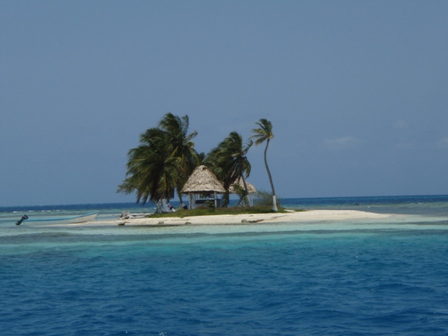 There we found, after a somewhat scary entry from deep ocean then over coral heads only a couple of metres deep, some wonderful coral for snorkelling and diving. With Spray we spent the night on moorings installed to hold the large catamarans that bring tourists from the cruise ships that visit Belize city just a few miles away.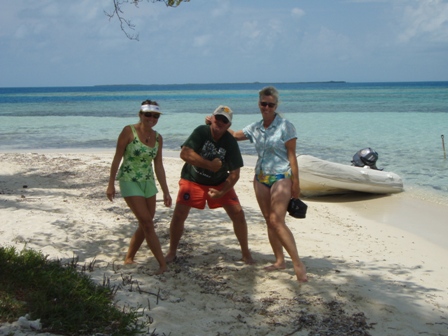 We met a small fishing family who were staying on the Cay in open thatched huts for the weekend, very nice people from whom we bought some fish and traded lamp kerosene for lobster. This was a real paradise island with clear water, coral and plenty of fish.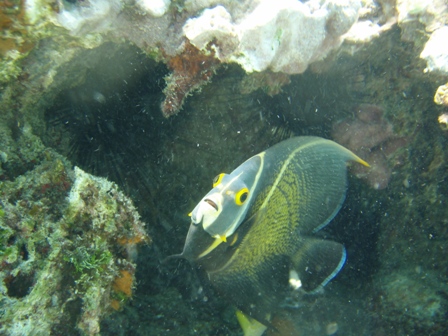 With a forecast of possible strong North wind we move a couple of miles to the middle of 3 islands called Bluefield Range that would give us protection. As it turned out nothing happened so from there we set off, again over the shallow banks inside the barrier reef, for an anchorage on the Southern side of Columbus Cay. Another mangrove covered Cay, Columbus was just an overnight stay. As we were planning to leave Belize for the Bay Islands in Honduras, we decided, the next day to go further South (35nm) to Placencia where there were check out facilities to get our Zarpe or exit permit that is required to present in the next country.
Spray was staying in Belize so Bob and Bonny took a different route to meet up with us a few days later at Glover's Reef. Now the North wind was blowing. As we headed West over the shallow bank, to get to the deep water Inner Channel, it was up to 35 knots and we were making 7 knots with just a handkerchief size head sail up! It didn't last long, by the time we got to Placencia it had died out and we had to motor the last 3 miles. With immigration, customs and Port Captain, Placencia was a popular spot for cruisers, in one anchorage there was about cruising 15 vessels and equally as many Moorings charter yachts.
Plecencia is somewhat unique with just one paved street and one foot path. The footpath, about 1 meter wide rough concrete, is the only access to some of the small hotels and restaurants, although small 4 wheelers can also drive over the sand tracks. Here we reprovisioned as we would not see any stores now until Honduras, a couple of weeks away yet, and went through the exit formalities. Now that was interesting. There is a small port mostly for banana export up a creek about 2 miles from the town so we went by dingy. Just outside the main gate of the port we found the Customs office and, outside just sitting on a chair in the open, the Port Captain. Apparently the Port Captain does not have an office, you conduct your business with him outside. He has his forms to fill out and you pay the money ($90 Belize or USD 45 since there is a fixed exchange rate 2 for 1). But first you must get your passport stamped, that can only be done by immigration at the airport about 2 miles up the road. We were told that a taxi would be $20US, very expensive to this part of the world so we decided it was a nice day for a stroll along a lovely country road. We hadn't gone but short way when a lady stopped to give us a lift. She was from Honduras so we learnt a little more about Honduras as she gave us a lift right to the door of immigration. With passports duly stamped it was back to the port.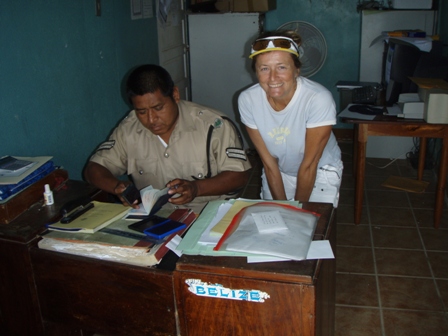 Right outside the immigration office a guy saw us and asked if we were heading for the port, he gave us a lift back! Finally after again visiting customs and he Port Captain to get all papers in order we headed back to Ednbal with enough time left to sail to another nearby anchorage.
Upon return, we run into a "mobile lunch" (on the wheels) facility and enjoyed the meal.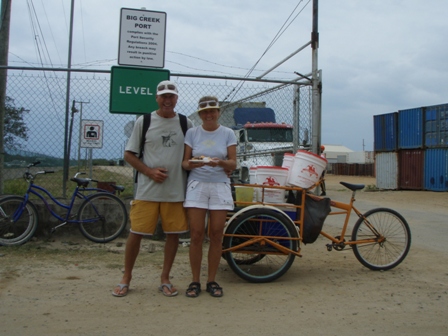 Just after lunch on 16 April we pulled out the mainsail prior to lifting the anchor only to discover a tear about 300mm long close to the clue, the part that is pulled out to the end of the boom. Hearts sunk! Fortunately we had the one sheet of paper with all the Placencia businesses shown on the small map of the town. Luckily there was a sale repairer "The Artful Dodger" , we guessed mainly to service the needs of the Moorings charter business. We contacted the owner, Steve a Canadian, who said we could bring the sail in to him in the morning and he would probably do it in a few hours. Next day we took the mainsail to Steve who said "it's a new sail, what's the problem?'. We showed him and the only explanation he could come up with was that it must have got caught on something and we should check the mast and furling mechanism to see if there was anything wrong. While he worked on the sail we returned to Ednbal and thoroughly checked, nothing found. For the princely sum of $75US Steve stitched glue on sail repair cloth to both sides of the sail covering the full panel that was torn. A great job.
Back we went and put the sail back up ready to depart the next morning. Now there was no wind at all, water like a mirror for the short trip to Laughing Bird Cay, one of the Belize national park islands. We decided to take a short cut over supposedly deep (15 to 20m) water, not using the route shown in our guide book. All was going well until about half way when the bottom shot up from over 20m to 2m. Sasha was on the bow keeping a look out, acting as point guard, for any coral bombies but it came up so fast, out of the not so clear green water, she barely had time to scream. Ednbal went into "full steam astern" and we didn't touch anything as the echo sounder alarms, set to 2m went off. Well that was the first dose of heart failure, we had one more before we reached Laughing Bird Cay to have a nice cold beer to settle the nerves. The island itself is very small maybe 250m long by 25m wide with a coral sand beach swept clean by the staff each morning. The facilities include a one story high toilet, some bench seating and a couple of barbeques. There are lovely sand paths lined with Conch shells but the whole thing is let down by the rubbish left in the ground cover creepers, on the rocks and around the small building. Plastic, old ropes, old lead acid batteries, but of a shame really. Anyway the snorkelling was great, being a national park no fishing so there were plenty of fish. We swam through a school of small fish, a few cm long, so many that you could not see anything but fish all around you, there were thousands and thousands! We stayed on a mooring overnight before setting sail for Glover's reef and catch up with Bob and Bonny again for whom we had fresh supplies from Placencia.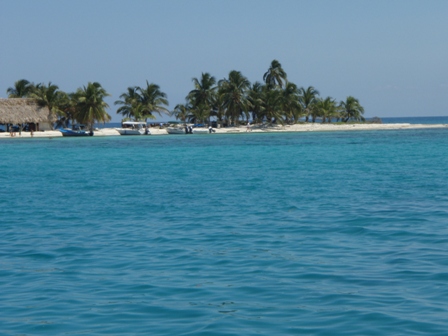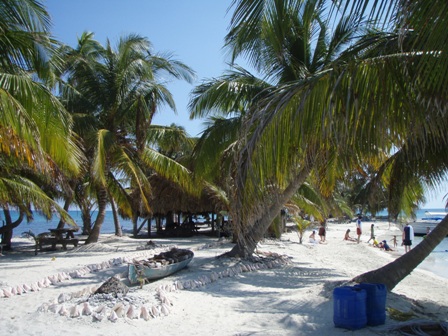 Another short cut, this time without incident, to get East to a break in the barrier reef at Queen Cays Pass. There was very little swell on the ocean and a 15kn breeze so the 5m deep, 100m wide pass turned out to be quite easy despite the usual apprehension of coral reef passes. Now for a 15 mile close hauled sail to Glover's Reef. We hooked a big fish, probably a Mahi Mahi, but lost it after a short fight. Then about 5 miles out Sasha saw another tear in the mainsail. Oh bugger!!!!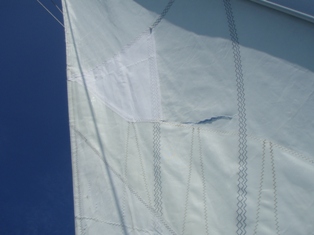 We furled it in and put on the thinking caps, had to find out what was going on before repairing again. This time the tear was in another panel adjacent to the last one. What had we done? What had we changed? Was there anything we had done to the mast? The only thing we had changed was the boom car, the thing that the clue of the sail is tied to and runs along a track on the boom as the sail is furled in or out. That was done in El Cid Marina after the original boom car had come off its track in Isla Mujeres. The new boom car was different to the old one, shorter and with the rope shackle directly above the rope pulley as compared to the old one that has the shackle in front of the pulley. We pontificated different angles that the new boom car may pull on the mainsail causing different stresses to the old one but surely that wouldn't cause the problem.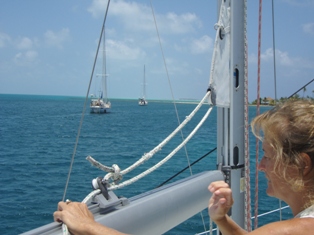 Once in Glover's reef anchored in the lee of Southwest Cays we emailed US Spares (new boom car supplier) and Beneteau about the problem and our thoughts. Julian Crisp at US Spares also passed it on to Neil Pride Sails, maker of our mainsail. The feedback was unlikely to be the boom car causing it, more likely UV damage to the sail. They said you can pick UV damage by the yellowing of the sail at the tear, ours was the same colour as the rest of the sail and Steve, the sail repairer, had commented that the sail was like new, surely he would have picked UV damage. When the old boom car had come off we managed to salvage about half the torlon bearing balls. They were the same size in the new boom car so we were able to use the balls from the new boom car together with those salvaged to resurrect the old boom car and put it back on. Sasha managed to get her sewing machine operational, thank goodness one of the cruisers that had looked at buying it decided not too. Bob and Bonny had some of the glue on sail repair fabric so we set to and repaired the sail, maybe not quite as well as the professional but glued and zig zag stitched much the same. We could only hope that it was the boom car that was the cause. (At the time of writing we had sailed another 80 miles close hauled, mainsail still intact)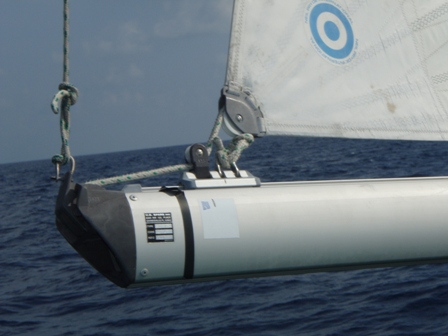 Meanwhile we were in the lovely South West Cays of Glover's Reef (bit confusing really as some texts refer to it as Glover's Reef, others to Glover Reef, in any event it is named after a famous pirate who used to hang out in the area, and guess what, his name was Glover, John Glover apparently. There are two tiny islands one was up for sale, don't know the price but the scuttle butt was that son of the President of Honduras was the likely buyer. The other is owned by Ed (don't know the surname, he just introduced himself as Ed)who is at least the third generation owner. Ed established a resort, catering particularly for divers, about 6 years ago. Capacity about 30 in well set out bungalows amongst coconut palms with clean white coral sand. The part we liked most was the bar. It was on the end of a 30 or so metre jetty (dock) sitting out over the water so that one could just tie up ones dingy, almost, to the bar. The bar has a 2 to 3 metre wide veranda all around so you can just sit outside in the beautiful wooden, almost hammock shaped, chairs to admire the turquoise water or watch the sunset.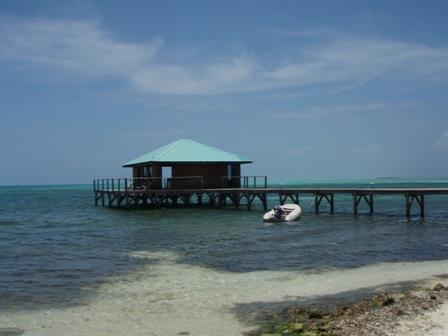 Ed is a great guy, the perfect host, even though we were not even paying guests, the charge for bungalow accommodation in this exquisite resort is US$125 per day per person, all meals included.
After the sail repair and some relaxation it was almost time to move but not before a little more excitement. We had been having a wee beverage at the bar and returned to Ednbal a little late. As normal we both clambered out of the dingy and Sasha clipped the dingy on to a rail at the transom of Ednbal. We went into the cabin, Sasha began preparing dinner and I mixed a "sun downer", although it was a little after sun down. I went out to the cockpit to sit back and have a drink when I noticed, on a full moon night, a dingy way out back. I thought there must be people night diving, then it clicked, our dingy was not behind Ednbal. Yes that was our dingy out there, first instinct was to dive in and swim after it but having had a couple, I thought better of it and gave Bob and Bonny a call on the radio. Like true troopers, of course they jumped in their small fibreglass dingy, with 2 horse power outboard, and went after ours, Bonny in night dress. What followed was a very, very anxious period of time. Bob's spot light failed so we could not see where he and Bonny were. We knew there was reef out behind us, then open, very deep water. We waited and waited, unable to do anything. Finally I radioed another Cruiser (an Aussie as it happened) close to us to tell him what had happened and could he see anything. Just as he (Luke) set out, Bob and Bonny came into view towing our dingy. Our dingy had "washed up" on the reef behind and stuck fast. Bob had to row to get it as too shallow to use his outboard, even then they "bounced" over the bottom.  
We had a couple of dives just off the island. There is sand at about 15 metres deep then a coral drop off to some hundreds of meters, straight down. Swimming along the wall shows a spectacular array of corals with equally as spectacular variety of fish. Our only disappointment was that we did not see any really big ones. One of the other cruisers had dive in the same spot and spent over half an hour with a pod of dolphins, they said the animals just did go away!! There was also great snorkelling over the corals about 100 metres from where we were anchored. We spent some hours just snorkelling around the reef. The National Park conservation zone (no fishing permitted), as indicated by special buoys, meant that about half the reef was in and half was out. Certainly seemed like the fish knew the safe side!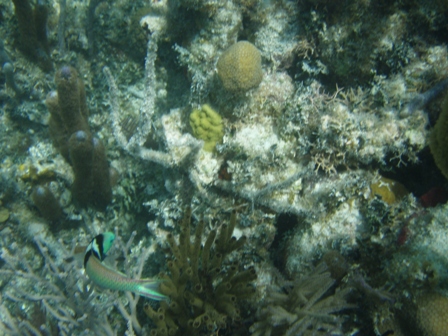 Next a short 6 mile sail over the shallow bank, dodging the coral outcrops, to another small island further North, Long cay. Another small, relatively low key resort called Off The Wall, catering mostly for divers. The owners, Jim and Kendra are very cruiser friendly and only too happy to have visitors and fill dive tanks. The island is split into 3 with Off The Wall occupying the centre. They maintain lovely coral sand walk ways between the cottages as well as around the island.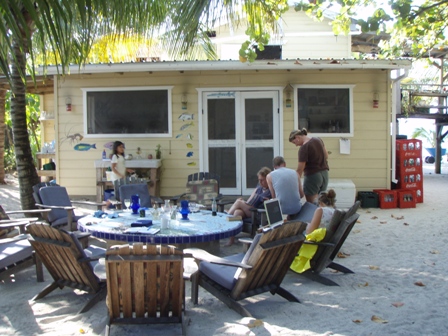 On our initial exploratory walk we saw two Ospreys sitting on the fronds of a coconut tree eating fish they had just caught.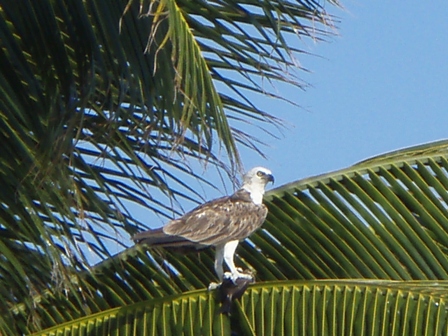 Again the diving was wonderful although we did not see anything big we had several dives, with Bonny, out of our dingy. One evening we were invited for a sun downer dinner aboard Spray. Bob and Bonny had set up a "shrimp on the barbie" night on the spacious foredeck of Spray. The gas bbq was up at the bow, with deck chairs and overhead lights on the foredeck.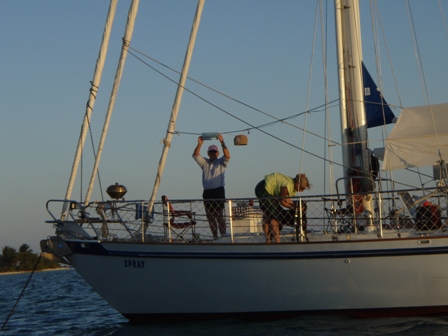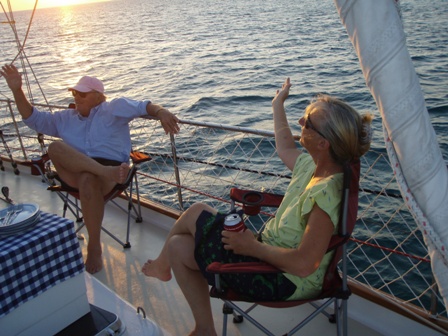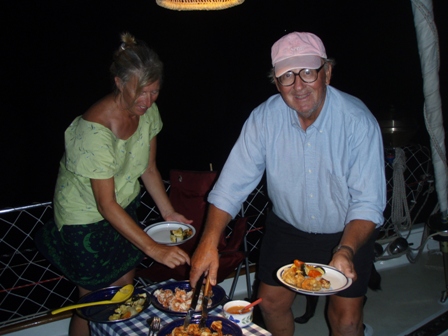 We drank to friendship, cruising and good winds as the sun set, then Bob cooked prawns (shrimp) on the barbie, under some what trying wind conditions, while Bonny prepared two other styles of prawns inside. It was a feast fit for any king, a great night.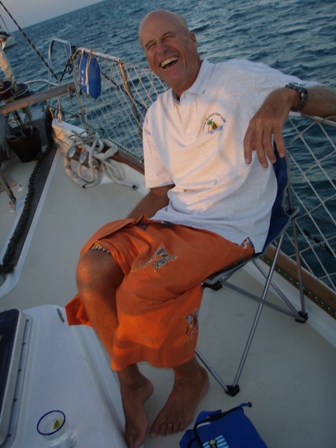 Next day we parted company with Spray, we lifted the anchor at 06:30, to head out though the coral reef pass to open water for a 30nm sail North to Lighthouse reef while Bob and Bonny started back South towards Placencia. Again we sailed close hauled, making it to Lighthouse Reef in one tack, the mainsail remaining in tact! Lighthouse, another of the three only coral atolls, has a few small Cays, notably Half Moon and Long Cay (same name, different reef). Entering these reefs, from open ocean too deep to get any reading on the echo sounder, to coral outcrops on sand banks only a few metres deep is certainty more than just a little stressful. The charts are not accurate and while you may have a few way points from other cruisers, it is very much eyeball navigation. We wound our way around coral, over sand and sea grass, at time less than 2 metres deep, to anchor about half a mile from Half Moon Cay. We had heard a lot about the bird sanctuary there and the observation platform the overlooks Red Footed Booby and frigate nests.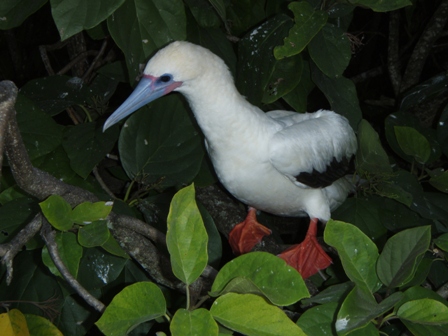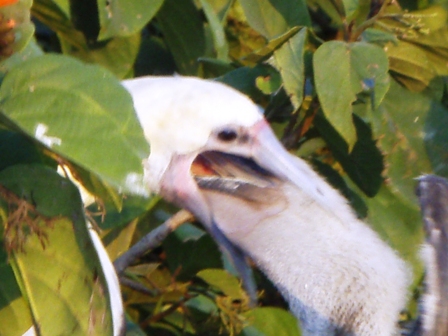 Apparently one of the very few places where they nest in the same vicinity. Generally Frigates favour high trees but as there are none here they nest in the same low ones used by the Booby's. We were not disappointed! The Booby chicks were getting towards the fly stage. Wing feathers were there but still quite a bid of down in the bodies. They were not in nests but perched on the outer tree branches. A parent would fly in and the chick would poke its head down the parents neck to retrieve regurgitated food, this all happening just a few metres away.
Frigates in the other hand still had relatively small chicks in their nests, little white fluffy ones that poked out from under the nest sitting parent. Above us birds soared, frigates looking for another bird carrying fish to hassle enough to get the owner to drop the fish so that the Frigate could swoop and retrieve, mid air. Boobies flew in at full speed just a tree top level, sometimes only centimetres above our heads to get directly to their chicks and avoid the Frigates. We spent some hours, almost to sunset, just watching and taking photos.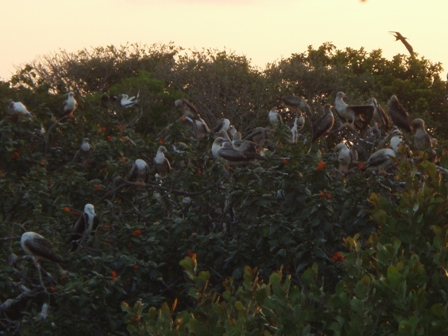 From Half Moon a few miles across the bank to Long Cay (seems there are more Long Cay's than any other name for these small islands) and the dive sites off the drop off, all with mooring balls so that anchors do not damage the bottom. In the water it was just the best we had seen to date, huge Tarpon, Leather Back turtles, Lobster, Tuna as well as a myriad of reef fish and magnificent corals. We swam along the edge of the drop off, dark blue beneath us, a wall of coral and fish to our side. It was out in the blue that we saw a huge Leather Back slowly swimming to the surface for air before it tuned and went down again. As there was little wind, and nothing much forecast, we decided to stay on the dive mooring for the night and go for a night dive. Now that was an experience. Only 7 metres to the bottom, the edge of the drop off that disappeared down. A little trepidation about large creatures of the sea but in we went. Very soon we could not see a thing! It seemed that all the tiny sea creatures within miles were attracted to our torch light, they were so thick that the light could not penetrate. They were in out bathers, in our ears and in Sasha's hair. A very short night dive! It took some time out of the water to get rid of the dam things.
Next morning we went back across the bank to the South Eastern ocean side of Halfmoon and hooked onto another dive mooring, had a swim, put the dingy and outboard up ready to head to the Bay Islands of Honduras, a 102 nm overnight sail. Well maybe a sail, at 118 degrees it was almost into the prevailing east trades. The "weather window" was earlier that we wanted, another week or two at Lighthouse would have been lovely but with a forecast of North East 10 to 15kn then dropping we had to take the opportunity as it is not much fun beating into 15 to 20kn, the normal trades. At lunch we left the mooring and as soon as were in deep water the fishing lure went in. The wind as 10knots or so and we were making 6kn heading as far North of East as we could. And we again had a lovely passenger, a tired little birdy.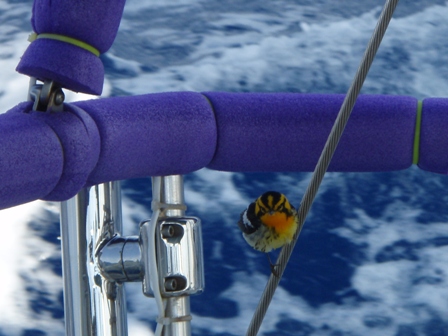 About 2 hours later the game reel screamed. I took the rod as Sasha headed Ednbal up wind, then within a minute or so we both saw it, we had hooked our second big Marlin. This time it was two big acrobatic jumps before the line went slack and another lure was gone. Another lure was attached but nothing else happened the whole trip. By the early hours of the morning the wind had died out to just a few knots and swung to South of East so on went the engine and we motored the last 8 hours to the Island of Gwanaja where Gigi and Lulu were anchored on their way North. We dropped anchor late morning on the North side of the beautiful green mountainous Island and Gigi and Lulu visited, from the Southern side, mid afternoon. It was wonderful to catch up with them again and be able to spend a few days together.