Mexico
Category: Caribbean
Created: Monday, 17 March 2008 16:39
Written by Roger Boxall
Hits: 2760
Mexico
Mexico
Again we began to feel the need to move on to the next adventure, so began the watch for a suitable weather window for the 350nm sail to Cozumel, a Mexican  island close to the Mexican East coast, the Yucatan Peninsular. On March 1st at 6:30 we left Grand Cayman in 20kns of wind off the aft starboard quarter heading almost due West for the Southern tip of Cozumel. If we could average 6kn we would have just two nights at sea. Out went the fishing line and we settled in once again to the "ocean crossing" routine – keep watch, keep speed, hope for constant good wind and relax. We hooked one big Mahi Mahi but didn't land it then not far out of Cozumel we caught a small Mahi Mahi, certainly better than nothing.  With a fairly constant 15kn wind and the current with us we've dropped anchor outside San Miguel Cozumel just after 2pm on the 3rd of March 2008. There we saw a Canadian flagged yacht and enquired about the quality of the holding (how well the anchor will hold on the bottom). It turned out to be the yacht, Locura, with Ivan (Evan), Vesna and Scotch Terrier Squeaky on board, had just sailed in from Belize, to the South, en route to the Mediterranean. We joined them in hiring a taxi to go to the airport for immigration and customs formalities and it turned out that they were originally from Croatia, having immigrated to Canada about the same time that Sasha moved to Australia.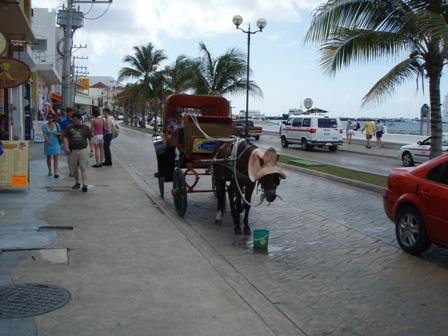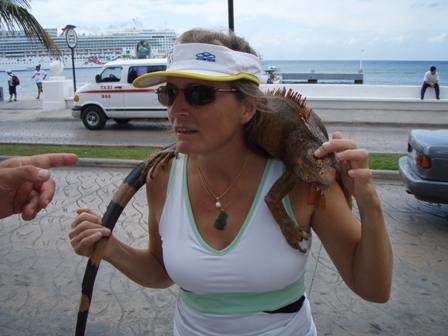 This was our first taste of Mexico, back to trying to speak and understand Spanish, still near impossible for me! Cozumel is one of the Mexican tourist Meccas, not far from the prime tourist centre of Cancun. In the "downtown" area most people spoke English so no problem there but we were not really interested in the tourist merry-go-round, although Sasha did try on an Iguana from one of the street hawkers, and in the more back blocks it was all Spanish. We soon found the Mercado (fresh fruity, veg and meat market) where fresh food was considerably cheaper than the Supermercado (normal supermarket). The other big plus for the Mercado were the adjacent very local restaurants ( more like a series of food stalls with seating for twenty to maybe sixty). Sasha, as usual, was the leader in local cuisine try out. With Evan and Vesna we perused the out from, mostly hand written, Spanish menus and made a selection of which restaurant to try. SO far so good, but now we had the full menu provided, in Spanish of course. Sasha chose a form of "Carne de Cerdo con negro frijoles" (pork with beans) and I "Carne de Pollo con tomato"(chicken with tomato). Our expectation was for a meal similar to those we had in Cartagena, grilled meat with a bean or tomato salad. Wrong, turned out to  be more of a soup style but never the less very tasty and 35 Pesos ($3.50) each. While good for fresh foods, in common with other Mercados throughout the Caribbean, the hours were 7am to about noon. Meat is not kept cold so can be a little risky if not bought early. Of course there were trips to the supermarket as well to stock up on the essentials for life, namely booze, at prices far more suitable to a cruisers meagre income than experienced fin Grand Cayman!! Yes back to spirits at $6 or so per litre and beer $20 per carton.
We explored some of Cozumel and were considering hiring a car to check out the island outside of the city, San Miguel, until the weather intervened. On 6 March the forecast was for an approaching "Norther". A cold front coming down the West coast of the USA that would track over Mexico to us. The anchorage in front of San Miguel had no protection for wind from the North so we, along with Locura, decided to head to the mainland side to take shelter in a spot called Punta Maroma, more commonly known as Hut Point. On the morning of 7 March we set off for a leisurely 12 mile sail but soon found the swell and wind mounting. By the time we were 4 miles from Hut point the swell, from the North was over 2 metres and the wind well over 20kn. With an entry depth of just 3 metres between the reef we decide to invoke plan B and head further North to Puerto Morelos, another 10 or so miles. This was to be our first experience at entering an anchorage using charts that were not correct. Apart from our "near death experience" on the Southern shore of Jamaica the electronic charts we had from two different sources (CMAP and Navionics) had proven quite reliable but we had been warned that in this part of the world they could be up to a mile out! Luckily the entry to the "harbour" was marked with standard red and green buoys so no real problem but most disconcerting sailing in over, what your chart shows, water level reef!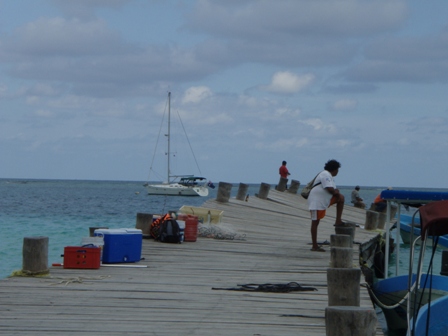 Our Cruising guide book showed the "recommended" anchorage to be in front of the Puerto Morelos town jetty or dock and that is where Ednbal's navigator, Sasha, was keen for us to anchor. Roger, the ever obedient captain complied but Locura went further North and anchored some 150 metres from us. After anchoring we found the joy of anchorage current. There was a current of almost 2 knots from the North and a wind of 25 knots from the South East so the boats sat with almost slack anchor chain. Sasha and I went for a swim but even with fins on I could only just make the 40 metres to our anchor to check it was holding, all OK in nice weedy sand. Our guide book indicated that there were coral bombies just to our North, where Locura had anchored. That night Vesna and Evan were to come over for dinner but the weather deteriorated, wind up to 30kn, rain and lightning. Evan called to say we should put dinner off as it was still quite stormy.  What we did not know was that Vesna had been climbing up the companionway when there was a very close lightning bolt and the thunder gave her a fright causing her to fall. Next day Evan took Vesna to the local doctor who sent them off to Cancun to get full medical attention. Vesna had cracked bones and torn ligaments in her wrist that required resetting under a general aesthetic. While Vesna was in hospital Evan returned late morning to move Locura to a nearby marina, Marina El Cid. He found that his anchor chain was caught under a coral bombie. The wind was up to over 20kn from the North and there was a strong, over a knot current from the north.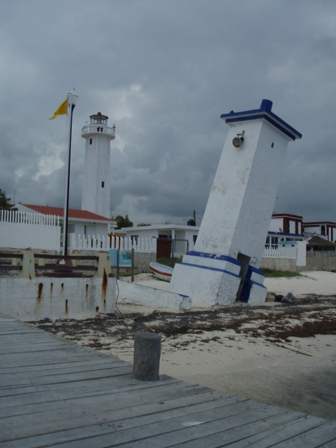 I donned mask and fins to have a look at the chain but it was wedged under a bombie about 2m in diameter in 4m deep water. Even with a SCUBA tank on I could not dislodge the chain. After more than an 2 hours of diving, and trying to move the chain unsuccessfully, Evan tried to use the boat pull the chain away from the coral but the chain became caught around the keel causing Locura to lie side on to the current and wind. With an 8 foot lead keel that was not desirable. We devised a plan. I would dive under the boat while Evan let out chain quickly and with loose chain I would pull it off the keel. It worked. The only solution we could come up with was to disconnect the anchor from the chain and pull the chain in without the anchor. I swam to the anchor, tied a small buoy to it and undid the shackles which left Locura to drift while Evan and Sasha recovered the chain. As I was swimming back to Locura I could see her drifting South right in line with Ednbal. With so much wind Evan and Sasha could not hear me yelling, they were getting the chain in on the bow, but luckily there was no collision. Once I was on board Evan took Locura the 2 miles to the marina where we arrived at about 4pm. A taxi bought Vesna back from the hospital to the marina and Sasha and I went back to Ednbal in our dingy that had been towed by Locura to the marina. Sometimes things just don't go as planned!!! I slept very well that night.
We stayed in Morelos a few more days. Even had a cactii dinner special at local culinary reastaurant off the main square.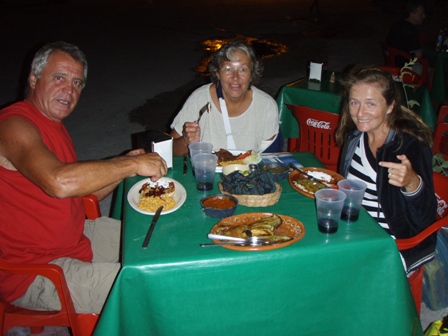 The bread man, and his whole family in a van, arrived at the appropriate time for a lovely custard tart.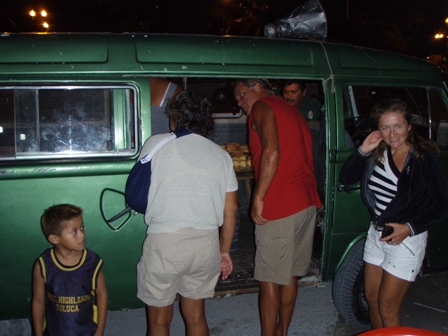 The snorkelling on the inside of the barrier reef was fantastic. The whole area was a marine park, no touching of coral or fish allowed so there was plenty of both. Hundreds of purple gorgoneia fan corals and fish in abundance. More barracuda than we had seen anywhere else. The beach was white powdery sand, reminiscent of home, the beaches off Western Australia.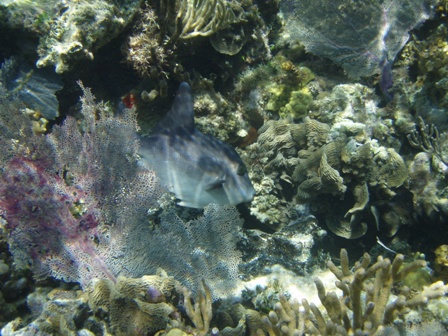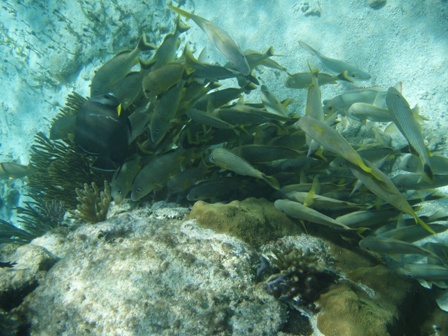 We had heard that an Island about 30 miles North that was well worth a visit. The Island of Isla Mujeres, off the coast from Cancun was reported to have good snorkelling, beaches, local food and culture to explore. With a forecast of 15 knots Easterly we headed out into deep water to catch the 2 plus knot North current to help us make a speedy trip. The wind strengthened to 25 knots and even with 2 reefs in the mainsail and headsail we were making over 8 knots SOG (speed over ground), with the help of over one knot of current. Again we found the chart to be out by more than a mile but now we had a cruising guide book for Mexico and Belize thanks to Evan and Vesna so it was more a case of tying to follow the guide book information.  While that may seem straight forward it is not so easy looking out for sea and land marks using compass bearings when you are far more used to charts and GPS coordinates. On top of which the cruising guide recommended we enter the Isla Mujeres harbour area on the wrong side of the red, port, markers. After several frights going over shallow water we managed to anchor and down a strong nerve settling beverage. Shortly after an Aussie came alongside in a dingy to advise us that we were anchored in the middle of the channel, no wonder there seemed to be plenty of room around us. We best move before all the fishing boats come in at night as they apparently don't take too kindly to ignorant Aussies anchoring in the channel!
In Mujeres we met another Aussie couple who were cruising at the right time of life, their mid twenties. Doug and Melisa had just come in from Cuba. It was great to catch up with Aussies again. For us Isla Mujeres was a bit of a let down. We had gone there based on reputation from several other cruisers, nice town good variety of foods and goods, good beaches and snorkelling. We spent some time "down town" and almost a whole day to walk ¾ of the way around the island.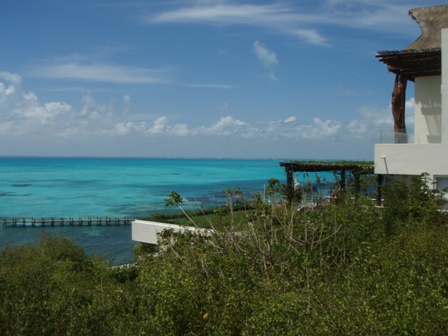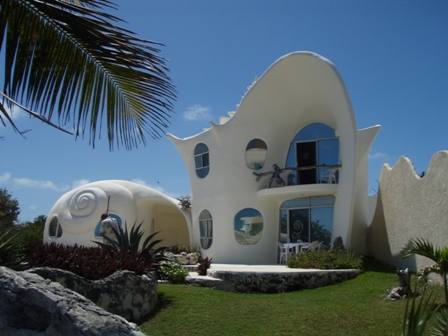 The water was far from clear, you had to pay to use any of the half decent beaches and for the most part, down town was straight tourist stuff. After 2 days we headed back to Puerto Morelos. Locura was settled in the El Cid marina but we decided to return to the anchorage. By the time we anchored the wind was a constant 25kn gusting to 30, from the East, straight in from the ocean over the barrier reef that protected us from the swell. That is all OK until you add in a 1 to 2kn South current. This meant that Ednbal was swung by the current so that the wind and waves were coming from the forward starboard quarter. Water sprayed over the deck as waves slapped the side of the boat for the whole uncomfortable, almost sleepless, night. With forecast of more of the same we relocated to El Cid Marina the next day!!
There we tied up in the pen next to Locura and also met another Aussie from Dongara in Western Australia. His name was Storm Fremantle and he had a 65 foot Catamaran, best described as and oversized Hoxie Cat. The boat had been around the world in 74 days hitting top speed of 41 knots, yes that's close to 80kph although at the moment it was not in such good shape having been dismasted not far off the Mexican coast. Somehow Storm and his girlfriend had managed to get the 90 foot mast back on deck and back to port.
One of the major historical site to see in Mexico is Chichen Itza. The original Mayan city, that was populated up until about 800 years ago, before the European invasion, has, in small parts, been painstakingly restored. The main feature is a pyramid style structure that has, twice per year at the equinox, has a shadow in the shape of a serpent, cast on one of its walls.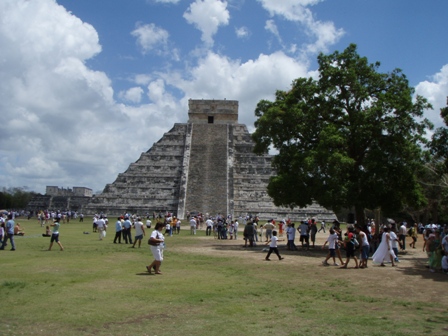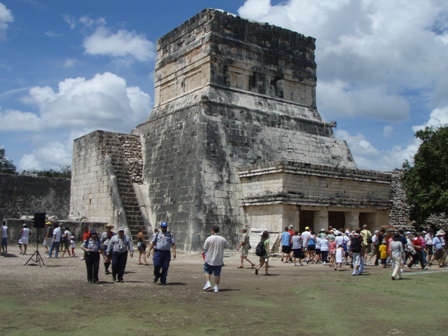 As we were in the area we decided to visit, with Evan, Vesna and their daughter Adriana who was to join them from Canada. It was decided the easiest way was to hire a car for a couple of days, do the shopping stoke up in Cancun ad pick up Adriana from the airport on 20 March then visit Chichen Itza on the 21st. Both Evan and I needed to full our gas, propane, bottles so when the hire car guy delivered the hire car we asked where to go to fill them. We got some sort of direction for the refill station in Cancun. So, With me as driver, Evan, Vesna and I set off for the 50km drive to Cancun. About 10km down the main highway, 307, there was a police car stopped on the side of the road and as we approached his lights started to flas, as we went past one of the police seemed to be pointing at us so I slowed down when the police car came after us with lights flashing a siren whaling. I had done nothing wrong, not that I knew anyway. Evan and I got out of the car ant the police driver cam to us, announced he was Federal Police and asked what we were carrying. Well gas bottles of course but nothing else. He then told us that was a serious offence in Mexico, 72 hours in jail and a 30,000 Peso ($3,000) fine for carrying gas bottles in a car. Then he said we could settle it now and asked us straight out how much we were willing to pay. We had no idea and asked what he had in mind, he came back with 3,000 Pesos. Between us we emptied our wallets, I had the grand sum of 80 Pesos and Evan 1,100. He took the 1,100 folded it under his not book, got back in his car and drove off. My first introduction to straight out bribery and corruption. I just could not believe it. Question was how did the police know we had gas bottles in the car?  The only person who knew was the guy who delivered the hire car, he was the only one we had spoken to about it. He must have tipped off the police. We did later conform that carrying gas bottles in a car is a serous offence so maybe the cop was serious. When we spoke to another Aussie living in Morelos, without mentioning that we were suspicious of being dobbed in, he immediately said just that, "someone dobbed you in to make some money"!! We could only put it down to experience and look on the positive side, at least I was not in jail!!
We continued on to Cancun and finally found the propane gas filling station. There was a queue Of people all with propane bottles of various shapes and sizes from large 1.5 metre domestic to very small camping style. Evan went inside to enquire, just as well he didn't just wait in the queue as they did not have fittings to fill the standard US tank valves. They look very similar but apparently in Mexico the tread is just a little different. We were directed to another place but when we got there they were not filling any bottles, so, so much for that idea. Cancun has a fairly modern down town with many of the big chain stores familiar in the USA, Wal-Mart, Home Depot etc. We went to a super Wal-Mart and did our shopping, Evan and Vesna for groceries, me for booze, beer supplies on Ednbal had run to dangerously low levels. We piled the car ur to the hilt leaving just enough room for Evan and Vesna's daughter, Adriana, and luggage whom we were to pick up from the airport. Speed humps in Mexico are REAL speed humps. You need to slow to a crawl to go over them otherwise risk tearing out most of you car's suspension. On the way back to the Marina we had to negotiate a couple of speed hums diagonally to save hitting the bottom of the hire car with 4 people, a dog, luggage and precious essential supplies.
Next day we bid farewell to Vesna, Evan Adriana and Squeaky as we headed out back over to Cozumel to get out exit permit (zarpe) from Mexico and head South to Belize. We were not going direct to Belize but Cozumel was the most convenient point to exit. Another day in Cozumel enabled us to finish stocking up as it would be unlikely that we would find a supermarket for some time!
We were thinking of calling in at Tulum, another Maya archaeological site right on the coast of the Yucatan Peninsula. Apparently, according to our cruising guide for this part of the world, one should only attempt the Tulum entry in very calm conditions and anchor for the day only, not overnight, This meant we should try and stop over somewhere close to Tulum for the n1ght to visit Tulum the next day.  On the way the guide book made reference to an anchorage, big enough for up to two vessel, at Akmal. The entry is a little narrow at just over 4 metres, yes 4 metres, wide between the coral but opens up to a small well protected bay. We headed for Akumal, and arrived to find the channel actually marked with 4 buoys. In we went, heart in mouth stuff even with buoys, any small deviation could be catastrophic. As we entered we saw lines of ropes with floats on them and people swimming everywhere including straight across the channel in front of us. Evidently the resort on shore was doing a roaring trade, judging by the numbers of people it must have been completely full. A ;guy came to us in a kayak and pointed to where we could anchor but there just was not enough room for a 40ft yacht and all the swimming ropes. Two other guys in some skiff style fishing boats were also trying to giver advise and help out. It is very difficult to skipper the boat in an unknown area and talk to several people, part English, part Spanish. Well that is my excuse for Ednbal bitting the sandy bottom! All we could do was try as best we could to retrace our path out of there, which we managed to do without further mishap. Back out to the safety of deeper water we calmed down and looked at our other option, a marina at Puerto Adventuras, 6 miles further North, further away from Tulum. On the way we saw a large catamaran that appeared to be anchored so we went in closer to shore to investigate. Always cheaper to anchor than stay in a marina. The Cat was on a mooring and there was another mooring adjacent so we headed for it. The water was 7 metres deep but had a strange green hue to it. Anyway 7 metres, no problem. As a precaution Sasha went up to the bow to look out for any large coral bombies. It soon became evident why the moorings were there. Several people, from the cat were in the water snorkelling over the coral. As we turned to head upwind to the mooring, the wind was blowing only about 12 to 15 knots but straight on shore, Sasha yelled and pointed in front. Coral bombies loomed from nowhere. I put Ednbal in full reverse which lost steerage then looked behind, more corral. All I could do was try and swing her around onto the path we came in on. Just about succeeded but we touched coral with the keel, admittedly only just but still frightening. The one we touched came up from the almost 7 meter ocean floor to less than 1.5 metres from the surface. For the second time in one day I had a change of underwear! Back out to deep water and head straight to Puerto Adventuras. Another challenge, according to the guide book a very narrow channel into the marina, best to call ahead and be guided in. Not for this big bronze Oz. Luckily the wind had not increased and we were able to see the entry, rock breakwaters on both sides, quite easily. Just as well as we had been calling the harbour master on channel 16 several times to find out if we could stay the night. Eventually once we were inside the marina we were answered and directed to a suitable location to "med Moore". We had never "med Moored" before and were not exactly in the mood for more trouble. A med Moore or Mediterranean Mooring involves picking up a mooring float, connecting a long rope to it and your own bow then backing into the dock to run ropes from the stern cleats to the dock. In theory you are close enough to step off the transom to a small ladder up to the dock. Of course achieve this without running into the boats next door or into the dock!!! Man, what a day, we really had earned a beer by the end of all that.
Next morning was an early start for a fairly long day sail South to visit Tulum. Unfortunately the weather was not so kind to us with the wind and sea building. The guide book noted that entry into Tulum should only be negotiated in calm conditions. We decided to bypass and continue to Bahia De La Ascension, a large but fairly shallow bay of about 10 miles diameter. After sailing about 40 miles, with the fishing line trawling behind the reel finally began to scream. Sasha turned Ednbal up wind while reeled in the fish, only to find another Barracuda on the end. Only thing to do was to get the hook out of its mouth and let it go as we were too concerned about the likelihood of ciguatera poisoning to eat them. I held the wire trace with my left hand and took hold of the imbedded hook with a pair of pliers. Suddenly the fish, about a metre long, flipped and the next thing I knew was the second hook on the skirted lure was completely through the middle finger of my right hand. It went in the top of the finger just behind the first knuckle, slid along the bone and came out just in front of the second knuckle. Not the fish and I were joined, both hooked together.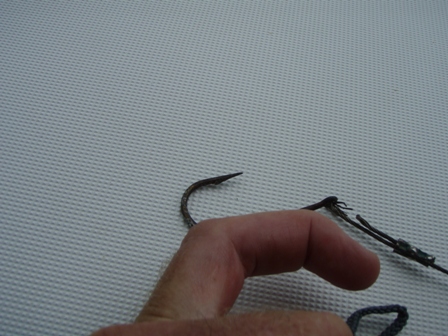 I took a vice grip on the fish with my left hand to hold it still while we quickly assessed the situation. Tried to cut the hook but it was to hard and neither Sasha or I were strong enough to cut it so we cut the wire trace that was tying the two hooks together. Now the fish was back in the water, but it may not have survived, and I was left with a hook in my finger. Next how to get the hook out. We could not cut it so I tried to squash the barb with a pair of pliers, it broke. Where the barb had been was still rough but the only thing to do was to pull it out. Grit the teeth and pull. It got stuck at one point but a little extra pull got it through. Enough to make your eyes water I can assure you. Next Doctor Sasha, out with the medical book and first aid box. The wound had to be flushed, 25mg of Betadine in one litre of water. Draw the solution into a syringe and squirt it through the hole where the hook had been, make sure it comes out the other end. More eye watering!!! Apart from the hook removal and flushing there was very little pain. Doctor Sasha had done a great job as a week later you could barely see a mark on the finger. After an eventful 50 mile sail we dropped anchor in the lee of a small island, Culebra Cay. Seclusion at last. No other vessels in sight, just a narrow mangrove covered island in from of us on a reasonably cloudless afternoon for sundowners! We counted back, the last time we had such a secluded anchorage was in the San Blas Archipelago off Panama, some 6 months. By late morning the next day we had traversed the bay to see a small settlement call Punta Allan. After anchoring in the lee of the point we took a 2 mile dingy ride around to the settlement on the windward side, during which we got well a truly wet from the dingy spay going into an 18 knot breeze. Punta Allan turned out to be a low cost holiday spot. Very simple accommodation, no sealed roads, mostly just sand tracks and a lot of back packers. Unfortunately we could not take advantage of the sandy beach as the wind was blowing too much sand around.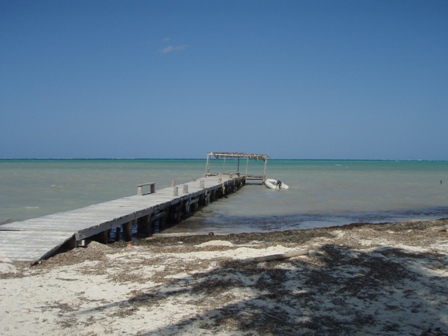 There were several tiny grocery shops selling a very limited selection of fresh fruit and vegetables. One guy we spoke to mentioned that one of the locals sold fresh fish from his house. Since our fishing attempts had only resulted in injury Sasha was keen to buy some. We covered most of the 4 or 5 sand track streets of the town in search for the local fish monger before we found the right house only to be told "sold out for today". After our short hike around the village we went back to the dingy for the equally wet trip back to Ednbal.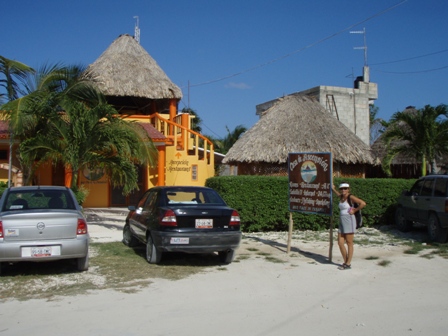 Our next day sail took back over the shallow bank of the bay and out o the ocean South for a one night stopover in another, almost equally big and shallow bay of Bahia De La Espirito Santo. Back at Punta Allan we had seen just one other cruising yacht called Spray. Spay had left not long after us so as we were on our way out through the reef cut to open ocean I called Spray to let them know the conditions. As it happened Spray also followed us into Espirito Santo where again communicated by VHF radio.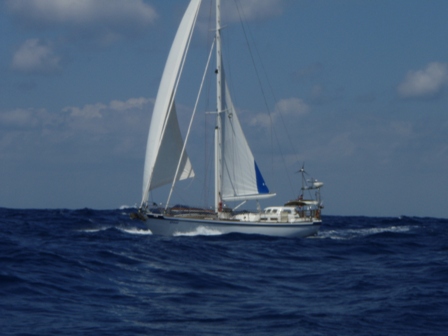 Bob and Bonnie were heading the same direction as us and had the same next destination of Banco Chinchorro (Chinchorro Bank)so we decided to sail together. Bob had a number of way points for the entry into Chinchorro Bank to anchor just North West of the little island of Cayo Norte (starting to catch on to Spanish now? – yes North Cay). We had learnt that neither the cruising guide nor the charts of the area were terribly accurate so way points from previous visiting cruisers were most useful! Chinchorro, along with two other similar reef system further South off the Belize coast (Glover's Reef and Lighthouse Reef) are the only three coral atolls in the Atlantic sphere. We anchored in just 2.2 meters of water, having motored, very gingerly, of depths as little as 1.7 metres, leaving just 0.2 metre under the keel. After swimming over the anchor, with 40m of chain out, we saw that it was nor in sand at all. The bottom was coral rock with a very thin, only a few mm of sand covering. The anchor was caught on a small piece of rock. With very little wind forecast and a mile or so of water only 3 to 5 metres deep behind us we thought it OK to take the risk and stay put. No sooner than we had anchored, than a skiff came out to us, 4 guys in shorts and shirts, one with an M16 in his hands. If we had not been warned that the local military might pay us a visit we would have thought them pirates.  One of the guys came on board to take our particulars and inform us that we could stay only two days. Quit disconcerting having a guy sitting with an M16 in hand seemingly ready for action!
Cayo Norte looked as though a fire had recently gone though the mangroves but it turned out that they were devastated by a hurricane, the eye of which went straight over the island in 2004. The small lighthouse had most of its foundations washed away but had since been resurrected. When we went ashore the we found that the military we there to defend the eastern most point of Mexico! There was also a small boat, maybe 4 to 5m long, it washed ashore a few years ago with 20 Cubans who were trying to get from Cuba to Honduras. All were in pretty bad shape suffering from exposure and once "revived" were taken away by the Mexican authorities.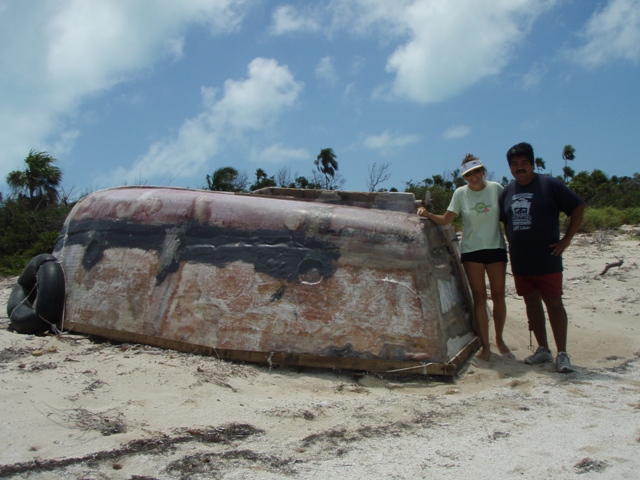 From Caye Norte we headed South down the lee side of Chinchorro to an anchorage about 2/3 of the way down, some 20 miles away. We sail with Bob and Bonny past a another grounded car ferry to a way point given us by another cruiser and anchored over sand in clear, clear water 6m deep. How unreal to be anchored, effectively in the middle of the ocean with no other land in sight. We swam and enjoyed sundowners with nothing else but ocean, fish and a gentle 10kn breeze, fantastic. Next stop was the Southern end of Chinchorro, Cayo Lobos. In through the barrier reef dodging big coral bombies in 5m of water to another lovely sandy anchorage surrounded by coral. Wonderful snorkelling right off the back of Ednbal. On the tiny island less than 100 metres in diameter was broken down lattice lighthouse, probably a victim of the last hurricane. The light had been put on top of what was left but as we found that night it was not working.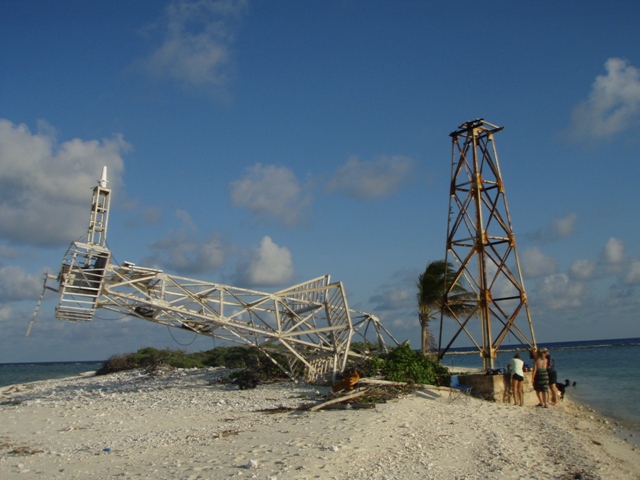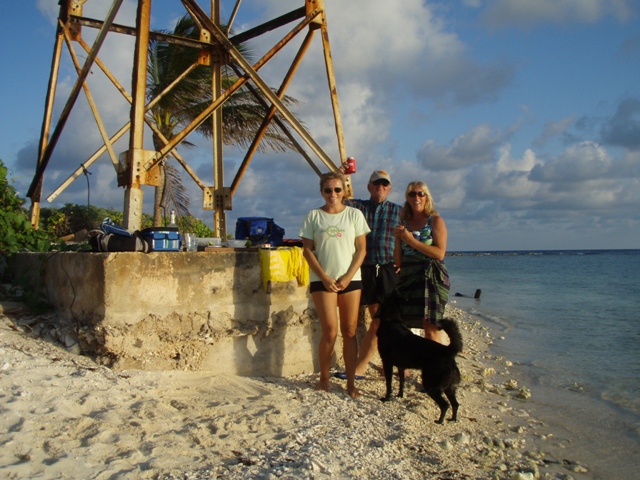 From Cayo Lobos a 30 mile sail back into the mainland and the small Mexican village of Xcalak (pronounced Ish-cal-ak). A wonderful downwind sail in 10 to 15kn wind flying the spinnaker almost all the way. The 4 metre deep entry though the barrier reef was very narrow, only 60 metres wide. Even with an on shore breeze of only 15kn it was approached with trepidation. Once inside the reef other coral outcrops and shallow weed covered sand provided several heart stopping moments for skipper and crew! Ashore we were advised to move from where we had anchored to a spot the other side of the town dock where some moorings were available free of charge. Apparently where we were was right in the path of the local military vessels used to try and chase down drug traffickers. The 40 60 foot vessels could go past at any time of the day or night at full speed putting out a most uncomfortable wash. Xcalak is what you might call a rather unimpressive spot although we did enjoy a drink and meal at one of the small restaurants (more like a kitchen) down by the water with Bob and Bonny. Next morning it was blowing 15, maybe 18 knots straight into the entrance. First Spray went out closely followed by us. There was an outgoing current that made the 2 metre or so waves stand up almost vertically. In  only a little over 4 metres of water it was really quite scary with the bows of the boats burying into waves or crashing down from crest to trough. After 10 minutes of very slow going, just enough to keep steerage we finally started getting into deeper water, almost another change of underwater. Would hate to be caught in there with 20kn or more wind, you just would not be able to get out. Well that was our last taste of Mexico as we headed for San Pedro on Ambergris Cay, Belize.
During most of the 25nm Southerly trip that was sailed hauled, we went over and over the notoriously tricky entry to Ambergris Cay. Our guide book advise to attempt it only in calm weather otherwise sail another 30nm South to the main Belize City shipping channel. The, again narrow entry requires one to head in, East and, once past the barrier reef, immediately head almost North to didge a big coral outcrop right in the middle of the entry. According to the guide book there should be a large yellow buoy as an indication of when to turn. The guide book also advised to call any other vessels already anchored for information or help with directions to guide you in. Sounded real promising. A few miles out we heard another vessel on the radio requesting directions to the entry, he didn't have any sort of guide book and had found, as we had, that his charts were so much in error as to be almost useless in such small areas as reef entries. Bob from Spay had given us a couple of way points from other cruisers so he passed them on to Keith on Atalanta who was calling for guidance. Keith had been sailing from the North end of the Yucatan Peninsular for 3 days, single handed snatching a few minutes sleep here and there so was very tired and not in the best of mental condition to attempt such an entry, He decided to sail around outside until we arrived and follow us in. Sometimes it is good to have bad expectation so that when the time comes and it is not as bad as thought everything seems just peachy. This was the case here, the way points were spot on , the big yellow buoy was still in place and the coral was very easy to see.