Grand Cayman
Category: Caribbean
Created: Thursday, 17 January 2008 16:39
Written by Roger Boxall
Hits: 1886
Grand Cayman
Grand Cayman
On December 30th, early afternoon we rounded the South Western corner of Grand Cayman and headed the few short miles North to the George Town anchorage under power. Cayman "port security" directed us to a moorings with red buoys, free for visitors to use, what a wonderful welcoming start to our visit. It had been a good trip only a few hours of motoring, the way it should be but now it was time to jump over the side for a swim in 7 meter deep  clear water. What a surprise, in the main outer harbour anchorage there was fish and big coral bombies all over the place, this would need further exploring in the morning after we checked in customs and immigration. When we got up the next day it was all action with several cruise liners anchored only a few hundred meters behind us.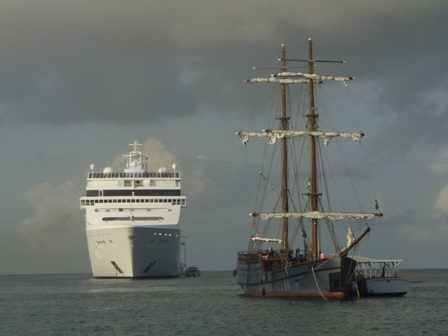 There is no wharf for the ships to tie up so passengers are ferried ashore by the local ferries, looked like good business. In addition there were various tourist water craft, a couple of big under water glass viewers and even a glass viewing submarine as well as go fast thrill boats and two replica square rigged galleons. The glass viewing vessels certainly didn't have to go far, they were cruising around only 50 or so meters from Ednbal. For us it was off to customs and immigration.
The formalities went fairly smoothly, no charges at all, only the customs guy wanted us to bring in our Hawaiian Sling, any sort of under water spear is prohibited in Cayman. We stayed another day on the mooring being entertained by all the comings and goings associated with the cruise ships before heading around the Northern side of the Island and into North Sound. North Sound is a sort of lagoon about 6 miles in diameter mostly a couple of meters deep and fully protected from the ocean by a barrier reef that has only a couple of very narrow shallow (4 meters) entries. We were quite cautious as the chart indicated a mixture of weed and coral and at times we had less than a meter under the keel. The chart showed an anchorage and the Cayman Island Yacht Club in "Governors Harbour" that looked like it might be a good place to start. It turned out the yacht club was there in name only, it had been all but demolished in 2004 but a Hurricane Ivan, known by the locals as Ivan The Terrible. Some of the jetties remain but there was no power available so we just hooked onto one of the red moorings out the front. In the evening we went ashore and explored, what a contrast to Jamaica, we were obviously back in good old first world western society, big houses on canals with big boats tied up out the front, that sort of thing. In the morning we had two visitors, firstly a genuine native, a greed Iguana that swam up to the dingy and proceeded to climb aboard to bath in the beautiful morning sun.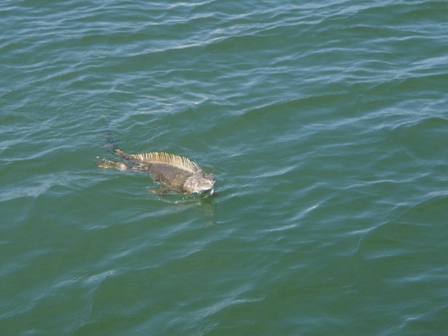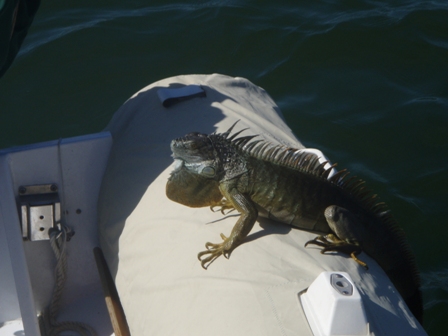 A little while later an American cruiser paddled over in his blunt nosed kayak and introduce himself as Mark, a frequent visitor to Cayman who was able to give us the low down and one of the lobster he had just caught, by hand, in the walls of the canals only a meter or so down!! We had to give it a go.
Grand Cayman is one of the premier SCUBA diving destinations of the world and we had done very little diving since starting our cruising adventure so this was to be catch up time. But first we needed to get tank fills. On the dock not far from the mooring we were on was a dive charted boat called Falcon so I decided to go over and ask if there was somewhere nearby we could get fills without having to lug the tanks too far. The shipper and diver master, Ian, said the best spot would be a spot called Beach Club along 7 mile beach, he would call and arrange, we should ask for Albert. On his way out with his charted Ian gave us the thumbs up, apparently all arranged! We spent a couple more days in Governors Harbour and arranged a pen for Ednbal where Sasha would he safe with power and water while I was away in Oz for my daughters wedding mid Feb. We went lobster hunting and eventually found some big ones in shallow water but grabbing them by hand proved somewhat more difficult than it sounds, in short none caught! New years eve was spent at Calico Jacks, a beach bar on 7 mile beach, just a few minutes walk, although a few hours by boat to go right around the other side of the Island.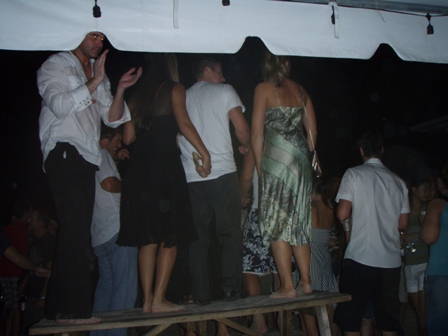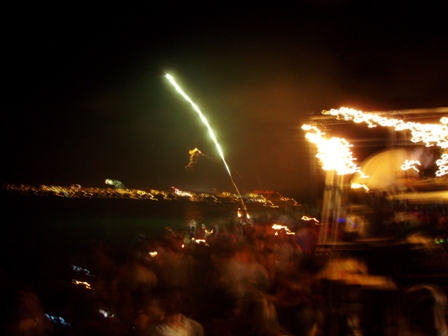 In early January 2008 we sailed back around to the 7 mile beach side, visiting "Stingray City' on the way.
Stingray City is something not only unique in Cayman but in the world. The story goes that local fishermen used to bring their catch to a sand bar area just inside the North Sound barrier reef and clean the fish before going right in to shore. Stingrays soon caught on associating the sound of boat engines with a free meal. After some time people began to get into the shallow, just a few feet deep, water with the stingrays and began to hand feed them. So started the tourist attraction of Stingray City. Now, on almost any day there are hundreds of people at Stingray City, arriving in all manner of ferry craft. The boats anchor in a big circle around the sand bar and people jump into the water to touch and even cuddle the stingrays. About the only warning is not to try and grab one from behind. Some people get their arms around the stingray wings and bodily lift them out of the water. Ferry/tour operators provide fish and squid pieces to feed the stingrays, some up to about 1.5m across.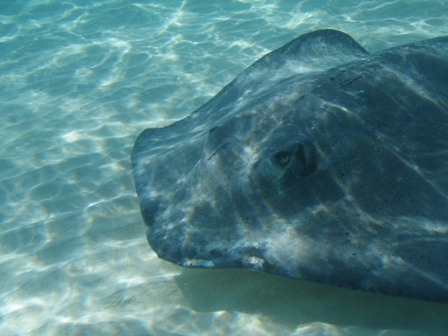 It certainly was a unique experience although after the Steve Erwin experience we were a little apprehensive!
From Stingray City it took a couple of hours of peaceful sailing to get back around to the 7 mile beach side where anchored in a few meters of water but had trouble finding any decent holding on the thin sand covered rock. Time to get the dive tanks filled so off in the dingy in search of the Beach Club. Based on the tourist map it should be a just past the Carlton Ritz, and so it was. We found Albert and he knew we were coming but did not know how much to charge us for tank fills so went and asked "the boss". A couple of minutes later he came back and said he had a deal for us, no charge.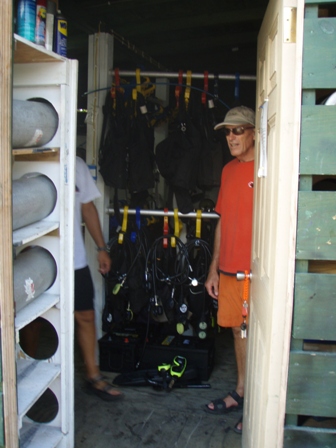 We decided to go see "the boss" who turned out to be Paul who worked there with his wife Paula. After thanking him we mentioned that the holding for the anchor was not too good, no problem, we could use a spare mooring right out the front of Beach Club. The hospitality of Cayman was only just beginning! The next couple of weeks was spent diving off the West and South of Grand Cayman, thanks especially to the hospitality of Paul and Paula. At times it was a little tricky diving off the swim platform of Ednbal but the arrangement of dive moorings in Cayman made dive site location so easy. The DOE (Department Of Environment) provides some 200 pin moorings covering all the popular dive sites. You just sail up to one, hook it in the boat and dive. All the sites are named and many have write ups in one of the dive guides so you can pick and choose. The diving is quite spectacular, wrecks, walls, coral gardens, pelagics, you name it, Cayman has it. We had one unwanted item of excitement when leaving one site I had Ednbal in forward gear while Sasha let go the mooring line but she wasn't quite ready so I went back to neutral but Ednbal kept going forward, we were stuck in forward gear the only thing to do was shut down the engine. It was a little tricky picking up our mooring in front of Beach Club as I had to judge the speed and stop the engine to allow Sasha to pick up the mooring, not quite as easy as it seems, but with a crowd on the beach watching we managed it without looking too stupid. It turned out, after pulling things apart, that the sealed unit, throttle gear changer, had somehow locked in forward gear. A phone call to Beneteau had a new one on its way at a lower cost than the cheapest Sasha could find through the net. Two days later the new unit was in and we were mobile again, many thanks to the Customer service guys at Beneteau.
While diving we saw big eels, a big, 2.5m nurse shark, sting rays, turtles, lobster, cuttlefish and fish of all sorts, large and small.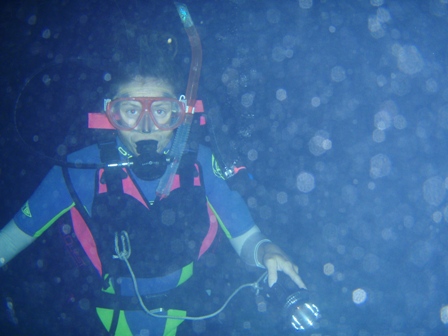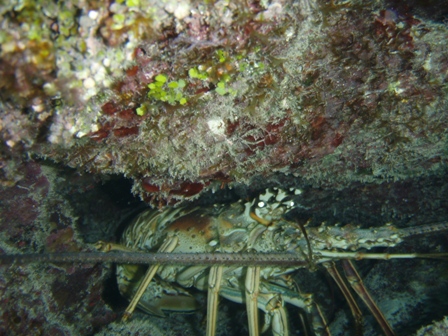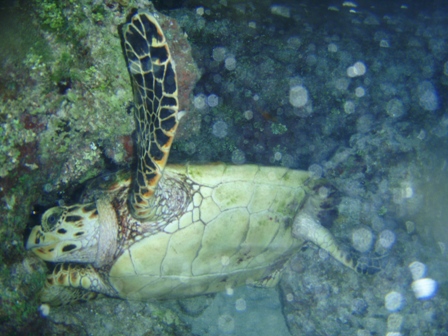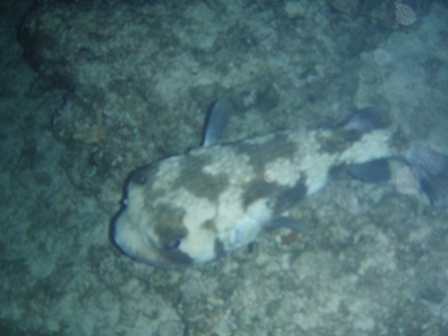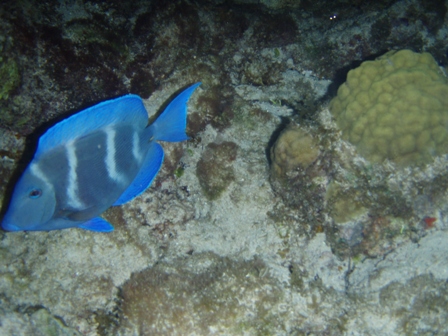 The coral gardens varied greatly, in some spots almost nothing in others the bottom was literally covered by corals of all colours, both soft and hard coral. We could go on and on but I think you may get the picture, it is pretty spectacular. Before long we had to move back into Governors Harbour to the pen were had arranged to leave Ednbal while I went back to Oz. One of the "requirements" was for Sasha to have an internet connect so she could configure own new laptop with Microsoft Vista to try and get all our navigation and communications packages working properly. It may sound easy but as we had already found, no mean task. Once we had Ednbal all tied up and secure we checked the available wireless net connections. The two strongest were secured, "regatta" and "Belcin54", any unsecure ones were so weak as to be unusable.. Regatta was a large office suite about a block away; enquiries there were not too favourable. In the afternoon we saw a guy practicing on the lawn with a kite board kite. We went and said hello. It turned out to be one of the condo owners, John, who with his wife Tina had been in Cayman for 8 years. They owned a large catamaran and a 34ft Beneteau. John asked if we were internet users, then asked if we had seen a wifi connection called Belcin54. Well yes and yes but it was secured. He said it was his and pointed to a window on the first floor saying the wireless router was right by the window and he would happily give us the password, we were free to use the net whenever we wanted. Again we couldn't believe the hospitality and luck! Sasha was soon all set up PC phone connection and all.
Before long I was on the plane to Oz, flight from hell,43 hours end to end, two planes broke down as a result I missed 3 connections, got charged import duty to Oz for one extra bottle of rum I had, then on the flight from Melbourne to Perth my bags were lost. Never the less it was good to catch up with friends and rellies as well as a myeloid of items on the "to do list". It was wonderful having Brother and Sister with full accommodation and spare car. I had no work to do for Natalie's wedding as she and Mark had done it all and it didn't even cost too much, Nat must have some of the Scottish heritage from my parents! The wedding went off very, very well, I was very happy for Nat and Mark. I could not wish for a better bloke as a son in law.
See link to the Photo Album from their wedding.  
While in Oz we arranged for my brother, Les, and his wife, Gloria, to visit us in mid July to holiday and "boat sit" Ednbal while Sasha and I go to the Beijing Paralympics where my son Grant will be representing Australia in Wheelchair Rugby in September. The plan is for us to be back in the Archipelago De San Blas at that time.    
Before I knew it I was back on the plane, pretty well event free, except one of my bags did not arrive, and back on board Ednbal. In her pen on the small jetty at Lime Tree Bay, Ednbal had been cleaned inside and out by Sasha so she was sparkling like a new pin. We still had more installation work to do so took advantage of the time with power and jetty available to finish a few more tasks – completion of the laundry by making and fitting swing doors, installation of wood surround fans in the aft cabin, creation of further storage space by making an opening under the seat in the forward cabin. Sasha had spent days working with the new Vista PC overcoming one obstacle after another in getting all our navigation and communications packages to work properly. On 19 February 2008 our time in the pen was up so it was off to the other side, 7 mile beach again. It was back into diving, swimming and beach walks.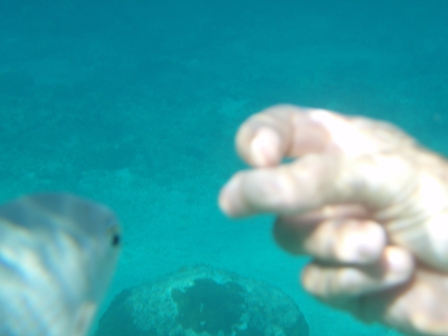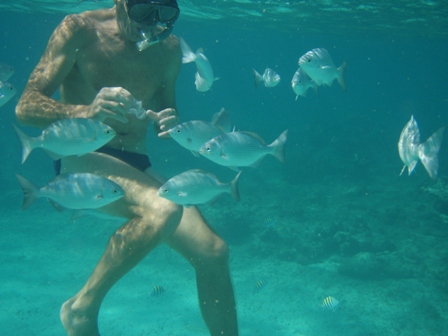 On one of the relatively few real calm days we visited a dive site and later a popular snorkelling spot at western end of North sound. As we were about to settle in for lunch a local boating tour operator anchored a short distance from us in about a 45 foot or so launch. People began to jump over the stern to go snorkelling and at first we didn't take much notice but then as more and more people got in the water we started to count, close to 80 people would you believe!!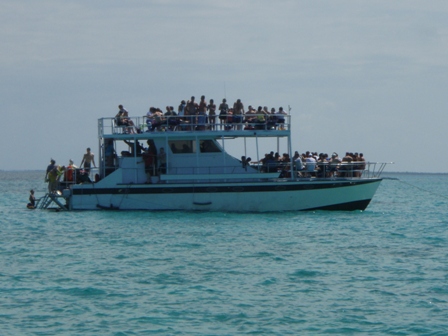 Heading to Mexico
Again we began to feel the need to move on to the next adventure, so began the watch for a suitable weather window for the 350nm sail to Cozumel, a Mexican  island close to the Mexican East coast, the Yucatan Peninsular. On March 1st at 6:30 we left Grand Cayman in 20kns of wind off the aft starboard quarter heading almost due West for the Southern tip of Cozumel. If we could average 6kn we would have just two nights at sea. Out went the fishing line and we settled in once again to the "ocean crossing" routine – keep watch, keep speed, hope for constant good wind and relax. We hooked one big Mahi Mahi but didn't land it then not far out of Cozumel we caught a small Mahi Mahi, certainly better than nothing.  With a fairly constant 15kn wind and the current with us we've dropped anchor outside San Miguel Cozumel just after 2pm on the 3rd of March 2008. There we saw a Canadian flagged yacht and enquired about the quality of the holding (how well the anchor will hold on the bottom). It turned out to be the yacht, Locura, with Ivan (Evan), Vesna and Scotch Terrier Squeaky on board, had just sailed in from Belize, to the South, en route to the Mediterranean. We joined them in hiring a taxi to go to the airport for immigration and customs formalities and it turned out that they were originally from Croatia, having immigrated to Canada about the same time that Sasha moved to Australia.
This was our first taste of Mexico, back to trying to speak and understand Spanish, still near impossible for me! Cozumel is one of the Mexican tourist Meccas, not far from the prime tourist centre of Cancun. In the "downtown" area most people spoke English so no problem there but we were not really interested in the tourist merry-go-round and in the more back blocks it was all Spanish.