Trip to Jamaica
Category: Caribbean
Created: Saturday, 17 November 2007 16:37
Written by Roger Boxall
Hits: 2166
Trip To Jamaica
Trip to Jamaica
Checking the forecast again on Monday indicated it would be better to leave a day earlier, Tuesday, so we left Cartagena at midday on 4 December and headed East of North, it is called putting east in your north, because the winds swing more to the north, from east close to Colombia, as you go North towards Jamaica it is preferable not to sail close to the wind so we go on a big arc, first East of North then West of North as we get closer to Jamaica. Well that is the theory and, based on the weather forecasts, should work. At about the three quarter way mark it is going reasonably to plan. We had been sailing at about 6 knots through the water but only about 5 knots SOG (speed over ground) as there is about one knot of current against us. To achieve East in our North we were pointing as far into the wind as possible all the time. This is aided by our autopilot (we only ever touch the wheel at the helm in anchorages and close to other boats, on the ocean the autopilot does the work) which has a "wind vane" mode. It takes the input from the wind vane on top of the mast and adjusts the rudder to maintain a constant angle to the wind. We sail quite well at 70 degrees to the true wind direction which is roughly 55 degrees "apparent" wind angle due to the fact that the boat is moving as well. While it means that the boat changes direction with the wind it also means we sail as close to wind as we wish with the sails constantly full. Sailing "close to the wind" also means the boat heels a bit so it makes food preparation somewhat challenging! To that time we had wind in the 8 to 15kn range which is quite nice.
On the fourth night times changed a bit, the wind steadily increased but we were able to cash in our insurance and start to bear away. By the time the wind was up to 35 knots in gusts we had it off the aft starboard quarter with about 5 reefs in the main and headsail but still doing over 7 knots. Then, almost a fast as the wind came up, 6 or so hours later, in the lee of the Western part of Jamaica, it dropped off. By 2AM it dropped from 25kn to 8kn in a matter of minutes. The rest of the sail, generally west, to Savanna La Mar, where arrived in the early afternoon, was most enjoyable, along the Jamaican Southern coast. Our charts showed a well marked entry into the Savanna La Mar anchorage but as we approached no markers or buoys could be sighted. The depth cam up from several hundred meters to 8 meters very quickly so, with no markers in sight we had the decision to make, go by the course we had panned from the chart or by pass Savanna La Mar. We decided to give it a go, the bottom looked quite sandy and with the sun still high we could easily see any coral outcrops. In the early afternoon we dropped anchor in 3 meters of water about half a mile from shore. It seemed the town was quite lively judging by the almost continuous loud music we could here but it did not look too special.
First we had a few issues with the boat to overcome. When we tried to anchor the anchor winch refused to operate and, on the way we had again experienced loss of capacity from our batteries. So, start the generator to again "equalize" the batteries, start the water maker, get the washing going and investigate the anchor winch. We had had similar problems with the anchor winch before but it had always come good. Sasha had suggested we buy a spare winch contactor since once before the winch had worked after I had tapped the contactor. Of course I said no need, now, in Jamaica I was beginning to regret!  As it turned out there was a problem with a control wire to the winch contactor which we were able to overcome. Next, the water maker stopped dead for no apparent reason. We had enough water so that could wait. Then the washing machine stopped. Oh bugger!! It seems the washing machine is very sensitive to frequency. It is designed for 50Hz, our boat system is nominally 60Hz and we had reduced the frequency to 55Hz as a reasonable compromise. Why should the washing machine now decide the 55Hz is a problem, who knows, but by reducing further to 52Hz definitely helped the situation. The water maker turned out to be a thermal overload which, when reset, overcame its problem. It probably does not like 52Hz too much!!  Anyway all issues were eventually overcome and we settled back to a wonderful sundowner with the sun setting the clouds a beautiful pink. After another wonderful Sasha dinner it was early to bed, not much good sleep had been had over the last few days.
Our exploration of Savanna La Mar was somewhat of a non event. Ashore we found a very old jetty literally falling apart. There was also a small wharf area with a number of beached derelict old barges. It turns out the Savanna La Mar was once a sugar cane port but has not been in operation for 20 or so years.  We decided that, after a spending a few days relaxing and recuperating while waiting for calmed weather conditions, we would relocate to Negril Point, the very Western end of Jamaica. On Monday, 10 December 2007 we headed out for the 20 mile sail to Negril. All was going well, we were sailing nicely a few miles off the Southern Jamaica shore enjoying the day when we noticed the water colour up ahead seemed to be changing from deep blue to green. We were in water several hundred meters deep and a mile out from any shallows so we could not quite work it out. We continued on our course. Suddenly, and I mean suddenly, we went from off the echo sounder scale to 6 meters deep. Mild panic ensued!!  I turned out that a bank extended 6 miles out from the shore, almost one mile more that our paper and latest electronic charts showed. A good lesson, always trust you eyes. Hate to think what would have happened had we been roaring along with 35kns behind us in the middle of the night!!
Negril – an unexpected find
The charts showed Negril as a marshy bay with no detail at all so we did not expect much. How wrong our expectation was. We approached the point close to shore and could see what appeared to be very up market holiday resorts built on the cliffs, overlooking the beautiful turquoise waters.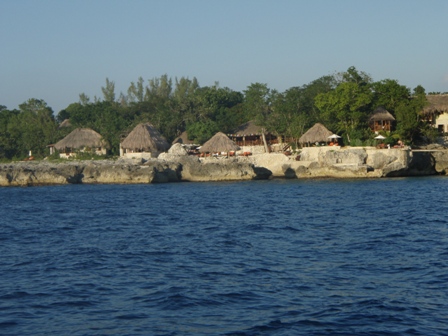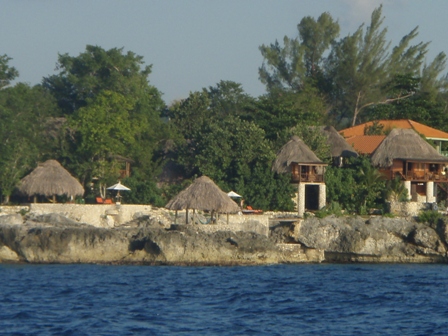 After negotiating poorly marked, ropes with a plastic bottle tied to the end, lobster traps we rounded the point and headed into Negril Bay. Here we were greeted by a magnificent 7 mile long beach lined with hotels and bars with public beach fronts and clear water 4 meters deep to within about 50 meters of the beach. It turns out that Negril if the premiere holiday destination in Jamaica. It has been very well managed, no building is allowed to be higher that the trees, so, from the ocean, it still looks natural, no huge American style big rise hotels at all.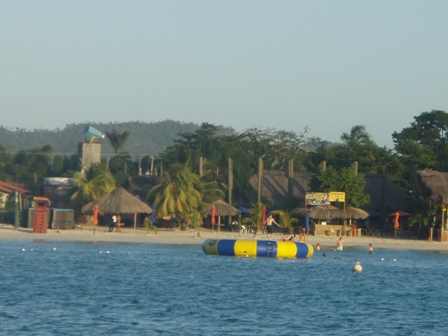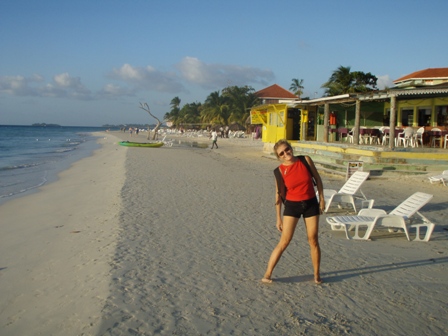 Simply wonderful. We cruised along the shore line while Sasha monitored the wifi on the PC and found some unlocked wireless connections. We dropped anchor (no problems after my fix in Savanna La Mar) in 3.5 meter deep clear water about 100 meters out from a bar with very lively Reggae music, it turned out to be "Jimmy Buffets Margaretville" bar.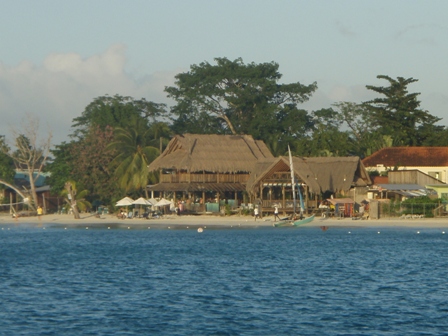 Oh what an unexpected find. Of course, had we been good cruising sailors we would have bought guide books and known all about it but on this occasion we sailed to Jamaica without any guides at all. Ashore we found hawkers walking the beach trying to sell trinkets and drugs, mostly Ganja (marihuana), amongst the beach loving tourists. Each hotel seemed to have a bar on the beach in the sand and there own guards, generally keeping a low key, to make sure there were no unwanted visitors.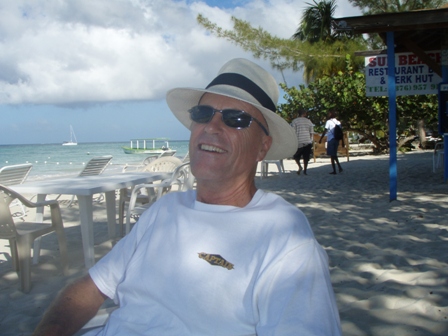 Amazingly no other cruising yachts, in fact we had not seen any since leaving Cartagena. Two days later there was a tropical storm named Olga just to the North of us, it was at 19 North tracking due West, 270 degrees, which meant that it would pass just 40 miles North of us. We relocated to the most protected area of the bay, the far North East corner but thankfully the storm reduced in strength and barely affected us except for very heavy rain. On the beach in one of the bars we heard some Aussie accents and met Gavin and Sarah Andrews, from Adelaide, who were on their honeymoon.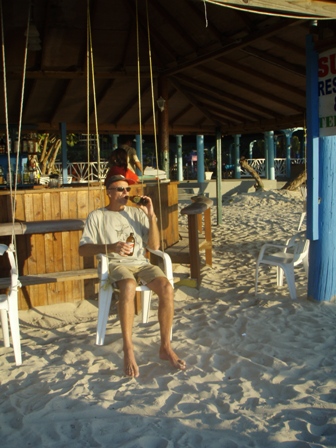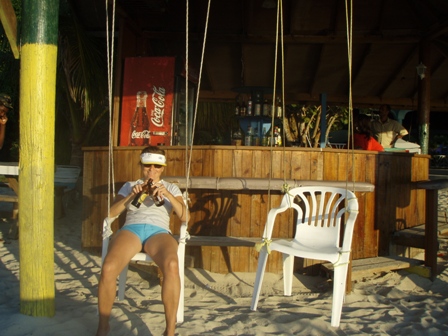 A great couple whom we invited for dinner on board. Unfortunately it was the day after the storm and the boat was rocking all over the place from the swell that was still running. Poor Gavin, despite anti sea sick wrist bands couldn't quite handle it so after he spent some time in the water Sasha packed up dinner and finished cooking it in their hotel room overlooking the bay from the other direction. It was a great night, we very much enjoyed their company and their South Australian Champaign.
By now, mid December, it is time to put up the Christmas decorations.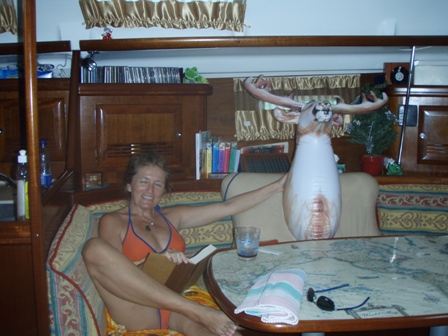 We have a small, lightly decorated, tree inside and Rudolf the red nosed figurehead complete with Christmas lights up at the bow of Ednbal.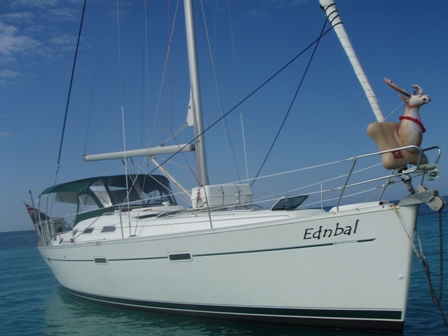 Rudolf seems to attract quite a deal of attention from other passing vessels while we are anchored.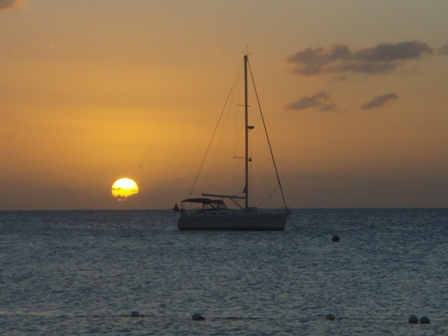 Around Western end and up to Northern side of Jamaica
After stocking up again with a few basic essentials, fresh fruit and vegetables along with beer, gin and rum we decided to move around the corner to another bay, this one well marked on the charts, of Luchea just 20 miles away on the North West side of Jamaica. During the sail Ednbal got another good wash in a rain shower and again we had to dodge poorly marked lobster traps. Although it was 3 days after the storm there was still a fair 2 meter or so swell running that we were heading almost straight into it. The swell on the Caribbean Sea is nothing like we are used off the West coast of Australia. The wave period here is a few seconds, in Oz it is more like 10s of seconds. So, going into the swell here is not much different to going into wind waves, very up and down! Luchea is a large bay, a mile or more in diameter with an entry less than half a mile wide so well protected from the ocean swell with high hills/mountains all around but still not another yacht in sight. Next day we went exploring, very few places to land a dingy. We found a spot near the entry headland and climbed some very old concrete stairs to find a guy sweeping leaves. He gave us a short run down on the place and suggested we walk to Fort Charlotte, now the site of the local Government Works Agency, built on the headland. Here saw, for the first time, an original cannon still with its original gun carriage and track in place, all be it very rusted.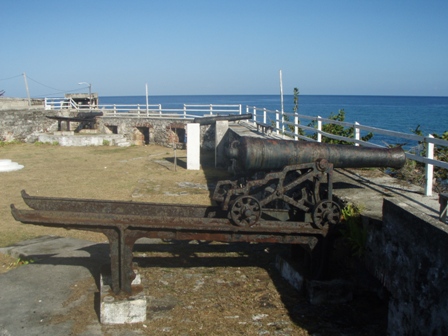 The cannons were the defense of centuries ago and pointed out to the bay entrance. Not a lot else of real interest but that was quite a find. Back in the dingy we toured around the bay that was, unfortunately, heavily polluted with all manner of rubbish, mostly plastic, washed up on the shores, certainly not very inviting. On the headland opposite the fort was a huge hotel complex under construction.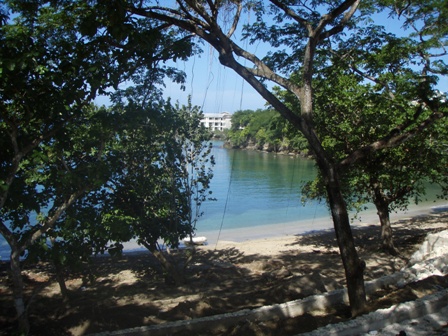 The 2,000 room complex was being built by a Spanish consortium and due to open next year, very impressive.