Cartagena de Indias, Colombia
Category: Caribbean
Created: Wednesday, 17 October 2007 16:36
Written by Roger Boxall
Hits: 2491
Cartagena de Indias
Arrival to Cartagena
The breeze rose and fell during the second night and, at one stage, as we were making 6kns, it seemed we may arrive in Cartagena too early, before good light. Of course the wind didn't continue, it change both strength and direction considerably. Then, just a few miles out from the harbour entry, thunder storms started, to give Ednbal another lovely fresh wash. 
At about 7am we caught sight of Rio Soleil. Lulu had decided to take a slightly more direct route than us so was coming in more from the South. After 2 days sailing they entered the harbour about half an hour ahead of us. The harbour entry is quite interesting to say the least. Small vessels, draft less then 2.5m can go "through the wall" into the harbour area. The story goes that a sub sea wall was built as part of the early Spanish fortifications of Cartagena. You can't actually see the wall as it is just below the surface at low tide. There is a small opening about 15m wide, marked by red and green buoys that have signs on them warning maximum draft 2m!! Lulu had radioed us to say it came up to 8 feet, 2,4m. When we went thru we did not see any change from 6m on our echo sounder even though we were only doing about 3kn under motor. Before long, after passing the large statue of the Madonna on a rock outcrop in the middle of the harbour entry, we were anchored out the front of the marina, Club Nautico, 48 hours after leaving the San Blas. Motor sailing 12 hours, sailing 36. Quite content after hearing that most motor all the way with next to no wind.
This has to be one of the better organised Marina come port entry facilities around. The "Port Captain" does not communicate directly with vessel captains. You must engage an "agent"; some speak English, which is a decided advantage, to conduct your immigration and cruising permit business. You hand over passports, admittedly somewhat reluctantly, and copies of vessels papers to your agent who roars off on a small motorbike (all motorbikes are small, around 100cc, in Cartagena) to get everything stamped. No money changes hands until you leave the port and have your exit permit or zarpa from your agent at which time you cough up a whole USD60 to cover all permits and agent's time. At Club Nautical you are greeted by the dock master, John (English) who gives a rundown on how things work and a very informative booklet on virtually every boating related service and facility in Cartagena. It is excellent.  So started our stay in Cartagena 2 October 2007.
Cartagena
There are two Yacht Clubs, the commercial marina, Club Nautico and the private. Somewhat more up market,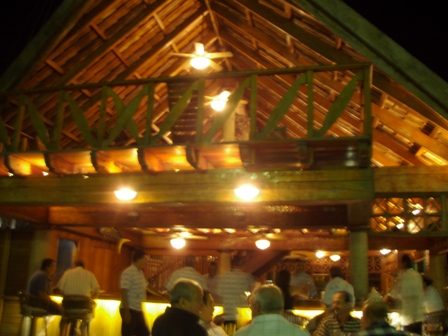 Club De Pesca, about a quarter of a mile apart.  Back in internet access we were able to make contact with the home and the rest of the world. Sometimes not necessarily a good idea!! One thing to do was get a new mobile phone. We found the same model as the one that went for a swim, even cheaper than in Panama. Biggest surprise was that when I put the new battery from the new mobile in the old mobile, just to try it out, it fired up, no problem. So, if you drop your mobile in the drink, retrieve it as fast as possible, remove the battery, rinse with fresh water, dry out thoroughly, give it a squirt with contact cleaner and you never know it may come good.
There a few unusual things in Columbia. The phone arrangements for one. In almost every street corner there is a sort of mobile phone booth. A person will sit at a small table on the footpath with a few mobile phones and charge users 200 pesos (about 10 cents) per minute for their use.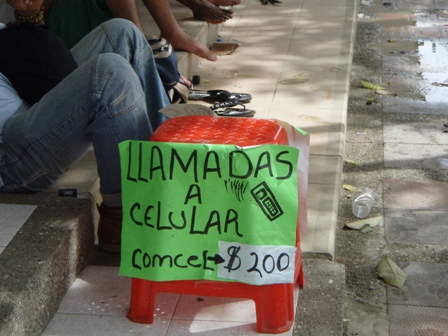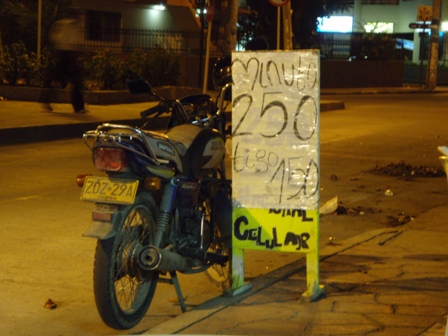 Transportation varies from normal cars and trucks to dilapidated wrecks to horse and cart, donkey and cart and even human and cart.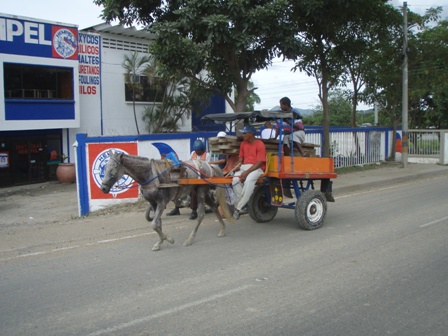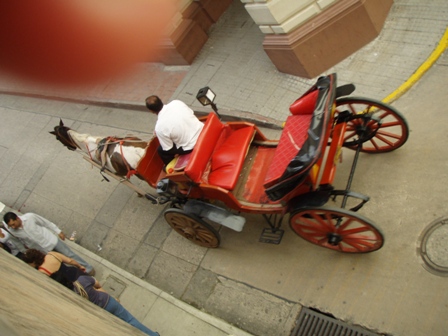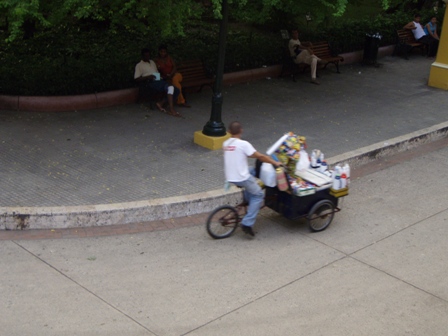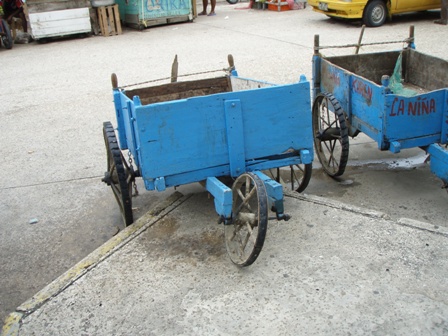 Taxis are in both car and motorbike form. Taxi bikes have a helmet and iridescent orange jacket for the passengers. No taxis have meters; you must agree the fare before setting off. Most work is done manually and almost anything is repairable or can be made as there is, apparently, a 60% duty applied to all imports while labour is next to nothing. For example you can have someone work on your boat for 40,000 pesos (about $20 per day) and they work the whole time.
Firstly, the wedding suit was on order, not easy to explain the model with hardly any Spanish spoken. But, there were fashion photos used - very discriptive indeed!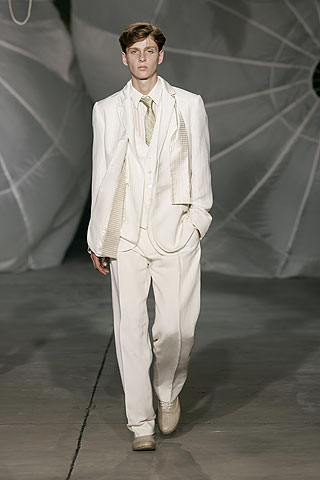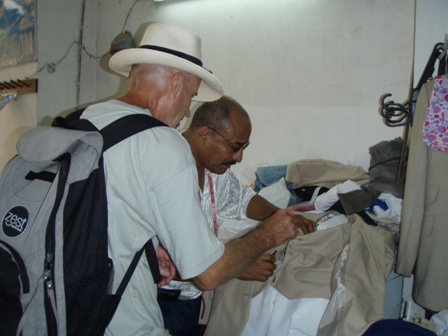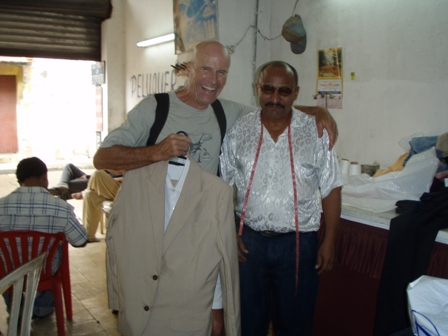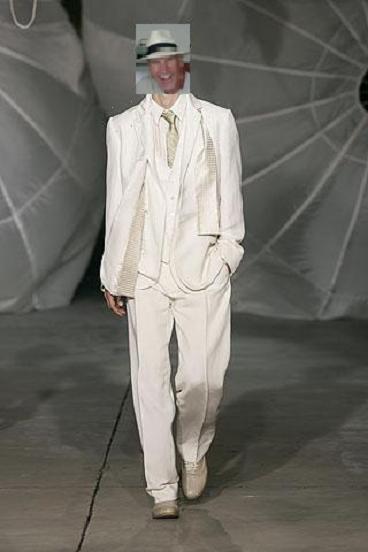 We decide to contract a few jobs on Ednbal. Replace the galley tops with Colombian produced corrian, have cushions' made for the entire cockpit seating to start with. We had heard that time has little meaning here and for any more major work best to get it under way as soon as possible. Eder promised to have our new galley tops completed within 4 weeks, now 6 weeks later there is still quite a bit to do!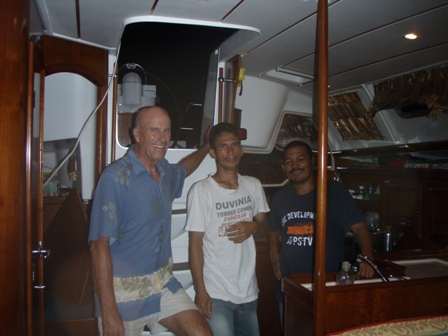 Monica completed the cushions in 2 weeks and they look good as well as feel comfortable.
Unfortunately we seem to spend far too much time on vessel related issues. Our new chart plotter bought after the lightning turned out to be faulty, it would not connect to the radar scanner nor to the PC. So after much testing and communication with the manufacturer, Raymarine, we sent it back for warranty repair. Our AGM batteries had lost over half capacity. Again much communication with the supplier testing and ultimately the need to move into a marina, Club de Pesca, so that we could put them onto an equalisation charge. While the capacity improved it was not back to original. There were many more issues, less critical, to be overcome, necessiting the purchase and shipping of items from the USA, at considerable cost!!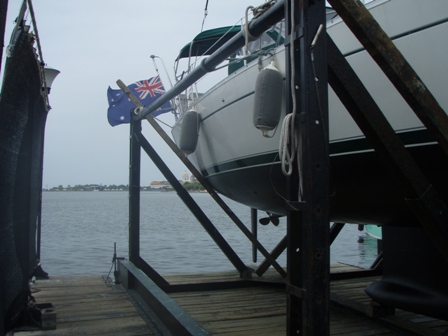 And they finally come to an end. The celibration was well overdue. We invited Lulu and Gigi for a special occasion to the Sofitel Hotel located in the old convent Santa Clara. Very exclusive and very enjoyable end to the "Lightning saga".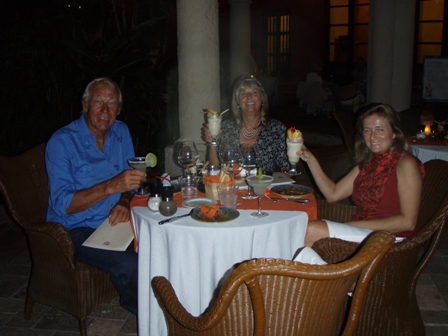 Cartagena however proves to be a wonderful city, especially the old, dating back to the 17th century, walled city known as Centro. We spent many hours walking the streets taking in the beauty and life that simply oozed out.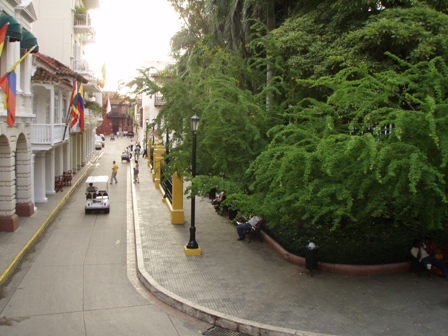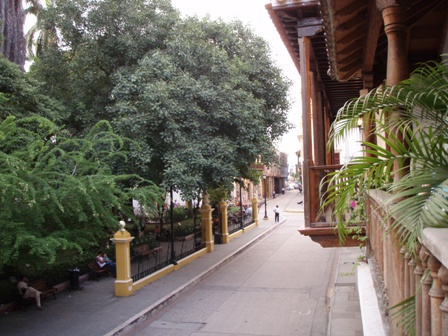 The very Spanish flavour, especially architecture, the food and the people. It seemed everyone had an angle to earn a living. Apart from the normal shops and stores there are street traders of every imaginable kind selling everything from water to rum, trinkets to watches, fruits to full hot meals. Most are mobile, a cart of some sort mostly  bicycle driven or hand carts.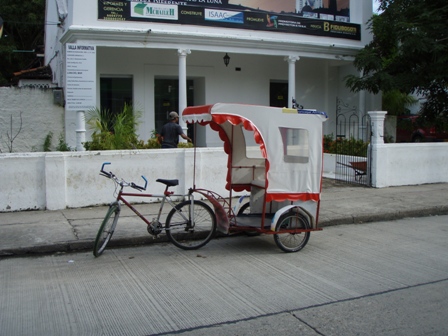 Food is cooked over either a gas flame or charcoal. You can pick up breakfast, very much on the go, for a dollar, or two at the outside!
Festivals
It all started very innocently with Halloween party at the Club Nautico.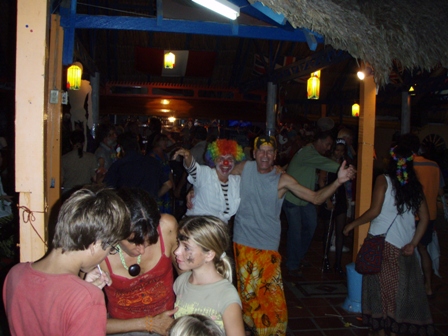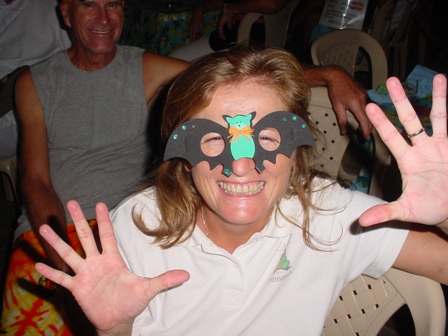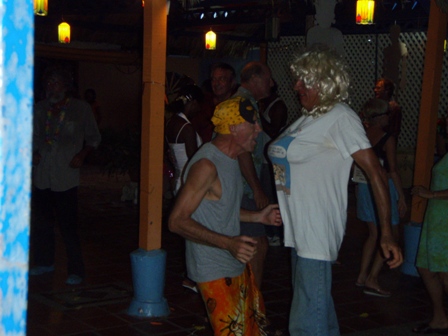 Then there are the festivals. In early November there is a major 5 day one for Colombian independence on the 11th. A major draw to the parades and festivities are floats with the Miss Colombia beauty entrants. The first day, Thursday, drew the largest, noisiest  crowds, with floats for all the beauty entrants who were sponsored, mostly by beer and rum companies.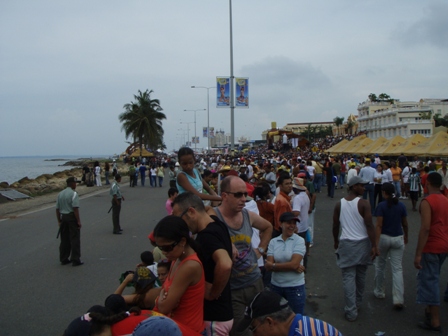 With the parade due to start at 2pm and work its way along about a 10km road we set off at 2 to find a spot towards the end of the route. Luckily we found a spot right on the edge of the road and settled in for an entertaining wait for the parade. There we people selling all sots of food, drink (including beer and rum), trinkets and car wash foam in spray cans. It seemed the two favourite tricks were to either to squirt others with foam or paint them with blue water colour paint. At times quite a messy combination!! There police and army personnel in abundance. Along the parade road police were stationed about every 10 metres, while behind the crowd heavily armed soldiers patrolled the city wall.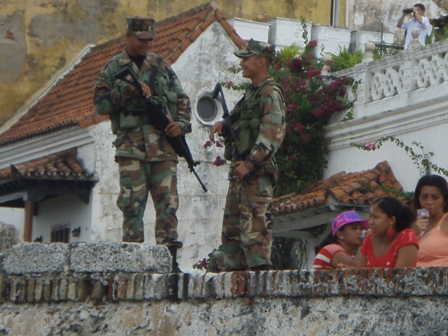 The noise of the people, at least 20 to 30 deep was incredible. For many it was a festival day out more than to go see a parade. Not far from us were several  large, temporarily constructed, grandstands with ticket entry and seating towards a thousand people each. The cheapest and most popular beer, Aquila, featured strongly with banners and signs all over the place, not to mention the amber fluid sold, icy cold, by guys and kids, carrying cans in styrene eskies (coolers) and flogging it for 2000 pesos (about $1 US) per can: we had a couple. By the time the parade came along there were quite a few people well primed!
In the parade we were not disappointed. People dancing, accompanied by traditional Colombian bands, various drums, barrocas, pipes and flutes, all making as much noise as possible.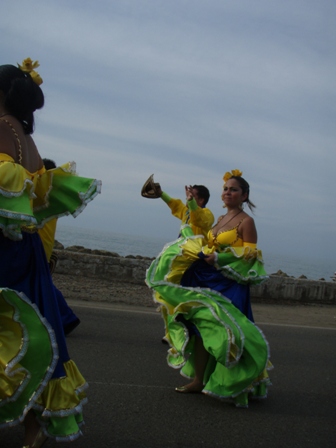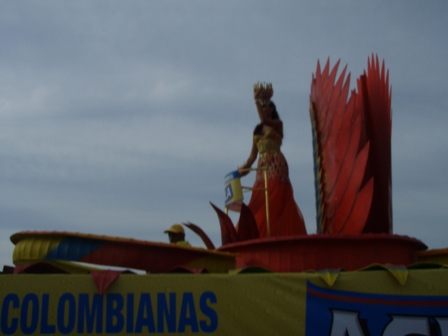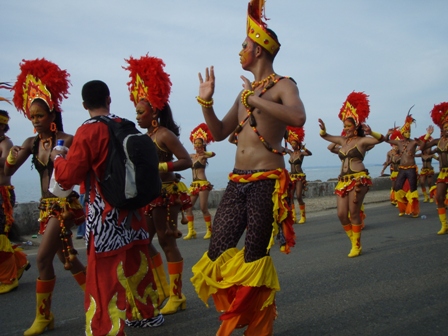 As with most days in the tropics it was not exactly cool but, even after many kilometres, the hundreds of dancers were still dancing and the beauty queens were still swinging hips on their sponsored floats. The crowd obviously knew the beauty entrance as they yelled and shouted, what we presumed were, their names as their floats went past. Without any form of electronic amplification the noise was so great you could barely talk.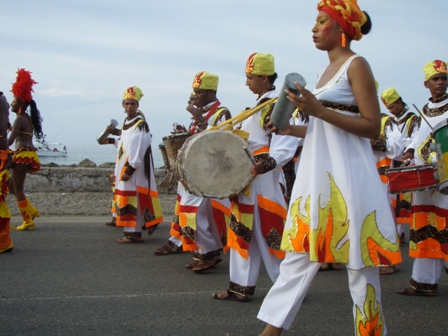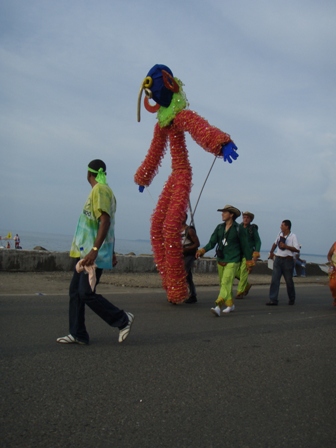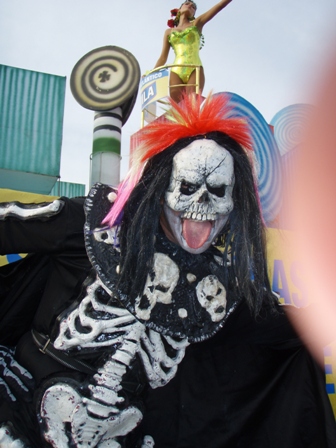 At the end of the parade, "our policeman", the one that had been standing almost in front of us, took it upon himself to escort us to the city wall through the seething masses of people.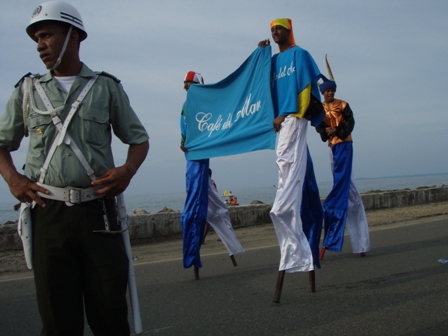 The crush through the personnel city wall gate was so great that he decided we should try another entry. The three of us walked along the outside of the wall almost the huge crowd and came across what was originally cannon emplacements, rectangular holes about 1.5m high by 0.5m or so wide about 2m from the ground. People were being bodily hoisted up through the holes but as we got there the army guys were moving in to stop people. We walked along another 50m until we found one that was not guarded. The policeman put Sasha on his shoulders and hoister her up to the hole and did the same for me. I am sure you would not get that sort of service anywhere else in the wall especially keeping in mind we could barely communicate with our extremely limited Spanish.
There were parades and festivals every day. We went to another much the same on Saturday. Again the floats with dancing troupes in Colombian costume.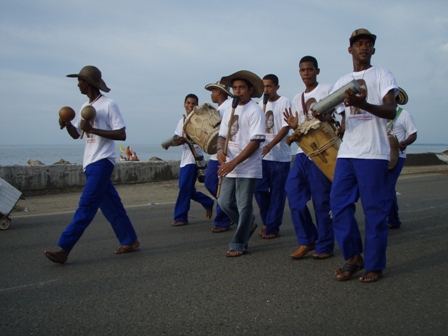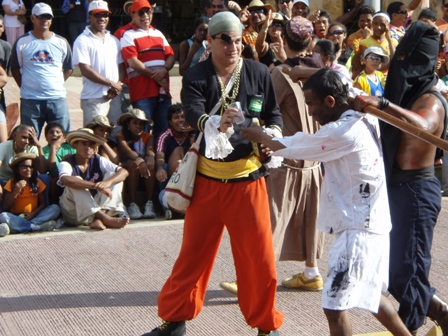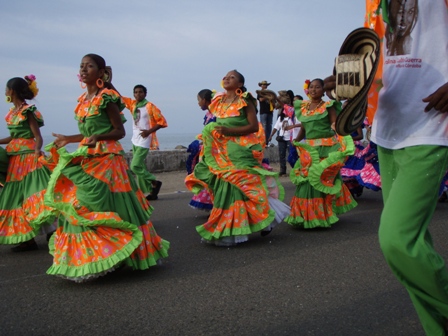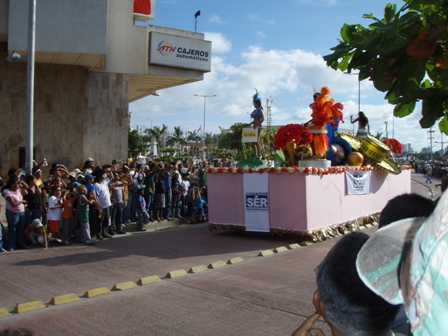 Not so many people but very noisy none the less. The incredible thing is that the parade just went on and on, nearly 2 1/2 hours of virtually a continuous stream of entertainment going past, amazing!", We have found the old city fascinating,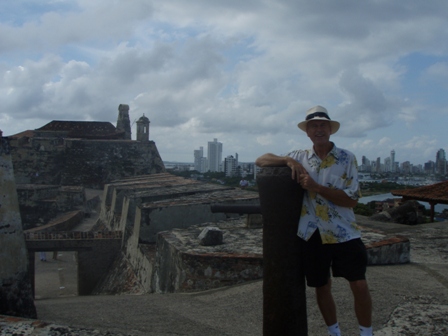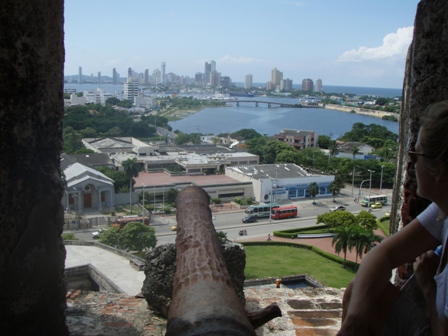 spending many hours walking the streets and sampling the many foods sensations on offer, from street vendor cut watermelon in a plastic bag with a plastic fork, to the best restaurant in town, La Cava and almost everything in between. We particularly like the lunch specials, soup, main and a couple of beers each for 16,000 Pesos, about $8.00!!!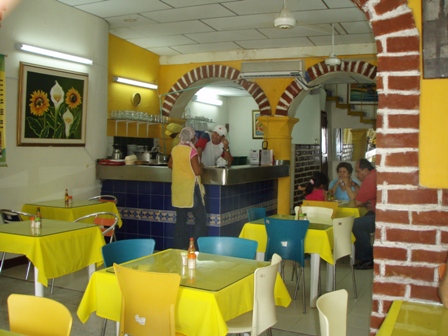 Plantains' chips were an excellent find too.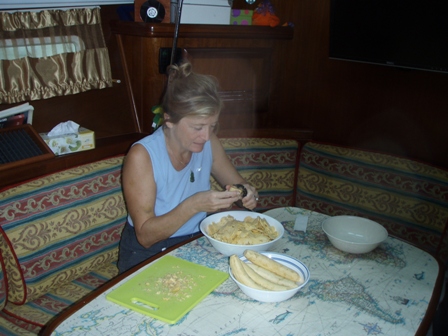 Package Delivery
There was however one most challenging little saga, delivery of a package of items from a marine supplier in the US called Defender. We had bought a heap of stuff from Defender to replace lightning damaged electronics while in Colon but had found a few more things not working and so ordered a few items to be sent to Cartagena. The customs arrangement in Colombia is that items under USD$1,000 and weighing less than 20kg go straight through. We already had received a couple of packages from others no problem but the one from Defender got "stuck" with customs, or so the courier, FedEx, told us. Keep in mind we have very little Spanish so communication is not so easy.
We had been tracking the package via the net and saw it arrive in Colombia's main port of Bogota the day of the start of the big Columbia festival and holiday weekend. On the net it just said that the package was held up in Bogota, I thought it was just because of the holidays but Sasha thought otherwise, other wised turned out to be the case.  Once we found, from FedEx that it was "with customs" we began to investigate. As it turned out FedEx told us (we did manage to get someone who spoke English in FedEx Bogota, the package had a value of more than $1000.00 because the shipper had included the freight cost on the package invoice and they, FedEx, told us there would be a cost to retrieve the package and we would also have to engage an import agent. We contacted an agent in Cartagena who contacted FedEx then came back to us with a cost, 400,000 Pesos for "customs" and his cost for paperwork another 100,000 Pesos, all up about US$250. I was not happy!!!! To get to this stage took about 2 weeks and I continued to argue that the value of the package was under US$1,000 and, even it was more, we were a "vessel in transit" to which customs does not apply. We decided not to contract the local import agent and go it alone. After many phone calls and much pleading another week went by with FedEx Bogota saying, after receiving copies of our vessel documents and passports, they would present the case to customs but it would cost us 376,000 Pesos, no payment no package movement from Bogota. Well better that 500,00 but still not right. They said I could try calling FedEx US and see if they could do anything. Well worth a try, just remember our motto, never ever give up. It always turns out to be people. After 3 calls to the FedEx call centre and explaining the story each time, I finally got a person who was willing to help, he put me onto the international shipping manager who promised to contact Bogota and call me back in a couple of hours. Well of course there was no call back so I was beginning to resign myself to paying up 376,000 Pesos, essentially in bribery to get our package. Next day I rang our English speaking contact in FedEx Bogota to ask if she had received anything from the US. Yes an email had arrived and the package was on its way to Cartagena. After over 3 weeks we didn't really believe it, but sure enough the next day, 2nd December it arrived to FedEx Cartagena where we walked (about an hour so good exercise) and there it was. No cost at all and the FedEx shipping documentation even showed the package cost to be US$837.00. We were happy!!!!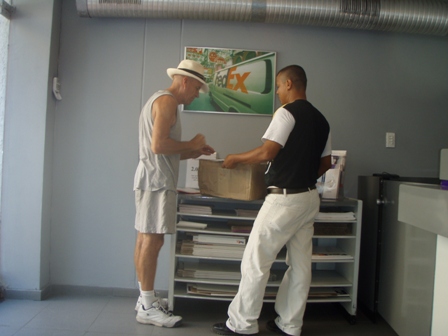 Having received our package we were now ready to leave, just need a good weather forecast for the trip almost 500 miles pretty much due North to Jamaica. Wednesday 5 December was looking good to be able to initially sail east along the Colombian coast before heading North, North West to Jamaica. With East to North East trade winds it is always good insurance of get as much East in your course as possible so that if the wind picks up one can "bear away" to have the wind from the beam or even aft of beam to make sailing far more comfortable with less stress on the boat and rigging.