Colon, Panama Canal crossing, Lightning and robbery
Category: Caribbean
Created: Tuesday, 17 July 2007 16:33
Written by Roger Boxall
Hits: 2000
Colon - Panama Canal Crossing, Lightning and Robbery
Panama Canal Crossing
That afternoon we had a visit from Malcolm and Joan. We had offered, along with Gigi and Lulu, to go through the canal with them to Panama City as their line handlers. Each vessel must have a minimum of 4 line handlers, 2 forward and 2 aft to control the lines that hold the vessel in place while in each lock chamber. The Panama Canal has a total of 6 chambers, 3 to go up almost 80 feet and 3 to come back down again at the other end. Malcolm and Joan had hired an agent to do all the paperwork and make preparations for their canal crossing (cost around $1200). We had hear all sorts of stories about yachts going through locks with ships and being damaged when caught between the lock wall and the ship so were a little apprehensive in taking a degree of responsibility on their lovely vessel. The plan was to leave Wednesday afternoon, go through the first lock that has 3 chambers, each lifting the vessel about 25 feet, and spend the night on lake Gaton Lake only a few miles from Colon. Next day to got the remaining 40 odd miles to Panama City. As it turned out we were to go through with another yacht about 28ft. Each vessel that goes through must also have a pilot on board and it is up to the vessel owner to provide food and accommodation for rope handlers and pilot, although the pilot does not stay on board overnight.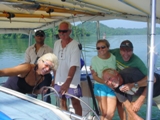 We eventually departed at almost 6pm. For some unknown reason both yachts had two pilots on board, it wasn't too bad for us but it was pretty cramped on the 28 footer with 7 big guys on board. Before entering the first lock chamber the two yachts rafted up side by side and, with only a power boat (45ft or so) ahead of us we had plenty of room.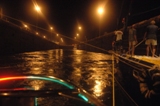 One thing we learnt was that most of the ships in the world are built to the Panama Canal formula that is they are constrained in size to fit the lock chambers. As we entered the lock chamber linesmen up on the threw a "monkeys fist", a woven ball of about 3/8  rope connected to the lead rope, to each of the four rope handlers on board. They in turn tie the lead line to the main line and the chamber linesmen haul up the vessels lines, all while walking along the wall of the lock at the same speed as the yachts. With only the power boat well ahead of us we tied up in the middle of the lock chamber. Lulu and I were on the bow with instructions to keep our lines torte as the water enters the chamber and we begin to rise. All the lock water is fresh and comes from Gator lake about 50 million litres per lock, no pumps are used, all by gravity.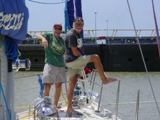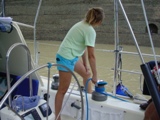 For the big ships, instead of linesmen walking along the lock wall and the vessel idling along under its own power, large electric locos on tracks along the canal side are tied to the ship fore and after working much like a tug boat.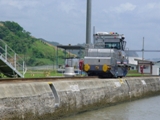 Our run through the 3 lock chambers went pretty much to plan. It was quite strange to be able to look down over a city from a yacht!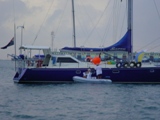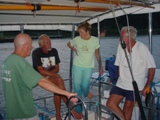 By late evening we were tied up to a huge ships buoy on Lake Gator reflecting on the days activities aver a cold drink. Next day was an early start, up at 5:30 with the new pilot, just one this time, on board after 6. We motored for a few hours across the lake largely in man made channels passed small densely forested, quite mountainous, islands before repeating the raft up exercise prior to the first descending lock chamber.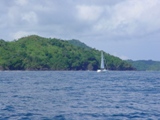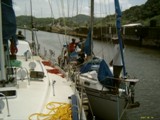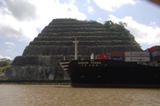 The decent was even simpler as there was much less water turbulence to have to hold the boat against  with water draining out compared to water flowing in. We motored under two huge bridges one only a few years old, the other the original Bridge Americana that was, after the canal construction in the early 20th century, the only road to join North to South America.
By 3pm Thursday afternoon we were relaxing at anchor in the Pacific Ocean outside of the Flamingo Yacht Club, marina and plaza. After a short swim and a couple more "sedatives" the 6 of us found our way into Sarah's dinghy and went into the marina for dinner at an open air cafe. Our waitress seemed to have a bit of a problem counting as she kept just bringing 5 of everything and, when gently reminded, would go back for the missing glass, table setting etc. It ended up being an early night, it had been a long day with little sleep the previous night. In the morning Malcolm and Joan ferried Lulu, Gigi, Sasha and I ashore where we said our goodbyes and set of for a days shopping in Panama City. Although somewhat better than Colon, we didn't feel 100% safe when walking on the open streets. The prices of commodities were cheaper than we had seen anywhere before so we purchased a few items we had been considering for a while including my replacement shaver. Many shops and two shopping centres later we caught the air-conditioned coach, with in bus movie, back to Colon for a whole $2.50 each! Back at the Flats both vessels were, thankfully, as we had left them.  Another thunderstorm went over, the first rain we had seen since leaving almost 3 days before.  How lucky we were to have a trip through the Panama Canal and spend a day in Panama City in the wet season, with no rain.
Lightning
The weekend was spent relaxing, doing a little shopping for perishables at the market and socialising at the yacht club. Late Sunday night another thunderstorm was on us, we put the PC in the oven (the largely metal oven acts like a Faraday shield against eclectic fields produced by lightning) then I remembered I had left a bag outside and went to bring it inside as it was pouring rain. I was on the third step up the companion way when was an extra loud thunder at the same time as the lightning. Sasha was still in bed and yelled out "we've been hit". Within a few seconds I smelt burnt eclectics. We had taken a direct lighting strike but thankfully we were not hurt. On the down side it soon became evident that all equipment with any electronics in it was dead, all navigation equipment, all communications, inverter/charger, refrigeration etc. In addition one to the cabin lights had been blown out of the ceiling and the navigation lights were out. I glanced at my watch shortly after it happened 00:20 Monday 9 July 2007.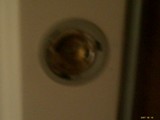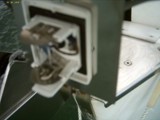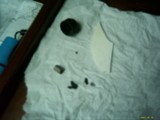 Not much point trying to do anything at the time other try and get some sleep and deal with it in the morning.  It continued to rain and slowly the thunder diminished as the storm passed. The strange thing is that the thunderstorms here are generally not accompanied by any significant wind.  Next morning we began the task of checking all the equipment and contacting the insurers. The main survivors were the PC that had been in the oven, my Blackberry phone, the 24 inch wall mounted LCD monitor, microwave and watermaker. Even some "stand alone" items like the battery operated fridge temperature monitor died. The insurer asked for a rough damage cost estimate, I put it at $50,000 to $60,000 so they decided to engage a marine surveyor to verify and to also check for hull damage. We had not been aware of the possibility of hull damage but some research on the net by Sasha showed photographic examples. The lightning current can exit the hull at the water line and destroy the fibreglass laminate. It is more prevalent in fresh water there the water conductivity is not so good. As far as we were concerned it was best to have the vessel surveyed for all damage as it should mean less chance of any argument with the insurer at the end of the day.  The insurer hired a surveyor in Gibraltar who in turned hired a surveyor in Panama. After numerous emails and phone calls we arranged to have Ednbal hauled out at Shelter Point Marina about 3 miles away. By this time, 4 days after the strike, we had Ednbal in at the Panama Canal Yacht Club using a temporary battery charger on shore power and ice in the freezer box to keep food. The yacht club allowed us to store our frozen food in their freezer so we did not lose any. It was an anxious time waiting to be hauled out. If there was hull damage then we would be in for major, major repair! Fortunately there was none, everything was in good shape so after the surveyor checked Ednbal, including the mast head; she went back into the water. Much relief.
Next we put together, well Sasha put together, a comprehensive spreadsheet of all the damaged equipment, replacement cost, shipping cost, labour cost and duties/taxes. Total around$56,000.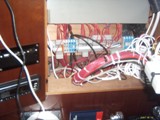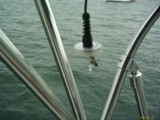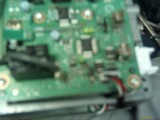 It seemed to us that we had done the surveyor's work for him. Now they wanted us to get quotes for all the work. In Colon Panama, you must be kidding. No one seemed to have the expertise to do the work so we eventually "volunteered" at a reduce labour rate, to do the job ourselves.  Again more wrangling, back and fourth between the surveyor in Gibraltar, the insurer and us. In the mean time we went ahead and ordered the most essential items, navigation lights, refrigeration and inverter/ charger. Shipping to Panama is very expensive, $700 for the inverter charger and $300 for the refrigeration parts. There was also a need to pick up a few things in Colon.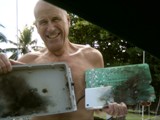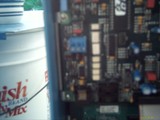 It was on one such excursion, with Gigi and Lulu that we struck trouble. We often walked down the main street, partly to shop, partly to exercise. One afternoon 23 July at about 3pm, Gigi and Lulu were walking about 4 or 5 paces behind Sasha and me when they were attacked from behind by 3 men. By the time I heard the noise and turned around, Gigi was on the ground and Lulu was starting to run after one of the attackers. I also gave chase but we were no match for young men. By the time we got back to Gigi only seconds later Sasha and local people were nursing her head and there was a large pool of blood on the ground. Within a minute the Police, on trail motor bikes and armed with shot guns, had arrived but too late to catch anyone. A minute or two later a police van, a bit like a paddy wagon, arrived and with Gigi in the front seat, drove the four of us to hospital. The robbers had taken Gigi's bag with only her good glasses in it.  At the hospital there were people with video cameras, we presumed the media, taking film of us, especially of Gigi with her blood soaked hair and blouse. Gigi received immediate attention and had several stitches in her head above her left ear. She could barely walk as her knee was already swelling as was her left hand. After a clean up and x-rays we were thankful to hear there was no other, worse, damage and, armed with prescriptions, were taken on the police van back to the Yacht Club. Apparently it was a news story on TV, radio and the front page of the local paper. Not that it was an unusual event but that it occurred in the main street and that Gigi's blood covered head made quite an impact.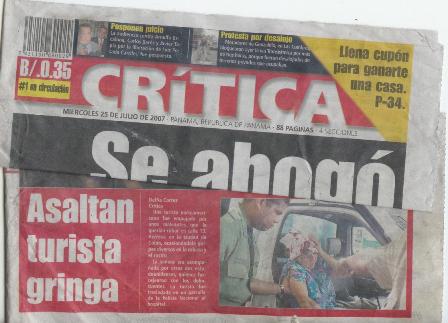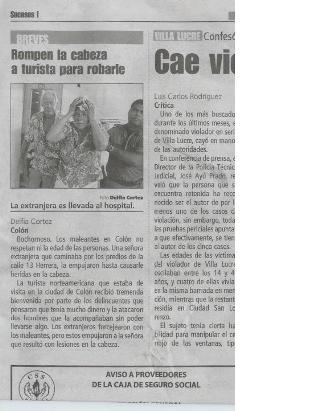 Needless to say we went everywhere by taxi after that. At a fare of $1 to $2 to go anywhere in the vicinity it was cheap enough but no exercise. And we learnt to pay attention to Australian Travel Advices which we subscribed for to be e-mailed to us on a regular bases:
Panama
Panama overall

This Advice is current for Wednesday, 01 August 2007.

Darien Gap beyond Yaviza
This advice has been reviewed and reissued. It contains new information on Safety and Security: Crime (update), Local Travel (update) and Where to get help (update). The overall level of the advice has not changed.
·                                 We advise you to exercise a high degree of caution in Panama because of the high levels of criminal activity and incidents of civil unrest.
·                                 Pay close attention to your personal security and monitor the media for information about possible new safety or security risks.
·                                 We strongly advise you not to travel to the Darien Gap, beyond Yaviza, because of the risk of violent criminal activity.
·                                 Australia does not have an Embassy or Consulate in Panama. The Australian Embassy in Mexico provides consular assistance to Australians in Panama. The British Embassy in Panama City can also provide consular assistance to Australians.
·                                 Be a smart traveller. Before heading overseas:
o                                                        organise comprehensive travel insurance and check what circumstances and activities are not covered by your policy
o                                                        register your travel and contact details, so we can contact you in an emergency
o                                                        subscribe to this travel advice to receive free email updates each time it's reissued.
---
On this page:
Terrorism is a threat throughout the world. You can find more information about this threat in our General Advice to Australian Travellers.
Panama/Colombia border area: The border area between Panama and Colombia is volatile due to the presence of violent Colombian separatist terrorist groups and drug traffickers. Foreigners have been kidnapped and murdered in this area.
Civil Unrest/Political Tension
Protests and demonstrations, primarily concerning local social and political issues occur, frequently and are often centred on the campus of the University of Panama in Panama City and on main highways. You should avoid such events as they may turn violent.
We advise you to exercise a high degree of caution in Panama because of the high levels of criminal activity and incidents of civil unrest. Pay close attention to your personal security and monitor the media for information about possible new safety or security risks.
Darien Gap beyond Yaviza: We strongly advise you not to travel to the Darien Gap, beyond Yaviza, in southern Panama near the border with Colombia, because of the risk of violent criminal activity.
Violent crime, including armed robbery and muggings, is prevalent. There have been occasional armed hold-ups in restaurants in Panama City, Colon and elsewhere. Travellers have been targeted by armed criminals, especially at Madden Dam, a tourist site north east of Panama City in the Chagre National Park. Other areas that have a high risk of crime are San Miguelito, Rio Abajo, Al Chorillo, Cancon, Curundu, Veracruz Beach, Panama Viejo, and Parque Soberania.
Incidents of 'express kidnappings', where victims are forced to withdraw funds from an automatic teller machine (ATM) to secure their release, have occurred.
Petty crime such as pickpocketing and bag snatching is prevalent at airports, bus terminals and on public transport.
You are advised to be cautious of approaches by visitors seeking access to your property. Criminals may use a number of scams to gain the trust of the victims and identify the potential victim's routine, then organising robberies with other gang members.
Use only registered taxis and wherever possible, call a taxi rather than hail one off the street. Do not share taxis with unknown passengers, and always sit in the back of the vehicle.
Road conditions, street lighting and vehicle maintenance are generally poor.