Archipelago De San Blas, Panama
Category: Caribbean
Created: Wednesday, 27 June 2007 16:32
Written by Roger Boxall
Hits: 2719
Archipelago De San Blas
Hollandes Cay, Archipelago De San Blas
It is Friday 15 June 2007 and we are now settled into the "swimming pool" anchorage close to Calubir Island, part of Islas Maqui or Hollandes Cay, in the Archipelago De San Blas less than 8 miles off the East coast of Panama. The more we see the more we like.
At the moment there are 12 cruising yachts anchored in the general vicinity. Although more North Americans than any other, there are vessels from all over the world, French, Swiss, Finnish, Swedish and even another Aussie. We are almost surrounded by small coconut tree covered tropical islands. Each one is apparently owned by a local Kunas Indian family who live a mostly subsistence live style. They have their own original language and also speak Spanish but very little English so Sasha and I are working through the Spanish learning CD and workbook that we bought in Puerto Rico. The Kunas paddle and sometimes sail their dugout canoes around the Islands that are less than a mile apart. When a canoe comes by to sell live crayfish and crab (huge ones with claws the size of a hand) or fresh local Mango and Avocado, there is usually 3 people, 2 paddling and 1 bailing out water.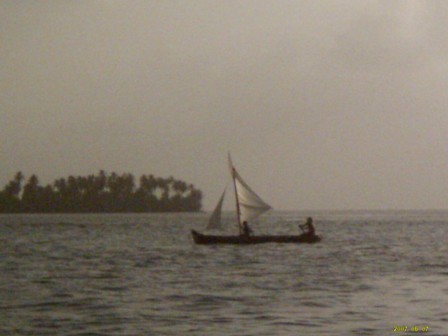 Their homes are what you might call fairly basic.  Small, a few metres square, hut of tree trunk frame, split bamboo woven together for walls and roof of palm tree fronds or leaves with dirt floor. No electricity.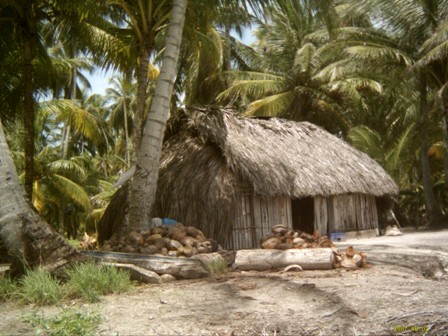 This morning we had our first squall, it has been raining most days but not much wind, today it was about 30kn for  a few minutes. One yacht dragged their anchor and went very close to ending up on shore.
I had mentioned earlier about on going issues with the fridge. Well, after much diagnosis, over a few beers, I decided that since the compressor worked continuously and the freezer temperature was not getting as low as it used to, it was either a bung compressor or lost refrigerant. We had bought refrigerant, with oil and "leak stop" mixed in, in the US but found that the fitting was different to the one on our compressor so had not attempted to re-gas. I managed to borrow another fitting from Lulu and with a little ingenuity created a sort of adaptor. As soon as we started to add refrigerant the freezer temperature began to drop. We kept adding until the return line began to ice up then let a little gas out until icing stopped, now full!  The freezer is, at the moment, working like c charm.
Life in the Hollandes Cays just seems to have one day melt into the next. Little wind and mostly overcast, enough to keep cool. The nights are often still which has two disadvantages, it can get hot and sweaty in the cabin and, if hatches are left open, the bugs start to eat you. Sasha in particular has a reaction to no-see-ums, sand flies, but thankfully they don't worry me too much. We don't see too many mosquitoes on the boat but if on an island, when it is still, that is another question. On still nights we "fumigate" the boat by spraying insecticide into one closed cabin at a time then open the hatch with mesh covers and put the mesh net over the companionway. It seemed to work quite well. Thankfully however, there was usually some breeze. More "excitement" is bought by the frequent thunderstorms. Mostly they occurred at night, early hours of the morning. Sometimes there is strong wind for a short time, once 45kn for about 5 minutes, then it dies off but a lot of lightening. Sometimes so frequent that the light is almost continuous. Many cruisers discuss various protection methods, it seems many have been hit by lightning, destroying virtually all the electronics on board. One guy lost everything, including the alternator on the engine. Most take some, hopefully, mitigating action, put the laptop in the oven, effectively in a metal cage, wrap a spare GPS in aluminium foil, even connect heavy battery leads to rigging and dangle in the water. Having done some lightning studies in my earlier days of Communications Engineering, I know there is no real protection, just things to do to try and minimise damage.
Over the days vessels come and vessels go while a core of stay hards just while away the months. One yacht has been there pretty much continuously for about 2 years! One afternoon a very nice, 50 plus foot, yacht came in with a familiar looking flag, a Kiwi. Malcolm and Joanne, from Nelson on the South Island had been sailing Sarau for the last 5 years. They had sold they boat design and building business, designed and built their cruising vessel and were now enjoying retirement aboard. They were not so keen on the tropics and had spent most of their time in more temperate, I would say bloody cold, waters. From their point of view nothing compares to the Southern Ocean and seeing Cape Horn appear out of the most with 6 inches of snow and ice on the deck. Mad if you ask me but they are real sailors, have been sailors all their life, have kids who are sailors (one an Olympian) and like nothing more than major ocean crossings in a vessel built for that purpose. They had a few computer issues so Sasha volunteered to load some new navigation software and charts on their PCs. Three days, worrying sleepless nights and much frustration later it was pretty much done. Many, many problems were eventually overcome. Sasha worried so much about possibly ruining there navigation electronics as they used only PCs, no chart plotter.  When they left, at the same time as Roi Soleil and us, everything was working, for how long, who knows!!  Software of dubious origin is always risky.
After over two blissful weeks it was time to head to Colon, the major city at the Eastern end of the Panama Canal to check in, clear customs and immigration. We had learnt that new laws were in, as of the end of May but people were unsure of their ramifications. It appears that a cruising permit is now only valid for 1 month and that, by returning to Colon, you may get a 2 month extension. We will see. At 11am on Wednesday 27 June 2007 we pulled the anchor. Well sort of. Two days previous we had seen that the anchor chain was caught around a rock (not a coral bomby) on the bottom. I had been able to swim down (7.5m) and get it partly off but not totally free. At 2am we had a thunder squall that lasted over 2 hours and when I swam over the anchor in the morning I found the chain had dragged the rock and was also caught on a coral bomby. After 3 attempts, and nearly drowning, I managed to free the chain. Then, when Sasha tried to operate the anchor winch, it again, as it had done in Puerto Rico, refused to work. After some gentle persuasion, with a large spanner, it worked again - more investigation required.  At least the chain did not get caught.
Hollandes Cay – Colon
As we made our way though the coral reefs and small islands in company with Roi Soleil and Sarau the wind picked up a little almost dead astern so up went the gennaker and we ran with it making 4 knots for a few hours, dropping it just before we arrived at our overnight anchorage at the small islands of Chichime. Before we had dropped the anchor, amongst 8 other vessels in a very confined space, local Kunas women we alongside in dugout canoes trying to sell Molas. Mola is a cloth with needlework patterns stitched by hand. Very much the local thing to be sold to tourists with each piece varying in size from just a few centimetres to almost one metre square and price from $1 to $30 or more. We were not interested but Gigi bought several. Next 2 guys came up in a dugout with 3 crabs, nice big ones, $2 each, chilli crab for dinner tonight, Gigi and Lulu joined us. Sasha slaved away in the galley on a hot still evening with sweat dripping off her but she said she loved it. The result was a wonderful dinner.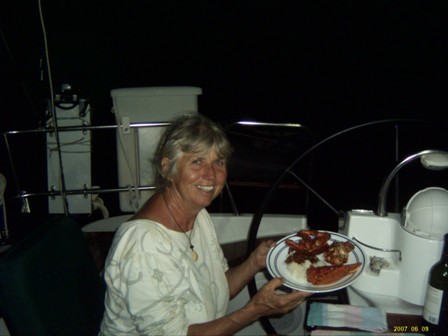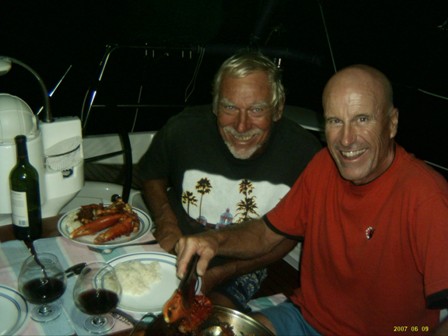 Next morning we scheduled an early start, Roi Soleil left just as it started to rain, we waited and sat through rain and lightning for an hour. We left after the rain with some blue sky breaking through ahead of us to the West. With next to no wind we were in for a day of motoring to cover the 40nm to Linton, just past the resort island Isla Grande. Ah well, exercise for the engine and a chance to fully charge batteries. Thankfully Linton was a much larger anchorage although mostly in 12m depths. There were about 15 boats as we arrived with Roi Soleil (Sarau had continued on towards Colon the previous day). Now we were surrounded by rain forest covered mountains on the mainland and the islands, a stark contrast to the coral islands making up the Archipelago De San Blas. Noises like loud bird calls turned out to be Howler Monkeys. Linton was also a small village of 40 to 50 houses and the Panama Yacht Club Annex. Apart from the Annex, all very very basic although, being on the mainland, there was electricity. Houses were not thatched huts but made from concrete blocks with mostly metal roofs, almost all in a fairly poor state of repair. Drainage was straight into the ocean, but we were anchored about half a mile from shore so we swam in reasonable "safety"!
The highlight of our stay no doubt was the visit to an adjacent small marina and restaurant run by a French couple. The next afternoon Gigi and Lulu came with us on a reconecance mission to find the channel through the Mangroves to the marina. Another French cruiser had told Lulu about it as it was not on the chart or the Panama Guide. After a short while we found a very shallow channel entrance that we could only just get over at the low tide (tidal variation was only about 0.5m) that opened up into a mangrove lined waterway about 30m wide. It seemed at first that the far end was a dead end but as we got closed we could see that the channel narrowed to only a couple of metres wide but still deep enough for the dinghy.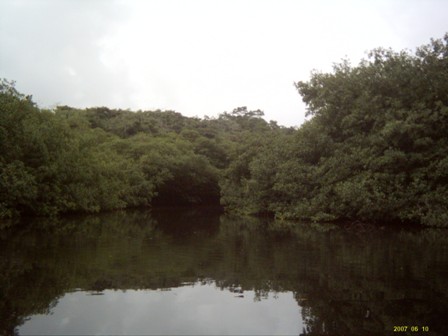 The channel continued with mangrove trees growing completely overhead such that you could barely see the sky. A guy came the other way paddling a dugout dragging a fishing line from his mouth! There was hardly room to pass so we pulled over to the mangrove roots and he continued on his way. Soon the channel widened out again ands we could see the "marina" in front of us.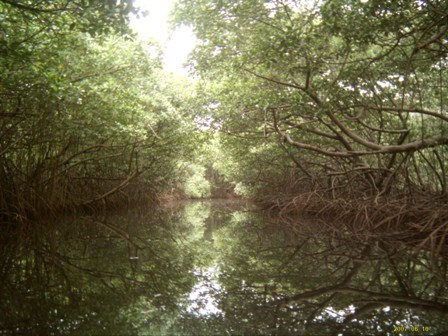 It was really a mooring field with boats almost side by side tied to moorings with two lines forward and two aft, maybe 60 or so boats. Apparently owners leave their boats here to go away or home. Some just use them at holiday time.  After motoring around for a while we found the restaurant, operated by the marina owners, a short walk from the dinghy dock. The menu was French/local style with a mouth watering ice-cream deserts and no dish over $6. We had to come back for dinner.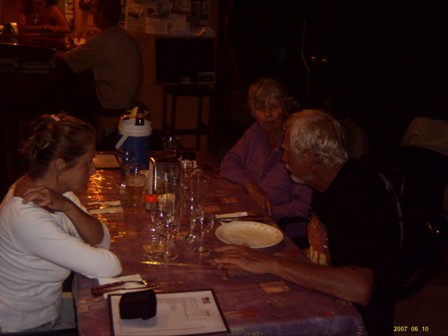 Dinner with Gigi and Lulu was no let down. In true French fashion the owners mingled with the guests. As it happened most of the people that night were French so I did not really understand all but it was good practise for Sasha. The trip back though the mangroves at night was fairly uneventful didn't get lost or anything!
We decided, next day, to have a look around a little further a field towards Isla La Granda, about a mile and a half by dinghy. We found "the Chinese shop". Here a Chinese shop is not necessarily a shop with Chinese products or food but one that is run by Chinese people. Now we know what cruisers and the cruising guides are talking about when they say "a Chinese shop". The Chinese shop was not very sophisticated, they sold petrol for example, decanted from some sort of storage tank, into plastic drums about 40lt size and then into your container, all on the concrete shop floor, not far from the food and hardware, and not too concerned about spilling so you smell petrol all the time.
It had been raining so the roads, more like one lane tracks around the village were very muddy, dirty and smelly from the disguarded rubbish. Never the less there were some beautiful spots along the water and a huge disparity between the rich and the poor. Hills behind the village were very steep requiring considerable energy to climb in the warm tropical afternoon but the views certainly made it worthwhile. On the way back we stopped at the Chinse shop for an icecream - very sweet.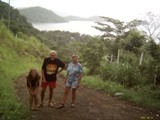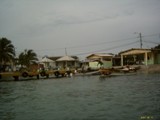 On the way back to the boats we saw monkeys (Howler monkeys I think)  on one of the islands and stopped for a closer look. They walked and stood upright, one even came out to the small jetty. Lulu suggested we keep a sake distance as they can be quite ferocious. First monkeys we have seen since we started cruising,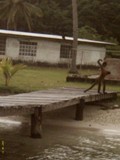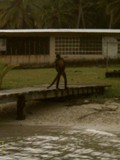 Next morning we set off, with just enough wind to sail, for Colon. The sailing didn't last too long and before long we needed assistance from our 56hp Yanmar.  The fishing line was out the back but although various lures were tried, no success. About half way to Colon the breeze picked up to about 10kn so we had a lovely gentle beam reach on a calm sea. There had been quite a bit of debris in the water, mainly pieces of trees, for most of the way but it suddenly became so dense that we could not avoid it all. The sea was literally a mass of tree branches and logs so we just had to try and miss the big ones. Being Sunday it was my head shave day. I am so bald it may as well be shaved. My shaver had been playing up for some months and no amount of cleaning and reassembly seemed to help. Again it buzzed and clattered, no shaving well at all, finally, fed up, I threw it, still running, into the ocean!  By mid afternoon were into the Panama Canal approaches and counted 23 ships at anchor in the outer, Caribbean Sea anchorage, outside of the sea wall that encloses the huge protected anchorage of Colon. There are two canal entries through the break water, each about 100m wide. The more Southern one is used more for smaller vessels while the more Northern generally for larger but not always the case. Yachts, we were told, should use only the Southern so we headed in only to be confronted by a huge bulk carrier coming out. We passed just inside the sea wall, far too close for my liking. Once inside the break water we motored around a myriad of anchored ships towards the Flats small boat anchorage used by most cruisers coming or going through the canal. Adjacent to the Flats is large finger wharf, on the other side of which is a seatainer terminal and the Panama Canal Yacht Club. As we came into the Flats we saw several familiar vessels including the Aussies, Alan and Dee on Sunflower, Malcolm and Joan on Sarah and of cause Gigi and Lulu who had motored on ahead of us. It soon became apparent that, like the Hollandes Cays, thunder storms were almost a daily event as we were welcomed by one that evening.
On Monday morning, 2 July 2007 we went ashore for customs clearance and immigration. Alan had organised one of the locals to take us, along with Gigi and Lulu, through the process and just as well too for it was somewhat arduous. Armed with all our documents we first cleared customs at an office on the yacht club grounds, about half by the time all the formal stamping and signing was completed. Next off the a stationary shop to get multiple photocopies of all our documents, about 15 in all ( at least 3 copies of vessel registration, crew list, passport etc. Over the road to the immigration. Having a ""guide"" made it faster I am sure but it still took over half an hour to get our photos into our passports with the payment receipt stamped across. Our visa was for one month but could come back after a month and get a two month extension. If you stay longer there is a fine of about $15 per month which is about the same cost of the visa per month anyway. Make much sense to you? Next, a couple of blocks away, to get a cruising permit that effectively allows your vessel to stay in Panamanian waters for up to 3 months. Again more papers in two separate officers. The last one was a bit of an issue as we did not have a zapper, clearance out from our last port of call. After repeated explanations the guy finally believed us that the US ( Puerto Rico) does not require, or even give, any clearance out of the country. Two and a half hours later we were back at the Yacht Club all official!