Outer Bahamas
Category: Caribbean
Created: Tuesday, 17 April 2007 16:29
Written by Roger Boxall
Hits: 2657
Outer Bahamas
"OUTER" BAHAMAS
George Town to Long Island
On Monday we relocated back to the George Town. Anchorage, within wifi access to send/retrieve emails and make a few phone calls. I spent the afternoon trying to splice an eye into double braided line (rope), without success while Sasha updated our web site with improved navigation from the home page to journals, with some success.  Most of the businesses and government agencies were open Tuesday so we went to the Post Office to see if our parcel had arrived, but found there had been no mail today. Would there be mail tomorrow? Maybe.  As we were walking along the street we saw a small sidewalk stall advertising Conch cooked in various ways as well as Conch salad so we went for a look. The lady behind the open air bar about 2m long was cutting up Conch salad with a knife about the size of a machete. Apparently she would not be cooking Conch, only Conch salad. We declined and started to walk away when a fairly big local black guy put his arm around my shoulder and pulled me away from Sasha. He said I should take Conch salad as it gives a big boner and the lady cutting up salad made the best.  I laughed and declined, he said that my lady would leave me so we banted and laughed for a few minutes. People here are very open and have a great sense of humour.
Wednesday 11 April it was off to the Post Office again to see if our parcel had arrived. Mail was in but no parcels, maybe parcels will come tomorrow. We had decided we would wait no longer so negotiated an arrangement to have it sent on to Puerto Rico (a friend Carlos from GE is from Puerto Rico and we have arranged to us his Mum's address to have things sent to). Tomorrow we get out of George Town, we have been here two weeks, one week too long and there is a schedule, believe it or not, we must be in Trinidad (below 10.5 degrees North) by 30 June at the absolute latest to be out of the hurricane zone and thus still have insurance cover. It rained overnight so Ednbal got a nice fresh rinse before we set sail just after 7am for Thompson Bay, Long Island about 34 miles. With less than 10kn of wind abeam we started off motor sailing and once through the cut out to the ocean turned off the engine. It was a glorious sunny warm morning so after breakfast we furled in the headsail and put up the asymmetrical spinnaker or APS (all purpose spinnaker). The wind had dropped to 6kn dead abeam, 60 degrees apparent (for those non sailors, the apparent wind direction is different to true because the vessel is moving, forward hopefully). It set beautifully and we sailed at 4kns. Once out of the land and sea park the fishing line went in the water. A couple of yachts overtook us, motoring. The skipper of one came to see us at Long Island to ask how we could fly the APS so close to the wind. Before long the fishing reel screamed and Sasha landed another, larger than before, Barracuda, well over a metre long. The poor thing had the hook caught in the top of its head. We released it and off it went. Before long we were back on Bahama Banks in 3 to 5m deep water, magnificent turquoise water over the ever present white sand bottom.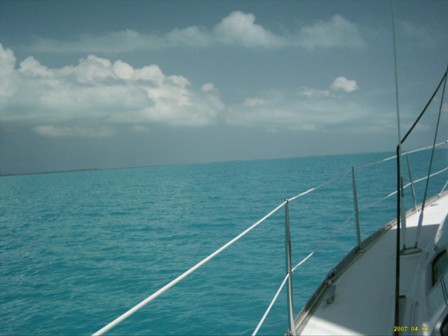 Not much chance of catching anything here so I looked out to the lure and saw it splashing,"" must be some weed on it I thought"".  Then I realised it was a fish chasing it and called Sasha at about the same time as the reel started to scream. Another barracuda but the first time I has seen a fish chasing a lure.  As we approached Long island, after passing several others, the wind died out completely and a few puffy white cumulus clouds appeared, the bottoms of which were also turquoise from reflection of the sun off the water. What a sight! One of the reasons for going to long Island was to check out the blue holes, several of which were marked on the chart. There was supposed to be one in the outer part of Thompson Bay but as we motored around the general area we couldn't find it. There were half a dozen or so other vessels, mostly yachts, anchored in the bay about 3 times the size of its names sake at Rottnest Island off the coast of our home port, Fremantle. The bay was about 3 miles long with a couple of small islands in the middle. Most of it was shallower than our draft of 1.5m. After swim to check the anchor, buried deep in a silty white bottom in 2.5m of equally silty low visibility water, we had a chat to one of the other yachties. Apparently the most attractive blue hole was just outside Clarence Town, 10 or so miles further South. Best way to get there was to walk the short distance from the shore to the main road and hitch hike.  We decided to give it a go the next day. It had been a fairly long day in the sun so we settled back for Vodka, Vermouth, pineapple juice and sliced orange sundowners followed by steak and vegies on the barbie.
Sasha to take a packed lunch and a couple of beers into the picnic backpack, given to us by my son and his girlfriend, and we set out of the Clarence town blue hole at about 9am. After trying a couple of paths we found our way to the main road and hitched our first lift to the close by town of Salt Pond. There a lady, filling her car at a petrol station offered a lift, it may be a bit slow as she was taking part in a political parade but could take us all the way to Clarence Town more like 20 miles than the 10 we had been told. As it turned out the day, Friday 13 April 2007 was ""nomination day"" for the up coming Commonwealth of Bahamas election and we found ourselves in the independent, James H Miller part of the parade. In front of us was a car towing a trailer with huge speaker boxes strapped to the back and a few people hanging on the sides the a guy yelling the virtues of James H Miller through the microphone over the top of thumping island rhythm election songs for the espirering  candidate.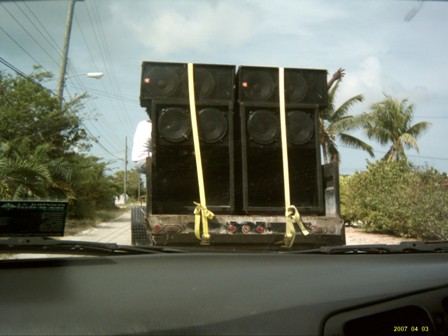 At one point there was a problem with the CDs and the people on the trailer wanted others so ""our driver"" moved up alongside (one pretty much a one lane road) so that Sasha, sitting on the passenger side of the car, could pass the CDs to someone on the trailer. A little hair raising but all good fun!  A little further down the road we stopped at a house, the headquarters of James H Miller. Here green tee shirts were being given to all the accompanying parade supporters, which now included Sasha and me. The tee shirts bore the name, Jame H Miller, a small map of the area he was representing, Long Island and the Rugged Islands along with his platform slogan "ready to serve".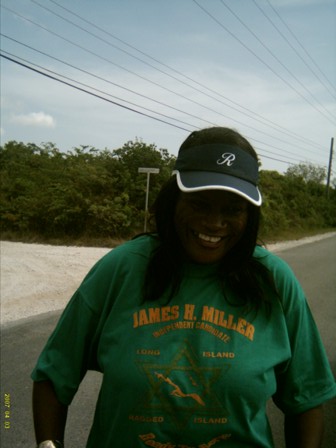 As we continued the drive, adorned with our new tee shirts our driver and Sasha waved other green tee shirts out the window of the car when ever we went past any buildings (my window winder was broken so I was spared!). There we were full political activists, well Sasha at least!  Finally, over an hour and a half later we bade farewell to the political scene and started walking in the direction of the blue hole. We got a ride with a "Luthavain Swedish Canadian" lady who, with her husband, had a house on Long Island. She went out of her way to take us all the way, a couple of miles over dirt, one way, tracks to the Dean blue hole at Turtle Cove, past a house flying New Zealand flags. She even walked down to the hole with us before we wished each other well and she drove away.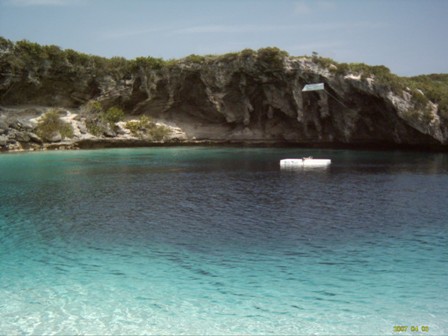 It would be quite a walk back to the main road, there we're no other cars at the blue hole just a couple of guys fishing and they soon walked off. It turned out that the Newzealnders were there attempting a world depth free diving record. In the middle of the 600 plus foot deep blue hole was a small tethered platform and on the rock wall a banner proclaimed a world record attempt. After a swim over the blue, almost black, hole we climbed up a rock path to the hill top with wonderful views down to the blue hole as well as over the ocean. Sasha prepared the rice crackers, smoked oysters, cheese, tomatoes and gherkin lunch while I had the arduous task of opening the beers. Although the rocks were a bit uncomfortable you could not beat the view in a gentle breeze on a sunny afternoon.
As we were eating lunch a few others arrived at the beach and one guy climb to the top of the hill where we were. He was a Kiwi running a 112 foot charter boat and knew about the world record free dive attempt. Apparently the Kiwis staying in the nearby house were diving and on Monday last, one guy, with goggles only, no fins no weights, set a new world record of 268 feet. He can hold his breath for six and a half minutes. There is a rope hanging down and he is allowed to touch it once only. His technique is grab it when he needs to turn around and start heading back up.  After another swim and a walk along the beach we started to head back. There were 3 cars in the "car park", the turn around point at the end of the track. A few minute down the track one of the cars came by and gave us our first lift back, out to the main road and a mile or so in our direction. From there we walked and hitch hiked back to Thompson Bay, picking up about 4 more rides, the last in the back of a ute (pick up). It was a great day, meeting so many local people and seeing the now famed Dean blue hole, finished off with rum and coke sundowners follow by Sasha's Cajun blackened Amberjack fillets with Mango salsa.
Long Island to Conception Island
From Thompson Bay we sailed Northward for lunch in Alligator Bay before continuing to Cape Santa Maria. Water temperature now 81F, about 27C, beautiful swimming.  We had planned to sail Conception Island Sunday afternoon as the forecast was for the wind to swing South ahead of a cold front and our major leg course to the Island was 71 degrees. When we woke on Sunday morning it was already almost South, from the East when we went to bed. So, change of plan, we set out for Conception Island straight after breakfast expecting the wind strength to be as forecast, 15kn.  It started out that way but within an hour was over 20 gusting to 25 and a little East of South so we were close hauled. With headsail and main at 3rd reef we were making 6kn, taking the odd "greenie" over the bow a some spray into the cockpit. As we neared Conception Is we copped one big wave that wet everything, me included, standing at the wheel. We sailed through the entry to the Eastern side of Conception as the forecast cold front, due in the early hours of Monday would see the wind swing rapidly from South to North West.  In the mean time, with only a 2 to 3m deep reef protecting us from the ocean it was very rocky and rolly. Turned out to the worst night t anchor so far. Ednbal creaked and groaned, crockery rattled, even the cutlery sloshed about in the draw. Every time I got up I almost fell over, and no I had not been drinking. At around midnight the wind swung to South West which put us side on to the waves coming around the Island and across the reef, even worse. There was not much sleep to be had! Then, just after daylight, the front passed over, one small shower and the wind swung over 90 degrees to almost North. Suddenly everything settled. You would think you were transformed to a different place. What a change although much cooler. Really the same as we are used to in the Southern hemisphere just the wind directions differ.
With it being cloudy and cool we went for a walk along the deserted beach after breakfast.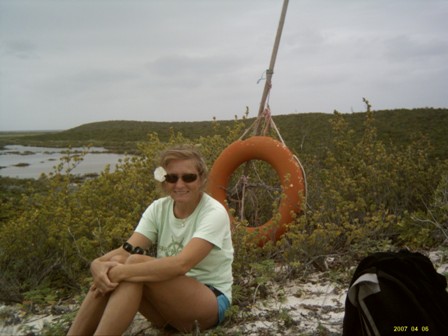 Over the 4 miles or so I picked up several "treasures", shark clips off washed up buoys, some small floats to the nylon dingy tow ropes and a couple of fishing floats.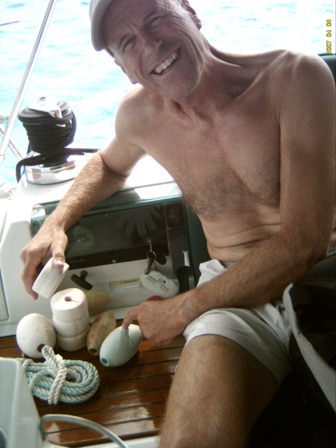 Sasha has something wrong with her not so good left eye. The bottom eye lid is becoming swollen, looks like it may have bitten. We are applying the antibiotic cream just in case but it is painful and causing quite some discomfort. In the afternoon I made a looking bucket. A large plastic bucket with a cracked bottom we found near George Town and a piece of perspex we bought in George Town. I cut the bottom out of the bucketing cut the perspex to fit and put it in place with silicone. It even worked. While still a little rolly, from ocean swells coming around the island, the night was far more comfortable than the previous as a rescue operation took place on Conception Island.
Earlier in the day we had been joined by two other vessels, a sailing Canadian Catamaran called Beach and a commercial vessel called Caribbean Explorer. In the afternoon a twin engine plane made 3 very low passes over us. A little later the skipper of Beach called Caribbean Explorer to ask if they knew about the 2 Bahamian guys that went adrift from Long Island the day before, they hadn't heard anything. Apparently the 2 were in a dingy with on outboard and had been spotted by the plane on the other side of Conception. While the conversation was going on 2 guys came over the hill onto the beach. A party went ashore, confirmed that they were the missing people, took them some food and water and then advised the "authorities" were advised and a vessel would be dispatched the next day to pick them up. About mid Tuesday a Bahamian rescue vessel arrived and picked up the missing persons. Pretty lucky to drift from one island and get washed up on another less than 20 miles away.
With lovely settled weather we move a couple of miles up to the Northern end of the island and anchored between two big coral outcrops. In the afternoon we swam over and around them for over an hour before going for an evening walk on the beach around to the northern side. Sand was so fine that Sasha could not resist building a sand castle while I untangled a rope, just for the hell of it. I carried out some wind and current "experiments" by throwing some of the floats found on the beach into the water.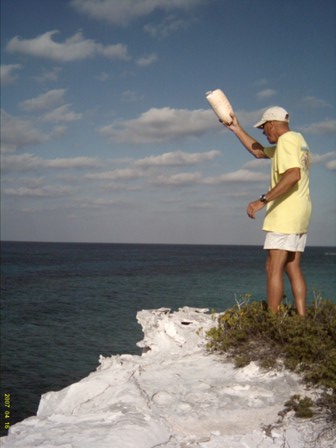 We, well mainly me, threw rocks off a cliff, all that good kids' stuff that makes you feel 13 again! Back on Ednbal it was Bloody Mary sundowners followed by bbg lamb and vegies while still light just after sunset.
Conception Island to Rum Cay
Wednesday was forecast 5 to 10kn Westerly, just right to fly the gennaker or APS  for our 135 degree 16 mile run to Rum Cay. It was just 5kn as we left at 8:30 but soon the ocean was mirror calm with only a gentle rolling 1m Northerly swell so it was motoring all the way. Sasha "minded" the fishing line, making "delicate adjustments" to the lure distance. However all the adjustments and wishing was to no avail, no fish today. She made an observation, we have never caught a fish while motoring, hm.
As we sailed into the anchorage at Port Nelson, Rum Cay, we saw one other yacht, a 35ft cat, flying a Australian flag. Ashore we walked around the sparse Port Nelson settlement, one short stretch of sealed road (the rest dirt)  one small grocery shop, "restaurant" (one room, trestle tables and assortment of plastic chairs with a tiny bar to one side), police station and post office. We had hoped to find out about our parcel in George Town but there was a note up on the door of the post office saying closed from midday, reopening Monday.
We met the owners of the catamaran, Mark and Jane Hannaford, about our age, who had taken a year off to go cruising, members of Royal Perth Yacht Club. They recently bought the vessel in Florida and registered her in Oz with Fremantle as home port as they are from Jolimont, a suburb of Perth. This time dinky die Aussies. They joined us for a roast dinner, meat that Sasha had in the freezer for just such an occasion. A few beers and a couple of bottles of red later we all agreed it was a great evening.
Mark had a few electrical issues on his vessel, 9 lives, so Sasha and I offered to have a look. The engine starting batteries were not being charged by the alternators and there was no output from the solar panels. We traced the fault in starter battery charging to original wiring. They had never charged from the alternators and likely gone unnoticed as they were always recharged from shore power. We also "jury rigged" one solar panel but the second one seemed very ill. Apparently the vessel had been hit by lightening before they bought her and there were still things wrong. By late afternoon we finished, Mark and Jane were quite happy that some of their energy woes had been overcome and departed for Mayaquana Is, about one and a half days sail. We planned to sleep and leave around 1am for the Crooked and Acklin Islands. The wind had shifted more towards the North resulting in a side on slop from the ocean swells. After an hour in bed, not being able to sleep because of the noise as well as the rocking and rolling, we gave up and set sail. What a gorgeous night, clear with 12 to 15 kn behind us. We sailed in goose wing style for many miles with Ric the auto pilot easily in control. By dawn the wind had shifted a little more Northerly and was down to a fairly consistent 10kn so out went the gennaker. Running just a few degrees off straight down wind we had problems keeping it filled until we bought in the mainsail and flew the gennaker only, doing about 5.5kn all the way to the Windsor point entry to Crooked Island early afternoon.
There were 5 yachts anchored almost in the lee of Long Cay but spread over about 2 miles, so plenty of room! We were both very tired so time for a nap before dinner. By morning the wind had shifted more East to about 70 degrees which meant we were no longer in the lee of Long Cay but had the wind coming in from the Bight of Aklins with a 20 mile fetch but being only 12kn or so it was still quite comfortable. It was a lazy day giving Ednbal a clean, swimming and deciding our next moves with increased wind strengths forecast in a couple of days. There was a jetty shown on the chart about 2 miles further up the shore so the next day, Saturday we moved to anchor opposite the jetty but still about 3/4 of a mile from the short due to the shallows. At near low tide we took the dingy, Tadpole, through the dingy channel to shore and walked about a mile, over a very rough limestone track, to Albert Town settlement, population not many, houses, a few, power station, one open running a 40kW Lister. Yes, being ex electrical utility Engineers we couldn't resist walking into the completely open power station. One machine running, two others in pieces. If the one machine stopped then that's it, no power for the thriving metropolis of Albert Town.  There was no grocery store or any sort of shops so we couldn't even spend any money. We did however chat to one of the locals who told us that Pink Flamingos could be found at the beach area about half a mile East of the jetty where we had left the dingy. By the time we got back to Tadpole the tide was just rising so headed towards the Pink Flamingo's beach past a yacht, high and dry. There were Flamingos, about a dozen, on the beach. Even in Tadpole, drawing less than 20cm of water with the motor up, we could only get within about half a mile so could only just see the Flamingos. Still we did see Pink Flamingos in the wild.
Our plan was to cross the Bight of Aklins on Sunday to check out Aklins Island and, in its lee, get protection from the forecast 20 to 30kn Nor'easters forecast for Monday. First we had to get through Saturday night! In the early hours Sasha awoke to strange noises from the bow. I said it was just the anchor chain on the bottom but she was not convinced. Thankfully she got up and investigated. The wind had dropped and the current changed. Tadpole, out on a long line, had ended up over the anchor chain and, with the wind back up again was pulled very tight on the tow rope causing the anchor chain to rub on the side of Endal's hull. Not at all desirable! 15 minutes of frantic activity ensued trying to pull in anchor chain to give slack on the dingy tow rope, trying to untie the dingy without losing it and extending the tow rope so that we could get it back from around the anchor. After considerable effort we got there.
Rum Cay to Crooked Island and Bight Of Acklins
Sunday morning, although a little cloudy, heralded a lovely day with 15kn from about 70 degrees. Our route took us 4 miles into the wind before turning SE to be almost on a beam reach for 15 miles to our next anchorage in Delectable Bay on the Eastern Western side of Aklins Island. We motored the first 4 miles then sailed. The depth sounder registered a constant 2.7 metres for virtually the whole way over the sand bottom, quite incredible. As the old saying goes, no line in the water no fish, we picked up 3 Flathead trolling!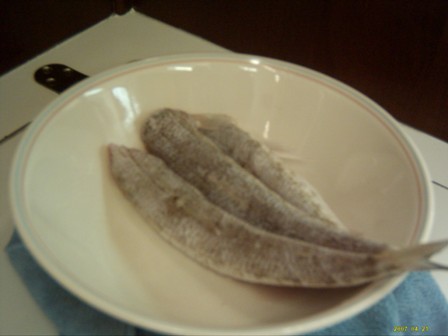 There were 3 other yachts in Delectable Bay, 2 we had seen at Long Cay. I took Ednbal as close to the shore as I dared,  anchored in 2.4m of water at mid tide, still about half a mile from shore and pulled up hard on the anchor with the engine 3000 rpm in reverse as usual.  Very soon the wind picked up and, in a brief rain squall, shifted over 90 degrees to NW.  One of the yachts dragged anchor. We heard, on the VHF radio that the holding in close, where the yacht was dragging and where we were anchored, was not very good as there was only a thin layer of sand over the limestone rock. To be safe we relocated a couple of hundred metres further out.
It was a fairly breezy night, we had Bloody Mary sundowners and fresh Flathead for dinner. Sunday 21 April was a clean up day with the power station (generator) running for washing water making and battery charging, even the freezer got a defrost. On Monday we took the dingy to the jetty about half a mile away, where the chart indicated fuel was available. We found the jetty in a very poor state, most of the timbers missing and the piles almost rotted through. The only part usable was the concrete apron, obviously the victim of another hurricane. On shore there were fuel bowzers but it they ceased operation long ago and were now just eroding away. A limestone road headed North, being the only one we set off hoping to get to the settlement of Spring Point. A little way down the road was another completely open power station, this time with 3 Caterpillar diesels, one operating, two in pieces, 90kW each. The one operating machine had smoke coming from the crankcase breather and a large puddle of oil underneath. A little further up the road we saw the first car.  Gerald, a Bahamas Telephone Technician gave us a lift to Spring Point, a little further, about 3 miles, than we had expected. We had hoped to find fresh fruit and veg but all that the grocery store had in that line was potatoes and onion so it just had to do. We managed to hitch a ride back to the jetty with a local, known a Froggy, who was quite amused by the story of our vessel name Ednbal.
On Tuesday we decided to go to the Post Office to find out if our replacement thermostat parcel had arrived at George Town and could be forwarded to Puerto Rico. This time we took the dingy to another small concrete jetty about 3/4 of a mile South where there was a road, according to our chart, into the settlement of Delectable Bay.  The road was a one lane limestone track reversing a mash with a power line along one side. We saw 3 dead Pink Flamingos off the side of the track and wondered why. Later we were told that they sometimes fly into the power lines. Sounds much the same as black swans at home in Western Australia. After less than a mile we came to the main road and the settlement of Delectable Bay the consisted of a dozen or so homes.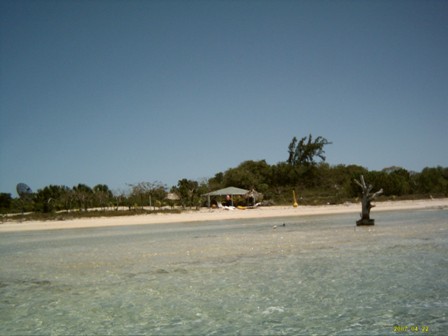 Hitching a ride so not so easy, there was no traffic, we found out there is less than 100 cars on the whole island. After about half an hour a car approached and the driver was happy to give us a lift, he was going to Spring Point a couple of mile up the road. He asked where we were going, to the post office, well that is a further 10 miles at ......... Bay. He was in Aklins From Nassau,  as part of a political team as the 5 yearly election was only 8 days away. He drove us all the to the Post Office over a partly sealed, partly lime stone but well pot holed road causing the well worn cars suspension to make all sorts of strange noises. 
At the post office we met the very helpful Yvonne who phoned Jackie at George Town. Our parcel had arrived the day after we left so Jackie had sent it on to Rum Cay as we had said we were heading there, despite our request to send it to Puerto Rico.  I spoke to Jackie, gave her the story about Rum Cay post office being closed for the best part of a week  and she said she would contact Rum Cay post office to try and locate our parcel. This would take some time so we headed for the grocery store about a mile up the road. No fresh fruit or veg, save potatoes and onion, here either. The proprietor chatted to us and left one memorable saying, in his view "Aklins, the only place better is heaven"!  After two rides back we were at the jetty by a little after 12 so settled under a tree on the beach for our picnic lunch that Sasha had backed in the backpack. Of course it was beer o'clock.
This morning, Wednesday it is still blowing around 20kn and forecast to continue from about 70 degrees, right about where we want to go.  Maybe some moderation by the end of the weekend with a weak cold front from the US but it may not reach us. We can only monitor the forecasts and wait and see. I spent the day working on the main engine alternator electrics, replacing the alternator temperature sensor, installing a change over switch to use the alternator internal regulator should the external one fail and tidying up the wiring with cable ties. Sasha started fishing with a string of very small hooks trying to catch small white fish we had seen over the sand. She caught 6, just enough for dinner with home made gnocchi. And unexpected catch - crab hiding below our anchor for apetiser.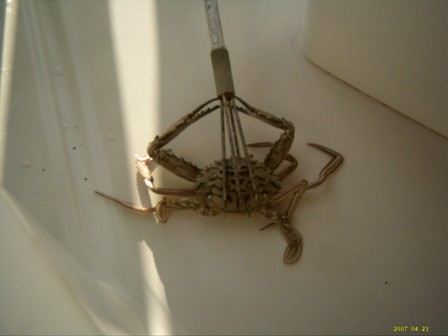 Thursday's weather was the same again but there seems to be a window of opportunity Sunday, although wind may be generally from the same direction it could be "light and variable". Even if we have to motor time is starting to become an issue, we must be down to Trinidad, out of hurricane area, my mid June, less than two months travelling mostly against the prevailing winds. We mull over route possibilities, go to the South of Aklins around Castle Island is the shortest way to get to Turks and Caicos (120 miles, 100 degrees from Castle Is but the passage from here, Delectable Bay, has some very shallow spots, 1.3m so even with the tide it would be touch and go. Alternatively go back the way we came across the Bight of Aklins the North to the North West corner of Crooked Is, East along the top of Crooked Is then still 130 miles to Turks and Caicos but at about 125 degrees or stop at Mayaquana about half way. It all depends on the forecast wind strength and direction. We don't want to get caught and have to bang into 20 to 30kn headwinds for 20 or 30 hours. While we have enough fuel it is always better to have reserve so in the afternoon we took a dingy excursion 3 miles into the wind to Spring Point settlement and fills two of our jerry cans, another 10 gallons. The trip back, with the wind was much better!  Based on the current forecast and the fact that there are some stops available on the way we decide to get ready to head back across the Bight of Aklins and up to Landrail Point tomorrow. Then,  Friday mornings forecast throws doubt on that plan as the cold front may in fact reach us and give more Southerly wind so better to head South to Castle Is. If that is the case we stay put today with the wind blowing even harder, up over 25kn in the anchorage. There is plenty of work to do on Ednbal. Sasha is not too happy. Her eye problem is back again and we have now been applying antibiotic ointment for 4 days as the symptoms indicate conjunctivitis. She catches a few more fish while I do some woodwork using the good old Black and Decker work bench, circular saw, planner and router to make a surround for the generator and timber cover for the wiring to our 24 inch "big screen".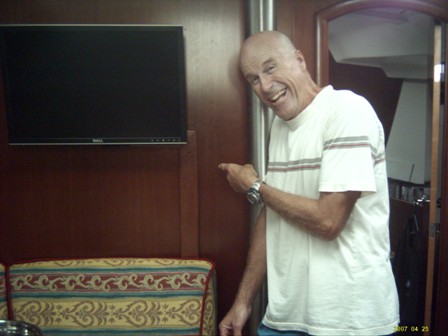 Aklins Island to Turks and Caicos group
The plan now is to head the  Southern end of Aklins and motor the 120 miles into the wind which is forecast to be down around 12kn on Sunday. We are both very nervous about the route from Delectable Bay to Salina Point. Some parts are only 1.5m deep but if we time it right, on a  to the rising tide towards the high, we ""should"" be OK. The only issue is that the chart also says that some areas are either unsurveyed or partly surveyed. The chart plotter has detail in some parts but not others. So, on Saturday, after lunch, we up anchor and, with about 15 to 20kn of Easterly we head South. Tide data shows that the first major shallows (1.6m) should have +0.3m if tide by the time we arrive and the second (1.5m) should have +0.6m. With just the headsail at second reef we sail at 5.5kn but soon see we will arrive at the first shallows too early so, with the breeze astern in comes the sail and we still make 3.5kn until the next way point there we turn 60 degrees.  Most of the time it is 2.4 to 2.2m deep. As we approach the first shallows I start the engine and bring in all sail ready to back up in a hurry if we touch the bottom. Echo sounder alarms start going off at 2.1m, soon it is up to 2 then 1.9. We agree to slow to steerable only speed at 1.8m and go back if it gets to 1.6.  For about half a mile the depth hovers between 1.8 and 1.9m but never goes below 1.8 that is nerve wracking enough thank you. We have two route alternatives for the next shallows. One is that shown on the chart, another takes us out to deep water, slightly deeper on the way but amongst coral bombies. We take the latter with Sasha standing on the bow keeping as good a watch as her infected eyes allow. The minimum depth we see is 2.1m, no problem.  Once in deeper water out goes the line and within just a few minutes the reel is screaming, unfortunately a Barracuda. Then half an hour later another one. Both are big fish, I bought one in, Sasha the other and our arms certainly know it.
Today the log clicked over 5,000 nautical miles, close to 10,000km.