Exuma Continues...
Category: Caribbean
Created: Saturday, 07 April 2007 16:28
Written by Roger Boxall
Hits: 1926
Exuma Continues
Exumas decent:
Warderick Wells to George Town
With a cold front forecast to go over Saturday night we decided to stay on the mooring and since there was a good wifi signal we paid the $10 for 24 hours access to update emails and the web site. As it turned out, seems everyone else had the same idea, it was so slow that for much of the time you couldn't even bring up a web page much less do much emailing or publish on our web site. After several hours frustration we went to the shore and the park headquarters to see if was any better, but no. Instead we went swimming. Despite again trying the net many times, even at night and early in the morning, it was no better. What a waste of energy!
On Sunday it was off to O'Brien Cay to snorkel a crashed light plane and the Sea Aquarium. We had a lovely sail South with a Northerly breeze at around 12kn. We dropped anchor at the anchorage, marked in the pilot, in the lee of Cambridge Cay, a short dingy ride to O'Brien. Anchoring was a bit strange with the current stronger than the wind. When I swam over the anchor the chain was in a big semicircle, again in crystal clear turquoise water 3.5m deep. By pure chance we found the sunken plane. As we were heading in the general direction we saw a runabout and some people in the water, they were looking at the plane. It was in about 4m of water on a sandy bottom and had some corals starting to grow on and in it. Nearby there were many coral outcrops, one rising a good 3m from the ocean floor. We swam around it all for quite some time. By chance it was slack tide but after a while the water began to run so we headed back to our anchored dingy, fortunately with the current. Later in the afternoon we went for a walk along the trails and hills of Cambridge Cay that is privately owned but visitors are allowed ashore.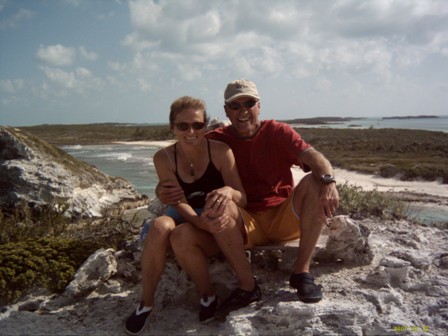 The views of the ocean with all its colours from near white to greens and blues were stunning.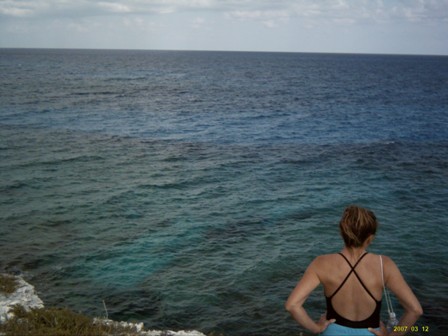 Along the path were native apple trees, we picked a couple as Sasha was planning chicken with potato and apple mash for dinner.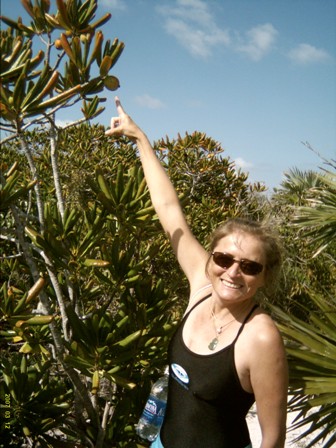 Once peeled and tasted however, we reverted to the golden delicious we already had on board!
It was a very breezy night, well it felt worse than the 25kn or so because of the current. We had anchored further out than others and ended up in the stronger current. Many, most, of the Exuma Cays are small longish islands separating the deep Exuma Sound from the shallow Exuma Banks. Between the Islands there are the narrow cuts with strong tidal currents of 3 or 4kn. Our anchorage was close to the cut and the current was at right angles to the wind so when the current was strong Ednbal was far from facing into the wind which made for a fairly rough night. We left early and anchored behind Bell Island close by. It was a lazy day catching up on maintenance and started making the mounting arrangement for the auxiliary fuel tanks fuel gauges. It was still windy around 20kn the next day. We went snorkelling to the Sea Aquarium as we did not get there after looking at the sunken plane a couple of days before. There were a couple of buoys within 5m of a rock to tie the dingy to, nothing looked too special but we had heard it was worth while.
Immediately we flopped over the side of the dingy into the Sea Aquarium we were surrounded by fish, and I mean surrounded. There were hundred if not thousands, so close and so unafraid that they swam right up to us, even around our arms. Reaching out slowly you could almost touch them but they darted away when only a few millimetres from finger tips. There fish of all shapes, sizes and colours in and around the coral bombies. Yellow and black stripped "football" fish, snapper, grouper, flute, big eyes, leather jackets, puffers and many many more. It was absolutely spectacular. Although still windy the dingy ride back wasn't too bad as we skirted around the lee side of islands. Later in the afternoon we went out in the dingy again to try and find another snorkelling spot, the caves off Rocky Dundas. This time we had to cross the waters of the cut so it was pretty rough and choppy. After circumnavigating the island of Rocky Dundas, about 200m diameter, we could find no cave entrances or dingy mooring buoy. Since it was so rough we soon gave up and headed back to Ednbal.  Today was a particularly black day. For the first time since starting cruising we had run completely out of beer. So we were now firmly onto mixed drinks. Even the wine was getting to rations level. Never mind that the fresh food was running low, we needed to find beer!
On Thursday 22 March 07 we headed another 10 miles South to Staniels Cay. A lovely sail 15kn beam breeze over clear turquoise water 3 to 5m deep. After anchoring off Staniels Cay Yacht Club (a commercial marina, restaurant and bar) we went ashore for a look around. First question, a carton of beer. The barman said they had run out and would not have any until next week. Very strange as there were people drinking at the bar. He says we could buy at the Pink Pearl Grocery. Pink Pearl Grocery turned out to be a room on the back of a house but yes they had beer, $3 per can regardless of whether you wanted one or a carton. Guinness was also available at $3.50 per bottle (stubby). We opted for half a dozen of each, very hard to stomach after paying $6 a dozen for beer in the US.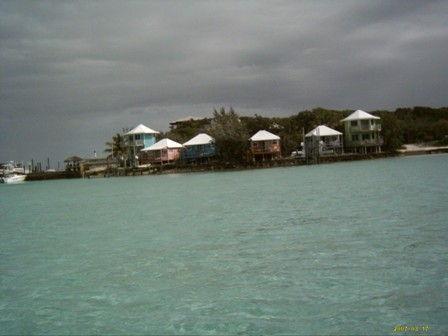 Our stock up of fresh food and groceries was less than the booze! Back at the yacht club we found they had free wifi that would take care of part of tomorrow. Back on Ednbal Sasha made steamed dumplings, one the Thai cook book recipes, for dinner while I had the arduous task of preparing sundowners.
In the morning we went in to hook up to the net for emails etc. Today however it was not working, apparently the router had died and a new one was on its way. In the afternoon we went to another well known snorkelling spot, Thunderball cave. We tied the dingy out to one of the two dingy mooring at the cave entrance at slack low water. At low water the cave entrance is about half a metre above the water. Again as soon as we were in the water we were surrounded by fish. After swimming through the cave entrance we were in a huge cavern about 20m diameter and 20m high with a 2 or 3m hole at the top let in sunlight. What a spectacular sight! There was an entrance on the opposite, weather side, of the rock outcrop island as well as others on the calm lee side that were under water. It was fun to dive down and out through a rock hole to the outside world. Where light was strongest soft corals were plentiful, mostly reds and pinks but real strong colours. No question the best snorkelling to date.
Since Friday had been a gorging day, full eggs, ham, sausage and fried banana breakfast, chilli corn puffs with tuna fish cakes for lunch and chicken drum sticks with mushrooms, potatoes and pasta for dinner, that we had a light breakfast before heading off for Black Point some 10 miles South East. Another glorious sail, 20kn abeam gave us over 6kn with only headsail on first reef. The bay at Black Point was again just beautiful. I find myself running out of suitable descriptives. About a mile in diameter of crystal turquoise water with white sand beaches for almost half of it and a completely sandy bottom of 2 to 3 metres. We cruised around and anchored not far from the government dock, a jetty about 30m long in more or less the middle of the bay.
There were 9 yachts anchored, you can imagine, with plenty of room to put out a much anchor chain as you wish.  Ashore we walked the sealed roads past small island houses painted in bright lime greens, pinks and blues. In keeping with most other settlements, Black Point had its fair share of derelict houses.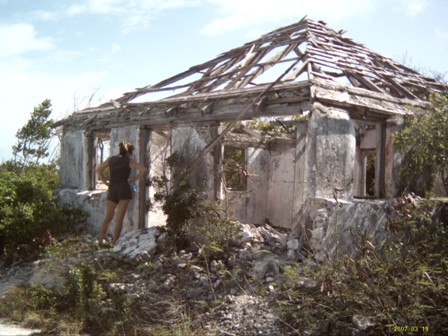 Some that had been subject to hurricanes others had started construction and been left partly done. Little one room grocery shops, restaurants (well at least some place that served food), a laudromat and marine store. The marine store had about as many different items in it as the laudromat had washing machines. Picnic lunch was under a small pergola on another public jetty with no one else in sight, watching the fish swim below in the clear, clear water. We were invited, via the VHF, to an afternoon beach bbg, put on by one of the "restaurants", where food and beer could be purchased. It was a 2 mile dingy ride to the beach in an adjacent bay where there was a combination of locals and yachties. Apparently the beach was supposed to be the site of some sort of mega marina but like so many things in the Bahamas it was struggling to get off the ground. The social interaction was bought to a sudden end with the onset of a squally rain shower.
Sunday's weather forecast was for more of the same, 20 to 25kn East North East, stronger in rain squalls. It rained a little early but after breakfast looked reasonably clear so we up anchored and headed for Little Farmers Cay another 12 miles South East. 25kn abeam, 3rd reef headsail only and still doing 7kn in 3m deep water. While a close eye was kept out for any coral outcrops, luckily none were sighted.
We dropped anchor in the lee of Little Farmers, not another yacht in sight save the hulk of one, mast still in tact, about half a mile off out starboard bow.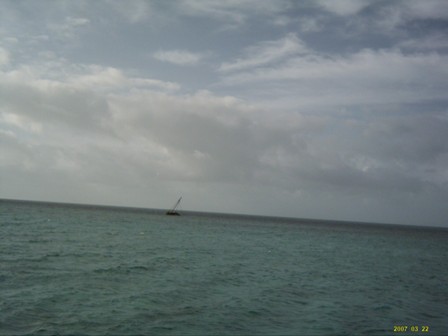 A stark reminder of what happens if you stray off course around here. We later found out that the 40 or so ft plank timber vessel recently bought 200 "boat people" from Haiti and was deliberately grounded. The people all got ashore safely and were sheltered in the local church until taken in by the Bahamas police.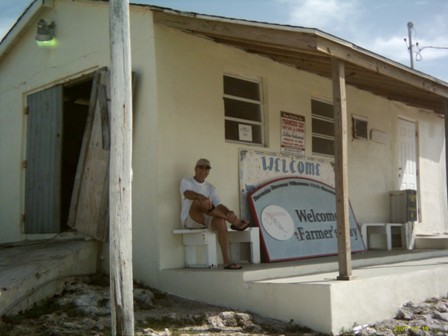 Still breezy, it has been blowing 20kn ENE, with higher gusts, almost continually for the last 2 weeks and forecast to continue for the next week. Our next leg takes us out into Exuma Sound with 11 to 13 ft seas to get to Lee Stocking Cay as it is too shallow to go down the inside or bank side. Some reduction, 16 to 19kn and 8 to 10 ft seas is forecast for Wednesday and Thursday before building back up for the weekend so we'll stay put for the next two days (Monday and Tuesday).   
Another two boats joined us the next day, a Canadian ketch and an American trawler. As the Canadians in Varuna 1 were coming in I radioed them to give depth indications as we were anchored in only 2.1m. Later the skipper, Bob, came over in his dingy and invited us to join with his wife Viv aboard Varuna 1 for sundowners. It turned out they were sort of travelling in company of the trawler, so there was 6 of us for an evening fun with numerous tall stories being spun over a few beverages and the best Conch fritters from Viv. The others were also heading to more Southern parts of the Bahamas so there was a chance we could catch up again.  Earlier in the afternoon Sasha was doing the voyage plan so our next leg to Lee Stocking Island and I was doing what I do best, napping. When we went outside we found ourselves surrounded by a virtual armada of yachts, more than 12 had anchored in the space of a couple of hours. I joked with Bob about him inviting so many people for sundowners.
On Wednesday morning, with a forecast of 20kn out of 70 degrees with 7 to 9ft seas, we decided to head out into the Sound and down the 23 miles to Lee Stocking Island. Unfortunately we left a half hour or so too late, the tide had turned and so with an out going current and on shore wind driven seas we met very steep waves of about 6ft. Under motor Ednbal ploughed, more like banged, into them. When we hit the shallowest part, 5m, she went through a couple, sending green water all over the foredeck, up and over the dodger and bimini. It was real heart in the mouth stuff for a few minutes but we got past with only a couple of minor breakages in the cabin. Sasha was not feeling real flash.  Her right eye was quite red and painful so much so that she could not wear her contacts. Her new glasses that were made before we left the US give her headaches so she wears them only for short periods. Not at all a happy vegemite being, as she puts it, half blind. As you can imagine, after our exit from the Little Farmer cut, she was not exactly on top of the world. Once out in the ocean we put up only the headsail and were making over 6kns so out went the trawling line. Before long off went the scream of the reel. It took some time and a lot of energy to reel in a BIG Mahi Mahi to the transom. With the wind gusting over 20kns it was very difficult to point into the wind and Sasha, half blind, inadvertently backed the headsail. While we tried to correct I got the line caught and we lost the fish, complete with lure. Bugger! Once all was settled the line was re-rigged and put out again. Believe it or not we hooked another Mahi Mahi, this time into the cockpit and well over a metre long.
Our entry to Lee Stocking through Adderly Cut had us going over one patch of less than 5m depth. Again, with a fairly large sea running, more than just a little trepidation. The alternative was to carry on another 30 miles to the safer entry, Conch Cut for George Town. We headed in with another yacht about half a mile behind us. The following sea was fairly steep and it was a struggle to keep Ednbal straight. I guess we can't have looked to good as the vessel behind us headed back out to sea and kept going. By mid afternoon we we're anchored and carving out large Mahi Mahi fillets.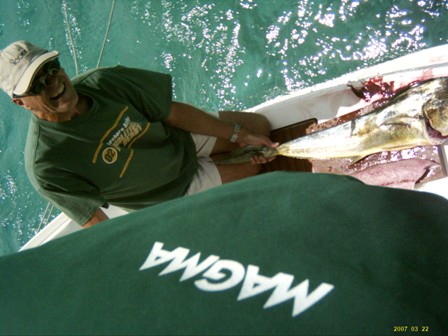 It was a wonderfull fish soup for lunch too...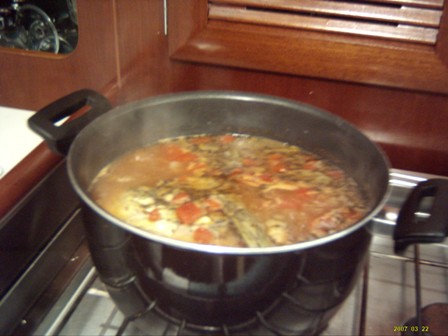 Our pilot said there was a marine research station on Lee Stocking and that visitors were welcome, even giving guided tours. As we had anchored close to the only jetty and buildings we went ashore for a look see. An American lady met us at the jetty saying the station was closed down while they waited for funds to be allocated by US congress. In the mean time it was No Trespassing. So much for that idea. Still it was strawberry dacqueris for sundowners and Mahi Mahi frames on the bbg so not all bad!  Sasha's eye was no better so we decided to leave for George Town, where they may be be a medical clinic, the next morning.
It was still blowing 20kn from ENE and again I got it wrong getting out into the open sea. We went through the same thing as the day before taking one quite big greenie right up over Ednbal but no damage. It was time for Sasha to have a go at fishing. Out went the lure and within an hour the reel screamed. Sasha took the rod, upped the drag and started reeling in while I tried to slow Ednbal. It was no mean feat for her, a wally nuka using a right hand setup. The fish put on quite a display and she eventually hauled in a Barracuda, about 7 or 8 kg. I am not keen on Barracuda, one for the poison risk and two, they stink so we removed the hooks and let him go. As we sailed away the fish was still on the surface so not too sure if it survived. Sasha spent the rest of the trip wishing another fish to hook up but it was not to be.
Our pilot had all sorts of warnings about the relatively deep Conch Cay cut heading into George Town but it turned out very simple and tame after the last couple of cuts we had been through. After entering through the cut we continued to sail (many others were either motoring or motor sailing, with a nice 20kn breeze abeam or astern, I really don't know why) almost all the way to the anchorage right in front of George Town itself.
In George Town we found a wifi "hot spot", apparently the only free wireless connection in town, at Eddies Edgewater. It turned into an extremely frustrating day. For some unknown reason the Outlook just would not send email. Sasha ended up having to completely rebuild another instance of Outlook, but still we could not send, only receive. Eventually with steam coming out of her ears I persuaded her to give it a rest until later. On Saturday we reprovisioned the non perishables and beer before moving to the other side of the bay to the lee of Stocking Island (no relation to Lee Stocking Isalnd!). There we saw our first Aussie cruiser from Fremantle. It was a quick hello as we went past and a promise to catch up later. David and Deborah, from Water Music, came over for sundowners. Turns out they are not dinky dy Aussies. David, English, Deborah, Californian. They move to WA in 92 and lived there until they started cruising from Europe in 99, but do indeed call Australia home and intend to return to their house, overlooking the ocean, at some time in the future. Having been cruising for 7 years they too were able to give us a few pointers and opinions. As they were leaving I was the "real gentleman" and held their dingy against the swim platform so they could get in with ease as it was still quite breezy. I didn't realise it but still had my sunnies sitting on my cap and so, inevitably, plonk in the water they went.  
The anchorage was 5 to 6m deep over sand with a little sea grass on the bottom so we put out 45m of chain. While there were still, as we found out from the "cruisers net" later, over 180 vessels anchored the bay was so big that we had plenty of swing room.  I had to find my West Australian 'Cancer Foundation' Polaroid sunglasses but it was a little deep for a lot of free diving so I got out the SCUBA gear, reg, tank and backpack. To help in locating the sunnies I tied a weight to the end of a thin line and hung it to the bottom from the stern of Ednbal, the theory being as we swung the weight would draw a line in the sand. It sort of worked, a bit hard to see the line but I found my sunglasses after just a couple of minutes.
Later a walk across the narrow island to the other, ocean, side revealed a beach where one could have sworn that one was on a Perth, Western Australia (home) beach. The geology is limestone, the flora grass and "pigface" style ground cover as well as the powdery almost pure white sand was very reminiscent. It was a beautiful walk along the beach and though the islands short palm tree lined walk trails.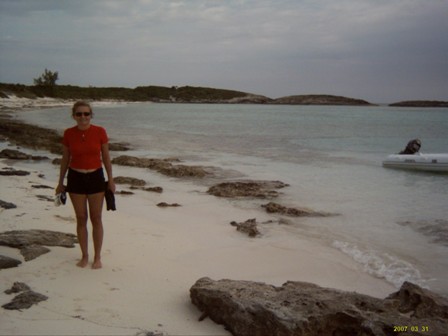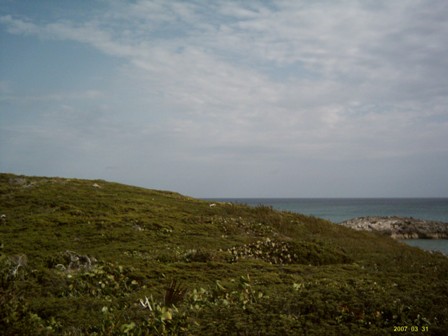 On Monday we went back to the George Town anchorage and Eddies Edgewater so that Sasha could again tackle the email problem again. After I returned from picking up a few bits and pieced Sasha informed me that the problem seemed to be associated with Norton's security. When Nortons was turned off everything worked as it should, bit of a worry though! We also found out, from another cruising couple that the Harbour Wifi, available throughout the bay, was only $15 per week and the office was down next to the cemetery. Off we went along a dusty one lane broken bitumen road to the house next to the cemetery. With chooks (chickens), rabbits and dogs fenced in I was a little apprehensive at opening the makeshift gate to the, for the want of a better description, dilapidated run down house. A very black short spaced out guy with curly hair and beard and the strangest breath (no idea what he had been smoking) answered the door. Yes this was Harbour Wifi! We handed over the princely sum of $15 for our user name and password valid for one week. What were the chances of this working? Well it did, like a dream. We could surf the web, email and make phone calls from Ednbal no problem. It must be the time for solving problems. Next tackle the HF radio email.
 By now it was Tuesday, we had reprovisioned, spending more on booze and mixers than food and time to get this dam HF radio email to work. Anyone who knows Sasha will appreciate that she has read and configured everything possible to get it to work and was, after almost 6 weeks of trying, on and off, extremely frustrated at not getting it to work. I had run additional ground copper straps to improve signal propagation although I was confident that it was already OK since we could hear Australian weather and had been talking to an Aussie in Central America. Sasha had been communicating by email, when ever we had some sort of connection, with Xgate (software supplier) Louis Soltero. Now with a good internet connection we could phone Louis. The first two settings he asked to check were wrong. Sasha pointed out that she had set it exactly per the help file configuration and pointed Louis to the paragraph. "Oh" he said "that's a typo, the values should be 0 and 33, not 1 and 38 as stated". Sasha changed them and bingo away it went. Mind you she had previously emailed Louis and said that she had set the two parameters as per the help file. At least it was now working. I had a go at Louis about erroneous information and managed to get a two month service extension, some small consolation! On Wednesday we bought French Champagne (well sparkling white - budget constraints you know) that we had after sundowners.We phoned my brother Les but not sure how much sense we made!
One of the reasons we came to George Town was to pick up a replacement freezer thermostat that had been sent to the Post Office the week before we arrived. Now, a week and a half later it is still not here and everything government closes down for the 4 day Easter break, much the same as at home in Australia. At least it is an opportunity to explore some other nearby Islands and bays. Wednesday we the first day the wind has not exceeded 15kn for about 6 weeks and the forecast was for light and variable the next few days. Early Thursday afternoon we sailed and motored over to Elizabeth Island and anchored in reasonable isolation between a mega (150ft or so) power boat and another yacht, both about 200m from us. Snorkelling over the coral bombies not far from Ednbal revealed once again an abundance of fish. We are always amazed at the number of fish that one or two metre diameter bombies can support. It must be over 100! On our first still balmy evening for weeks we had obligatory GnT sundowners and bbg Mahi Mahi. Just fantastic.
George Town to Long Island
From Elizabeth Island we move across the bank a mile or two, to Crab Cay and anchored outside a small cove. The chart showed rocks or coral bombies so we didn't venture too close. After swimming ashore we found the bottom to be all sand and over 2m until well into the cove that was about 100m wide and 200m deep. With no other boats around we decided to ""move in"", finally dropping the pick right in the middle of the cove and letting out 30m of chain. Ednbal settled with her stern about 5m from the rocks. This is what cruising anchoring is all about - an isolated protected little cove all to your self, not a boat, house or person in sight.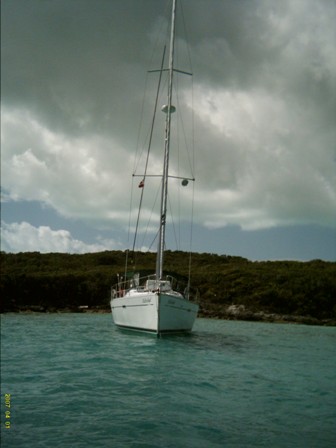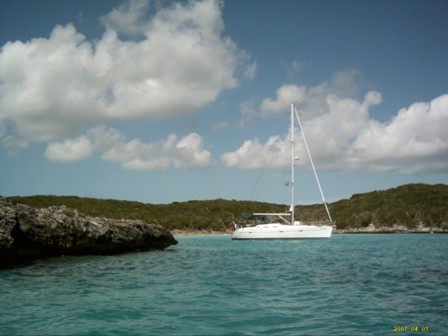 Next day, Easter Saturday, we swan outside the cove and along the rocky shore over corals and fish. The water was warm enough to stay in as long as you like. As it had rained during the night and there was very little wind on a beautiful sunny day we applied water proofing silicone to the nice clean dodger and bimini,  revarnished the teak on the swim platform and finally put the name, Tadpole, on the dingy.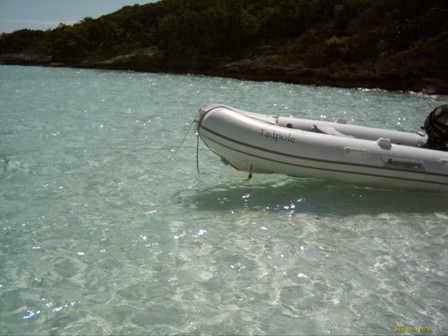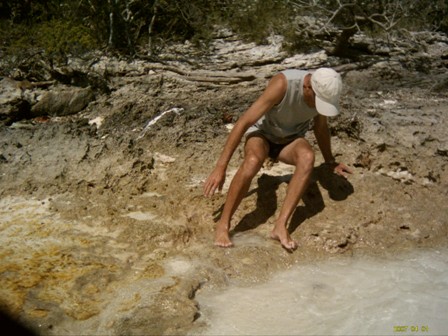 I checked the engine and tightened the alternator belt. Another few jobs out the way.
In the afternoon we headed off to Goat Cay just north of George Town. It was fairly shallow, about 2.5m as we motored in close to shore. Suddenly Sasha said she could smell something electrical. She was still not wearing her contacts although her eye was somewhat better (and that is another story) so was still "half blind". I looked down the companionway and saw smoke coming from the engine room. Fire in the engine compartment, every boaties nightmare. I shut down the engine and went for the aft fire extinguisher while Sasha went to the one near the chart table. The engine is in behind the stairs out to the cockpit. The stairs have a plugged hole for fire extinguishing so I pulled out the plug and gave a couple of quick shots from the fire extinguisher before lifting the stairs, the normal access to the engine compartment. There were no flames or smoke so I couldn't see the source. With the echo sounder alarm going off as we drifted to shallower water, Sasha started the engine again while I watched the engine, fire extinguisher at hand. Immediately I saw sparks next to the alternator. The starter battery cable had melted against the alternator. Sasha stopped the engine again and I disconnected the starter battery. We managed to start again and anchor without running aground!
After regaining some sort of composure we had a look at the situation. When we had left Crab Cay the house battery was at about 50% discharge so the alternator had been charging full, or bulk, all the time, about an hour. I had tightened the alternator belt, moving the alternator further out from the engine and closer to the engine compartment wall. Starter battery cables run up the engine compartment wall right next to the alternator so, being just that much closer, probably touching, the hot alternator had melted the cable insulation and it had started to short to the earthed alternator body. Not only was some of the cable insulation burnt but the sound insulation on the engine compartment wall was melted, quite a mess. After everything had cooled down we set about clean up and repair. Luckily I had kept the 1 inch plastic flexible electrical conduit left over from our isolation transformer installation. It was perfect to run over the cable lug and up over the damaged insulation. The copper conductor in the cable was barely damaged so it only needed reinsulating. This would certainly do the trick until we could buy and run a new cable. Of course I rerouted the cable to go behind the alternator where there was much more room. It was all the sort of excitement one can do without!
With heart rates almost back to normal Sasha decided a lovely French dinner, from her French cook book (acquired for 25 cents), was in order. Lamb chops in puff pastry. Never made puff pastry before but there has to be a first time. So, in she went, the whole hog, about half a kilo of butter, the same of flour, salt sugar, much "turning", periods in the freezer, more turning, back to freezer, rolling, turning - I was thoroughly confused. Upon request I cut thin slices of ham as the final baked dish would be a sort of sandwich of lamb chop between sliced ham, duxelles (mushroom onion) and enveloped in puff pastry. Sasha's comment on serving was "it just hasn't been my day for cooking, the donuts I cooked for breakfast were still doughy inside, the Papaya coleslaw for lunch looked phooey from the Balsamic vinegar I put in it and now the puff pastry is still doughy although browned from the egg glaze". She swore blind that tomorrow it would be all simple dishes!!
By Sunday morning our house batteries were below half charge, that dam freezer ran all night, again. With washing to do and water to be made we started the generator before breakfast. A couple of minutes after I started loading it, it stopped dead. Off with the covers and a quick look, not another fire I hoped. No smell but for a week or so I had been suspicious of the quantity of raw water coming out of the exhaust. I had asked Sasha if she thought it was less than it used to be but concluded I must be imagining things. Anyway the first thing I put my hand on was the raw water pump, it was hot. Very likely the impellor shot. After a quick check around we had breakfast, cornflakes and toast today, to let the generator cool. I checked the engine cooling water, OK. When Sasha started it again there was barely a drop of water out of the exhaust so a quick shut down. We have two spare impellers so the investigation started. After removing the back plate of the pump we saw what was left of the impeller, no blades on it at al. No real surprise given how hot it was when the engine first shut down. Once all the remnants of the impellor were removed the whole raw water system, sea cock, strainer inlet hose, strainer, strainer outlet to pump hose and pump to heat exchanger hose were checked by putting water through them. Everything was clear so why did the impellor, with a regular maintenance period of 1000 hours, die after 150 hours?  There was no obvious explanation. A faulty impeller? Possible but not likely. I had cleaned the strainer a few days before when I thought the raw water output was low. There were just a few pieces of sea grass, certainly not blocked then, nor now. With no explanation all we could do is put it all back together and monitor. The lesson learnt. If you suspect something wrong, look into it thoroughly! Once started the generator run as usual and with an almost constant full stream of water out of the exhaust. After the second event in two days, what will happen next? For the supersticous, things always come in threes.
As mentioned earlier, the story of Sasha's eye. Sasha has eye problems since childhood. Her left eye never fully developed and she had an operation on it when she was 12. She is very dependent on her right and wears contacts largely for astigmatism. While we were at Little Farmers Cay her right eye became quite sore and red.  We had some eye medication, ointment and drops, left over from some problem I had last year. One ointment was an antibiotic, the other a steroid. We agreed to give the antibiotic a try. On the way from Little Farmers to Lee Stocking Sasha decided to also try one of the eye drops not realising that they were for dilating the pupil as I need when I have iritis. She started complaining of light sensitivity as well as increasingly blurred vision. No wonder, her right pupil was about 6mm in diameter! It took 5 days for her pupil to get back to normal after the one drop. By this time, and with the antibiotic ointment her eye was back to normal. However after wearing her contacts of half a day her right eye was again irritated. She is going to have to see the doctor after Easter.