Exhumas, Bahamas
Category: Caribbean
Created: Saturday, 17 March 2007 16:27
Written by Roger Boxall
Hits: 1752
Exumas
Exumas
So, on 14 March 07 we were in the Bahamas' Exuma group of Islands and Cays.  It was a fairly rocky and rollie night and we had decided that the next day would be "a catch up on the domestics" type of day.  Ednbal was in need of a thorough clean, the dingy needed the once over after the last trip, the bbq required a clean and polish etc. Even on cleaning day things happen. Sasha gave me all the mats and rugs to shake clean over the side. It was still fairly breezy, 20+kn, so I shook them and put them in a pile next to the companionway. Sasha picked up one of the rugs and some more dust came off it so she put it on the seat while she went inside to get a brush to brush the rug down. When she came out the rug was gone, floating 10 or so metres behind the boat, so it was a quick swim to retrieve it. In the afternoon we decided to change anchorage, closer to shore and a few houses on it, maybe someone had a wireless internet. We went slowly over shallows, picking our way through coral and sandbars to a nice sandy spot in 3m of water about 100m from shore. Instant internet access! Emails were received and sent, phone calls made, from a small isolated island, wonderful. Sasha had been having trouble getting our HF radio email to work and used the internet connection to send email to the system supplier. Next morning we got a response, basically telling us nothing new. Sasha tried it again and bingo away went the emails from outbox to sent. We both think that the supplier did not register us properly in the first place and had made some change at their server end. Whatever the reason, there was much happiness, we now have email access virtually world wide.
Editor's Notes: The HF e-mail story does not finish here! There will be loads of more frustrating "trial and error" connections and disconnections. All will be releived in the later journal.
In late morning we relocated a few miles South to Shroud Cay, part of the Exumas Land and Sea Park. Apparently good walk trails, mangrove creeks to be explored and snorkelling. It was still blowing a good 20kn from the South East so we motored the short distance into the wind and anchored in 2.8m over pure white sand among a dozen other vessels mostly yachts but also two mega power boats, 4 story high, 30 to 40m long type touch. With a rising tide we went exploring the Mangrove creeks in the dingy.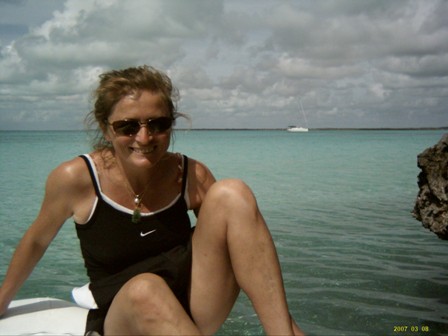 On the way up we had the outboard tilted up for shallow running much of the way. Some of the creek's shoreline was solid Mangroves but in others it widened out to white sandy plains quite hard enough to walk on and covered with the tiniest shells. One of the creeks went right across the island to the Exumas Sound side where we found a beautiful white beach with coral outcrops close to shore. I still had my dog bite wound so we hadn't bought snorkelling gear with us as we had not intended to swim, pity. By the time we were ready to return the tide had come up another half metre so we went roaring down the creeks, around twists and turns, at full speed - still a kid at heart!  At one point I saw a small shark so we stopped to have a look as you could see easily in the crystal clear water. It was about 1m long, enough to make Sasha shiver.
The forecast was for a cold front to come over us during the weekend so we headed a little further South, 20 nm, to Warderick Wells, still part of the Exuma park. There was, according to the pilot, an all round protected basin anchorage but no anchoring permitted, only moorings for a fee, amount unknown. Moorings had been put down to try and protect the bottom from anchor damage. Twenty moorings were in a line around the C shaped basin with shallows in the centre. I called the park headquarters on Warderick Wells on VHF to make our booking.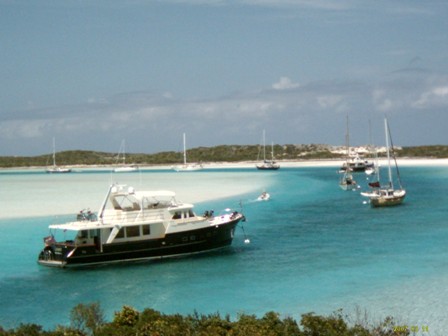 The entry was about 3m deep as we went in at low tide but boy was the mooring channel narrow. I couldn't see how anyone would have had room to set an anchor. Again crystal clear water over pure white sand. There was quite a current running causing Ednbal to sit side on to the breeze.
 After lunch we went to the office to check in and picked up the map of walk trails and snorkelling spots. I decided my "wound" was sufficiently healed to go swimming so we went snorkelling first to one of the marked coral bombies about 10m in diameter. What an incredible number and variety of fish in one small spot.
With still a good, cooling, breeze we hit the walk trails. In many ways, being a limestone formation it reminded us of Rottnest Island off the coast of Western Australia near Fremantle. Low scrub type trees. The trails were largely over limestone rock and very jaggered so our light reef walkers got a real workout. Over 3 hours later we had circumnavigated over 2/3 of the island, checking out ruins from very early pirate day settlements and secluded anchorages where pirate vessels use to hide.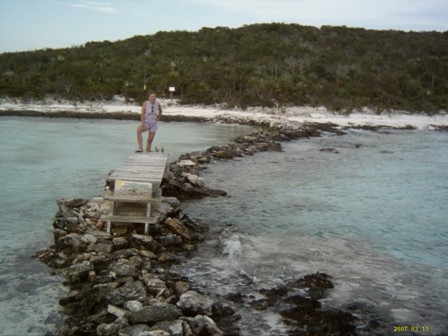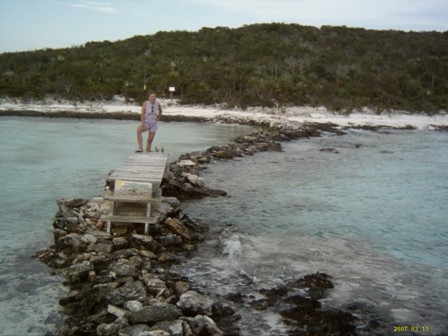 The wildlife, in particular birds, have nothing to fear from humans so you get very close to them.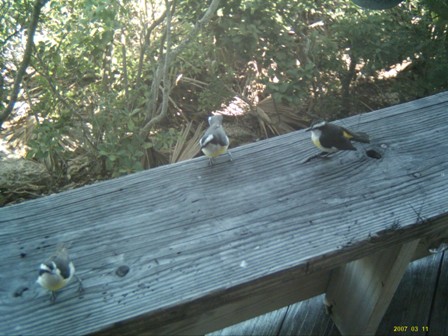 Apparently some will eat out of your hand. We got back to Ednbal just before sunset, to shower and settle down to well earned sundowners, a Sasha special creation, vodka, vermouth and pineapple juice with slices of orange.