Manjack to Eleuthera
Category: Caribbean
Created: Wednesday, 07 March 2007 16:26
Written by Roger Boxall
Hits: 2069
Manjack To Eleuthera
Farewell to Manjack
We arrived to Green Turtle just after 16:00 and there was still time to go to the post office to see any mail had arrived, it became one of those good news bad news stories. Yes there was a package for us, from Blue Seas, our warranty replacement power multimeter, no letter from Oz with my new credit card. OK, well 50% success, not too bad. But, there is $57 duty to be paid on the package. I explained that it was a no charge replacement but the lady at the PO was only the messenger, I would have to take it up with the parcel service and customs in Nassau, have the package sent back for re evaluation and then returned to Green Turtle. How long? A week or two since mail to and from Green Turtle is on Tuesdays and Thursdays, it had already gone today. There had to be some way out, I wasn't keen on paying the money!  Armed with phone numbers and the package details it was back to Ednbal and onto Voip Stunt, the internet phone program we use. After many calls to some people that could not hear me and some that did not want to hear me, I eventually got through to a customs officer by the name of McKinney. He was very helpful, if we faxed evidence if it being a warranty replacement and a copy of our Bahamas cruising permit then he would take a look. Not much could be done now as it was past post office closing time so time for sundowners, brass monkey (equal portions rum, vodka and orange juice, sacrificed by one of our oranges) and Wahoo on the barbie.
In the morning, printouts in hand, back to the post office. Small problem, can't fax Nassau from the post office as the phone/fax line is local calls only. Never mind, the post office lady is very helpful and calls the Island Administration office and arranges for us to take the documents there, almost next door, to send. After faxing I call Mr McKinney, he has them, we discuss and eventually he agrees that the duty can be waived. He calls the post office lady but she wants something in writing, no problem, he will fax. For the next hour we wait. First the fax machine is out of paper, then there are paper jams and sometimes the post office lady just continues her knitting, seemingly oblivious to all. Eventually the fax comes through, I sign for the parcel, 3 times and we have our package. In the mean time the letter from my sister Helen with the credit card in turns up so all in all a very successful morning!
After the short, 4 mile, sail to Manjack we swim and catch up on email thanks to Bill and Lesley's wonderful beamed out wireless internet connection. Bloody Mary's for sundowners and another sumptuous Sasha special French dinner, this time Chicken en Cocotte Vallee D'Auge, translated beaut roast of chook with vegies and yummy sauce. Saturday night was to be bonfire party night on shore, with all in Manjack Bay, for the lunar eclipse. We made nori rolls and baked bread fingers with basil pesto. As we were planning to head South the next day, with first light departure, we hitched a lift to shore with Lulu and Gigi so that I could have our dingy all packed up ready to go. This time, with a South Westerly breeze, the party was on the other, Northern side of the island so we had the mile walk through forest over the wonderful Manjack trails. All went well except the cloud completely covered the moon until about 8pm, by which time the eclipse was most over. After saying our goodbyes to all we stumbled the mile trail back to the dingy with Lulu and Gigi.  They had given us a couple of plants for our herb garden, basil and aloe so a promise was made to keep in touch, if only to report on the plants progress!
Heading South to Eleuthera
At 6:10 on Sunday 4 March 27 we had the anchor up and main up to start the first leg of our trip to the next Southern group of Bahama Islands, the Exumas. The forecast was for 15 to 20kn Northerlies, a weak cold front. The had switched from South West to North East overnight so away we went with 18kn or so from the aft quarter. For one part of the passage we again had to go through Whale Channel. For about 6 mile we had an almost due East course, very close hauled but still sailing. We ran the motor as we went through the shallow Whale Channel, just in case. Soon we were back to our South heading towards Little Harbour and by late morning the wind began to drop. Time to get out the gennaker. It set well in 10kn but would lose air until we dropped the mainsail then, with the wind only 10 to 20 degrees off head astern we sailed comfortably at about 5kn for the next couple of hours. In through North Bar Channel to the Sea of Abaco again for a safe night anchorage with only one other vessel and almost no sign of civilisation. Ah, almost forgot, we caught two fish on the way, both Amberjacks about 3kg. Not real good eating but we filleted one and released the second. So it was fish frame on the barbie for dinner after GnT sundowners. Tomorrow will be 60 miles to Eleuthera Island, the most North of the Exuma group.
Another early start, under way by 6:30. Out through the Little Harbour Channel, only 3.5m deep so glad there was very little swell. Again we started with 20kn North North East, not bad for our straight Southerly run to the Egg Island entry to Eleuthera banks. As with the Abacos there are vast shallow banks out of which the Islands and Cays rise. After a couple of hours the wind began to drop, settling at 10 to 12.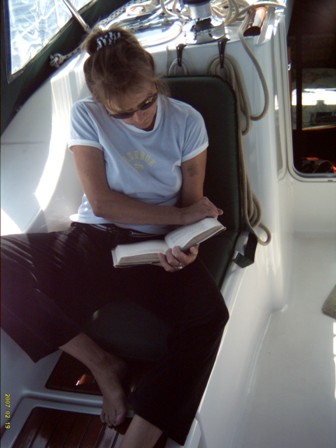 Out came the gennaker again and we sailed, again with no other sails up, for several hours until mid afternoon when the wind strengthened a little and swung a bit more to the east, about North East. When the wind indicator hit 19kn and boat speed was well over 8kn we chickened out and replaced the gennaker with main and headsail. I bought the dingy back up close and put went the lure. Within half an hour the reel started to scream, in water over 4000, yes 4000, metres, we really had something this time. By the time I had the rod out of its holder and increased the drag half the line had gone. Sasha started the routine of heading Ednbal up into the wind to slow her down. The big slender silver fish leapt out of the water several times, throwing its head around trying to spit the hook - it succeeded!  It was a very exciting few minutes. The skirted, popper lure didn't seem any worse for wear so back in the water it went. Within an hour off went the reel screaming again. This time I increased the drag to strike tension immediately as Sasha again started heading Ednbal up into the wind. Sails flapped as Ednbal slowed from about 6.5kn and I kept tension on the line. The fish jumped a couple of times and tried to run but this time the hook stayed firm. In a short while we had a Mahi Mahi over a metre long thrashing around in the cockpit.  It was making a bit of a mess we couldn't care, there would be enough beautiful Mahi Mahi fillets to last us a few weeks!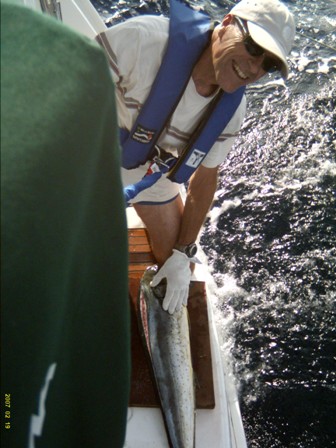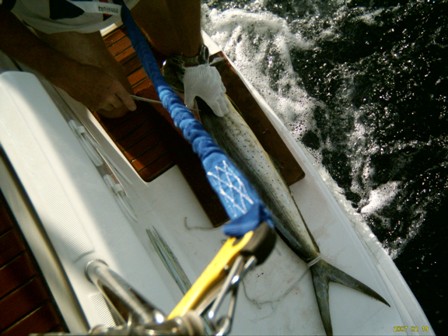 After filleting the fish on the swim platform, tied to Ednbal with safety line, we cleaned up and went back to where we were, just about to make the hourly log book entry and plot our position on the chart, only now it was another hour later. When Sasha plotted our position something was clearly wrong. We were less than 5 miles out from the Egg Island channel onto the Eleuthera bank but we were way too far East ands heading very close to the outer reef. We did not have detailed PC electronic charts of the Bahamas and I had plotted the course way points that we entered into the chart plotter. In transferring from the Abacos to the Exumas chart I had made a mistake. We probably would not have come to grief as the reef was shown on the chart plotter and there was plenty of light to see any breakers. Never the less another valuable lesson, more care in plotting the course. Sasha insisted she do it (she does virtually all) in the future! We made it onto the banks before sunset. And anchored in 5m of water about 150m from the lee shore, having covered 62nm for the day. Just over a mile further on was a very protected anchorage, shown in the pilot book as a "hurricane hole". We could have gone there but prefer, on most occasions, to be away from other vessels.
The forecast was for strengthening North Easterlies so we thought we might stay put and just have a lazy day. We cleaned, swam, read books and generally had a very relaxing day all to ourselves. We were currently on the Western side of Eleuthera Island and our plan was to sail across the bank, through a very narrow passage, known as current cut, to the Eastern side to have a look at a couple of places of interest, Glass Window and Hatchet Bay Caves.
The following day we sailed, with a lovely 20kn breeze, close hauled, to Current Cut, only about 6 miles. The cut is very narrow and the passage requires a 90 degree starboard turn very close to rocks and along a short stretch again very narrow, 100 or so metres wide with no navigation marks (navigation marks in the Bahamas are very few and far between!). Once through we would have the wind dead ahead so decided to anchor and have a look around with the dingy. As we went through the cut in the dingy we were subject to huge current that made the small wave literally stand on end and created large whirlpools, could be very tricky with Ednbal. It was a falling tide and the current was against us, would have to take Ednbal through on a rising tide. On shore was the tiny settlement of Current Cut. Very worn out narrow roads with, in places, more pot holes than tar, but some very brightly painted houses.  We were strolling along when suddenly a dog, black and white short haired terrier about the size of a Beagle, ran up behind me and bit me on the left calf. It tore the skin away and looked rather nasty. A guy in front of a house over the road saw it and suggested I seek medical treatment at the clinic in Lower Bouge. We went back to Ednbal where Sasha played doctor, cleaned me up, washed the gash thoroughly and applied dressings. Tomorrow we would go through the cut on the morning rising tide and head up to Lower Bogue about 7 miles.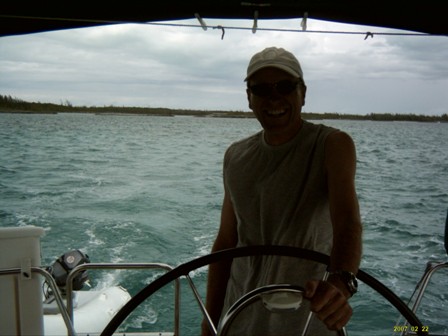 In the Lower Boque area the water is fairly shallow so we had to anchor about 3/4 mile from the shore. The trip from Current Cut we dead against the wind so we motored it. With 20kn of wind the waves were enough to make the dingy bounce around with the outboard on (for short trips were leave the outboard on and all the gear in the dingy ready to go) so I had let it out on the longer tow rope. When we got to the Lower Boque anchorage point neither Sasha nor I remembered to pull in the dingy and of course, while backing up as Sasha let out chain, I collected the painter around the prop. Luckily I noticed before any real damage, the rope was wound up but no effect on engine revs. Sasha was not keen on me getting my dressing wet so we bound it up with plastic so I could dive and check the rope. There were only 4 turns around the prop shaft and loose enough that I unwound it in one breath, no damage, not even to the painter.  On the way ashore we both got fairly wet from the spray and tied the dingy up to the town jetty. Sasha clambered up to find most of the planks missing, very dodgy to try and walk on. In the mean time a guy had ridden up to the shore end on a bike and jelled to us to bring the dingy in closer to the concrete part close to the shore.  There he helped us up and went with us to the clinic.
The medical clinic was not exactly you modern, up to date, doctor's surgery! Up the steps to a veranda where an old air conditioner poked out of the wall with a bucket underneath to catch the water, it was overflowing onto the veranda and looked a little green. Inside was a tiny wailing room with 3 rows of, a little rusty, chrome framed plastic chairs all facing a wall mounted TV playing American "Who Wants to be a Millionaire".
One of the people said I need to write my name on the patient list up front, so I did. After a short wait a nurse called me in and took my "vital signs" then said the head nurse would see me soon. A little later another nurse, the head nurse I guess, called me in to attend the wound. She was keen to know which house the dog came from so Sasha and I did our best to explain. After applying dressings she gave me a tetanus shot and medication. Vitamin C to chew, a plain transparent plastic pill bottle of antibiotic with a white label and hand written " 1 tablet 3 times daily c/ox 500mg, no alcohol", a tube of Baneocin ointment and a small brown paper bag of "pain killers" hand written Panadol 500mg, oh, and a bandaid for the dressing change required on Saturday. She then wrote out the bill and took the $50 charge. All very efficient and quite professional really.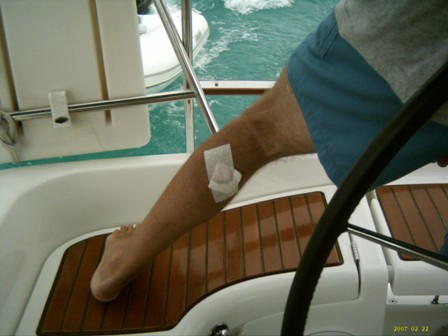 We had a short walk around the area, generally somewhat run down, a little South East Asia style, before heading back to Ednbal. By now it was blowing up to 25kn but from about 60 or 70 degrees so our sail to Glass Window on a course of 95 would be tight. It turned out to be a very nice 7 mile sail across the Bight of Eleuthera with just the headsail, soon on second reef, in the gusty wind. We ended up making about 105 degrees and anchored in a protected bay a mile or so South of Glass Window. We both commented, the sail was a bit like a Saturday afternoon on the Swan River back in Perth. For the whole day it blew 20kn with gusts to 30, I say that because the forecast had been for light variable winds with possible squalls, seems we must have had an all day squall without rain!
Just as a point of interest I should say we live, eat and drink in real style. Today for example, cup of freshly brewed coffee at 6:30 while listening to the marine weather (predictions of Caribbean and central Atlantic by Chris Parker out of Lakeland Florida) followed by eggs, sausages, fried tomato and pineapple, before leaving anchorage (by Roger). Morning tea of freshly baked walnut chocolate cake and cup of tea, en-route Lower Boque (by Sasha). Pre lunch beer with cheese, tomato and gherkin on rice crackers (by Roger), followed by lunch of fricassee fish in lemon and ginger butter sauce prior to leaving Lower Boque (by Sasha). Afternoon tea of cake and coffee after arrival at anchorage (by Roger). Sundowners, GnT. Entree of Thai fish cakes (by Sasha), dinner main of Marsala pork with figs, carrot, potato and onion (by Sasha) washed down with a bottle of red. A few M&Ms and brewed coffee while reading a book (by Roger). All fish caught.
By the way, all this with freshly baked bread from Natalie's book.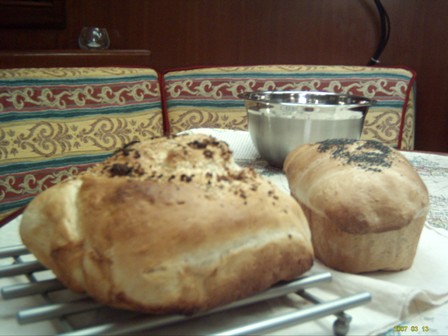 Yes it is tough!!
It was time, next morning, for a little dingy exploration and a look at Glass Window.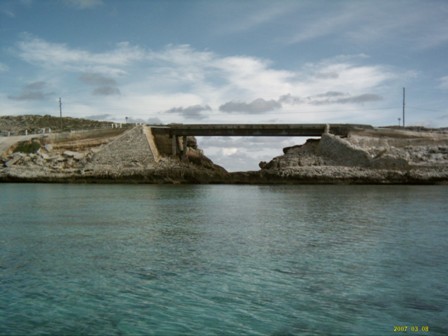 We anchored close to the Glass Window bridge, built after the natural rock one was destroyed by hurricane. At low tide the rock under the bridge is exposed but at high tide and with some ocean swell the water breaks and washes through to the Bight of Eleuthera. As we walked up the road towards the bridge we was it was only one lane, when we got there we could see why.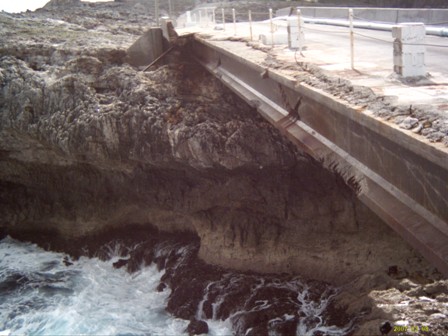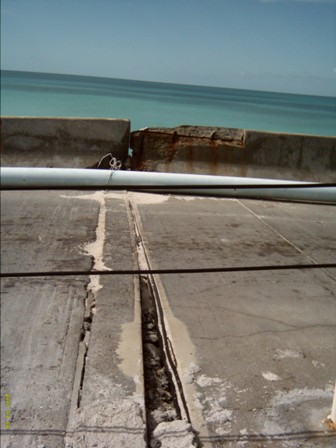 A more recent hurricane has broken part of it away and even what was left has been distorted leaving a gap between the bridge span itself and the land rock, of about 20cm. A sign limiting vehicle weight to 15 tons was up but it seems little notice is taken as we saw a semitrailer truck with two 40ft containers go over.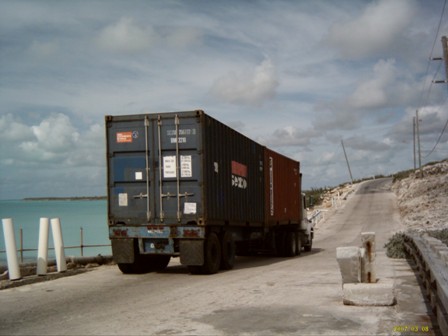 The scenery is quite spectacular, shear cliffs on the ocean side, shallow sandy on the banks of the bight on the other.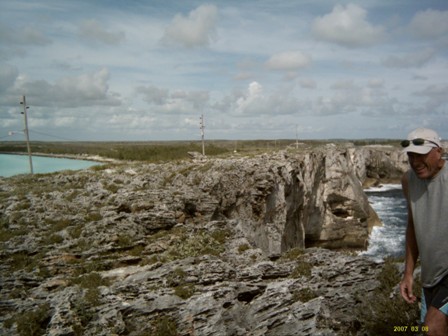 On the way back to Ednbal we took the dingy along the shoreline and checked out small rock islands as well as houses built on a few of the smaller cliffs overlooking the bight. Around one of the rocks there were thousands and thousands of small fish in the shallow water less than a metre deep.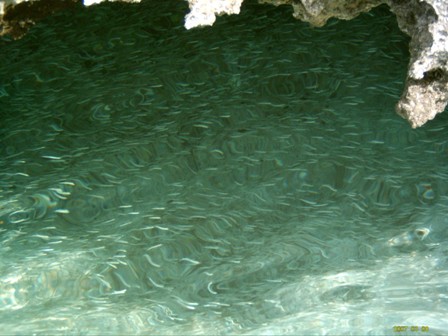 From Glass Window we had a short few mile sail to Gregory Town, a small village built around a small cove only about 100m wide and 300 or so deep. We could have taken Ednbal in but there would be very little room to swing on an anchor so we anchored just outside under the protection of high cliffs. Ashore we found out the tonight, Friday 9 March, there was a "cook out" to rise funds towards the Pineapple Festival in June. Activates start after 5, so, following a small rum and coke, we went ashore about 5:30.  Things were pretty quiet, one guy cooking quarters of chicken, pork chops and pork ribs on a "very sophisticated" bbq, 44 gallon drum cut in half, top hinged, with two small, about 2" pipe, chimney vents. Over the road was a small fire burning short logs a few inches in diameter. The coals from this fire were transferred to the bbq by shovel so that the meat would not be burnt by any flame. Very neat! We had expected it to be a bit of a community get together but it turned out to be more of an instant take away.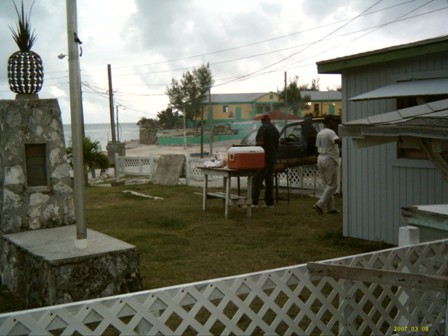 Your choice was a "dinner" of the cooked meat, as described, with 2 sides, rice and peas, crab rice (brown, fairly oily rice with pieces of stone crab), potato salad, cold slaw. Oh, and Conch fritters, small pieces of Conch meat inside a large amount of batter. Beers were $3 a long necked stubby. Well it was all for a good cause so we tucked into Conch fritters, dinners and beers. As usual, when we eat out, we ended up agreeing that it would have been much better food on Ednbal.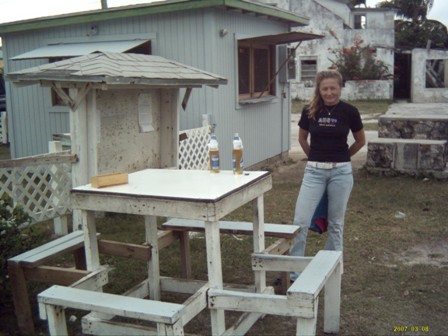 Next stop was Alice Town at Hatchet Point about 5 miles South East along the inner coast of Eleuthera. The town advertises itself as having the safest harbour in the country. We went into the Hatchet Bay Pond through a man made channel all of about 20m wide. Once committed, no chance of turning around. The chart had a channel depth minimum of 3.4m so all should be OK, it was. Inside was well protected in all directions but there was quite a bit of green slime about so, after anchoring for a while and not finding any wireless internet connection,  we eventually opted to anchor outside, in Hatchet Bay. With the prevailing North Easter the breeze was straight off the shore, beautiful and calm. After Barracuda (rum, orange liquor, lime juice and pineapple juice) sundowners we had marinated fish fillets on the bbq with yucca bake. Yuka is a local vegetable something akin to potato - Sasha had to give it a try!
Our pilot book referred to caves a short distance North of Alice Town that, being in limestone, have stalactites and stalagmites as well as bats.
Our inquiries at the grocery store revealed that they were about 4Km North and there was a sign for them on the side of the road so next morning off we went, picnic in back pack. In just under an hour we came to a turn off for "Hatchet Point Caves" with further information, "closed for renovation". We were here now so let's have a look. A couple of hundred metres down the two tyre track we found an entrance with a rickety old ladder leading into a cave. We knew that there were no guides and the caves were not managed so it was no real surprise to find the cave pretty well decimated. Formations destroyed, spray can graffiti everywhere and very dirty. Under torchlight we walked and stumbled down the small cave system, maybe 150m or so, until it became so small that you needed to crawl. Very little to look at so we returned. As it was only 11AM and little in the way of shade about,  we decided to walk back and have our picnic lunch in a small park by the beach back in Alice Town. On the way back we saw banana and pawpaw growing by the side of the road with fruit on them. One banana tree had fallen over but still had the fruit on it. As much as would fit went into the back pack, as did two paw paws. To make room Sasha took out most of our picnic stuff and carried it in another bag.  We found local fruit and had some exercise so not a wasted morning!
After our picnic lunch we set sail for Governors Harbour, capital of Eleuthera,  15nm South East.
A very relaxing sail down the inside coast with an offshore breeze abeam pushing us along at 5 to 6kn with just the headsail up. Sasha made two loaves of bread that went into the oven soon after we anchored at Governors Harbour. We had hoped to get an internet connection to pick up and send email.
Sasha had picked up a couple of unprotected wireless networks as soon as we entered the anchorage but could not access the net. After an hour or so of frustration she gave up and we tried on shore the next day. Eventually we ended up at the library, $5 for one hour connection to their secured but good signal network. Sasha's attempts to log onto the net were in vain. Eventually the English lady at the desk said, "Oh the net has been on and off a bit today, I think it is down at the moment". We got our money back, bought booze instead (1lt white rum, 1lt brown rum and 1lt vodka - $16) and headed back to Ednbal.
By now we had just about had enough of Eleuthera and were keen to get over to the Exuma Cays on the other, Western, side of Exuma Sound. We could go in one hit, 50 to 60 miles but decided to take it easy and have a night in Rock Sound before crossing the Exuma Sound. There was a cooking gas bottle filling facility at Rock Sound so with more than half our second bottle gone it was a good opportunity to refill. Again at Rock Sound there were issues with the internet. Sasha could connect to wireless networks but no internet access. We were too late to fill the gas bottles so were at the filling station at 8 the next morning to fill and go, for we had 40 miles to Normans Cut, our point of entry to the Exuma Bank after crossing Exuma Sound. It was blowing 25+knots from about North East, dead behind us for most of the trip. Once out into the sound we were in deep blue water, well over 1000m deep. Ednbal sails were set in goose wing formation and with the headsail at second reef we were doing 7.5kn. Out went the trawling line and we settled back, keeping a close eye on wind direction with the goose wing sails. Within half an hour the fishing reel started to scream. I grabbed the rod and whacked up the drag to "strike" tension but line kept going out with a large fish performing acrobatic behind us. One small problem, Sasha would have to jibe the headsail to go up wind and slow Ednbal down so that I had some chance of reeling in the fish. Not so straight forward when it is gusting over 25kn and you are not prepared for it. Didn't think of that when I set the sails did I! Fortunately, or unfortunately, depending on how you look at it, we lost the fish before I ran out of line or Sasha had jibed the headsail. In came the headsail and out went the lure, we were still making over 6kn and had plenty of time. Of course no more fish!
The reason we were heading for Normans Cut was on the advise of another English yachty at Rock Sound. Sasha had planned to go in at South Highborne Cay Cut about 6 miles further North. It had a relatively deep but narrow channel, in common with all in the Bahamas, no navigation marks, just judge water colour and be guided by your GPS. A few miles out from Normans Cut we were checking closely the cut entry as the seas were up to about 2m and right behind us. Just as you enter the cut the depth comes up to 2.4m! I am thinking, just great if there are breakers. The pilot book said "dangerous in high Easterly winds". How high is high? Sasha put an alternative route, to enter at the slightly deeper but more protected Wax Cay Cut 1.5 miles South of Normans Cut, into the chart plotter as the backup plan. We approached Normans Cut with considerable apprehension! Although the waves increased in height as we entered the cut, on engine only, it wasn't too bad, just had to struggle with the wheel a bit to keep from broaching. Once past the outer reef and rocks there was a major sigh of relief as conversation quickly turned to what we would have for sundowners. The Normans Cay anchorage, according to the pilot, is very small, one patch of sand to drop the pick into, room for only one vessel. There was already a big power boat anchored so we continued on about half a mile and anchored behind a small, about 100m diameter, rock island. A swim over the anchor, in the clearest water we had seen so far and warmest at 21C, confirmed it was well buried in sand.  At less than 3m depth and with 40m of chain out we could rest easy for the night after rum and coke sundowners followed by roast chicken with shell paster and walnut sauce.