Other Abaco Cays, Bahamas
Category: Caribbean
Created: Wednesday, 28 February 2007 16:25
Written by Roger Boxall
Hits: 1984
Other Abaco Cays
Abaco Cays
We had planned to move from Marsh Harbour to one of the other Cays nearby the next morning and settled on visiting Hope Town, Elbow Cay. Unfortunately it was generally East of Marsh Harbour and of course we woke to an Easterly breeze, about 75 degrees. It was only 6 miles, the first 3 at 72 degrees, the second at 126. We motored the first, charged batteries and heated water, then sailed the second close hauled. An anchorage just outside of the Hope Town harbour had a good holding bottom and reasonable protection of wind anything east to North or South. No significant wind was forecast so we dropped anchor in 2.5 metres of water on a rising time.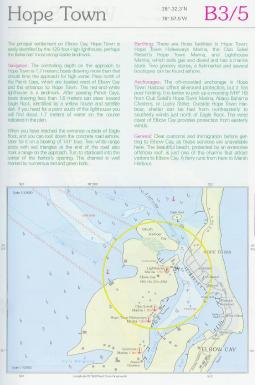 People in Perth have asked me if I had managed to find anything better than Rottnest Island. I was beginning to see the Bahamas as the answer. Another swim in beautiful clear water and a dingy ride to a very scenic Hope Town. The highlight for us was to climb the lighthouse, built in 1864 and refurbished in 1934, still operational with a pressure kerosene lamp!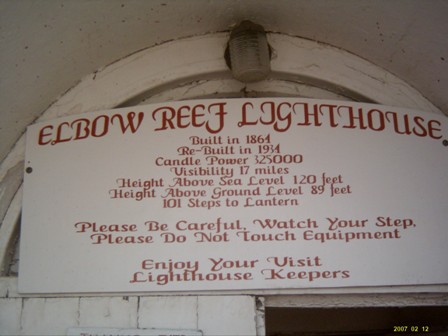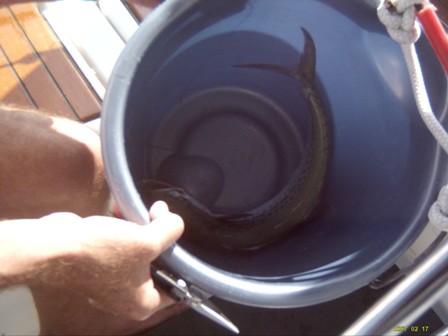 It is open to the public 9 to 5, you just walk in and climb up. Up at the lamp the 1932 instructions for its use are in a frame on the wall. Most of the brass fittings are polished and the drums (plastic jerry cans) of kero are stacked around the wall.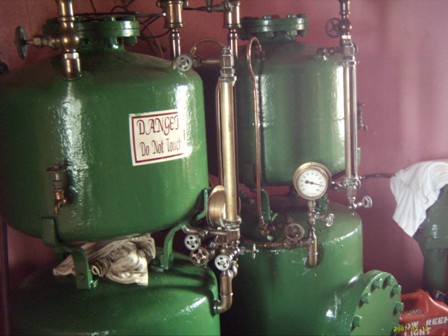 A small door provides access to an outside platform where you can walk around the light, just a fantastic view, 12 islands within eyesight and Ednbal lying at anchor out in the bay.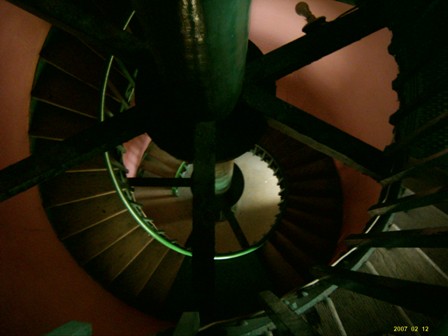 We both thought this beat any "tourist" lighthouse we saw in the USA, we were the only ones there, you see it all at no cost and it is the real thing!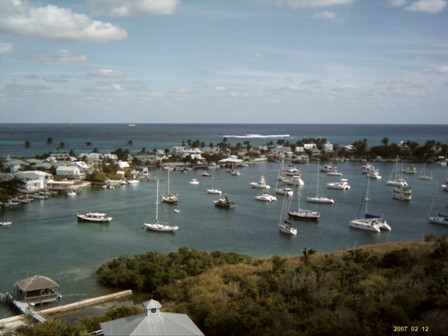 One our ongoing sources of entertainment is the VHF radio. As all good yachties should, we monitor the emergency channel 16 and, occasionally, switch to the channel that someone wants to talk to someone else and eavesdrop. One lady with an Irish accent was describing her that did not go so well. They could smell diesel and spent half the day looking for a leak, nothing found, then went out the anchorage channel at near low, and still falling tide. She was skippering and they ran aground so hard that they could not get off and had to be towed. Since then she must have been drowning her sorrows as she was obviously pissed and the descriptions were hilarious. The guy she was talking to could barely conceal his laughter when trying to reply with things liken "then what happened?". We were in hysterics as the lady was quite serious.  It seems that anything over a 20kn breeze is taken as a storm with people discussing "where to take shelter" whenever there is a 20kn wind forecast.
Sunday was supposed to be a lazy day, run genny, the washing machine, make water, charge batteries and maybe give the dingy a birthday. It was a cloudy day with 15 to 20kn out of the South so we decided on an ocean side beach walk and a picnic. It turned into a three and a half hour hike over Elbow Cay. After walking a mile or two up the beach and having our picnic, with requisite GnTs, we decided to take the inland route back to the town where we had left the dingy. Didn't exactly get lost, just took a few unexpected trails.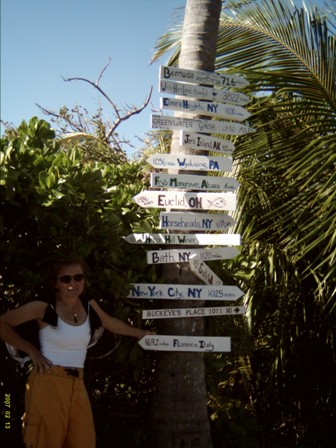 One led to a new house being built on top of a hill overlooking the Sea of Abaco, what a view!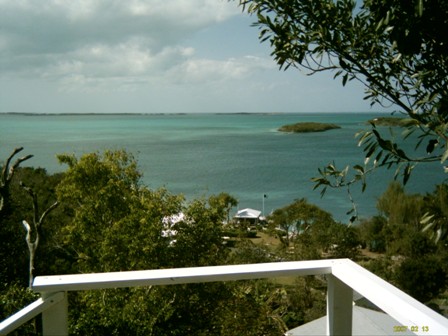 Past a mangrove creek only a few metres wide but with a 38ft game fishing boat moored, almost looked like it was parked in a paddock.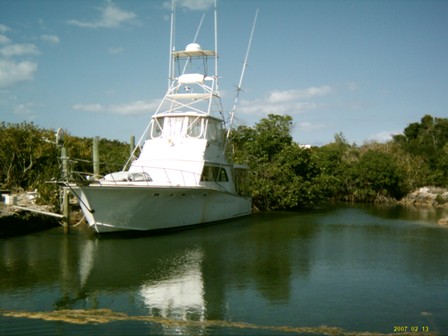 Anyway it was good exercise and we had a lovely swim when we returned to Ednbal.
We decided to visit a few other Cays on our way back to Green Turtle Cay where were expecting mail. Each would only an hour or two sail. First would be Man-o-War Cay just 4 miles anchorage to anchorage. It was an easy sail with a 10kn beam wind. I trawled the line but no fish. Ashore we found an island with a couple of marinas and even narrowed concrete street, definitely only golf cart or 4 wheeler transportation here.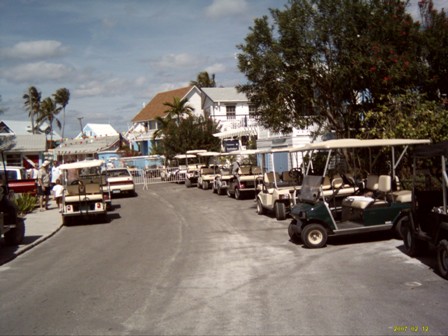 This is more of a self sustaining cay with boat building, a sail loft and house building. The bakery, we had heard, was famous so we just had to sample, maybe lunch. It was shown on the map, off we went a few streets back from the water and found a small piece of wood nailed to a power pole, Lola's Bakery, with an arrow pointing down a path next to a large house. We walker down the path and looked around at the small cottage style homes but no sign of any bakery. We asked it one houses where there was an older guy sitting watching TV. "Yes this is the bakery, she is just here". A grey haired, slow moving lady appeared to tell us all bread including the 16 cinnamon rolls she had made had been sold. However she had some Conch patties, that sounded good, we'll try. Out came a small, about 500ml, container filled with a frozen mixture, apparently ground conch, onion, peppers and whatever, for $6.  Sounded like dinner, patties done on the bbq, and so it was, after Pinna Colads for sundowners!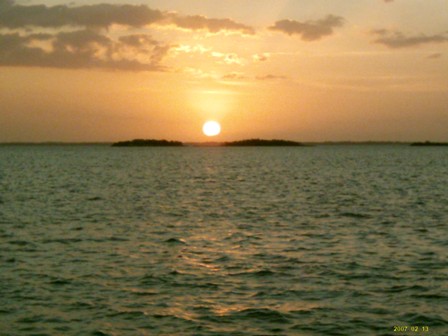 Next stop, Great Guana Cay, just 7 miles North of Man-O-War. Home of the famous Nippers beach bar. After the bakery on Man-O-War we were not holding our breath. We woke to a stormy morning, lightning and rain but little wind, less than 10kn. We took the opportunity to wash Ednbal in our bathers in the rain, detergent in bucket, and brush on the end of a boat hook, threaded. The HF radio, while working well on receive (we could even pick up Australian weather) did not seem to be too good on transmit as others had difficulty hearing us, Yesterday we had checked the RF connections, the earthing and DC power. I had had trouble with the DC earth connector strip behind the DC power panel when I had done the original installation. When we checked the DC voltage to the radio we found a 2 volt drop when transmitting. It turned out that my DC earth connection was not too good. After remaking the connection all seemed much better. So, this morning, another test, worked like a beauty, Lulu, although only 20 miles away, could hear me loud and clear through the thunderstorm. Now Sasha could test the HF email.
A couple of hours after leaving Man-O-War we were anchored outside of the small harbour (small meaning it had a jetty big enough to handle a barge with one container on it) of Great Guana Cay. Having seen fish while swimming over small coral bombies at Man-O-War I took Ednbal close to what looked like a coral outcrop, in the hope of catching some fish. Sasha had been saving old cooking oil and scraps as well as some boiled rice (works well according to the fishing book) as a burly to assist my very poor showing in the fishing department. Shortly after dropping anchor we went for a swim and saw a few fish, nothing out of the ordinary. Out went the burly and in went the line. I tried several lures casting out into the burly. No result! I am now becoming desperate to catch fish in a group of islands famous for fish quantity
Ashore in the afternoon we walk the again familiar Cays narrow streets with the brightly painted houses, blues, yellows, pinks and greens predominate, over to the ocean side beach. Beautiful powder soft white sand with, according to the book, excellent snorkelling on the coral reef not far off shore. After a half hour walk on the beach we swim out, with mask and snorkel, but the reef is disappointing, almost desolate, we saw only a few parrot fish.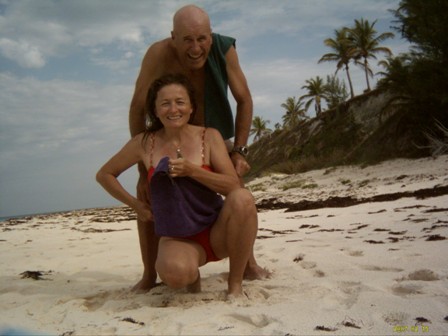 Back along the beach is Nippers Bar and Grill, that is mentioned by many as a spot to see. It is right in the beach, well up stairs, maybe 10 metres up, overlooking the beach and ocean. With just $12 left in the wallet I gingerly ask for the cost of two local Kalik beers, we invest the $10!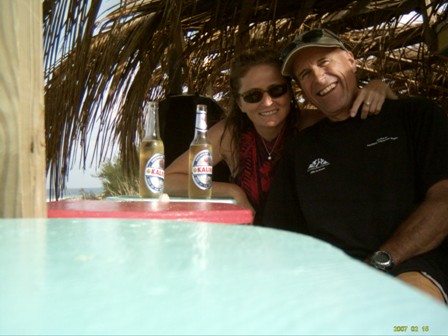 This the first time we have been out anywhere since the bar at Fort Pierce, Florida  5 or six weeks ago. While it is fairly quiet, mid Tuesday afternoon at Nippers, it is obvious by the numbers of bars, tables and the swimming pool that it must really get going at the every Sunday "pig roast".  Back on Ednbal it was pork schnitzels with asparagus and pistachio risotto after a couple of rum and cokes of course.
In the middle of the night we got a rude awakening, lightening, thunder and the wind was picking up rapidly from the North East. Within minutes it was teaming raining almost horizontal. Ednbal didn't swing on her anchor too much but the bimini shook violently and, although we didn't have instruments turned on it must have been well over 30kn. A real tropical thunder storm. There were two yachts behind us, a cat and a monohull, both around 40 feet. About 10 minutes into the storm the monohull looked like she was side on, then all the lights came on and we could just make out someone up on the bow. I guess they dragged anchor and were drifting to very shallow water immediately behind them. It must have been very uncomfortable. They were soon under way and as the storm died down they  were motoring out into the bay and anchored about 3 or 4 hundred metres further out than us. Within half an hour all was calm again although it continued to rain. We had another similar squall go through at about 8:30 in the morning. Our 25kg delta anchor on the end of 35 metres of chain held us firm. It is so nice to have dived on your anchor and checked it buried when things like this happen.
It continued to rain off and on the whole morning so Sasha made bread, we run the genny, washing machine, water maker and battery charger. There was a little cleaning up to be done, the herb garden was completely awash, it will be a miracle if anything germinates now and I bucketed water out of the dingy.  After lunch we motored about 7 miles across the other side of the Sea of Abaco to Treasure Cay.
Treasure Cay has a completely enclosed small anchorage about 400 metres in diameter with a large resort, jetties and pens at one end.  Ashore there was not a lot to see, we picked up some fresh fruit and a couple of bits and pieces.  There was a medical centre so we took all my used Embrel syringes to put in their sharps disposal. However the doctor informed us that there was no sharps disposal in the whole of the Bahamas and to just put them in the bin. We didn't like that idea so took them back to Ednbal. By now it was a beautiful clear, calm, cloudless, warm late afternoon, what a contract to earlier in the morning. Bloody Maries for sundowners with just one yacht behind us.
As we were eating our green chicken curry we noticed most of the other yachties heading for shore. We had heard on the cruisers net (each morning at 8:15 on VHF channel 68 there something akin to a small radio show, providing weather, current local events, introductions of vessels newly arrived and other miscellaneous trivia) that there was some sort of social event on at "Cocos" for "second home owners", whatever was meant by "second home owners". Apparently the Abacos has the highest percentage of "second home owners" in the Bahamas. Did this mean Bahamians with second homes to rent out or other nationals, mostly Americans, having their second home in the Bahamas? We could hear music and singing so decided to go ashore and investigate. There was quite a crowd at Cocos, maybe up to 100. Finger food and drinks (beer and wine) were provided, should have got there earlier! The crowd was a mix of "Europeans" and native Bahamians. A keyboard player and singer provided the entertainment with island songs to a Caribbean beat until a fully costumed dance troop, 20 or so, came up from the sand beach entrance into the hall.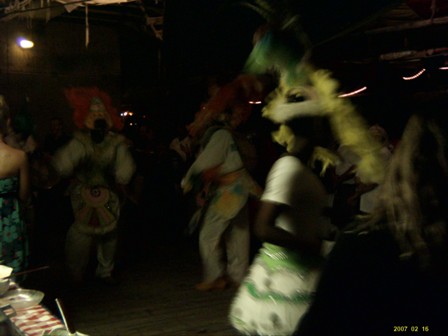 They played a number of fairly rudimentary instruments, various drums, single note horns, whistles, that, along with stamping of feet, made a real din.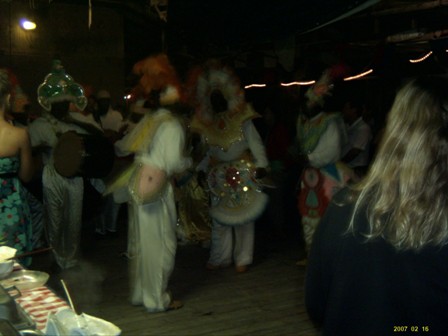 Very entertaining and went on for about half an hour.
Return to Manjack Cay
On Thursday, with a forecast of 15kn South Easterly, we headed back to Green Turtle Cay hoping that the mail we were expecting would be at the post office. As we headed out to the Whale Cay channel the wind picked up to 25kn as we went over the shallows (6m) out to open ocean. Not only had it picked up but it was 70 degrees, we were going straight into it. The seas were steep and sharp causing Ednbal to pitch quite violently. A few things inside went flying as we had not anticipated such conditions. Thankfully the worst lasted for only minuted as the seas calmed as we headed into deeper water. The worrying part was the channel at the other end, re entering the Sea of Abaco, where it was only 4.5m deep and we would be nearing low tide with a following sea. With a fairly constant 25kn wind the seas were getting up to 2m and I had visions of breakers at the other end. Having turned to head up the side of Whale Cay, we had the wind off the stern quarter so were sailing quite comfortably on just a headsail at third reef. The fall back plan, in the event of breakers at the other end would be to continue up the ocean side of Green Turtle and go in at a deeper channel further North. I requested feedback on the conditions at the channel from any vessel in the vicinity via the VHF channel 16. A vessel answered saying that the conditions were OK, no breakers. We passed over the Whale Channel shallows, with the engine running just in case, with no problem at all, a lot better than when we had gone out at the other end. Once we were comfortable I put the line in the water and within 5 or 10 minutes had a small Wahoo on board.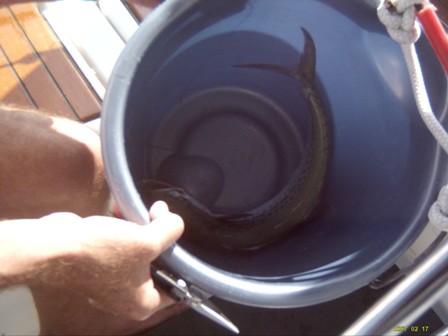 Fishing confidence partly restored and with dinner secured we settled back to a leisurely sail, 3rd reef headsail only, at 5kn, and a beer for the few miles to Green Turtle.