Manjack Cay, Abaco
Category: Caribbean
Created: Saturday, 17 February 2007 16:23
Written by Roger Boxall
Hits: 2835
Manjack Cay, Abaco
Abacos, Bahamas
The first night in the Bahamas was completely calm. Sasha prepared dinner of Barbecued Asian pork ribs with spring onion rice and cabbage with sesame seeds and dill.  I did the pork ribs on the bbq and we had a wonderful quiet dinner under the stars with just a little red wine. Although there were other vessels it was just so quiet, no traffic noise, no aircraft noise, it was so calm not even any wind generators could be heard. The contrast against almost everywhere we had been in the US was stunning.
After an early night we woke early and decided to make an early start with some 55 miles to Green Turtle Cay where we planed to clear Bahaman customs. We left the anchorage just before 7 and watched the sun rise over the vessels in Great Sale Cay as we motored out on a clear windless morning. Our course took us West out from the bay the North around the top of Great Sale before running South East down to Green Turtle. Sasha cooked a magnificent breakfast, a recipe from a French cook book we had picked up in Maine for 25 cents. Eggs poached in red wine with bacon, mushrooms, onions made in a sauce from the wine used to poach the eggs, on croutons fried with butter. Not much required for lunch after that!  We motored the whole day with several other yachts following out of Great Sale. Some peeled off into Spanish Cay to clear customs, three of us continued to Green Turtle, all the time in crystal clear water 3 to 6 metres deep over a sandy, sometimes weed covered, bottom. I had a line in the water trolling a small lure, not much chance of catching anything but as the saying goes if you do not have a line in you certainly won't catch anything.  After retrieving the lure several times to clear it of weed I thought I had weed on again only to find the some poor little flathead had was on the end. It was about 25cm long, just enough for dinner.  As we approached Green Turtle I tried to contact customs on VHF channel 16 but no response. We had heard from other VHF conversations that customs closed at 16:30.  We were unlikely to anchor and get to the customs office by that time so eventually decided to turn and head back into Manjack Cay where there were about 8 other yachts anchored, including the two that had been behind us. The bay was a mile or so in diameter, 2.5 to 3 meters deep with a sandy bottom, again water clear as a bell, absolutely beautiful. As soon as we anchored we were in the water, a little, about the same as were used too at home, off the South West coast of Australia. How nice to be able to see and check the anchor!  Sasha marinated the flathead which I cooked on the bbq and Sasha served with chilled squash and gnocchi, first ""caught"" meal for a long while.
We stayed at Manjack Cay for the weekend, just kicked back and relaxed, a couple of swims a day.  Sasha did battle with the PC again trying to connect 6 serial to USB converters and 3 USB devices via USB hub to only one USB port on the PC. Mission impossible I thought. It took care of a day and a half without too much progress but copious quantities of frustration.  At least we had a good wireless internet connection. We were to find out later that the owner of the Island, Manjack Cay, is a former cruising yachty and has a wireless internet aerial on a small tower thus making it accessible to all the boats in the bay. In addition there is a sign on the beach saying "yes trespasses". On Monday 12 Feb we sailed the few miles to Green Turtle Cay for customs clearance. This was our first tine clearing customs.  The Customs office was on the main street, a narrow one way concrete paved road. Luckily most people use 4 wheel motorbikes or golf carts for transport so the very narrow street is not too much of a hindrance. I found the customs office just after 1 but the door was locked. A lady saw me standing outside and said that the customs officer would be back in a few minutes. My first introduction to ""island time"". Just before 2 a guy asked if I was waiting for customs and told me that the customs officer was at a function in the church just down the road, he would let her know I was waiting. At about 20 past 2 a group of people came out of the church and in a short while the customs officer arrived. I filled out all the forms; she signed and stamped then gave me a receipt for $300. I asked to pay by card or cheque, she said cash only, and I should go to the bank down the road. I found the bank and walked in to be greeted by a burly security guard and told that the bank was closed. A sign out front showed opening hours as 10 to 2 Mondays and Thursdays only. So, back to customs to say I would have to return Thursday but the receipt had already been made out, it seemed this was a major dilemma. After being told I should never travel without money she very reluctantly accepted a cheque.
Back on Ednbal we were deciding where to spend the night. A front was forecast to come over in a day or two so we thought we may check out a close, very well protected, anchorage, White Sound on Green Turtle Cay.  There was a very narrow channel, showing at minimum 1.6m depth on the chart, not much to spare for Ednbal's 1.5m keel. Still it was up near high tide but we had already seen one boat go aground, we decided to give it a go. The echo sounder alarm only went off once on the way in so not too much drama. White Sound is a small but very well protected anchorage from wind of any direction. The anchorage is about 100m by 300m, so quite tight when there are 20 to 30 boats vying for a spot. Our first attempt was met with a rebuff from an American guy behind us; he thought we were too close. I felt like telling him to get ....... but of course I am too much of a gentleman!! We had seen Mike and Margaret in Destination and decided to anchor a little past them, no objection this time. Neither Sasha nor I are comfortable in anchorages with boats close by and a forecast of wind coming up. We have seen too many drag anchor and would not want another boat on top of us in windy conditions so next morning we opted for a walk then, on a rising tide, to return to Manjack Cay. No problem out of White sound and a nice sail for the 4 miles to Manjack where Sasha took us to anchor.
The following morning the guy in the yacht behind us came over to introduce.  Vinnie and Maria had been to Manjack several times and knew the Island owners, Bill and Lesley who were also good friends of Willy and Brigitte. Vinnie filled us in on a couple of "local customs" which included a beach get together and walk on some of the Island trails, made by Bill and Lesley, at about 9 each morning, for any interested parties. We joined in.  We met Bill and Lesley as well as the crew of the only other boat in the bay at the time, Lulu and Gigi, a couple from Switzerland who had been cruising for 25 years! The walk trials were fantastic a, a few miles through the dense sub tropical undergrowth.  Not many big trees, but for the most part the trails are fully shaded. One section is even a board walk through the mangroves and all this created by one couple, largely for others to also enjoy, no charge. On the following day we joined in for the walk and since it was an off shore breeze on the ocean side, Bill had decided a beach rubbish collection and bonfire was the go. We all took large plastic bags and walked along the brilliant white soft sandy beach picking up plastic items of all sorts, drink bottles, shoes, cups, rope, pipe, sheets etc and filling bags. Once a bag was full it was left on the beach for Bill to pick up with his 4 wheel motorbike and trailer. After a couple of hours there was a huge 4m pile of mostly plastic. A few large pieces of driftwood were added for good measure, and then it was lit up. A veritable raging inferno. Oh what fun for any pyromaniac?
Apparently there were lobster (crayfish style) and fish a plenty, all one had to do was catch them. Just go out to the ocean side past Rat Cay on a rising tide and dive in the shallow warmer water und rock ledges and there will be lobster. Our fishing license, part of our customs payments, allowed us to take lobster free diving (no SCUBA) using a Hawaiian sling or gidgee.
I dragged out my gidgee I bought with me from Oz only to find I did not have a rubber. The substitute was one of the rubber bands from our exercise gear, seemed to be quite OK, just need to find lobster. So off we go over the shallow ocean entry (it was about half a metre deep) to try and fling some rock ledges. I went over the side in a few different spots and saw some beautiful tropical fish around some large coral bombies but no sigh of good rock ledges or lobster at all. We returned consoled each other over a couple rum and cokes which also helped to warm me up a bit since I had been in the water with no wet suit and got some chicken out of the freezer for dinner!  To make things worse, on our morning swim the next day I saw a large lobster head on the sandy bottom, obviously someone had caught lobster recently!
One of the things that my very good Oz friend Ric used to say about boat was ""a job a day"". I think it is a great principle and have been trying to so leaving Florida. Today it was time to do some work up the mast. Somehow the VHF radio antenna on the top of the mast had been bent into the wind direction vane. It was no wonder our VHF communications had not been so flash. It seemed the only way it could have happened was if we had touched a bridge or some large bird had tried to land on our mast. All the bridges had been either opening or at least 10 feet higher than our mast so I had been a little perplexed. In any event I needed to go up the mast to rectify the problem.  Since I was going up anyway I decided to put a new fitting on the starboard first spreader to hang the radar reflector. We had been using the port one but that was always a pain as the reflector had to go up and down every time we raised or lowered our curtesy flag. The curtesy flag is the flag of the country you are in and, along with ones national flag, is raise after sun up and lowered after sun set. I buckled up in the bosuns chair and Sasha winched me up as I climbed. The VHF aerial was bent under the wind direction indicator which in turn was bent backwards but I straightened it out with little problem. After drilling a couple of holes and fitting the radar reflector Sasha lowered me onto the deck, another job out the way.
Again, a new cold front was forecast to move over the Bahamas on Sunday 18 Feb 07.  Gigi and Lulu invited us aboard Roi Soleil for a sundowners on Friday evening. Sasha hunted through her recipes to take something for hours-d'oeuvres and settled on Vietnameese rolls of duck and mandarin that became chicken and orange with celery as that was what was available as the nearest match! When combined with the oyster, soy and Worcestershire sauces, no one would know the difference. Whatever, they certainly disappeared very quickly on board Roi Soleil where were joined by Leslie, Bill, Vinnie and Maria. Gigi made the delicious fochaccia and Roi Soleil was also filled with the smell of fresh bread that she had just finished making.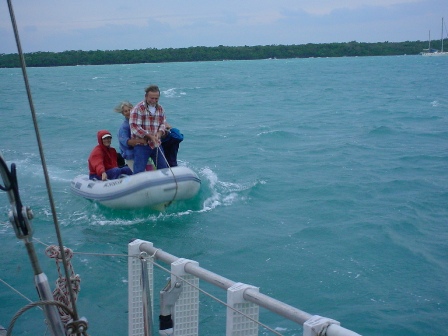 In the Bahamas rum is a few dollars a litre, coke is only marginally cheaper so we had drinks of rum with a little coke, along with Oz red that Sasha and I bought . Not sure I remember the dingy ride back to Ednbal but it was a great evening with our Island hosts and fellow cruisers.
Saturday it was  absolutely gorgeous, sunny with a very light North Westerly breeze. We joined Vinnie, Maria, Gigi and Lulu for a walk over the beach and up to the northern end of the island where there is a small open shelter just up off the beach. Many vessels that had visited had left items of ""memorabilia"" - old floats, ropes, plastic toys, material etc usually with the vessels and owners names along with the date of visit marked in some way.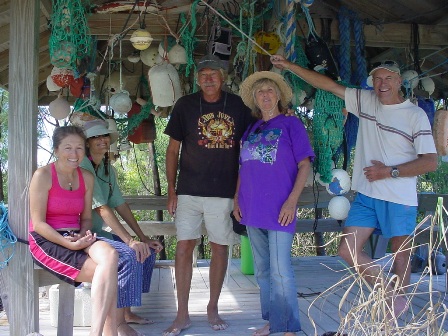 After enjoying a beautiful walk on the beach and with the day still warm and sunny we decided to take the dingy around to the north side to try and catch some fish. A couple of hours were spent looking for some rocks and ledges but it all seemed to be either sand or weed on sand. Eventually we found some very small coral bombies in a metre or two of water near one of the smaller islands. Out went the burly (oil from canned oysters mixed with bread crumbs) and our only bait, bread squashed to dough. Sasha pulled up the tiniest coral trout ever seen and I caught nothing. It seemed our fish dinner would need an awful lot of side dishes.
Back on Ednbal Sasha downloaded the latest Grib files (weather data that can be loaded into one of the navigation packages, Maxsea) that showed the front moving over mid Sunday with winds 30 to 35kn, not great but they would be from the West then gradually turning to the North. The bay we were in gave protection from about North West but was open to Sea of Abaco with about a 4 mile fetch to the west. It was likely to get a little bumpy.  We swam over the anchor, made sure it was well into the weed covered sand and were comfortable that with the 35 metres of chain out in 2.5 metre water depth that Ednbal should stay put.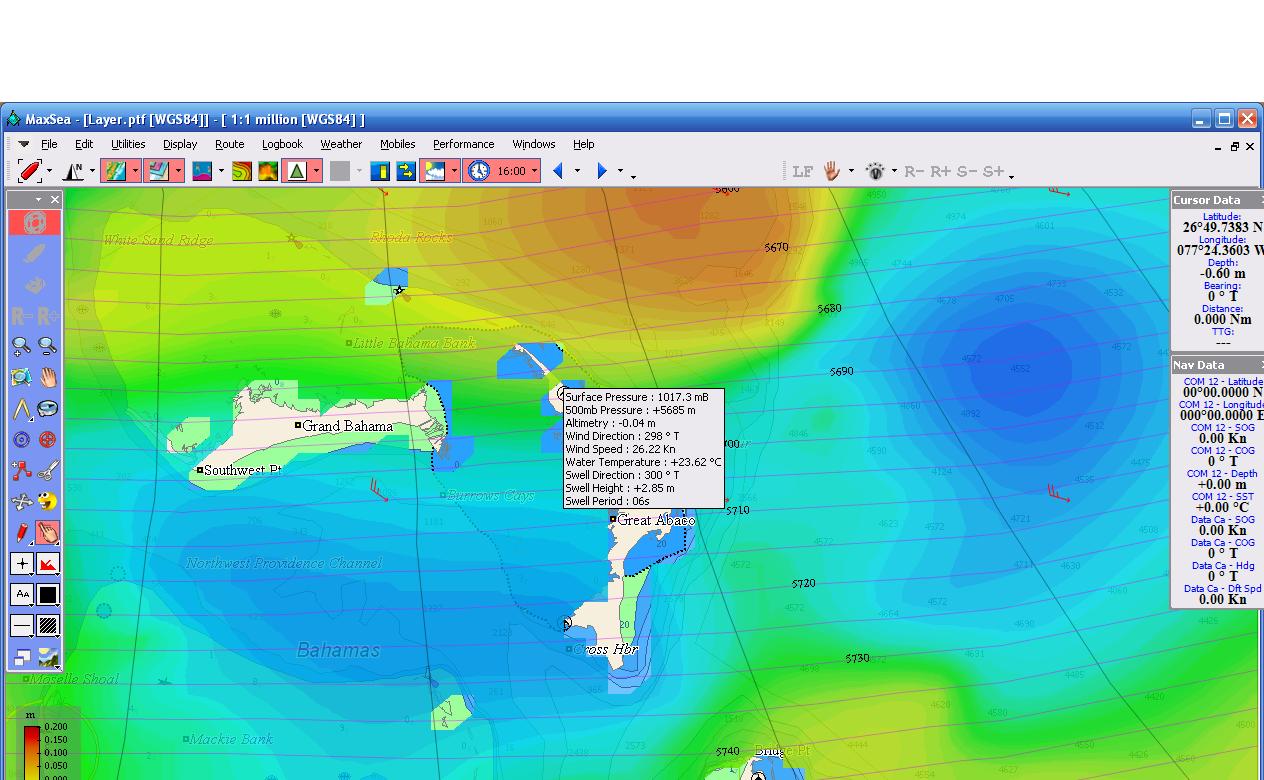 The night was quiet but the wind began to pick up from the West by late morning. At around lunch our wind speed indicator was registering gusts just over 30kn. There were 4 yachts in the bay.  Out in the middle of the bay a ketch began to drag anchors (he had two set, one all chain, one chain and rope rode). Lulu radioed him to advise he was drifting. He started his engine but, we were to learn later, managed to get the rope rode tangled in his propeller. He continued to drift, luckily to sandy shallows, not rocks, and ran aground. During the afternoon the breeze picked up a little more and gradually swing to North West. At about 4:30 I saw the guy from the beached ketch out in his dingy and seemed to be moving anchors. I dingied over to offer help but he declined saying he was about to winch the bow around on the rising tide so he could motor out, no mention of rope around the prop. He was unsuccessful and spent a very uncomfortable night as the yacht heeled over at almost 45 degrees at low tide. Next morning Bill and Leslie, island owners, dragged him off at the next high tide. I heard that he had rope around the prop and went over later in the day with SCUBA gear to remove it. He said there was vibration when motoring, no wonder, I cut off and untangled about 6m of 3/4 inch triple braid rope from around the prop!
Before long it was time for another walk over the wonderful Manjack Cay trail to the ocean side. Today, we had a special mission! Having been on board Roi Soleil and seen Gigi's little herb garden, we decided it was time to plant the seeds of Coriander, Dill and Oregano that Sasha had bought in Florida to now try and grow our own little garden on board. The only problem was lack of suitable growing pots and soil, both of which were available on Manjack, one just has to look. Along the beach during our previous rubbish pick-up we new that there were more plastic containers further north on the beach that we had been. We walked along the powder sand above high water mark and found the required containers, a 20 litre square drum, the bottom part of which would be cut out to become a drip tray and a few 2 litre square plastic containers, the bottom parts of which would become the seed beds. On the trail returning to Ednbal, good soil could be found at the Coco Beach turn off. We filled a four litre container with beautiful light brown loam and hummus. Back on Ednbal I cut out the bottom of the 20 litre drum and made a wooden base, originally the bulkhead that we cut from the washing machine, to sit the seed containers on. I then cut the bases out of the 2 litre square containers while Sasha cleaned everything, mixed the soil, and planted the seeds.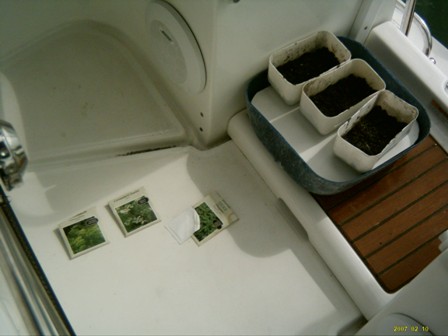 After requisite photos Sasha put the newly planted garden snugly in behind the mast while I had the full expectation of fresh herbs for dinner! We'll see how it goes. Since than we already had some more suggestions on growing hydroponics garden of fresh lettuce, but all in its own time.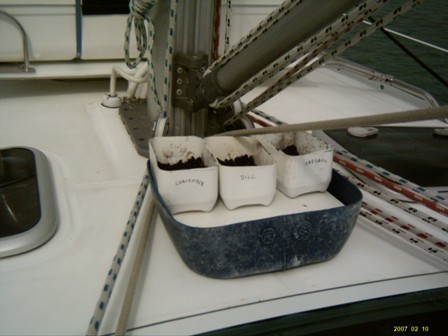 Vinnie and Lulu were talking about going to Marsh Harbour, about 20 miles away the next day, so Bill invited everyone to a bonfire on the beach, BYO drinks and nibbles. Sasha made a batch of wonderful Empanadas, puff pastry stuffed with chopped ham, cheese, olives and egg. Along with sweet chilli dipping sauce they did not last long on shore. Our hosts provided a wonderful setting on the beach, sun setting over a still bay with the yachts in the background. About 15 people ate, drank and chatted around the bonfire for several hours. We learnt a lot about places to go and places to dodge, just had to remember it.