Cuba
Category: Caribbean
Created: Friday, 17 May 2013 15:53
Written by Roger Boxall
Hits: 3094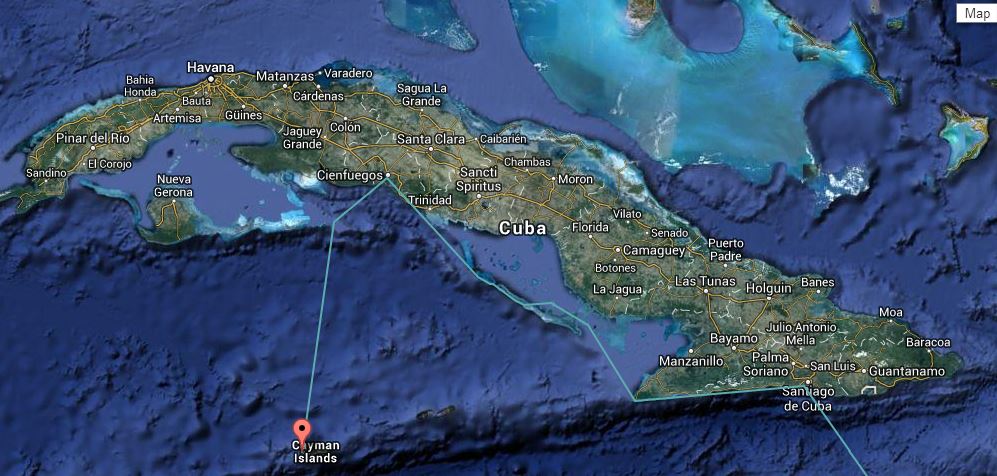 Well before sunset, just on six, we entered the bay of Santiago de Cuba and spoke to the officer on duty at the government marina (all marinas are government, it's Cuba) of Punta Gorda. Seems like, for the first time in seven years of cruising, check in was to be done by the book. We were asked to anchor off and stay on board until contacted by the authorities in the morning. Dually we were called; first to come on board were the doctor and a vermin inspector. By question and answer our health was checked and our vaccination cards reviewed while the inspector looked through the boat with a touch for any animals or insects, especially for any rodents and mosquitoes. Satisfied, they were replaced by three more, customs, harbour master and quarantine. Again more checks and searches. Once they had also filled out all their paperwork and were satisfied we were asked to take down our quarantine flag and proceed to the dock for formal check into the marina or what was left of it after hurricane Sandy went right over it last October, with two hundred kilometre per hour winds and a storm surge that went over the first floor of the building, leaving just one concrete dock with enough room for four boats either side. Next day we were inspected by the veterinarian as she was not there the previous day. She checked our frozen meats and asked us not to take any ashore as Cuba does not have some of the diseases that neighbouring countries have. Finally we were officially cleared into Cuba, done by the book! All very courteous and friendly. There were a few things we had to do, change money, fill one of our cooking gas bottles, fill the outboard fuel and get a months supply of fruit and veg. We could catch a bus, a truck with wooden benches down each side usually filled to overflowing for a few cents or a taxi for a few dollars. Well taxi, not quite. There are few cars and even fewer taxis. Many who are fortunate enough to have a car, generally pre 1953 American (if you had a car prior to the revolution you could keep it) or a little more recent but still very old and just running some sort of East European thing (many Ladas), used them a private taxi.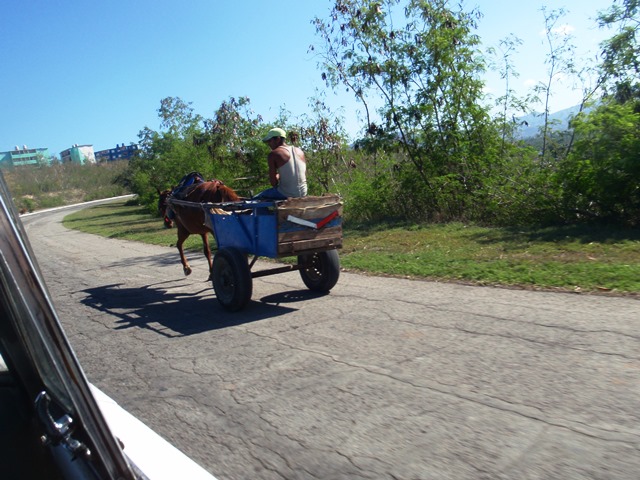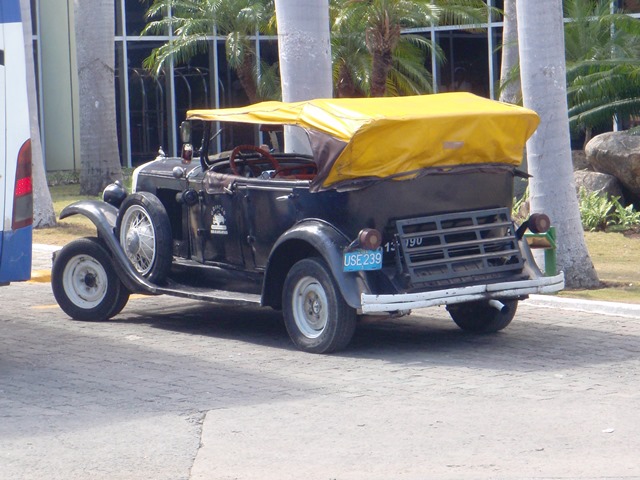 The marina manager's friend, Tony, had such a car. He turned out to be a very genuine person who just couldn't do enough to help us and didn't try to overcharge (we already knew rates for getting to various places from other cruisers on the dock). His Lada had operational engine, gear train, doors and brakes, sort of, but nothing else, all gauges, speedo etc zero, windows in fixed position, bald tyres, but Tony, an ex air force helicopter pilot, a great guy and very careful driver. First stop money change at the airport on the way to Santiago city, the second biggest in Cuba. Cuba runs a dual currency system, Pesos generally for Cubans and CUCs, pronounced cooks, for foreign tourists. We needed both CUCs, for things like check in costs, taxi, gas, petrol etc and pesos for things like fruit and veg as well as other food stuffs. Roughly one CUC, one dollar, 24 pesos to the CUC. Next fill the gas, on the other side of the city to the bulk gas place as virtually all gas cylinders in Cuba are on an exchange basis. After some discussion between Tony and the gate officer it was agreed our cylinder could be filled, great no problem. Our cylinder disappeared and we waited, and we waited. Over an hour went by, the gate officer assured it was all happening. An hour and a quarter later I was asked to go into the works, presumably to pay. It was an air conditioned office, the first I'd seen. Now the paperwork. First guy takes my passport, enters info into an old, old PC, (first PC seen) makes a few phone calls talking in Spanish about four kgs. Then after about fifteen minutes passes my passport to a lady at the desk next to him. She enters info into an equally old PC attached to an old Epsom dot matrix printer and makes many more phone calls. Then after about half an hour talks to me in perfect English. Turns out she spent six years studying English at uni. So now I find out the problem. The smallest cylinder they normally fill is ten kgs and they are trying to work out how to charge for four kgs. I suggest just charge me for ten kgs and I can go but no that would not be right. Finally after another almost half hour it is worked out and the ancient printer springs into life. First print apparently not right, into the bin. More changes on the PC. This repeated three times, eventually I get an invoice 3.76 CUCs! Now to pay, off to another department where a lady opens a big safe using keys string around her neck to get my change of 5 CUCs. Two and a half hours after arriving Tony drives us off to the petrol station. With three jobs done, back to the marina, enough for one day, we would tackle the market tomorrow. For all his trouble we gave Tony my old Maketa battery drill kit. He lit up like a Christmas tree.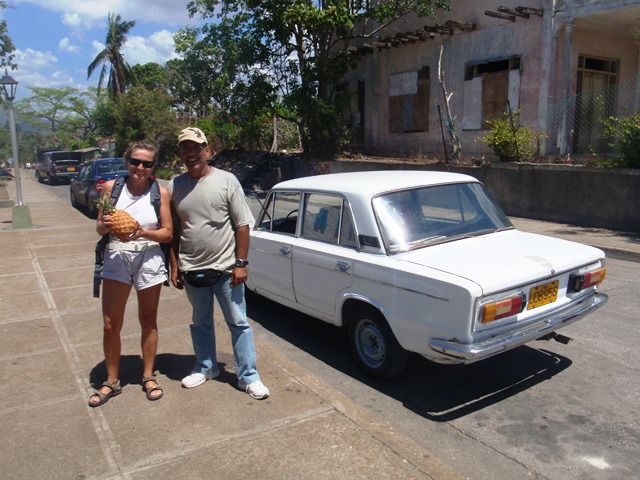 Next morning, after paying the various checks in fees, Tony picked us up at nine and off we went again. As with the previous day there were many horse and carts carrying goods and people. With so few cars and motor bikes, and fuel so expensive compared to incomes of a few dollars per month, horses are still widely used. Into the veggie market we went, choice very limited but enough for us, price, well we got all our shopping, fruit, veg, eggs, bread for the equivalent of six dollars and all as fresh as you could hope for. Tony told us that some things like bananas and plantains, that we couldn't find, were unavailable because the plants were destroyed by Sandy, which also damaged or destroyed over thirty thousand homes in Santiago. Typically, all the media cared about was the damage in New York. It was at this time that something dawned on me, no rubbish, none, no bits of plastic, containers, bottles wrappers, nothing on the streets or anywhere and, no evidence of anyone sweeping or cleaning the streets. After much of Europe, Canaries, Cape Verde and all the other islands of the Caribbean we had become used to seeing rubbish scattered everywhere. Back at the marina we were anxious to get going especially as Ednbal was looking like she had a serious attack of the measles, yellow dots all over the deck caused by chimney discharge from the nearby cement factory. Local knowledge, from one of the other cruisers, was that the only thing that removes it is WC6, a locally made toilet cleaner, applied mixed one to one with water. I procured the last bottle from the marina store. After picking up our cruising permit from the harbour master we were able to get under way, at 3:30pm for the 110 mile sail South to the South Eastern tip of Cuba, Cabo Cruz. Another lovely down wind sail, genaker up for several hours then the headsail polled out as we goose winged for most of the way, arriving mid afternoon the next day. Finally in beautiful clear water anchored in behind a long barrier reef at the Eastern end of the huge area of the South side Cuban bank about 300 miles long by some 50 miles wide and littered with small coral islands. Paradise here we are! Last one in the water is a rotten egg says he. A swim to the anchor, dug in deep in sand, it wasn't going anywhere. Fifteen knots of SE breeze and the dull roar of breakers on the reef for tired sailors to have a good nights sleep. Next day, deck cleaning day, both of us four hours of hard yakka but she then looked pristine. Over the next couple of days we just kicked back, picnic on the beach, a lot of swimming over shallow coral marvelling at the number and the myriad of varieties of fish and watching truly beautiful sunrises and sunsets. Cabo Cruz village, about a mile from where we were anchored, is home to local fishermen, two steel trawlers about 60 feet, two small wooden dingy size with single cylinder diesel and a number of row boats mostly with two sets of oars.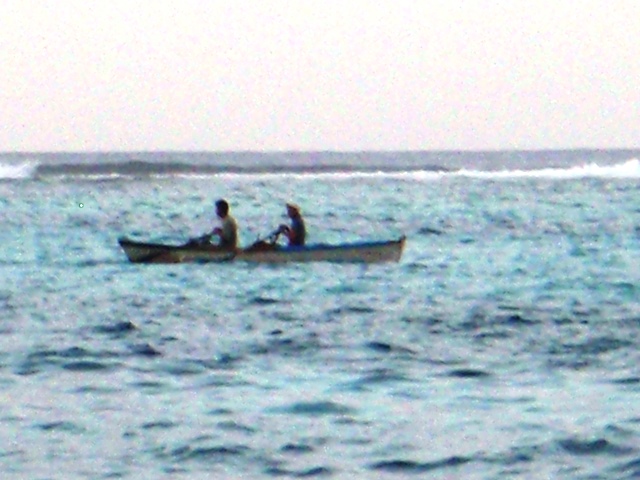 The two trawlers would go out each day, just past is to sandy bank less than a mile away and set nets, returning each afternoon. The two small motorised ones soul go out from time to time often disappearing into the distance. Mostly we saw the rowboats with two to four people in them. They rowed out past us with the wind to pick up fish traps that had no marker buoys, instead they used a grappling hook to hook the traps and haul them into the boat. Once each boat had visited all its traps they would row one to two miles back against the wind. On calmer days they even rowed outside the barrier reef almost out of sight. Not one single outboard motor. Although we had heard that Cuban waters were full of lobster, according to the fishermen there were none here. After four days, one night, after dark, while we were preparing dinner, one of the rowboats came alongside, on the side of Ednbal that was not visible from the village and offered us a bucket with a few potatoes, a couple of capsicum, onions, mango and a small box with four eggs. We have the guys a couple of gift packages that we had made up, thanked them and tried to explain that we were stocked up and didn't need anything. Why at night, because Cubans are not supposed to make contact with foreign vessels and we were in sight of the local coast guard and police in the village. After five beautiful days we had a forecast of good NE winds to sail NW along the edge of the bank towards the first set of keys we wanted to visit, Jardines de la Reina or Queens Gardens about 95 miles. First leg, 42 miles to Cayo la Vela and a protected lagoon anchorage surrounded by mangroved keys. The wind was forecast twenty knots, to die out in the afternoon, and on the morning it held true, we screamed along at seven to eight knots trawling the fishing line behind. After less than an hour the first fish, a small Cero mackerel, the best eating fish we had last time we were on the Caribbean, much happiness. Less than twenty minutes later the reel really squealed, Sasha turned Ednbal up wind as I struggled with the rod, whatever it was, it was a good fighter. Eventually I got it up towards the boat, oh no, it looked like a Barracuda but more silvery. Then much delight, a big Cero, eight, ten kilos or so!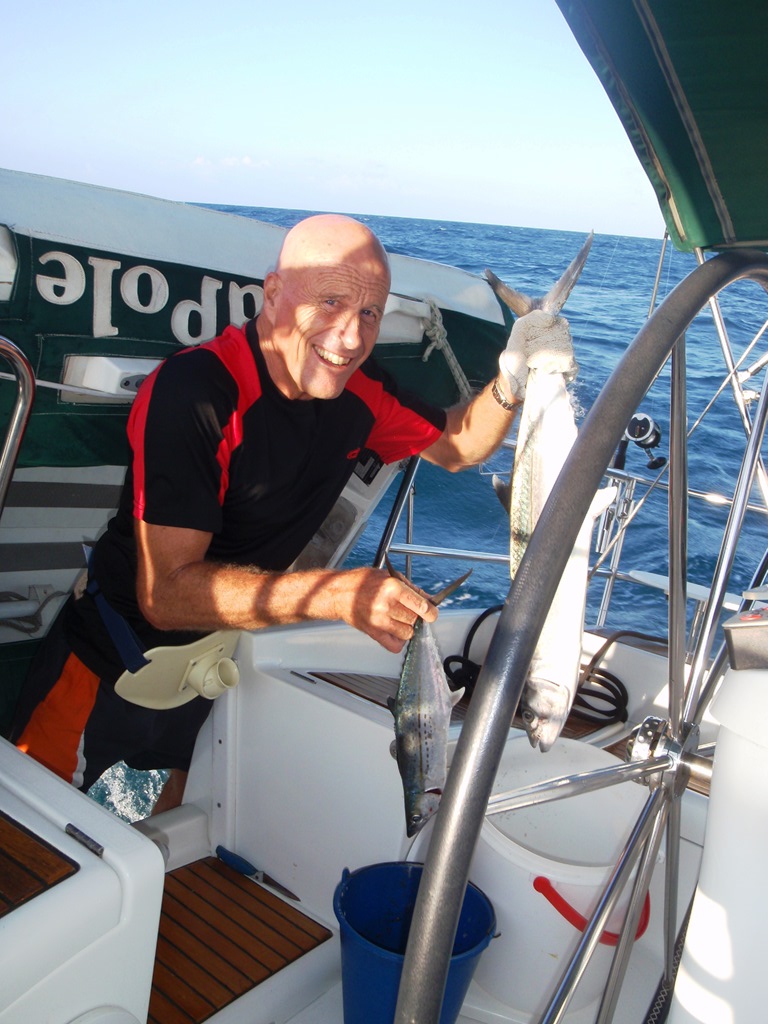 Eight huge fillets filled what space we had in the freezer still leaving a big fish frame for dinner. The rod was washed and put away. By late morning we were ten miles from the anchorage and we were still doing six knots so decided to alter course for Cayo Granada, another well protected anchorage fifteen miles closer our destination. Unfortunately the forecast was a lot smarter than us, by early afternoon we had the genaker up and by mid afternoon the wind had died completely and the reciprocating apparatus had to be employed. Another day and another hop, 35 miles to Cayo Chocolate, passing from Golfo de Guacanayabo to Golfo de Ana Maria via the only marked channel Canal Rancho Viejo. Now we were on the gulf where the Queens Gardens are located but again the wind died out so we stopped at Cayo Chocolate rather than motor on. A bit tricky going into the anchorage far enough to get protection from the wind forecast to come up from the NE 20 to 25 knots. Although the water was a little murky I put on the water maker and, luckily was inside to hear a strange noise, sounded like a hose gave way, so immediately turned it off. Sure enough one of the high pressure hoses had ruptured near the fitting into the RO unit. Out on the keys there is nowhere to get fresh water so the water maker is a must otherwise it is back to the mainland. Look at it tomorrow! Lovely Cero fish for dinner and off to bed. The wind had indeed come up and we had left the dinghy, with outboard still on, tied and locked alongside. Sasha heard something banging on the transom. The dingy had been bouncing up and down so violently that the bow line had chafed through on the midships fairlead. I lept into the dinghy as the outboard was banging against Ednbal and retied it, this time on two lines behind Ednbal. Enough disasters for one day! Next morning we made our way slowly out over the shallows from Cayo Chocolate, heading for our first true Queens Gardens anchorage to the side of the channel out into the Caribbean Sea at Cayo Anclitas. En route I cut off the damaged water maker high pressure hose fitting and thought of ways to jury rig something until Sasha went through the spares and presented a complete new spare fitting that she had bought in Trinidad, what a woman.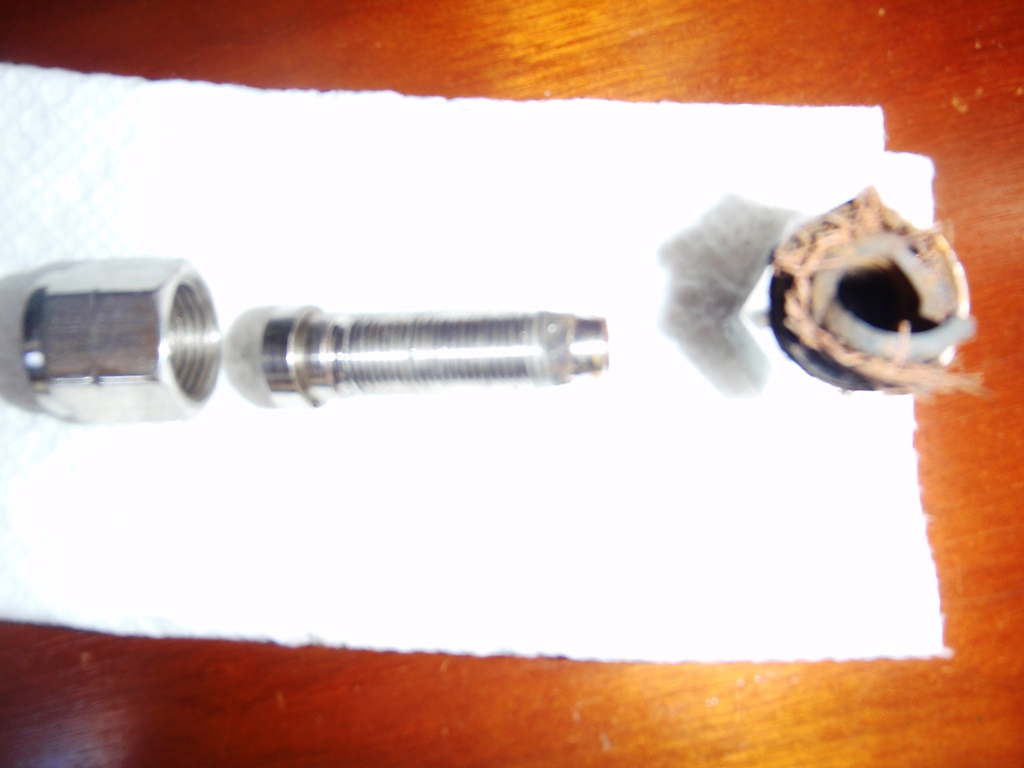 We put on the new fitting and bingo away she went. At the anchorage we were again all alone, as it had been since leaving Santiago over a week ago. Our serenity however was short lived; another yacht came in followed by two big live aboard dive boats accompanied by a small flotilla of runabouts with big outboards that subsequently roared around all over the place. One of the big boats, about eighty feet, anchored just fifty metres from us, in a bay that is over a mile wide. It was lit up like a Christmas tree with a generator running all night. Our guide book talked of lobster on abundance and "mile after mile of white sand beaches on the seaward side". Better go check it out so off in Tadpole, through the channel to the open sea and along the seaward side to a beach a couple of metres wide and maybe two hundred metres long where we saw evidence of turtles having recently nested with fresh tracks the couple of metres up the beach to where the eggs had been buried. Some of the rocks at the waterline were covered in sea snails so we gathered enough for Sasha to cook for lunch and went out on the reef to look for lobster, nothing found. The sea snail recipe called for a cooking time of almost two hours in a broth so lunch was a little late. To eat, we found the only way of extracting the little beggars was to remove their little shell doors and hook them out with a pin. Quite tasty.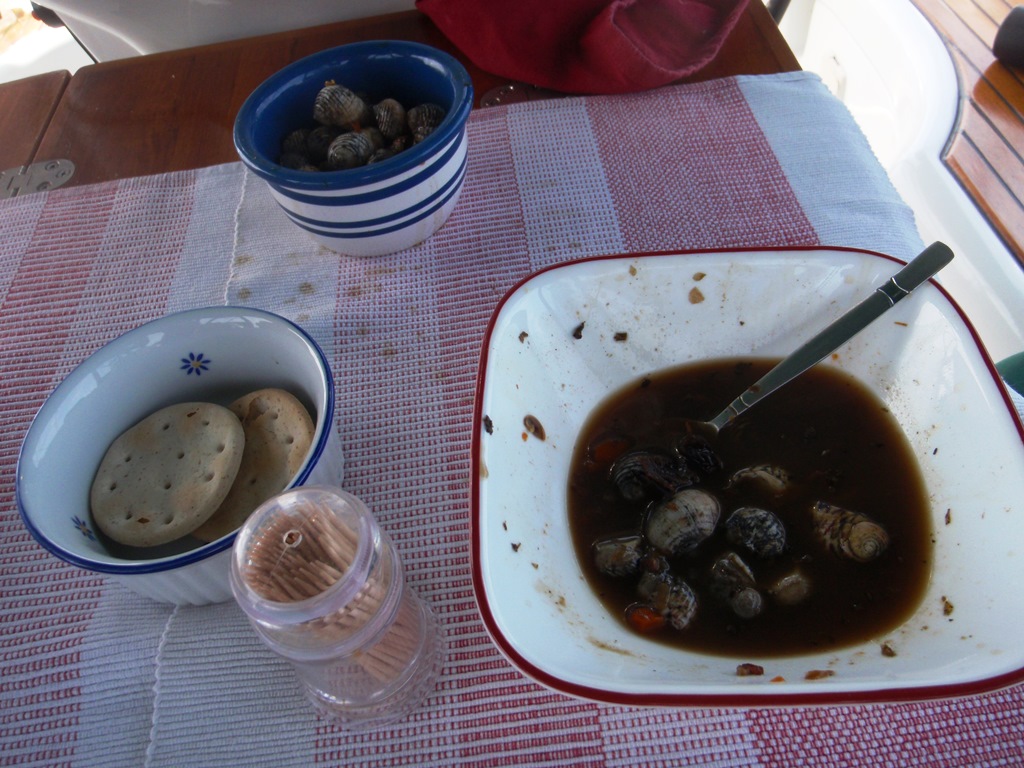 With an absence of lobster and very little coral for snorkelling we decided to move seven miles West along the seaward side of Cayo Caballones to a spot where there was a break in the barrier reef deep enough for us to go in and anchor. Did I say deep enough? Our first attempt to enter was using the waypoint and direction given in the only detailed Cuban waters guide book, an old, 1999 Imray guide by Nigel Calder. We were soon in water less than two metres deep on what looked like rock bottom sparsely covered with weed, I wasn't keen to go in further although we still had half a metre under the keel so backed out and went further West to try again. This time we anchored in deeper water just inside the reef drop off and then went with the dingy and lead line to measure depths to find a way in across the mile wide shallows. It was mostly two to three metres deep and we found a spot about five hundred metres from shore in weed covered sand and far enough out to avoid the bugs, mainly mosquitoes and noseeums. There was still some seas coming in over the reef which, when the breeze put us side on, produced an uncomfortable roll so out went the trusty little stainless delta stern anchor to keep pointed into the seas. First stop patch of coral we had seen in our dingy exploratory and bingo lobster, huge, almost out in the open, we picked up two for dinner but they were so big we only had one tail between us! This was a spot to stay as long as we had settled weather.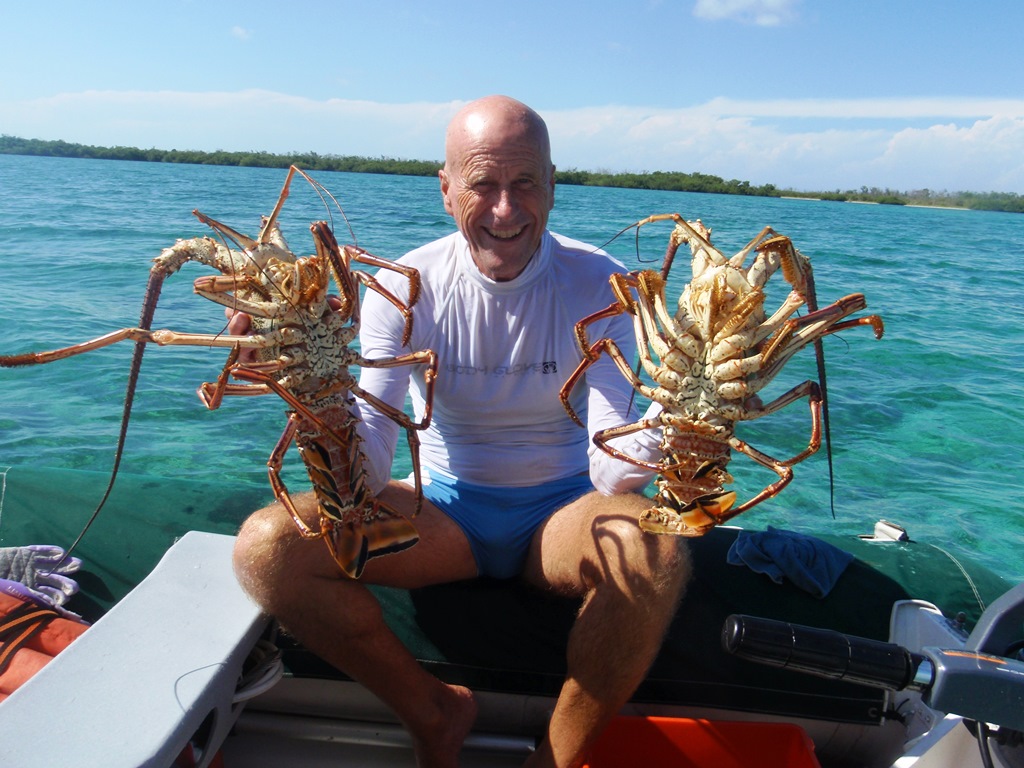 Over the next couple of days we did a few boat jobs, including the revarnishing of all outside teak, dingy exploration through the mangrove creeks and a lot of snorkelling over the coral and flat rocky bottom behind Ednbal. To our amazement we found lobsters in small holes in the rocky bottom not far from where Ednbal was anchored. With the treat of strengthening Westerly winds we decided to move further West along the seaward side of the island to another channel, Canal Boca Grande, and a perfectly protected lagoon at Cayo Alcatraz Grande, while we still had sailable South Easterly. Arriving in the afternoon we anchored in the channel. Bad move as the tidal current stopped us from pointing into the wind. That night we had our worst squall, lightning, torrential rain and wind up to thirty knots. In the morning we moved into the lagoon, may sound easy but not so. The entry approach is shallow, 1.8m in parts, not only that but the "markers" were a couple of old tree branches stuck into weedy bottom with no indication of which side to pass. In the dingy with lead and line I thought I got it right but on the first attempt at entry hit the bottom, must be the other side of that marker! With just one other bottom touch we got into the lagoon and relatively deeper water, three to four metres, anchoring close to the middle about two hundred metres from the nearest mangroves to try and minimise bug intrusion. Again we were the only ones there in perfectly flat water. It was so calm that out came the kite surfing board and we went wakeboarding behind Tadpole, great fun. It seems that Ednbal must be an attraction for Barracuda as again one took up residence between the keel and rudder. My theory is that he knows we will wash up and that little bits of food scraps will attract smaller fish perfect for his dinner. Sasha wasn't so sure as he was a decent size, about a metre and a half long and, as with all Barracuda, a mean looking critter. Any time we swam or bathed she seemed sure he was going to have a go at her! The serenity didn't last, the next day we were joined by two other yachts, French (Annie and Eric on board) and Italian (Paulo and Carla) so we invited them all over for a multinational sun downer. Outside the lagoon was a sand beach, walkable for maybe a mile. We was two stingrays and a big Puffer fish in the shallows, a lot of hermit crabs, iguanas and one jutia, a native mammal, bit like a giant rat weighing about four kilograms that didn't seem the least bit afraid of us.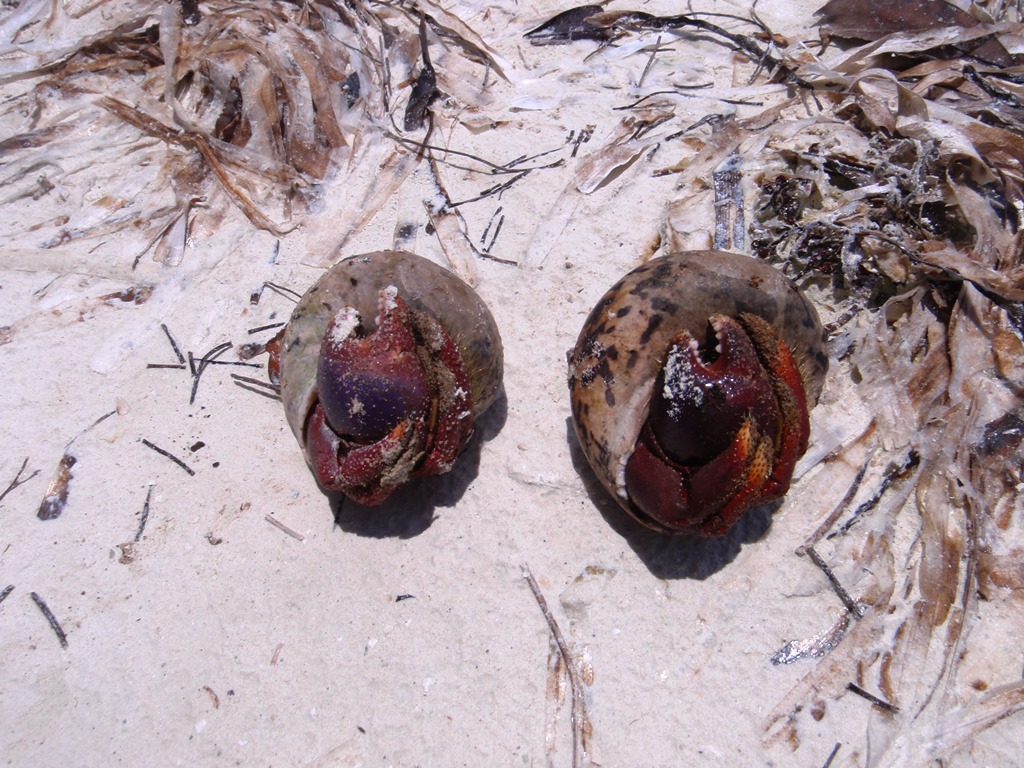 While the wind did veer to the West it did not strengthen so after the nights of total calm water we went back out to the seaward side and another anchorage in behind the barrier reef opposite Cayo Alcratacito for more snorkelling over an expanse of coral. Fish and lobster were by now becoming almost staple diet. Here a diurnal wind pattern began, North East at ten to fifteen knots from about two in the morning until two in the afternoon and virtually dead calm the other twelve hours. That was fine until, on the second night, we had an infestation of flying ants, so much so that we just couldn't eat outside, there were thousands of them! Coral snorkelling was some of the best we have experienced, rivalling the Red Sea especially the soft corals as well as quantity and variety of fish from minute to a two metre shark and giant stingrays, all in less than three metres of water. I tried photographing with our small camera that is good to ten metre depth but it just does not do justice.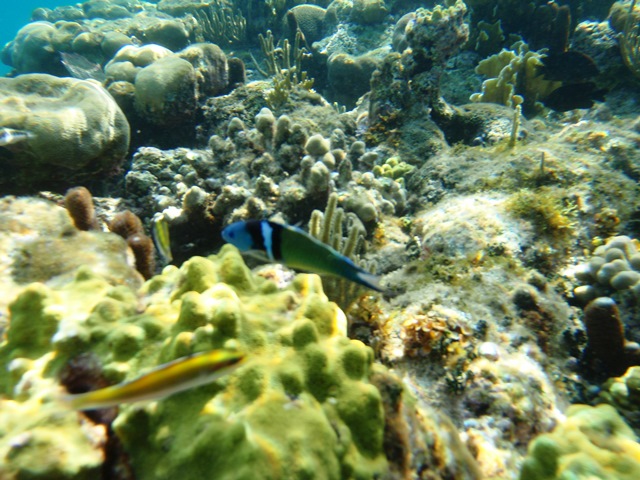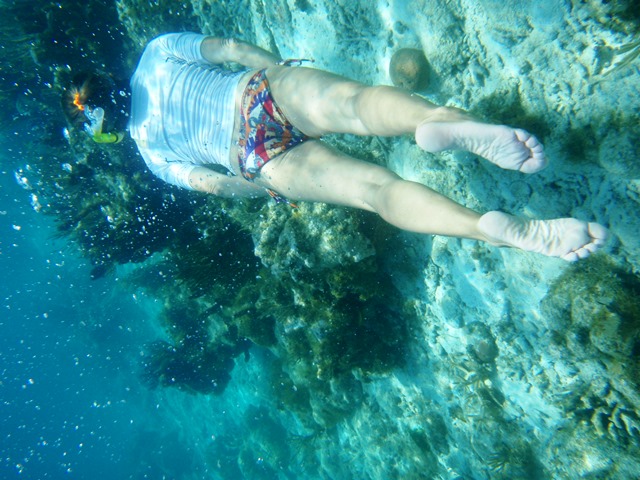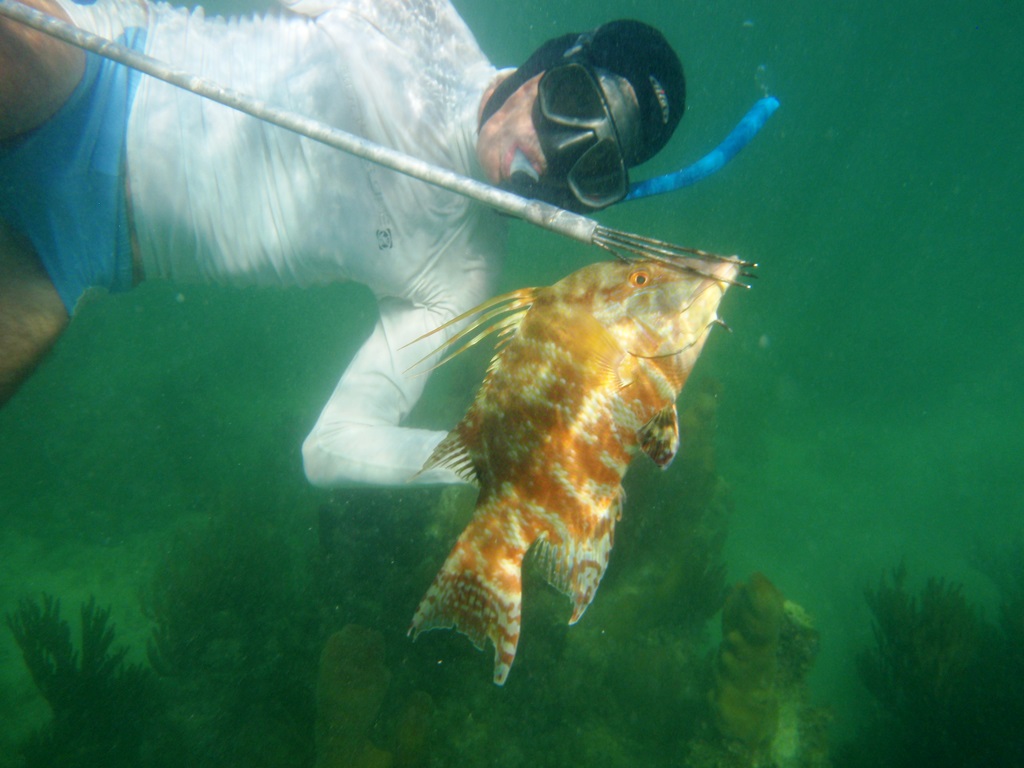 Lobster were not in such abundance here but we managed to get a couple a bit smaller and very nice just boiled. Another French yacht came in, Patrick and Patricia on board, heading down to Grand Cayman to stock up before sailing to Bermuda, Azores and down to their base of La Graciosa Island in the Canaries. These guys are serious sailors, from the Canaries, a season in the Caribbean, next in Norway, another down the South American coast etc. Soon it was time to think about heading towards the Cuban mainland, the city of Cienfuegos, to renew our visas, a one month extension, restock on fruit and veg (after three weeks we were on our last tomato, with only a couple of onions, a carrot and half a cabbage. We could do it in one go but with still a week left on our visas, no rush so decided to break up the ninety mile trip with a couple of overnight stops, as usual, wind dependent. A few miles up the track was another break in the barrier reef where we could do more snorkelling and tuck in for the night. Initially we anchored on a lovely patch of sand just inside the reef so that the stern of Ednbal was only about twenty metres from the coral. When you think that it just can't get any better you jump into clear water to reef simply teaming with fish amongst a veritable forest of soft and hard corals. As the swell rose a little Ednbal started to roll, time to re anchor closer in, behind protective reef, close to a large structure in the water, a fish farm of some sort. In the distance we could see two patches of white, could it be white sand, investigation required, so off in the dingy. Indeed, just off Cayo Breton were two tiny white sand islands about fifty metres in diameter so we had a short but enjoyable island walk! In the morning, after exercise, swim and breakfast we sailed on with two possible anchorages in mind, one about ten miles closer to Cienfuegos than the other, it would be nice to go to the furthest and leave only fifty five miles for the following day, as usual, wind dependent. For most of the sail on another gorgeous day it was straight down wind, headsail polled out and main goosewinged. We made it still in good light, anchoring in less than three metres, along with two fairly large Cuban fishing boats. This was our first time anchored close to fishermen, not sure whether to visit them or if they may come to visit us.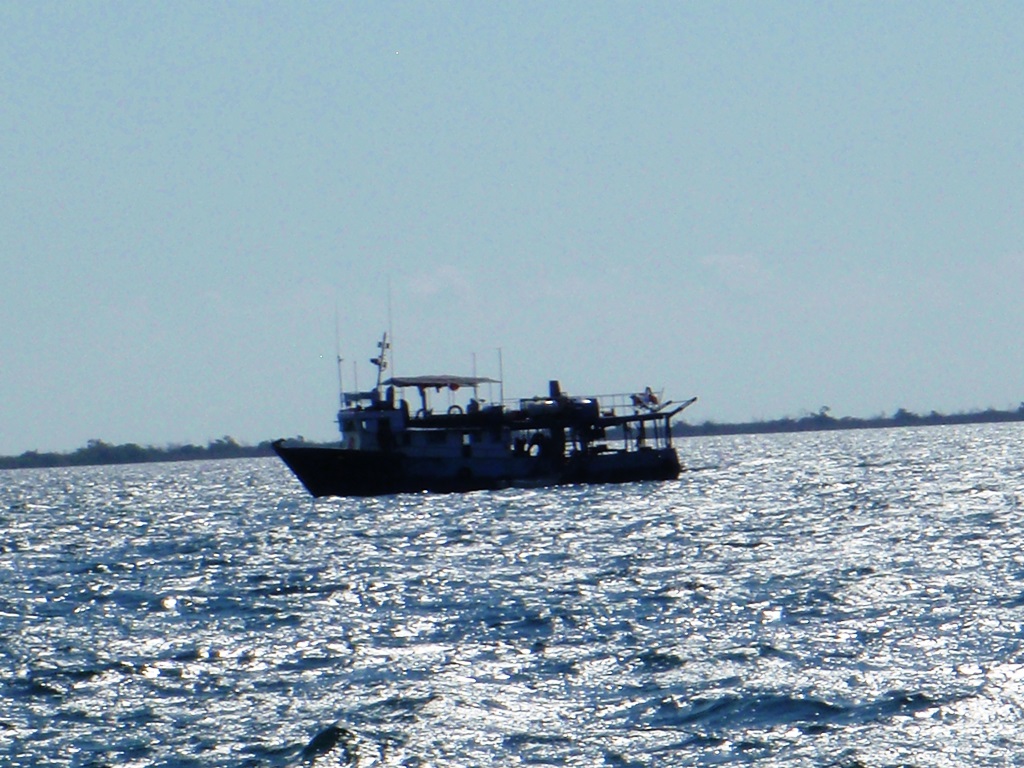 In any event it was getting late by the time we settled and as we were planning to leave before sunrise in the morning to make sure we got to Cienfuegos in good light no contact was made. Reveille was at 04:00 and we were under way by 04:30 with wind forecast ten knots or so pretty much behind us. It turned out to be twenty to twenty five knots most of the way and we arrived at three thirty. In Cuba, each time you arrive in port you must check in, show passport, hand over your exit permit from the port and be inspected, which takes an hour or so but no problem, everyone is very helpful and courteous. Our first mission was to find some sort of supermarket and to deliver a letter given to us by Maureen, the Aussie lady we saw in Haiti, for her Spanish teacher, Noharia, while she was in Cienfuegos. Well, forget the supermarket, it had four isles but maybe fifty or sixty different items in total, of which about ten were different sorts of rum, no fruit and veg at all but naturally keep in mind the rum.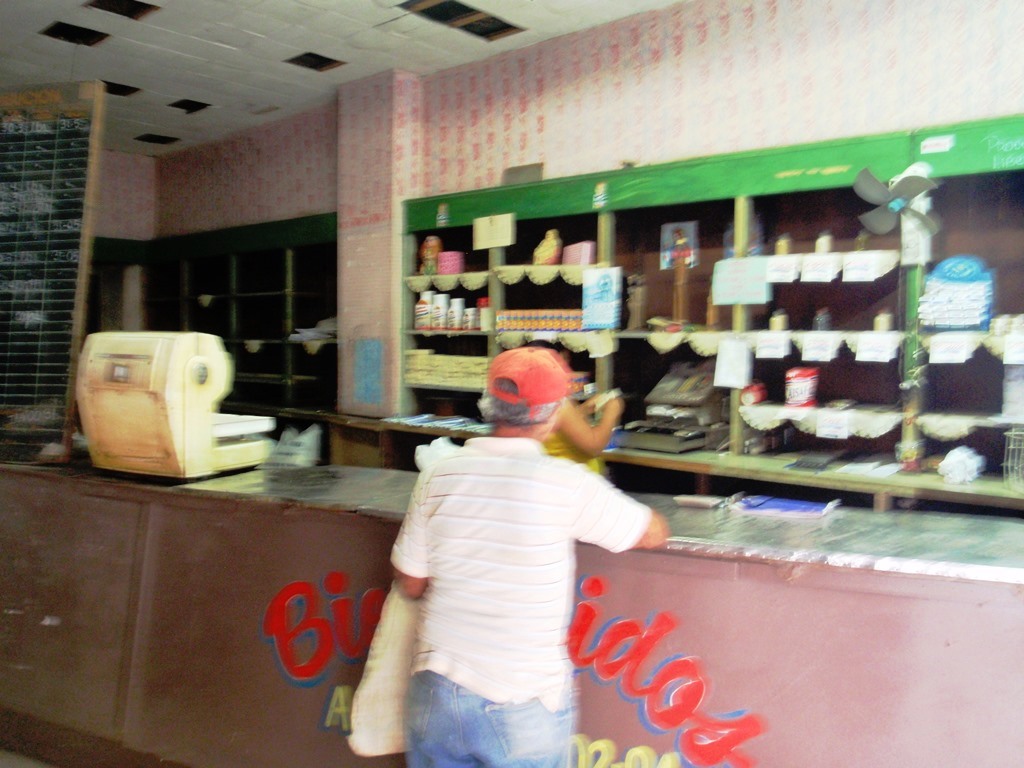 It was a beautiful walk down the shore tree lined footpath next to the dual carriageway road carrying bicycles, three wheel bicycle taxis (guy up front peddling, two seats behind for passengers, wheels mainly old motorbike, seats from old cars, every one different, home made), horse and carts (most carts had for wheels, old car wheels), old pre revolution cars with most other cars being Russian. Everywhere you looked something you had never seen before, just amazing. Following Maureen's mud map, walking towards the old city, we found what we thought was Noharis's house. It turned out to be the next door neighbour, he welcomed us in in perfect English and wouldn't take no for an answer to his offer of a shot of rum. Noharis wasn't home we could come again tomorrow, a big celebration day in Cuba, Mother's Day. By the time we were walking back to the marina it was evening and the shoreline footpath was filling with locals coming out for evening social get together, many drinking rum, very nice to see. On Mother's Day we thought it better not to visit so decided to leave it until Monday. Instead we hauled out our bicycles and went for a ride around the old city, fascinating. Out seemed we were in a country, well at least a city, that has virtually stood still for sixty years. Major buildings around the main city square have been refurbished, theatre, high school, church, municipal building and a couple of small bars. The square itself full of big shady trees and bench seats all, as in Santiago, clean, clean.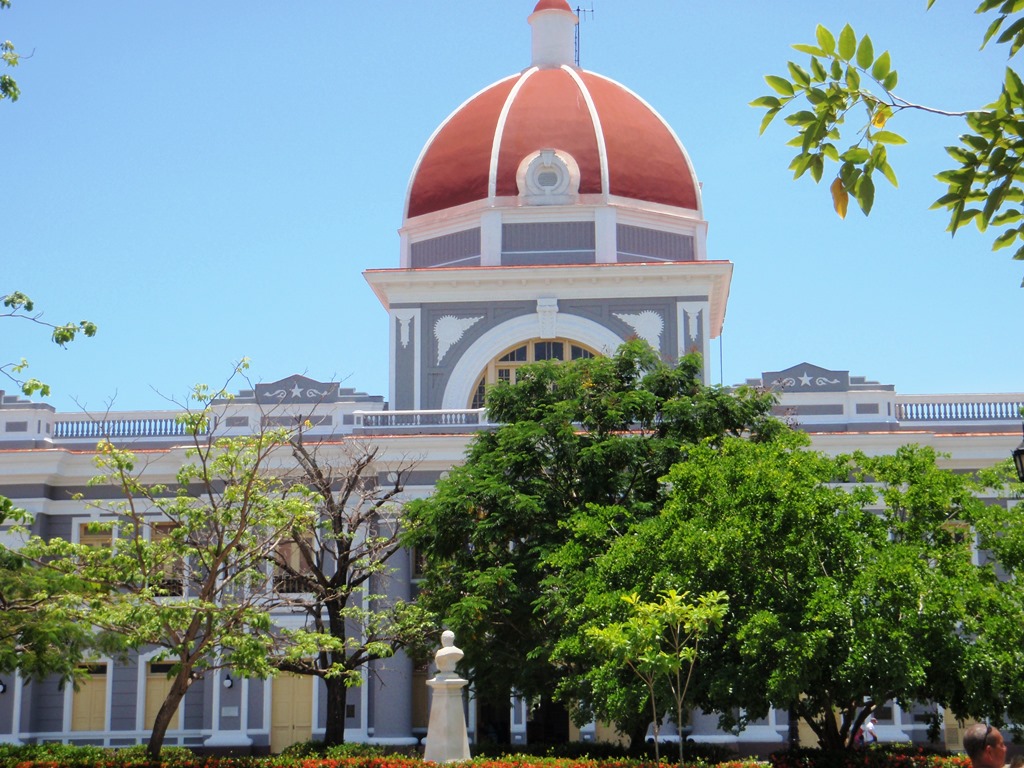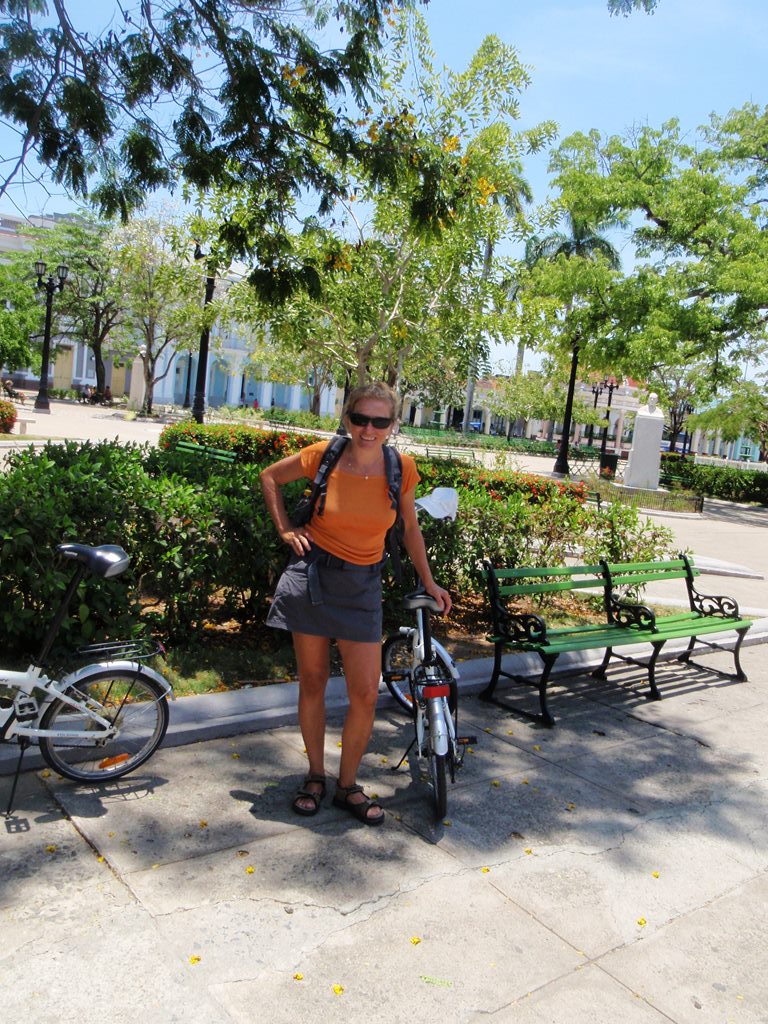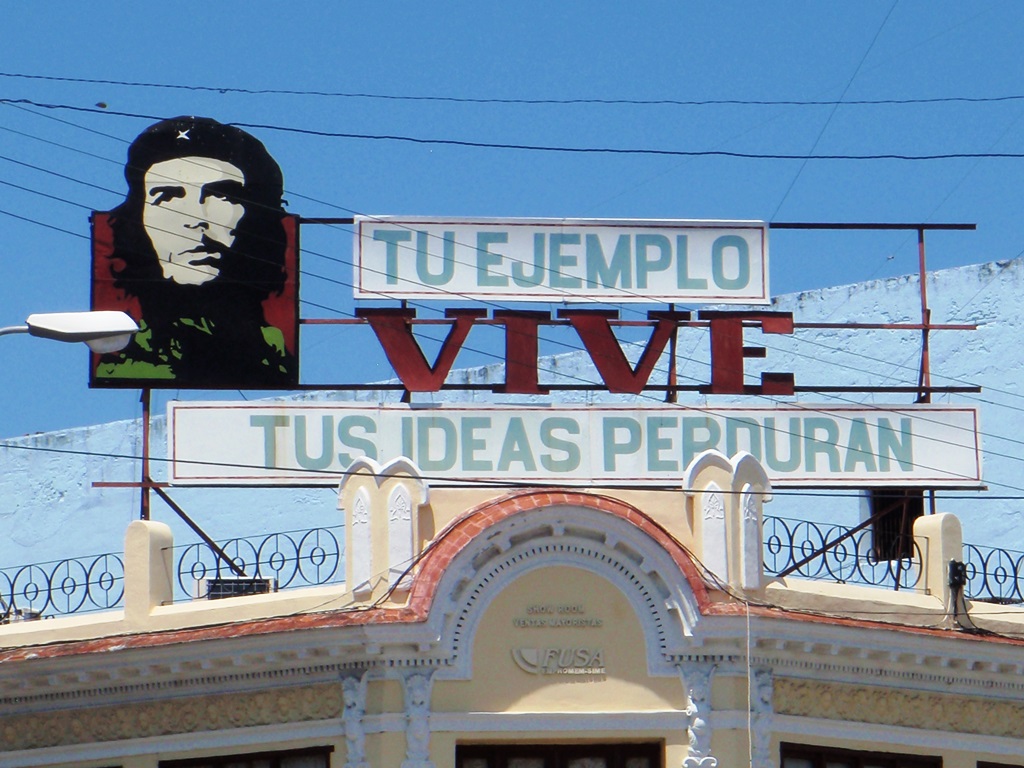 One could easily grow to like this place. Most shops were closed but a few eating places were operating, we saw people coming out of a tiny pizza place with small, about twenty centimetre diameter, pizzas on a piece of thin cardboard, looked good, we ordered, with two drinks served in small glasses. In less than five minutes we were out with our two ham and cheese pizzas and two drinks, total cost one dollar! On our way back to the marina we passed a house with mangos in the window and a guy sitting in his doorway so we enquired about buying mangoes, yes two for ten Pesos, about forty cents. They were so big that you could hardly hold one in your hand and, as we found out later, perfectly ripe and oh so juicy. Out seemed we were in a country, well at least a city, that has virtually stood still for sixty years. Major buildings around the main city square have been refurbished, theatre, high school, church, municipal building and a couple of small bars. The square itself full of big shady trees and bench seats all, as in Santiago, clean, clean. One could easily grow to like this place. Most shops were closed but a few eating places were operating, we saw people coming out of a tiny pizza place with small, about twenty centimetre diameter, pizzas on a piece of thin cardboard, looked good, we ordered, with two drinks served in small glasses. In less than five minutes we were out with our two ham and cheese pizzas and two drinks, total cost one dollar! On our way back to the marina we passed a house with mangos in the window and a guy sitting in his doorway so we enquired about buying mangoes, yes two for ten Pesos, about forty cents. They were so big that you could hardly hold one in your hand and, as we found out later, perfectly ripe and oh so juicy.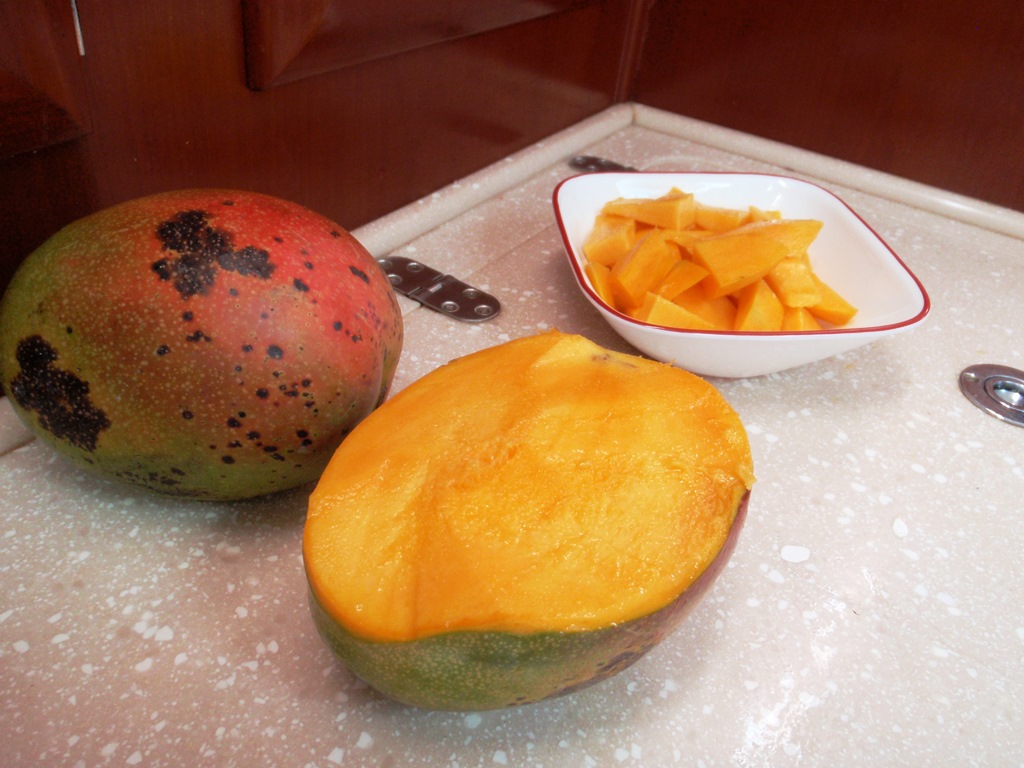 On Monday one of the marina guys asked us if we were Australian and did we know Noharia. Seems news travels fast here, we cycled to her house in the afternoon to meet her, her husband Roberto and two young daughters. This was our first insight into somewhat normal Cuban life although the family, as Roberto pointed out, was privileged. Noharia taught Spanish and would complete her PhD later this year while he taught English and did car repairs. They owned their house (law change to allow house ownership had only occurred a year ago) and although only being paid less than eighty dollars between them per month, yes per month, they considered themselves privileged, relatively well off! Slowly we began to see how the system in Cuba works. Virtually everybody has some sort of job but the differential in payment from day doctor to street cleaner is relativity small. On addition every household receives basic foods at no cost using a small ration book sort of thing, but only very basic, sugar, rice, beans, about maybe twenty items. Other things are also provided at low cost on a periodic basis, electric rice cooker, electric pressure cooker, single electric hot plate. Cuban "market nationals", the same stores that accept the ration books, have other produce for just a few pesos, national cigars (about ten centimetres long and one in diameter) for one peso, rough unpackaged soap six pesos toothpaste, four pesos, rum twenty pesos per litre (bring your own container!). They had a PC, put together mostly from parts bought, set by friends from Canada, or collected one way or another; it had cost them a total of six hundred dollars, over half a year's salary. We had a few things to spare on Ednbal, electric frypan, old set of Corelle dinnerware, read write DVDs and some personal hygiene stuff that we have, Noharia couldn't believe it, almost cried. It so wonderful to give something useful. We were invited for a traditional Cuban dinner, beans, rice, tostones (fried green plantain), pork boiled then cooked in a sauce followed by local fresh cheese and guava jam. Rice and beans may not sound much but cooked properly by Noharia, fantastic, as was everything else.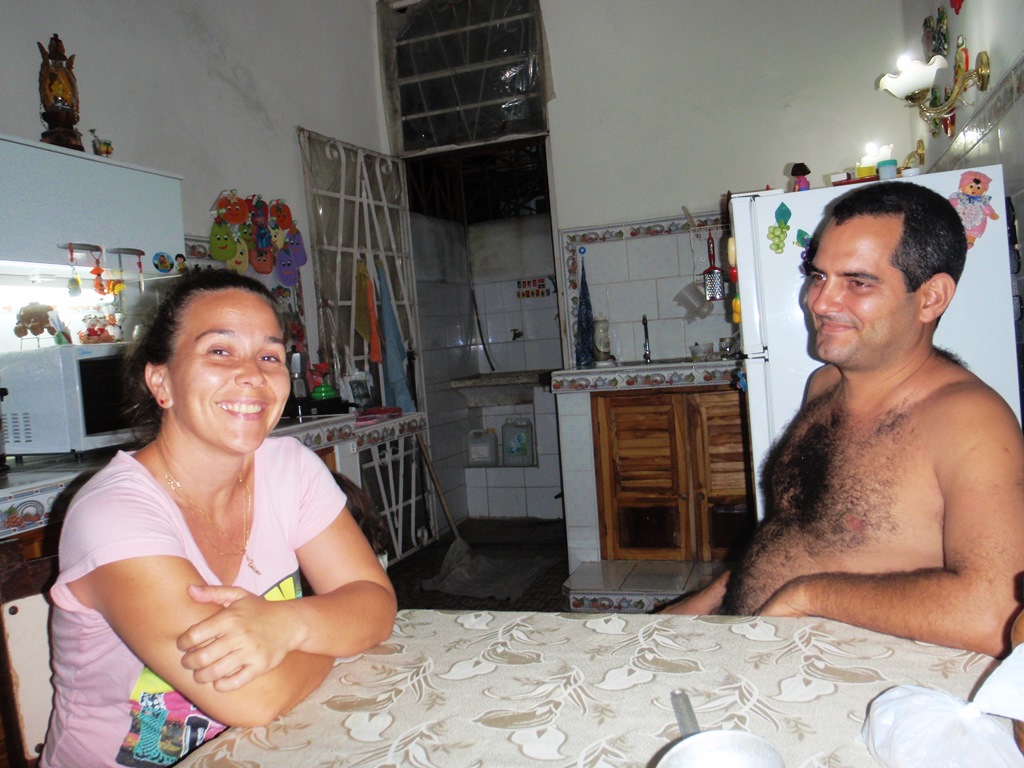 Time for some inland travel and of course Havana was a must. Another two cruising couples, Bill and Joanne, Alice and Steve, whom we had met in Haiti and Santiago had just returned from Havana and gave us the lowdown. A hostel Casa Vieja 1840 located in central old Havana one block from Plaza Vieja was clean and well run for for 30 CUCs a night. A taxi driver, Osmani could be hired for 40 CUCs so if we could team up with another couple it was cheaper than a bus. Osmani, was punctual and a good driver for the 250 kilometre, three hour trip to Havana. We teamed up with another cruising couple, Luki and Elmari, South Africans on board Skebenga, for the trip and set off on Tuesday morning arriving at eleven. Karen, hostel owner spoke perfect English so no problem there and the two top floor rooms, with en-suite, were available at thirty five per night or the lower floor, shared bathroom for thirty, we went the whole hog!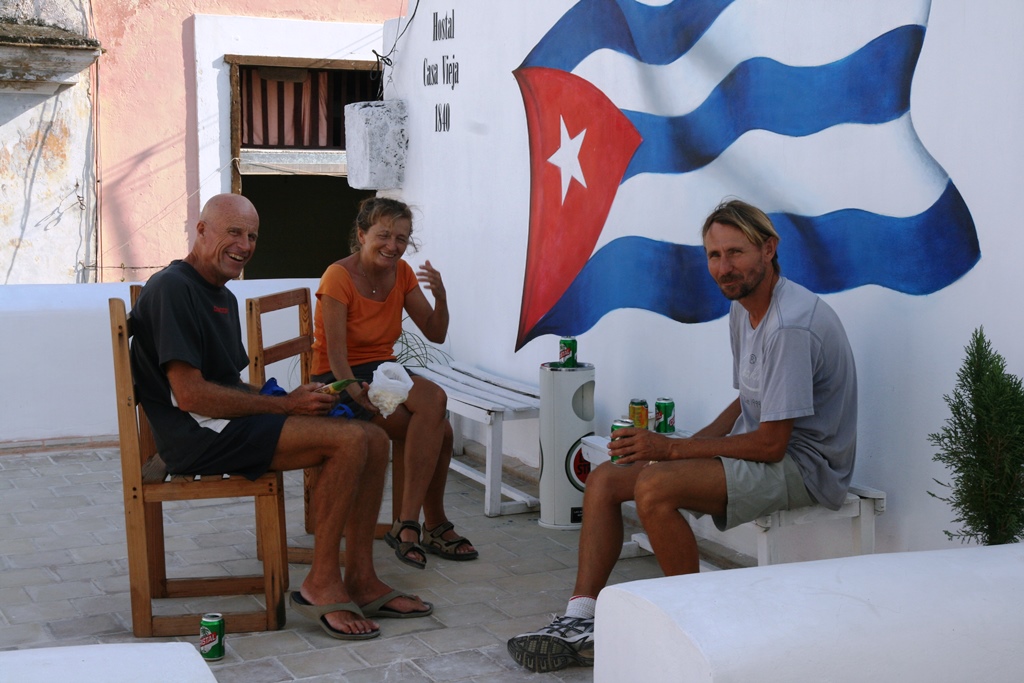 In the afternoon we did the hop on hop off open top deck bus tour of Havana, what a city, almost frozen on time back in the 1950's. As one of the local said, the whole city is a museum. More old pure revolution cars than anywhere else, some absolutely pristine, especially a few constables, some in need of attention, but most in good running order. Horse and carriages, for tourists, horse and trailer for locals and goods carrying, three wheel bicycle taxis, old Russian motorbikes and a smattering of more modern transportation. A huge amount of renovation, buildings, roads, services, especially in the old city. Some sites, Plaza Vieja for example, has all the buildings around the square renovated with some big hanging pictures of before and after, very impressive.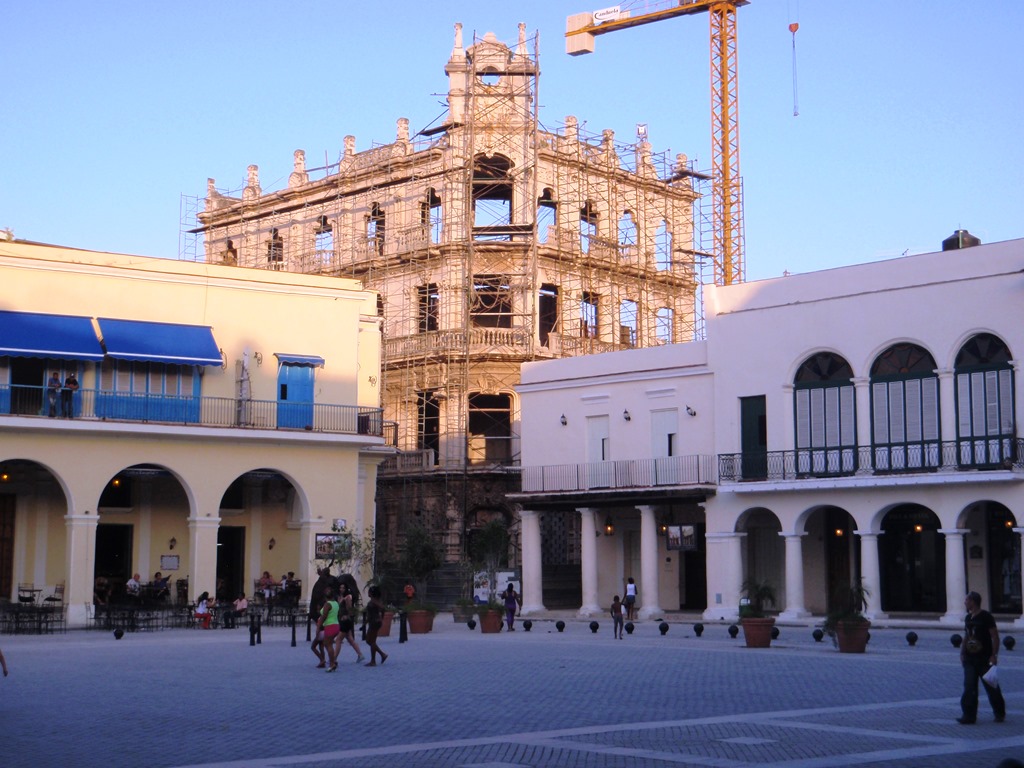 Everywhere you looked, something completely different caught your eye, even a guy walking a dog with a pet white rat on its back,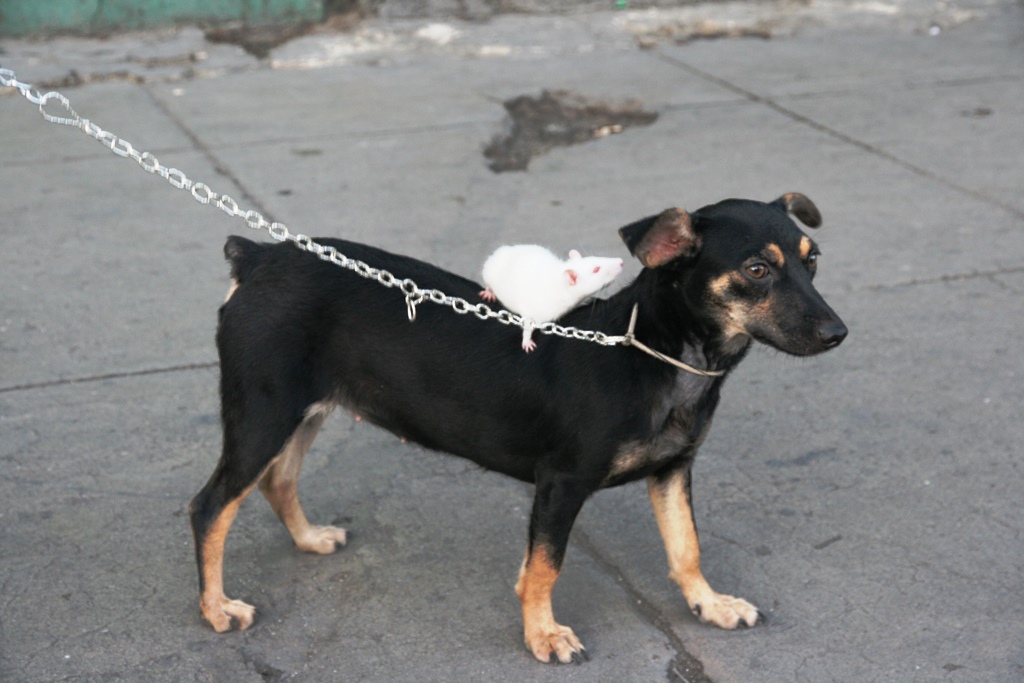 I took photo after photo but there was no way to capture the atmosphere, people had little money but no one was emancipated and very few beggars. There was barely any need to go to museums, of which there were plenty to choose from. We visited the old palace where Spanish governors had lived, the stories high and furnished as it was. Unlike many in Europe where contents of historical buildings removed to museums, here it was all in place, just amazing.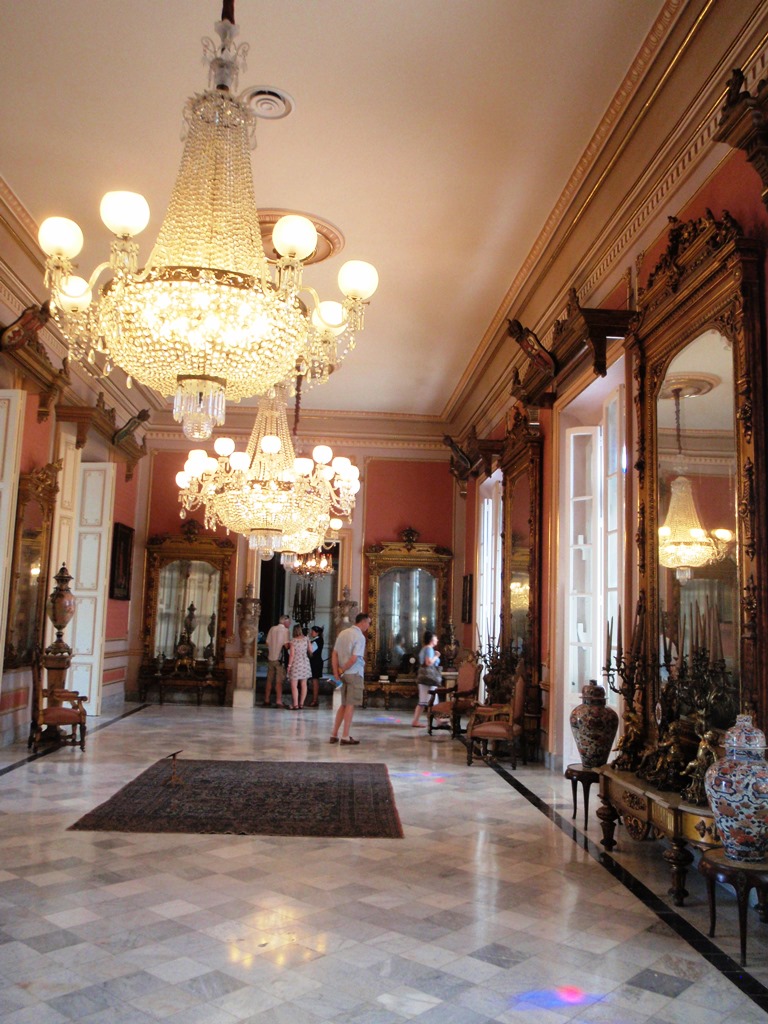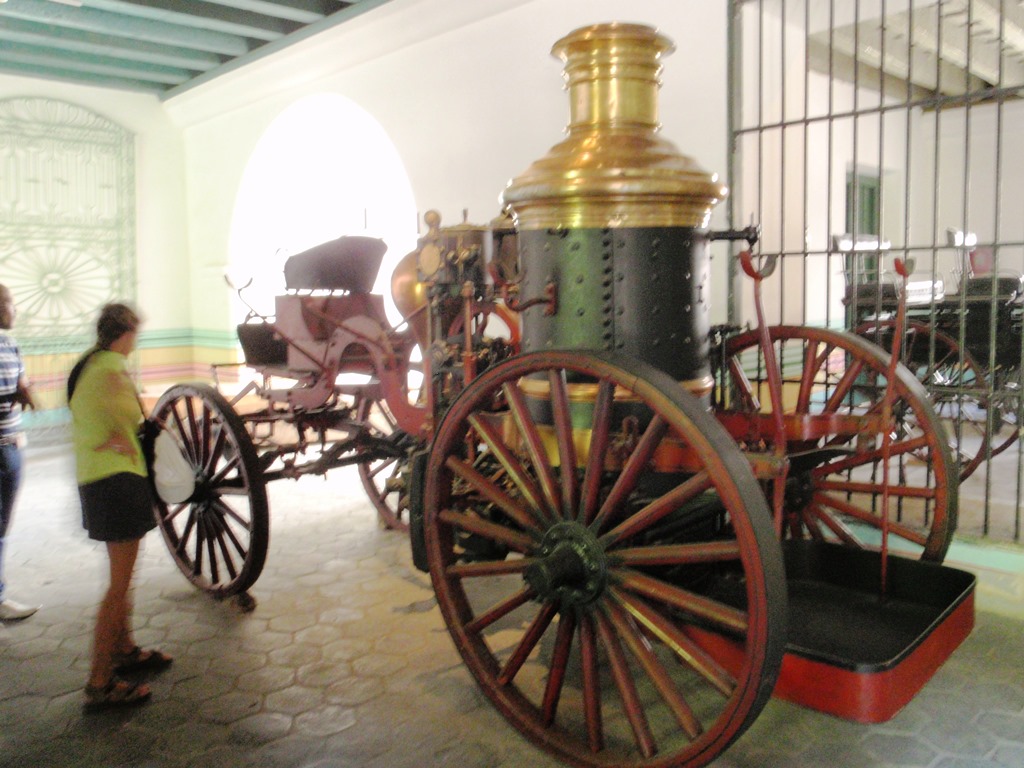 Our other visit was to the cigar factory, five hundred people rolling cigars at their bench for eight hours, each producing around eight hundred cigars per day. Workers are trained for six to nine months before becoming master cigar rollers and many don't make it through training. Workers are allowed to take home five cigars a day. Different brands of cigars, different leaves. Fascinating to learn how leaves are selected, in what sequence they rolled and pressed then quality tested packaging. Top of the range Cohiba sell from the factory shop in boxes of twenty five at six hundred and twenty five dollars per box, twenty five dollars each! All boxes are lined with cedar preserve flavour. When asked what a cigar costs to make our guide said the workers are paid about twenty dollars per month, about a dollar per day, leaves are next to nothing so work it out for yourself. It is good income for Cuba, sold mainly to Europe, none to the USA! At the end of the tour our guide took us to the room whet we had left our bags (no bags, no cameras allowed inside the factory) and locked the door then offered Cohiba cigars for eight CUCs, ten dollars each, had to get one, have him ten CUCs, no change so were given another lower quality cigar. Cigars must be put in your bag and not shown on the way out, our first taste of anything like corruption in Cuba. Mostly we spent two absolutely wonderful days strolling the streets, parks under shade of huge trees, looking, taking it in, sampling foods (both off the street and in restaurants) having the odd beer and cocktail (mojitos and daiquiris, two dollars).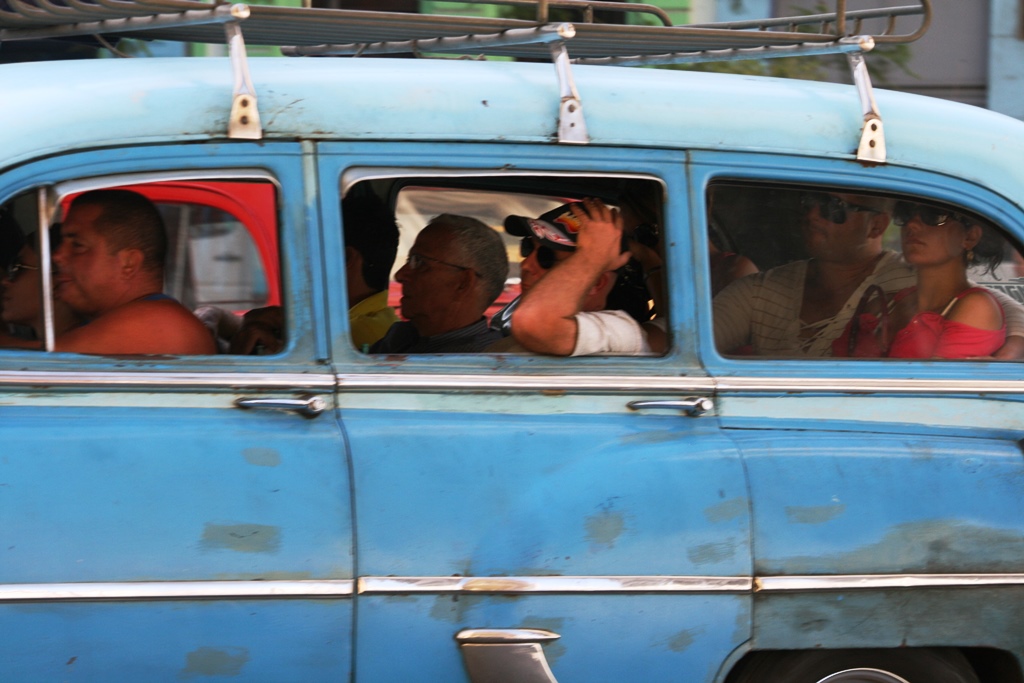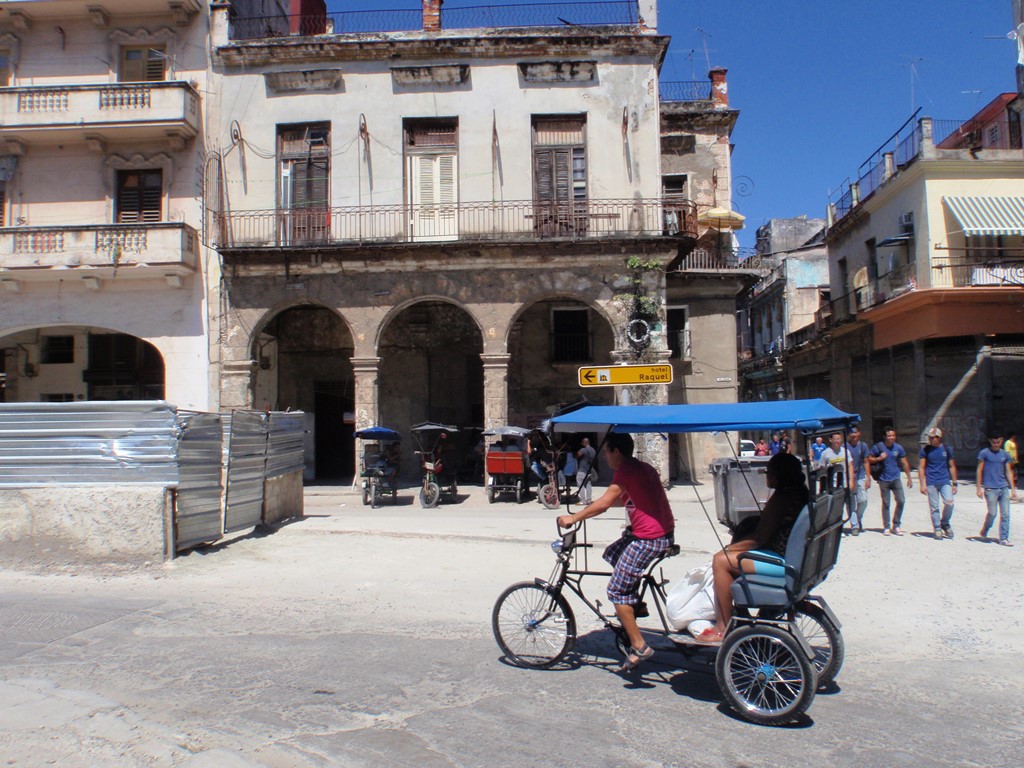 Luki and Almari were great company, all worked out fantastic. Cuba and Havana rate very highly on our list of places visited since we started cruising seven years ago. On the way back to Cienfuegos it rained heavily, first rain we had seen on the mainland. Osmani stopped at one of the roadside mango sellers, a bucket of ten huge mangos for less than a dollar. Back on board, some domestics to be done and getting feedback from others on a visit to the mountains. We visited Noharia and Roberto again to learn more about life in Cuba. With the revolution Fidel Castro introduced four major changes or initiatives, education for all, at that time, 1959, most Cubans were illiterate, a health system for all, property was redistributed, taken from landlords to be owned by the state with existing tenants allowed to use it, basic foods for all. Most certainly the education and health has worked but Cuba became somewhat dependent on the USSR. Cuba produced very little, equipment and machinery came in from the USSR so with the collapse of the USSR came hard times for Cubans. Recovery over the last five years has meant a better life and with changes in law made a year ago allowing private ownership of property people with initiative can progress. Roberto loves to fish and showed me his fishing gear, total of about ten hooks, we gave a few packs of assorted sizes, he was over the moon. For our look at the nearby mountain, almost eight hundred metres high, we decided to hire a scooter. Off we roared on a mighty 50cc machine and got up to the national park at El Nicho just before lunch. Of we were to visit the park and waterfalls we needed to make sure we had accommodation. One of the cruisers told us that there were "Casa Particulars", the Cuban version of a bed and breakfast in the village but everyone we asked said "no akie", none here. We found a local restaurant with full table service, very clean and nicely decorated, and sat down to a standard Cuban lunch, beans, rice, salad and fried plantain accompanied by two beers, just wonderful. And the price, an unbelievable thirty seven Cuban pesos, about one dollar fifty!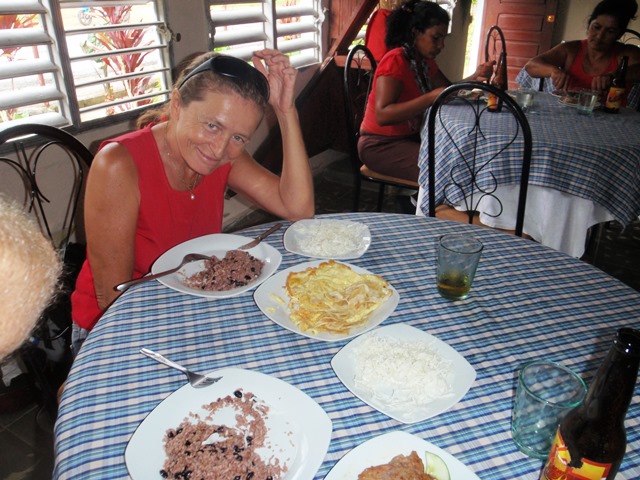 While eating it started to rain but by the time we had finished it had cleared. We decided to try to negotiate a thirty kilometre track to the neighbouring Topes de Collantes national park where the map definitely showed accommodation available. About ten minutes later it started to rain again, it poured. The track was not an option in these conditions and we were soaked, time to turn back and reassess the plan. A visit to the Topes de Collantes park the long way around, about ninety kilometres, seemed the only option, provided we could find fuel for the scooter which we did. It was after five by the time we got there only to find the hostel full. With the fuel gauge again flashing empty there was no option but to head to the city of Trinidad about fifteen kilometres away. We made it, refuelled, found a beautiful Casa Particular for twenty five CUCs including breakfast and took a rest after two hundred and twenty kilometres on a scooter, never again said I, again! An evening stroll around the old city, a popular tourist destination, was somewhat disappointing after Cienfuegos and Havana. The breakfast next morning was exquisite. Freshly squeezed mango juice, mango and paw paw fruit, coffee in one Thermos, hot milk in another, fried eggs, bread, butter, cheese and guava jelly all set out on the table of our terrace.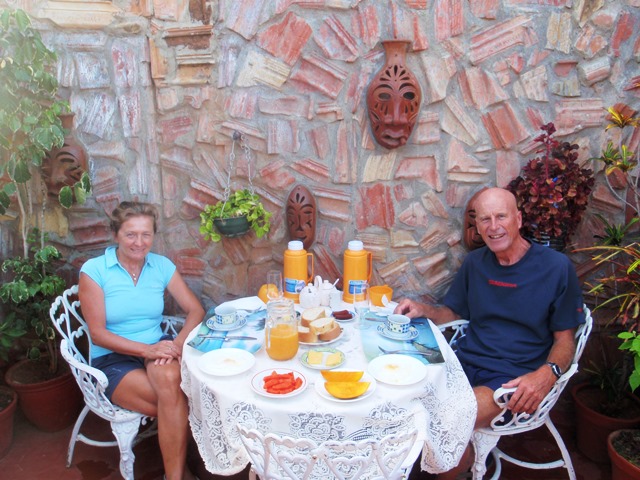 Instead of taking the scooter to the park we rode horses, stopping at a waterfall for a swim in clear cool mountain water on a hot day. No photos because dumbo here left the camera at the hostel. After the house ride, with a suitably sore posterior, it was off on the similarly uncomfortable scooter back to Cienfuegos. After almost two weeks in the marina it was time to get moving. It was getting late on the season, another month and it would be hurricane season, the number of cruising yachts in the marina had dwindled from over a dozen when we arrived to only three when we left. Time for goodbye to Noharia and Roberto and the great marina staff. We loaded our carton and a half of the best Cuban rum, never a chance again at these prices, spent our last CUCs pesos on mojitos and Cuban dinner, checked out from the marina, customs and immigration, and hit the cot for an early start to the outer keys, forty five miles, to wait for good winds to sail the remaining one hundred and forty miles South to Grand Cayman. At the agreed time of six in the morning the harbour master, his boss and a military dressed guy arrived at Ednbal to inspect and issue final clearance. Ednbal was searched by the military guy, the harbour master did the paperwork and the Bose watched on, by six thirty we were under way. Unfortunately no wind, we had to motor virtually the whole forty five miles, save five miles with the genaker up doing two knots in five knots of wind before the sea glassed over. At Cayo Guyana del Este we anchored and went for a swim over nearby coral. Not as spectacular as some other spots but we managed to catch a lobster for dinner. Later a thunderstorm and a windy, roly night. In the morning we re-anchored closer in the Lee of the tiny island and went ashore to visit the lighthouse keepers. Later a fishing boat came in and anchored near us, I yelled out pesca, fish in Spanish. Two guys rowed over to us with two beautiful big, cold Mutton Snapper. We traded French rum, a packet of cigarettes, soap and chewing gum. They beamed then later returned with five big lobster tails and two huge mangoes for four cans of beer! By the time I filleted the fish our freezer was full with our additional sea food. What incredible people, we definitely plan to return to Cuba one day.
On Sunday twenty sixth of May 2013, we sailed for Grand Cayman in a beautiful fifteen to twenty knot beam on breeze.