Spanish Virgins & Puerto Rico
Category: Caribbean
Created: Sunday, 17 March 2013 15:52
Written by Roger Boxall
Hits: 2260

Spanish Virgins and PR
Virgins & Puerto Rico With Sasha still on crutches catching a bus would be just too much, to help with the cost, we opted for a taxi! At the shopping mall a few miles away we found the radio shack store but no they didn't have any sim cards, run out, go see AT&T, also in the mall.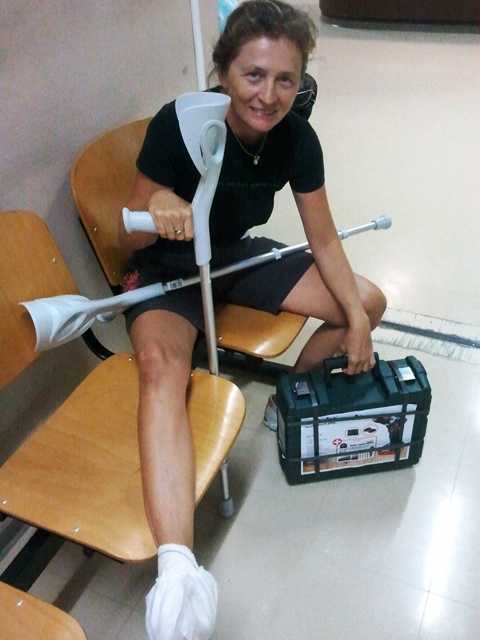 The guy at AT&T was most unhelpful, had only one choice for a prepay sim with data, you had to buy one of their phones, couldn't believe it. After much mashing of teeth we bought a voice and text only sim. We caught another taxi back to Christiansted where we received a text from AT&T seeking feedback regarding their customer service.so I let them have it. Blow me down if I didn't get a phone call from the AT&T customer service. When I explained what we were offered and that we just wanted a voice, text and data package she arranged it, just had to pay a little more to add data to our existing voice and text. No problem. She was way more helpful and it worked; now we had data too! Our next move was to contact our friends, Patti and James on La Aventura, whom we last saw on Spain, to see if they were still in the US Virgins. Yes they were still in Honeymoon Bay, St Thomas island to the North West of us. We arranged to meet in Isla Chiva on Vieques island, directly North of us. Patti and James sailed West from St Thomas to meet us there. It was great to catch up and chat about all that had happened since we last were together a year ago, and of future cruising plans. The anchorage was a little roly so next day we moved to Ensenada Honda bay, very protected, very calm, very isolated. Great dingy exploration up the creeks in amongst the mangroves. All to soon we were on our separate ways, La Aventura back to Honeymoon Bay, Ednbal to Sunbay Marina on the East coast of Puerto Rico. We radioed ahead to the marina office and on arrival had two marineros to help with lines as we came into our berth. Here Ednbal would stay while we flew back to Perth for a few weeks. Everyone we met at the marina was super helpful especially the administrator, Olga. I reported to customs and US border protection to find that we were not really checked into the US, seemed that the US Virgin Islands didn't count and yes we did definitely need a cruising permit. We decided to hire a car for a couple of days as there was much "stuff" on the list to be procured. Cheapest was to hire from the airport and we could drop it off on our way to Perth. I asked the guy on the power boat next to us if there was a bus to get to the airport tomorrow, no buses, it's about fifty miles, taxi only and about $60. However if you want to go on about an hour I can give you a lift. A quick call to the hire car joint to check pick up time change and off we went. Between picking up stuff, preparing Ednbal for her unattended marina stay and packing all the things to take to Perth, the next three days were a blur until we were on plane mid February.
On 22 March we arrived back in San Juan airport to find the taxi fare back to the marina was $87! Thankfully Ednbal was just fine, the couple of things we had ordered over the net (including eighty metres of anchor chain) had arrived and our outboard was repaired and ready for delivery. All we had to do was a bit of clean-up, find some fruit and veg and monitor the weather for our departure to head South down the Puerto Rican coast and then West towards Cuba. First stop Islets Marina, a small island just a couple of miles from Sunbay. At 2,500 rpm Ednbal usually does 6 knots, now she could only manage 4. A good prop and hull clean was in order so we were both over the side plastic scrapers. Next day, for our forty mile sail down to the next anchorage, Patillas, she went much better. Some more swimming on nice clear water, a bit more hull cleaning and just an overnight stay before the next forty mile sail, West along the South coast to the an anchorage close to the larger city of Ponce and our last chance for a major stock up before leaving US waters for the Dominican Republic and Cuba. Our guide books and internet info on Cuba indicates a distinct lack of choice in Cuba. Many basic ...necessities are distributed to the Cuban people on a heavily subsided ration type basis and are therefore not on the shelves in shops, bread for example. Just two blocks from the Ponce anchorage was a large cash and carry store catering largely for commercial, bulk, customers but also had most items in smaller numbers as well. Although the choice was limited we managed to get most of what we needed.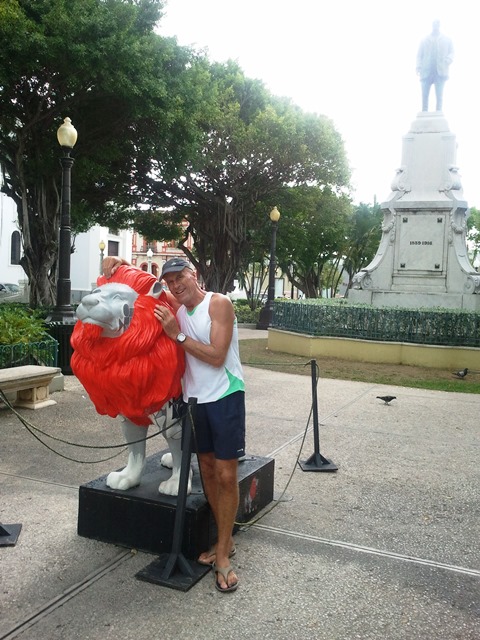 Another stock up item was cash in $US, with plenty of small denominations, for use in Cuba. We also meet up with another cruising couple, Jan and John on board the Bermuda registered yacht Aeesha with whom we spent a couple of lovely evenings. Our excursion into Ponce town was on our fold up bikes on a relatively cooler cloudy day with a couple of showers, just right for a bike ride. We had heard the town and it's squares were a "must see". Funny how ones perceptions change, after what we saw in Europe it was quite go hum, none the less good exercise on the bikes. From Ponce it was another comfortable sail to our take off point, La Parguera, for the crossing of the infamous Mona Passage to the Dominican Republic. La Parguera turned out to be a beautiful spot.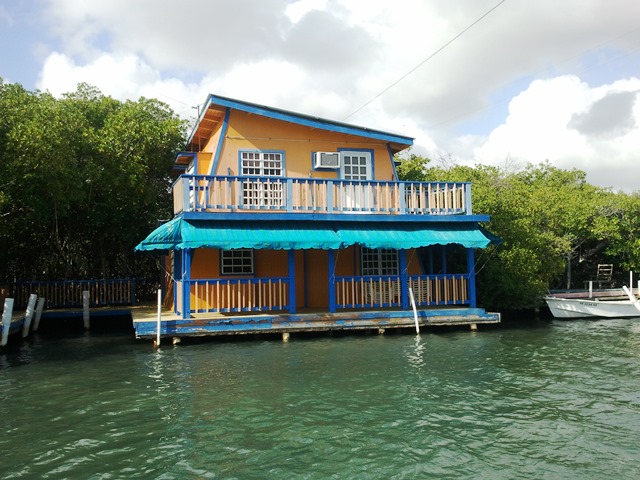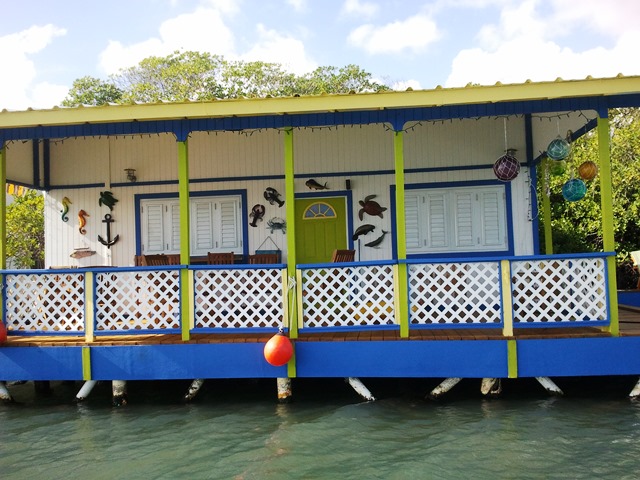 Numerous mangrove covered islands in and around the coral barrier reef, lovely brightly coloured and well maintained houses built into mangroves on the waters edge, a small but bustling town and the more famous phosphorescent bay just a mile from where we anchored.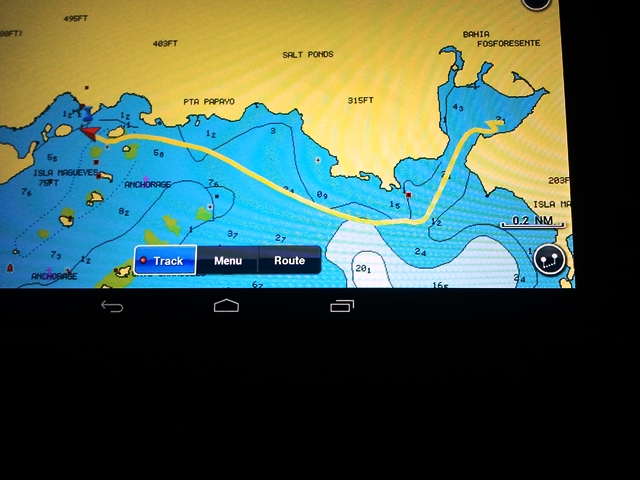 After a short tour of town we dinghied to phosphorescent bay and splashed around in the water after dark, along with many others on tourist charter boats from town so it wasn't exactly tranquil. We even managed to find our way back to Ednbal in the pitch black without getting lost or hitting anything. In the morning we got going at first light for the 150 mile sail across the passage to Boca Chica on the South coast of the Dominican Republic. About half way we ran out of wind and had to motor for about 40 miles. It is now well over a thousand miles since we caught a fish. On this trip I tried four different lures, still no fish!