Tobago & Trinidad
Category: Caribbean
Created: Thursday, 17 January 2013 15:49
Written by Roger Boxall
Hits: 2263
Tobago & Trinidad
Tobago
Iles du Salut to Tobago is 600 miles, the weather forecast showed pretty much constant East wind so we expected a comfortable trip with wind off our aft starboard quarter. Rather than take the direct route, the rumb line, we decided to detour a little North just to keep us well clear, over 100 miles from the Venezuelan coast, a coast known for piracy against cruising yachts. What a wonderful sail, about the best longer distance sail we have ever had. As expected generally wind off out aft starboard quarter, barely any squalls except for one on our last night that where the wind came up from 10 knots to over 30 in a matter of seconds. When ever the wind dropped below ten knots up went the gennaker and, for the most part we sailed at 4.5 to 5 knots on a sea with only about 1.5 metre swell. Although we trawled our fishing line most of the way it was not until we were a few miles from Tobago that we caught our first fish, a small tuna. We caught a second but thinking they were not good eating, threw it back. As turned out the fish was lovely eating.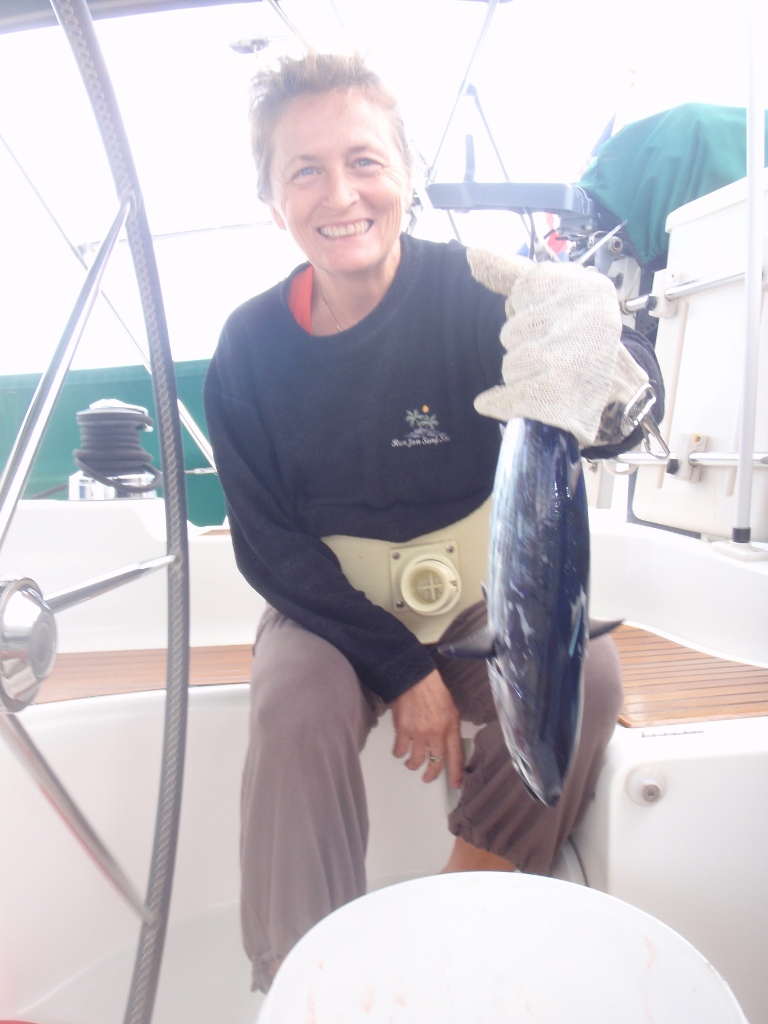 Our arrival timed well getting into Anse Bateau (boat bay) in the middle of the day, Monday 17 December, with good overhead sun to see any unexpected coral or rocks as our pilot book gave warnings about them but it turned out to be no problem and we dropped anchor, literally, on a sand bottom in front of the small Blue Water Inn resort, the only building on shore.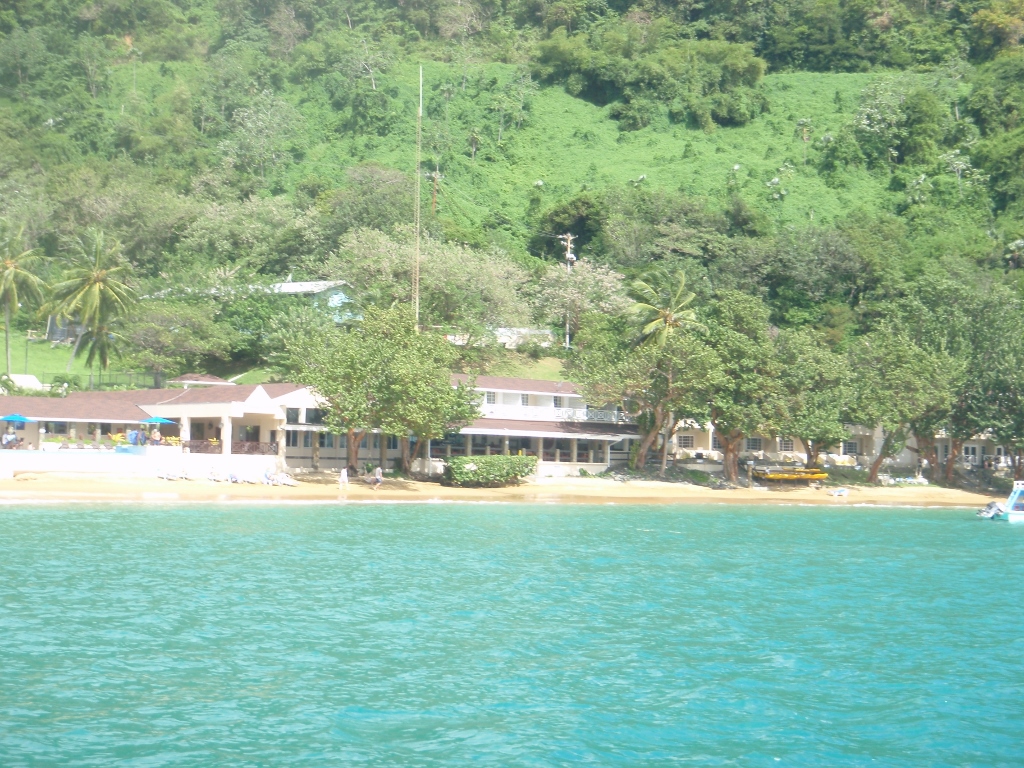 The anchor was dropped because the controlled down would not work, the motor grunted and drew a huge current, over eighty amps, but would not pay put any chain so I just had to losen the gipsy and let it free run. Further investigation required. There were no other yachts just a couple of local glass bottomed tourist boats we had it all to ourselves.
First thing a lovely swim and a cold beer! Out friends Carola and Jim on board Koza were sailing from Cape Verde to Tobago and we had been in touch with them pretty much on a daily basis on the HF radio. By the time we reached Tobago they were only about 30 miles behind us and we expected them to also come into Anse Bateau but they decided to head the extra six miles around to Charlotteville on the North West of the island where there is a port of entry to check into the country of Trinidad and Tobago. We planned to catch the bus across the island to check in the next day.
Tuesday morning we tied the dingy up top the small resort jetty and met Wayne at the dive shop right in front of the jetty. He was one of the resort hotel managers and responsible for the dive shop. What a tremendously helpful and welcoming guy, yes fine to leave our dinghy tied up at the jetty and he would keep an eye on it.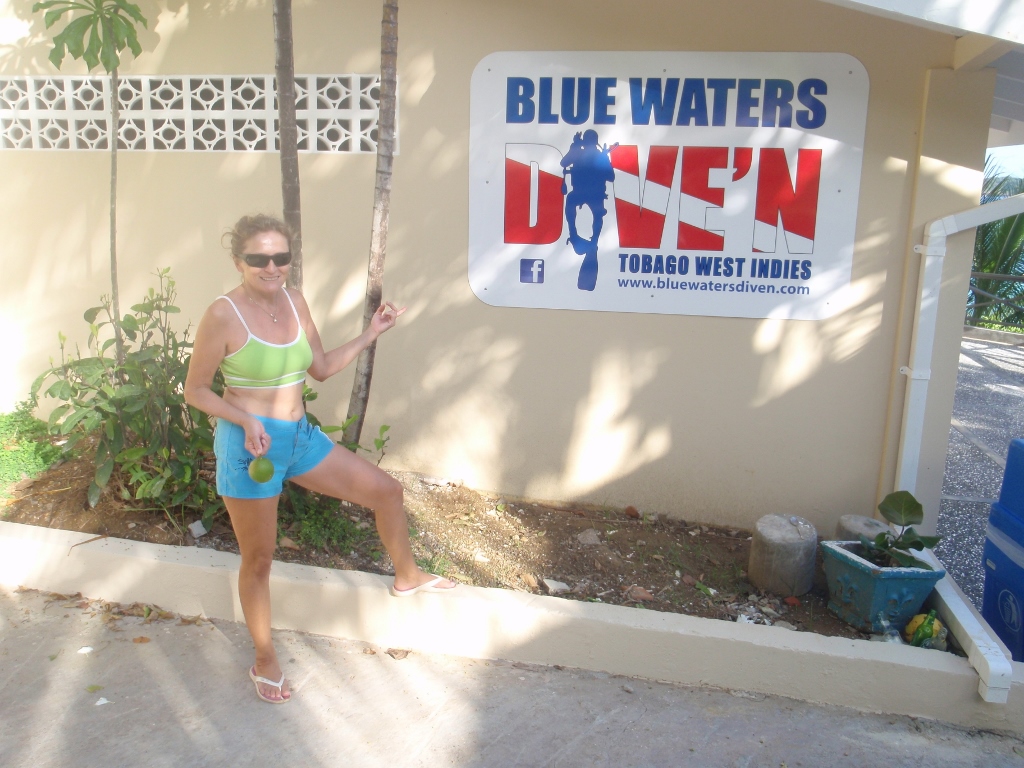 Only resort employees and guests had access to the grounds via the named security gate on the road at the top of the hill. We were also welcome to use the free wifi! A twenty minute bus ride, along a mountainous windy road got is from the nearby village of Speyside to Charlotteville. Armed with all our documents we eventually found the office of customs and immigration. The immigration guy happened to be at the front gate when we arrived and asked our boat name then said he had been expecting us. Seems Jim and Carola must have told him we were in Tobago. This presented a small problem as you are supposed to check in as soon as you arrive although many countries give 24 hours grace. In the office we said we arrived the previous afternoon and hadn't come to the office because of the exceptional heavy rain overnight. The immigration guy was OK with this but not so the customs bloke. He read us the riot act. You are required to check on immediately upon arrival and wanted to fine us TT $1,700 (about US $300). In the end he opted to just charge us overtime rates which of course meant that they got extra money themselves. We could see Koza at anchor but Jim and Carola had taken a bus to the main town of Scarborough at the Southern end of the island so we caught the bus back to Speyside, bought some fresh fruit and veg from a tiny roadside stall and returned to Ednbal.
The next few days were pure rnr, a bit of cleaning of Ednbal of bottom growth, an outcome of our stay in the river at Korou while Sasha gave the inside the once over, swimming, walks and just general relaxation. We invited Jim and Carola to come around and join us for Christmas lunch, they sailed in on Christmas eve and anchored close by. Christmas lunch was the full thing, starter of plantain stuffed with crab meat followed by roast chook, ham, veggies, champagne, a bottle of the best Margaret River red finished off with Italian Christmas cake. Even Santa had come to visit! Boxing day breakfast was the full bacon, eggs, toast, tomato, baked beans and champagne breakfast, wouldn't need to eat for a week!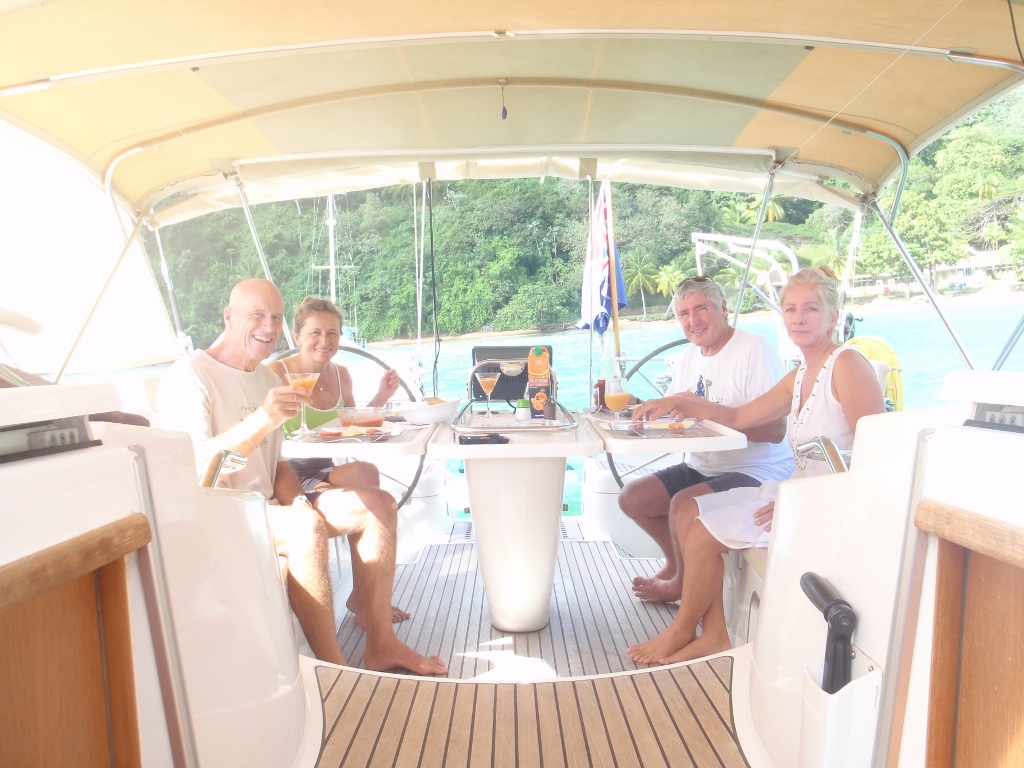 Later we all sailed around to Charlotteville to refuel (at US $0.25 per litre) and check out for our trip to Trinidad, even though it is all one country, didn't want to upset the authorities again. We bought some beautiful wahoo cutlets from the local fish market while Jim and Carola went one better buying lobster from one of the fishermen passing their boat.
We checked out a couple of bays for possible overnight anchorage as we sailed down the West coast of Tobago, eventually settling on Englishman's Bay. Koza and Ednbal were the only yachts anchored and close enough to the beach to just row in, which may sound easy. Well it was until it came to the part where you land the dingy in the small breakers. I explained the plan to Sasha, "you sit on the bow, I row to catch one of the smaller waves you jump off and hold the dingy", seemed simple to me, and it worked fine until the part of catching a small wave. The wave was a little bigger than I anticipated, we skewed sideways, the dingy tipped, Sasha was thrown off and the dingy went on top of her. She came up sputtering like a drowned rat and none too happy. I, Sir Galahad, offered to go back to the boat for a dry change but she did not want to see a repeat performance so, with Sasha dripping we waited to judge Carola and Jim's performance, they did it almost perfectly! On shore was one small souvenir shop, bar, restaurant all rolled into one, good for a beer and a browse, and a nice sandy beach for a walk.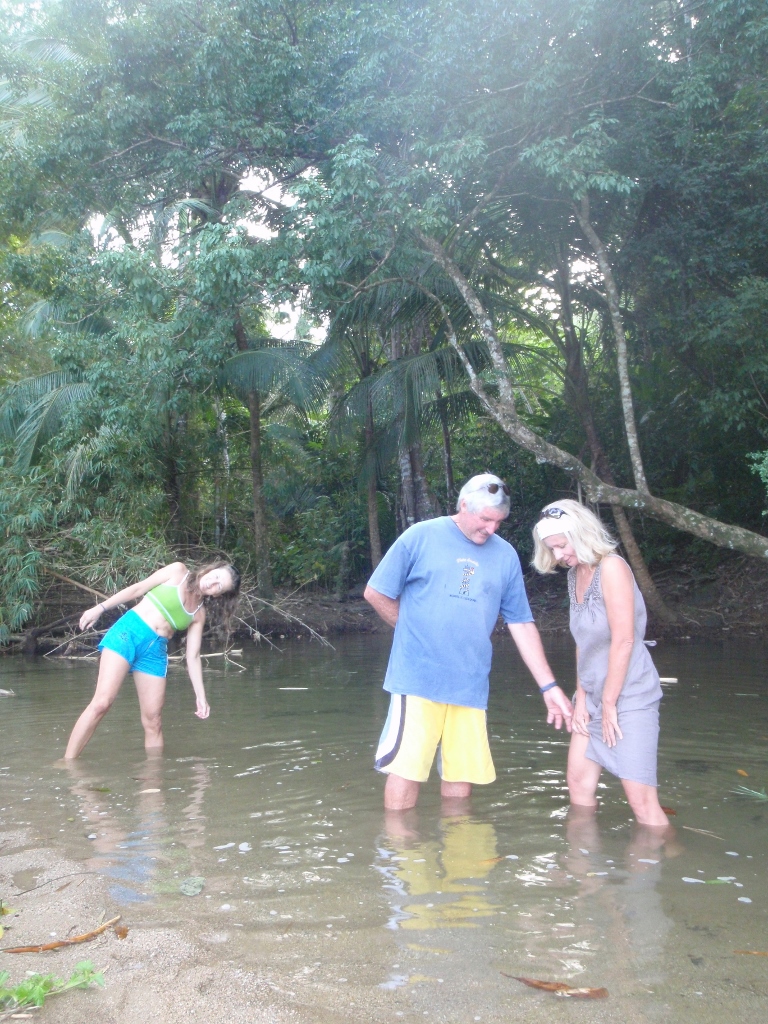 Trinidad
Planning on an early start for the 60 or so mile sail down to Trinidad the next day we had an early night. The sail to La Vache Bay on the North coast of Trinidad turned out to be faster and easier than we thought, it really was a lovely aft quarter sail, giving us time to anchor and do a little dingy exploration of the caves described in the cruising guide, we didn't find any but were in ore of the thick green, green jungle like vegetation interwoven with masses of vines right down to the rock waters edge. In the morning we had another down wind sail West along the North coast to anchor in Scotland Bay, frequented by masses of locals, belting out a sort of reggae music, and cruising yachts. We managed to crash in on one of the locals party, well lubricated with Johnny Walker Black no less. Everyone was in party mode, it was Sunday 30 December. After a very calm, although a little noisy, night we left for the main Trinidad anchorage in Chaguramas Bay to check into Trinidad on New Years eve.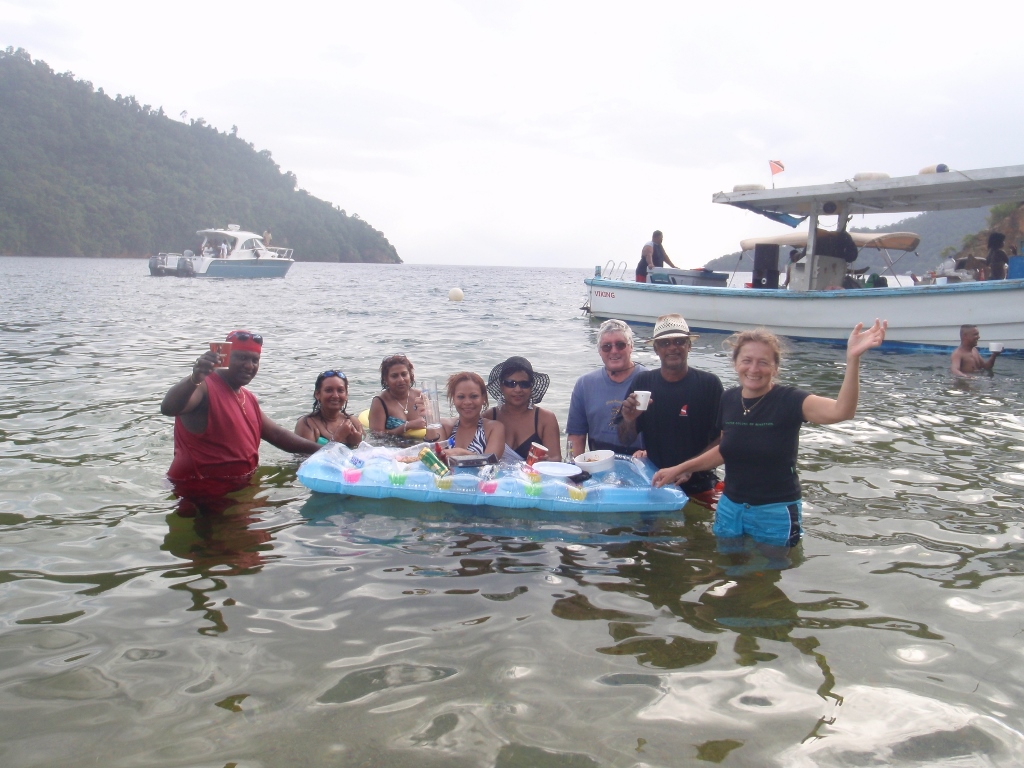 Much of the Chaguramas Bay anchorage is taken up with moorings and, as we had a problem with our anchor winch, we took a mooring hoping out was OK at the bottom where it really counts! After check in with immigration and customs we set about trying to find what was happening in the evening of New Years eve partying. Apparently not much, most people went to the city, Port of Spain, or other islands but we learnt of a small cruisers get together at a small Roti hut in the grounds of Power Boats marina, where we had booked Ednbal for some maintenance work, primarily the anchor winch, and to get a good long charge into our batteries. It was a bbq, bring your own everything, attend by about twenty people, mostly German speaking Swiss and French. Along with Jim and Carola, we joined in, not realising that bring your own everything meant also bringing your charcoal for the bbq which, by the time we were able to cook, was dying out. One of the Swiss had a bag of charcoal that we could buy but none of us had bought any money. It took a lot of convincing by Carola, who also spoke German, that we would pay the TT$30, less than US $5, to them the next day. We spent much of the evening chatting to a few French cruisers who spoke good English before partaking in the traditional countdown and champaign swigging.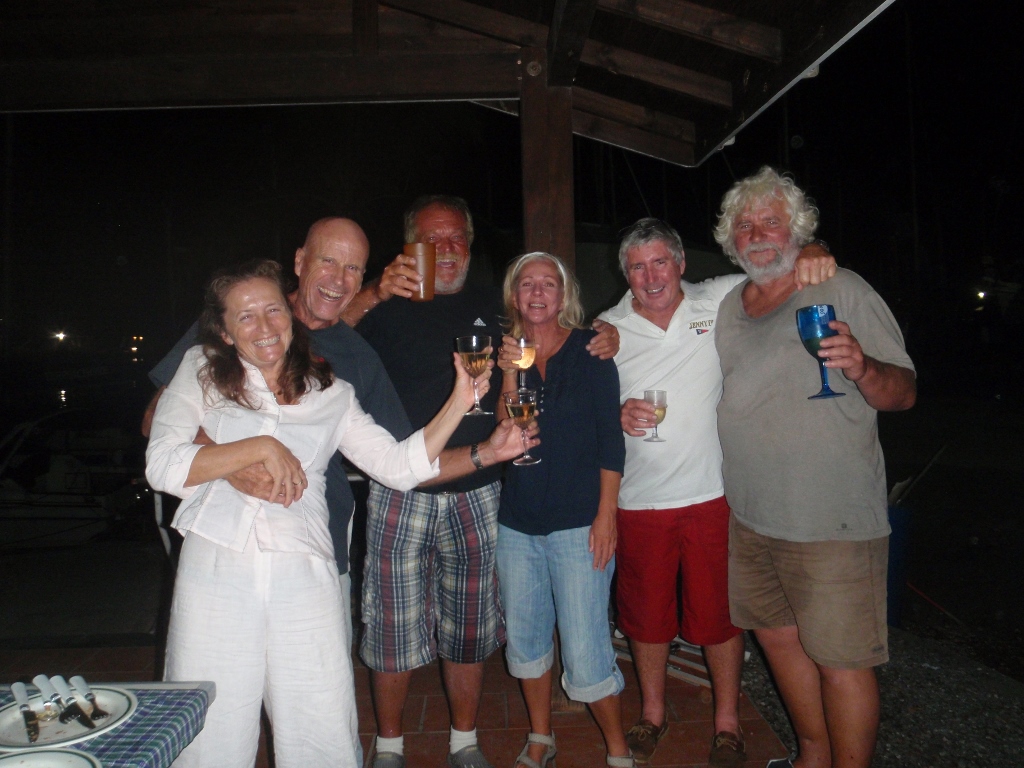 With everything closed for the new year break we sailed around to the adjacent bay to attend a new year day lunch at the Trinidad and Tobago Sailing Association. Sasha even won a door prize donated by one of the many chandlers and supports, Dockyard Electrics, a couple of cleaning products and some two stroke outboard oil not too much use to us. On the second of January we moved into Power Boats marina and I dismantled the anchor winch to find what appeared to be a seized bearing, turning in one direction only. I consulted a couple of mechanically knowledgeable cruisers and a local expert at a mechanical engineering works. Yes the needle bearing would have to come out and be replaced. Graham at the mechanical engineering works demolished and removed the bearing. He checked local suppliers but could not find a replacement. Armed with dimensions we, well Sasha, started searching the net. Up flashed something about a "one way bearing". Oh oh, what did that mean, yes a bearing that permits rotation in one direction only. The exploded view of the winch called the bearing a "clutch bearing", turns out this means a one way bearing. Further investigation by Sasha revealed that the problem we had with the winch was a known one. There were even instructions how to overcome it. Just remove the two gear shaft fitted to the clutch bearing hold the large gear, preferably in a vice, and tap the smaller one to release it from its locked position. This we did and soon saw how the whole winch worked. Pity our mechanical expert hadn't known what a clutch bearing was. Sasha ordered new, relatively cheap, bearings from two sources to try and ensure we got at least one as soon as possible so that we could reassemble the winch and leave Trinidad to head North. Chaguramas bay is not the cleanest of places, the water almost always has diesel on the surface. One time a big, 100 foot or so, fishing boat went past spewing out almost raw diesel from what I guess was its bilge. On the plus side we did a lovely walk, organised by one of the cruisers, through the rain forest, part of which was a huge bamboo forest where we saw a few monkeys.
While we waited for the bearing there were other boat jobs to do and boat things to buy. Our water maker, eco2tech, was made in Trinidad so an ideal opportunity to buy spares and talk to the guys we had only communicated with by email. The dingy needed some protective patching and a number of chandlers provided a good range of other items. A "cruisers net" operated over the VHF ran each morning and a guy advertised a spinnaker pole for sale, as of out happened just the right size for is to be able to out our headsail. After consulting the sailing expert, Jim, we bought it, rejuvenated it, bolted a fitting to the mast and hey presto a new addition to Ednbal. The winch bearing arrived, the mechanical expert put it in the housing that I had thoroughly cleaned and repainted. I greased, reassembled and reinstalled on Saturday 12 January, we sailed for Union Island early afternoon for the 120 mile overnight trip. In general people do not look forward to this sail as the course is East of North, about 10 degrees, there is a big West setting current, in places over 2 knots, and the prevailing wind is North East. Basically you end up beating into it most of the way. We got lucky, a wind straight East, at times even a little South of East allowing us to make the passage on one starboard tack, just. Really it was another comfortable sail, only one squall and wind mostly around 15 knots, getting us into Union, part of the country of Saint Vincent and the Grenadines.