San Blas Adventures 2014
Category: Caribbean
Created: Wednesday, 26 November 2014 15:40
Written by Roger Boxall
Hits: 2603
It is very difficult to explain the San Blas, 300 plus islands, almost all only a metre above sea level, covered in coconut palms, mostly uninhabited, most protected from the Caribbean Seas by outer reef that is virtually at water level where a tidal range of less than half a metre means that most anchorage are dead flat calm. The inhabitants are the autonomous Kuna Indians, speaking Kuna or Spanish, although part of the country of Panama, run their own show and are very proud to maintain their unique culture living on the islands for the most part in what can only be described as primitive conditions. "Houses" built from split bamboo tied together with string for the four walls and coconut fronds for the roof, nothing inside, no furniture, hammocks for sleeping, no electricity except on a few of the more densely populated islands.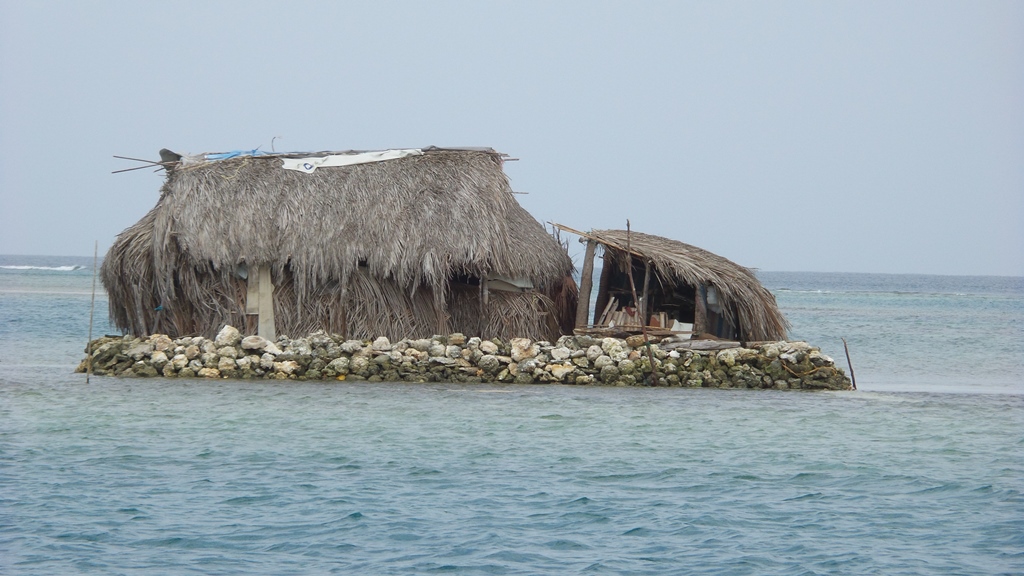 "Fresh" water often from a shallow well dug only metres from the waterline, occasionally supplemented by rain or from cruisers. Private transport is mostly by dugout canoe, paddled or sailed using the paddle both as a rudder and a keel.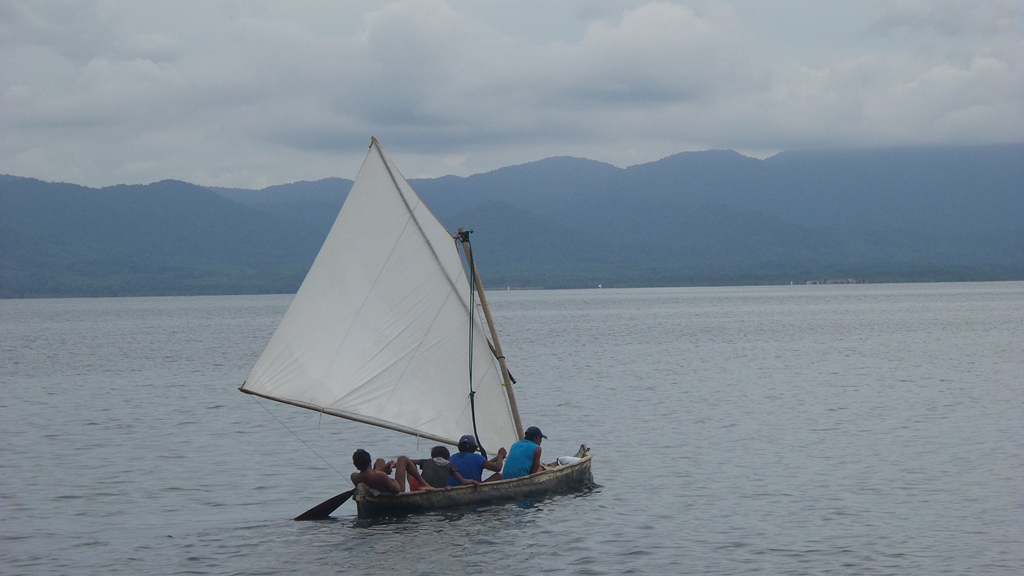 Now more and more of the canoes have small outboards but with meagre income from selling coconuts, seafood and handcrafts to cruisers there is little left for outboards and fuel. Their culture is largely matriarchal and, at least by western standards, sexually tolerant, even the visitor sees transvestites and we understand that some are even given children to bring up. Watching families on isolated island even for a few minutes you soon pick up that the women are in charge.
Many procedures for the arriving yacht are not strictly adhered to, if you don't check in few days, a week or three, no big deal, but you must pay your Kuna Yuna (land of the Kunas) fee of $20 per month. Kuna officials come by each boat once a month to check if you have a current receipt, if not, pay up, they don't care if you have checked into Panama officially or not! We were checked a few days after arriving and thought we'd be in trouble for not checking into Panama but no issue, just paid our Kuna fee. A couple of days later we did check in, you get a one year cruising permit $200 and a one year visa $100 per person, not cheap if only staying a short time but good value for long stay. We had hoped to learn to kite board in the trade winds but about the time we arrived the trade winds died out for the start of the wet season and all we did was get frustrated trying to kite board with too little wind, us beginners need at least 15 knots with our new 12m kite. Never the less one time still managed to get up and going for a hundred metres or so, a start at least that makes us really look forward to the higher winds of the dry season.
It wasn't long before we were back to our favourite spot in the central Holandes cays, an area of water that resembles a big lake a mile or so in diameter virtually completely surrounded by water level coral or islands.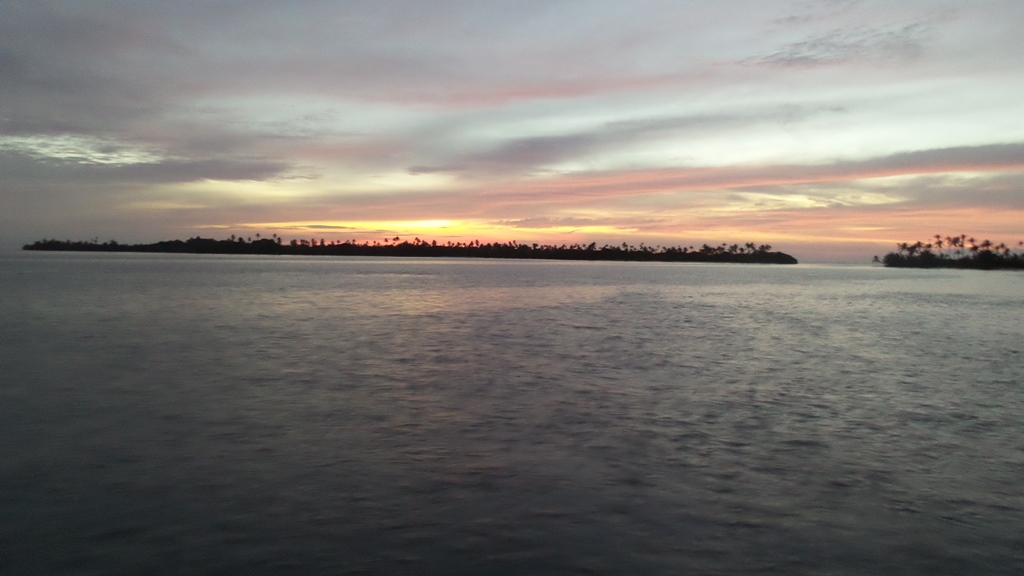 We anchored, as we had many times before, just north of the tiny Mordup Island, a patch of sand about fifty metres in diameter. Unfortunately it was now smaller than ever but we did manage three BBQ evenings before, at one of the month high tides, it was washed over completely. Without Mordup to also enjoy, our favourite spot lost some of its attraction. Still a lovely calm anchorage with coral reefs within swimming distance of the boat and friendly local Kunas coming by to sell sea food, pick up fresh water from us or getting us to charge the battery of their mobile phones. The fresh seafood is abundant often with a full selection, the common tropical spinney lobster, its less common, smaller but far tastier cousin the 'langustino', slipper lobster (Morton Bay bugs), huge ocean crabs (very similar to mud crabs) all live in water in the bottom of a dugout canoe paddled, sailed or motored to your boat. Then the dead seafood, fish and octopus.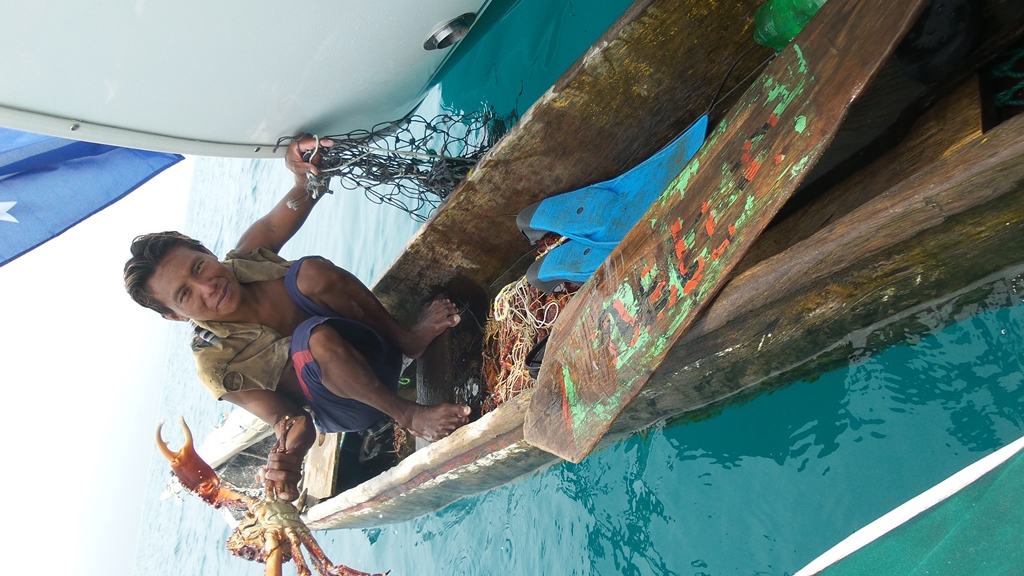 All at prices that are irresistible, size lobster $5, langustino $0.5, crabs $4 (one is a meal for us both), fish big enough for two $3 and nice size octopus $2. We soon became quite expert at seafood preparation, especially crabs and later, octopus. For crabs, typically I kill, clean and, with a brass gimpy, crack the body, legs and claws ready for Sasha to cook Singaporean pepper, chilli, coconut or whatever other style takes her fancy, often served with coconut rice. For coconut rice we even make our own coconut milk, removing the coconut flesh from a coconut putting in the blender with the coconut water and then sieving through some old stocking, nothing like the real thing!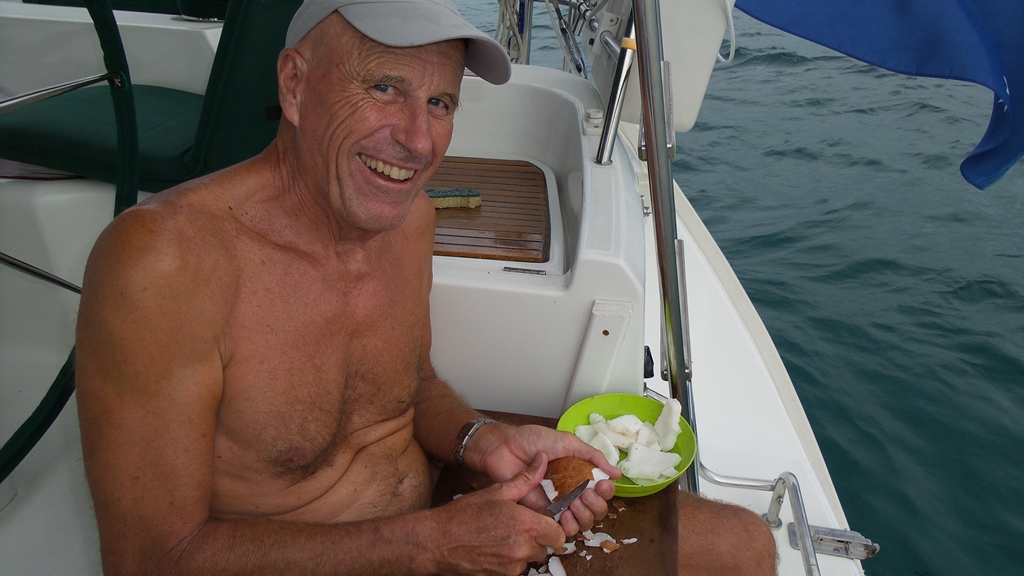 Even worked out the trick with octopus, using the same gimpy and a big piece of wood to give the octopus a good pounding before Sasha boils it in water with some chopped veggies and red wine (definitely not the good West Australian stuff) for an hour before cutting it into bite size pieces to add olive oil and paprika to make 'octopus a la gallega'. Great to go with sundowners or for nibbles to take to other boats/get togethers. Top quality fresh fruit and veg usually delivered at least once a week by either Panamanians or Kunas often also selling eggs, chicken, beer, rum, coke again unbelievably cheap. The "veggie boat" or a veggie boat because there are a few, to most of the more popular anchorages coming alongside boat after boat and you just pick what you want, really is incredible. I say popular anchorages because they didn't visit the central Holandes cays so regularly so after two weeks we needed to restock and so sailed the 10 miles into the Kuna village, island, of Nargana.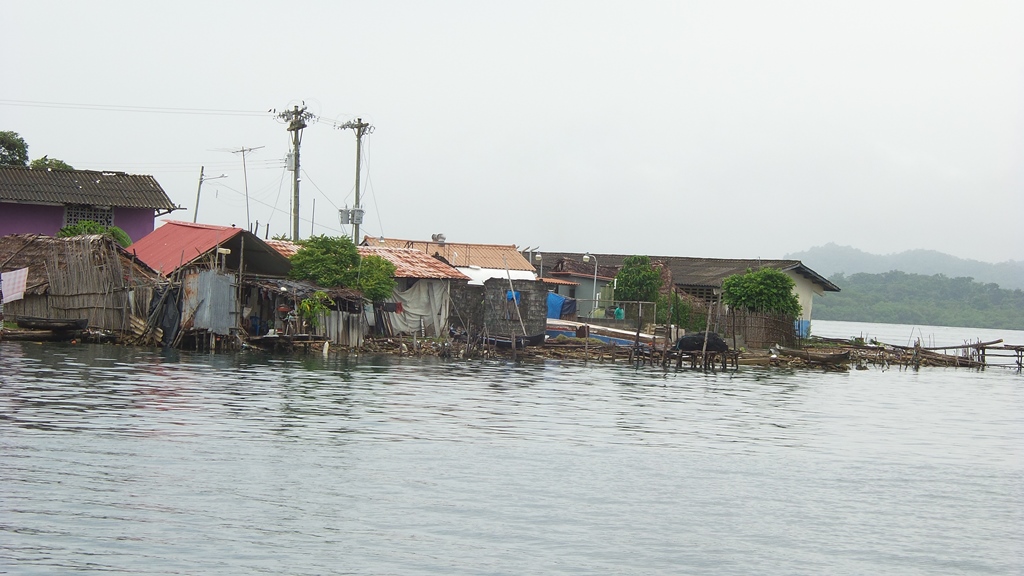 Unfortunately no shops have anything like the variety and quality of fresh foods that the veggie boats provide, seems strange I know but that is how it is. Apparently the veggie boat guys bring in fresh stuff from outside of Kuna Yuna as the local Kunas consume only what they grow on their small mainland plots.
At Nargana we met up with a couple of yachts just arrived from Colombia, mutual friends that we had been keeping an eye out for, Bossa Nova with Brazilians Roberto and Ariselis on board and Chiribeta with Italians Rosa and Lorenzo in command. Bossa Nova had been anchored at Nargana for a few days, Chiribeta had just arrived. Bossa Nova was engineless, starter motor virtually disintegrated from having been still engaged with the engine started and Lorenzo, an electrical engineer, had already dismantled it to reveal the extent of damage as Roberto was in no way a practical guy. Roberto had money so whenever something went wrong he just paid someone to fix, OK if you are near some sort of repair facility but not do good in the San Blas, here you need some independence, luckily he had Lorenzo. Nargana anchorage is one of the worst in the San Blas for bugs, that is "no-see-ums" or sand flies and mossies. No chance of getting the starter motor fixed here so as we were heading for nearby Green Island we offered to tow then into the Green Island anchorage of they sailed there with us. First up though they had to lift the anchor and on their Beneteau 46, as used to be the case on our boat, the anchor winch could only be operated with the engine running, so I did a quick modification to the wiring so that he could operate it without the engine; first hurdle overcome. The three yachts sailed to Green Island, we towed Bossa Nova in and anchored without incident to spend a quiet night. Next day we towed Bossa Nova out and we all sailed out for Miridiadup Island in the Central Holandes cays where Bossa Nova sailed to anchor and we spent a couple of days snorkelling, visiting the Kuna families on the island and having a great bonfire bbq with Joanne and Bill off the trimaran Ultra, whom we had met in Cuba, joining us. No one had experienced San Blas crabs so we all got together to show how to prepare and Sasha made up parcels of Singaporean crab with aluminium foil as well as parcels of coconut rice in foil for cooking in the coals so that everyone could partake. Four crabs and a kilo of Jasmin rice later, along with suitable beverages, I think everyone had an enjoyable evening. We towed Bossa Nova out of the anchorage and sailed to the East Lemon Cays, reasonably close to the light aircraft runway at Porvenir Island. Here Roberto ordered a new starter motor from the US, couriered to Porvenir and in less than a week had it installed by Lorenzo! Then it was off to the bar, outdoor long wooden tables, with a plans of wood balanced on a couple of rough sawn pieces of tree trunk either side but most importantly cold beer at two bucks a can.
A few days later they were on their way heading for Bocas del Toro, Northern Panama, so ending our baby sitting of Bossa Nova!
When we were in the San Blas in 2008 we had just bought our first internet enabled phone and were very surprised that we had internet available over the mobile phone system. Now of course you just can't live without your phone or modem connected to the net. Servicing the San Blas are two mobile phone towers, one the mainland near Porvenir at the Western end and one at Nargana about 25 miles away. At most places you can get a data connection albeit very slow unless close to either of the two towers. To help with reception on the outer islands, Holandes Cays in particular, we set up our phone as a hot spot, put it in a plastic pouch, haul it up the mast and connect via the PC. Trends to get a bit tricky when windy or rainy. Never the less, for the most part we have ability to email, sometimes do web searches and use more hungry apps like Facebook and, when closer to towers, use skype. Which reminds me, that was another small service we provided for Bossa Nova and Chiribeta. When anchored together we have them access to our phone hot spot Wi-Fi so when we had the phone up the mast they also had internet connection.
You might think how can you keep occupied for months living on a boat in the San Blas, no shops, no entertainment except for other cruisers and an isolated bar on an island or two. Well first up you have to fix, make and maintain everything you have or need, you must have extensive spare parts and a fair bit of ingenuity, the list of boat jobs never seems to diminish. Then there is food again a lot of do it yourself, bread, cakes, snacks as well as cooking all that wonderful seafood available to catch or bought from the local Kunas. We spend about 6 hours a day doing things food associated. A typical day goes something like get up around 7, sit out in the cockpit and enjoy an early morning coffee, maybe check the emails then yoga and our exercise routine followed by a swim, by now it is after 8, at 8:30 there is the cruisers net on the HF radio as we have another coffee (it is normally from beautiful Colombian beans we have ground ourselves). Then breakfast, starting with fresh local fruit that Sasha cuts from pineapple, mango, pawpaw, bananas, whatever combination we have at the time, followed by cereal and nuts, usually a combination of cornflakes, muesli, walnuts, almonds, honey and milk. Often breakfast is not over and cleaned up until 10. What happens next is usually somewhat weather dependent but usually done sort of boat job, leading our polishing but it may be going somewhere for a snorkel or perhaps a wakeboarding session behind the dingy but before you know it, it is time to prepare lunch. Sometimes leftovers from dinner, or freshly made soup from local veggies, or one of Sasha's favourite pasta dishes. After lunch it could be shady tree time but more often swimming, finding another coral reef to snorkel or perhaps an island walk intermingled with a little socialising with other cruisers on the anchorage. Every now and then we move to another anchorage, do a bit of fishing and enjoy a change of scenery but next you know it is time for sundowners. This is when we most often socialise or spend time deciding what to have for dinner and the method of preparation. Generally sundowners at about 6, dinner ready about 8:30 and by the time we finish clean-up, a coffee and something sweet watching fish in the underwater light off the transom it's time to hit the cot at around 10. Tough isn't it!
When we had the spars and rigging replaced in Cartagena we kept one complete set of rigging and a few other wires just in case. On one of islands, Miridiadup in the Central Holandes cays, we met a Kuna by the name of Victor. Victor was building a new house, standard Kuna construction, for corner poles, simple pitched roof of palm fronds and walls of vertical pieces of bamboo tied with nylon cord one next to the other. We saw it at the beginning, house frame stage and offered to help by trying the tops of the corner poles to adjacent coconut palms using the old rigging wire.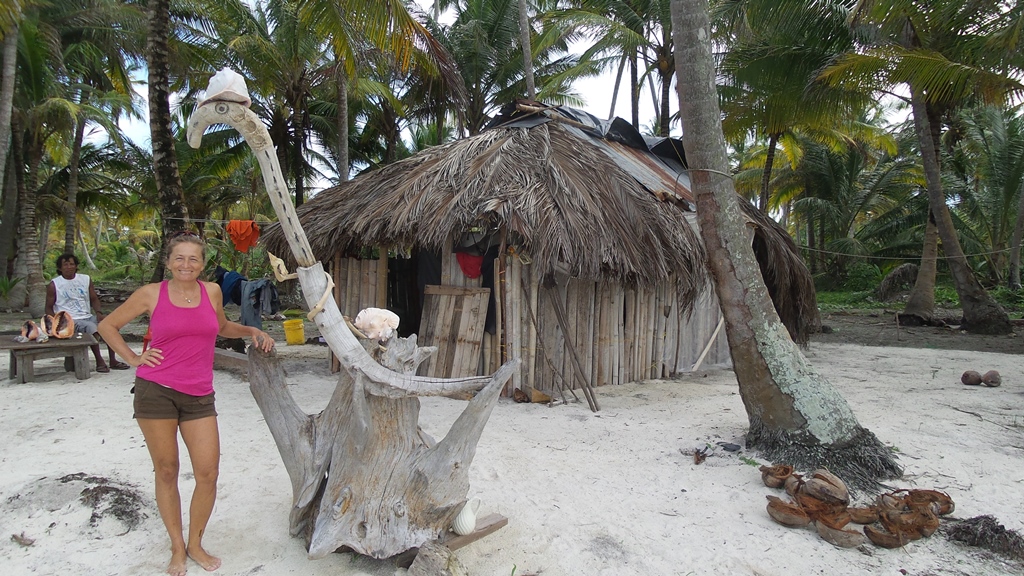 It seemed to work out and he was very happy to have it strengthened against the prevailing east winds that had all but blown over his old place. Victor, probably 50 or so was working with two younger guys, I think nephews, and at the end of the day asked if we had whiskey, well no but of course we had gin, yes that would do, at least they seemed happy.
By now it was mid July, Sasha's birthday. We had meet up with some younger cruisers, Belgians Olivier and Patricia with two children, 4 and 6 on a 45ft catamaran Zorba, and Germans Andreas and Ursula with four children 2 to 9 on a 37ft monohull called Lottie. In a couple of different anchorages we had gotten together for bonfires, drinks and some general socialising. There was plenty of family room on Zorba but not quite so on Lottie where it was three to a bed and no refrigeration! I mentioned that we were going to one of our favourite anchorages in the Central Holandes for Sasha's birthday and maybe we could all get together. Sasha baked her own birthday cake and on the morning of her birthday Zorba and Lottie sailed in so we arranged with Victor to have a bonfire on the shore near his place. Sasha and I made about 16 parcels of precooked crab and lobster fried rice in aluminium foil for everyone to be heated in the coals and we took in the cake. The kids made little gifts and paintings for her in what turned out to be a lovely and memorable evening.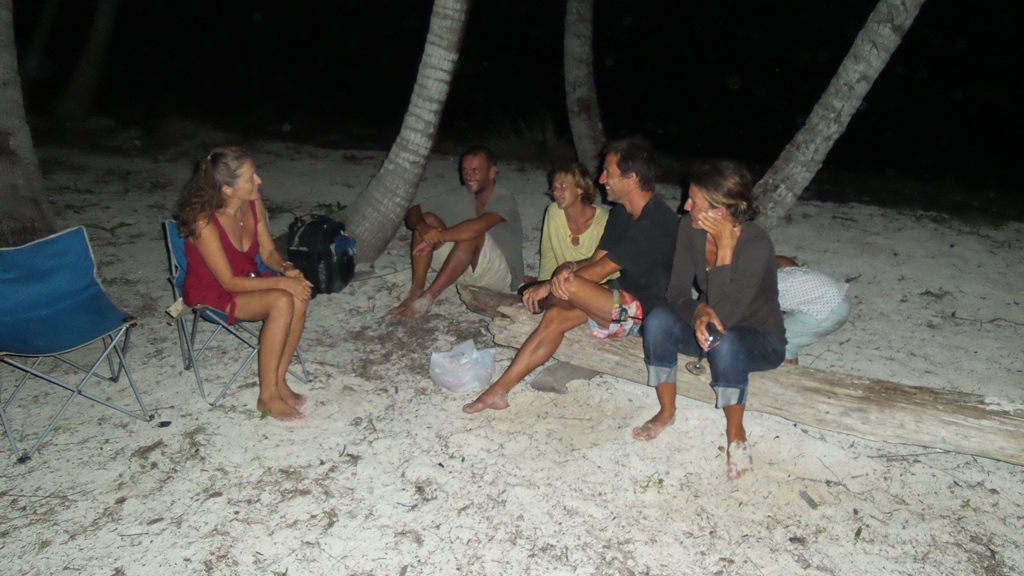 Not long after we were joined by Aussie friends, Jim and Carola on Koza, who sailed from Santa Marta, Colombia to the Swimming Pool anchorage in the East Holandes island group. We first met them in Turkey in 2009 and had meet up again at several spots where our sailing paths had crossed or run in the same direction. Their timing was impeccable as it was late July, over three months since we left Cartagena and although we thought we had stocked up enough to last five months we were running out of some basic essentials like cornflakes, muesli, nuts, powdered milk. They arrived with our stock and some extra cash, no such thing as an ATM or even a bank in the San Blas as again we had underestimated. At least it was a good trial run for our trip across the Pacific when we will need to stock Ednbal for at least 3 months. They arrived mid-afternoon without having had much sleep on the one night crossing due to the 40kt winds they had for the first 100 miles but that didn't stop the party, Champaign and Sasha's special Singaporean pepper crab with coconut rice. They had met up with several other cruisers heading towards the San Blas from Colombia including Canadians Kaycee and Greg, both 27 on their 41ft catamaran Oceanna. We all got together a few days later at the outdoor bar on Benedup Island in the Lemon cays and soon after, few times at various bbq spots.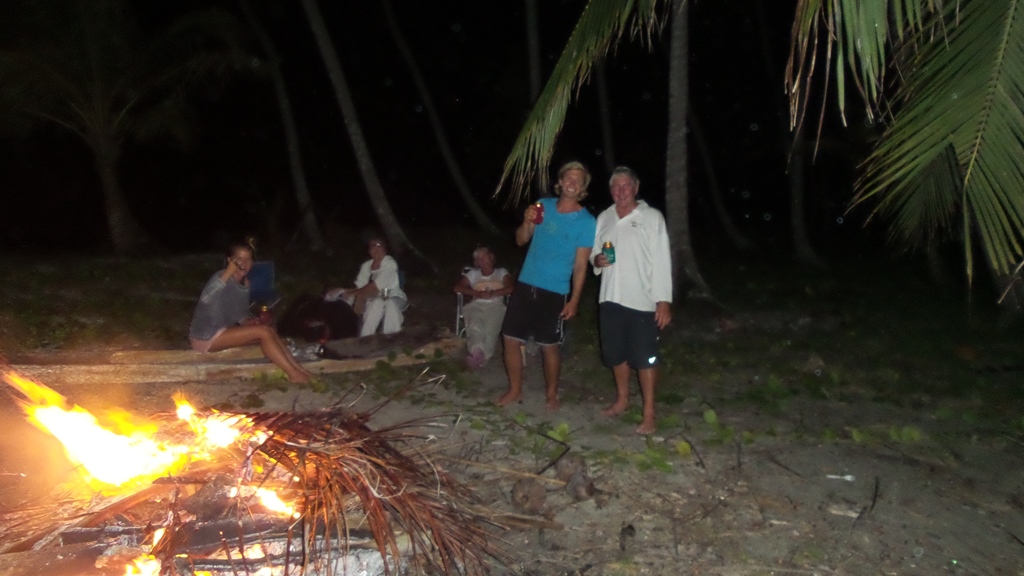 Turned out that Greg, a pipe fitter, had spent a year or so working in Western Australia. Being a keen surfer he knew the South West well including good old Dunno (short for Dunsborough where daughter Natalie and son Brad live with their families) do with Jim and I, it was no holding back on good old Aussie speak that some other Americans who were also with us had a hard time understanding. Greg is your real outdoor, do it all type of guy, spending time spearfishing, surfing (yes there are a few surfable waves), he has 4 surfboards on board along with two stand-up paddle boards, roaring around in his dingy with 30hp outboard and downing the odd beer or three. I went spearfishing with him once, borrowing one of his many spear guns. I thought I'd done good spearing a couple of Cero mackerels until I saw him cutting one up for underwater chum to try and entice a big snapper out of a small rock cafe. All I saw was the nurse shark that quickly came for a free feed. Still I kept my two little Ceros away from the shark for Sasha and me to enjoy another night, very nice too.
Before we knew it we were getting organised for our trip back to Oz via Spain and China. We had been waiting out the light westerly winds for some days hoping for a Northerly component breeze to sail the 50 miles to Linton, a bay very close to Panamarina where we would leave Ednbal for two months. On Saturday 6 September we upped anchor at 6am and motored out from Yansaladup anchorage before putting up sails in the lively 10kt north easterly. It seemed others had the same idea, there were 5 other yachts sailing in the same direction. In Linton we met up again with Jim and Carola who had left the San Blas a week or so earlier. Back in "civilisation", Panama style, again. Our new anchorage, with many more boats, was surrounded by beautiful green thickly forested mountainous countryside with a couple of small villages and even a bar restaurant, nothing fancy but it was cheap. Beers $1.25, dinner $8 - 12. In the background the sounds of bird life were often drowned out but the cry of Howler monkeys. Locals roared around in fibreglass open " launches", 5 to 8m with outboards up to 60hp, all hand steered. Not the sort of place for swimming between boats! The dinghy path to Panamarina was literally through the mangroves with part of it covered above by mangrove branches and leaves, great fun weaving through at full speed. Greg, off Oceanna, was determined to wake board through it. Panamarina is run by a French couple and have a small restaurant, a little more expensive but beautiful food with proper deserts even! On Saturday 15th we motored Ednbal around to Panamarina and tied her up in a secure four point mooring arrangement and did the final clean ups wiping every inside surface over with vinegar to minimise the risk of a mould outbreak during our absence.