Ednbal Damage in Colombia
Category: Caribbean
Created: Friday, 28 March 2014 19:43
Written by Roger Boxall
Hits: 3546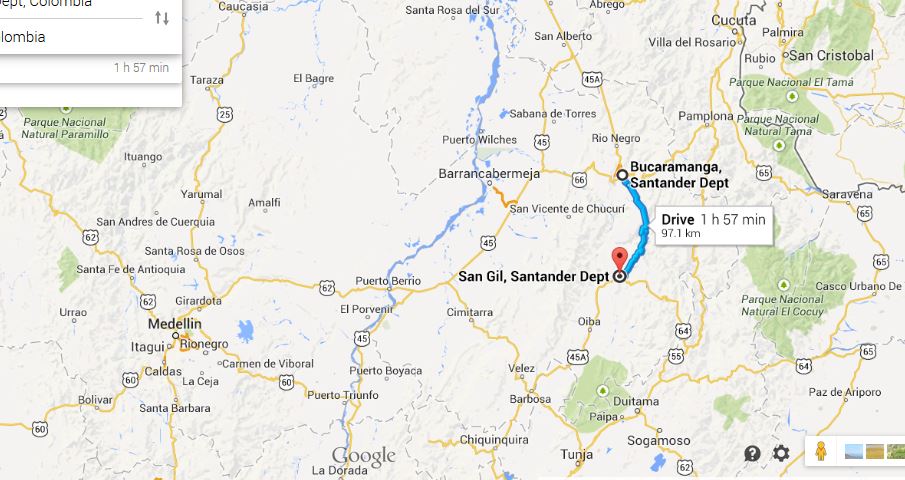 Perth Christmas 2013
After a short three day stop in Cartagena to catch our breath it was back to the airport for the flight to Barcelona via Bogata to catch the train to Almeria where we picked up the hire car at another off peak price of $12 per day for our one month stay in the apartment in Almerimar. Then reverse to Barcelona to fly via Doha to Perth. It was here that the fun began! On the afternoon of 28 December we received an email from one of the cruisers we knew at Manzanillo Marina in Cartagena, Kerry, whom we had initially met in Cuba. The crux of the email was "we guess you heard about the accident at the marina, if there is anything we can do please let us know". Our minds ticked, more like raced, accident, what accident, why be asking us, something must have happened to Ednbal. It was, at that time, early hours of the morning in Cartagena, so began an agonising wait before we could contact anyone at the marina. We did eventually get the news, another boat had fallen from it's supporting props and hit Ednbal, breaking her mast, rigging, dodger/bimini etc. Apparently there was no hull to hull contact so, hopefully, no actual hull damage. It seems the Spanish owners of the other yacht were the local Hempel marina paint agents and had decided to move props while antifouling their yacht, luckily no one was hurt. A single photo was emailed to us by Dianoris, secretary at the marina office; it pretty much told the story.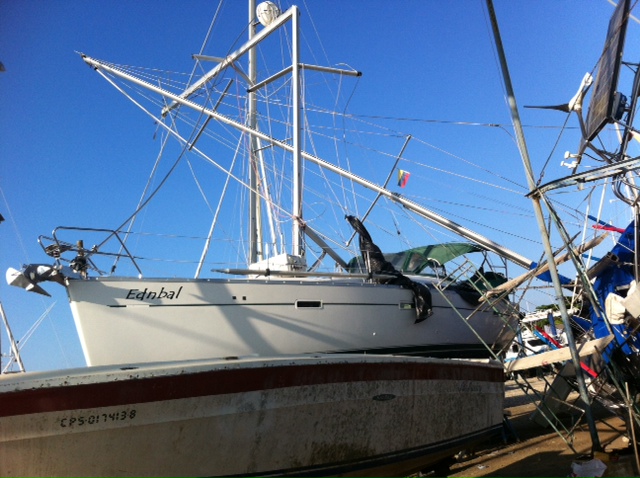 Now it was out with the insurance policy, it seemed we were covered except that our excess would see double the normal because the boat was in Colombia. Not a lot we could do from the other side of the world so it would just have to wait until we got back to the marina in about the weeks. We did however send a copy of the photo of damaged Ednbal to Beneteau USA and, from that, they put together a quote for the most likely parts that would need replacing along with a shipping estimate to Colombia, great service!
On 17 January we arrived back in Cartagena after spending a couple of days sightseeing in Barcelona on the way through. By this time the marina manager Maurice, had returned from Europe and decided that our mast was in a rather precarious position and for the safety of all he has righted the other boat and removed our mast. Upon closer inspection a little more damage was revealed, one porthole broken and the triplex glass skylight cracked and leaking.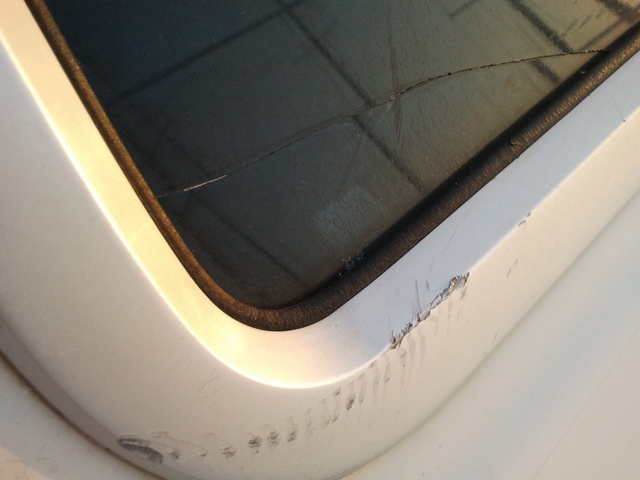 These items were added to Beneteau's list making the total cost of repair close to $50,000. Suddenly, for some unknown reason Beneteau wanted payment by wire transfer when, for all the orders we had placed with them over the last eight years our credit card had been sufficient. No amount of questioning or pleasing made any difference; apparently this was "the rule". Major problem for us as we did not have a wire transfer facility from our bank in the US and could only set one up if there in person to do so. Eventually our insurer came to the rescue by wring the funds directly to Beneteau. Their normal procedure is to reimburse the insured for the costs incurred to make good the damage. The new mast, boom, spreaders, bang etc would be shipped direct from the manufacturer US Spars in a tube, 60cm diameter, 15m long at a cost of $12,500, excluding customs, duties and taxes in Colombia. More than the cost of the parts themselves!! Ah but the marina manager's cousin has a freight forwarding company in Miami, he can ship for $6,500 including all customs, duties and taxes, sounds like a deal. He can also ship whatever else we need for $4.75 per pound, from his warehouse direct to the marina in Cartagena. So orders were placed from various suppliers and the waiting game began. Most everything came without a hitch and our insurer did the right thing forwarding funds to us based on our estimate.
In amongst all this there was the question of responsibility. Of course no one took responsibility for what happened. The marina's view; they were contracted to lift Bacus and launch after the owners, agents for Hempel paints, the big Spanish marine paints manufacturer, had antifouled the yacht using their own labour. And, they had warned the Bacus owners that moving props to newly painted surfaces was risky. For the Bacus owners they said that marina personnel helped move the props, so their problem. A big pow wow was arranged, marina, Bacus and us. Much jumping up and down, table bashing and yelling. The outcome, no one accepted any responsibility but Bacus owners would pay our excess and the marina would look after us, providing their accommodation apartment above the marina office at no charge and allow us to visit their holiday pad at the nearby Rosario islands. OK we move into the apartment and Bacus owners pay up before the marina allow their boat to be launched in keeping with their "no cash no splash" policy.
And so it was. Whilst free of charge (normal rental apparently about $25 per day) the apartment was very basic and dirty. They cleaned it, sort of. No hot water, no shower rose, just the pipe out of the wall that dribbles water, if other taps are turned on anywhere in the marina the dribble reduced to drops. We took crockery, cutlery, pots and pans etc from the boat. The only window looked out onto the dirt street where a vagrant lived in a lean-to against the fence opposite. You are advised against walking anywhere at night and to take care during the day. Six months before a yachty was shot three times, during the day, by two guys on motorbikes only a hundred metres from the marina, on his way back from the bank, when he tried to stop them taking his back pack. He survived it! Not a real flash place to be holed up for two or three months!
Three days after the big powwow we were invited to the marina owner's holiday pad on Island Grande, one of the Rosario group of islands, ten miles offshore and about twenty miles from the marina. Of we went in one of their hot rod boats (yes one of at least four, in Colombia you very much have the haves and the have nots!), a 25ft centre console with two 150hp outboards. In half an hour we were tied up to the dock in front of their property, what a spot!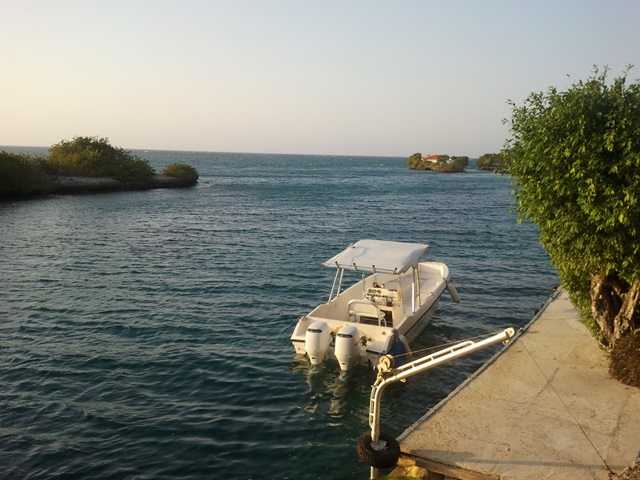 Cabana style buildings on about one hectare of land overlooking the Caribbean sea. Two story owners retreat on the water, spa at the water's edge, three guest houses with en-suits, maids/servants quarters, huge kitchen with food storage and two generators (no mains power), a real tough life, chalk and cheese compared to our marina digs.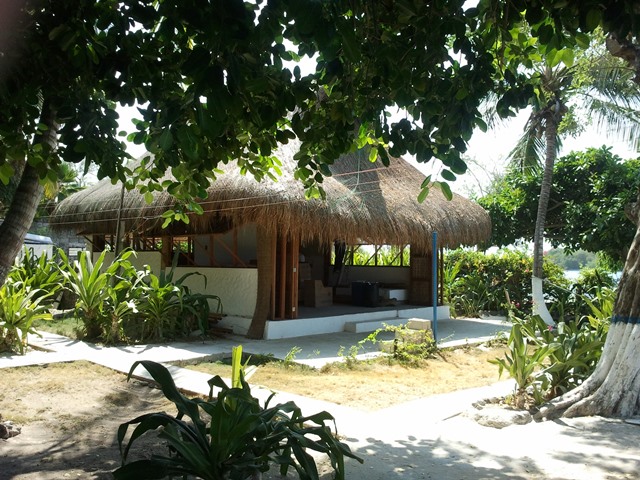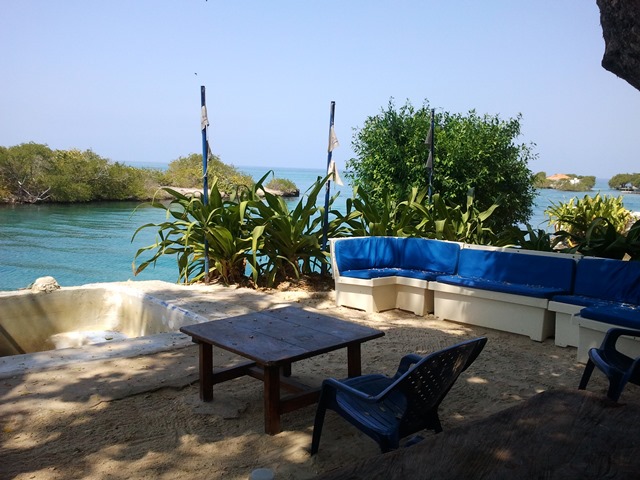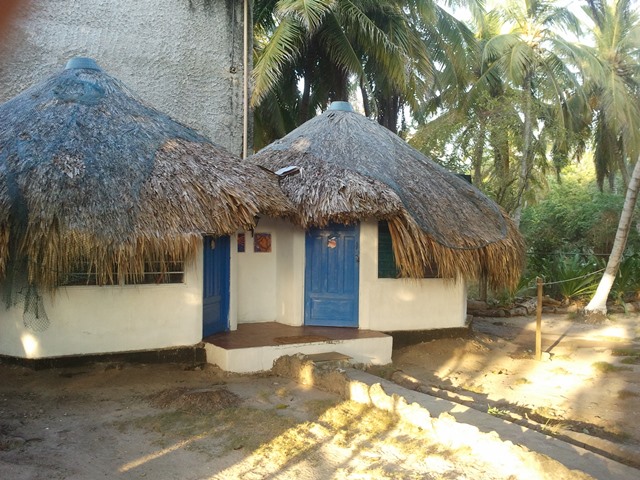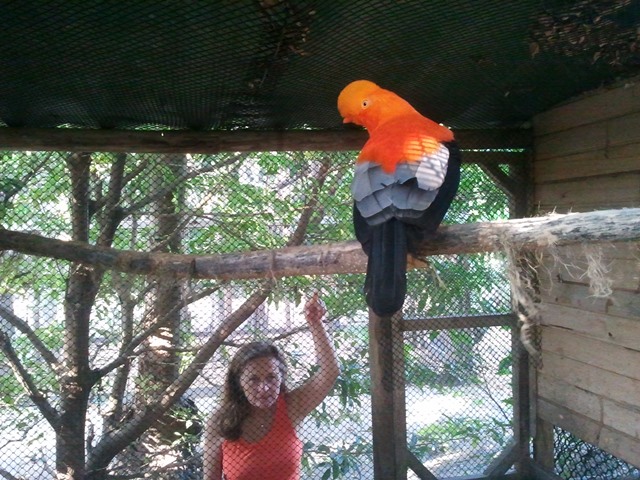 Here, they, Mauricio and Caroline, and us, were waited on hand an hand foot, literally. When anything was wanted either Mauricio would just call or ring a bell! Meals served under huge leafy trees, fresh fruits virtually whatever you wanted, just incredible.We descovered secrets of how to make Colombian style paella.

We spent hours in hammocks on the second storey of the owners retreat overlooking the sea, swam in the clear water, even over a light plane that had been sunk nearby to snorkel over.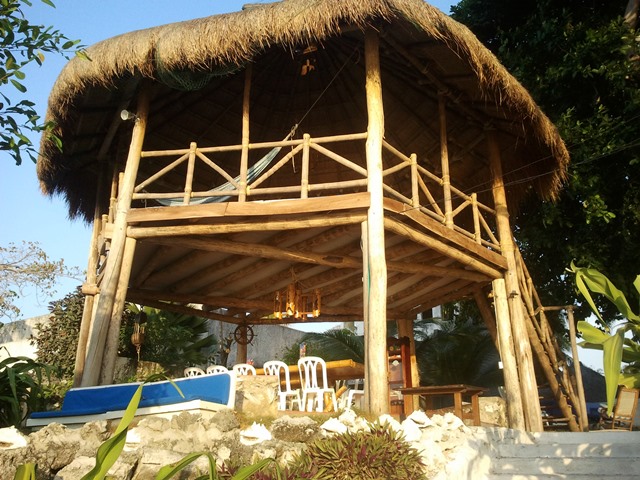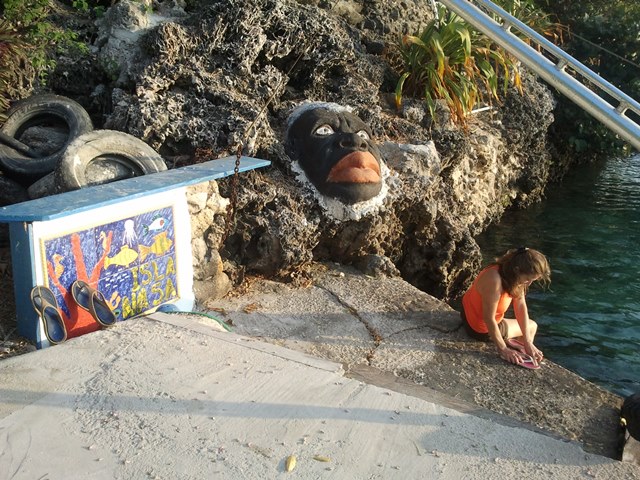 Just fantastic. Then, all good things come to an end and we were soon on our way back to the marina in the hot rod centre console.
Nothing much had changed at the marina. We had arranged to have a few things done to Ednbal, re-chroming of some of the fittings, recovering of aft cabin cushions, recovering of saloon cushions, new zips in the cockpit cushions, quite a lot of work for the marine trimmer. He, William, had successfully done the aft cabin and cockpit work but was having trouble with the saloon cushion recovering. We had given him the cushions to do before we had left for Australia, three months before but still they were not finished. I went to his workshop after repeated promises of completion to find they had not even been started and one of the foam pieces was missing. After jumping up and down and getting the marina manager Maurice involved some progress began. Now I have to set the scene. My Spanish is close to zero, William's English is similarly zero so Maurice is always called in as interpreter. On top of that there is something that we westerners take for granted, that adults can read and write, William can do neither yet he runs his business with six employees! Man you gotta give it to him.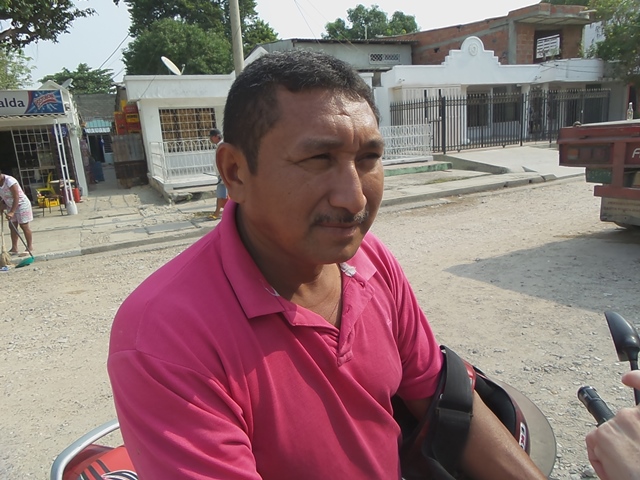 Whenever I gave him anything in writing, using good old Google translate to put it into Spanish, someone would have to read it to William. Anyway back to the saloon cushions he was having great trouble with the curved backs and remade them three times over the ensuing three weeks. Finally Sasha gave in and accepted the last lot, I just fumed having spent time making patterns for him to try and get it right. Next job was the repair/replacement of the dodger and Bimini frame and sunbrella wrecked by Bacus falling on Ednbal.
We had measured and double measured the quality of sunbrella fabric, clears (clear Strataglass), zips and fasteners etc required for the job then ordered from the US. It all arrived and we, with Maurice, had a big powwow with William. Yes, seems he agreed we had enough of everything. He would replicate/repair the old one so relatively low risk!! We have him photos of how we wanted the solar panel zipped in position. He estimated the job would take 20 days. As his workshop was only 4 blocks away I began my vigil to make sure the work was being done, it seemed all was happening.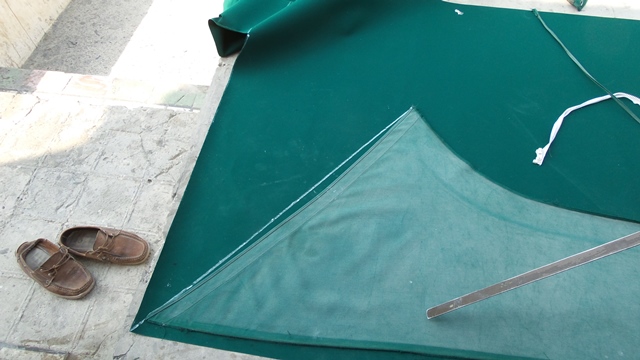 After 8 days the first trial fits before the first zippers were sown in, all going to plan.
By now we were getting heartily sick of our "prison cell", the Marina "apartment" and the dirty, dusty conditions of the marina, it was time for a bit of a jolly to some of Colombia's heartland. Of course there were options, we narrowed it down to Zona Cafettera, coffee zone, up in the lower slopes of the Andes, nice cool climate good for hiking and relaxing or for something a little more out there, the town of San Gill, again in the lower reaches of the Andes but a few hundred kms West from the Zona Cafettera. Both about 600kms from Cartagena so overnight bus trip. We decided to go for something a little more out there, advance book a three day white water kayaking learning and kayaking experience featuring level two and three rapid in the Fonce river that runs through San Gill. Other activities include mountain biking, hiking, horse riding, paragliding, white water rafting, eating and drinking. It's a taxi to the main bus station from the marina then an eleven hour overnight bus more like a tourist coach, ride to Bukaramanga and a connecting bus to San Gill getting us there for lunch the next day.
Out hostel that Sasha booked over the net turned out to be very nice especially at the price of $25 per night, recently renovated, very clean, en-suite, rooftop lounge and very helpful staff, of to a good start. First stop Colombia Rafting and yes they had our booking, first lessons tomorrow. In the morning we were on our way to the river, well a small offshoot with a shallow natural pool, perfect for kayak training, learning to do the Eskimo roll. So, for the uninitiated the Eskimo roll is when you tip over in your kayak, you are upside down and then right yourself with a combination of paddle and body movement. Wish I'd learnt that when I used to try and wave-ski! It seemed we spent a lot more time upside down than right way up, but did manage to do it, could be a completely different matter while going through rapids!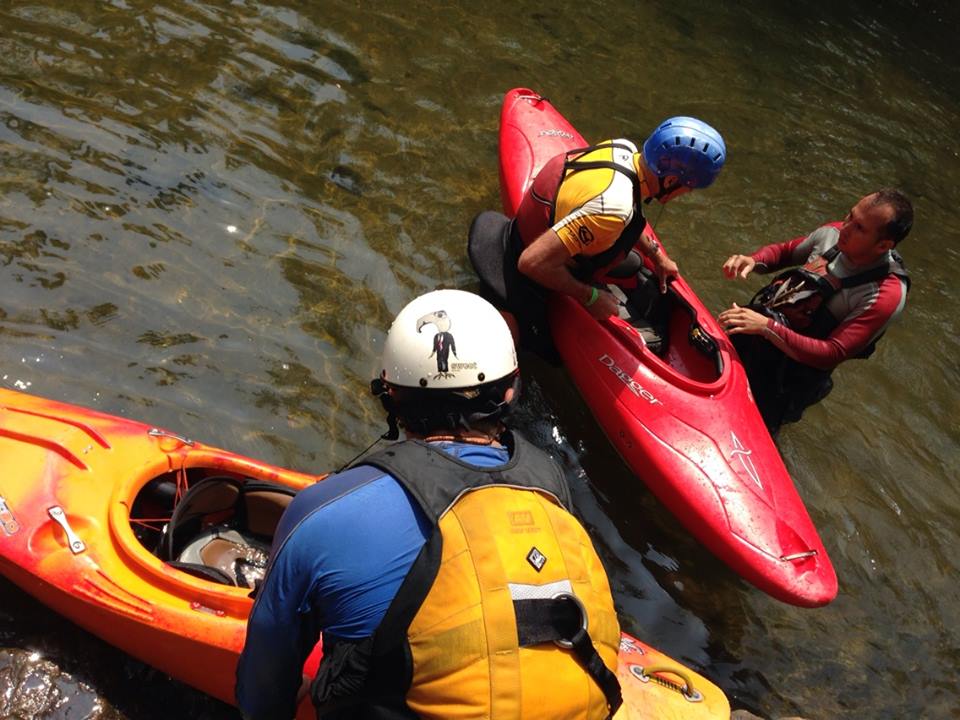 After lessons we went a few kms down the Fonce river in level two and three rapids and thankfully didn't tip over to try the Eskimo roll for real. It was great fun combined with a level of satisfaction.
After two days of training and kayaking we decided to break for a day and go for a bike ride with Colombian Bike Junkies, 50km part downhill mountain bike ride. Funnily enough we, I in particular, we the oldest in the group of ten on the day. Amusing how one reacts based on expectation, after having done Death Road in Bolivia, it was somewhat of a letdown, not to mention the hard work of the last 15km cross county that was hard work on stony rides in the hot afternoon sun. Click to view an album. It left some sense of achievement but no real sense of fun and adventure through dramatic scenery like Death Road.
Come Sunday, the last day of our kayaking, and Sasha was as sick as a dog, down with a cold, a day in bed. We were scheduled to catch the bus back to Cartagena Monday evening so decided, cold or no cold, to go paragliding on Monday morning over Chochchomba canyon. The half hour bus ride took us up to the take-off point at 1650m near the top of the canyon overlooking the river bed more than 1,000m below. We were told that the pilot, yes it was a tandem flight that is an experienced pilot behind with one of us sitting in a chair position in front, unfortunately they don't just let you go by yourself, would likely land back in the same place, but if necessary there were two other landing spots, one in the river bed! Sasha went up first for her half hour flight, came down safely and seemed to enjoy it. Next my turn fully buckled into the safety harness with my pilot, Christian, behind me, the kite caught the breeze and we ran a few metres before being lifted up. What a sensation sitting, legs dangling in the air, full all round vision and gliding with the birds, literally, I was ecstatic, had to be the greatest feeling I'd ever had. Apparently the thermals had strengthened since Sasha's ride and up we went, over 2,200m, way above the canyon, spectacular views and free as a bird. On the way down Christian asked I'd like some aerobatics, sure would do he did a few fast spiral turns that had my face contorted with the g forces, you just wouldn't believe it sitting under a kite. SENSATIONAL! Then, all too soon it came time to land, one small problem, the thermals were so strong he couldn't get down, oh bugger had to fly around for almost another half hour. What an experience, if you haven't done it, I thoroughly recommend it. And, total cost $85 per person; I gave the biggest and most rewarding tip of my life to Christian. As a side we saw him in a restaurant that evening with his wife and daughter, still beaming, almost as much as I was. What a day alas to end with an all-night bus ride back to Cartagena
Upon return to the marina we found that progress on the Bimini dodger have slowed to a crawl for William it was always "mañana, mañana". More vigilance didn't seem to help a great deal and my lack of Spanish certainly didn't help. On the other major front, the new mast it was a case of good news and bad news. US Spars had finished manufacture a week early but somehow it took two weeks to get the mast package from the factory in Gainesville Florida to the port in Miami Florida, a couple of hundred kilometres. Then we were unable to locate any rigging expertise in Cartagena so we contacted a US company recommended by Beneteau, Sparman. Turned out that the company was run by one Julian Crisp, with whom we had dealt about our boom car problems when he was still with US Spars back in 2008. Given the absence of expertise here the insurer agreed to have riggers come in from Florida. Considering it was for two people including travel and accommodation for 5 days I thought their quote of $4,800 was quite reasonable. A week later on 15 March a semi-trailer truck rolled into the marina with a 15m long black corrugated tube, our mast package was lifted off by the travel lift and we eagerly took it apart to get our first glimpses of the precious cargo.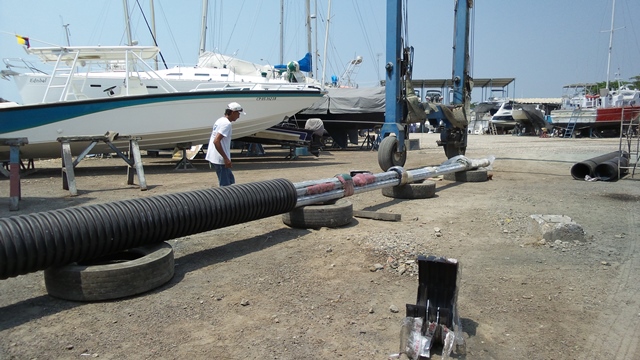 All we expected seemed to be thereto, a couple of differences, mast section different but new mast base provided and the head (fitting on the top of the mast). Over the weekend we took a closer look especially at the head to find that it had different fittings fit the fore and back stays.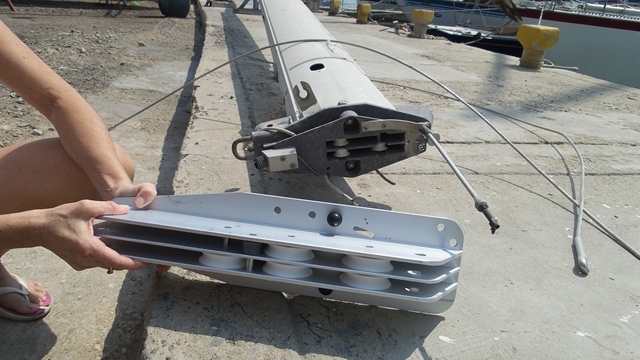 Not only different fittings but they didn't fit, slot sizes too short, holding pin sizes too big and, even if those were right, overall too short meaning our back stays would not reach. We put a document together with photos and suggestions and fired it off to Beneteau, US Spars and Sparman. Three days later we had a response from Beneteau, a collaborative redesign of the head fittings that Julian would bring with him to do the rigging and tuning job.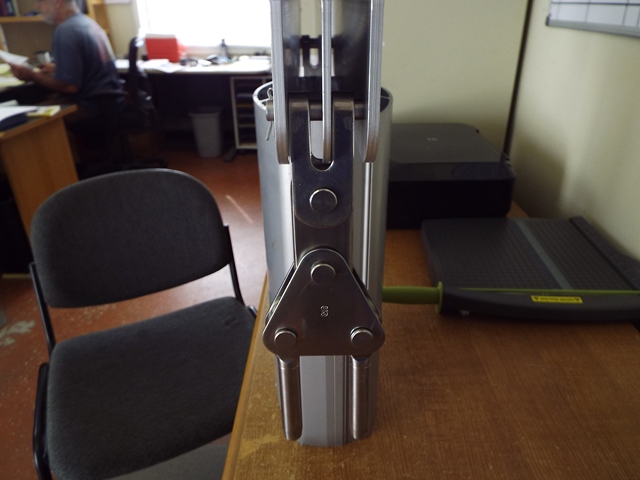 Still some more waiting time and a few funny things seen. One time, walking back from the "tapizero", I saw some live line work (when electrical linesmen make connections up power poles with the power still turned on) Colombian style. A guy out the front of his house had shinnied up the power pole out font, dressed in full safety kit of bare feet and pair of shorts, to make his own connection to power, presumably to get free power, something that is apparently quite common in Colombia!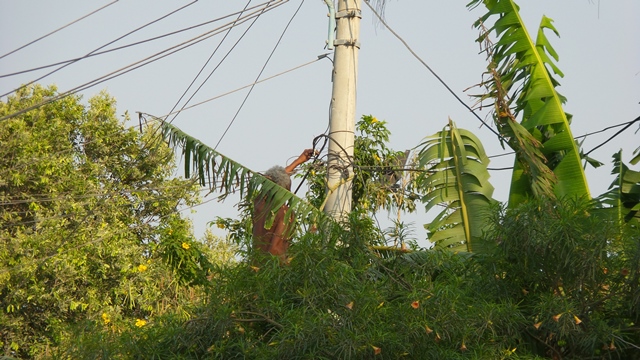 Then there was the mobile plastic bowl seller, the photo tells the story, check out the cart that he pushes down busy roads and dusty back allies.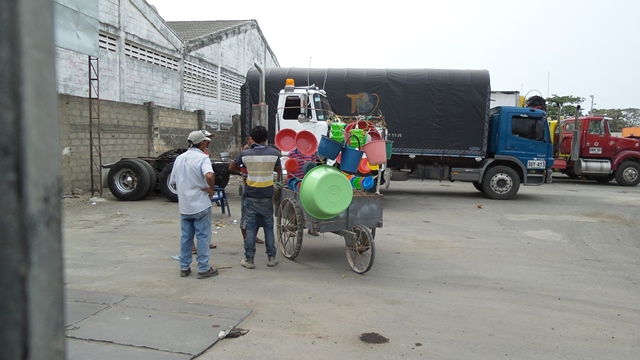 And, of course, the fruit and veg guys who walk similar carts banging the side of the cart with the side of their machete to announce their presence, the same machete used to peel or chop any fruit or veg that you care to purchase at a fraction of the supermarket price.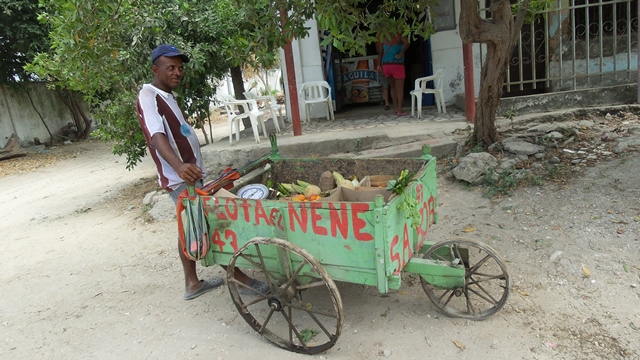 Occasionally we went out for breakfast to a small, very clean, "patisserie", pastry bar. A small selection of pastries, my favourite, chicken empanadas heated up in the microwave, Sasha more preferring cheesy puffs. To make breakfast complete a "tinto", sweetened black coffee sold on the street by guys carrying thermoses and small plastic cups. Oh and the price, pastries 50 cents each and tinto 25 each, quite affordable really!
One other little job I wanted done was to have some more skirted fishing lure heads turned up by someone with a lathe. First I found a couple of machine shops that had full office staff and prices to suit but eventually I found a tiny one man band shop about half a kilometre from the marina.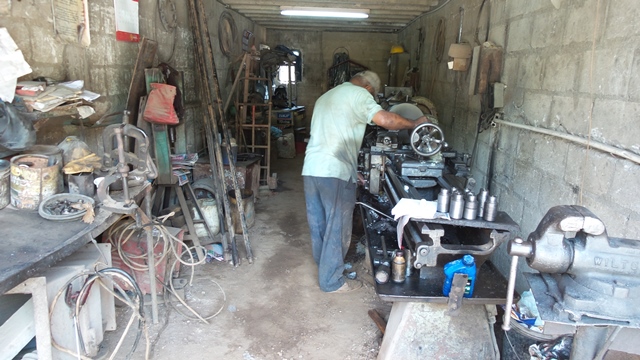 The old guy, Esteban, must have been almost as old as me, working there had a lathe equally as old and a darn site more solid. Only down side, it was just sitting on the dirt floor, no such thing as a concrete foundation. The whole working environment, not the mention anything about safety, especially the electrical installation, you could say, left something to be desired.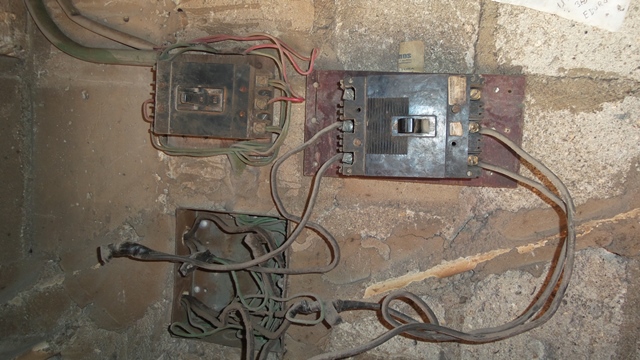 Almost directly across the road was a warehouse selling all sorts of what seemed unrelated stuff including solid nylon rod just the thing for turning fishing lure heads. So I bought a length of rod and took it to Esteban, struck deal and away he went starting work immediately. The finished product, thirty lure heads, was picked up a few days later, will be interesting to see how they go. On the way to Esteban, we spotted a nice graffiti on the wall "Government vs People".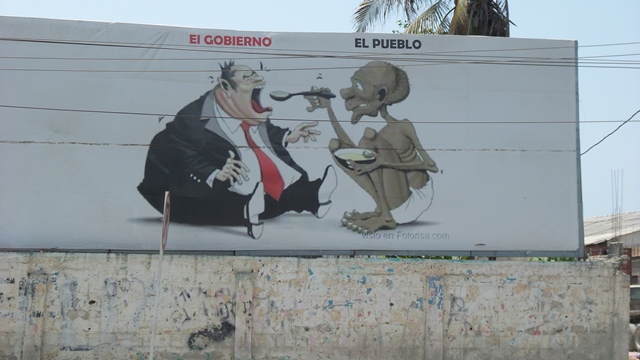 In the meantime work was progressing, albeit slowly, on the new repaired bimini and dodger. We tried to work out some way, some sort of incentive, to get more progress. I had tried to ensure someone was working on it by going to the workshop a couple of times a day but somehow I couldn't force progress no matter how I tried, it seemed to be always tomorrow - mañana. Out of frustration Sasha confronted William about his promises to finish the job within 20 days while I recorded it on video. As soon as he realised the implication he started to back pedal, no it would not be possible to finish on time, not even before the guys to install the mast arrive. An idea, maybe the guy doing most of the work, Jose, would like new Nokia phone, well a second hand new phone, one with internet connection, still uncommon for most workers. It was Saturday of a long weekend, maybe by offering such an inducement Jose would work the weekend. Sasha went to the boat to get the phone, attachments, instructions etc. All but the phone and the 12 volt connected charger could be found. Sasha searched, I searched, the boat and the apartment. No sign of the phone and charger. Much frustration, more searching, more frustration. We slept on it and looked again then Sasha opened the microwave on the boat, there it was with our spare hand held GPS, we'd put them in there some months before in case of lightning!!