San Blas, Jun to Sept 2013
Category: Caribbean
Created: Wednesday, 07 August 2013 18:58
Written by Roger Boxall
Hits: 2129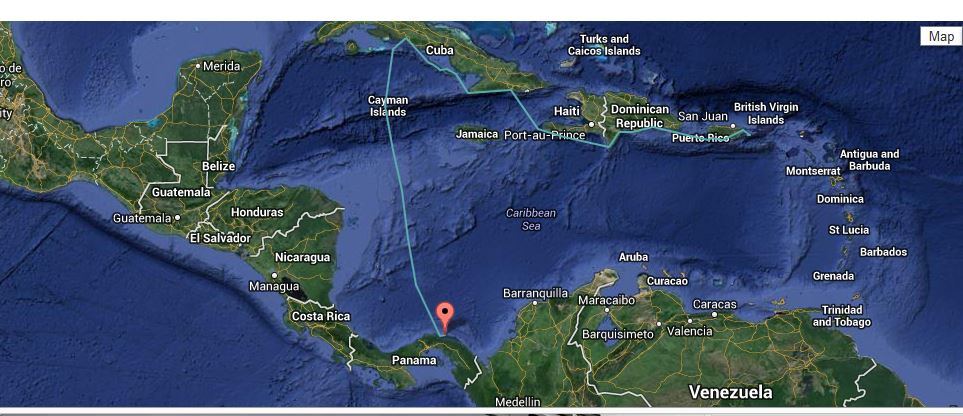 San Blas, Jun - Sept 2013
14th June 2013, after breakfast it was time to check to Panama and the wonderful San Blas. A short dingy ride to the jetty on the tropical island beach of Porvenir where customs, immigration and the harbour master are domiciled in what can only be described as sparely furnished rudimentary offices. Since our last visit in 2008 out seemed the age of hand written documentation passed, he now meticulously placed s form in an electric typewriter and, with precision hit each key with one finger. It took him almost half a minute to type Boxall!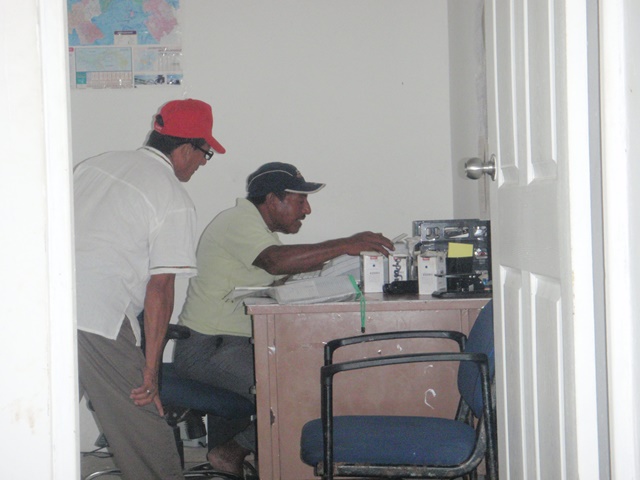 Things had certainly progressed in the San Blas. Next stop, another small dingy ride to the nearby island of Wichubhuala a couple of hundred metres away for basic supplies, a little fuel, a lot of beer, a phone sim card and some fruit and veg, maybe. All accomplished save the fruit and veg, ah well with anything like luck the fruit and veg boat that used to visit the islands about once a week when were we last here still operates. Nothing much had changed in the way the Kunas live, rudimentary houses, more like huts really with outside toilets, a narrow board out over the water to an enclosure usually vertical bamboo sticks lashed together and a toilet seat so everything drops straight into the sea.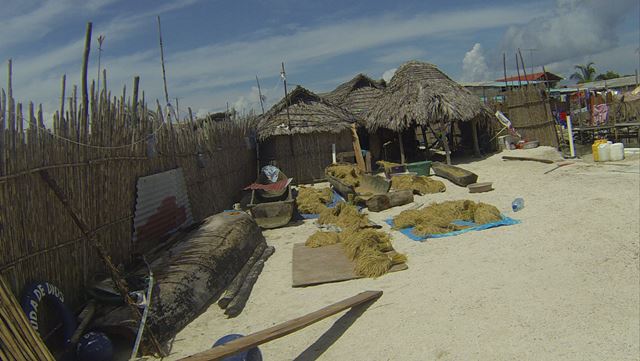 Well that was enough of San Blas civilization, now off to the islands with no shops just Kuna Indian families looking after coconut trees, the occasional fruit tree and fishing, first stop Yansaladup, an anchorage we had enjoyed before. We were not disappointed, good holding for the anchor, clear water, coral and fish, time to kick back and start enjoying the best island paradise we have been to yet. Immediately I put the word out to the locals in their dugout canoes that we would like to buy Suga, Kuna for crab, "mas grande", the big male sea crabs, one is enough for a meal for us both.
Next day sure enough Suga was delivered, alive with giant claws snapping, going price for a complete crab, no missing legs or claws, $5. How could life possibly get better?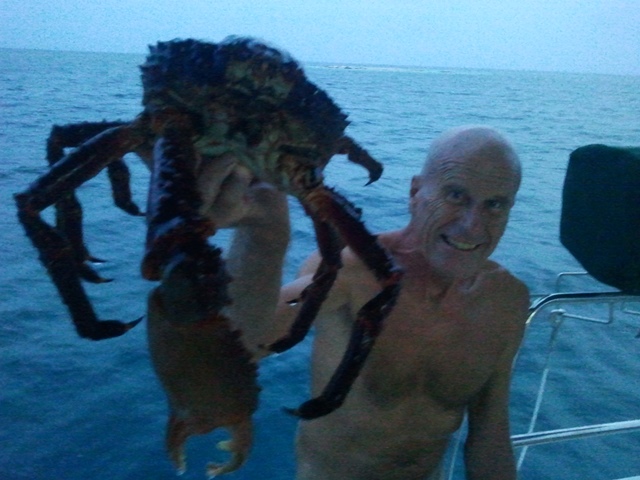 Our prep and cook goes something like this. "Drown" crab in fresh water until dead, remove claws and legs, remove the top half of the shell and clean out leaving meat in place, take large percussion instrument (hammer) and crack body, legs and claws so that meat can be easily accessed after cooking. Heat wok with a little oil, place all crab (if it will all fit!) in wok and stir to cover for five minutes, add sauce for style of cooking (Singaporean pepper, chilli, peanut satay coconut) fifteen minutes, serve and enjoy, maybe with a little rice. Oh and wine of course, here we drank white from Chile, mm, mm!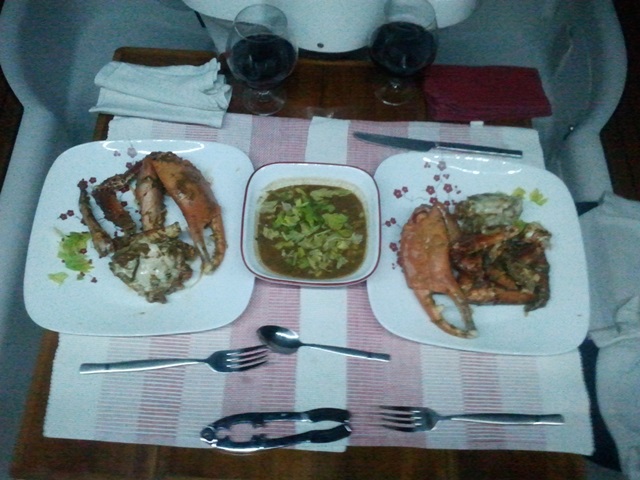 There were a number of other yachts around, we spent some time with Tracy and Scott and their two youngsters Will, 5 and Molly 3, from Oz sailing a 44ft cat called Yolata-. They had some issues with fuel to their starboard engine that we helped diagnose. However seems we picked up one problem as they had further similar but different issues on their next back packet voyage to Cartagena Columbia. Scott was good about it, at least he didn't blame me like some other Aussie cruisers we helped out a number of years ago. Ever since that time I have been very careful about who and how much I help out.
From Yansaladup a long twelve mile sail East to the Hollandaise Cays and out favourite San Blas anchorage a hundred metres or so North of Mordup island, a tiny patch of sand about 80 metres in diameter, perfect for morning Yoga.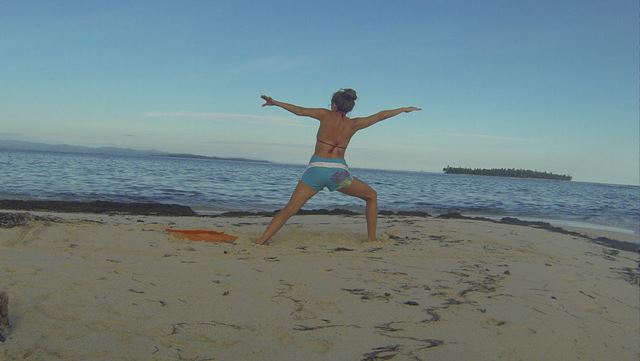 Mordup is one of several islands and a lot of near surface level coral reef that protect a virtual lake about a mile in diameter. The lake, as I call it is generally known as the central Hollandaise. "Our" spot was surrounded by four coral outcrops all within easy swimming distance of Ednbal.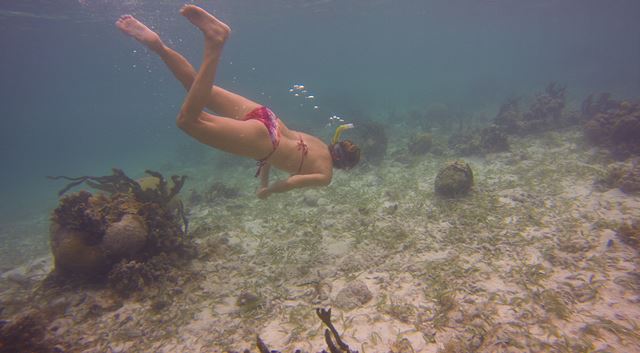 Our most favourite anchorage of all time, so far. Here we set a record for the longest time we have anchored in one place in seven years of cruising, six weeks. Fruit and veg, beer, wine, rum, coke, delivered almost weekly by Sergio the veggie man, and fish, lobster and crabs delivered by local Kuna, ad fab. Here we made friends with a number of other cruisers although there were rarely more than three yachts in the lake at any one time, plenty of space and warm tropical weather meant that clothing was an optional extra day or night. Just had to give people notice of coming to their boat so that they could put something on.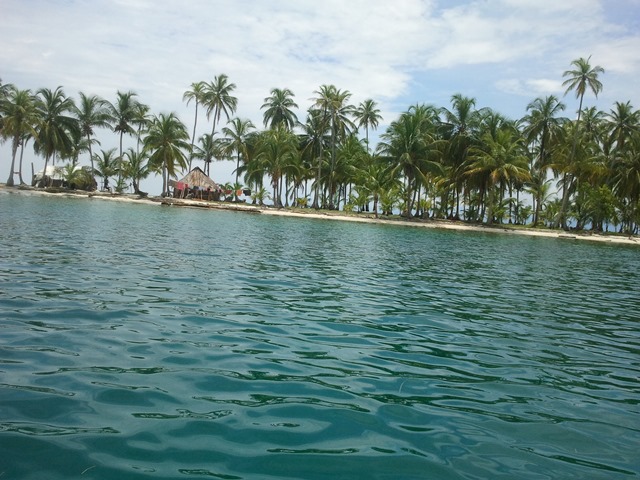 South Africans, Mike and Lora on Gilana, Americans Frank and Gretchen on Infinity, German Stefan with cat Flecky on Sawadi, Americans Tony and Anne on "Pavo Real" as well as Lorenzo and Joyce on the converted prawn trawler Ayleen Farrell all became good friends. What we didn't recall from our previous visits was the number of storms and rain days, no big deal for us but a few others had trouble with dragging anchors. Thankfully the first thing that we bought, well Sasha bought, for Ednbal was a big anchor and smaller but stronger chain. Our anchor 25kg Delta anchor is suited to a 60ft yacht. The first squalls had winds that saw on our wind indicator of 45 knots, others said gusts to 60, whatever it was windy of an hour in early morning. At light I saw Infinity heeled over, having dragged anchor and ended up in sand and coral. Along with Stefan, Mike and Lora, as well as some local Kunas, we helped dig a trench about ten metres long and half a metre deep behind Infinity's keel and eventually with the pulling power of Gilana's 3 65 Detroit engine managed, by mid-afternoon pull her to deep water. Celebrations ensured! Just to the South of our anchoring spot lay the tiny sand island of Mordup, maybe eighty metres in diameter. On 2008 there was a Kuna family living in a hut under the shade of two coconut palms. Now it seems they have become victims of global warming, no family, no hut, no trees, just sand, some washed up logs and debris including, apparently, a piece of space junk, part of an Arianne rocket fired from the European space centre in French Guyana. Mike of Gilana had taken a photo of, what at first looked like part of a small aircraft wing and did a search on the net and sent email to the European space centre. The space centre guys identified it. For us it provided a table to put things on when we went to the island for bbqs. rubbish burns and bonfires. That's another thing; the Kunas throw all rubbish, plastics, disposable nappies, the works, into the water and sometimes offer to take rubbish from yachts which they promptly throw in the water once out of sight. So of cruisers separate rubbish, food scraps go over the side, bottles tins and cans are kept for sinking in deep water and all else is binned for burning at communal cruiser rubbish burns usually held in conjunction with sundowners. We had several bbqs on Mordup, usually with other cruisers but also a couple of times just by ourselves, absolutely magic on a starry or moon lit night.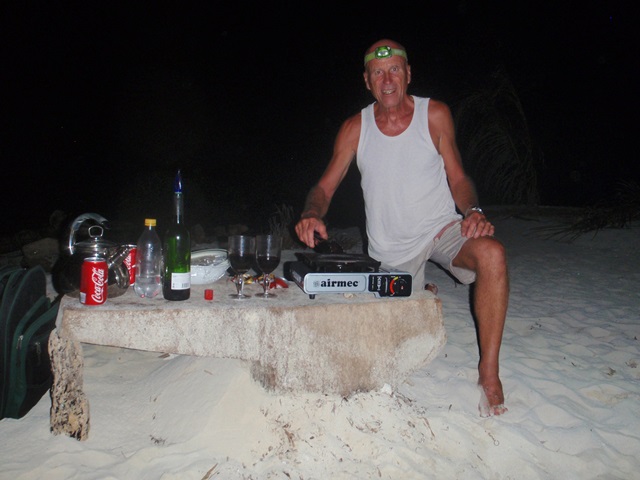 Swimming to the nearby coral outcrops we almost knew the fish on a first name basis, in a hole in one of the bigger coral bombies was a resident lobster along with a red and white prawn looking creature. One day we saw some Kunas diving there presumed that they would have taken the lobster to sell to cruisers. Next morning he was still there, minus one feeler. As was the case five years ago the Kuna families take turns living in a hut on an island for about a month at a time then swap over with another family, no running waste, no electricity, no gas cooking, a very simple life sleeping in hammocks. The huts are usually about four metres square, vertical pieces of bamboo like poles about 30mm diameter tired together as walls, cut outs for door and window, but no actual door or window, pitched roof of palm fronds, dirt floor, and nothing we would call furniture.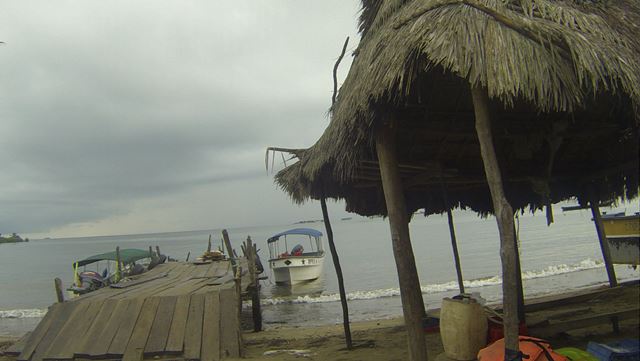 What you might call minimal living. They have their own language but most speak Spanish and some, minimal English, so the down side is it's very difficult to have any sort of conversation. None the less I, and I think they, had fun with just a few words and sign language especially with my requests for Suga and negotiation of price based on product quality, males only, missing legs or claws.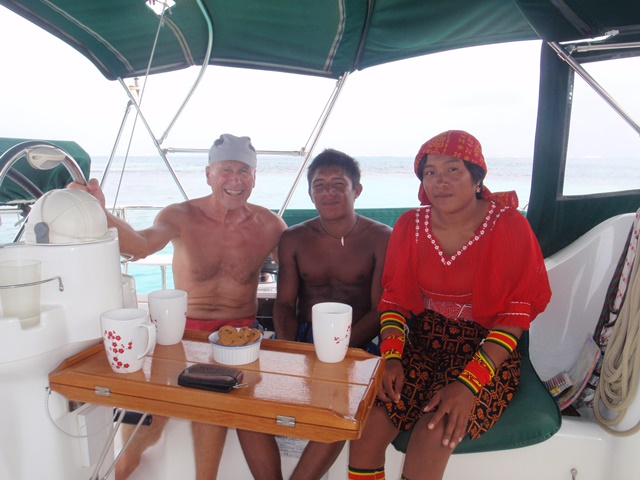 Without electricity they cannot charge their mobile phones so will come alongside in a dugout canoe and hand you a phone and charger, often with no explanation, then come back later or the next morning to pick it up, sometimes giving a drinking coconut on return. Throughout most of the islands there is phone coverage, even internet although constancy both the speed and connection are variable to day the least, but you have to be impressed, ten miles off shore in wonderful coral islands you have internet and occasionally even good enough to use Skype.
While in the Hollandaise lake my new Nexus 7 tab died. After many frustrating one line chats to the maker's, Asus, it was finally decided that it could not be revived and would have to be sent to the US service centre for repair. Sounds easy, not so. First you have to get to a city or at least large town to find any sort of courier company could not trust postage! Then Asus would only return it to a US postal address, despite much pleading and escalation to managers there was no way of getting them to return it to Panama. Come on saviour, Mike and Lora had friends Eric and Francia from the US on board and Francia offered to take the tab back to the US, send it to Asus and then send it Panama when she got it back. At about the same time we ordered some parts from a company on Florida specialising in supplying parts to overseas destinations. They agreed to put the tab in with our shipment so that simplified getting it back as the shipment was to be flown into the airport at Porvenir. And presto it worked.
Included in the shipment was a new toy, a Gopro hero 3 black underwater video and still camera. Our old Olympus had finally given up to water leakage and died a couple of weeks before. Despite violent efforts by its owners it was consigned to the bin. Anyway the new toy is great fun, check out Gopro on the web. Along with the camera we also bought a small plastic tripod and head mount. I also made a fitting to mount the camera on the end of the aluminium tubes of my gidgee which proved excellent as I could swim with the camera two metres out in front to get much closer video of fish. The tripod needed weight to be stable on the seabed so I wire-tied a small lead dive weight to it and struck it lucky the first time I set it up in an octopus's garden. I swam away and left the camera running for about fifteen minutes and sure enough got the octopus coming out of his hole, investigating the camera and sliding off over the rocks. It is on youtube - OctopusGarden
On another occasion, with the camera on the pole we saw our first cuttlefish and got some great close-ups of it swimming with pulsating colour changes. What a beautiful performance - ThecuttlefishDance
Each morning at 8:30 there is the Panama connection net, a get together of cruisers via the HF or SSB radio at 8.107MHz to say hello, exchange information, give a weather report offer things for buy, sell, swap etc. The net is controlled or moderated by a net controller and people take turns or are allocated a day or days of the week. Somehow I ended up with Thursdays and Saturdays. It made me realise more than ever that people have trouble with my Australian accent but it was good fun. On the day to day front Sasha had her time cut out with cooking, we ate a lot of seafood, lobster and crabs bought local Kunas and fish that I either caught or spared with the gidgee or Hawaiian sling.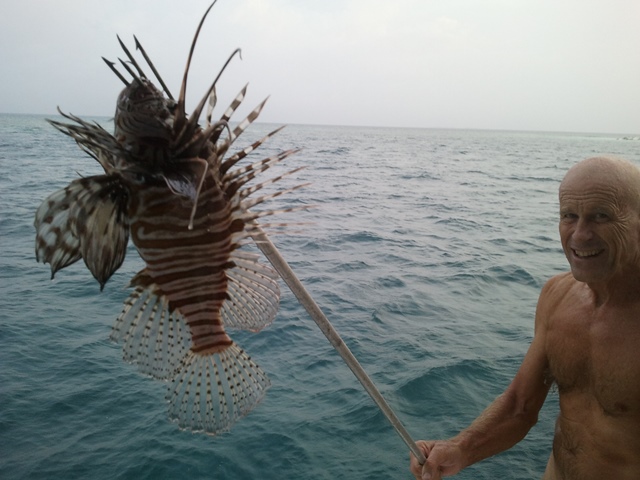 She cooked bread although sometimes the veggie guy had some and when he had bananas she made my favourite banana cake. It was a good lesson in the need to stock up for longer periods, something we will need to take heed of for our Pacific crossing, especially the leg from Panama to the Marquises' islands via the Galapagos' next year. We have been eating a lot more rice and pasta than we expected, luckily Sasha bought extra in Grand Cayman that we thought we may give to local Kuna families. Not the same could be said for flour, we bought extra from Lora! Sasha also spent many days working on the revamped Ednbal web site using Joomla after the old Websitesourse was no longer supported, while I relaxed doing a few boat jobs. One of those boat jobs involved our Victron battery charger/inverter. A couple of times it played up, stopped charging and started again a few seconds later for no apparent reason. Over a few days those seconds became minutes until it stopped altogether. No real problem, we have a spare, the one Victron replaces under warranty and I repaired. The biggest problem was the location of the installed unit on the at starboard locker almost up against the hull, a miniature monkey would have trouble getting in there. I had to be upside down and turned sharp left with arms extended to get at bolts and electrical terminations. Got the old one out without too much trouble but getting the replacement in was another question. It was getting late in the day, I had been sweating profusely all day. was tired but too pig headed to leave it to finish the next day, that's when things really started to go wrong. I had propped up on a piece of wood when I slipped and out fell forward onto the HF radio antenna tuner. Would have been OK except I had left the front cover off exposing the printed circuit control board. Two LEDs were broken, not too bad, but the small on, off rocker switch was broken, its cover off and the tiny contacts, spring and actuator had sprung out. No chance thought I but Sasha found them. We managed to reassemble the switch and glue the cover back in place, now I did give it away for the day. Next morning everything went smoothly, started the generator and got the same result!!!! Oh **##. Sasha researched the manuals, I fired an email off to Victron describing the problem, Sasha researched the manuals and found that if the battery temperature sensor detects temperature over 50°C then the charger shuts down. I checked the batteries, cool as a cucumber. We decided to disconnect the battery temperature sensor and bingo, just like a new one. PPP All that work and frustration for nothing. Victron answered my email with the same suggestion! All went well for about a week then I went to is the electric planner, turned on the inverter and hit the button on the planner, the inverter tripped on overload. Strange but ah well start the generator and I did my little job. Two days later the charger inverter smoked, literally. Dead this time. Swapped it out for the original since there was nothing wrong with it in the first place, by now I was expert at changing them over! We disassembled the dead one to find thee power FETs in the power module were well and truly smoked, some had actually exploded as were some other components. While fishing around I noticed that the positive lead coming from the power module and bolted to the main outgoing 300 amp fuse was discoloured at the fuse bolt. I removed the fuse and found that the nut under it, holding the positive lug was not done up at all. There were sparking marks on the bolt, lug and nut, because the nut was never done up in the factory. I again emailed Victron with photos, yes that was most likely the cause of the failure, best send the power module on for repair. Fingers crossed the unit on service now holds out. Thankfully not all my boat jobs were such a pain in the neck.
What was a pain in the neck however was taking delivery of a package of parts, mainly replacement standing rigging, that's all the wires that hold the mast on place, sent by Beneteau in the US by UPS to Panama city. Firstly Beneteau estimated freight to be " in the $300 to $500 range" so we said go ahead, the actual freight cost $1,277!! Not a good start. The UPS Panama would not release the package, something about customs having to ensure it goes to a yacht as our package was for "yacht in transit" meaning we do not pay taxes or duty. Other courier companies such as FedEx deliver packages no problem, why should UPS be different?? After much consternation we finally decided that I needed to go to Panama City cargo airport to take delivery. We sailed to the nearest point on the mainland with transport to Panama City, Carti.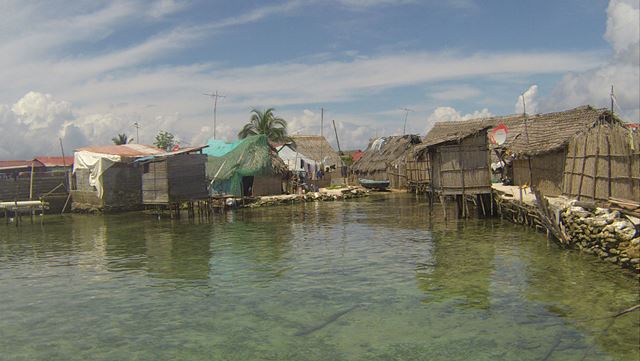 From there a communal taxi to UPS $25. despite showing the driver the name of the cargo area and having a person who spoke both English and Spanish explain to him where I needed to go, the taxi driver tried to drop me off at the passenger terminal. Then an argument about going to the cargo area and another $5, OK no big deal. I find the UPS office and yes they have the 57kg package, so far so good. Luckily one of the ladies spoke good English, I needed to get three stamps on the shipping documents, one from quarantine, one from some sort of local administration and one from customs. Off I went on my mission. First two no problem, thought I would be out of there within an hour. But customs, not so easy. One office sent me to another which sent me to another which sent me back to the second which sent me back again. By this time I was getting giddy. Then a guy who spoke excellent American accent English explained that customs wanted a document from a clearing agent, he could take me to one a short walk away. In the office, even air-conditioned, were for people. After much backwards and forward it seemed the biggest problem was that UPS had not entered my package into the government system add for a Yacht in Transit so when I was showing the documents to customs with Yacht on Transit on them they didn't know what to do and as I didn't speak Spanish I couldn't work it out. UPS would have to change the entry to reflect Yacht in Transit but bug now PPP UPS was closed for lunch, 12 till 1. My return taxi was scheduled for 1:30. I have the guy who took me to the price a bit of Aussie memorabilia but it was not enough, another $5, again no big deal. The clearing agent would charge $40 for the document. Another guy in the office, Teofilo, who turned out to be a contract cargo agent and spoke good English said he would help me. We went to UPS, they had already changed the entry but sent is to the customs at the cargo terminal main gate over a kilometre away, Teofilo drive us, where the customs guy assured me he would help. Together the three of us went back to the third customs office I had visited and sure enough we got the stamp. After returning the customs guy to the main gate we went back to UPS and took delivery of the package, Teofilo, is ready to depart so I give him $20 although he didn't ask as without him I would have had no chance. By now it was 1:45, I called the taxi cooperative and the lady, Kathy , speaking perfect English, assured me that a taxi was on its way about 45 minutes, just wait there. 45 minute goes by, I call again, he is on his way, just wait. Another half hour, no taxi. Kathy then tells me that all taxis for Carti have left but another was on his way to the city office and could pick me up. Things are getting sus! Just after 3 I call again, the only way to get to Carti now is as a one person trip, $150. Decision, pay the 150 or stay the night at a hotel for about $50, taxi to hotel, food etc then get taxi back tomorrow. I decide to pay. Close to 4 o'clock the taxi arrives, we head for the main gate. Now however the customs guy who had helped get my documents stamped was no longer there and his replacement would not let us through, sends us back to the customs office that stamped my documents. Here another argument they decide that a customs officer must accompany the package to Carti, more money I guess. Immediately I say I don't have more money but they come up with a cost of $91. The taxi driver calls Kathy, who then tells me that the driver is worried that I won't be able to pay him, somehow I reassure the taxi driver. My guess, from my very limited understanding of Spanish is that one of the women in the customs office wanted to see Carti knowing they had me over a barrel. By now I am just a little more than pissed off! Finally taxi driver, customs officer, package and I are on the way to Carti. It is after 6 by the time we arrive and I find the taxi had other passengers to take to the city, I'd been had again, pay the driver as agreed. Now the customs lady seems to want something. One of passengers who spoke perfect English explained that she wanted me to pay $80 "overtime" or she will not release the package into my custody. I almost explode, open my wallet and show the few dollars I have left. The interpreter then tells me he has been waiting with his wife for the taxi and wants to go but has talked the lady down to $40, I have only 20 for the bribe, he pulls out 20 and continues, can you believe it. Unfortunately I am in no mood to be thankful. To add insult to injury Sasha is also not happy about the amount of money it cost me. On top of that we must spend another night anchored in the bug ridden shoreline of Carti, the major problem, noseeums or sandflies. With the boat closed up, mesh screen over the companionway and generally feeling sorry for myself I make sure there is nothing left in the cockpit, set the security alarm and off to bed at midnight, still, rainy night. At 2am, for the first time ever, the security alarm went off, sirens and flashing light. what a commotion in the rain. After a couple of minutes I ventured outside, no one to be seen, would have to be pretty brave to stay around with that going. No more sleep that night! Next morning we could see evidence of someone having been in the dingy. Sasha was most grateful that I hadn't stayed the night in Panama and any concern at the money spent evaporated. Health and security, top priorities.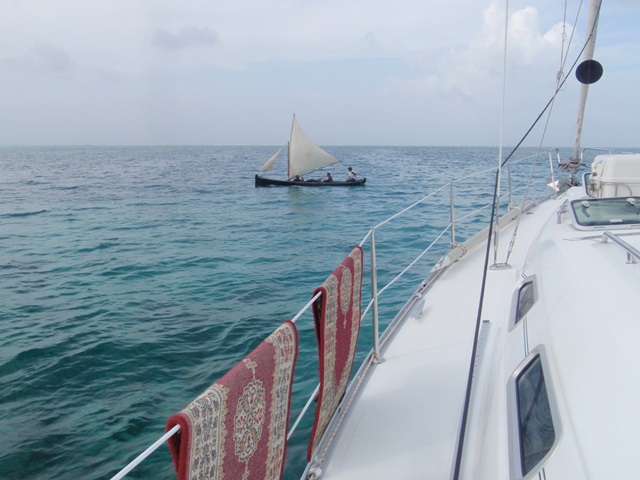 Before we knew where we were almost three wonderful months passed in the beautiful San Blas, with the exception of the Panamanians all people were just wonderful but it was time to head to Cartagena, Columbia to haul Ednbal out for antifouling and change of the ten year old rigging, it was already mid Septemeber 2013.