Grand Cayman 2013
Category: Caribbean
Created: Monday, 10 June 2013 18:05
Written by Roger Boxall
Hits: 2775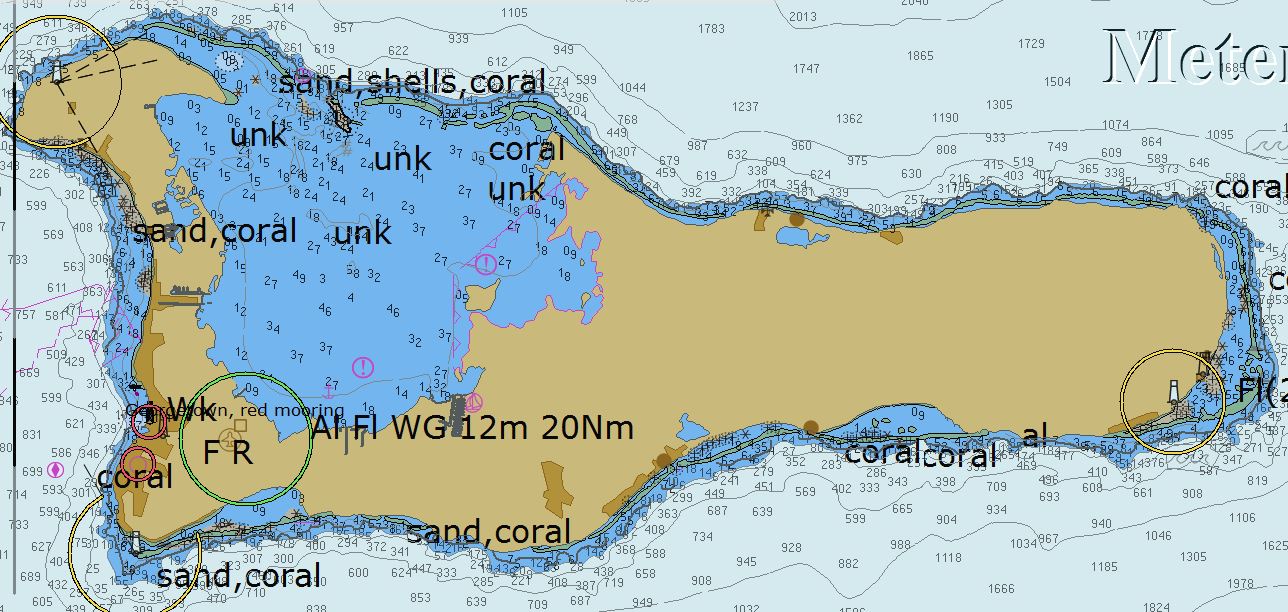 Grand Cayman, May 2013
Back in the Cayman Islands, well Grand Cayman anyway, after five years. We were here for Australia Day, for the uninitiated, 26 January, 2008. At first glance little seemed to have changed, check in was simple and no cost, just had to hand on my gigie. Hawaiian sling, mooring was provided, no charge, in beautiful clear water, coral outcrops within easy swimming distance. On shore a good jetty to tie up to, all too easy. Just across the road a very well stocked supermarket, we filled a trolley and wheeled it back to the dingy, the only down side was the cost of beer at $35a carton.
We were keen to catch up with friends we had made on our last visit, especially Paul and Paula at the Resort dive center a mile or two walk from the port along the familiar main drag of the Western shore. However instead of finding the small hotel dive center a monstrous apartment block was being built. Back on Ednbal, getting ready for an evening swim and bath, a dive boat was going past and a familiar voice called out, it Paul, their relocated dive center was at the jetty next to the one we had been tying the dingy to! Next day old acquaintances were rekindled, as friendly and helpful as ever. Our dive tanks checked and filled, a document we needed notarized done by their company lawyer, n payment would be accepted. We even set up our bikes and locked them at their office overnight saving us from disassembling and taking back to the boat each day. Just wonderful. Later we walked the few miles to where we had moored Ednbal when here in 2008. As we were walking along one of the canal seawalls we saw a familiar face working on the rigging of a boat, it was John, the guy who lived in an apartment close to where we had Ednbal moored at the time and had given us the password to his Wi-Fi. After a long catch up chat we continued to take a look at the mooring jetty, all still intact and with vacant pens.
Anchored near us were four yachts that we had spent time with in Cuba which called for a few get togethers, sundowners, diners and general social intercourse.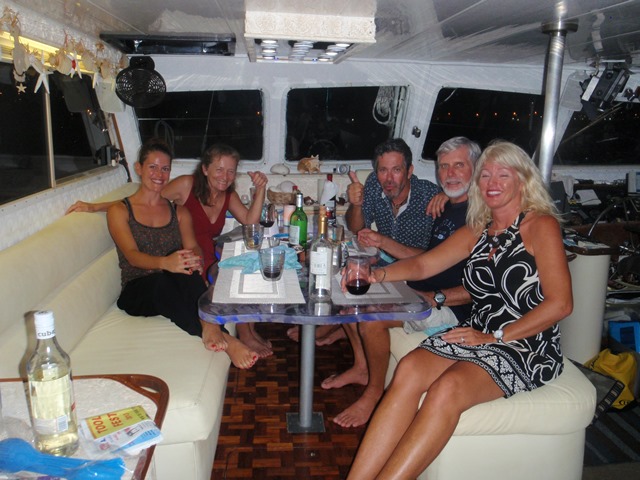 The list of things to get, back in civilization, was lengthy so we rode the town picking up most of it with exception of marine items as the main chandlery was a few miles out of town at North Sound on the other side of the airport but still fairly easy riding distance on our whiz bang twenty inch fold up bikes. They had most of what we needed including spare impellors for both our Yanmar main engine and generator. We even invested in the superior nitrile material for the Northern Lights generator as the standard jabsco ones had been failing at just a few hundred hours when the service manual states "check at 1,000 hours"! The minibus system of island transport is well patronized so bus routes can take you and your fold up bike to almost anywhere. We decided to take the bus to Breakers, about 8 miles from the port as a starting point for a ride around the Eastern and Northern parts of Grand Cayman.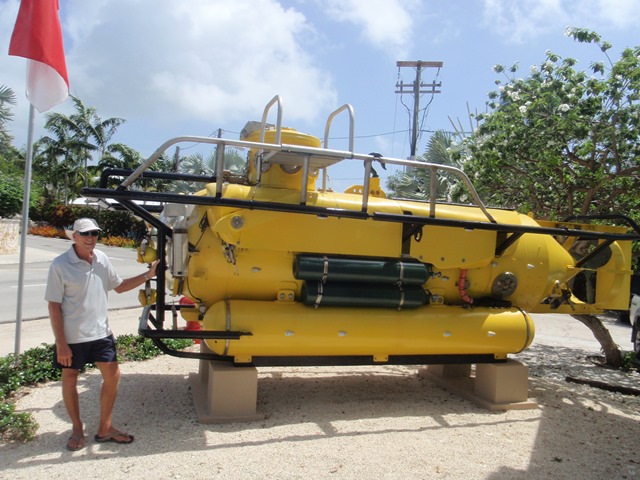 It was a warm day, just enough cloud cover not to be too hot and, where we were not hemmed in by trees, enough breeze to have a cooling effect. For lunch we called on at the one and only supermarket on that part of the island to pick up some bread buns, fillings and a couple of beers for a picnic a little further down the road at, what our map showed as a new development with sandy beach. Well the new development was right but it had stopped at the new stage. A sales office and a couple of houses had been built but now abandoned, except for one that had a foreclosure notice at the front gate. One abandoned house, completely open and largely ransacked, was two story, built right on the sea front with sweeping views from the upstairs balcony, perfect spot out of the sun for a picnic. After lunch, a refreshing swim and back on the bikes with almost half our planned ride completed. A little further up the track was what appeared to be a Kamikaze crab road crossing area, hundreds of large land crab carcasses squashed by passing cars. Our, our should I say, the tour director Sasha's planned route took us, from the North side of the island, down through the middle to the coast rode on the South, pretty much where we started to catch a bus back to the port. Once back there we thought may as well ride home. This was all very well except we hadn't ridden any distance since being in Spain, our bums really began to feel it, and FEEL IT!! Priority when back in town -get better bike seats, on both of ours the plastic under base was broken. We slept well.
After restocking at one of the bulk supermarkets and ticking most things off the to do list it was time to start watching the weather more carefully for the chance of a good sail South to Panama and the San Blas islands. We had fond memories of the San Blas, about the nicest place we have been to on our seven years of cruising, just hoping that our memories were right and we did not have too high an expectation. On the 9th of June, after two weeks in Grand Cayman we had forecast of reasonable winds from Cayman to within eighty or so miles of the San Blas where typically, at this time of the year it peters out. The first day and a half of the 600 mile trip went very nicely, beam on winds made for good progress but then we hit something we did not expect, current against us, at times up to three knots. For over twenty four hours we consistently had over two knots of current slowing our progress considerably. Dumb thing was, when you zoom in on the chart it even showed the adverse current. When we choose the route we didn't zoom in far enough, by the time we got to problem area it was too late! By the time we got into neutral current the wind started to die and, as forecast, we motored the last leg arriving at our check port of Porvenir at seven in the morning of the 14th June 2013.