Category: Caribbean
Created: Thursday, 29 January 2015 15:40
Written by Roger Boxall
Hits: 2487
The 19th of November, 2014 was our return from the trip to Spain, China and Australia, hectic in Oz as usual, but a chance to relax in the other spots, most especially to catch up with a special friend Stef in Changzhou, inland from Shanghai (See the photo album China2014).
Alias our return found poor Ednbal in quite a mess. Although we had done a lot of cleaning and wiping down with vinegar the decks were green and the whole inside covered in mould. Sasha took to the inside while I started on the outside.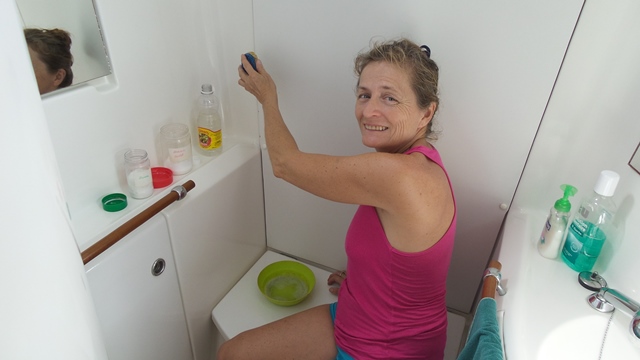 First I had to inflate and lift off our "new" dingy, well Jim and Carola's old fibreglass bottomed Zodiac inflatable that they had put on the bow of Ednbal while we were away. Our trusty old Aquapro, Tadpole, had pretty well reached the end of its life, a hole corroded through the aluminium hull, a hole in one of the tubes and I was heartily sick of regluing the handles back on.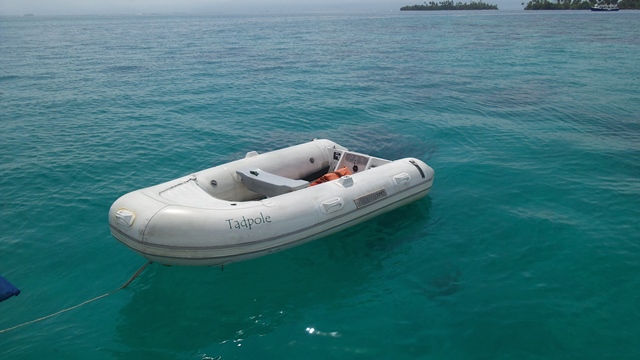 With the dingy out of the way I have done the deck the treatment and she looked a whole lot better. Much more work for Sasha inside however. This was the first time we had ever had a real mould problem and as we later found, once you've had mould it is virtually impossible to irradiate, just seems to keep coming back. A day later we left Panamarina for the nearby anchorage of Linton for a couple of days before sailing the 45 miles back to the San Blas.
It was late November and we were hoping that the dry season North East trade winds may settle in, our main aim was to learn to kite board. Our three lessons had been almost two years ago in Cape Verde, since then we had not been anywhere with constant winds for kite boarding. Mid December, while we were in the Holandes Cays Swimming Pool anchorage we finally had a day of 15 knot winds so out came the new 12 metre kite that we had bought through Amazon while in Columbia. Neither of us had managed to get started on the board so I have it a go. To my amazement I took off for about 100 metres, not to be repeated for some weeks!! Sasha managed a brief start but by that time the wind was dropping.
On Christmas Eve we sailed from the Green Island anchorage to the Hot Tub where we met up with about fifteen other cruisers including Aussies Sherman and Judy on Fair Winds for sundowners on a tiny sand island. Unfortunately it was a high tide and the waves, although small, occasionally washed completely over the island. This made for interesting dingy tethering not to mention distribution of beverages and nibbles that people had bought to share. We had bought a frozen chook as part of our stock up in Panama City on our way back from Oz and had kept it for Christmas lunch so next day it was a full roast Christmas lunch with Champaign in a truly wonderful location.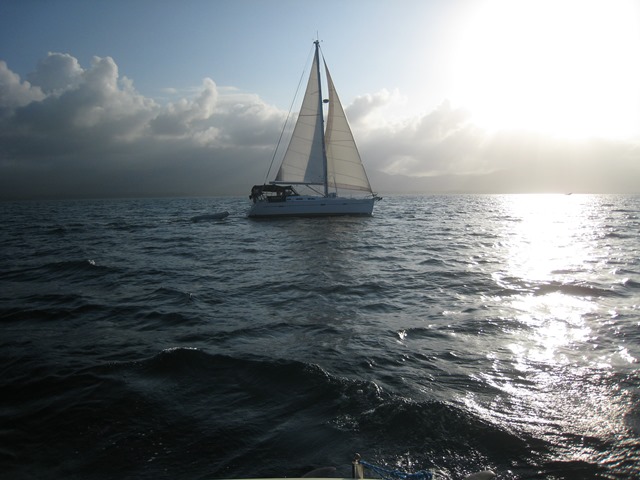 By now we were watching the Wind Guru kiting weather reports on the net every morning in the hope of seeing some constant stronger winds coming. It seemed that in about a weeks' time, 1st of January it might finally happen. In the mean time we had another go in a shallow area to the North of the Hot Tub where we had the first and probably the worst of many kiting mishaps. Probably the water was a bit too shallow and the board caught Sasha on the inside of her leg above the ankle, it swelled and bruised badly. Just for good measure the kite kept slowly deflating. Back on the boat we found that one of the leading edge bladder moulded fittings had a crack in it. On inspection we found another one on another fitting, seemed like some sort of manufacturing defect.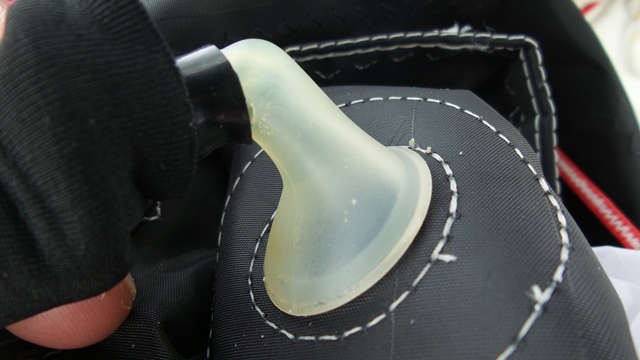 I managed to make a temporary repair and we contacted the manufacturer by email with a couple of photos. They immediately offered to send replacement bladder free of charge to any address in the USA, bit of a problem in the San Blas but we have our ways. Within two weeks the package has gone to Miami, bulk shipped to a contact, Deb at Cruisers Casa in Panama City and then carried by one of the cruisers returning from Panama City to us. The other defect fitting also holed but we managed to repair it also, saving the new bladder for when we get to the stage of not crashing the kite so that it should last for the life of the kite, hopefully. Late December we sailed to the Yansaladup island anchorage, probably the most popular kiting spot in the San Blas, for New Year and the forecast stronger winds. Both happened, on New Year's Day we were on the little beach setting up with 15 to 18 knots of NE wind. At first we could only do about half an hour in the water, mostly spent swimming and just trying to get set to do the so called water start before we were completely stuffed. My go in the Swimming Pool must have been real beginners luck as it took me over a week to do the same again with any sort of consistency. Sasha spent less time in the water so took a little longer but soon was up and going. Initially we could not work upwind to get back to our starting point and had to rescue each other with the dinghy but after about seventeen days with enough wind to kite, over the month and a bit we got there. Not to the stage of doing transitions, fancy turns to change direction without dropping into the water and having to do another water start in the other direction but at least we could kite upwind and get back to our start point.
During this time a few other things happened. Friends, Monica and Phil aboard the cat Miss Molly, whom we had kept in touch with since meeting in Turkey in 2010, arrived from Cartagena, cause for much celebration and frivolity. A couple of days after they arrived it was Phil's birthday so dinner and entertainment on board Miss Molly. Phil is a real muso and entertainer. After a fantastic dinner that featured roasted duck Phil took the stage. Dressed in old seafaring captains costume he came out of a cabin with a large banana mounted in a sort of a cup at his crutch that Sasha had to slice off with a machete! As I said much frivolity. Next, after a sail direct from Curacao, came Aussie friends, again first met in Turkey but last seen in the Spanish Virgin Islands, Patti and James on La Aventura, arriving in time for Australia Day organised to take place on the island of Elefante that has a bar, of sorts, on it. We all sailed the whole three miles from Yansaladup to Elefante in the West Lemon Cays on 24 January to prepare for the big day. Sasha and I had made up combination name tag certificates. One hundred conferring honorary Oz citizenship for the day and twenty four dinky di Aussies attending, on the day we ran out of both! Sasha made five dozen mini Aussie meat pies, Patti made heaps of Vegemite sangas, Carola made ANZAC biscuits and another Aussie couple, Nick and Andrea on Muneera made big stash of damper, all for people to sample a bit of Aussie tucker. The tiny bar managed somehow to keep up a supply of cold beer as well as wine and mixed drinks the whole night. All in all it went quite well. And next day we had big flee market, an opportunity to sell some of our spares.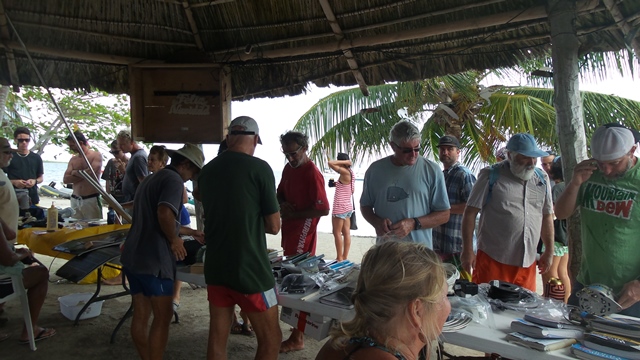 By early February it was time to start thinking seriously about our canal crossing into the Pacific. Friends Roz and Graeme were scheduled to fly in from Perth to spend a few days with us in the San Blas before heading along the Panamanian coast towards Colon and the port of Cristobal, the Caribbean side entry to the Panama Canal. With their arrival set for the 8th we packed away the kiting gear and rearranged Ednbal to put her into visitor mode, cleared the aft cabin, moved the "storage room" from the aft head to the forward head and generally did a tidy up as well as a few boat jobs that had been neglected while the emphasis was on learning to kite board. For crossing the canal it is mandatory to have four so called rope handlers on board, our volunteers were Roz and Graeme with Patti and James. For four days we did a bit of a tour of a few anchorages in the San Blas to give Roz and Graeme at least a little taste of the archipelago.
This is the Roger's edited short version of all recordings in and out of the water in San Blas 2014.
On the twelfth we sailed, rather briskly in 20 to 30 knots of NE breeze and a rather uncomfortable short Caribbean 2.5m confused seas, the 45 miles West to Linton. We took more water into the cockpit than at any other time we have sailed in Ednbal although Roz and Graeme didn't seem to mind. A night in Linton then another 10 more around the corner, South West to the town and natural harbour bay of Portobello with a view of spending a couple of days to check out the town and the old eighteenth century fortifications.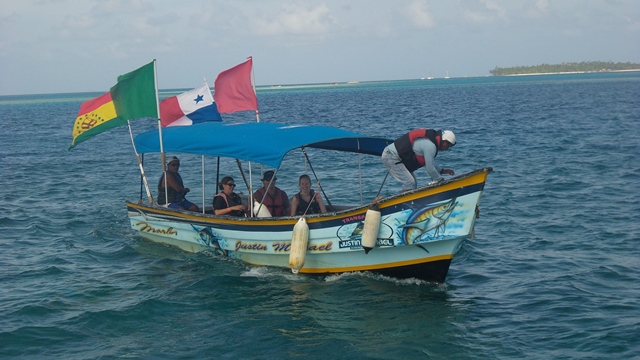 Ah but it was carnival time, holidays in Panama till the fifteenth, ash Wednesday. Couldn't do much in Colon anyway so may as well stay see what happens. Carnival here was relatively low key, mainly because the big celebration in March known as Devils and Congos is the big one when the town is completely invaded by party goers. Even so there was quite a show of dressed up devils using whips o Congos as the re-enactment of times past. The devils symbolising the European slavers, while the Congos symbolised the local indigenous population.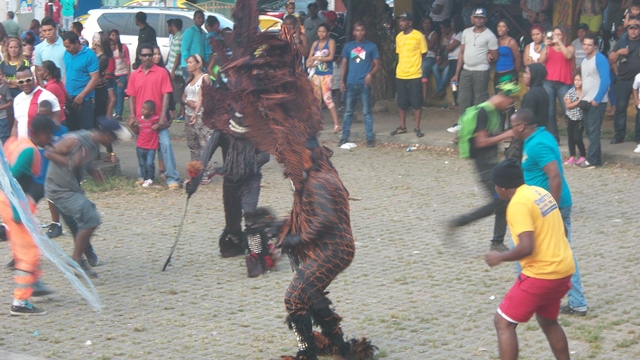 We visited a French couple who live in Portobello whom we had last seen when we were here in 200. Michel was away with a tour group in Western Panama while Coco was at home doing her thing, selling her creations mostly jewellery from local sea shells, wood, and leather from home. She still remembered us and put us in touch with an indigenous peoples Embera village that we could visit for a couple of days to see and interact with some of the indian indigenous people. It was all set up then on the night before departure Sasha and I came down with a cold so thought it best not to go and spread it around. The other four went and thoroughly enjoyed it.
Shortly after we headed to Colon and into Shelter Bay marina to arrange our canal crossing, do a few boat jobs and give the batteries a good long charge. The marina is some 20km or so from Colon so the marina has a small bus service to a couple of stops in Colon twice per day.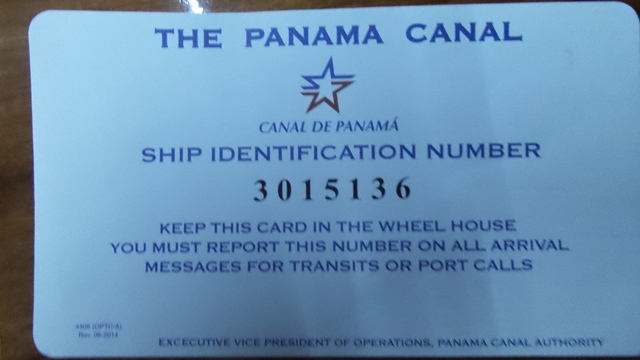 We arranged our canal crossing ourselves saving the 300 to 500 bucks to us on an agent, no real problem just a bit of running around and organising. We hired the mandatory four, four hundred foot 3/4 inch (yes it is all in imperial, still much Americanised) lines and 8 additional plastic wrapped tyre fenders from the well known Tito. Amongst other things I reseated one of the injectors in the generator engine and stripped the anchor winch to check the electric motor brushes that really only needed a good clean out, just as well because when we went to buy spares the supplier had run out of the size we need.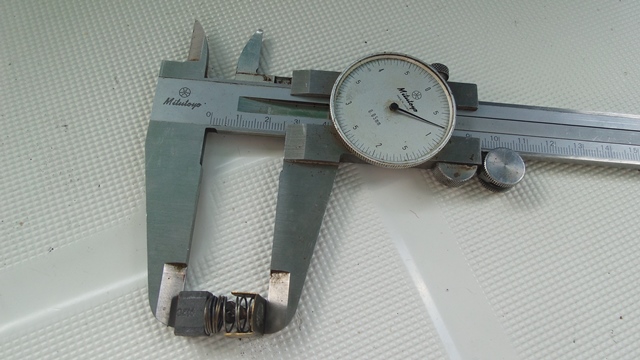 Sasha, Roz and Graeme washed, cleaned and restocked for the few days we would be in Shelter Bay and the couple to cross the Canal.