Balearis, Spain, 2011
Category: Mediterranean
Created: Monday, 17 October 2011 15:42
Written by Roger Boxall
Hits: 1905
Baleares, Spain 2011
220nm to Mahon, Menorca. Once we were 20 miles out we felt the effects of the 50kt winds that had been blowing, a very rough sea off our aft quarter making for difficult, uncomfortable sailing in 20 to 30 wind. We did however make good time and by the next morning the sea had settled considerably and the wind down to less than15kts still allowing us to get into Mahon late afternoon. What a beautiful calm fully protected anchorage frequented by local vessels less than 2 miles from Mahon harbour town.
After a day relaxing on board, swimming and walking to the nearby 15th century fortifications for sundowners we went to Mahon in the dingy, primarily to visit the gin factory and get a Spanish SIM card for the phone. The factory no longer had tours of the floor, only a shop selling their products, all sorts of flavoured gin, and a few windows through which you could see the old works. I attempted to negotiate a bulk purchase of a 20lt jerry can full but was told that sort of thing stopped a few years ago. Bugger, our anticipated gin tank restock out the window. Then followed a survey of mobile phone providers to find something that would suit our needs primarily economic internet. After the French disaster with their SFR (some sort of connection with vodafone) we were somewhat cautious. In the end it seemed Vodafone offered the best, 500mb of internet over 30 days, expensive international calls and sms but we had skype and email so it should work. With a kg of prawns we headed back to Ednbal for dinner and make ready to sail about 40 miles to the next island, Mallorca. We had been in touch with friends, Patti and James on La Aventura who were in Mallorca with a view to catching up only they were at the capital, Palma, on the South West corner, the diagonally opposite side of the island from that closest to us.
We set sail early morning and with a lovely 15kt beam on breeze made good tom so instead of heading for the North East tip we went further down the East coast to Porto Colom. It didn't look real flash from the photo in our pilot book but did offer very good protection from the swell created by the Easterly. We arrived late in the afternoon and anchored in the outer bay, well protected and much more attractive than anticipated. In the morning we spoke to Patti and James on HF radio, they were planning to leave for the Spanish coast but would wait if we would get to Palma that day. It was around 70nm, too much we decided, catch up somewhere else. Without going ashore we sailed off down the East coast and around the corned to the Southern side where we were out of the North Westerly swell and could anchor pretty much anywhere. As we were going past one of the nudist beaches my attention must have been momentarily distracted as a yacht the went past us going the opposite direction cut in behind us, without me noticing, and ran over our fishing line, another lure gone! We anchored outside the small village of Port Colonia and had a nice swim over the sand and rock bottom. Next day we caught the bus to Palma, 40km away, primarily to try and sort out our phone that had stopped working with a message to say we were out of credit. At the Vodaphone shop we took our ticket and joined the queue to be served an hour and a half later. After much SIMple English, and a little Spanish, explanation the girl serving us finally decided the the guy from whom we bought our SIM card had not activated it properly. She had now done it properly and credited our account with funds incorrectly taken out. A quick lunch in a park and a bit of a walk around was all we had time for before catching the bus back to Porto Colonia.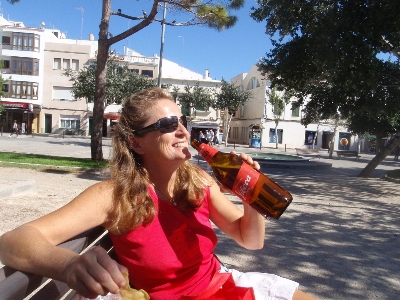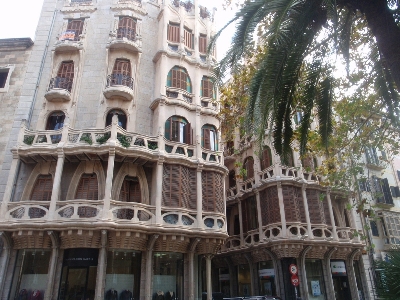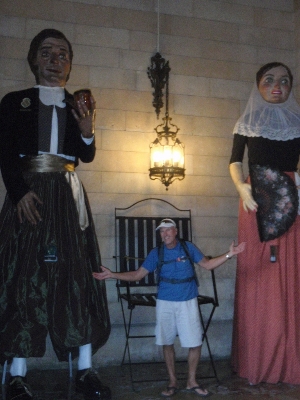 A couple of hours motoring bought its us to Portal Vells and a lovely clear water sand in anchorage for a swim and overnight stay before an early start to sail the the next island, Ibiza. Here we anchored, on a rainy, rolly evening in Cala Portinatx.
Since the weather was getting into a distinct autumn pattern we decided to keep on moving, and after another overnight sail we were on the mainland Iberia peninsula, Carthagena marina. There we organised our antifoul from Hempel. While we waited for it to arrive we had a shoes shopping spree which we calibrated in one of the traditional tapas bars in the old city.