French Riviera
Category: Mediterranean
Created: Saturday, 17 September 2011 15:41
Written by Roger Boxall
Hits: 1780
French Riviera
Highlights: Ile de Port Cross (043 00.7080 N, 006 24.8440 E), Les Voiles de St Tropez – September last week
In daylight, we found we were anchored right out the front of the water ski area and, high above us was one of the spots Sasha was very much looking forward to visiting, the Picasso museum, of course I was thrilled!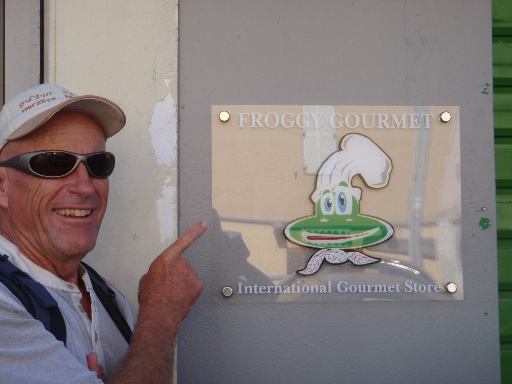 Our first job was to become familiar with Antibes to know where to find things as we had a long, long list. Off we go the tourist office for maps and info then we spent most of the next two days, the weekend, walking the old city, locating all the boat equipment shops and drooling at the hundreds of super yachts varying from 80 to 250 ft that filled the marina. Things to buy were prioritised based on possible need to be ordered in and away we went, credit card in hand. Our major purchase was a flexible, 130 watt solar panel that we mounted on the top of the dodger. I was staggered at the cost of the mounting hardware. Things like brass eyelets over €1 each and turn closure €3 , that's $5, each, the sorts of things you normally get at a few per dollar! I also ordered a few things for our generator, including a 12mm lip seal. Didn't ask the price as small lip seals are at most a couple of dollars. When we went to pick them up the price was €34, that's over $50!!! I told the guy he could keep them, or words to that effect.
13 September, and there are quite a number of things ticked off the list but today is not a happy one. We receive an email from friends Deb and Brian, whom we met in Egypt, concerning mutual friends Christian and Evelyn off the catamaran Tribal Cat. They, along with 2 other yachts had planned to sail down the Red Sea and out into the Indian Ocean through what is commonly called "pirate ally" due to the problems with Somali pirates. Apparently Tribal Cat was boarded by pirates and Christian was killed. Evelyn was rescued by a Spanish war ship, the other two yachts OK. It was a real shock, again bringing home the huge risks of the Southern Red Sea and Indian Ocean area.
Life goes on and we get into visitor preparation in earnest. Our storage room, the aft head, has to be cleared out and all the gear stowed somewhere else, which on a 12m long yacht that is our home, is no mean feat. We always have a slight list to port and empting the aft, starboard side head to put more in the port side lazzaret only extenuates the issue. Still, no real issue we are so looking forward to having daughter Nat and Mark on board. Everything gets a thorough once over and detailed cleaning in readiness as we count down to flight arrival time of 2:30PM Sunday 18 September, in Nice.
We sailed the few miles to Nice, right past the airport and checked into the marina, eventually ending up with a berth on the end of a stone pier. Sasha had emailed to book in a month or so before, just as well as initially the Capitainerie said they were full and it took some convincing by Sasha to get us in. The following morning we caught the airport shuttle bus, just a couple of blocks from Ednbal, to the airport and met our visitors who arrived right on time. It was a great thrill to meet them at the airport and easy to reverse the route to get back to Ednbal, where they gave us the wonderful news that they were expecting another baby. Talk about make a bloke feel old and, just to rub it on I'm sure, they gave me " old guys rule" tee shirts and stubby holder. Over the next couple of days we walked Nice to have a look around and give Nat an early opportunity to hit the shops.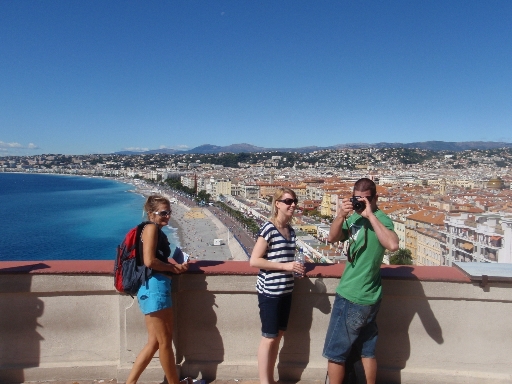 From Nice we headed up to Monaco, stopping off at a nice anchorage in St-Jean-Cap Ferrat on the way giving a chance to swim and take it easy. Anchoring in or close to Monaco was always going to be problematic as the bay is very open and there is always a lot of boat wash from passing vessels, literally hundreds of super yachts.
None the less we found a spot and settled in for a roly night, clearly the smallest vessel in sight. It was a mile dingy ride to the Monaco port and we managed it without getting wet despite the wash from speeding super yacht tenders, some bigger than Ednbal! We tied up to a jetty amongst the monster boats and clambered the 2 metres up to the jetty top. People were setting up their stands for the days boat show all well dressed and the best of everything for the biggest super yacht show in the world. The four Aussies really looked the part dressed in shorts, tee shirts and thongs! Past a couple of hundred metres of undercover opulent stands brimming with the latest in boats, (read super yacht) tenders and equipment we finally found an entry/exit only to told we would not be able to get back in, so back to Tadpole and relocate to a spot outside of the exhibition area. Still we got a touch of what people pay €55 to enter and see.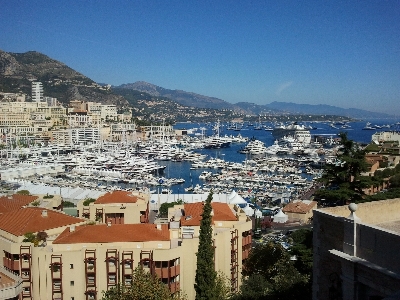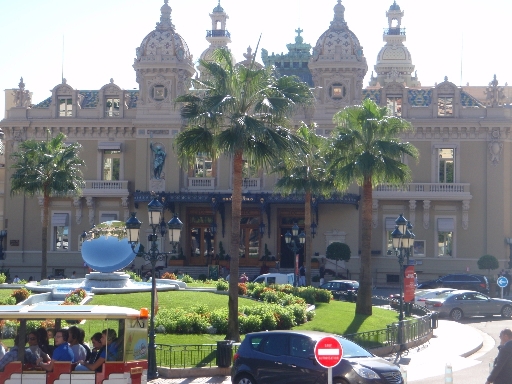 On shore we checked out the city sights, the Casino etc, and visited the Oceanography museum. What a place, enormous aquariums, many metres across and 2 stories high full of fish from the med and all other parts of world and surrounded by over 100 other smaller more specialist tanks each worth descriptions the sea life within.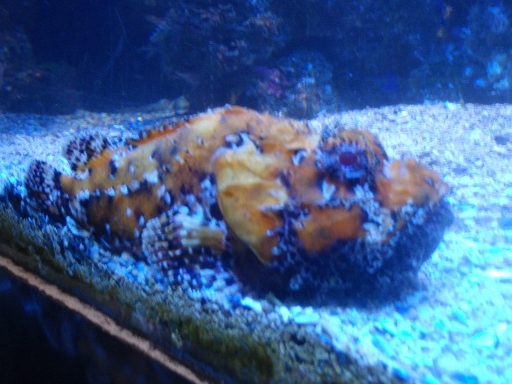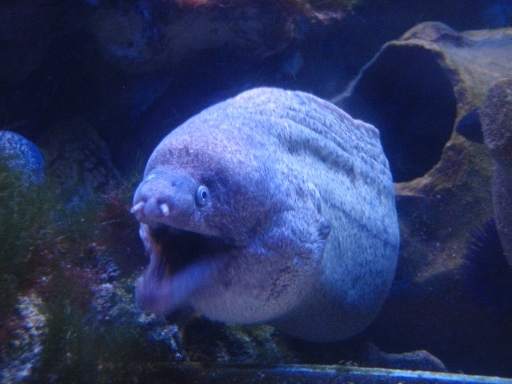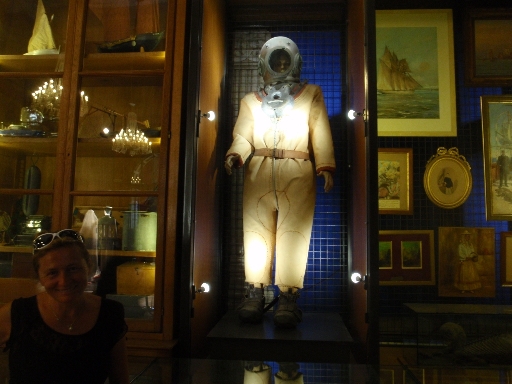 The intention was to spend an hour or so inside then go for lunch, lunch was forgotten completely and we didn't leave until after 5pm. As soon as we got back to Ednbal we lifted the anchor, didn't want another roly night, and dropped it in Rade de Villefranche before dark. Villefranche has a reputation as a scenic French Med coast village so in the morning we dingied in, to take a look around. Yes seemed like the real thing with many of the steep streets only wide enough to travel on foot. I had hoped for a bit of sailing but so far we had managed about a mile as there was never more than a few knots of wind, our next trip, a whole 12 miles to Antibes was no exception, dead calm. Nat and Mark sat up at the bow taking photos of the planes taking off and landing at the busy Nice airport as we went by the waters edge runway. In Antibes we planned to rent a car for a trip to Grasse and a couple of wineries. It was Saturday, we wanted the car for Sunday but all the car hire places wanted full weekend price for just Sunday, perhaps better from out next planned stop, Cannes, on a week day. Not to be deterred we decided on a train ride to the adjacent village of Biot where there was a village harvest fete . The train went along the shoreline and in a few minutes we were at Biot station looking for the town centre. Turns out that the train station is not in Biot, we had a 4km walk inland. The fete featured local Italian produce especially, of course, wines and cheese as well as all sorts of knick knacks.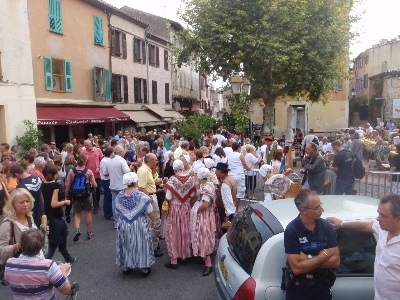 After doing a small survey we selected what looked like a fairly real French restaurant serving local fair. We were greeted by the owner and served by son Marko with whom we had great fun deciding what we would like to eat. Underground mutton (aussie for French lupin, English, rabbit) for 3, Mark settled on lamb.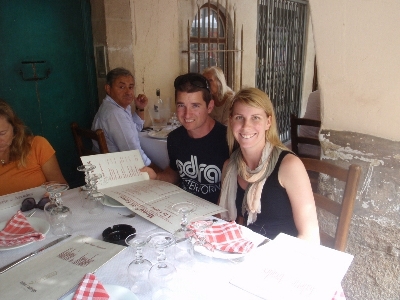 Bellies full we staggered to the bus stop just around the corner for the bus direct back to Antibes. Even better, no cost, buses free today. By late afternoon back on board there was an Easterly swell rolling in making the anchorage on the East side most uncomfortable, we decided to relocate to the other, Western, side of the peninsular which turned out to be like a mill pond. Good move skipper, for a change. Another few miles West, Cannes and two small islands of Iles de Lerins, even had enough wind to sail a bit. Anchored on a lovely sand bottom in turquoise water between the two islands we were able to show Nat and Mark a little of island life, that part of cruising we love so much.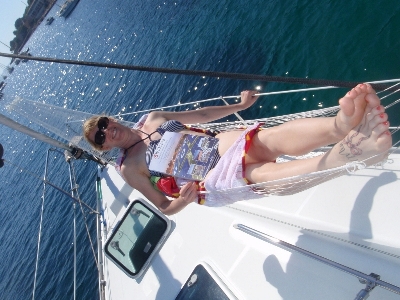 On shore there were well marked walk trails in the pine forest and we visited the old fort jail where "the man in the iron mask" was incarcerated some centuries ago. Into Cannes the next morning we anchored just outside the harbour to tie the dingy up near the fisherman's wharf in the middle of town. Not exactly and inspiring place, I was starting to get the feeling "more of the same" as far as French sea side towns are concerned. Nat and Mark wanted to have a night in a hotel so they booked the Radisson, we organised a hire car, had a look around and went back to Ednbal where we completed the installation of our solar panel in time to up anchor and motor less than two miles back to Iles de Lerins as we were not scheduled to pick up our visitors until the following afternoon. After walking around the outer island in the morning we back in Cannes on schedule to pick up Nat and Mark who had bought ingredients and made us a lovely tacos dinner. Hire car pick up was 9am and we headed to Grasse, the fed perfume centre of France where visited the museum of perfume, sampled and bought some local scent and had lunch in the park.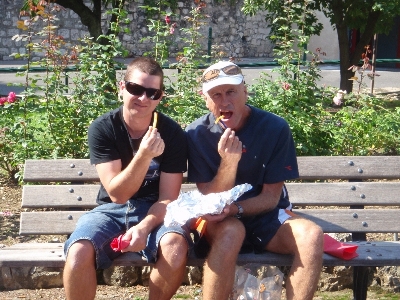 Without good information on winery locations we set off in the general direction of the "Var" country apparently littered with wineries. Eagle eye Mark seemed able to spot grape vines from a kilometre away, we were soon at a quality vineyard sampling the wines on offer. Later, off down a side track we found another, somewhat less opulent, in my view far more authentic, winery with a sign giving morning only opening times. As we were looking at the closed shed door the owner came along and invited us in to sample, no English spoken here, but enough communication to reasonably understand and have a joke, albeit mostly sign and grunt language! Our final objective was to visit a French perched village, no too far away was Saillans. Sure was the real thing, walk only steep streets, town square under some huge deciduous trees that shaded the whole area in summer and surrounded by little restaurants and bars. Dinner here would be nice, unfortunately all booked out for some sort of old French car rally dinner. By the time we got back to Ednbal it was dark.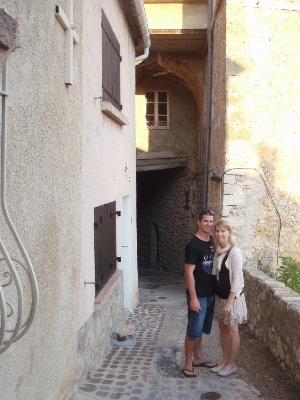 Our last major port of call with Nat and Mark was St Tropez, again a little sailing but the wind died as we approached. We knew it was St Tropez yacht race week "Les Voiles de St Tropez", but were totally unprepared for what we saw. Out to sea a couple of miles there was one race, had to have been over 100 yachts, maxis and bigger!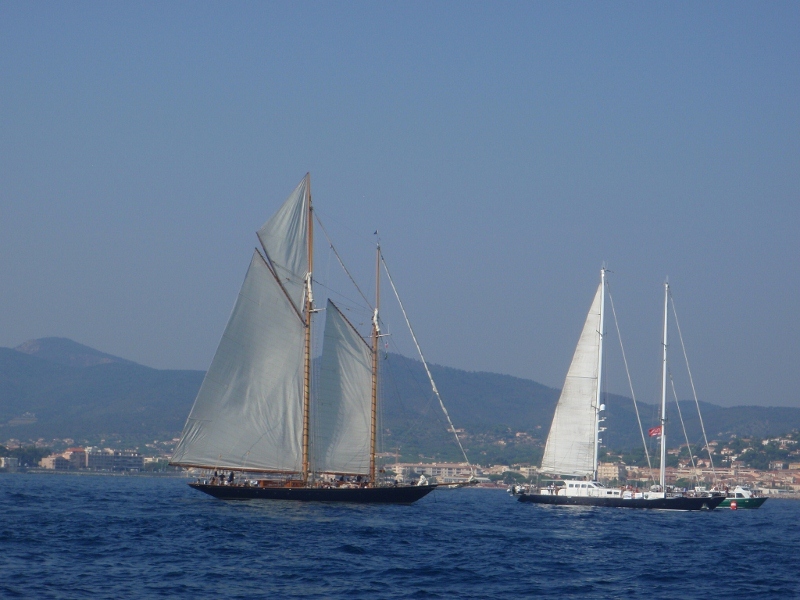 Closer in another, equally as many, but old, vintage yachts, gaff riggs with topsails and multiple head sails. With little wind they had maximum sail area up, what a sight. Then the ultra high tech, a huge hydrofoil trimaran, of course not enough wind to make it go unfortunately.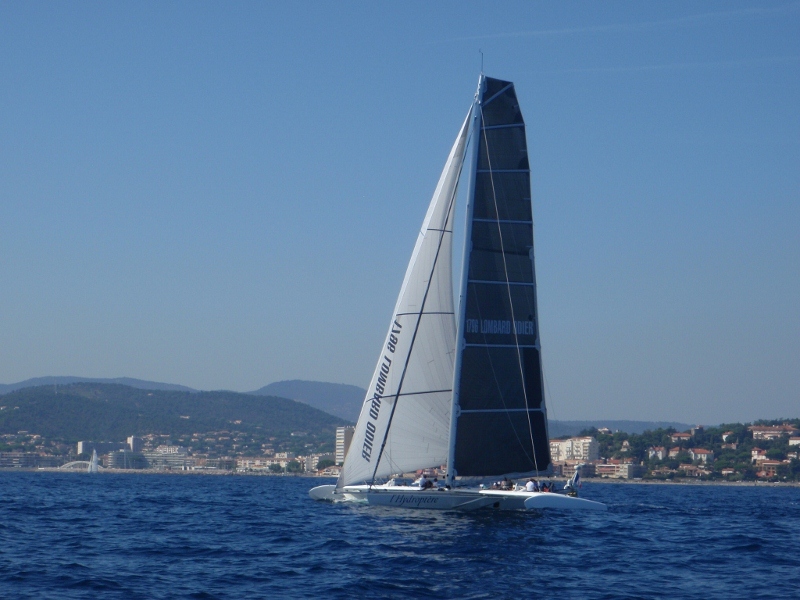 On shore it was that evening it was party time, what an atmosphere with crowds of tourists mixing with the highest of the worlds yachting fraternity. One of the huge maxis had its own entertainment, band, bar, stage and dance floor set out on the quay behind the Med moored boat! There were over 300 of the biggest and oldest yachts in the world all in one place, unbelievable.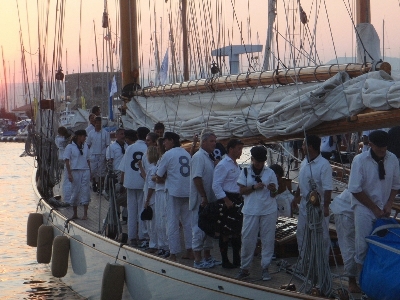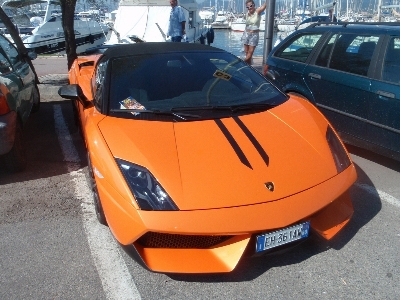 Nat and Mark shouted us to a lovely, far to expensive, dinner at one of the many local restaurants before we headed back to Ednbal. From St Tropez we back tracked a little to St Raphael from were our visitors caught an express bus straight to Nice airport.
Before stowing all the bed linen we had some washing to do so we checked into the Frejus marina and started the washing machine, may as well do everything in one go. With water and power connected it was no big deal. For it was off towards Toulon, first a couple of islands off shore principally Ile de Port Cross where we anchored in a deep bay, Port Man. No houses, no shops, but well marked walk tracks through the pine forest, how wonderful. We did a whole day picnic, walking almost all the way around the island, coming back to a most welcome swim.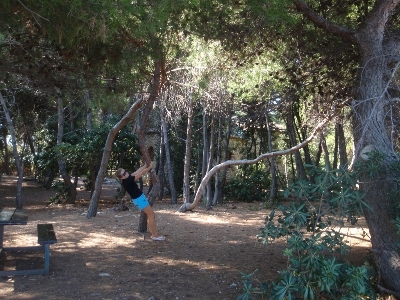 The plan was to visit other bays, other islands but the weather intervened, forecast strong 40kts plus from the North so we headed into Toulon harbour to Veille Darse Marina and were squeezed in between two much larger vessels. And blow it did, even locals made comment on it. Our weather forecast for the Gulf of Lion showed over 50kts to continue for the next couple of days. Each day we pondered the forecasts, hardly any rain just strong North wind known locally as Mistral, went for a few city walks, knocked off a few boat jobs and stocked up on French wine (4 dozen) beer ( a few), and cheese(a lot). It was an interesting exercise to spirit away a supermarket trolley to transport our booty back to Ednbal, lucky it was after dark. After 3 days the forecast showed moderating winds so we left the marina in the afternoon to anchor in a bay of the outer harbour before setting sail for the North most of the Baleares islands, Menorca. We anchored near a French yacht and we immediately hailed to go over for coffee. It was obvious the 4 on board had spent the day drinking more than coffee! Claude, the skipper, an ex naval officer, was in fine form and gave us a detailed explanation of the Mistral wind. It involved the French Rhone valley and the Italian Po river valley together with formation of pressure systems and land, sea temperature and humidity differentials. His explanation was in his best English much to the amusement of his wife, Bénedict who made frequent references to "the dog house". After a most entertaining afternoon we returned to Ednbal and prepared for departure at first light.