Corsica
Category: Mediterranean
Created: Wednesday, 17 August 2011 15:40
Written by Roger Boxall
Hits: 1869
Corsica
Highlights: Golfe de Porto, Cala Vechhia (042 20.8970 N, 008 34.9590 E) and National Park La Scandola
Lavezzi, a small island less than 1 mile square, uninhabited but very popular especially for day boats and ferries full of day trippers. In common with most islands in this part of the world most of the shore line is rock, maybe 5% is beach, sand or pebble. It was late afternoon by the time we dropped sail to motor into Cala Lazaria, a rock strewn bay on the South West of Lavezzi. There were a few PRIVATE moorings but I thought better than to try my luck! We found a spot amongst about 20 other boats in the 200 metre by 100 metre anchorage. It was quite a tricky business finding a spot with enough swing room not to bang into another boat or, worse a rock, should there be a wind change.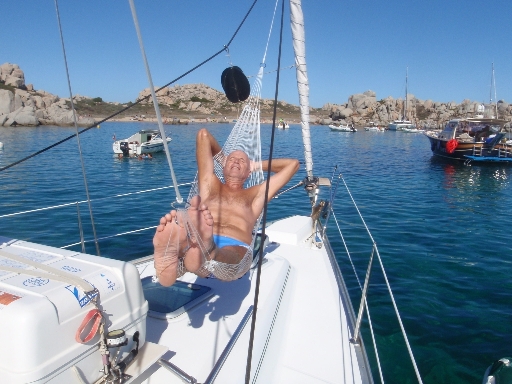 It turned out to be an entertaining spot watching the antics of anchoring and seeing the huge variety of boats coming and going. I was most intrigued by the big ribs (rigid bottom inflatable boats), some with multiple 2 and 3 hundred horsepower outboards, others, over 30 feet, with cabins and twin inboard diesels. Swimming was lovely, sand, sea grass and rocks with a good numbed of fish, albeit little variety. One morning we even saw quite a big Moray eel. The island was also criss crossed with walking tracks so we also able to enjoy looking around land side. With food and booze stocks running low, again, we headed for the Corsican mainland and the reputedly beautiful "fiord" of Bonifacio only 6 or so miles away. Yes there are some large steep cliffs surrounding the deep natural harbour but to call it a fiord might be a bit of a stretch.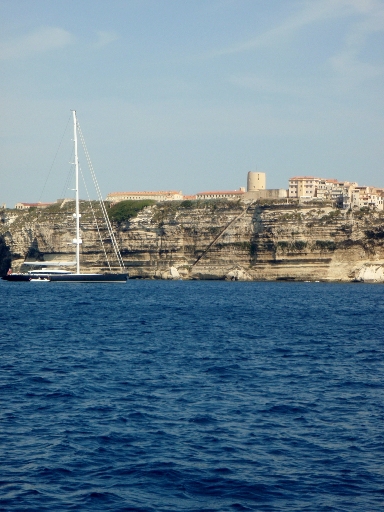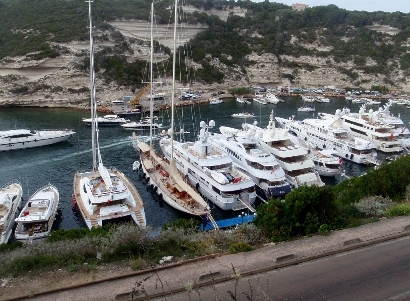 On the plus side, we allowed to anchor in a tiny bay off to the side of the harbour entrance, Calanque de l'Arenella and the shopping was by easy dingy access. When I say allowed to anchor, there was a big sign up on the bay entry shore saying no mooring. All other bays and marinas etc were pay. I VHF radioed the coast guard to ask if no mooring also meant no anchoring. They asked where were, coordinates and bay name and then said we could anchor, I clarified and got the same answer. Going into town, heading up the harbour, in Tadpole we passed super yacht after super yacht, 20 or more ranging 100 to over 200 feet, tied up Med moor fashion, squashed in like sardines. There was also a Yamaha agent so we ordered our new propeller, it would be in by Friday (it was now Monday 15 August). After completing our restock we left to spend a few days at Piano Island.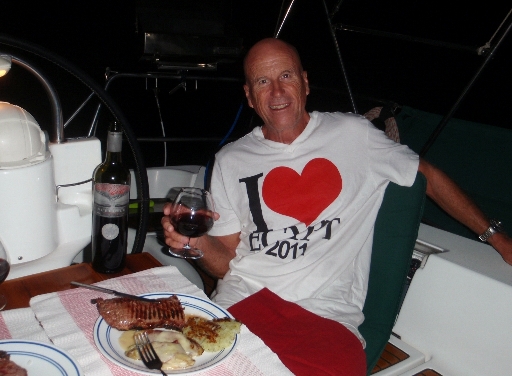 As with most spots, it was only a few miles a nice sail along the rocky coast to the tiny Piano Island. The anchorage was on an expanse of sand, part of which was a sand bar, knee deep, that people walk between the Corsican mainland and Piano. Boats of all shapes and sizes anchored on either side of the shallow bar, hundreds of them during the day, down to 30 or 40 during the night. It was also a haven for kite and wind surfers as the Westerly breeze came up in the afternoons. A very nice spot, properly marked channel for vessels going to and from shore, properly marked anchorage and swimming areas, the sort of organisation we had not seen for a long time but were already starting to expect in French waters. On shore the road and carpark were packed with caravan park about 2km up the road equally packed. We swam, walked, did a few boat jobs, were entertained by kite and wind surfer, and generally relaxed in perfect summer weather. On Friday it was back to Bonifacio to pick up the new propeller, anchored in the same spot but, surprise, surprise, the propeller had not arrived. At Piano and Levazzi we still had Italian mobile phone contact but now, moving further North we would lose it so, time to buy a new, French sim card for voice and internet contact. Not quite so easy. The first shop firmly indicated we could get a pay as you go sim for voice only, no internet. We were later directed to another small shop in the old city, here the lady said that the voice sim for vodafone, SFR in France, can be configured for internet.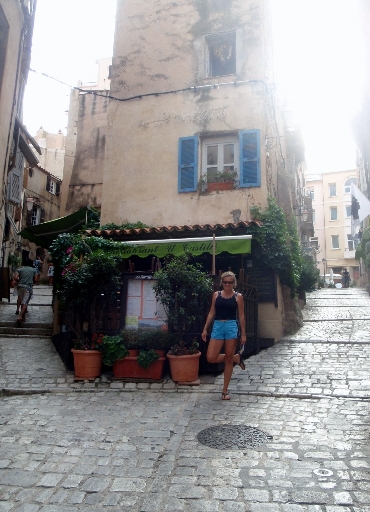 After a frustrating hour and a few visits back to the shop Sasha finally got there, sort of. Internet, yes, email no, and it was costing half a Euro every half hour of connection to the internet. Most unsatisfactory!! To hell with it, we decided to stay the night and go out to one of the many restaurants for dinner and go to a free saxophonist concert advertised at the tourist office. The lady at the phone shop, who we had come to know quite well by now, gave us some recommendations for good local food in out of the way (less tourist frequented) restaurants. We found each one fully booked for the whole night so just sort out one with a vacant table for two. "Whata mistaka to maka!" Another very disappointing meal out.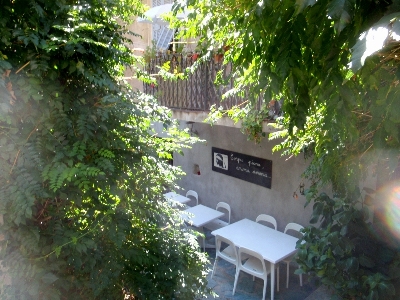 Ah well, off to the outdoor concert in what was the food market of the old city, high on the cliff overlooking the sea. People just sat around, coming and going as they pleased, two very good guitarists and a local, somewhat older guy, singing a few songs in the chanson style, part Italian, part French, no sign of any sax but quite entertaining anyway. In the morning back to see if our new propeller had arrived, smiles all round, it had and cheaper than quoted, you have to win one now and then.
As always time was marching on now 21 August and owe were on a schedule, to be in Nice by 17 September to pick up daughter Natalie and her husband Mark, and still all of the West coast of Corsica to explore. So many bays and an anchorages to choose from, we first stopped in Roccapina Bay, small but well protected, only 8 other boats, that made a change! On thing I had discovered about the French from our time in the French Caribbean Islands, they love their walking. Our tourist map of Corsica showed many of them, one going along the rocky shore past Roccapina Bay. With sundowners packed we set of, just fantastic, a trail mostly just one person wide through the bush and at times along the water front over and around rocks. After an hour or so we found a suitable large rock on which to perch and enjoy our sundowners.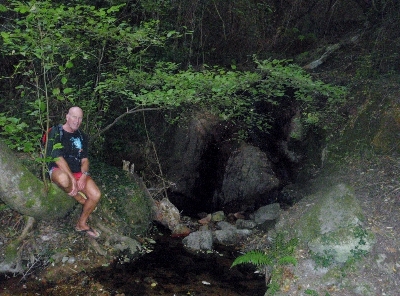 From Roccapina we had what you might call a shitty trip of 9 miles to Campomoro. When in Bonifacio, I knew that our toilet holding tank was getting full and had intended to empty it on the way to Roccapina but forgot. The last toilet visit by Sasha in Roccapina was a bit of a problem, not everything could be pumped into the tank. On the way to Campomoro I undid the tank outlet to pump it out from the deck fitting and got a rude shock. The tank must have been under pressure as shit virtually exploded out as I undid the cap, all over the deck and ran down the gunwhale sides, what a mess, spent the next hour washing down and scrubbing decks! Campomoro was a much larger anchorage about a mile across with a few big super yachts as well as the normal mix and a fish farm in the middle. We visited the local fish monger, the garage of a house, but his choice was severely limited as he had sold most to local restaurants. Next morning we sailed across the Golfe de Valinco to Port Pollo and, just for good effect, sailed to anchor, no engine. A very big bay, lovely sandy bottom and beach, just a few boats well spread out, my kind of spot. Better still on the first swim I found oysters on some steel bars on the bottom in about 6m of water so out with the dive gear and shucking knife to have over a dozen oysters for first meal.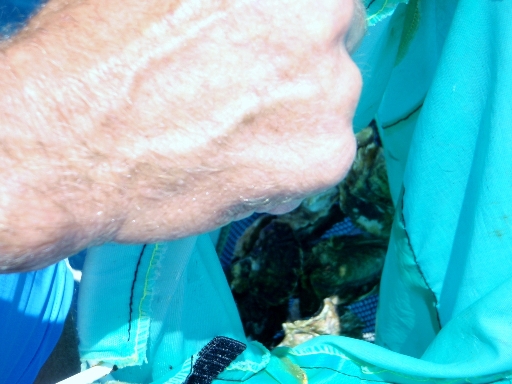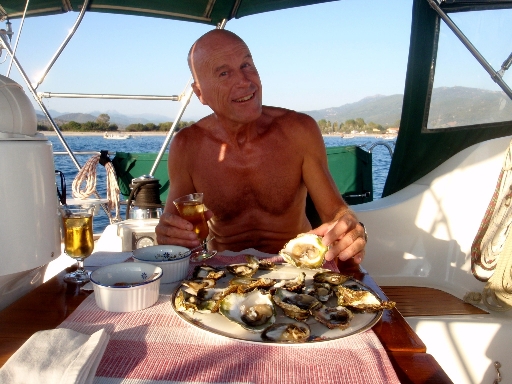 In the morning we saw people water skiing so followed them back to their base close by in our dingy. We booked a ski for 11am, just enough time to get back to Ednbal, have breakfast, get our stuff together and back for a ski. It had been a long time, 8 years for Sasha, 40 years for me, since last water skiing. Well we did it, hard to start of on two skies but dropped one and onto one ski. Ten minutes on choppy water certainly gave the old bodies a good work out but a great sense of satisfaction. So keen were we that we booked for the next day. Sasha took her own ski for a bit of slalom and I tried a deep water barefoot start. I was just a little too optimistic, almost 40 years since I last barefooted. All I got was a nose full of water and a sore bum as I bounced along in the outboard powered tow boat's wash at 35mph before trying to stand up. I didn't make it. Sasha got going on her single ski with a few wave crossings, just enough to wet her appetite for more!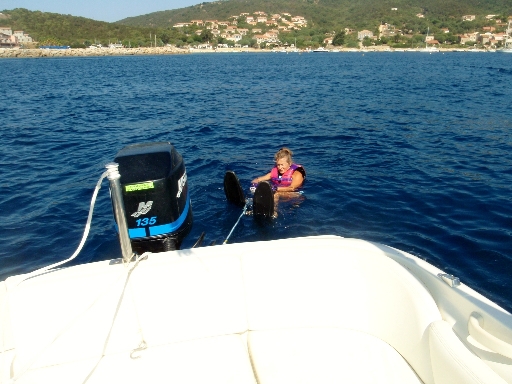 With sore bodies and aching muscles we headed further up the coast stopping in at Anse de Cacalu for a swim and nap on a hot windless day before continuing to the port and capital of Corsica, Ajaccio. First stop the SFR shop, alas the same answer from generally unhelpful staff. On the plus side they had another alternative, wifi access with apparently good coverage in larger villages and cities at €1 per day, worth a try. Anchored deep in the bay it looked like we would spend a couple of days here with strong Westerly forecast for Saturday, two days hence. There two big supermarkets right opposite us, short dingy ride to shore and walk to the supermarket, one, Carrefour, is a big chain with some good pricing for Carrefour members (Carte de Fidélité), we joined up. There was a visit to the hospital, Sasha was having stomach pains again. This time most unhelpful staff, after a few hours and tests that didn't show anything, we left with a prescription for some sort of muscle relaxant, certainly needed some sort of relaxants after that lot. Next cooking gas refills, here we go again, another country, different gas fittings. We had been able to get our empty 3kg "camping gas" bottle exchanged in Bonifacio so we were not desperate, but it is a very expensive way to go, much better to get our 4.5kg aluminium bottles filled. First stop a service (gas) station, maybe they fill from the bowzer as in Italy. No go, we were directed to the main gas filling station on the outskirts of town. Now it was Saturday and we planned to hire a scooter for a days outing on Sunday so we could take our gas bottles to the filling station Monday before returning the scooter. Sasha, navigator and tour director, had a plan of some sites to see inland, cascades, gorges, mountains etc so we hired a scooter on a beautiful warm sunny Sunday morning and took off. Little did I know that we would cover 230kms, much of it on very windy mountain roads that limited our speed to 40 or 50kph. We did however have some beautiful stops especially the stream at that runs through one of the gorges where we cooled off in the fresh water and had our picnic.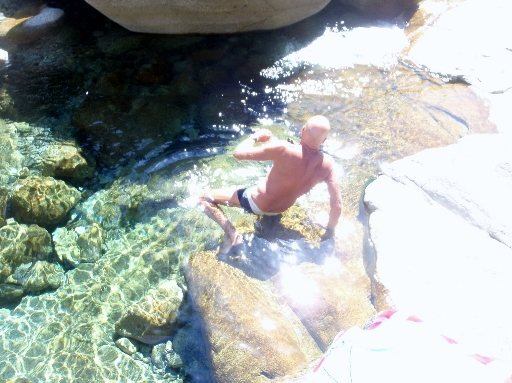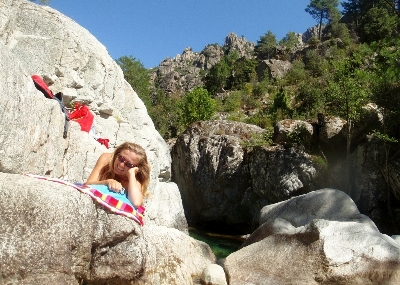 Eight hours on a scooter was just a little too long for both of us. Come Monday morning we went to the gas filling station but no, they could not fill our bottles. OK thinks I, time for some ingenuity, off to the hardware shop only a couple of hundred metres away to try and find a fitting for one of the French domestic gas bottles (they have 3 or 4 different ones all with differing fitting!) so that at least I could decant from a large French bottle to fill my two Aussie bottles as we did in Egypt. With the help of one of the assistants we found a short hose that screws on the French bottle, also found the fitting to connect our hose to it or so we thought until back on Ednbal I tried to put it all together. The connecting fitting did not screw into the hose he sold us. Bugger! Back again. The same guy exchanged it for another so now we had the two hoses joined, good start. Alas the other end did not fit French gas bottles, only the outgoing side of their regulators. Stormed again. Completely pissed off I took all back and got my money back, looked like we would have to keep using camping gas. A couple of days later, awake at night on a roly anchorage it dawned on me, could have used the first hose the guy sold us, cut off the fitting and put one of our barb fittings into the hose end, simple solution!
Later in the day with forecast lighter winds, we left for an anchorage 6 miles away from the dirty, noisy harbour. Ah so nice, clear warm water and swimming again but roly, sleep interrupted night. Around the corner the following day we anchored in Figiera Bay (Anse de la Figiera), tucked in behind the rocks, at least a little less roly. Only two other boats, forested, mountainous shore, warm clear water, just beautiful! The West coast of Corsica is littered with bays and inlets, unfortunately all quite open to the generally Westerly prevailing winds so not a good place to be in windy conditions. Our forecast was for calm weather, downside, not much wind for sailing so a bit of motoring to be done. Sasha changed main engine oil and fuel filters, then the outboard engine and gear oil, becoming quite the mechanic.
Our next stop of note was Gulf de Porto, one can only say simply spectacular. Shear vertical red rock faces some over 400 meters, rock caves big enough for the tourist boats to drive into deep blue clear water and, even though our guide book warns of roly, sometimes dangerous, anchorages we had beautiful calms with the sea glassy for hours on end. We stopped for lunch in Pellegrino bay with a rock bottom and rough water but oh the scenery! We toured the caves in Tadpole and then dived to collect enough sea urchins for another wonderful urchin pasta dinner. A little further into the gulf we anchored at Ficajola for the night. In late afternoon, about 5, we hiked up the walk trail, 4km, 450m elevation, to the village of Piana perched atop. Of course with beverages and nibbles packed but forgot the water.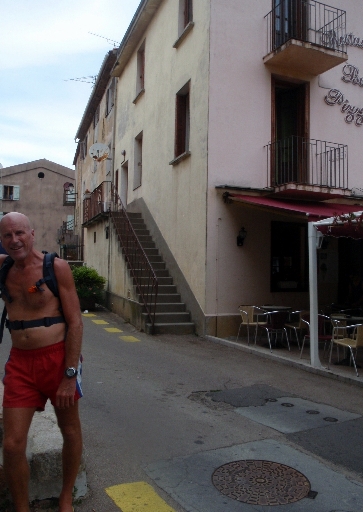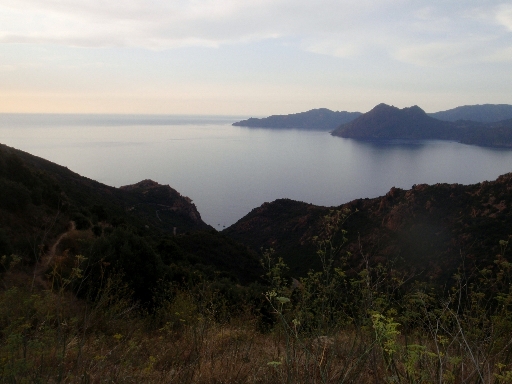 It took just over an hour to get up to find a shop to buy water before we found a spot to sit and enjoy early sundowners. Buy a bit after 8 we were back down and on board for evening bathing, only 3 other boats anchored on a perfectly calm evening. Just one of those sort of days you die for! Then just when we thought " it doesn't get better than this" we woke to another perfect warm sunny, calm morning. After routine morning exercises, swim, coffee and breakfast we went off for a burn in Tadpole around the rock lined shore. More spectacular rock formations, caves and secluded tiny bays. In one such bay we tied Tadpole to a rock and walked the small rock pools. Standing still in one we were greeted by tiny prawns, 1 to 2 cm long and little fish about 5cm long. They tickled our toes and climbed our legs, seemed particularly attracted to my hairy legs. After lunch we motored on a mirror sea over to Girolata, an anchorage recommended in our guide book, only to be very disappointed with water clarity, so continued on to Cala Vechhia, a mile or two West. What a spectacular spot. Photos do not do justice. We were the only boat between orange, red cliffs lined with small green trees that somehow managed a foothold to grow, reaching up almost 500 metres.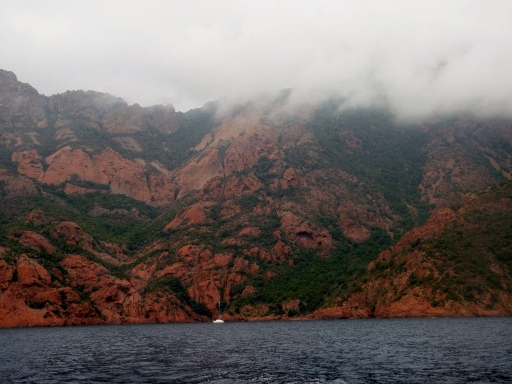 Mountain goats seemed to cling to the rock like magnets. This had to be an absolute highlight of anchorages we had been to in the last five years. When we jumped over the side there were fish everywhere, just incredible.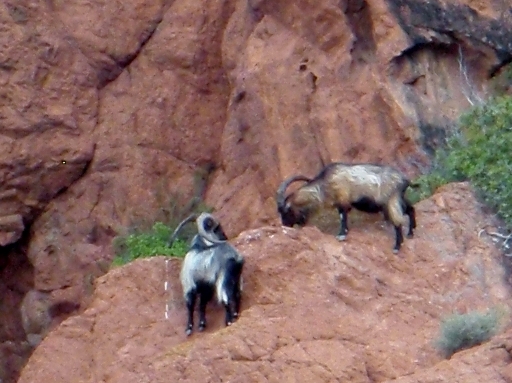 The Golfe de Porto area had been recommended by several people but we hadn't expected anything quite like this. To top it all off another jolly in tadpole took us through the waterway National Park La Scandola where we were completely belittled by the towering red rock and almost bottomless sea. At times something that a very good friend of mine, Terry Harwood, springs to mind "we'll pay for this". Sure enough the wind came up and the rain came in. Worth forecast risky weather we sailed (20 to 30kts off the aft quarter) in almost continuous rain, 20 miles North to Calvi to be in one of the few West swell protected anchorages on this area of the Corsican coast.
At least it was a nice sail made in good time and as we rounded the point de la Ravelleto and headed into the anchorage the rain cleared. Anchored in the corner we had good wind and swell protection, so settled in for a comfortable night. My back had been sore for over a week and was getting worse rather than better. Lifting stern anchors, not to mention trying to barefoot water ski, probably didn't help and now I had shooting lower back pain if I moved the wrong way. Sasha had great success with her back exercise usimg the Mc Kenzie method from a book "Treat you own back", to the point that, after years of doing so, she no longer takes any anti inflammatories and has no pain so I figured, give it a go. Three days later I was much better, almost back to normal.
The village of Calvi was just around the corner so we zoomed over in Tadpole. What a neat spot, big enough to have all the things you need but not a city.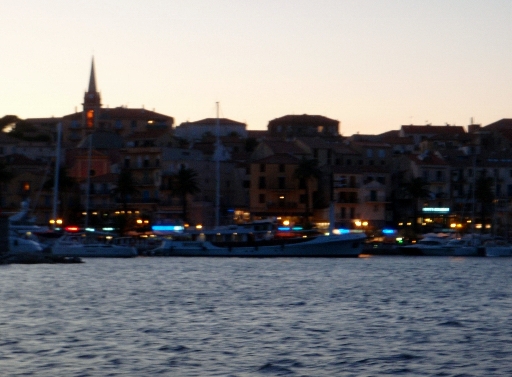 We bought the gas hose we had returned while in Ajaccio and made up a decanting hose to fill our gas bottles from a large, 13kg French one when we next see them. With my back improving and Sasha's enthusiasm there are " things to do", namely some dingy repair work. The forward handle was almost completely detached and she needed a good clean. Re gluing a handle is no easy task. First you must remove it completely without tearing any pontoon fabric. Acetone helped here. Next, you need to sand off all the old glue. Instructions say not to use any chemicals so we go at it with 100 grit wet and dry. Two hours later, both of us with very sore arms, it is ready to re glue. I made up a rope binding arrangement to lightly clamp the handle in position while the glue dries and it all seems to work. By next morning she is just like a new one, well once the cover is thoroughly washed and water proofed, job for today. As mentioned already, the French love their walking, the area around Calvi seemed a maze of walking trails.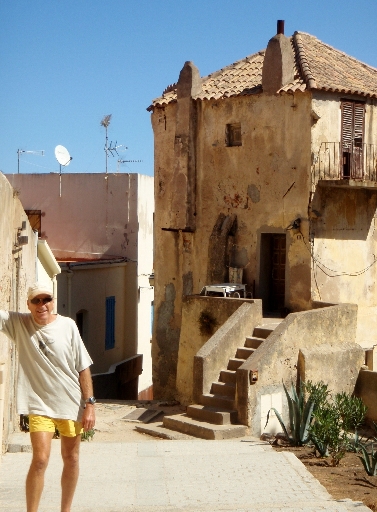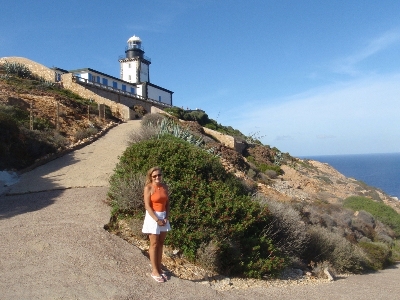 Although we only did one, out to the peninsular lighthouse and back along the mountain ridge, it was delightful and a good chance to practise my "bon jours" as we passed 20 or more others doing the same thing. The main reason we were in the anchorage was to wait for the Libeccio , the name given to West wind that blows into Corsica, to subside so that we could sail North West to Antibes on mainland France. Our chance came on 9 September, with just 92nm to sail we set off mid morning with no wind but forecast light Easterly. The sea was still lumpy, about a one metre swell, from the Westerly wind that had been blowing for the last several days. After a couple of hours we had enough wind to sail with a light, beam on, breeze. By early evening it was off the starboard aft quarter so we put up the genaker until we ran out of wind two hours later. Under a lovely bright moon we motored the rest of the way on a lumpy sea arriving to anchor at 3AM.