Sardinia
Category: Mediterranean
Created: Monday, 18 July 2011 15:39
Written by Roger Boxall
Hits: 3172
Sardinia
Highlights: Isola Spargi, Cala Ferrigno (041 14.6814 N, 009 21.4133 E)
Joy of joy, in the evening, just before sunset, we finally caught a fish on one of my home made skirted trawling lures, a 7.5kg Tuna. Not a real special fish, an Albacore, eatable non the less! Many fish meals to follow. With a 25kt Southerly we made landfall at Capo Coda Cavallo and were immediately confused by the marine reserve. Our chart, at low zoom level, showed that we were within the reserve and that anchoring, in the bay we wanted to go to, was not permitted. After several last minute changes of mind and course we headed to where we could see other yachts anchored in the cove Coda Cavallo. It turned out a good choice, beautiful sand patches to set the anchor in and well protected. The next day 15 July, the day before Sasha's birthday, was calm but a strong 30+kt Westerly was forecast for the night so we re anchored close to the West side of the bay. In the process we met Massi and Gaia, Italian Swiss who keep there yacht in Cala Gavetta on the island of La Maddelana, about 20 miles North. Apparently there would be a festival there on 22 July and they invited us to join them. We had a date. Next morning, the blow did not eventuate, we moved 2 miles around the corner to another bay, Porto Brandinghi. Sasha's preference for her birthday dinner was sea food, I thought not the Tuna, maybe something more "exotic". We took a dingy ride South a couple of miles to the village of La Caletta harbour of San Teodoro , where google showed a sea food store. Sure enough it was there so we loaded up with fresh unshucked oysters, prawns and marinated octopus salad. It was a lovely calm day in a beautiful anchorage, sea food and champaign for dinner.
With a sailable South East wind we headed up a few miles to the small city and port of Olbia, our stocks were running low and our guide book showed a supermarket right on the shore very close to the anchorage deep within the narrow bay of Olbia. Unfortunately the water was dirty and smelly, we were not there for the swimming but managed to wheel an overflowing shopping trolley of booze and food across the car park to our dingy. A couple of chandeliers provided several of the bits and pieces on our "to buy" list and at one they even organised a seal to be pressed into our spare generator water pump at no charge! Sasha even found an electronics shop in the industrial area and bought a wireless mouse.
Now we started to head a little further north towards the La Maddelana National Park to be there by 22July. First stop, with another Westerly blow forecast, a tiny, beautifully protected anchorage at Cala di Volpe. The wind came up earlier than expected as we rounded Capo Figari. I had not expected it and was towing the dingy. In a sudden confused and following sea as we were rounding the cape the dingy shot down a wave and crashed into the back of Ednbal taking a chunk of gelcoat off the transom, not happy!! The timing of our arrival at Cala di Volpe could not have been better. The anchoring area, alongside the water-ski area ran North South just wide for 2 boat and long enough for about 8. As we came in a big 60ft power boat was lifting anchor right in the middle, we moved right in after him. Here we stayed in blustery conditions, even some rain, for 3 days. We had hoped to be up at La Maddelana a day before the festival but only got there in the middle of the day of the 22nd. Massi contacted us and invited us to dinner on his yacht. The festival itself was not much but the company of Massi and his family was wonderful. As compared to many villages on the area La Maddelana was a full time living village, it does not close down in winter so there is a real feel if a traditional Sardinian village to it as we found while wandering the street, alleys and walkways.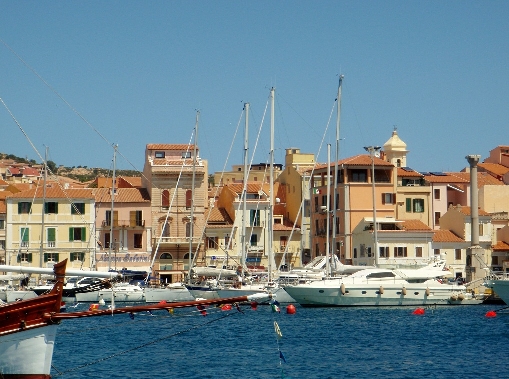 Again many people can access their houses only by foot. It was also one of the rare occasions we stayed in a marina, at €70 per day, as there was no close anchorage. With another Westerly blow forecast we said goodbye to Massi and Gaia and headed to the protected bay of Porto Palma on nearby Caprera island, the site of two quite prestigious sailing schools and another island within the National Park. The park authority provides over 100 moorings free of charge so we decided to hook onto one. Not a good idea, as we drifted closer to the rocks we realised that the mooring's chain was not connected to the sea bed, back to our ever faithful oversized delta anchor. I was not keen to try any park moorings again. I might add that there is a charge, made on a daily basis for being within the park bounds, we took out 15 days paid over the internet, a very reasonable €90. With winds gusting over 35kts, there were no sail training yacht out. Later 5 yachts, 3 30ft and 2 24ft, sailed into the bay from Sardinia, full of youngsters obviously sail training. They practised various manoeuvres, sailing up to moorings, setting anchors using sails to back up the boat etc etc. Eventually they all set anchors and tied up next to each other in a raft formation, over 30 people, kept us entertained all afternoon. In the morning it was the turn of the sailing schools with dingy size yachts, 14 ft or so. In still blustery conditions they had a lot of trouble staying upright and, by early afternoon, retired back to the shore. After 3 days of Mistral (the name given to the Westerly blows) we headed up the East coast of Caprera to an bay recommended by Massi, Cala Coticcio or, locally known, Tahiti Bay. Not quite sure why. Actually made up of two small coves with just one tiny piece of beach. In mid morning one cove was already so full that we could not find space but the other was empty so we selected our spot, totally unprepared for the onslaught of vessels of all shapes and sizes that squeezed into any few spare square metres of space. This was to set the pattern for many of the most popular anchorages, amazing how boats didn't seem to swing onto one another. Our guide book made mention of wind gusts "from different directions" that come from the steep rock that lines the cove. Gusts, the author wasn't kidding. During the night the wind would blow 30 to 40kts from one direction for a couple of minutes, then calm, followed by 30 to 40kts from almost the opposite direction. Certainly gave our anchor and chain a good work out while depriving us of sleep. No wonder only one other stayed yacht overnight! From Tahiti Bay a lovely sail around the Northern tip of Caprera and down the Western side to Porto Garibaldi, site of the first ever Club Med only recently defunct, a whole 6nm. A house overlooking the bay and La Maddelana was also the home of the Garibaldi, the guy who was responsible for the unification of Italy. The whole Cub Med site was cordoned off but people still had access, by road, to the small beach which, by the middle of the day, like all the other beaches in the park, was packed. Most of the shore line, at least 90% of it, was rock so in fact very few beaches and those were of fine pebbles not soft sand. Garibaldi bay provided nice swimming as had most anchorages although the water wasn't crystal clear. Of course, like many Italian tourists, we had to see Garibaldi's house, quite why I don't really know. One afternoon we went ashore in Tadpole and tied her up to the disused former Club Med pier to walk the kilometre or so to, as I called it, Gary's place (much to Sasha's disgust!). As we were coming from the shore we used bush tracks but did eventually find our way. We found the house in a huge iron bar fenced off compound with an almost equally as huge car park packed with cars and tourist buses and souvenir shops. At the entry ticket office was a huge line of people waiting to get in, no thank you! Far more enjoyable to walk a different route through the bush on roads and paths back to the bay.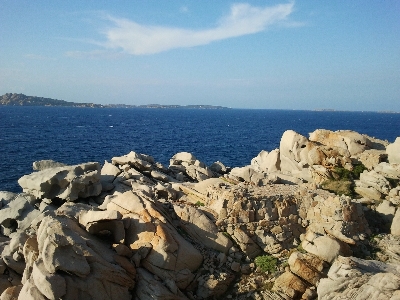 As we were walking out to the pier we were told, in no uncertain terms, Italian, that were on private property and not permitted to tie up our dingy. Ah well, can't win em all. While in Garibaldi Bay we had another excursion, to the hospital in La Maddelana. Sasha had been experiencing stomach pains on and off for over a month and it was high time to get it checked out. Never easy going to a doctor in a foreign country not speaking the language, luckily most speak at least some English. On a rainy day we dingyed across to La Maddelana Island and walked the 3 or 4 kilometres to the hospital. The biggest problem was that their computerised admission system did not count for, as the receiving nurse put it, strangers. Eventually he was able to fill out enough boxes to satisfy the system and Sasha was able to see a doctor in the small hospital. Turned out that the doctor also had a yacht, a Beneteau 40, he was most interested in us! An examination revealed "nothing serious". Sasha was given an intravenous drip muscle relaxant and a prescription for antibiotic and pain killers. All went well for the next week but then the symptoms returned but that is another story. On the way back we called in to a roadside fruit and veg vendor to restock and also bought half a kilo of sea snails similar to those we had experienced in the Azores. Small snails, once cooked, that you dig out of the shell with a tooth pick, lovely dinner.
From Garibaldi Bay we headed across to to the Eastern shore of La Maddelana Island with a view to spending the night in an anchorage recommended in our guide book, Cala Spalmatore. Here we really ran into trouble. According to the National Park booklet that we got from the officers who came around to check permit we could anchor anywhere on sand unless in a couple of small restricted zones, which Spalmatore was not. Following is a report we made to the Coast Guard that pretty much tells the story.
***********************************************************************************************************************************************
Coast Guard La Maddalena
Copy: National Park La Maddalena, This email address is being protected from spambots. You need JavaScript enabled to view it.
Copy: Presidente del Provinica, Olbia, Mr. Mario Ignazio Altana, This email address is being protected from spambots. You need JavaScript enabled to view it.
Copy: La Maddalena Mayor, Mr. Angelo Comiti, This email address is being protected from spambots. You need JavaScript enabled to view it.
Copy: Australian Embassy, Rome, This email address is being protected from spambots. You need JavaScript enabled to view it.
28 July, 2011
Through this document we wish to make an official complaint about the behaviour of two people, names unknown but photographs supplied, who said that they worked at Cala Spalmatore. We believe we should be compensated for the damage that these people caused to our vessel Ednbal, Australian Registration 858 012.
This is the short description of the events today, Thursday, 28th July, between 12:30 and 17:45:
We were checked by La Maddalena Park Authorities for our permit currency (Diporto # 13300, Receipt ID: 0478-2199-1087-2786) at the Porto Garibaldi at around 12:30.

We left for Cala Spalmatore at 14:23, approx 1.8 nm North East.

We arrived at the entrance of the Cala Spalmatore at around 15:00, where a civilian driving a grey dingy RH430 intercepted us and asked us to pay a fee for mooring. We explained that we have a permit for the National Park and according to document "Carta della Zonizzazione 2011" (Zoning Map 2011) handed to us by the Park employees a day earlier, we are allowed to access the moorings in the Cala Spalmatore bay. The civilian person rejected our explanation and directed us to leave the bay immediately. He had no identification and did not show us any documents to show that Zoning Map 2011 document was incorrect. At 15:10 we called the number listed on the Le Autorizzazioni Del Parco: 0789 790224, but we got the tape recording that all the operators were busy. We waited for over 5 minutes, but no response. While we ware waiting for someone to answer our phone call, the person in the dingy told us again that the bay is private and we must leave immediately. He told us to call the Coast Guard to confirm his statement. We tried to explain that we would like to confirm this with the Park Authority. We again called the same number at 15:19 but got the same recording. The civilian in the grey dingy advised us that he would get his boss, and he went to the shore. At 15:22 we called the Coast Guard on the phone 0789730632 to check if can stay in the bay or not. We got a recording to say that all operators were busy.

The grey dingy returned with another civilian, wearing a pink T shirt. This civilian was very abusive with words and manners, threatened us in English and swore at us in Italian. He did not want to listen to our explanation, he demanded that we get out of the bay immediately. He then rammed the port side of our vessel and started pounding our boat with his fits and feet, while hanging on our safety lines. We asked him to move away from our boat but there was no action, just more abuse and threats.

Both of us were intimidated and decided to leave the bay, so I (female Sasha) went to the bow to secure the anchor with the secure pin. At this point, the grey dingy came alongside the bow, and the person in the pink T shirt jumped up over the bow safety lines, took the anchor control unit (an act of PIRACY), ripped it off from the socket and threw it over his shoulder into the water about 6 meter deep. Then Roger wanted to dive for the remote saying that we would then leave the bay. However, the grey dingy again rammed us and the civilian in the pink T shirt became even more abusive and threatening – see photos.
We sailed out of the bay to call the Coast Guard for assistance because we were no longer able to operate our anchoring equipment without our control unit. The Coast Guard red dingy arrived about 16:30 and we were finally allowed to go back into the bay so that Roger could dive to find the anchor control unit, which he did after looking for about 15 minutes.

By pulling the anchor control unit away from its socket the civilian in the pink T shirt tore the wires so that the anchor control unit could no longer be used – see photo.
We relocated to Porto Massimo where we tied to a mooring buoy at 17:44, as we have no ability to anchor our boat without the remote.

At 19:44 the people from Porto Massimo asked us to pay the fee for tying to a mooring buoy The document "Carta della Zonizzazione 2011" (Zoning Map 2011) states under Activities of Mooring that the boats with holding tanks can moor overnight. There is no mention of additional fees over and above the national park permit fees.
Yours Sincerely,
Roger Boxall, email: This email address is being protected from spambots. You need JavaScript enabled to view it.
Australian Coxswain CW026105, RYA Yacht Master Offshore 28929
and Sasha Barac
RYA Yacht Master Offshore 28928
from S/Y Ednbal, Australian Registration Number: 858 012, http://www.ednbal.com
*****************************************************************************************************************************************
Next day we went into town, part walked, part hitch hiked, to give the report, that we had also emailed to the National Park Authority, Mayor of La Maddelana, Mayor of Olbia and the the Australian Consul in Rome, to the coast guard. Mr Andrea Betti interviewed us, took the report and promised that something would be done, we really didn't expect anything and thought little more about it. Next time e checked our email we had responses from the Australian Embassy and the director of the national park ( he confirmed we were permitted to anchor in the bay!) as well as a request from the maritime police to see their chief Mr Lorenzo Bruni. Apparently the Australian Consul had been onto him so we went for a second interview. A report was produced and given to the police prosecutor for action. For us the whole thing had already taken up two days of our time and that was enough. To forget the whole thing we headed a couple of miles over to Spargi island and Ferrigno Bay, very small on the north eastern side. with no other boats there, save for a small fishing boat and a centre console rubber duck, we anchored right in the middle, 20m of chain out, just enough room to swing and not hit the bottom or the rocks. We thought we were isolated until middle of the next day by which time there were 15 boats anchored or tied up to the jetty! By evening we were by ourselves again except for the people who lived in a house up the hill from the jetty, the only residence on the whole island. What a wonderful spot, even fish to see as we swam in 29 degree water. One of the boats to tie up to jetty was a Beneteau 40, the doctor Sasha had seen at the hospital. After a couple of days we decided to head to the Northern group of islands within the National Park and anchored between Razzoli and Santa Maria. Our cockpit teak decking needed a re varnish so we decided to do it when spend a few hours at the beach while it dried in the sun. An interesting exercise, never have I been amongst so may people on a beach. The only beach was about 150m long and about 10m wide. Ferry load after ferry load of sun worshippers poured in, it was literally towel to towel, incredible!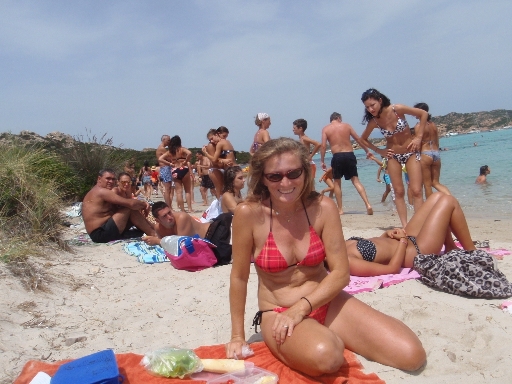 The anchorage was very large and very busy, a lot more larger vessels, 60 to well over 100 ft. while there were a number of free moorings we stayed with our trusty anchor. One afternoon a 65footer near us dragged his morning in about 18kts of wind and before the skipper (most vessels of this and larger size have paid skipper and crew) knew it they were on top of the next boat (80 footer) behind them. The crew on the larger vessel were putting out huge fenders as they saw what was happening. Next the 65 got caught up in the 80's mooring lines. It took half hour or so to get sorted out, didn't seem to be any damage. Next morning I swam over to look at the mooring that had been dragged. It was of the screw into the seabed variety and had been pulled completely out.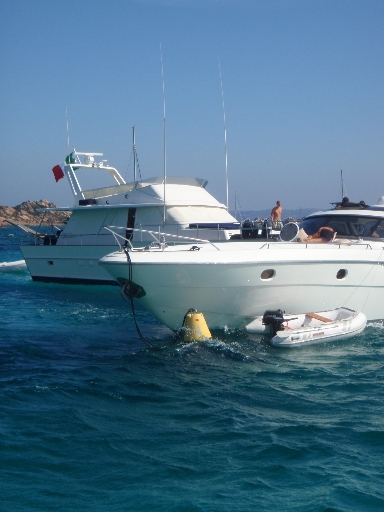 We heard that there was to be a jazz concert on in La Maddelana town so we sailed back to the Garibaldi Bay so that we could take the dingy into La Maddelana. Scheduled to start at 10pm we were there at the stage set up in the square in plenty of time so went for a walk around the night markets. By 9:45 there was no setting up on the stage, strange. We made more enquiries even though we had the pamphlet advertising the show, albeit in Italian. Turned out the free concert was not to be in the town but at another open air venue a few miles away on the Western side of the island. Pity we didn't understand the Italian pamphlet, ah well back to the dingy for the 2 mile ride back to Ednbal. Just out of the harbour the outboard revved high, just like it had jumped out of gear. I found that if we went very slowly all was OK but a little too much throttle and the same effect. Luckily it was dead calm so it just took time to get "home".
We had found Ferrigno Bay so delightful that decided to spend our last few days of our National Park permit time there before heading further North to French territory. At our arrival there no other vessels so again we had our pick of anchoring position, right in the middle. Next day we had a visit from the people in the house on shore to invite us for an "aperitif", apparently a suave term for boozing at sundown. A lovely couple, Leeza and Marko who we house sitting for the owners, their good friends. Another couple joined us, Valeria and Mike, from a real go fast yacht tied up to the pier. A lovely evening overlooking the bay from the front courtyard of the one and only house still occupied on the whole island. It was a little after sunset as we left and jumped into our dingy to back to Ednbal. As we came alongside Mike and Valeria's 30ft yacht Mike, a professional race yacht skipper, called out "no Aussie has ever refused to have a local Italian wine with me, you are not going to be the first are you?". The night was long and boozy, Valeria fed us a seafood paster while Mike plied us with wine, local cheese and purchuto. In the morning vowed she was not drinking again while Mike and I went off in a dingy to dive for sea urchins. I never thought I would be collecting those spiny little blighter's, but there you go! In a short space of time we had a huge bag full so back to the boats to collect the girls to help us clean them. Well clean is not quite the right word. You cut them in half with a scissor action tool especially made which Mike had, or a pair of scissors, which I used. The shell is the rinsed in sea water to remove the "crap" and the remaining five pieces of orange stuff, female's eggs, with a teaspoon, which the girls did. The delicacy is putting a small amount, a table spoon or so, with a specially prepared pasta dish. Eating the eggs straight out of the shell has a taste something like oysters.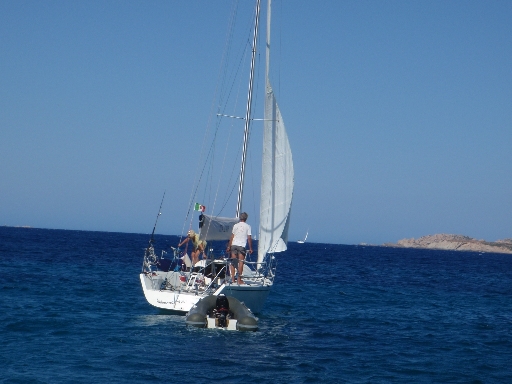 Another day Leeza and Marko invited us up to the house for lunch. This time we also got a full cooks tour of the house, small out houses, water and energy systems. Apparently the property had been owner by two men who, at 90, wanted to sell it. The now owner just happened to be in the right place at the right time and simply said " name your price". That was over 20 years ago, is now virtually priceless. After a wonderful lunch we said goodbye to Leeza and Marko as we were on the last day of our permit and needed to sail a few miles North to French territory, Levezzi island, itself just a few miles South of Corsica.