Italy- Calabria, Aeolian, Campania
Category: Mediterranean
Created: Sunday, 17 July 2011 15:38
Written by Roger Boxall
Hits: 1968
Italy-Aeolian,Calabria,Campania
Highlights: Scilla (038 15.2681 N, 015 42.6596 E), Agropoli (040 21.2382 N, 014 58.9545 E) - Paestum
Scilla, what a fabulous traditional fishing village now enjoying some of the fruits of tourism with many little shore side restaurants and B and Bs. Almost mountainous, I don't think the was one flat path or road in the whole village. In the port two swordfish boats were tied up. What extraordinary vessels with a 20m high lattice lookout tower supported by sgays to the deck. Out front a 30m "cat walk", similarly stayed to the vessel and only a meter or so above calm water. The skipper, with full vessel controls, sits aloft looking for swordfish. A crewman out front has the job of spearing said swordfish.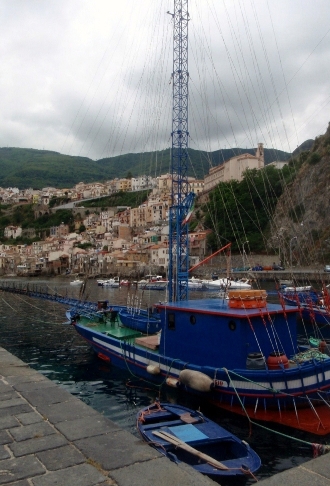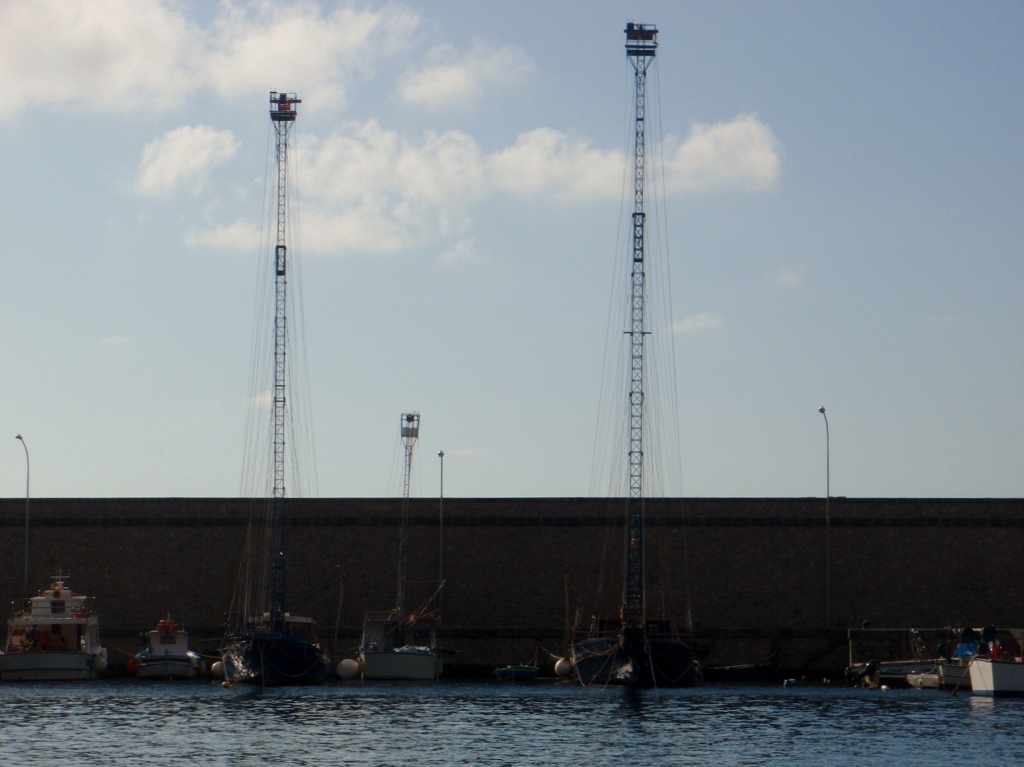 Must be fun in a rough sea, seems to me the guy out front would spend half his time in the water while the skipper aloft sways around all over the place. It must be said that there is also a strange looking stabilising platform at water level around the stern. Still, looks risky to me! Many of the old well maintained houses built on the steep rocky shore had similarly old well maintained wooden plank open boats hauled up on private slipways using pulleys and ropes, alongside. The promenade was high up, about 100m, overlooking the bay, a perfect place for evening G&Ts sitting on one of the many well kept park benches. we stayed for two days, the only down side was the rolly anchorage which we tried to negate using our stern anchor to try and keep us pointed into the swell in the very calm winds.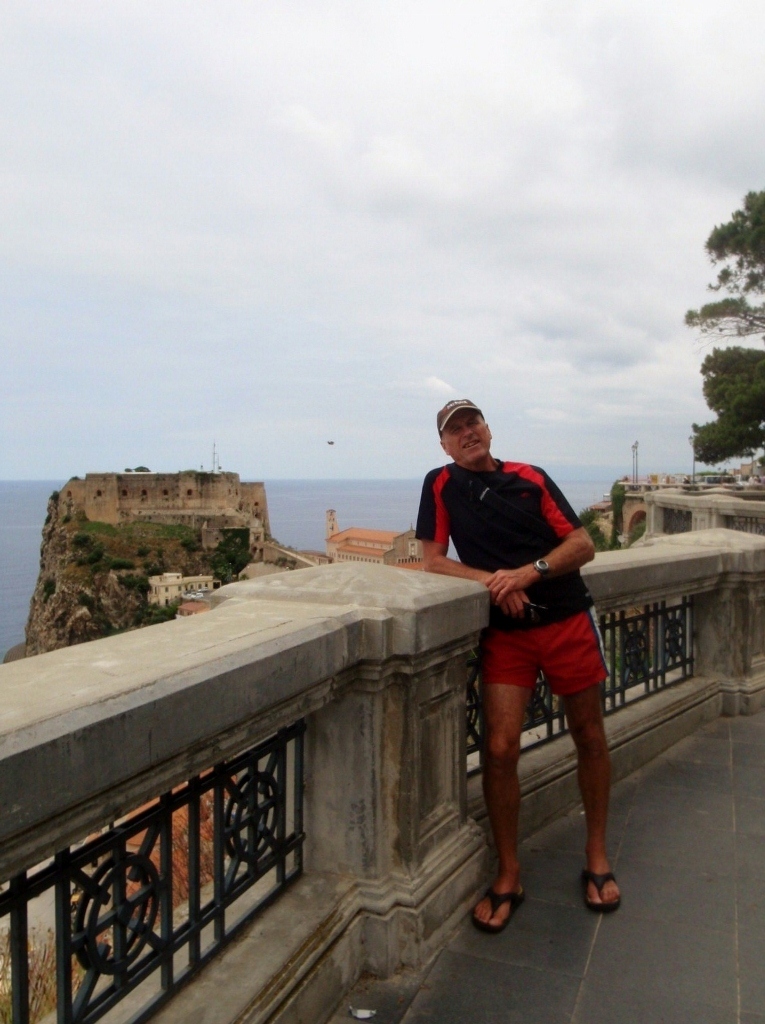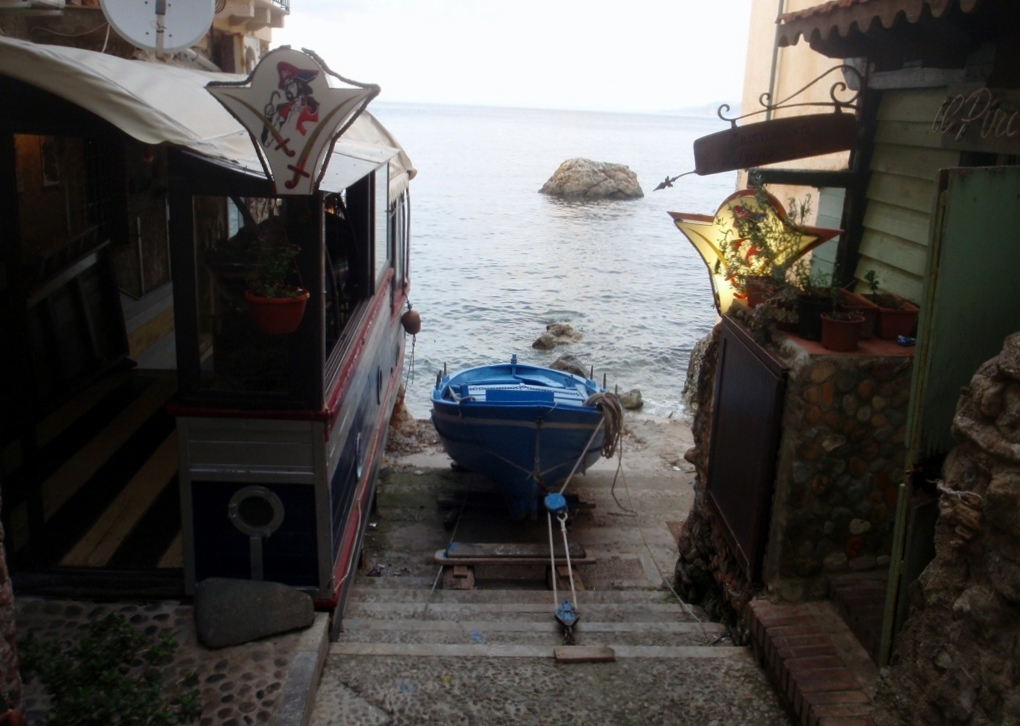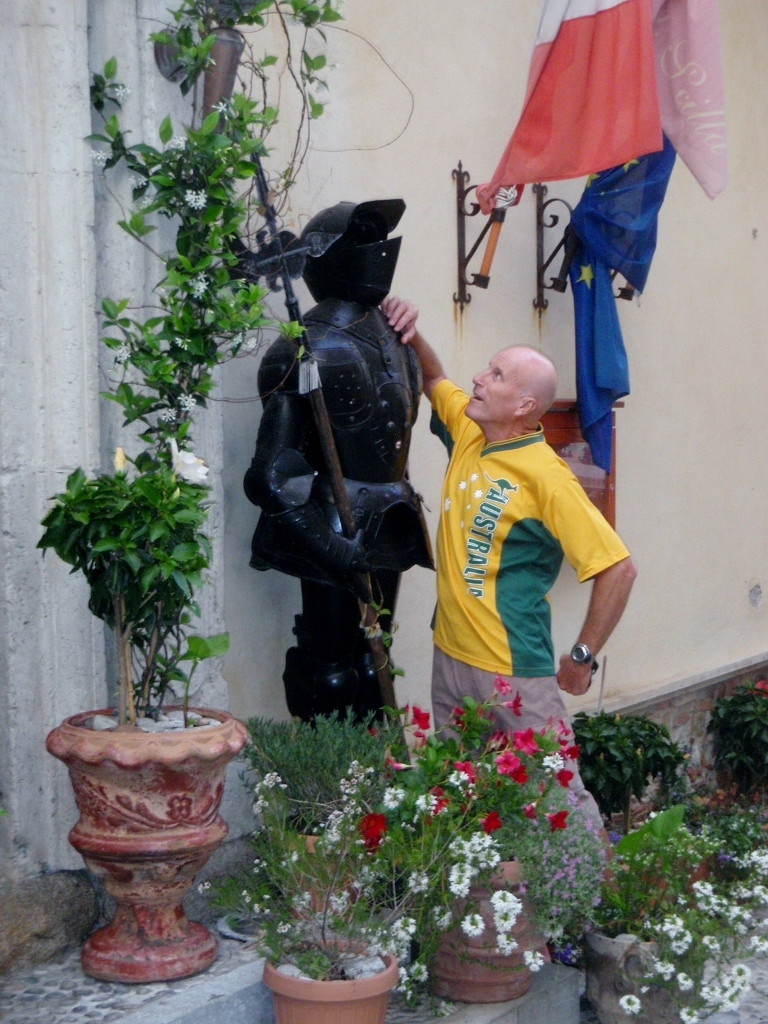 From Scilla we headed out to the Aolean Islands, firstly Volcan, about 36nm away. Still no wind so motoring the whole way, with hydrofoil ferries roaring past at 36kts!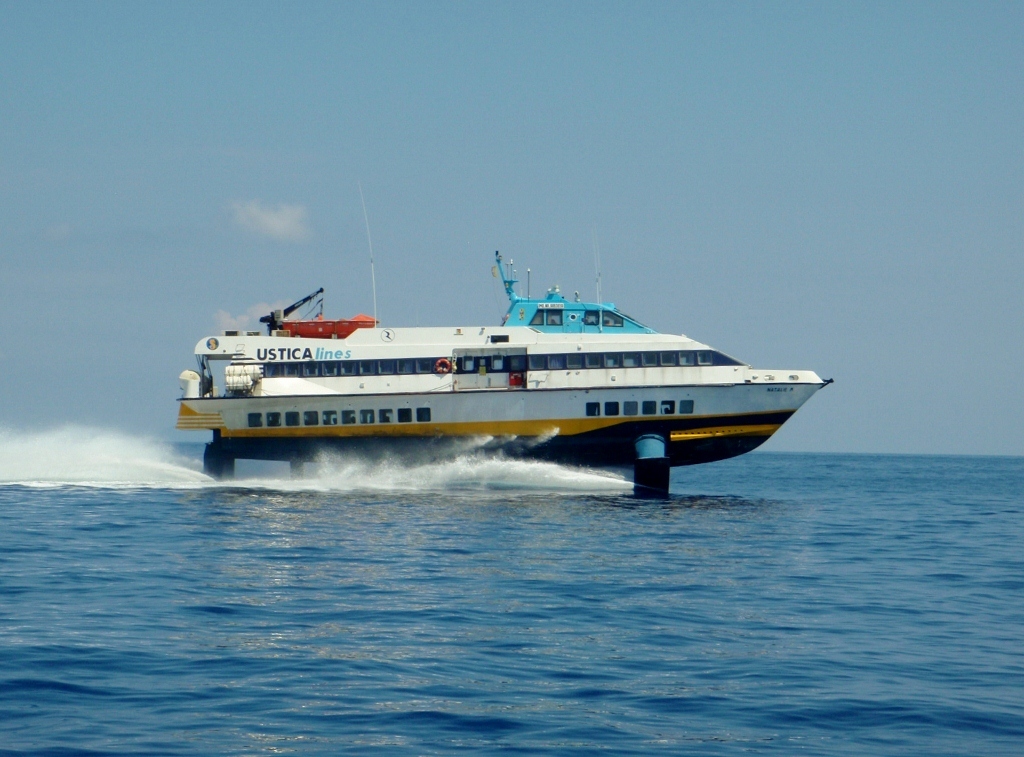 At Volcan we were greeted by a smell, not a very nice smell, a distinctly rotton egg smell. Ashore was a mud-bath area mixed with sulphur from volcanic activity. Some brave soles were wallowing in the smelly stuff. Ashore in the later afternoon we went for a walk and saw the turn off to walk up to the volcano crater, why not take a look. Of course we were dressed appropriately, shorts and thongs. Part way up the path was a small temporary looking building. It was a ticket office, the "mafia" wanted €3 per person to continue. We declined, on principle, fancy trying to charge us to go for a walk. Instead we opted to walk around the volcano following a path that seemed to head in the right direction. Unfortunately, after passing several seismic monitoring stations, the track petered out so we had to return the same way. Back on board we had a somewhat smelly night so departed the scene early next day for the nearby island of Lipari.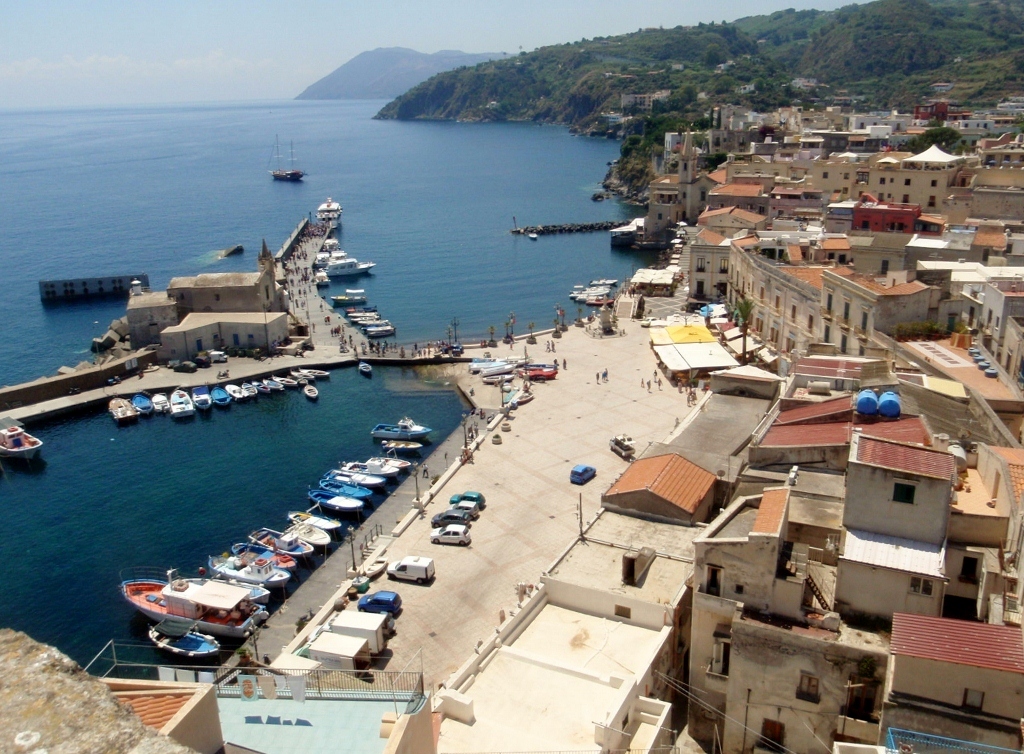 Lipari, according to the guide book, is a very touristy island. True it seemed to have greater numbers, largely because it has more accommodation allowing people to stay and commute to other islands such as Volcan and Stromboli on day ferry trips. We quickly grew to like Lipari and stayed to walk some of the many trails, albeit up and down a few hundred metres, marked on the map handed out at the info centre. Unfortunately the paths were not exactly sign posted so to some degree it became a bit of a hit and miss affair. On one walk we were going down a sort of lane way overlooking Canneto village admiring a small house with a wonderful terrace and view of the village below and sea right out to Stromboli in the distance when to owner came out and invited us in. He showed us around but did not speak English, luckily Sasha understood enough to know what he was saying. From his garden he even cut a rose flower for Sasha. It is experiences like that that add greatly to the travel pleasure.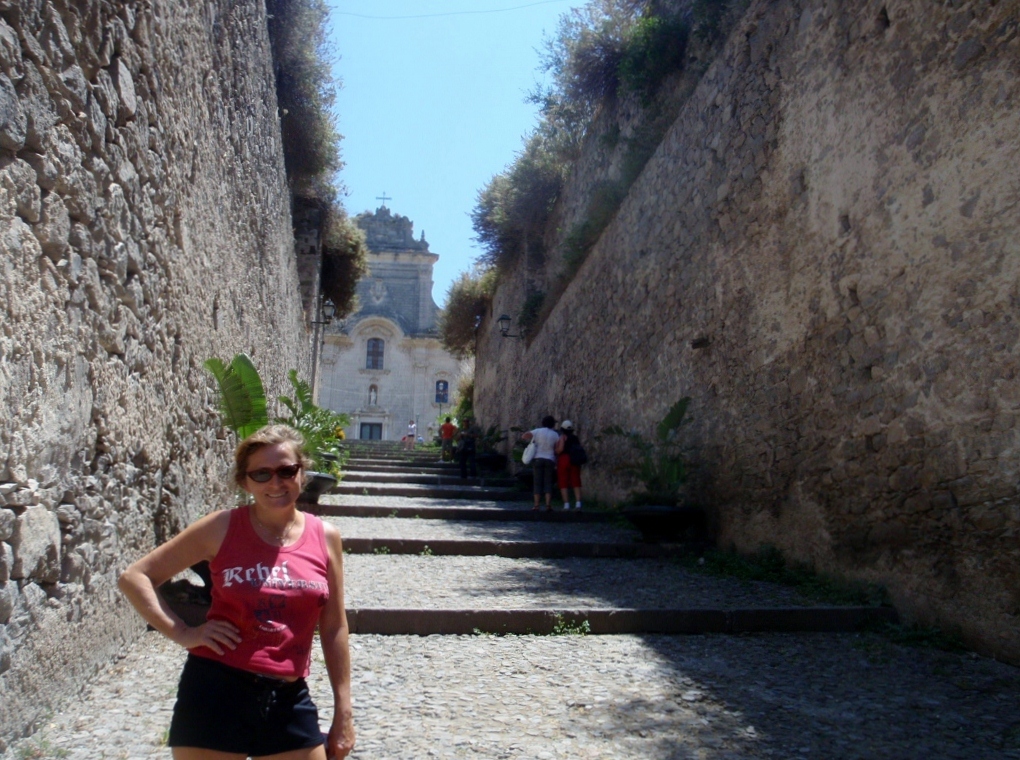 Our walks, up hill and down dale, were, in some way, training for our next stop, Stromboli. We had hoped for some wind to sail but none was forecast so it was motoring again to Panaria 12 miles NE and about half way to Stromboli where stopped overnight, swimming and enjoying the anchorage without even going ashore.
Next we motored, again, to Stromboli and anchored in the open with 20 or so other vessels. As it turned out just as well there was no wind as there was no protection at all. Ashore was a jet black sand beach with volcanic rock pebbles at the water line. No jetty to tie the dingy to so it was haul it up on the pebbles as far as possible. No real problem as there was next to no tide, the only water disturbance being from numerous passing ferries The guide book indicates there is little to attract visitors other than the ongoing erupting volcano. Stromboli has 7 active craters that spew out fiery rocks, dust and smoke virtually continuously It is 918m climb to the top of the old crater where have a view of the new craters 200m below. By law you must go with a guide so we booked. The climb starts around 6pm and takes about 3 hours so that you get to see the action at night, then decent under torch light. Sasha packed a picnic dinner to have at the top and off we went. Ours was one of eight groups of twenty that night! Unfortunately we ended up in a group of Italians and Germans so we got no information from our guide in English. Issued with helmets and dust masks about all we could make out from the safety briefing was if something goes wrong at the top, run like hell, or words to that effect!! The climb up provided wonderful views of the village and vessels at anchor so we were able to keep an eye on Ednbal.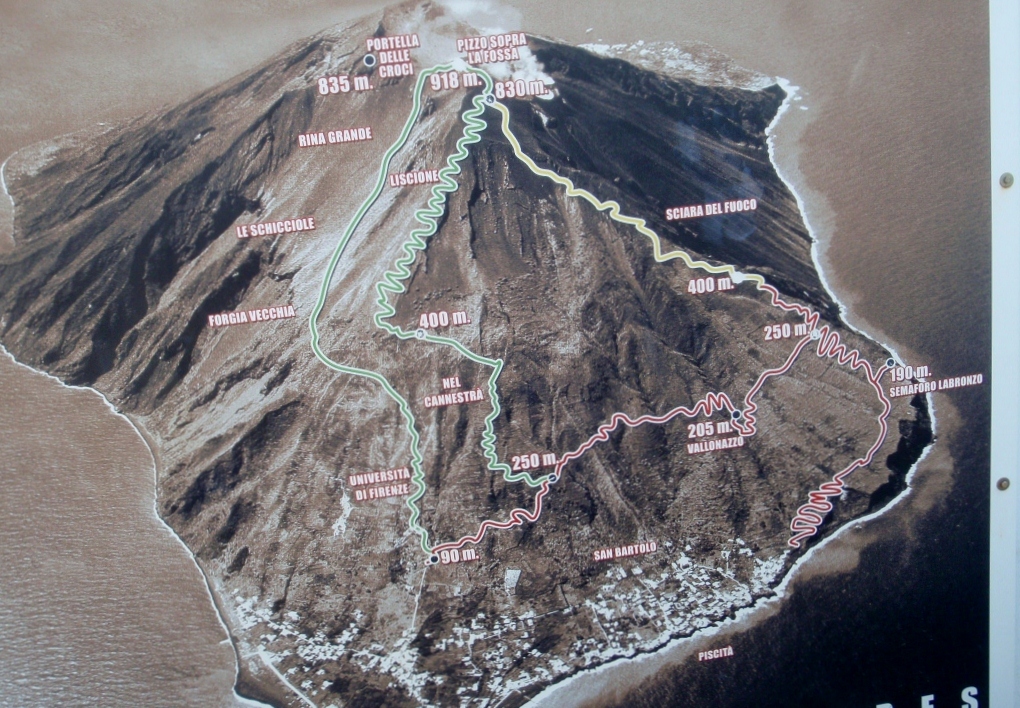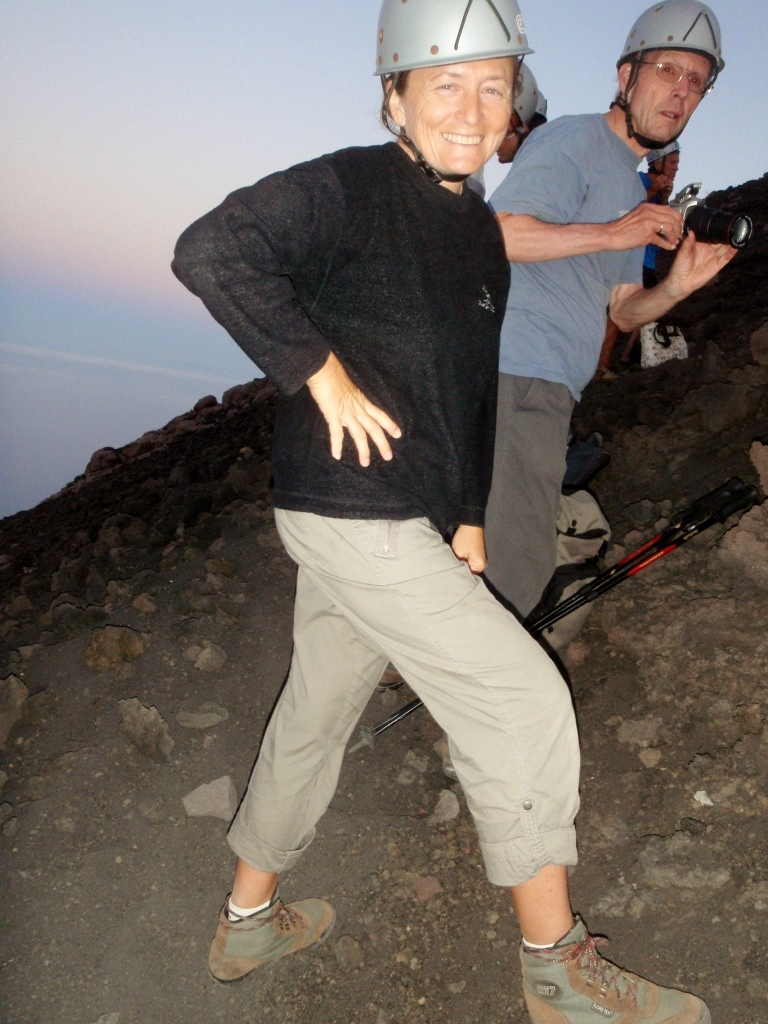 Three hours after setting off it was dark and we at the view point, having waited for other groups to move on, for our turn to see the action. We saw several explosive bursts from 4 of the craters that were all the time glowing red and popping bright red flaming rocks high into the air. To look down on an erupting volcano is certainly something else.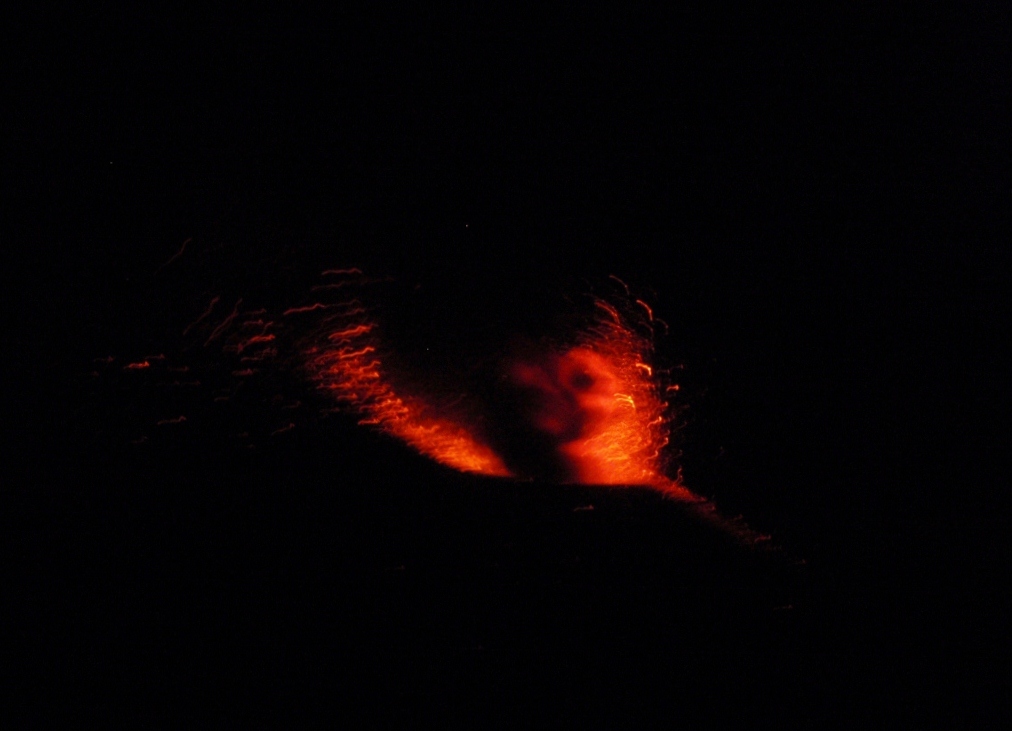 Our time was soon up and we were herded together for the return journey, down a different way. After being told to don our dust masks and make sure touches were working we set off down one giant sand dune. Slope, we were told, 40 to 50%, it certainly felt like it. Before long shoes were completely full of sand and we knew why we had dust masks, out torches barely lite the way through the dust from those in from. Five hundred metres of the decent was this way! It was almost midnight by the time we got back and almost 1am back on Ednbal for a dip and thorough clean up. An experience not to be missed.
After a long sleep in, we spent the next day largely in recovery mode before heading 54nm back to the Italian mainland on another windless day, dropping anchor at Cetraro in the lee of the harbour breakwater. The highlight of Cetraro for us was the street market we stumbled across on Saturday morning. All the streets, 4 blocks by 4 blocks, around the town square were market place, everything from fresh fruit and veg, meats, cheeses, fish to cloths, toys and hardware. And choice, tomatoes for example, 6 different varieties, all sweet and fresh. Vendors all very keen to have you taste produce before buying, just fantastic. Before long our big backpack was full and we had the overflow in bags. Wouldn't need a stock up for some time! From Cetraro up the coast, again motoring most of the 35nm to Policastro in the middle of the gulf of Policastro, again anchoring in the lee of the harbour breakwater, looking up at villages perched some 400m above. Of course, another hill to climb to stroll the village atop.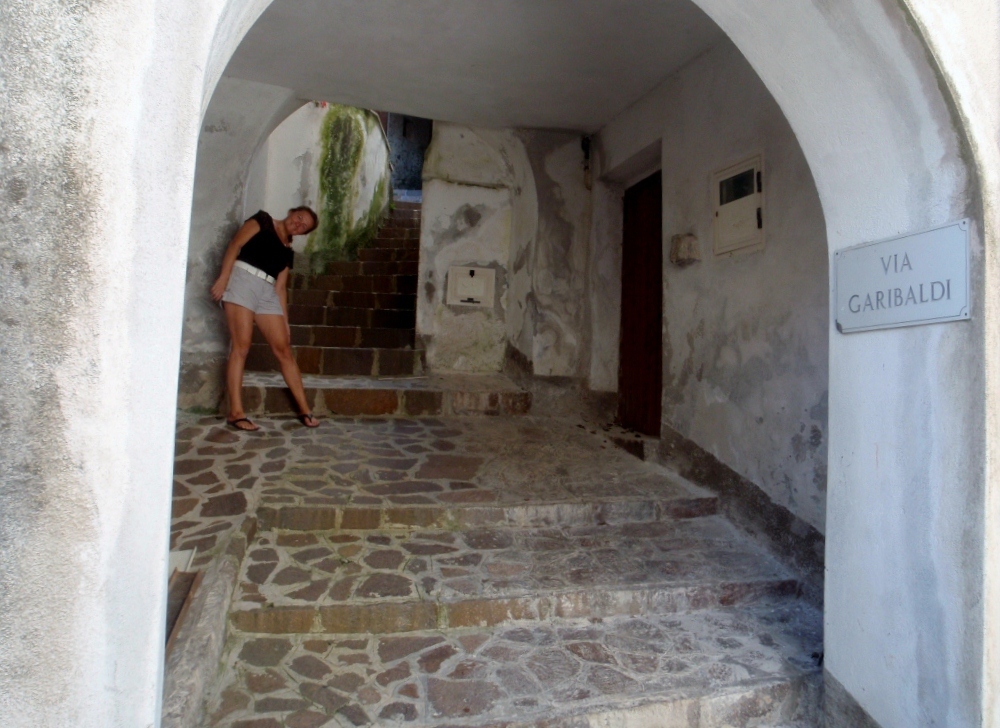 Using my new toy, early birthday gift from Sasha, one of these whiz bang art phones, with maps, google earth etc, we headed off up the hill to the village 400m above. On the way we sampled lovely fruit, white plumbs and apricots from trees overhanging the zigzag one lane road. After a stroll around the village we found a tiny market shop to buy a big bottle of beer to enjoy overlooking the sea below.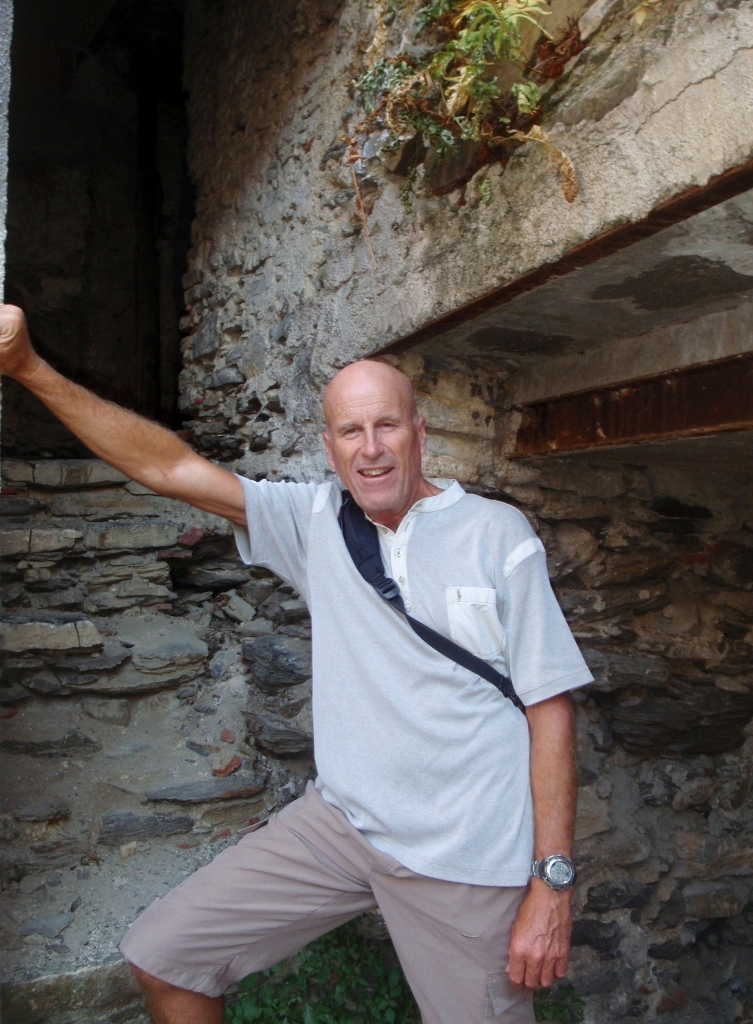 For our decent we again consulted the new toy, selected a different path and set off. After about a km the bitumen road gave way to a two wheel track that descended even move steeply. On this track we met a shepard herding in hos goats with a couple of dogs. In Sasha's best Italian she asked if was OK for us to continue he said we couldn't or it was very hard to get down to the sea. I showed the path on my toy, he shrugged so we continued. The two wheel track soon gave way to a single foot path through the dense bush. By the time we were about half way down and still on the route shown on my new toy (it also had built in GPS) the came to stop on the end of a ridge far too steep to scramble down. We spent some time trying to pick up the trail again but, in failing light, decided to cut our losses, backtrack to the village and go back down the way we came. Could just imagine the shepard saying "stupid bloody tourists!"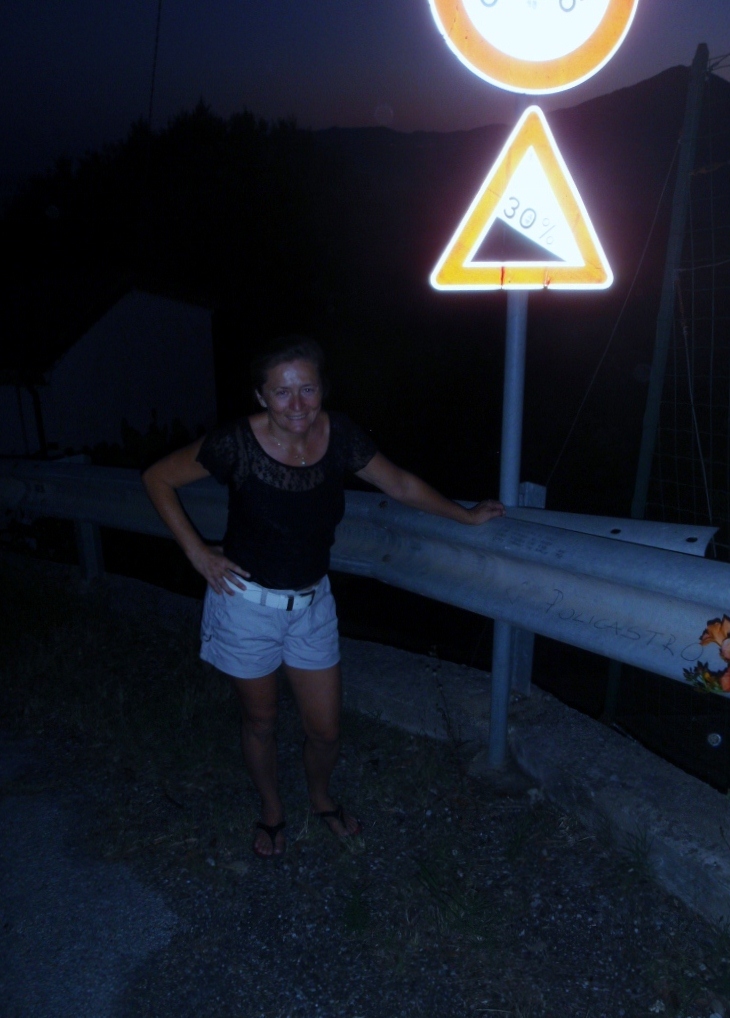 Back in Policastro we went to one of the many pizza joints for well deserved pizza and beer.
By now we were getting tired of roly anchorages, it does not make for good nights sleep so we headed a few miles West for what looked like a small well protected bay at Palimara. As we rounded the headland we were indeed greeted by a beautiful bay almost fully surrounded by vertical rock walls. There were over 20 moorings and only 2 vacant so we took one close to a grotto, water level cave, big enough for boats to go into. What a gorgeous spot. We swam and in the morning, after a very solid nights sleep, climbed the rocks for a short walk to the headland. Next a nice light breeze 18 mile sail up to Acciaroli where we dropped anchor outside the harbour only to be told by the port captain that we could not stay, we must go into the harbour where we could tie up free of charge. It turned out to be the best thing because next morning,as we headed out for Agropoli, there was the biggest swell we had seen for a long while. would have been untenable at anchor. In Agropoli there was also part of the public dock for visiting vessels to tie up free of charge. Our lovely stainless steel stern anchor was getting a good work out. Agropoli is more than a village but not a city, close to water the main tourist precinct with myriad of trinket shops that lead up to the main shopping streets, some closed off to traffic during the day, and featuring an abundance of fashion shops. Once past these there were the lovely back streets of the locals amongst churches big and small all so typical of Italian villages we were becoming used to.
From the harbour it was a half hour brisk walk with packed picnic lunch and requisite beverages, to the train station where we bought tickets from the Tabachi (bit like a news agent) for close by Paestum, site of some of the finest Greek architecture in Italy, dating back to the 6th century BC. We hear, read, of three huge Doric temples but did not at all appreciate both the magnitude of the ancient city site nor the enormity of the temple construction. Alas as is so often the case our photos do not do it justice. Under shady trees we enjoyed our picnic and before we knew it, were walking back to the train station about 1km away.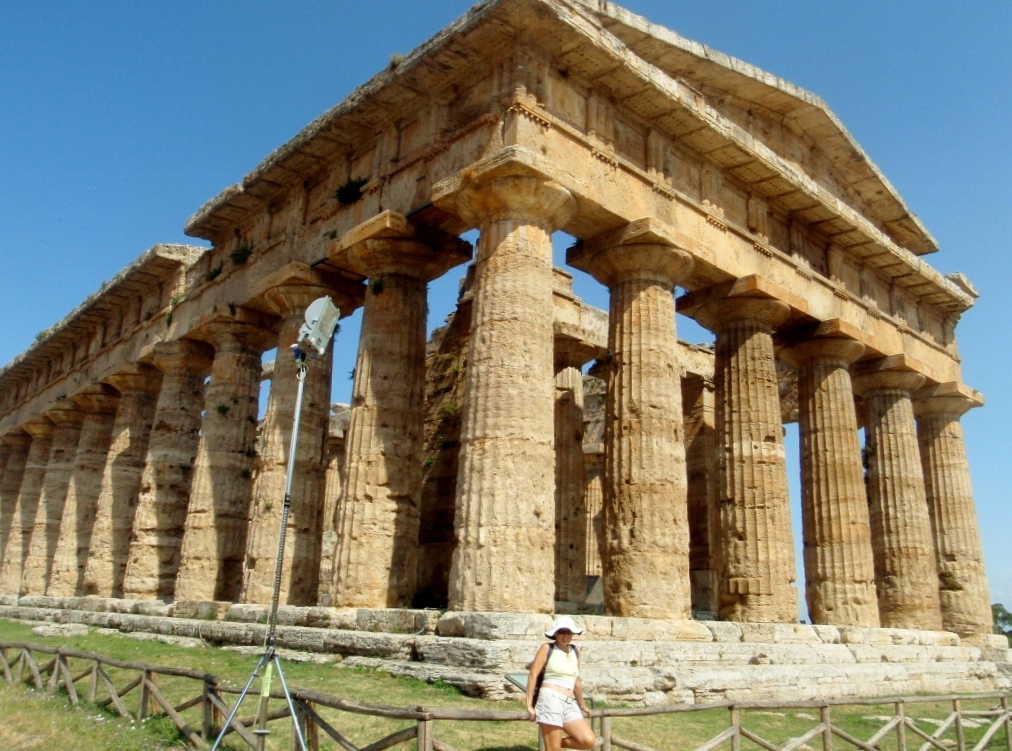 Plenty of time, we arrived at the station about 25 minutes before the next train to buy our tickets. It was then that we saw a notice on the wall saying tickets were not sold at the station, the nearest place was at shops adjacent to Paestum site! If we couldn't get there and back in 20 minutes we would have to wait another hour for the next train. Lathered in sweat we got back with 2 minutes to spare, mainly because the train was a few minutes late. Having been disappointed so many times with restaurant meals, we rarely eat out but being so close to the home of pizza we decided to "survey" some of the many local pizzerias before deciding which one would get our valuable patronage! Dressed up suitably for the occasion we went to an upstairs, rickety stairs at that, overlooking part of the harbour. A small pizzeria 10 or 12 tables and almost full of locals which we tool to be a good sign. Although we did not have a table with a view we had a wonderful wood fired pizza and beer, we were not disappointed, the real thing. By the time we left, the queue waiting for a table was half way down the steps.
After a lovely 7 mile sail we dropped anchor outside the big private marina at Salerno, our base for a couple more train trips, Naples and Pompeii. We had been advised that the bay of Naples was not the best place to be, polluted dirty water and a high crime rate with unattended yachts being one of the targets so better to go to Naples by train from the less risky Salerno. Our outing to Naples was really nothing special really only to see the Naples Archaeological Museum that houses, amongst other things, many of the artefacts unearthed at Pompeii.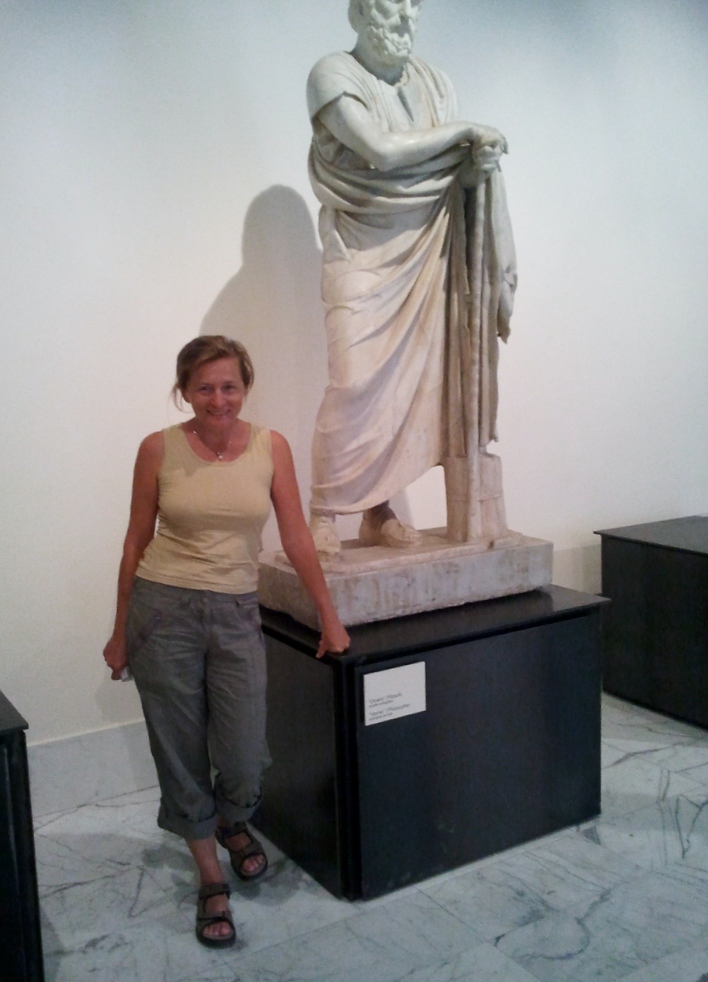 Complete frescos, mosaics of many square metres and statues had been removed from Pompeii at the early stages of excavation. Probably most unusual was the most unusual room was the one called "secret cabinet". Up until the mid 1990s you had to have special permission to enter by appointment only. The room contains the pornography of the era, paintings, statures and embossed bronze objects depicting various sex scenes, oversize penis's being most common. The idea was to see the museum before the Pompeii site itself. So, next day it was on the train and off to Pompeii, of course with packed picnic. Here my new toy, the smart phone, came in very handy, with good internet connection, giving us access to a lot of info on Pompeii. The down side, we spent an hour in a thunderstorm without any covering and got drenched. Thankfully the sky cleared and we dried out again. Pompeii is extensive, streets all laid out with many buildings just the way they were then covered in ash by the eruption of Vesuvius some 2000 years ago.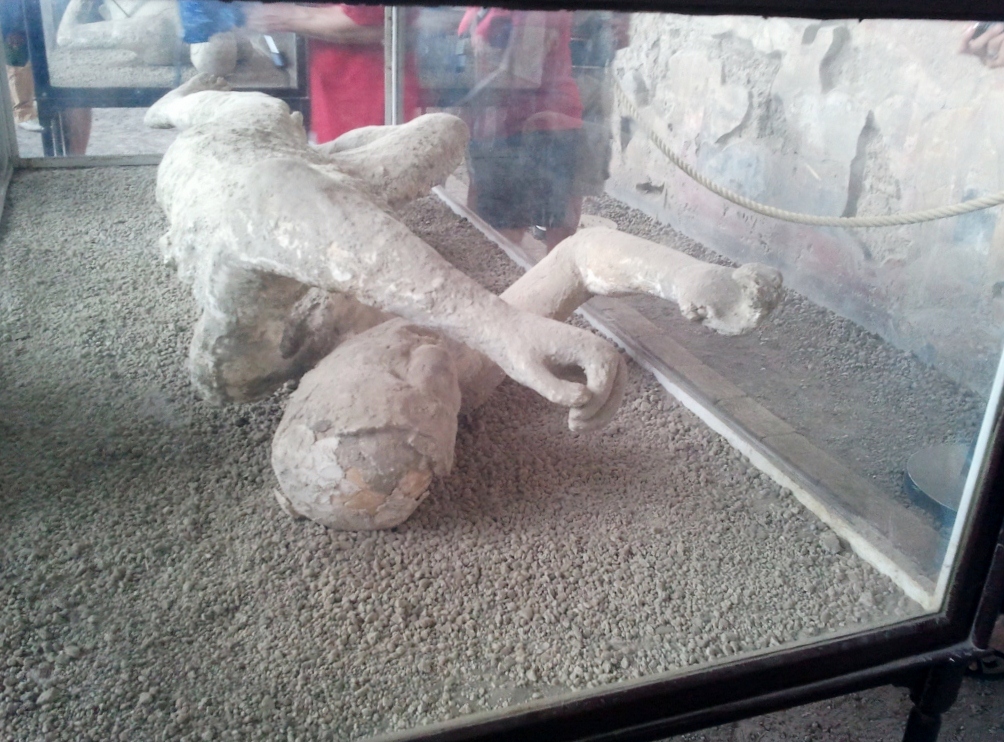 Pity so much has been removed to museums, non the less it is still quite incredible in one day we could only see the highlights but it was more than enough ruins and rocks for me.
Our next sail provided probably the most spectacular scenery we have seen from Ednbal in our cruising to date, the Amalfi coast of Italy. As usual photos do not do justice.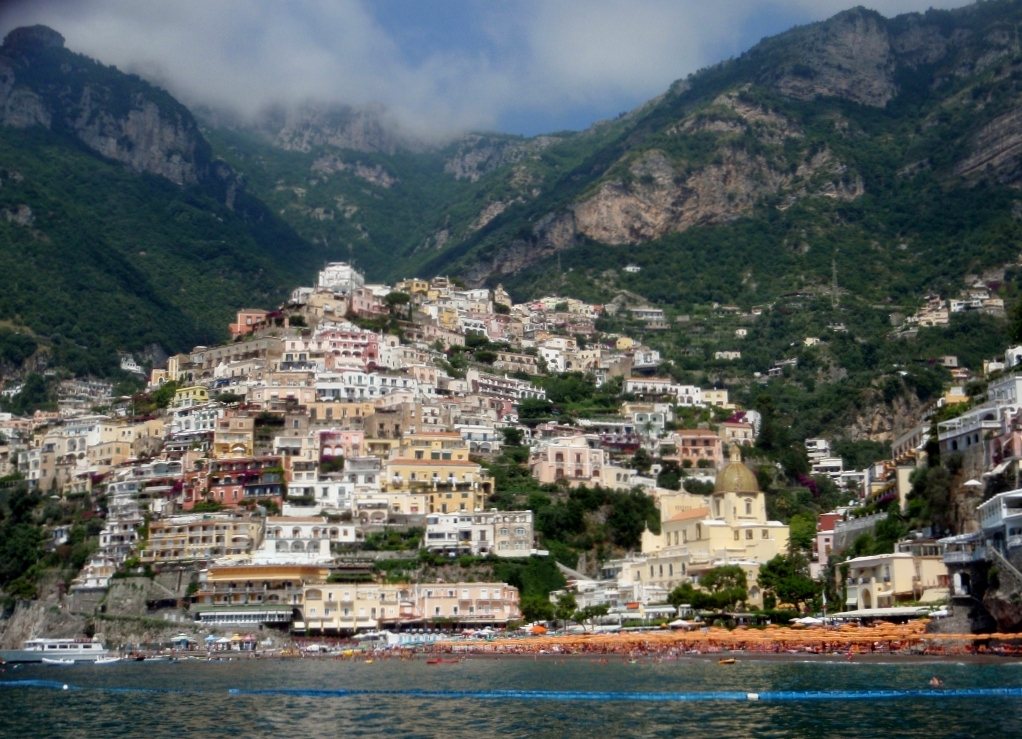 Apart from houses and villages perched on rocks and mountainous train with a backdrop of green, virtually every point and cape had, built into or onto the rock, a lookout tower for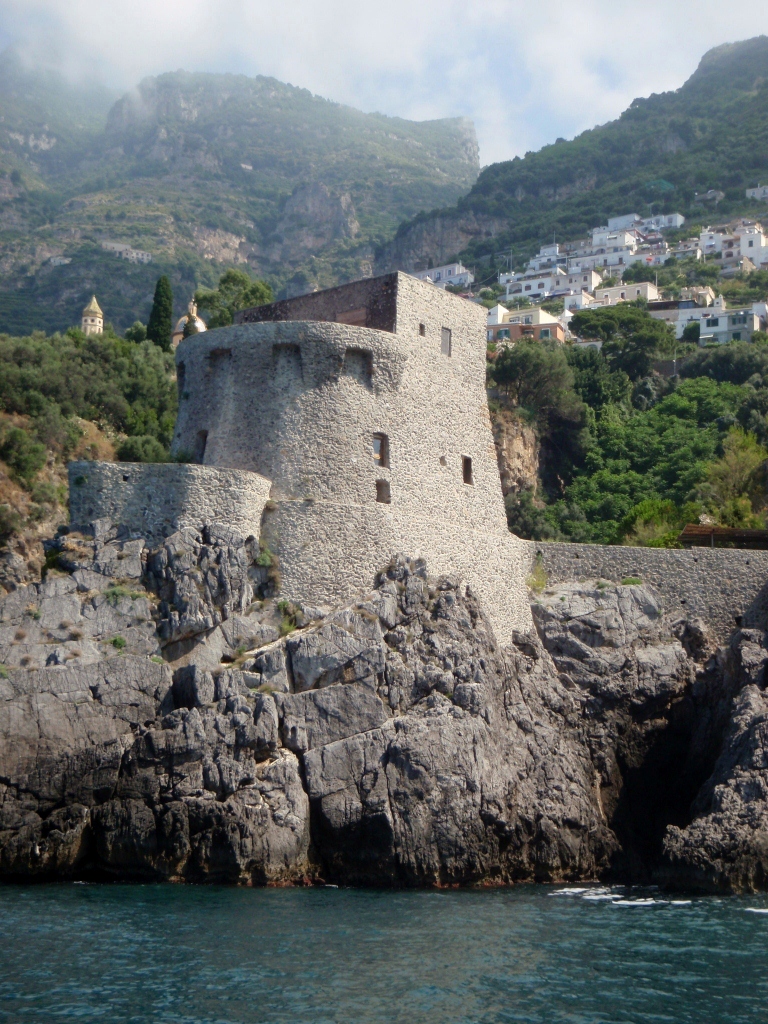 centuries past. Now a number of them have been bought and turned into opulent accommodation with a view to absolutely die for.
On the water side we saw the most and biggest super yachts imaginable, one called Rising Sun was 437 feet, that's just under half the length of the biggest cruise ships that come in at 900 to 1,000 feet! Boats over 200 feet were almost common place.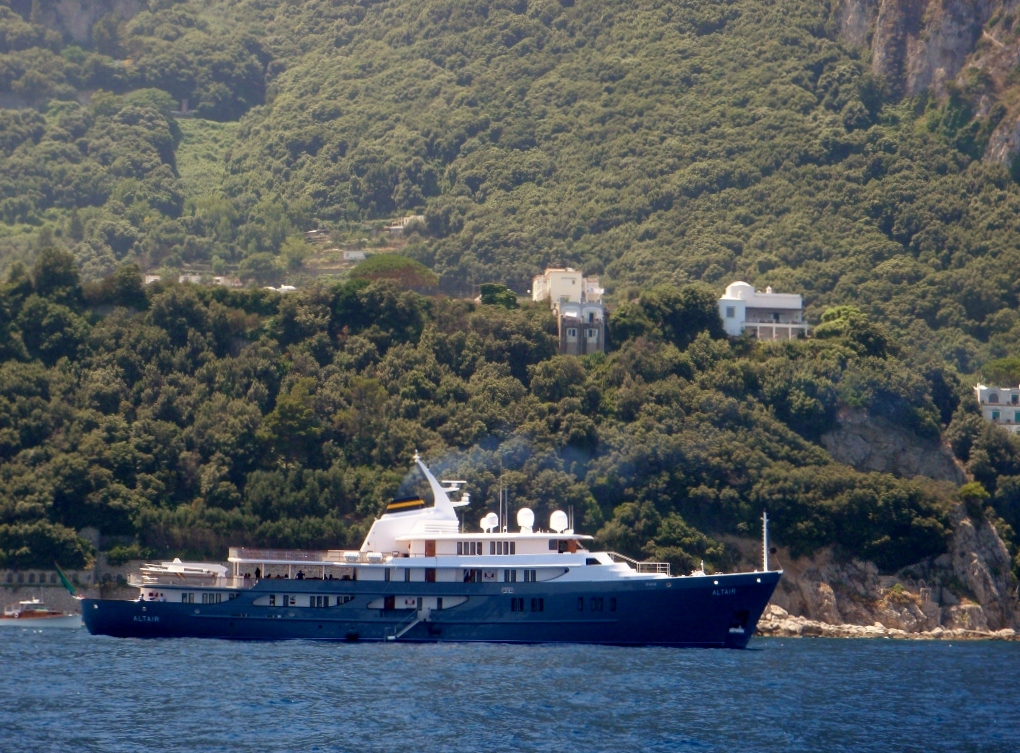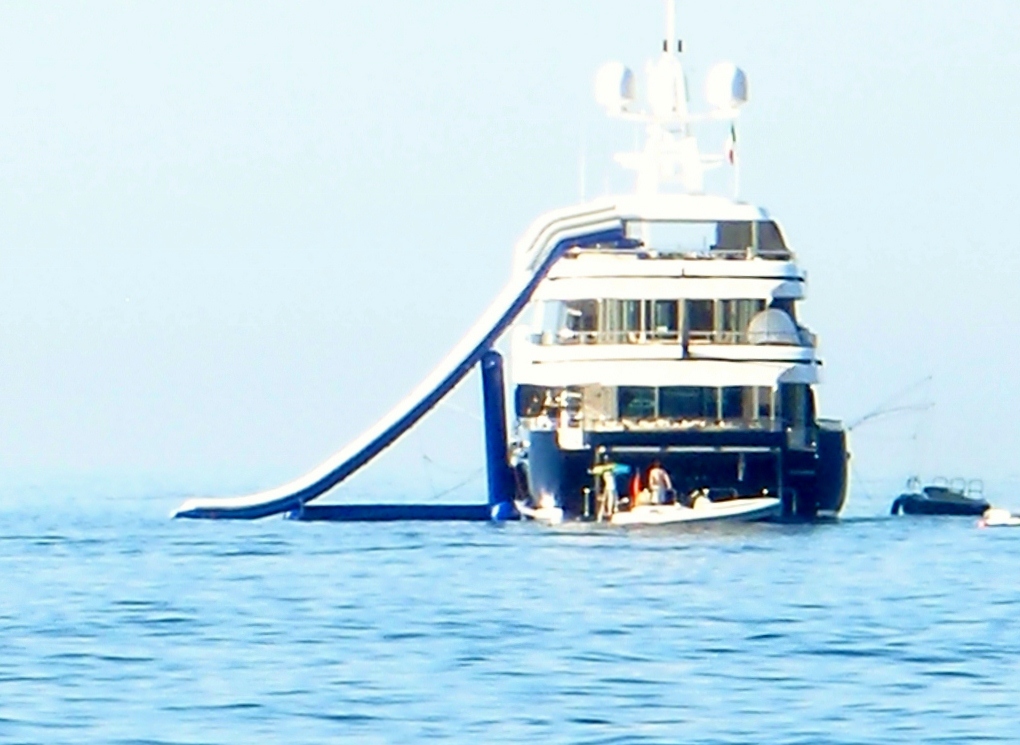 There was a lovely protected small bay to the South of the huge bay of Naples that looked like a nice spot for the night so we pulled in and dropped anchor. Thought it rather strange there were no other boats but ah well we had it to ourselves An hour or so later we had a visit from the coast guard, anchoring forbidden here, contory to our guide book which we showed to the coast guard. The book's wording was " anchoring permitted". The coast guard guys were of course Italian not speaking or understanding English too well ( even though English is the international language of the sea) and they promptly interpreted it as you need a permit to anchor, we were up for a fine of 300 Euros. No amount of explanation on English wording helped but they eventually let us go without a fine so we hot footed out and sailed a few miles over to nearby Capri island.
Capri, the famed playground of the rich and famous especially in the boating world. Lovely clear water, boats everywhere, any, all beaches (most of the shore line is rock) private, usually hotel owned. Try as we might we couldn't even tie the dingy up anywhere to go ashore of a walk or provisions without paying a fortune. Not quite for us so with an eye on the weather we sailed across the Bay of Naples to the island of Ischia. Nothing special here, picked up a few provisions, stayed the night and headed off for the 22 mile run to the island of Ponza en route to Sardinia. Ponza, what a lovely island although we only saw the Southern part. The village, much of it only walk-able due to elevation, certainly car limited and in some "streets" only steps so not even scooter (seems to be the transport of choice in much of Italy) access. While there was a smattering of trinket shops it seemed that large scale tourism had not destroyed the local village feel as was the case in many other places. In the dingy we cruised through several magnificent grottos (sea level caves) some that had been made into small harbours, chiselled out of the rock in Roman times, really incredible stuff. As a sort of stop over point Ponza offered much more than we expected. I hadn't caught a fish for a long while so we went to the local fish market and bought a couple of cutlets of eel, all I can say, judging from the cutlets, it must have been a bloody big eel. Sasha cooked them up, not too bad at all. From Ponza we had an over night (more than 24 hours) sail, due West, to Sardinia.