Crete, Peleponnisos, Ionian
Category: Mediterranean
Created: Tuesday, 17 May 2011 15:36
Written by Roger Boxall
Hits: 2093
Back To Med - Crete, Peleponisos, Ionian
Glad to be out of Suez Canal and under way, you bet, 14:00 Saturday 23 April under way for Crete and Sicily. But we may be too haste. Sasha had been monitoring the weather situation in the SE Med since we left Wadi Dome, some 4 days ago and, although still similar the opportunity afforded by the unseasonal East wind had diminished both in time duration, no longer 6 days but down to 2 or 3, and area, no more the whole SE Med but confined to due South of Crete. So, we figured we sail pretty much West with the forecast N to NW winds and then turn North to Crete with the Easterly, planning to land at the Western end of the 100nm long island. Good plan only very soon the North wind died out and we were motoring again. While motoring we headed for about the Eastern end of Crete hoping to pick up the Easterly in 2 days time, whenever we had enough wind we sailed close hauled, usually pretty much West.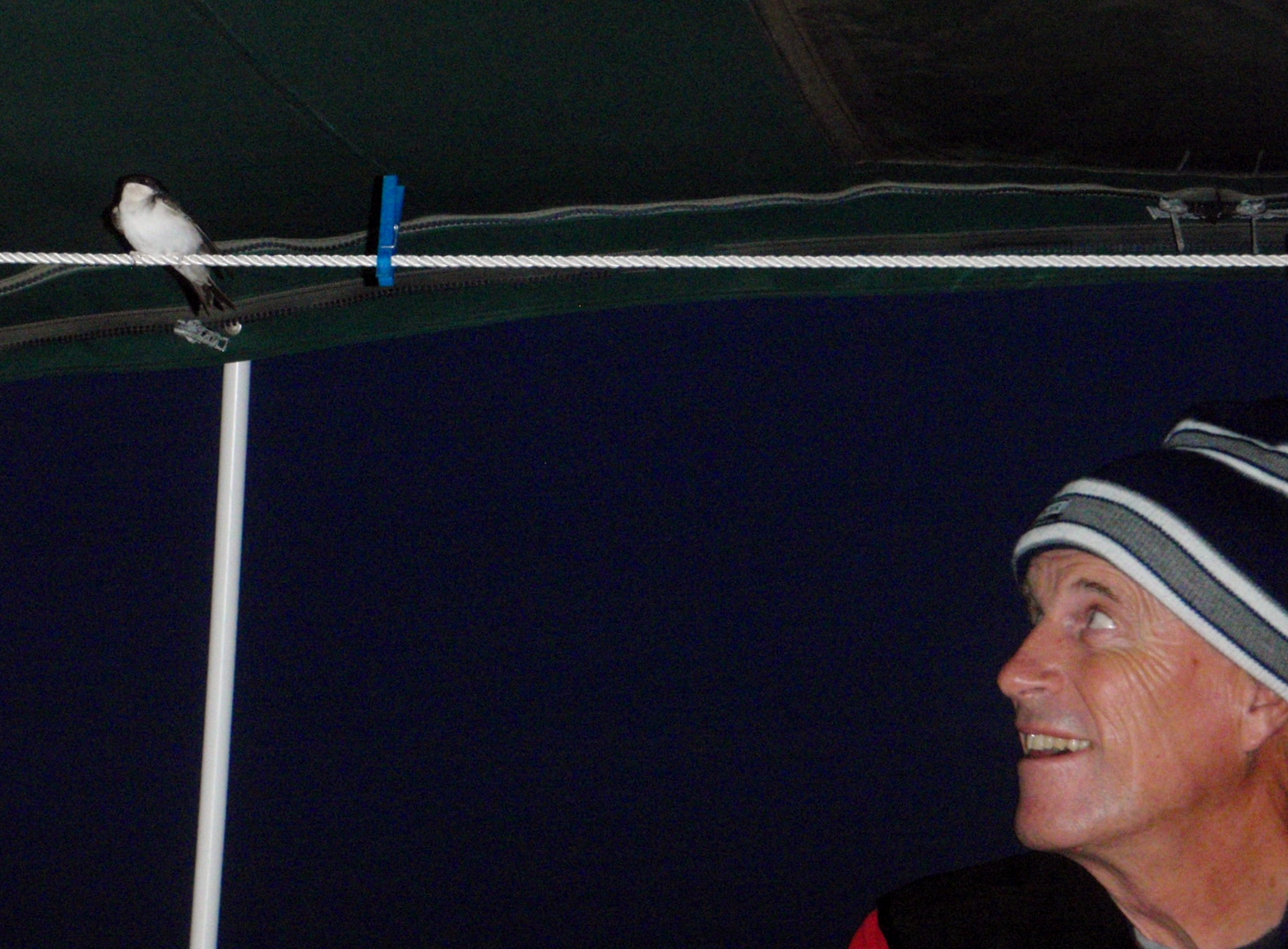 Unfortunately we really ended up too far North and to the East of Crete when the wind finally started to turn, but turn it did, first on Tuesday afternoon when we were about 70nm SE of the SE tip of Crete. The wind started to increase from the NE, off the aft quarter, forecast to 15 -20kts from our grib weather files downloaded via HF radio sailmail, the Greek VHF forecast (force 5) and even from a passing ship that I had called on VHF, no gail or storm warnings what so ever. Lovely sailing conditions. What we didn't factor in was the Mediterranean Sea inconsistency, we were completely unprepared. By 18:00 it was howling we had only a tiny bit of headsail up and doing 7kts trying to keep things under control by reducing sail to almost nothing. The seas built rapidly, I was watching the wind speed only occasionally, highest I saw was 45.6kts, no doubt gusts were higher. With the wind from the East and big, over 2kt current setting to the East against the wind, the seas mounted and steepened, had never seen anything like it. The zip of the connecting Sunbrella strip between our dodger and bimini let go on the windward side so we had to part cut and undo the rest. Unbelievably steep seas were now much higher than boom level, had to be over 4 metres, but only once did I fear we might broach, thankfully, Ric the autopilot looked after us and did the job once again. A bit over 2 hours later the wind was dropping then rapidly down to 12kts but the sea still so rough we couldn't keep the headsail full even from the aft quarter it was collapsing as Ednbal rolled in the big sea. Engine on again, we had already motored a third of the way from Port Said and had hoped to sail the rest of the 160nm to the Western end of Crete. An hour later the wind had backed to East of North, beam on 15kts and we were sailing 7tks. Didn't last long, about 20 minutes before dropping and veering East. For the rest of the night wind was up and down, engine on and off all the time in a very, very lumpy sea in rain with lightning too close for comfort. As we got closer to Crete the current dropped away so that our heading to course over ground angle reduced from, at one stage almost 40 degrees, to less than 10 as some sort of normality returned by morning, leaving two very tired and shaken crew on Ednbal. Later, on the VHF emergency channel 16 Olympia Radio, the Greek maritime agency, put out a Pan Pan call requesting all mariners keep a sharp lookout for an American registered capsized catamaran, no persons on board, not that far from us. For the rest of the day we had forecast 15 to 20kts off the aft quarter, lovely sailing albeit on very lumpy sea, as we debated which anchorage to land!
Our aim was to get to one of three well protected anchorages or town docks at the Western end of Crete but with breeze dropping we couldn't make it in daylight so we shortened sail to slow down to just a few knots. In the early hours the wind died completely so no problem! In early light we motored into the bay of the town of Loutro, but there wasn't enough room to anchor amongst the local moored caicqas and runabouts so backtrack a few miles to the town of Skafion. Here we tied up alongside the town dock amongst local fishing boats, no other yachts or foreign boats at all. I asked the guy at the dive shop at the end of pier´who to see about staying for a day or two "you are OK there, hook up to the power and water, its free unless the port police come along, then there may be a small charge". With that and a smile he welcomed us saying if we needed anything to just call out. This set the trend for our stay in Crete!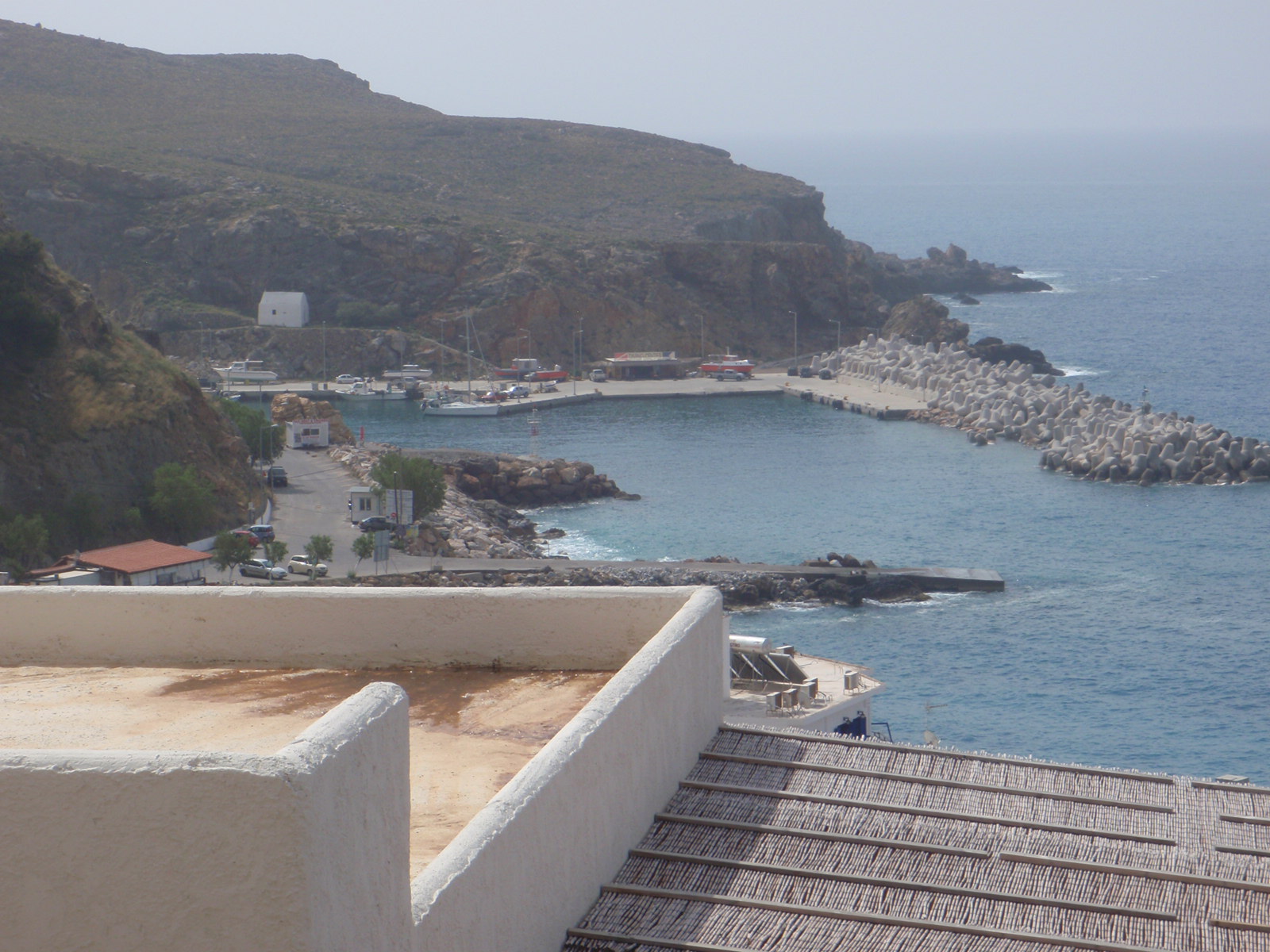 A walk around the town revealed a restaurant lined rocky foreshore, most with open air tables. Being early in the season there were few tourists. Most visitors come here for walking and hiking, arriving by bus or ferry to walk the gorges or mountain trails. Our old Greek courtesy flag had fallen apart so we checked the shops for a new one. One of the shops was a mini mart, restaurant and car, scooter hire. The owner said if we couldn't find a flag to come back and see him, which we did. He promptly go someone to get his car flag and gave it to us, refusing to take any money. A small Koala bear put a smile on his face. Sfakion has considerable significance for British, Australian and New Zealand. When the Germans invaded Crete during the second world war, it was here that the allied forces evacuated. A large war memorial, undergoing a refurbishment while we were there, attests to the fact. Next day we caught the ferry to Loutro to walk the part hill, part shoreline, trail back to Skafion.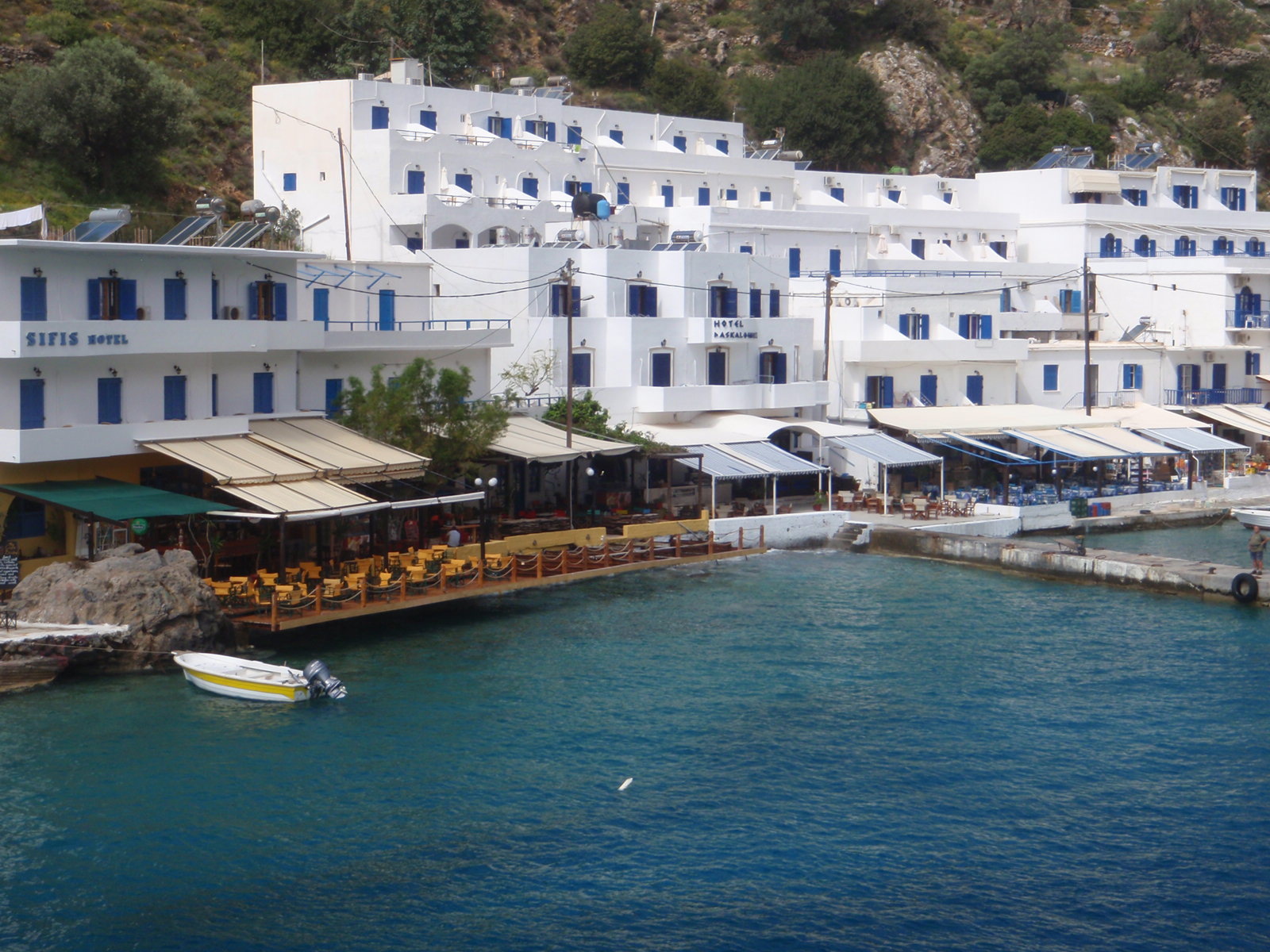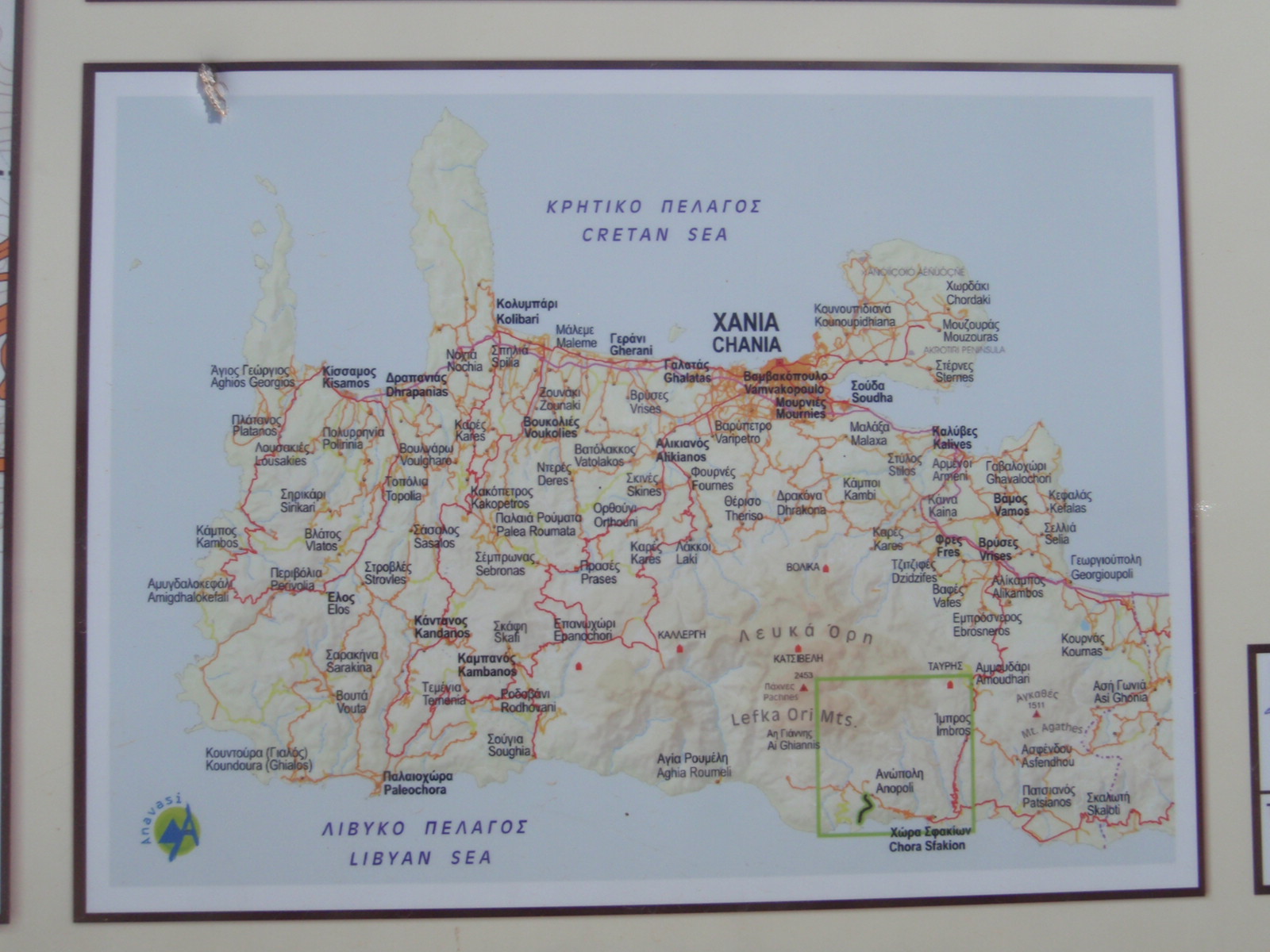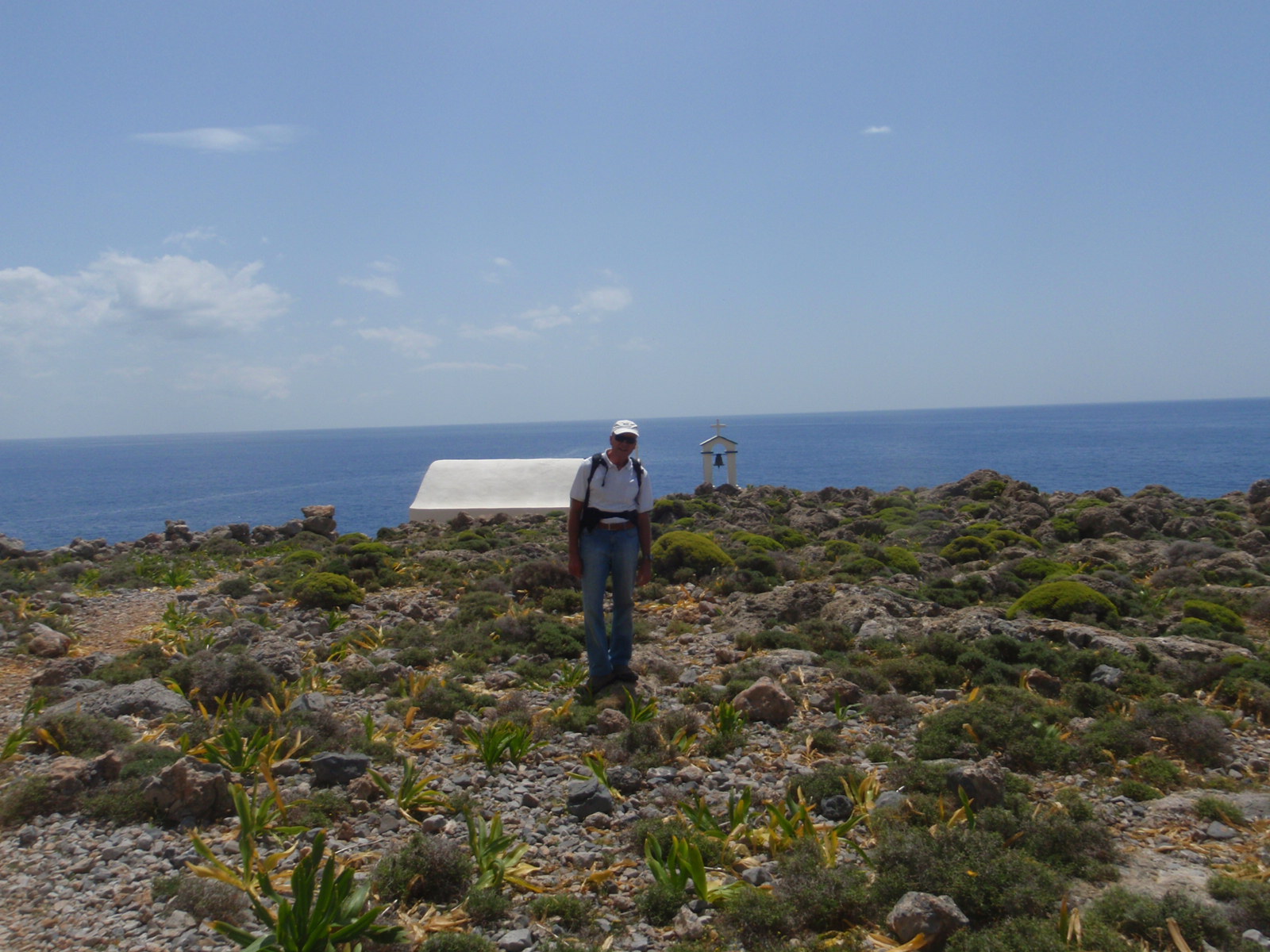 At Sweet Water beach (pebbles) we stopped for our picnic lunch under a tree and I even ventured into the cool, 15 degree water for a swim but could not entice Sasha in. Back in Sfakion we walked past the war memorial, as it was on the road from town to marina, to see a wreath laid at its base and a card saying it was laid by the Premier's ANZAC school tour group from Western Australia! Pity we missed them. Having had some hiking practise (yer says Roger) the tour director had us off on the 7am bus for Impros/Imbros Gorge, another 15km walk down through the gorge and back to Sfakion. What a beautiful spring morning it was, birds, wild flowers and dramatic shear rock faces. A bit fresh without the sun which we didn't see for several hours as we were in the bottom of the gorge.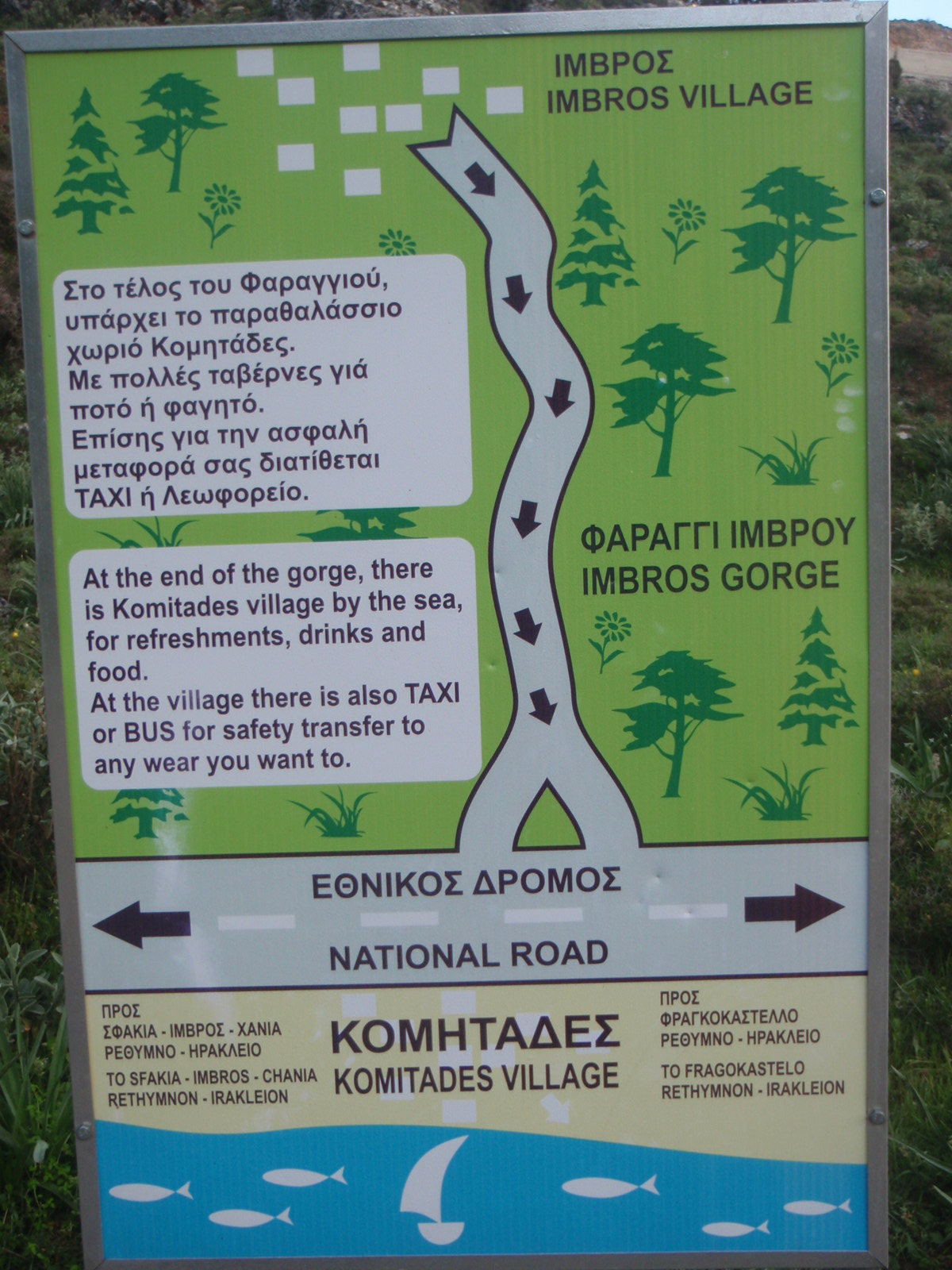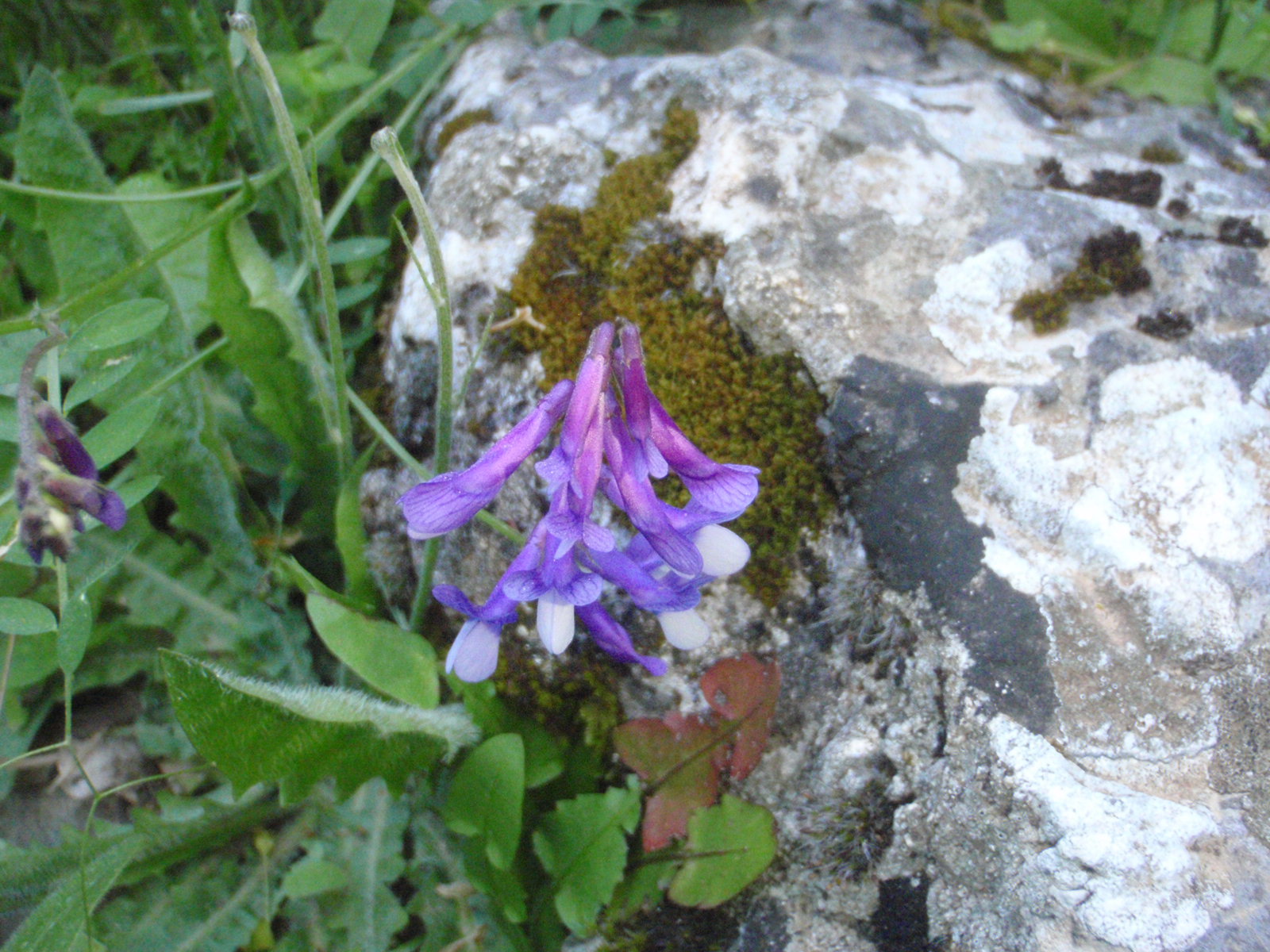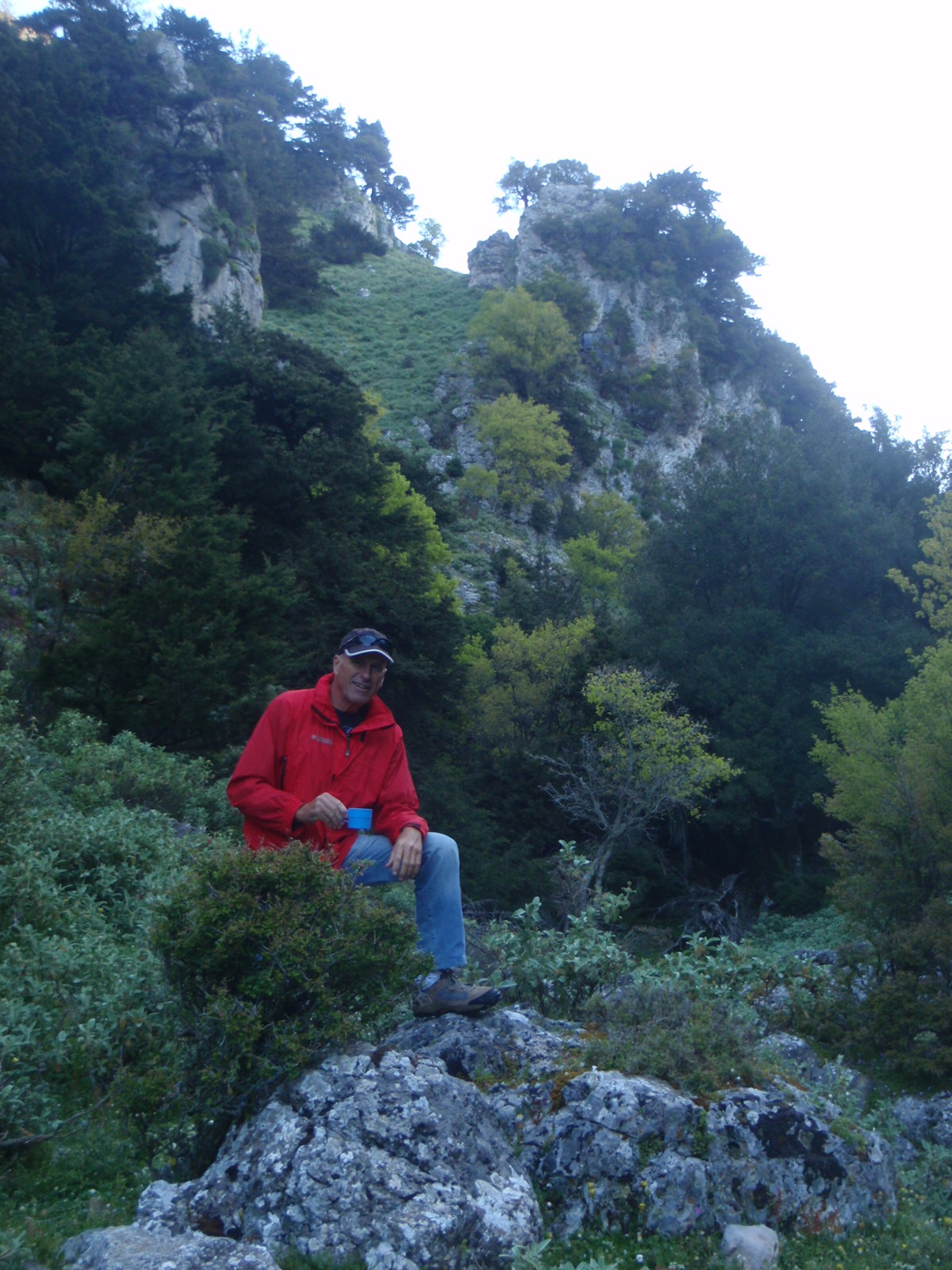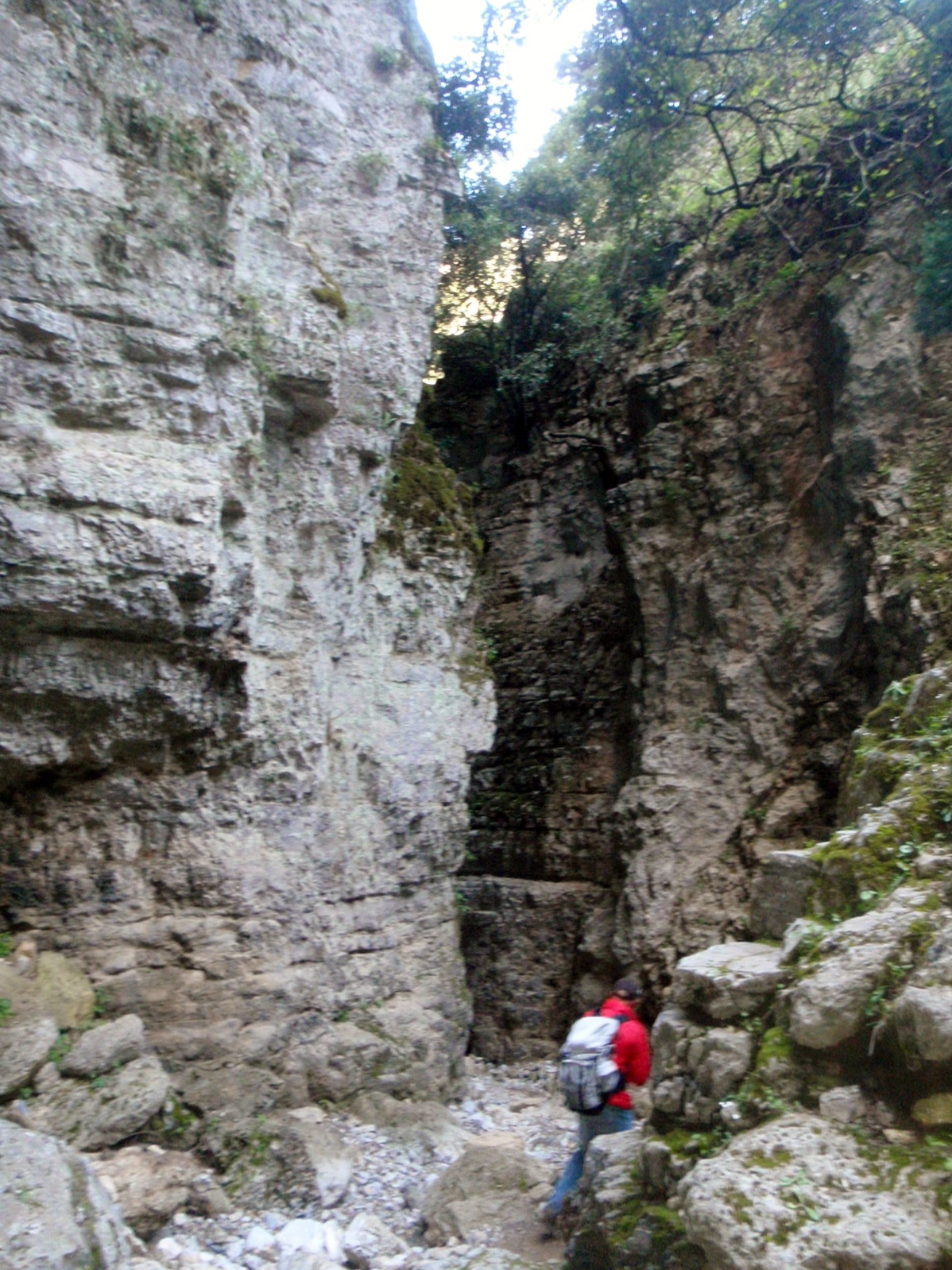 About half way there was a small rest stop shelter where people left their mementos We mounted a small Koala Bear with tiny Aussie flag.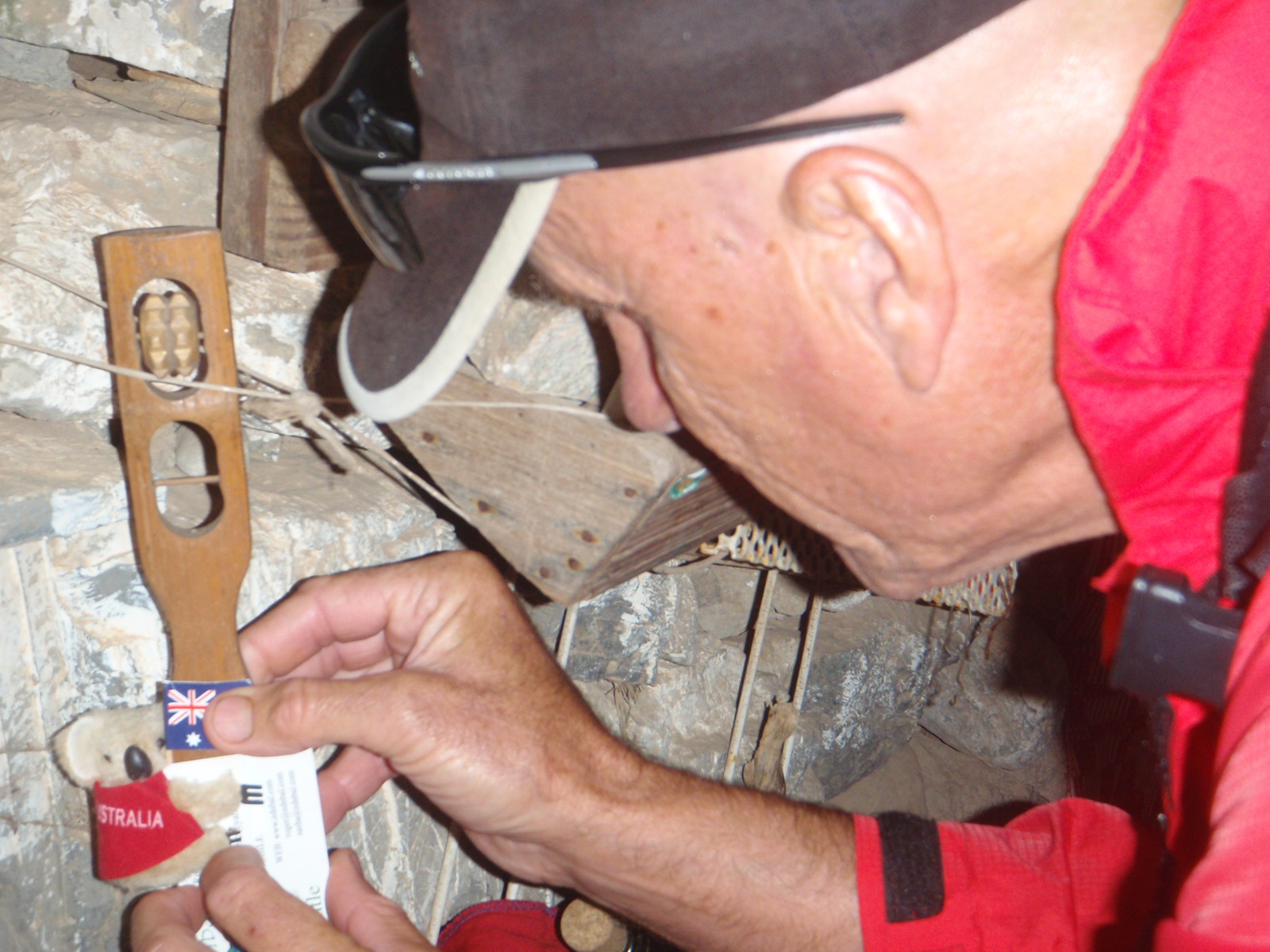 Again, back in Sfakion, Sasha organised our next excursion, about 120km by hire car, to the ancient Knossos, site of Minoan civilisation dating back some 5,000 years, flourished as first in Europe, almost as old as Egyptian, certainly developed and perhaps collapsed at the same time as ancient Atlantis, lost world island state mentioned by Plato. Here, Homer stories of King Minos emerged from myth and were proven to be fact. Apart from age, it has some notoriety as the archaeologist, primarily responsible for its discovery, Sir Arthur Evans spent 35 years also doing some restoration, so that instead of just a pile of rocks you get some perspective on what it may have been like in its splendour times.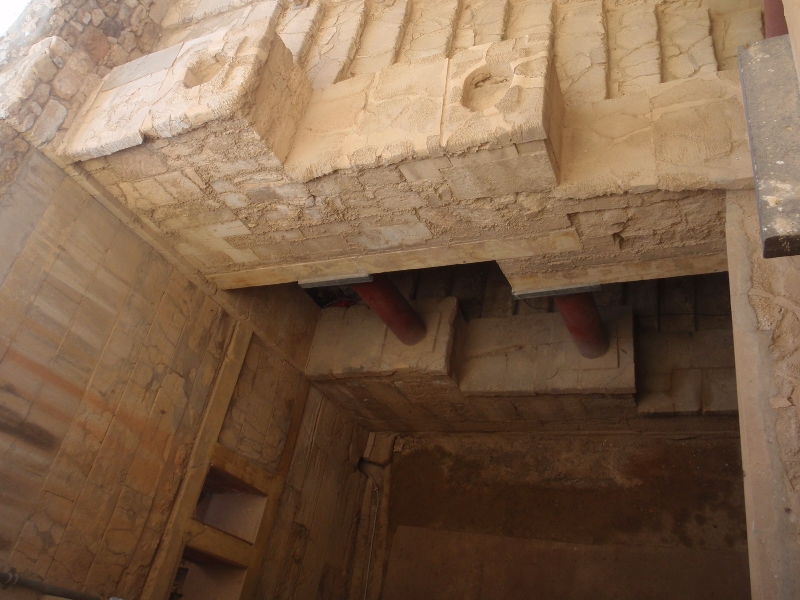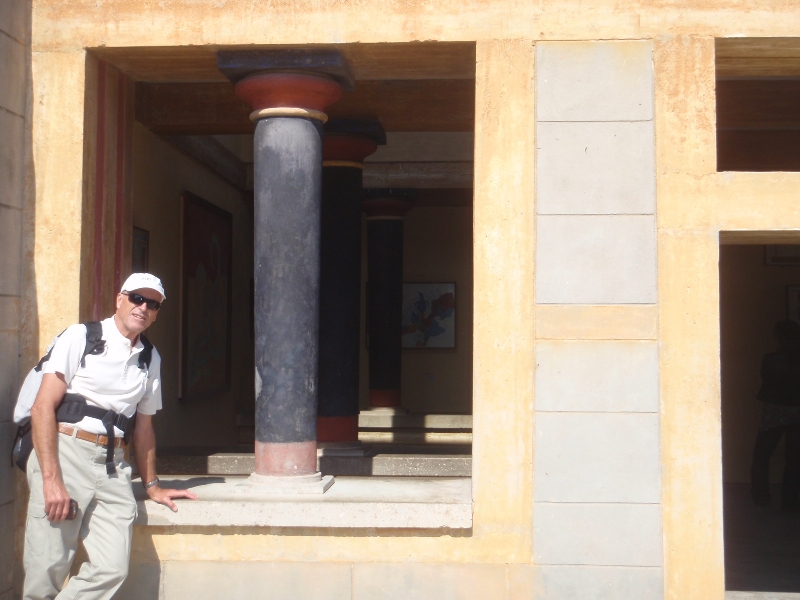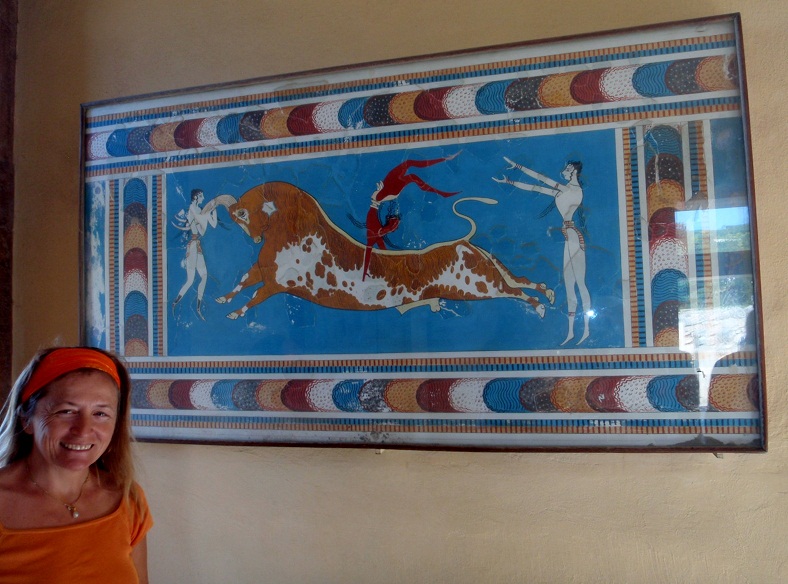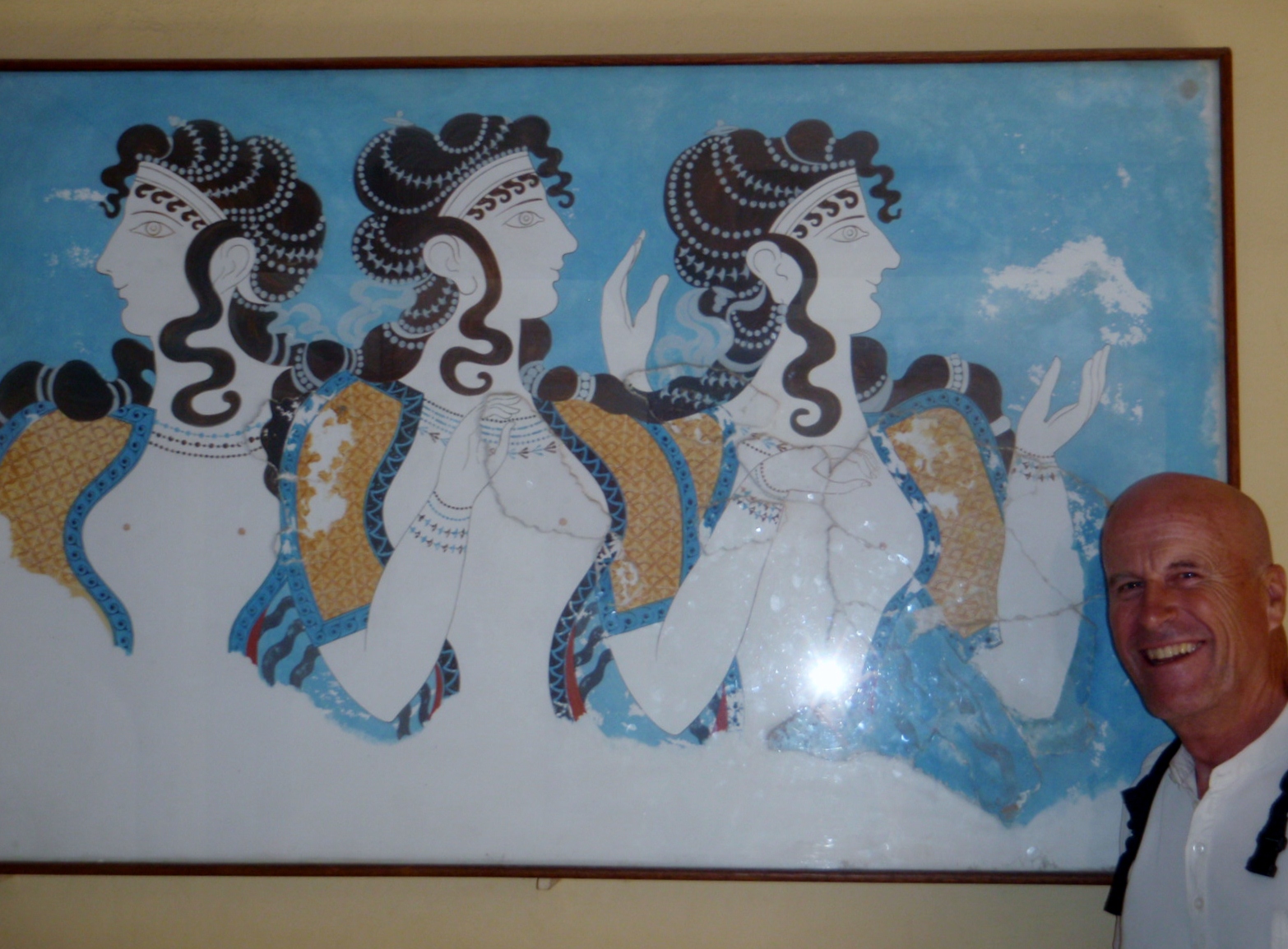 The drive to and from through tiny mountain villages was, for me, equally as interesting. We stopped at one such mountain top village of Lakki (about 1,500m) to buy some of the local fire water, Raki, poured from a jug into a used plastic water, very suave. Later Sasha flavoured it with some herbs and sultanas for future consumption
On Ednbal again we just couldn't get over the kindness of the people. Fishermen gave us fish and squid, fuel was delivered by small tanker at bozer price and the Port Police caught up with us asking that we take our papers to their office. Now, keep in mind that we had not checked into Greece as Sfakion was not a port of entry. We went up to the cop shop and the officer explained carefully that in Greece you must check in and to pay for a "cruising log" to be handed in again at your port of exit. Here in Sfakion there was a charge for staying on the town dock but problem was we were not officially checked into Greece. His solution, officially he doesn't know we are there, so no charge. Should anyone ask, say nothing other than to go see the Port Police! My kinda guy. After 4 days of wonderful hospitable free board and lodging we decided to move to the very Western tip, the small harbour of Paleahora.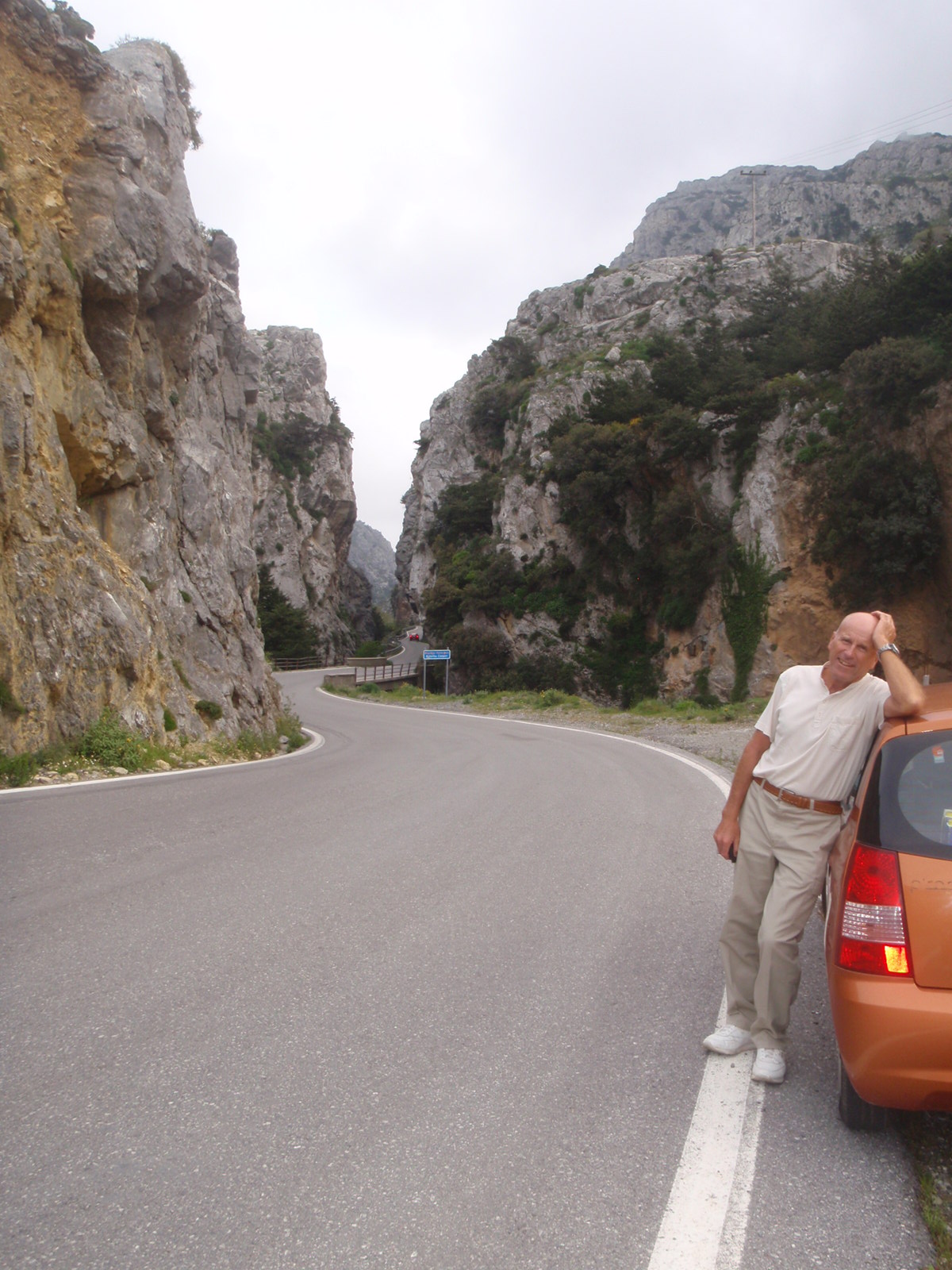 Again the only foreign vessel in a somewhat larger harbour we tied alongside in 30 plus knots of wind pinning us to the dock. I ended up with 7 lines holding Ednbal in position just off the concrete dock. Here we were not quite so lucky with the Port Police, the lady officer came within a couple of hours. She took copies of our passports (still unstamped unto Greece) and held our ships papers to be returned when we left. Still not a port of entry. Our Aussie friends Jim and Carola off Koza, has arrived in North Eastern Crete, from Turkey, so we arranged to meet at Chania on the other side of the island North of us. This time, on a lovely clear morning, we hired a motor scooter, 150cc of absolute brute force, for the 70km run over mountains. Soon found it gets cold up there!
I had been having trouble with my left eye, Iritis, which I sometimes get and usually self medicate to get over. This time however my eye was not settling as usual so we decided to call into the hospital at Chania to see an ophthalmologist After finding our way through emergency we were directed to Dr Frangos to wait outside his office with about 15 other people. After a couple of hours I was seen and examined, he couldn't see anything but insisted I go onto a different medication (type of steroidal eye drops) and if it got any worse come back. No charge, little Koala for his young lady intern bought great delight . We caught up with Jim and Carola for a late lunch down on the harbour waterfront amid the tourists, snails, lamb, beer, wine and a lot of catching up. The 70km ride back to Ednbal was a little late and even colder, not helped by light drizzle.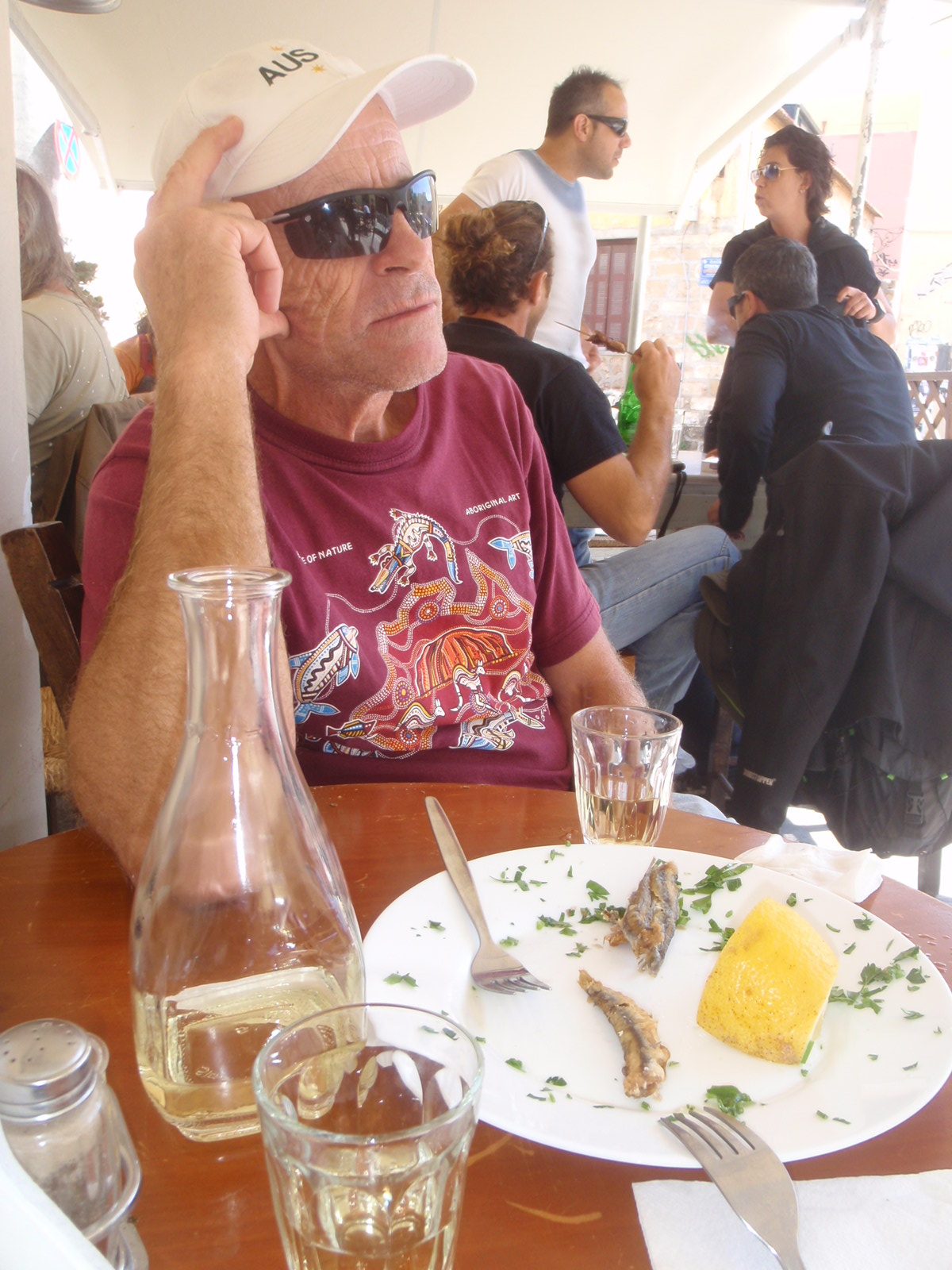 Two days later we were back to see Dr Frangos, this time by car, my eye a lot worse. I was treated for some time to stabilise things and instructed to return next day, Saturday 11:00. Treated again, to come back next day 11:00. By now my eye was getting back to normal, no more pain but still blurry. Come back Wednesday. We needed to get going so I explained that we were heading next to Peloponnese, could to check with someone there. Yes, go to the hospital at Kalamata. A visit to the Port Police to retrieve our ships papers and pay port tax and we were ready to go Monday morning for 140nm to Kalamata, forecast, little wind to start, then beam on from NE before fading out as we approached. We sailed about half of it. On the way I started the generator to charge batteries but it died under the 2kw load. Much distress. We would have to go into Kalamata yacht marina to connect to power and find out what was going on.
First up of to the hospital, a few kms from the marina. Found the ophthalmologist office but today, Tuesday he is not in, only Mondays, Wednesdays and Fridays. Ah well back tomorrow, there is a generator to sort out anyway. Back on board we figure that, with no smoke from the exhaust the problem is likely fuel. I had noted some loss of power when we were in the Red Sea and had changed fuel filters then with no improvement. So, we decided to bypass the fuel tanks and hoses to feed fuel directly into the engine, secondary, fuel filter. No change. Checked the air inlet path, air cleaner etc, all OK. The books suggested check valve clearances, did that, OK. Spoke to my diesel engine expert in Australia, Terry Harwood who listed the other possibilities, lift pump, exhaust blockage, shut off solenoid sticking, injectors, injector pump. We had a spare lift pump so changed that first and bingo was able to load to 3.5kw. Not a full test, certainly much improved but still didn't seem quite right, maybe I'm paranoid I thought. Back with the doctor next day I got the all clear to start reducing the medication gradually over the next two weeks. On the way back we checked a couple of computer shops and found a replacement HDD for one of the sick PCs. Sasha found that the town free Wi-Fi, available from Ednbal, was fast and reliable so she soon had Windows 7, with several other programs downloaded from the net, all up and running. Soon we were clear to go so checked out of the marina in the morning to head for the most Western Peloponnese cape and the anchorage at Methoni. It was a squally 30nm trip with wind ranging from complete calm to 35kts. Typical Med sailing!
In Methoni we did some more walking, Sasha's view of getting in training to climb the volcanoes Mt Etna when we get to Sicily. Back on board I started the generator to charge batteries only to find it struggled with 2kw load, belching out black smoke. Now what? We pondered, went out to dinner for a local speciality, char grilled octopus and drank local wine, great solution! In trying to get to Sicily we had been waiting for a forecast that would predict either North or South winds. It just wasn't happening so we decided, with West wind forecast, to head further North to Katakolon and try sailing a shorter distance across to the Italian mainland then down to Sicily. Although we had to motor the first part we had a lovely sail most of the 50nm up to Katakolon and dropped anchor in a big bay outside the harbour. Next morning wet went into the harbour and for the first time used our "new" stainless steel anchor as a stern anchor as we went stern on to the dock.
Quite a tourist spot, cruise ship port, with all the standard touristy stuff. More important for us, free stay with power and water. The major attraction, ancient Olympia, 38 km away. On a beautiful spring day we hired a scooter, packed lunch and refreshments and headed off early in the morning. Turned out to be one of the best archaeological (short for ancient rocks) sites we have been to. Maybe because of our association, given that my son Grant is an Olympic silver medallist. The ride on the scooter necessitated only a couple of u turns as we were travelling without the aid of a map and called in at a small village bakery on the way to supplement the already packed picnic lunch. Ancient Olympia was by no means crowded, another plus, so we able to wonder and read at the information stops quite comfortably. The highlight was running the sprint track. 120m, still marked by stone, the start and finish lines along with the stone stands where the judges persisted.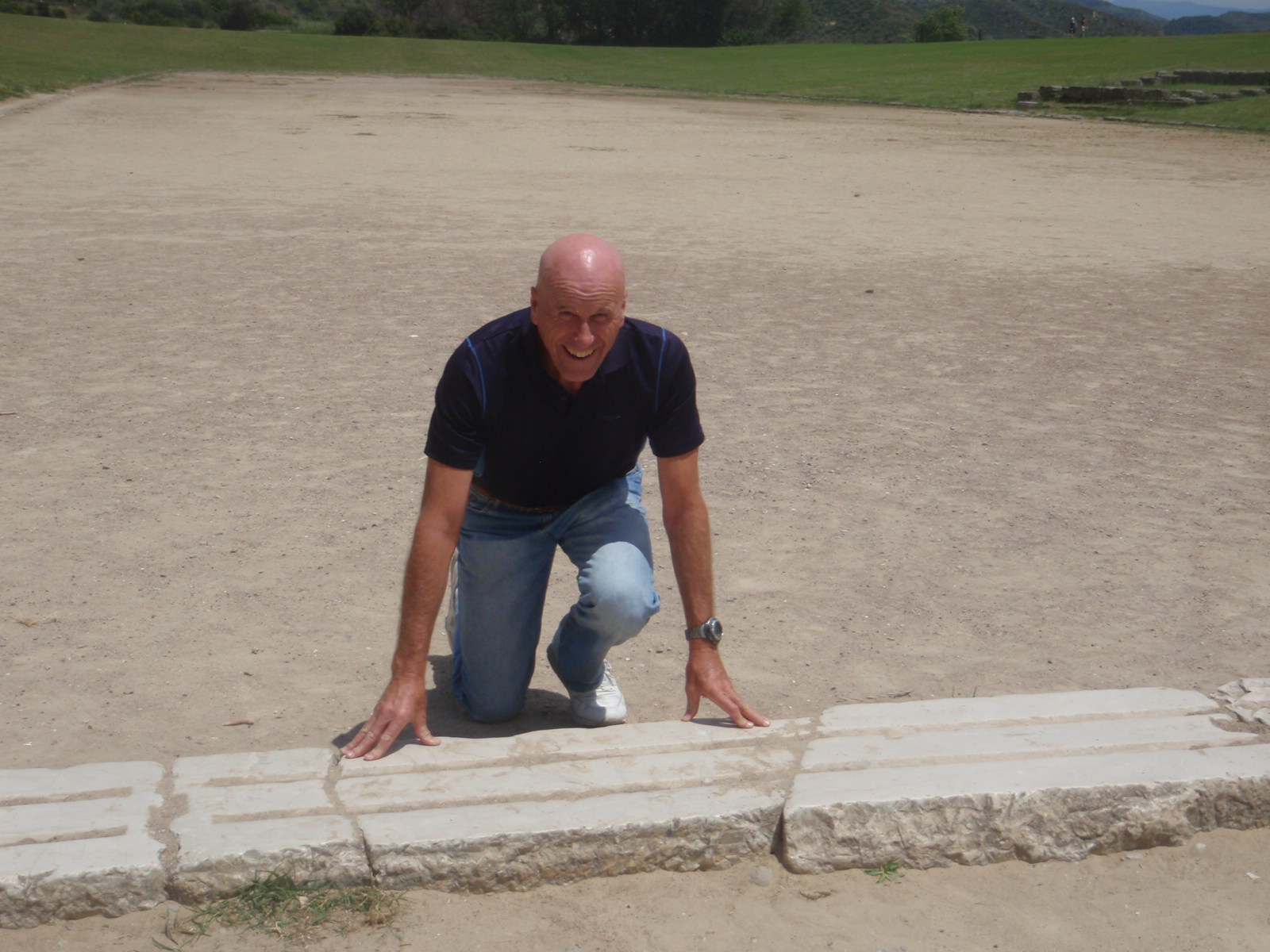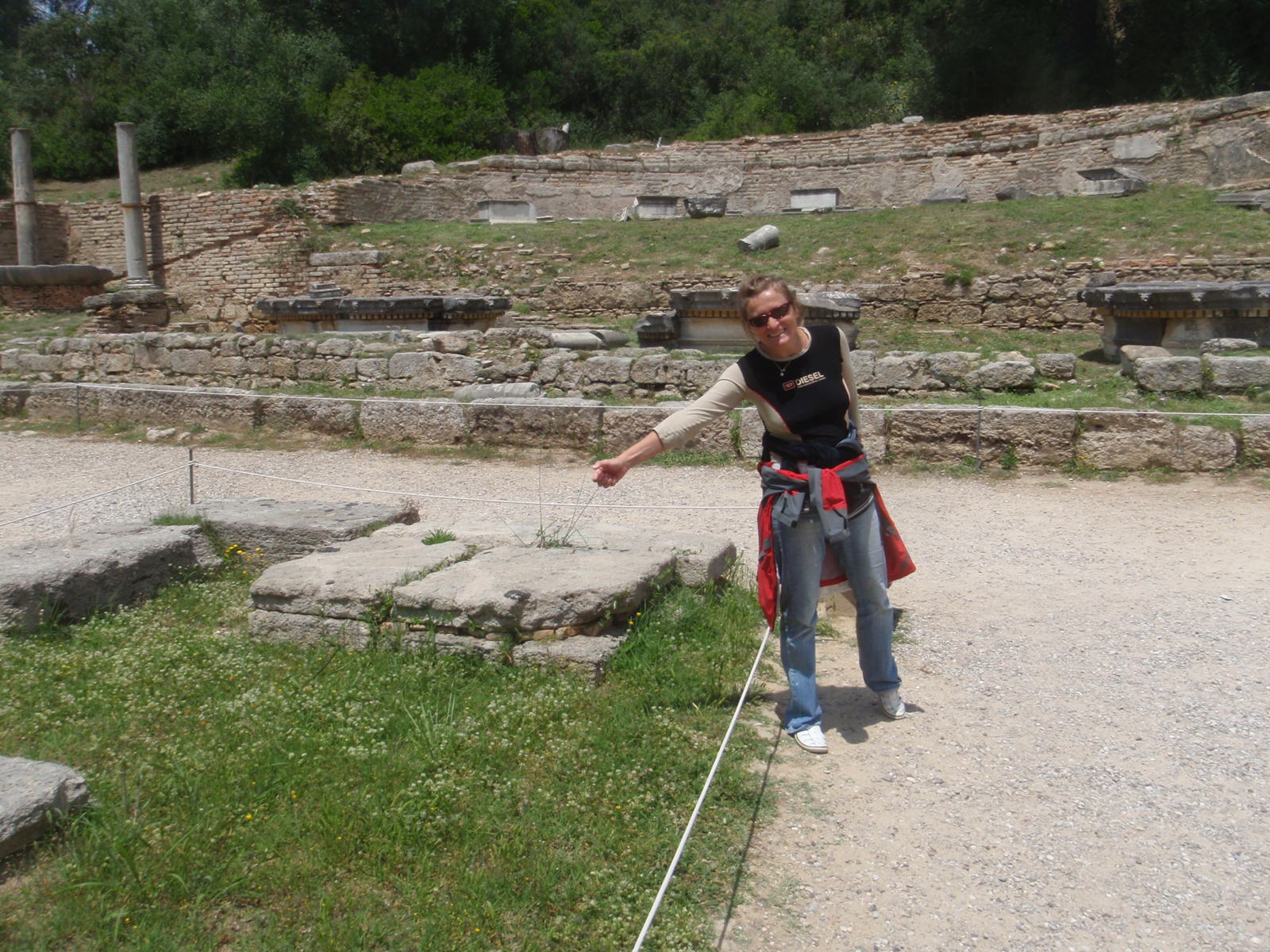 On the lovely grassed banks of the track we sat for refreshments and lunch. On the return journey we took a different through the rural wine, olive and fruit growing areas. Just wonderful.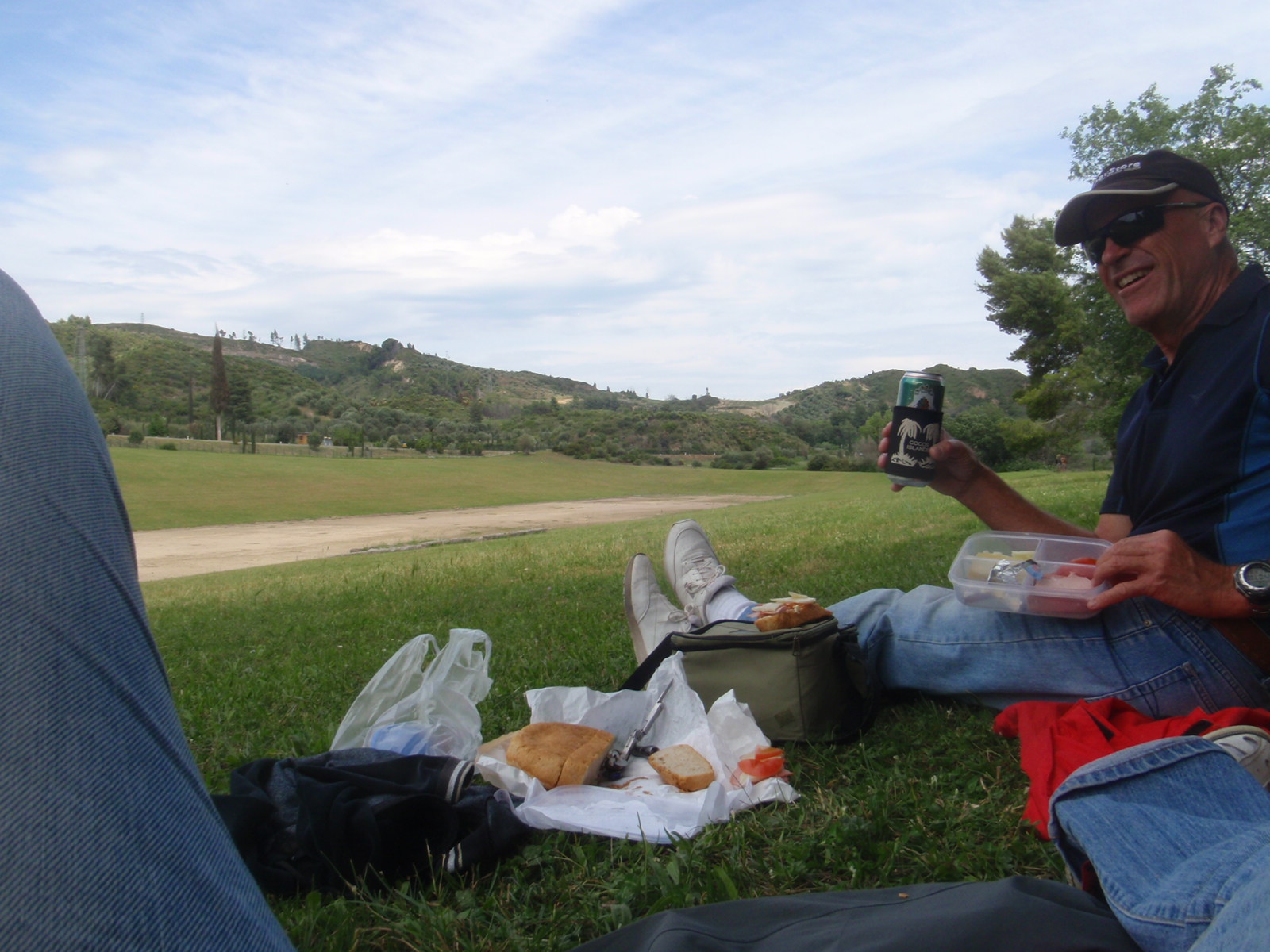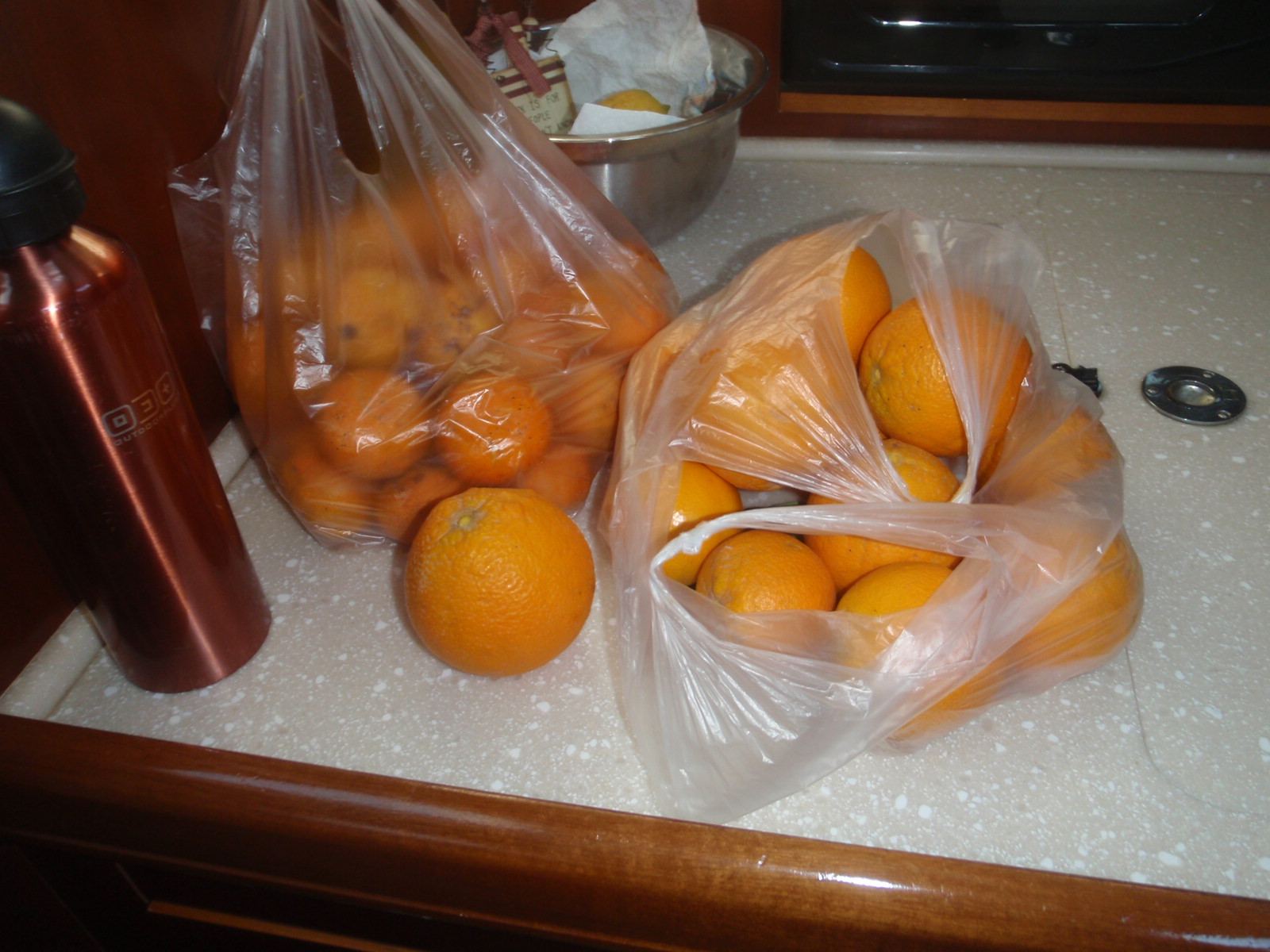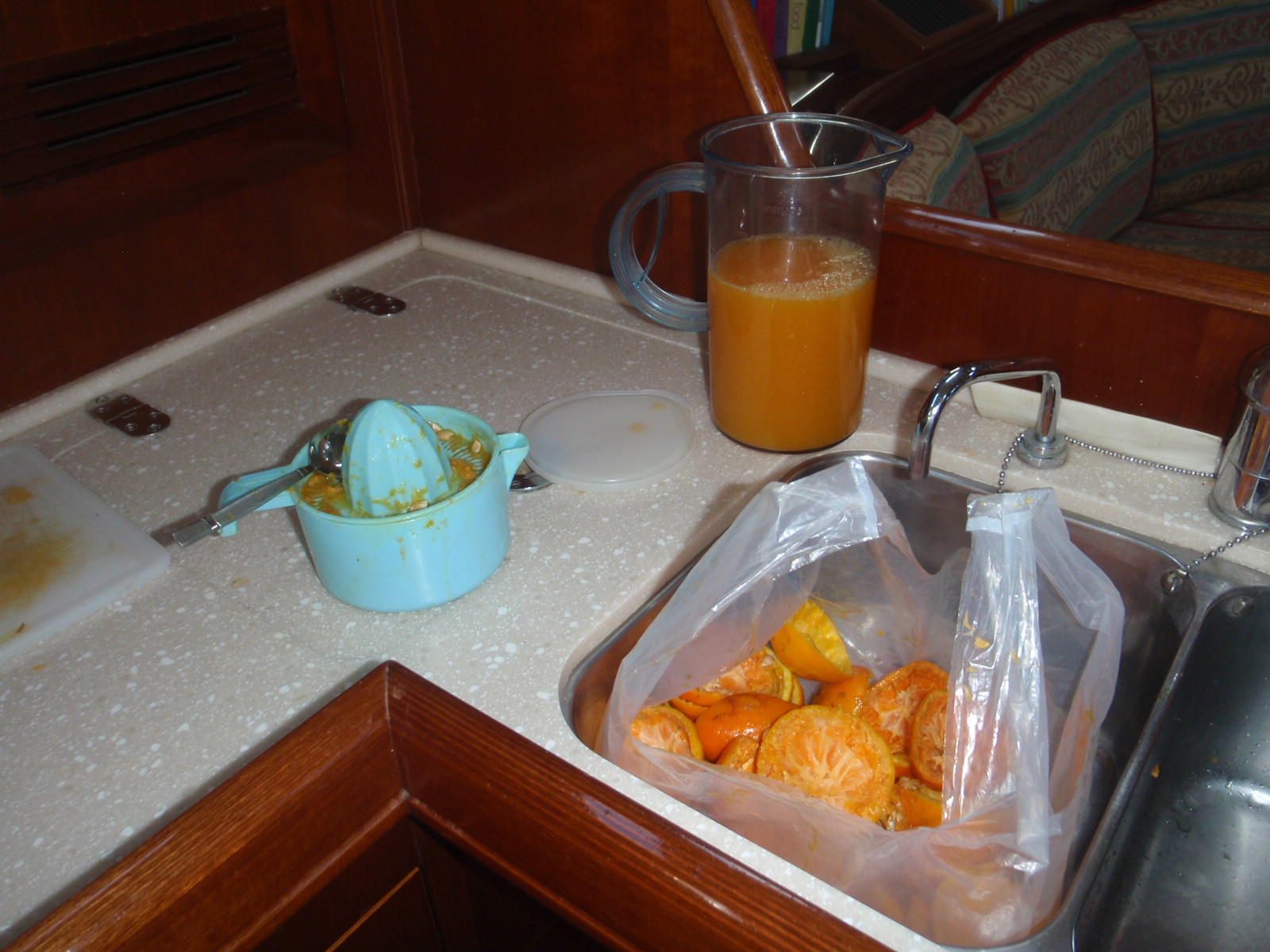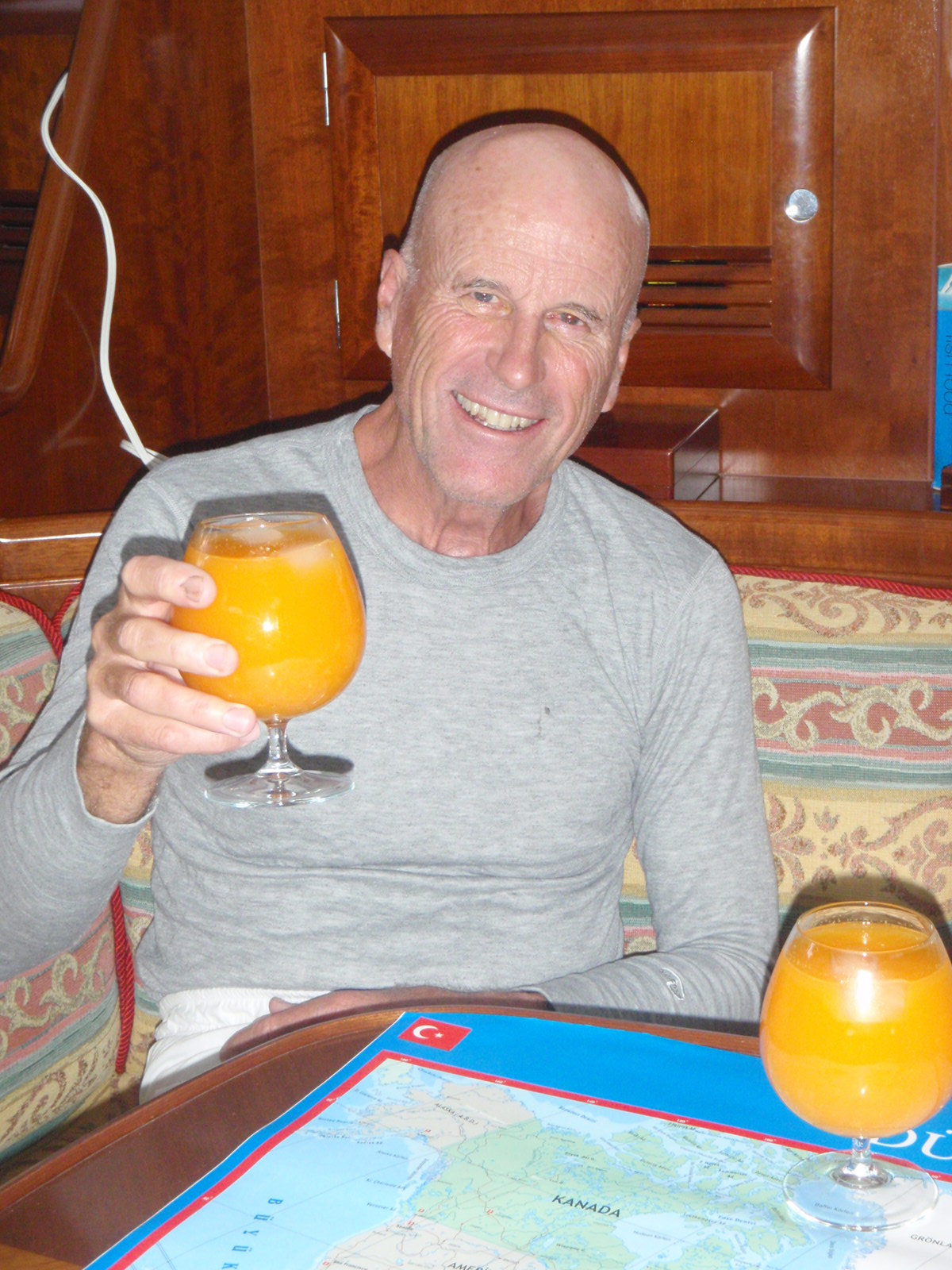 For our trip to Sicily we decided to take a small island hop to Zakinthos from where it was about 180nm to the nearest point on the Italian mainland and a further 100nm or so to Catania, Sicily. After a comfortable day sail we entered the little tourist village harbour of Nikolaos on the NE corner of the island. A guy came to the harbour dock and bekconed us to come alongside. Now experience has taught us that when someone wants you to come to where they ask it is suspect, usually financially so. As it turned out in this case it couldn't have been further from the truth. The guy introduced himself as Dimitri, whose family operated the petrol station opposite and the restaurant next door. He helped us tie up said, in very god English, if we needed anything just call. There was no power or water on the dock, so without us even asking Dimitri ran an extension cable from his petrol station so we had power. He also had a very long hose to supply us water from a nearby mountain spring. Incredible! Nest day we walked up the mountain road, 400m elevation, for a wonderful view of island and sea amongst an abundance of spring flowers. Early on the morning of 18 May we set sail for Italy or Sicily, weather dependent. Following the weather predictions we ended up sailing in a big arc, initially sailing NW, then West and finally SW to South as we came down the East coast of the Italian boot and across the Messina straight to Sicily, arriving in Riposto, North of Catania, in the morning of the 20th.