Turkey Marmaris to Kas
Category: Mediterranean
Created: Monday, 01 November 2010 17:12
Written by Roger Boxall
Hits: 1969
Turkey-Marmaris to Kas
Turkey, second time around, last time we
were here, we stayed in a marina for 4 months so we know where things are,
generally what is available and what can be done or made. Our "Marmaris
list" seemed a mile long (see Note at the bottom), but it would be the
last good opportunity to buy and get things made for Ednbal. We also had catch
ups, a number of people we had met in the Med and here in Marmaris last year
were either in one of the marinas or anchored. So, after "getting things
done" during the day we had a very busy social time in the evenings. For
the first several days the weather was very kind to us, warm, still, clear,
sunny days and still warm enough to sit outside at night. When the forecast was
for worse weather it barely blew more than 15kts and rained so little that it
did not effect our activities. Eventually, in less
than 2 weeks all jobs were done and all items required had been acquired,
Ednbal was reprovisioned, so we left for the more enjoyable side of cruising,
away from built up hustle and bustle. First stop Içmeler,
a bay virtually at the entrance to the greater Marmaris bay, with water  clear enough to
swim in, a beautiful long esplanade to walk and no other boats, we sat back and
went Aaaahhhhh!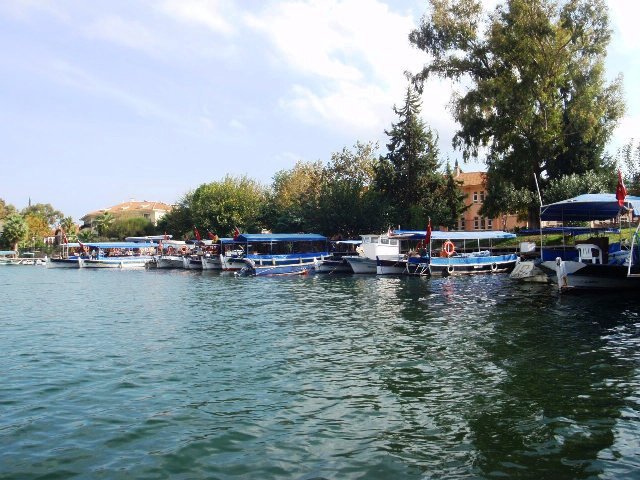 Our plan was to cruise the coast of Turkey,
generally heading South to "the corner" around Kas, where the coast
line turns Eastwards. From Kas we would sail about 320nm direct to Port Said
for winter in the Red Sea. From Içmeler, a 10 mile sail to the very open bay of Ekinçik
Iskelesi. Just out of Icmeler, while still motoring,
the engine revs suddenly dropped, I quickly put her out of gear and did some
quick checks but nothing obvious so, back in gear started off again. I thought
there was more than usual vibration and we were not going as fast as normal for
the same engine revs. Time to stop and jump over the side to investigate. It
was all too obvious, a plastic woven bag caught around the prop, on all 3
blades, accounting for only marginal increase in vibration. At least no damage
and problem easily solved. We anchored in the middle of Ekinçik,
with just one other yacht, it was a bit rollie, so we
went for a lovely walk along the almost mountainous shoreline. The beach was
fine pebbles, apparently packed in the season but now, only a month or so
later, first week of November, virtually deserted save for a couple of
fishermen. Back on Ednbal we relocated as far into the Western corner as we
could and were quite comfortable.
Another 10 miles down the track saw us
anchored in behind Delikada Island close to the mouth
of the Koyecegiz River that runs through the
marshlands to Dalyan and the famous Lycian tombs. The
tombs and the ancient city ruins of Caunos draw
tourists by their thousands with hundreds of local, almost identically
designed, wooden cacique style boats carrying 20 plus passengers at a time carrying
them from Dalyan hotels to the sights and beach at the river mouth.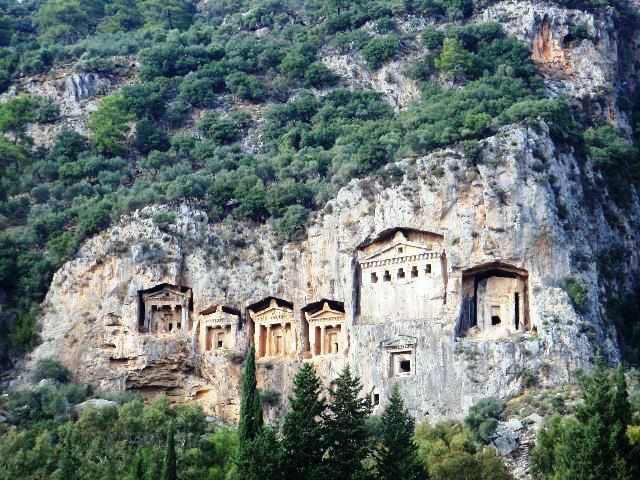 A sand bar
at the river mouth has less than a metre of water over it so we decided to go
exploring in our dingy, Tadpole. A huge sign at the entry proclaims that
"speedboats" are forbidden; surely our 10 foot dingy with 8
horsepower outboard could not be classed as a speedboat! We followed one of the
locals over sandbar and up the river, being careful to go no faster than they.
The marsh consists of thick reeds about 2m high so trying to find your way the
few miles up river, with many paths to choose, without following one of the
locals would be very challenging. At this stage it occurred to us that we had
left the GPS behind so what would happen if there was no-one to follow back.
Worry about that later! Part way to Dalyan there is a long fish trap (Dalyan in
Turkish, hence the name of the village) fence running through the marsh with a
drawbridge style gate, manually lowered by two operators, to let boats through
but keep fish in. Sasha handed the closest operator a little Koala bear memento
as we went through, his face lit up with delight. We had been along this same
path as part of a tour while on the EMYR but it was a whole new experience
doing it in Tadpole and at our own pace. After taking a look at the tombs, 20
plus metres high, carved out of the rock a couple of thousand years ago, we
stopped at a jetty in the village.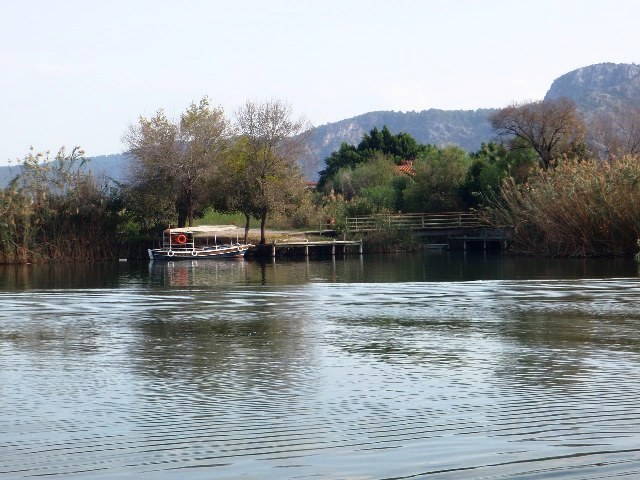 Actually one of the locals waved us in and
invited us to tie up and go for a walk. This was a Turkish, Muslim, holiday
week for Byram, so there were quite a lot of Turks mixed in with international
tourists. After a walk, look around and a beer were went back to the dingy.
Things had changed, the guy that invited us in was not there, another promptly
told us were would be fined 100 Lira for having a speedboat on the river. In
the ensuing discussion we pointed to several other small fibreglass boats with
outboards bigger than ours, including one that was speeding past at the time.
Eventually we moved off with the threat of a fine still hanging over us, ah
well, see what happens. A little further up river, in a small offshoot, we
pulled in to a small jetty and sat in the sun to enjoy our GnTs with picnic lunch.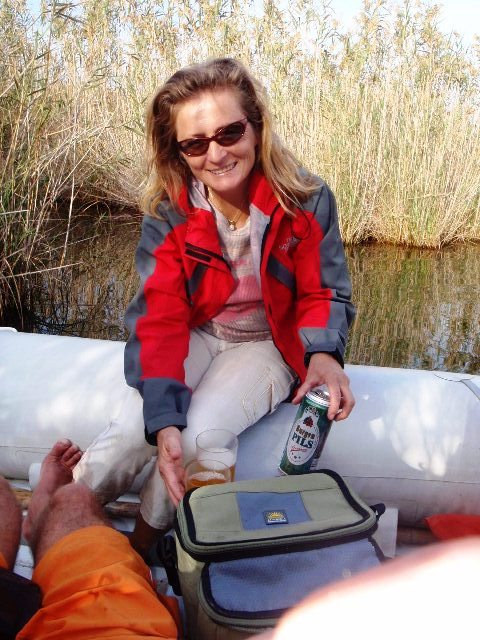 The return trip was reasonably uneventful, although there weren't boats going
our way there were so many coming the other way, back from the beach
(accessible only by boat) that we couldn't get lost. Sasha became a little more
adventurous and sat up on the bow of Tadpole, legs dangling over, while I
became a little more adventurous and roared along at full tilt, only when
nobody else could see!
Another short 10 mile sail, part motoring
with very light wind on another lovely sunny day bought us to an anchorage in
behind an island, Baba Adasi. On shore we walked along the beach a mile or,
again virtually deserted except those fishing. We wondered through the grounds
of a huge, several hundred rooms, hotel complex, all shut down for the off
season, not a sole around! Later we were joined by Aussie mates, Jim and Carola
on Koza who left Marmaris almost a week after us. They arrived later in the day
and joined us for dinner and a beverage or two, outside in the cockpit, on a
lovely calm evening. Fifteen miles further on, South East we were in the impressive
islands and huge bay of Gocek to look around for a week or so.
Our first stop was Kucuk Kuyruk, a very
deep, narrow bay, in common with most anchorages in the area, steep mountainous
shore line and equally steep drop off to try and anchor. We took Ednbal almost
to the shore, marked the position on the GPS, backed out 50 metres and dropped
the anchor in 10m of water and backed out another 50m, now in 20m of water.
Fortunately the forecast was for weather to continue for the next week as it
had been in the last few, warm sunny days, almost no wind. That evening, with
no other boats in the bay that was at most 200m wide, the water was mirror
calm. We swam, as we had been most days since leaving Marmaris, showered at the
transom, enjoyed sundowners and had another wonderful Sasha dinner while
listening to the quiet. Funny, seems to have been similar most nights! In the
morning we went past Koza, anchored in the next bay, to go around the headland
and narrow channel separating Domuz Adasi to the Wall Bay anchorage. Here the
slope of bottom was so steep that we could not free anchor, instead, dropping
the anchor in 16m of water, backing 30m to the shore and tying a line from the
stern to one of the bollards mounted in the rocks of the shore. We had heard of
interesting walk trails on shore and were keen to experience. Again we were the
only boat there so no-one else to ask. Carola and Jim had given us some
indication, go to the old ruins wall and walk up from there. Up being the
operative word, it was all steep, mostly conifer trees but a few eucalypts here
and the in amongst a largely rocky terrain. Did I say walk trails, well not
really, more like goat tracks. We climbed up and across the narrow isthmus to
have a beer overlooking the Mediterranean to the West, mainly because there was
a sheer drop to the water, a goat track dead end! After back tracking we
climbed the peak, marked on the rocks at the top as 229m, and had a GnT (only
one as we had a very steep descent to tackle!) and picnic lunch. On the way
down we had an encounter of the serpent kind. Not far from the summit,
scrambling over some rocks, we saw a snake, metre or so long, light and darker
grey bands, slithering over rocks about 2 metres away. The most memorable thing
was the noise it made, a very, very, loud hissing sound. I've seen many snakes,
mostly in Australia but never heard one make such a sound. An encounter with
snakes tends to make the heart race, for Sasha even more so as I tried to convince
her that it was a one off and unlikely to be poisonous. Bugger me if not 5
minutes later we saw another in a rock crevice that we almost stepped over in
our best hiking footwear, thongs(flip flops). Back close to Ednbal we saw a
heavily laden Olive tree so picked about 1kg of olives to try our own olive
preserving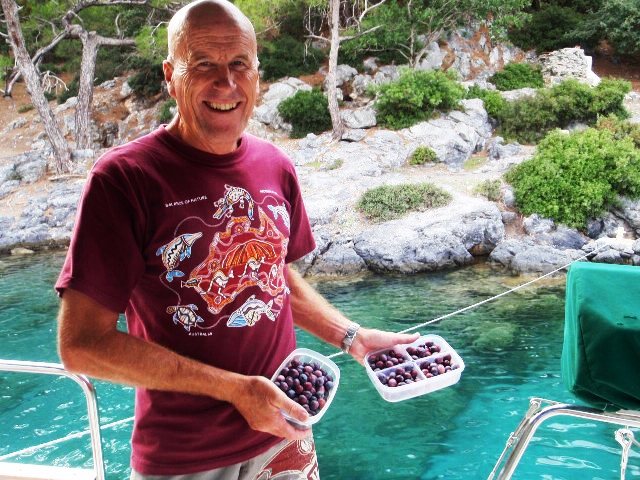 We met up with Koza again in Tomb Bay,
closer to the village of Gocek but still isolated enough to be quiet, we were
the only two yachts in the bay. Jim and Carola had been there before and knew
of a good spot on shore to set up a small wood fired bbq. Sasha did coleslaw
and potatoes in foil, Jim, the steaks and fire, Roger, the snags while Carola
had the most important task, beverages. The weather did the right thing,
another still clear, warm enough for some to be in t-shirt, night. I got the
gas lantern, that my daughter Natalie gave me some years ago, rejuvenated and
it all worked very nicely. Somehow I had forgotten the side effect of the good
old wood barbie, smoke.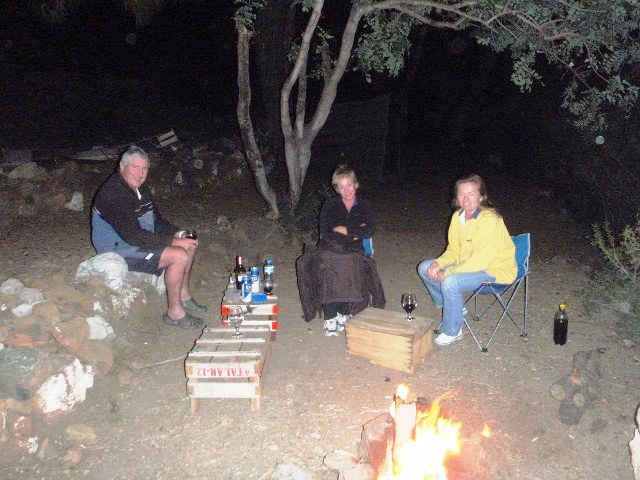 We seemed to spend some time shifting positions to try
and escape the smoke, not very successfully, all clothes ended up in the
washing machine the next morning before we sailed 5 miles to Gocek village.
What an amazing village, so dependent on the summer boating tourist trade, it
seemed every second shop had something to do with boating from the numerous
small supermarkets to fully stocked chandleries to charted boat companies. With
us, in the off season, there were only 4 other yachts anchored and one of those
was Koza. The marinas were full of empty charter boats and the water front with
empty Gullets. It was wonderful autumn weather, near the end of November to
walk the esplanade and do the shopping, mostly for perishables. I had an
interesting visit to the bank. A Turkish tradesman, Hassan,  in Marmaris had installed a new compressor in
our air conditioner and was supposed to come back to commission it (check gas
level etc) before we left however on the day he had come down with a cold. The
next week had been Muslim holiday, Byram, and he had not replied to phone calls
or sms. Finally he responded and gave me his bank and account details so that I
could deposit what we owed him, 80 Lira. I went to the bank and slowly
explained.  No, I could not deposit money
on anyone's account unless I had a Turkish tax number. "You get some
one you know to do it for you", "I only arrived  today, I don't know anyone, could you do it
for me?" "Oh, no, no!" 
After some more pleading and a call from the guy I talking to, to a
teller about 4 metres away, I was told that the teller could help me.  Yes she could deposit the 80 Lira but the
commission would be 25. I called Hassan and got him to talk to the teller who
then gave the mobile back to me for Hassan to say she would help. Next the
teller took me out to the ATM and, fed the money into the ATM along with the commission
of 5 Lira as shown on the screen. There is always a way!!
With the first stormy weather forecast in
over 6 weeks we move a couple of miles South to a bay on
the Western side of the Gocek Adasi
- island, where there were a number of heavy moorings. Again deserted save for
Koza and us. During the night the wind alternated between complete calm and
gusts over 30kts from any direction. We had to tie the mooring float up tight
to stop it banging on the boat in the calms but leap out of bed to release it
when it blew and rained. All in all not exactly a great nights sleep. After a
second night on the mooring, this time calm, with rain showers, we set of in an
early gloomy morning for the 10nm to Fethiye. Once in
open water the breeze came up, beam on, from SW, and we sailed with just the
headsail at 5 to 6kts, beautifully Then we were hit by the first squall, wind
suddenly over 25kts forward of the beam and pelting rain. Ten minutes later
wind down to under 10kts and almost dead astern in a confused beam on sea, engine
back on. This repeated 3 times in the 7nm to Fethiye
bay entry where the wind died completely, good old Med sailing!
In
Fethiye
, we anchored with just one other yacht, Koza. The marinas were full of yachts abandoned
for winter, as was the harbour with Turkish Gullets. Ashore we had a treat
"Midye Dolma", the mussel and spiced rice mixture set inside mussel shells that we had last
seen in Canakkale about 500 miles North when we were
on our way to Istanbul. We just happened to walk past a guy on the street with
a big basket filled with Midye Dolma,
lemons and wet wipes. Two Midye Dolma,
one Lira (70 cents). You take one, lift the top half of the shell off, squeeze
lemon juice onto the mix, 
and use that as a scoop, or spoon, to take the rice, mussel mix,
with fresh lemon juice on it, out of the other half of the shell, and into
mouth. After eating whatever you buy, you are given a wet wipe to wipe your
hands, right there on the street, fantastic! We visited the fish market, fresh
king prawns, and the fruitnveg as  well as the supermarket, yet again. Next day
we said our goodbyes to Carola and Jim on Koza before heading off 12 miles
around the corner to Karacaören Buru. Initially, in Fethiye Bay, it was a dead flat calm but outside, while the
water mirror it was lumpy, metre high lumps. Further out, "around the
corner we found out why, it was suddenly blowing 20kts, on the nose of course! Karacaören Buru was just an overnight stay before
continuing on  South
another 30nm to Kalkan with enough South wind to tack
over half of it. In big Kalkan Bay we anchored just
outside the fishing harbour and had to endure a very rollie time on board. With
little to no wind we seemed to mostly side on to the waves that found their way
into the bay. Sasha was keen to see the ancient Greek ruins of Patara and I was keen for the walk and picnic. We caught Pammukale bus back to Fethiye,
and the English speaking ticket office guy gave instructions to the driver and
conductor to drop us off at the turn off to Patara,
from where we would walk the 6km to the ruins. A few kms
after the first village stop of Kinik, Sasha was getting a little agitated about how far we had
gone already. I checked with the conductor, oopps, he
and the driver had forgotten our stop. Through a few words and sign language it
seemed we would be put on the bus going the other way. About 15 minutes later
the bus, Fethiye to Kalkan
stopped on the other side of the road and we transferred. An hour later than
schedule we off the bus and walking towards Patara. Not a hundred metres down the road two guys in a
troop carrier Landcruiser stopped and asked if would
like a lift to Patara, how could we say no? In Patara we walked to the ruins sight, climbed the first
hill, sat on a rock over viewing the site and had a cold beer and nibbles. Very relaxing in the warm autumn sun.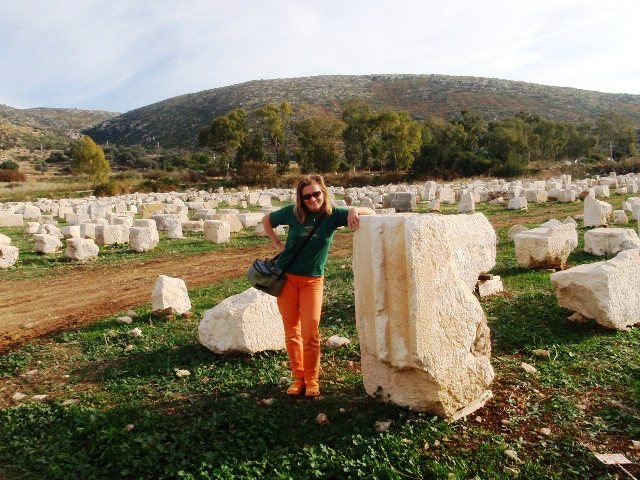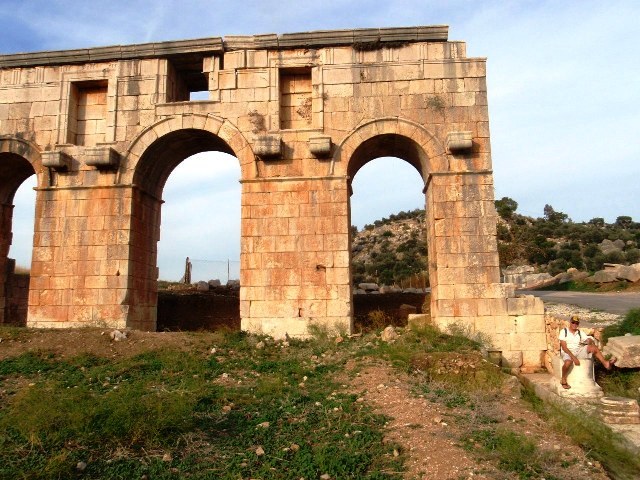 Walking the gravel
road we noted the abundant olive trees laden with fruit. After our picnic
lunch, wit GnTs, we filled our bag with olives to add to those already being
processed on Ednbal (Sasha had searched the net for the method, to remove the
very, very bitter taste of the fresh olives you have to immerse them in a brine
solution, 10% salt, for 10 to 12 days, draining and renewing the solution each
day. After that, preserve in your favourite marinade.) We walked through the
ruins and were impressed especially with the enormous ancient city entry arches
that still stood. On the walk back to the main road was past orange, mandarin
and pomegranate trees laden with ripe fruit. We walked down the short path to
one of the little farmhouses and asked, mostly in sign language, if we could
buy some fruit. Oranges were picked and just given to us. Back on the main road
we caught the bus back to find another yacht anchored near us. Kiwis, Helen and
John off Awaroa stoped in, on their way back from
shore and joined us for Sundowners.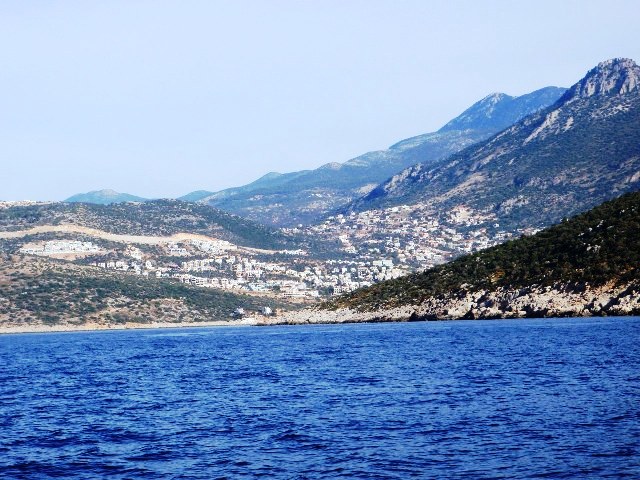 Our final port of call in Turkey was Kas,
15 miles around the corner, another open bay, a fairly rollie anchorage. Here
we had to check out of the country to sail to Port Said, Egypt. With flights
booked from Cairo to Perth at the end of December we now had a schedule.
Checking out of a country is usually fairly straight forward, see the Port
Captain, vessel clearance, immigration police, passport stamp and customs, for
whatever reason. It seems the more backward the country the more paperwork,
stamping and general formality required. Some, like the USA don't want to know
about it, you don't get any documents or stamps on leaving. So, off to the
Harbour Master, Port Captain, with our forms, unsure just what has to be filled
out. The Harbour Master suggests we need an agent which of course costs, we say
No, we can fill out but it seems it must be done "on the computer" by
the agent. The agent wants 75 Euro! Back to the Harbour Master, we definitely
do not want the agent. Harbour Master says it only costs 10 Lira, about
€5. He accompanies us to agent, almost next door, and gets quite upset
when they confirm €75 so he lets us fill in manually! He stamps and
signs, we give him a little Kola Bear, big grin, we've made a friend, next
Customs. Customs also want us to use the agent and talk to the police then say
we need to have our yacht in the harbour, not anchored out, before they or
police will process out check out. And, once stamped we must leave immediately.
The weather wasn't right, it would be best to wait another day or two so we
motored 12 miles to a beautiful calm anchorage in Kekova
Roads. After a good nights sleep we checked weather again, should leave early
the next day, Friday 3 December. Back to Kas and tie up in the harbour. Check
with Harbour Master is our check out paperwork still valid? Yes. Off to
Customs, we are short one carbon copy of our paperwork, back to Harbour Master,
he calls Customs then after some procrastination, gives us all his stapled
together paperwork and instructs, "go to Police,
Customs and bring my papers back here". Finally it all works and, after
returning papers to the Harbour Master, the Customs and Police escort me to
Ednbal and watch us sail out. We sailed a few miles to the next bay and anchor
for the night!
Note: THE "Marmaris List"
Type
Item
Date
 
 
 
Repair
A/C compressor change
7/11/2010
Make
freezer new compressor fittings
7/11/2010
Make
Engrave ednbal on desk clock
11/11/2010
Repair
UV replace on headsail
7/11/2010
 
 
 
Make
SS burner for bbq
5/11/2010
Make
SS fridge door knob
8/11/2010
Replace
Teflon rollers
9/11/2010
Make
SS 1/4 BSP swage fitting for gas
9/11/2010
Make
at SS turn lure heads
5/11/2010
 
 
 
Buy
SS nuts for Fullriver batteries
 
Buy
Lure skirts and trace wire
 
Buy

 

Ladder shackle
 
 
 
 
Make
Ednbal flag
 
Make
Boxing Kangooroo flag
9/11/2010
Repair
bimini, dodger
 
Make
Table world map
11/10/2010
Buy
Starter motor for Yanmar - find info
 
Buy
Injecters Yanmar -just nozzle
 
Buy
Yanmar Water pump and impeller tool
 
Organise
crossing the Suez - email to agents
6/11/2010
Organise
Oz airfares from Cairo - find pricing
 
Organise
Cruising permit in Egypt - marina in Hurgada
6/11/2010
 
 
 
Repair
shorten new white jeans - measure
5/11/2010
Buy
680 ohm 0.5W resistor 390 ohm 0.25W resistor
5/11/2010
Make
Australian flags x 3
5/11/2010
Buy
tape for rigging
8/11/2010
Measure
Boat dimensions and calculate the canal fees
6/11/2010
Buy

 

U-bolt for flag
8/11/2010
Bind
N Africa imray guide and

 

8/11/2010
Buy
Turps
8/11/2010
Buy
Baha filter
8/11/2010
Buy
Fuel and oil filters
5/11/2010
Buy
anodes for prop
8/11/2010
Repair
Outboard Prop repair
8/11/2010
Make
Battery for tourch and resistor 10 ohm 5V
8/11/2010
Buy
Red wine glasses
9/11/2010
Make
laminate spice labels - print
9/11/2010
Bind
Log book
9/11/2010
Repair
Fix heel on black shoes
9/11/2010
Buy
Track suits
5/11/2010
Make
Reinforce Oz flags
11/11/2010
Buy
underware
11/11/2010
Appointment
doctor-Sun spots
9/11/2010
Appointment
dentist-crown repair and clean
10/11/2010
Repair
restitch dingy cover
10/11/2010
Buy
SS split pins
11/11/2010
Buy
medications-ibuprofen
5/11/2010
Repair
ring repair
10/11/2010