Southern Italy, Puglia
Category: Mediterranean
Created: Monday, 27 September 2010 17:10
Written by Roger Boxall
Hits: 1831
Southern Italy - Puglia
It feels quite different to be in a habour or town we have
been before, seems so easy when you know where things are, walking the streets
and immediately knowing roughly where you are without having to keep referring
to the map. Our main reason for checking in at Brindisi was to stock up on the
Italian goodies, at good prices,  pork,
ham, sausages, olives, beer, wine and of course, pastas, just to mention a few.
The main supermarket was only a short distance, couple of hundred metres, from
where we had Ednbal tied alongside the town dock, so we piled a shopping trolly
high and wheeled it back, way to go! We had run out of cooking gas and thought
that we could get our, reasonably universal in Europe, 3kg camping gas bottle
either exchanged or refilled. Again the season was over as the local gas guy
explained, in Italian, no more camping gas, try Otranto further South, more
touristy there. Otranto, 45nm South was our plan anyway, before heading down to
the Greek Ionian Islands. So, still with a lovely North wind right behind us,
of we sailed for Otranto, dropping the anchor in the open bay under the castle
walls of the old city, mid afternoon. A bit rock and rolly after the calm of
Brindisi's inner harbour but clear water, 21C, quite OK for swimming so we could
finally get back to our more normal resheme of exercise, swim, coffee,
breakfast, oh so good.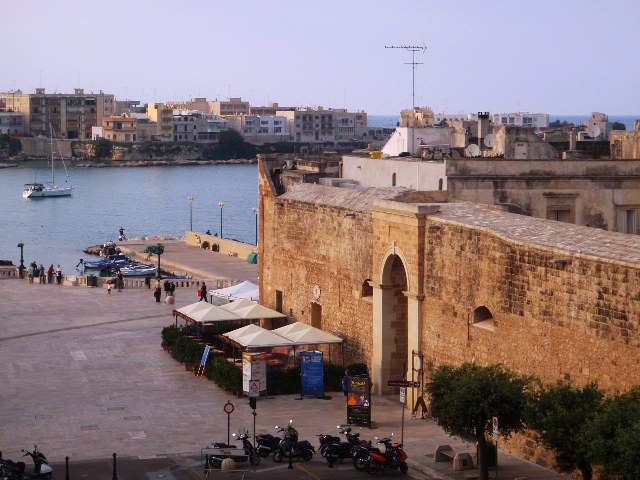 What a lovely old city too, as we soon found while looking
for the tourist office right opposite the draw bridge entry to the old castle.
Otranto was one of the last Italian cities to fall to the Turks in the 15th
century, thousands of people who did not renounce their Christian faith were
slaughtered and the Bishop was publicly sawn in half "popular with the
Turks at the time" and the people have not forgotten.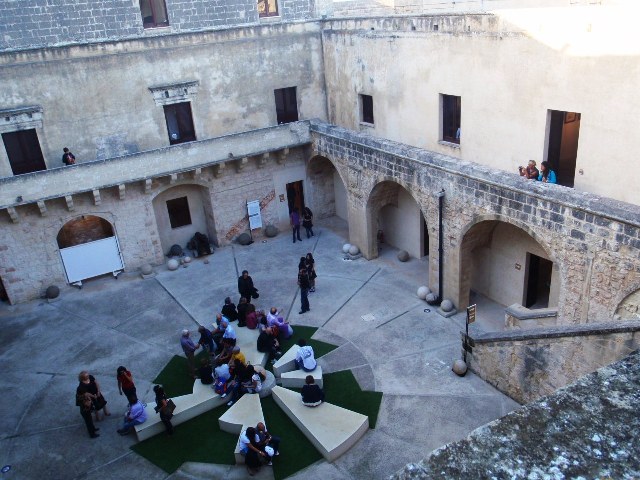 There is a special
comemerative day and a huge bronze statue with explaiatory plaque in the middle
of the town square.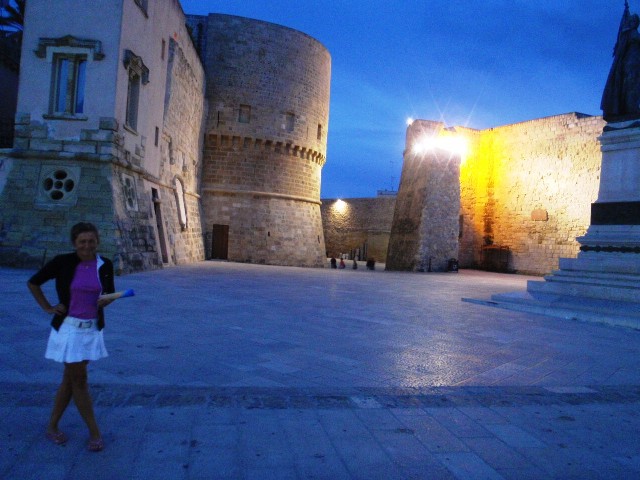 Back at the info center our two main questions were
answered, camping gas may still be obtainable and there were places to hire
scooters as we wanted to have a look around while waiting again for a North
wind based on forecast change to South overnight.  Had some fun over the next couple of days
employing the principle "never, ever give up" concerning our gas
fill. In Otranto we actually found three stores advertised the filling of
camping gas but again now out of season so "finito"! Then there was a
petrol station about a km up the road, we were told they fill gas bottles so
off we go. No only Italian gas bottles which of course have a different
fitting, oh bugger.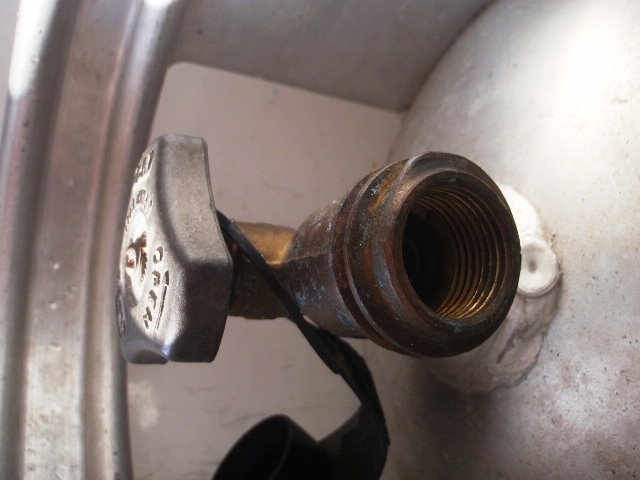 Next option given to us, in Italian with, of course,
questionable understanding, was to travel 45km inland to another, larger city,
Lecce, guaranteed to get camping gas bottle filled there! Sure!  I had a spare house with a bull nose Aussie
fitting, on the end, if I could get some sort of Italian fitting maybe I could
make up a filling hose to fill our 2 bigger, 4.5kg aluminium bottles. Off to
the hardware shops but no such fitting as it was a special left hand thread.
Hmm, now what. Then, in one of the shops, I found a valve that is screwed into
the Italian bottle, same principle as Aussie. So, now I had Italian gas fitting
thread on one side and the bottle thread on the other. Of course the guy in the
shop says no fitting to connect the bottle end to anything. I looked through
his fittings boxes and found that it was a standard 3/8 bsp thread and I had
spare bsp fittings on board. Once back on the boat I fosiced around - 3/8 male
gas valve to 1/4 bsp reducer to 1/4 bsp on the other end of my spare bullnose
hose and bingo. Off we go the filling station, saw the same guy, he could
hardly believe it. Now the good part. He has a fitting that connects to the
normal car fill out of the bowzer to Italian gas bottle valve so he screws that
on to my valve, bullnose into our bottle and fills it at car gas price 0.65
Euro per litre so the bottle fill is 3 Euro, about $4. He did it behind the
bowser as, explained in French to Sasha as he did not speak English but French
and Italian, that he is not supposed to fill using someones made up fitting!
Our standard reward for anyone who helps us out is one of the little Koalas or
Kangaroos, should have seen his eyes light up. Of course I made the most
mileage I could out of it with Sasha who thought I had no chance of getting
Aussie bottles filled e oh ye of little faith!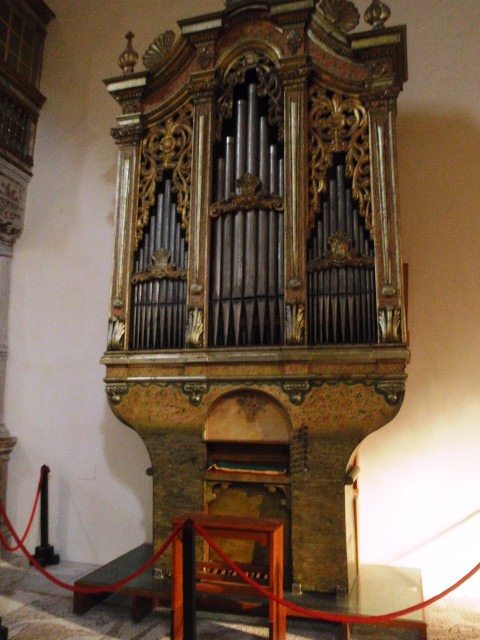 With ability to cook again without having to run the
generator for microwave, electric coffee pot and electric fry pan come bbq,
meal preparatiion was restored to some sort of normality and we could do other
things. On our fourth day Monday, after 2 days of rainy South wind,  we hired a scooter, bit different to the last
one, 125cc of absolute power instead of 50cc. We could go anywhere on this one!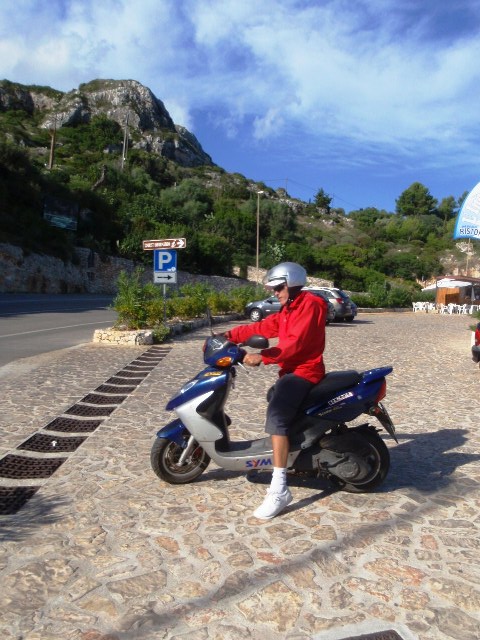 We decided on a one day whirlwind tour of the heel of Italy, Puglia. After such
a good experience with local wine from the vat in Sicily we were keen to get
some here so the first winery we came too, about 13km up the road, in we went.
From the vat was a rose, didn,t taste too good. A fruity heavy red, grape
variety Salento, was available in 5lt platic bottles was the expensive one at
7Euros, the best acording to the man. Ah to hell with the expense, even though
we couldn't taste it looked good. Back on tour, nice sunny day, we called into
the still functioning monastery at Martano, famous for a "cure all"
elixir with "high alchol content" made by the monks. Talk about the
real thing, a huge, some centuries old, building, small church ordained with
frescos at one end, accomodation for monks and the little shop in the middle.
As we walked towads one of the doors a very quietly spoken  Monk came out and offered us entry to the
shop. Apart from religous articles and books there were various herbs, teas and
alcholic beverages avalable.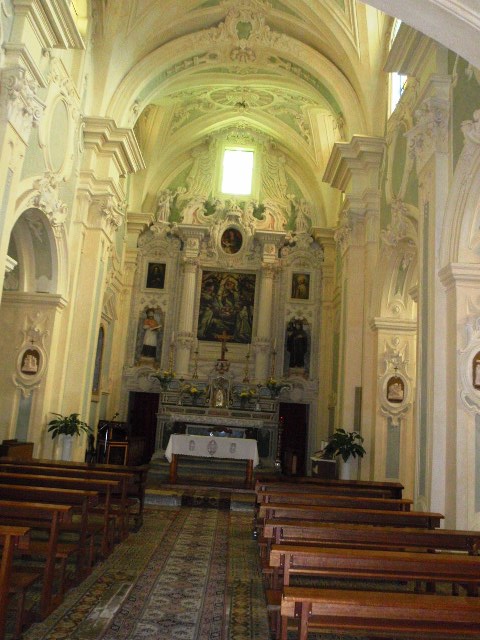 Sasha settled on the tonic mentioned in our guide
book and some herbal tea, apparently cures rhumetism or your money back! Just
as well we had a big back pack, it was filling with more booze already. Back on
tour again we headed over to Galipolli, on the Western shore, for our picnic
beer and nibbles on the rocks by the sea, not exactly prestine surroundings but
it was well past beer o'clock. From there down the Western coast to the most
Southern tip, Leuca. Town after town full of holiday accodation, bars,
resturants and entertaint attractions of all sorts, passed deserted.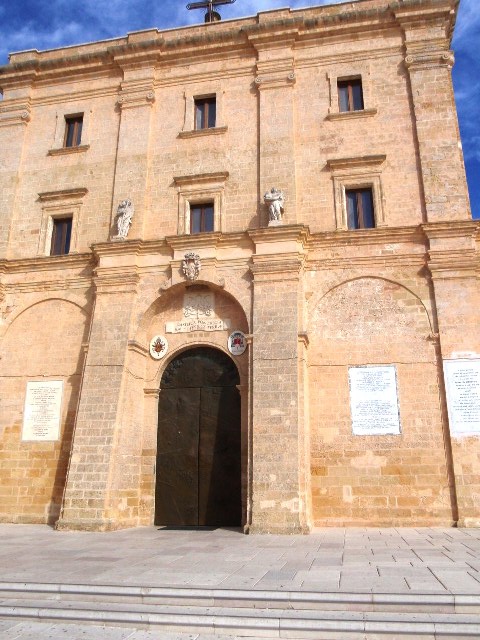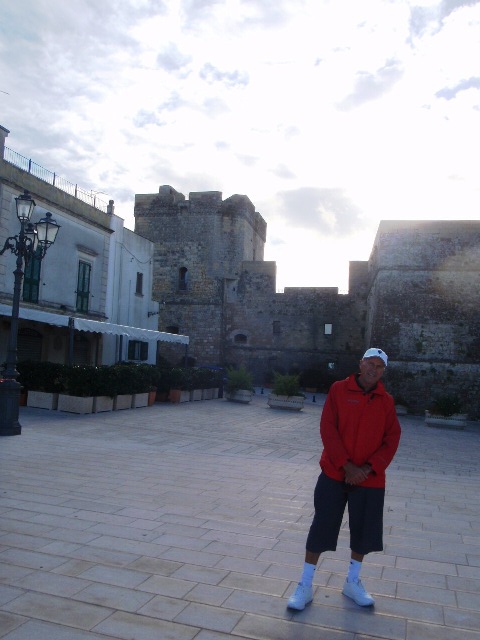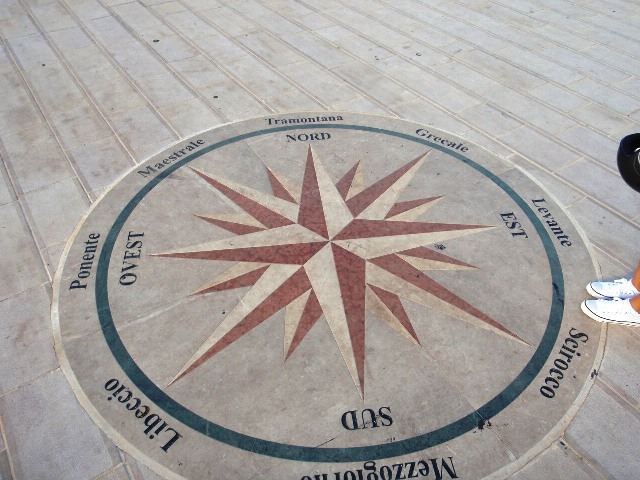 We only
saw a few cars on the coast road between towns, holiday season here was well
and truly over. I am still agast at how they can make money in only 3 or 4
months of the year. Enroute back to Otranto we stopped off at various points of
interest and for another ice cream as only the Italians make it.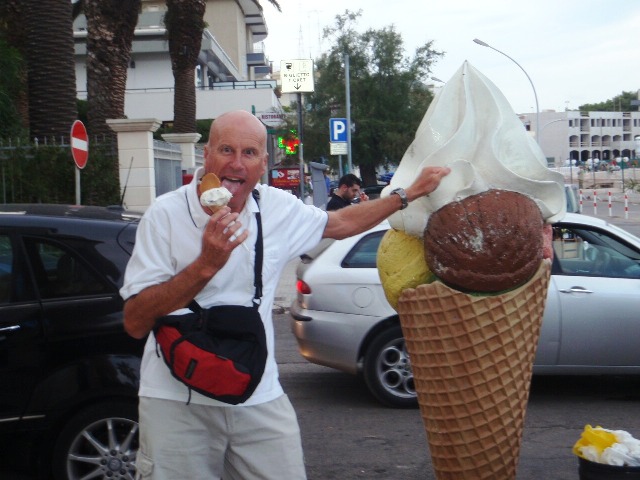 With the
scooter due back at 10 the next morning and just one brief rain shower, we
decided on an early start to get a few extra stocks. Three cartons of 500ml
beers, carton of tonic made an interesting ride back to the dingy. Just enough
time to slip back to that winery as we had now tasted the red with dinner and
it was sooo good. Another 4 of the 5lt red and one of white all to supplement
stocks for our time in "alchol hard to get" Red Sea for winter. No we
were not planning to drink it all at once. After dropping off the scooter we
found, after 3 others, the right police station to check out of Italy then,
while walking back to the dingy it started to bucket down and did so for the
rest of the day. You can be lucky sometimes.
Wednesday was forecast North West wind 15 to 20, again right
behind us heading for the Greek Ionian Islands. We had a couple of options,
45nm SE to the nearest island or continue overnight to Levkas and the canal
seperating it from mainland Greece. With such comfortable sailing we opted for
the later, arriving in time for the 10AM bridge opening.