Croatia southern part
Category: Mediterranean
Created: Friday, 17 September 2010 17:09
Written by Roger Boxall
Hits: 1731
Brac to Dubrovnik and Otranto
From Sutivan, Brac to Duga - Parja, North East side of Hvar
for overnight stay before heading Southwards to Lovsce Bay on Scedro to do the
same. In common with most all the islands in the central Adriatic, steep to,
mountainous, frequently well over 1,000m, wooded with rough rocky shorelines.
Wonderful mountain scenery with many bays and inlet so deep that one really
cannot anchor. Here and there however so very nice anchorages with walk trails
but cool water where, if you go snorkeling as we love to, the pollution on the
sea bed has to be seen to be believed. Especially bad is the plastic,
everything from huge sheets of it, to bottles by the thousands, we continue to
be amazed at the pollution in the seas of the Mediterranean.    
On South to Peljesac and one of the few clear, shallow,
sandy bottom anchorages in the large Przina Bay, with just 2 other yachts. Although
the water was not much warmer we had a couple of enjoyable swims, over a
clearer bottom, probably because most of the rubbish was washed up on the rocky
shore.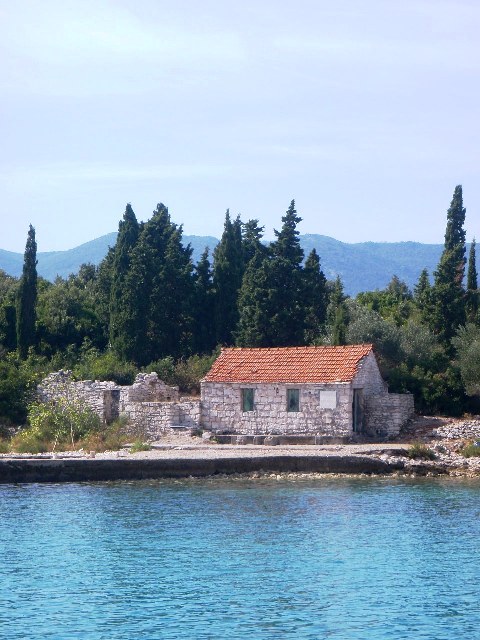 We took the dingy to shore but decided against walking in the rubbish,
instead we zoomed off to the village of Loviste in an adjacent bay a couple of
miles away and had a wander around. Here the rocky coastline, on which
sunbathers spread out their towels, had obviously been kept clean for the
tourists. It must be said that the popular tourist spots, in general, were
clean, people must have been cleaning both the shoreline and the nearby seabed.
Likewise the more popular walking trails had rubbish bins and were likewise
clean. After Przina we headed down the channel between Peljesac and Korcula to
the village of Orebic where Sasha used to holiday as a child with her parents.
Seems, this time, we found a village that had not changed so much, Sasha found
it quite recognizable so we had a little trip down memory lane!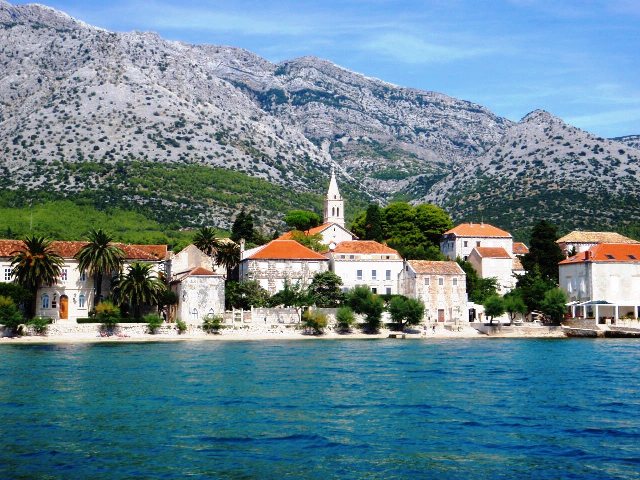 It was here
that we first started to notice people on bicycles. Apparently, as the weather
starts to cool, towards the end of summer, there are a number of large, 100
foot plus, charter boats, look a bit like ferries, that carry people and bikes
to one end of an island, pick them up at the other and off to the next island.
Sounds like a good way to see and exercise. Across the channel from Orebic we
anchored for the night in Luka, Korcula, very close to the old city. It was
late afternoon so we had a short walk to the old city, a quick look around, as
we would be back later and returned to Ednbal where I had another run in with a
harbour guy trying to charge us for anchoring. Same argument, we weren't using
any facilities, we had already paid accommodation tax, but he believed we
should pay for "safe" anchorage and the facilities that had been
installed on the dock! Anyway as we talked the conversation turned to
Fremantle, he had been there and his neighbour on Korcula owned some fishing
boats out of Fishermans Harbour in Fremantle. Eventually when I asked if he was
going to kick us out he said "I come around in the evening, if I don't see
boats I don't charge them" and drove off in his boat, no more heard.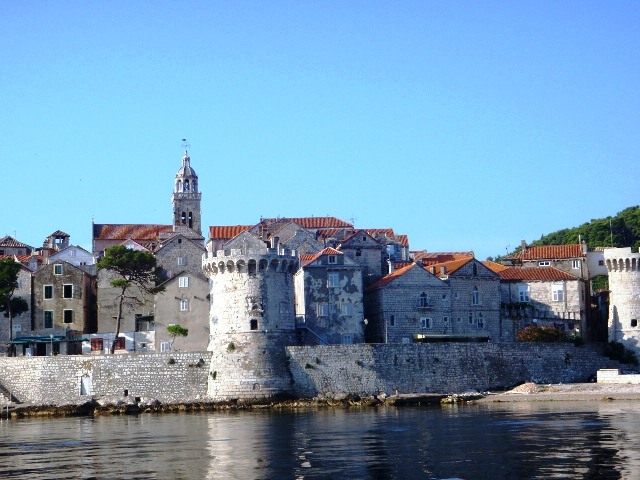 Next day September 6th, was an exercise day. Back to Orebic
to walk the 6km trail up the 961m high Sv Ilija.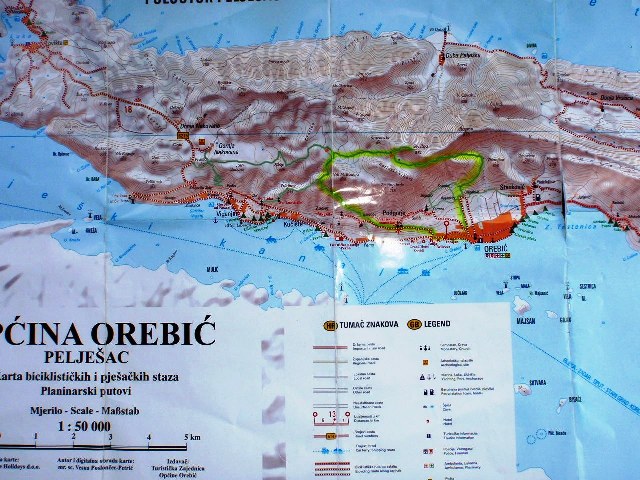 In hiking shoes, with water
and picnic lunch, appropriate beverages of course, we set off on the well
marked trail. Now 961m height over a 6km distance may not sound too steep but
there were a few flat parts and a few very steep parts. In some spots the drop
off the side of the narrow, one person wide, trail we quite breathtaking, to
say the least.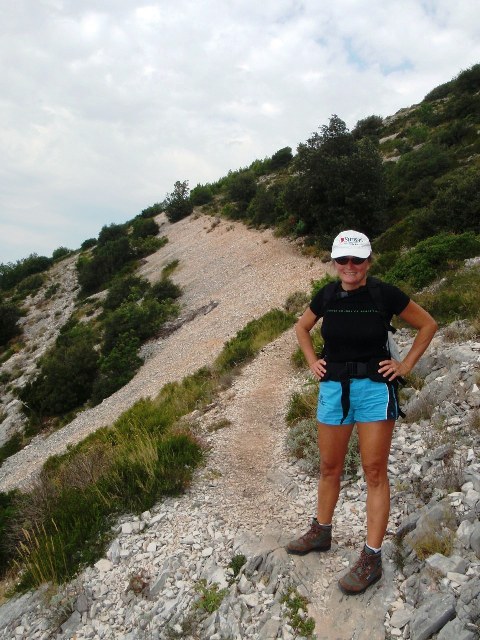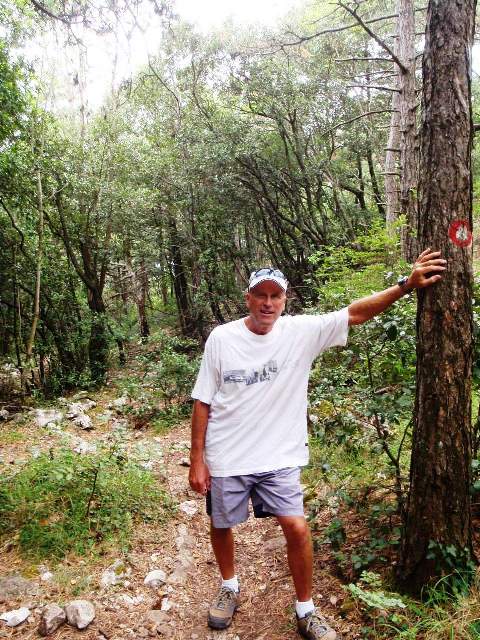 Mostly we walked through low scrub but in the upper parts,
further inland, there was a beautiful forest of huge pines and a soft carpet of
pine needled to walk on. We hadn't done any trekking, not that this was
extensive, for a long while, and we felt it! More than once I said to Sasha
"I must be getting too old for this!" as she sprinted off to the next
high point. Once at the top however it was all worthwhile. Wonderful view and
cold beer from the eski.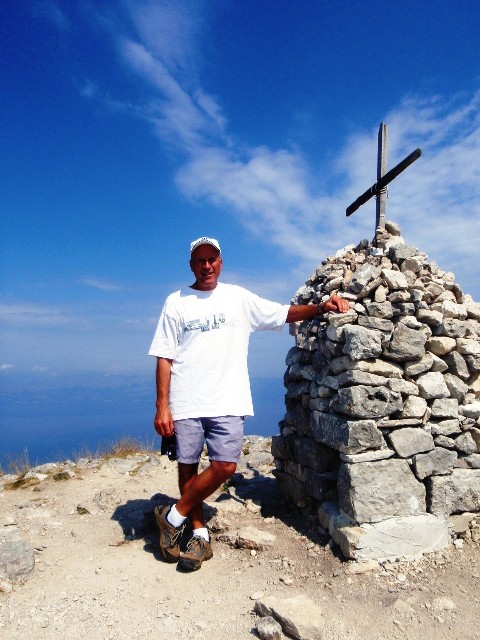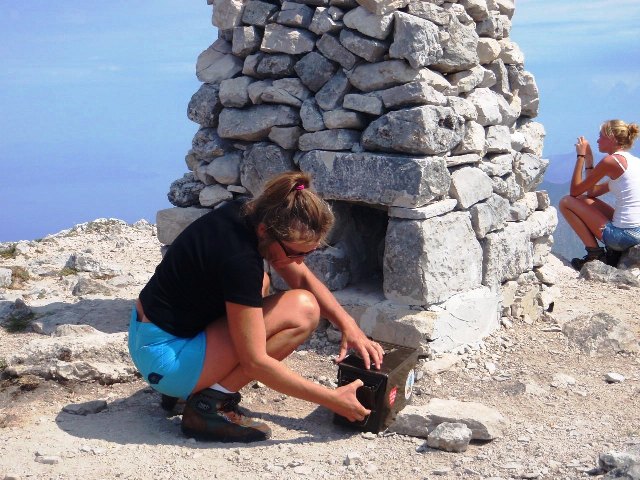 We did the round trip, walking down the Southern side.
When, on the way down, we hit an uphill section, Sasha really had to calm me
down, my feet hurt, my knees hurt. Not a happy chappy! Still we made it back to
Ednbal, back over to Korcula, this time Leda and, after sundowners followed by
another lovely Sasha dinner, slept like logs.
Now for an excursion of a different style. We slipped over
to Korcula city and hired a motor scooter, one of the tiny ones, a whole 50cc
of full blooded power!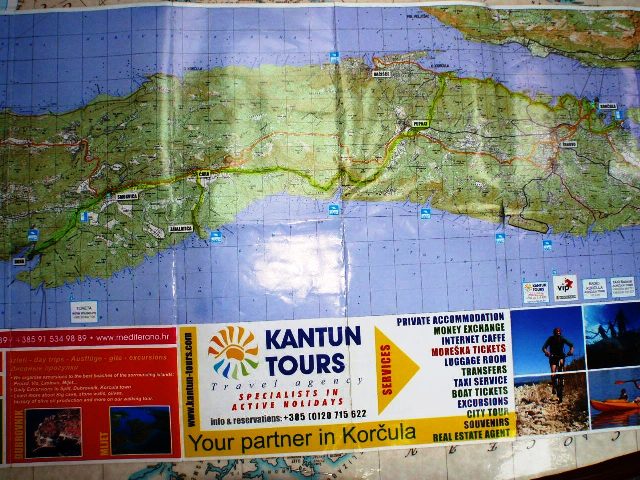 At 60kph down hill and 20 up hill, we took off for our
"island tour" but primarily to visit some distant relations, cousins
of my sister-in-law, Gloria, whose parents settled, from Korcula, in Perth some
60 odd years ago.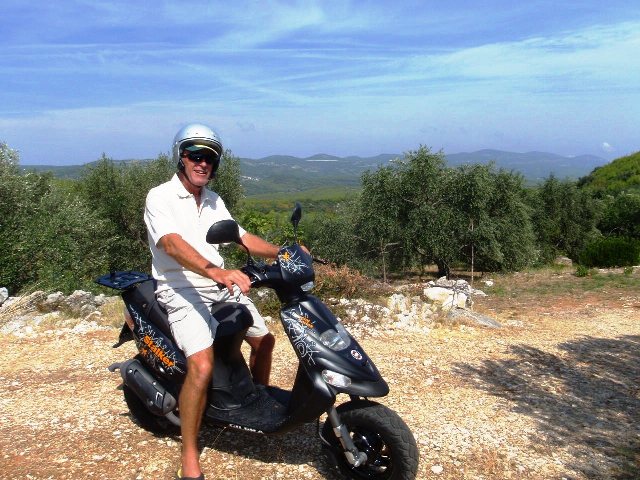 We travelled the coast road North then headed inland, stopped
for a little wine tasting, had a seaside picnic lunch and found the village of
Zavalatica where Glor's cousin, Jadranka Tasovac lived. With only her full name
but no physical address we just asked people where she lived. The third person
we asked knew her and led us to her house. Unfortunately no one was home so we
left a short note at the door and headed off again. After passing several small
signs out the front of houses advertising home wine we called into one close to
Celo only a few kilometers down the road. A lovely older lady, Iva have us some
to taste and we liked the white made from a grape grown only on Korcula,
P........ so bought few litres in one plastic cool drink bottles.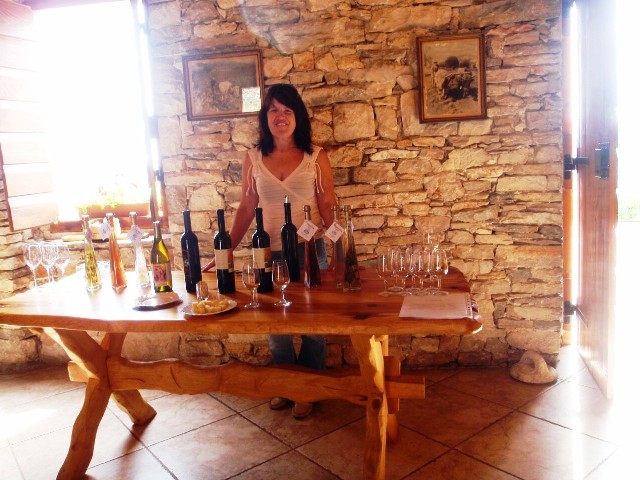 Iva got
talking to Sasha explaining that she had worked very hard for some years in
Germany, that her husband had died recently and that her son lived with her.
She also gave Sasha a run down on the woes of Croatia, people not willing to
work, thinking that those who came back from foreign lands with some money just
"picked it off the trees" and that while people thought it was bad in
the old Yugoslavia, it was a lot worse now. Before roaring off on our wild
scooter Iva gave us a bottle of the spirit, Raki, with sage leaves and carob
pod in it.   In the morning we got a
phone call from Jadranka, she was very buy, 65 year school reunion but her
husband and son, James along with Aussie friends Darko and Jackie, would pick
us up to join them for lunch. We had a somewhat more luxurious trip back to
their house and a wonderful bbq lunch. James, who was born and still lives in
Perth, was with his parents on holiday and to help with the grape and olive
harvest on a couple of plots of land owned by his parents. Loaded up with some
of the lovely red wine that we had had with lunch, in a plastic bottle,  and a bag of fruit from trees in the yard we
said our goodbyes. On the way back to Ednbal with James, Darko and Jackie, we
pointed out Iva's place where we bought white wine, to find out that her late
husband was Jadranka's brother! On Ednbal we had a light dinner, a few
refreshments and chatted for a few hours before our guests headed back home.
What a wonderful day.
Our next stop the island of Mljet just 12 miles. Thankfully
only 12 as I had picked up a bait, vomiting and diarrhea, not good fun
especially while sailing. It would take almost a week to fully recover. We
anchored deep in Lokva  Bay, part of the
national park for which we paid entry. Alas, when we went for a swim, we found
the sea bottom even more polluted than ever, very disappointing. I didn't feel
too much like walking but the next day we went ashore to Pomena for a walk and
our ferry trip, included in the park entry fee, to a tiny island, former Benedictine
monastery. The walk trails in the island varied from one lane roads to a lot of
one person wide paths through the predominantly pine forest, amongst which were
dispersed wild fig and blue berry.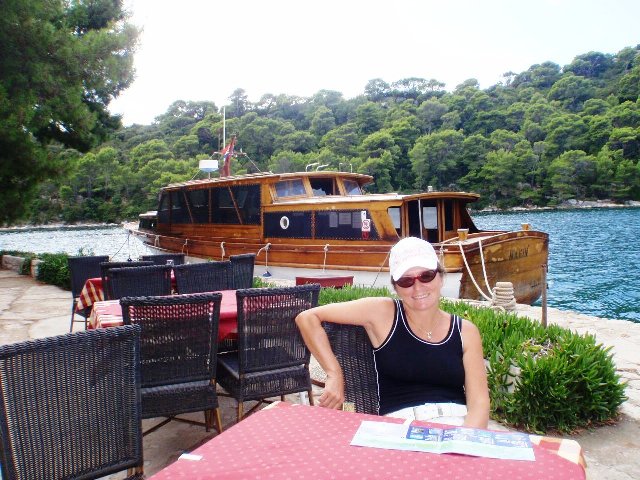 I wasn't quite up to eating but Sasha
assured me they were very nice. From Pomena, an enjoyable, warm, downwind sail,
18 miles to Saplunara at the other, South Eastern end of Mljet where we walked
a couple trails. On to Lopud and Sunj Bay, with a sand beach and relatively
clean sandy bottom with steep cliffs either side. Warm and sunny, a days
swimming and walking around the headland. A few small restaurants and bars
close to the beach were almost deserted, the season was almost over here too,
even so close to Dubrovnik.
Now into Dubrovnik, anchoring opposite the cruise ship
wharf, in amongst small, moored, local boats, just enough room in 10m deep
water. Right from Sasha's earlier days, holidaying with her parents, Dubrovnik,
especially the old walled city, was about her favourite city in Croatia so we
were looking forward to a bit of exploration. It was a half hour or so walk
from the harbour to the old city which was full of people, seemed the tourist
season here was still in full swing. The narrow, up and down, stone streets and
stone buildings certainly reflected how it must have been centuries ago. While
this was the case for the back streets most of center was lined with restaurants,
bars and shops of all kinds doing their best to relieve tourists of there cash.
Some things were the same, huge public drinking water fountains, churches and municipal
buildings, some things changed, it now costs to walk the city wall. We just
wandered for a few hours. For me it was as interesting watching the cruise
ships and ferries doing their maneuvers to come alongside the wharf without the
aid of tugs. First time I'd seen vessels of such size berthing unaided. After a
couple of days walking and picking up a few bits and pieces only available in a
big place and refueling we sailed the nearby Island of Kolocep to anchor in the
Northern bay and wait for the Southerly wind to swing North for our 130nm
overnight passage South to Brindisi, Italy. Now it was Sasha's turn for sick
bay, although she wasn't vomiting she had plenty of the other!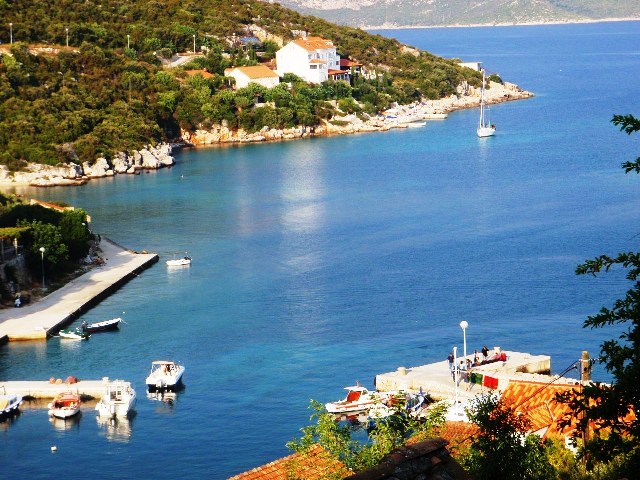 During the
couple of days wait we walked the island and witnessed one of the most amusing
anchoring exercises to date. A forty five foot yacht, with about 6 guys on
board came into the bay to anchor. Once, twice the anchor wouldn't hold. I
tried to indicate a good spot behind us, where another yacht had been, but no
notice was taken. On the third attempt things seemed OK, until the ferry came
in, sounding its horn and nearly running them over. Disgruntled, further
attempts were made, with each failure the skipper applied more engine revs to
go the few metres to another spot, at times with the anchor dragging in the
water. Frustration was clearly setting in! Finally success, way out the back of
the bay in somewhat deep water. With a forecast of strengthening North, North
West wind we went back to Dubrovnik, checked out of Croatia and headed South.
In 20 to 30kts of wind we were sailing at 6kts with just the headsail. It was a
bit rolly, making sleep difficult so by the time we got to Brindisi, mid
morning of the equinox, we were both very tired, particularly Sasha recovering
from the stomach wog, so check in and sleep.