Croatia northern part
Category: Mediterranean
Created: Tuesday, 17 August 2010 17:08
Written by Roger Boxall
Hits: 2592
atia - Kvarner to Brac
With new batteries installed in Borano,
we were now ready to head for Croatian Islands. Alas the weather was not ready
for us, Northerly gales were forecast for the Northern
Adriatic. Two days later on 21 July we left for the overnight passage to our
planned port of entry, Mali Losinj on the Croatian
island of Losinj.
Initially almost no wind and we motored the first few miles
before it started to build, on the nose again of course, but enough to sail
while heading a little South of our destination. By next morning the wind had
shifted enough to have us almost on course. Coming in from the Adriatic Sea the
mountains of Northern Croatia look quite spectacular. By afternoon we were
approaching Losinj and saw a yacht motoring slowly  just ahead
flying a Canadian flag. We didn't think much of it until we were almost
alongside and saw the name, Locura. The only
Croatians we had met cruising were Ivan, Vesna and
dog, Squeaky on Locura, in Mexico when they were
heading "home" to Croatian after having lived over 20 years in
Canada. Here they were heading into the same port at the same time as us half a
world and 2 years later. Needless to say that after checking into Croatia, a
painless but expensive exercise, we had a lot of catching up to do in the
nearby anchorage of Artaturi. The water was lovely
and clear, albeit a bit chilly at 19 degrees and there even fish to be seen,
with a bit of bread for bait I caught 3 pan size somethingorothers,
with beautiful white flesh, for dinner. We were off to a good start! Next evening
Ivan and Vesna invited us to the small restaurant on
shore to sample some Croatian culinary and beverage specialties. It was
wonderful to catch up with them again.
Relaxed and refreshed we had an early morning start to catch
the bridge opening at Mali Losinj that saves many miles going out around the
Southern end of the island if you want to head North. Our next major
destination was Punat on the island of Krk but we had time to do it in small
hops and see a little of some Adriatic islands on the way. So, from Mali Losinj
we sailed to the uninhabited Kolorat Bay on the South East of the island of
Cres. A lovely deep, well protected forested bay with just 4 other boats where
swimming, without seeing the bottom cluttered with rubbish, was a pleasure although
still a little cool. In the morning we had by far our longest swim for
months.  For an excursion we took the
dingy to one of the adjacent bays and walked to a nearby village on a beautiful
sunny day. On the way back we even saw a small deer in the bush a few metres
from the shore. On the down side we were inundated by bees, they literally
invaded Ednbal which wasn't all that bad until, by accidentally sitting or
brushing one, we were stung a couple of times. Doctor Sasha applied alkaline
pain relievers as described in our ships medical book. After completely closing
the boat we slept and departed the scene first thing the next morning to get
away from them. As it turned out, although they looked like bees in Australia
they were in fact wasps, no wonder the medication applied didn't seem to do
much, according to the book you use acidic solutions for wasp stings. Learn
something new every day!. Another nice sail 10 or so miles to the Western shore
of Rab Island where we anchored in the rocky shore lined bay of Matovica. This
was somewhat more populated with boat but more so holiday makers sunning
themselves on the rocks. Keep in mind there are very few beaches on the
Adriatic islands, and if there are, they are not sand (with exception of some
on the more Southern islands) but pebbles, more like small rocks, a couple of
centimetres in diameter. Not really the sort of thing that beach going is made
for! It is therefore more common to see people stretch a towel out on some flat
rock. We swam and relaxed in the sun, didn't even go ashore.
From Matovica we headed around, past the numerous rocky
coves, to the bigger bay village of Kampor. Here there was a pebble/stony beach
with a swimming area marked by rope and floats (something very common and a
good way of keeping swimmers and boats apart) and it was packed. Still there
were others who just spread their towel out on the concrete side of the road,
just next to a rocky shore, and lay down right there. It seemed anything flat
would do the job! Ashore we took one of the walking trails that headed up the
hill over towards the next bay. Alas there were no signs so while we had a
lovely walk through the forest we didn't make it to the other bay. Instead we
ended up at the headland of Kampor from where there was a nice cement path all
the way along the waters edge, past numerous holiday "summer" houses
and apartments, back to the village just in time for our daily ritual of
sundowners on Ednbal. Our next sail started out well but soon the wind died out
and we had to motor the last several miles to Punat on Krk. Punat is virtually
a lake about a mile in diameter with a very narrow shallow entry from the sea.
With a village on the Eastern shore, a large marina, a tiny island monastery in
the middle and various other holidaying facilities, it is quite a picturesque
spot. This would be our main visitor pickup spot, first Damir and Ana with
children Lea and Dino for a day, Zoran and Mira for a week then Stef and
Nicoletta for a week. We had a busy schedule ahead. We picked up water from the
marina as our watermaker had packed it in on the way to Venice with water in
the gear oil from a leaking packing seal. New seal kits were on their way from
Trinidad to Stef, in Italy, who would bring them with him in a couple of weeks.
Until then we would have to fill from shore, mostly via jerry cans when ever we
went in with dingy. A bit of pain especially with additional people on board.
The marina, at 60 Euros a night was a bit much for us so we anchored just off
shore in a lovely calm protected spot with 4 other vessels. On shore there was
a choice of two supermarkets within a hundred metres, chandlery store, bars, restaurants,
the works.
The first night Zoran, Mira and son Ivan with Zoran's
parents, Ivan and Ruza came to visit for Sasha's
famous chilli mussels dinner. We managed to get
through most of the evening without getting too wet but the rain started to set
in as they were getting ready to leave so it was a bit of a damp dingy ferry
service returning them to shore. We had last seen Zoran and Mira, who live on
Krk in Krk village, in 2006 when we committed to meeting up with them again, in
Punat Marina, when we sailed to the Med. Hard to believe we actually came good.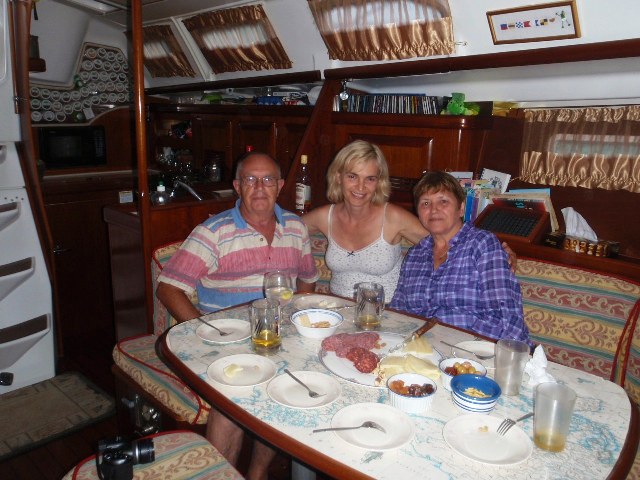 Damir and family arrived the next day, nice and fine again
but with no wind, for a day out on Ednbal. We decided on a short sail, more
motoring, to the nearby Konobe Bay. Beautiful clear, although cool at 18C,
water for swimming and a warm sunny day for guests to relax on board. The kids
took turns at steering Ednbal, Lea was particularly good quickly picking up on
the time lag between turning the wheel and Ednbal changing course in response.
Damir gave us a great Croatian guide book "Tourist guide The Croatian
Adriatic" that we were to find invaluable for the rest of our stay.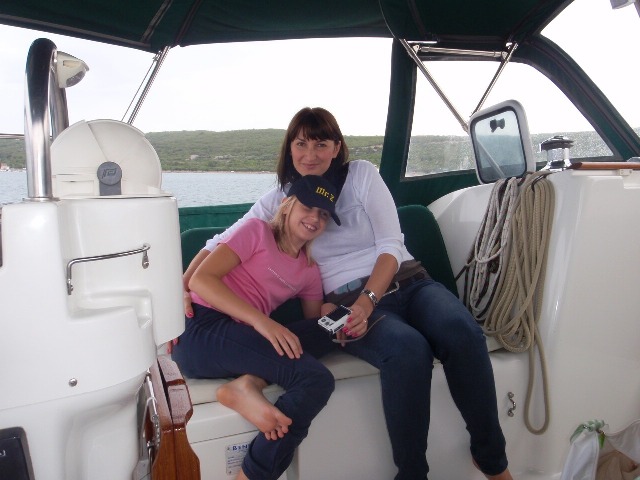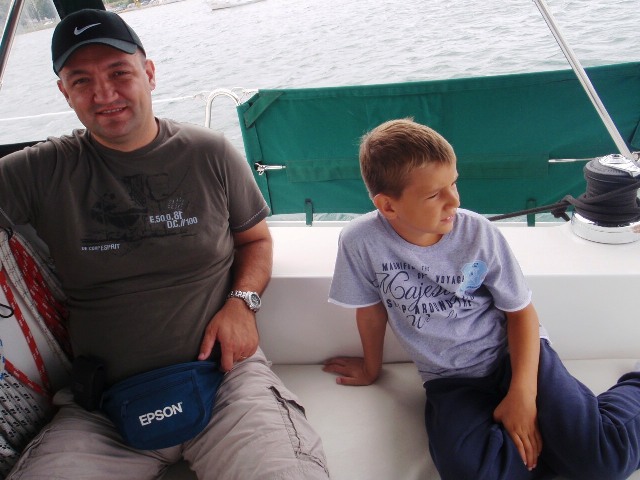 A day later, Sunday, Zoran and Mira joined us for a week of
sailing the islands in the general area of Krk. One thing you have to say, you
don't have far to go from one island to the next and there are plenty of
protected bays and coves, shelter from winds of any direction, just pick the
right side of the island you're heading for. Most are relatively long and
narrow and some it is a short walk from one side to the other. Cruising in
Croatian is fairly regulated so one thing we had to do was have Zoran and Mira
officially added to the ships crew which we did at our first stop at the port
captain's office on the island of Rab. Zoran is an avid fisherman, normally
fishing in fresh water, so was all kitted out for trawling while under way and
fishing at almost any opportunity while at anchor.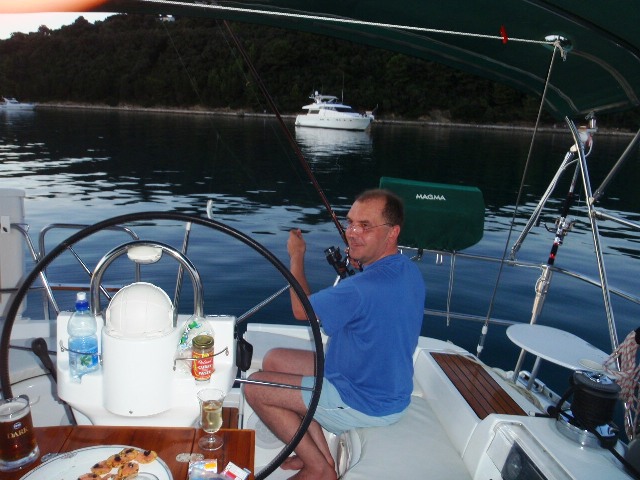 Unfortunately the skipper
couldn't find the right spots or the fish were not cooperative. A few small,
throw back fish were caught until, on the last day, half a bucket fill! Zoran
and Mira had only been on small day fishing boats before so  did the best thing possible, sit back, relax
and enjoy. On the first day we also took his parents and son for a short sail
to Krusija Bay on Plavnik where Mira made a beautiful, more traditional Croatian
mussels dish for lunch. After dropping parents and son of in Krk we anchored
late, for night, in Konobe for a short swim, sundowners and dinner. For the
first few days most of the conversation was in Croatian, although both Zoran and
Mira could understand my English they were not comfortable speaking English,
but, as time went by, Zoran in particular had more one on one discussions with
me in English. He said that the last time he spoke English was when we were
there in 2006.
We hopped from one island to another generally avoiding
settlements except to pick up water and travelling just 10 to 20 miles each
day, unfortunately mostly motoring with very little wind. On the island of Pag
Sasha  was keen to take a look at the
village of Novalja that she used to visit, as a teenager, with a friend, Vesna,
whose parents had a small holiday house. Sasha lost contact with Vesna when she
moved to Oz over 20 years ago. As we sailed in both Zoran and Sasha remarked
that the expansion of the village made it almost unrecognisable. Sasha enquired
after the family (she had only the parents surname, Smicic) at the post office
to see if by some chance they were still there but nothing turned up. We all
took a walk to the general area where she thought the house was. She and Mira
asked a few people but, although trying to be very helpful, no one seemed to
register. Ah well. Zoran and Mira treated us to beer and Pizza at one of the
many very busy restaurants before we headed back on board for a nightcap of a
sweet strong desert wine call Prosek. We all had a certain amount of difficulty
wrestling the bottle from Zoran who put pay to most of the bottle as his
English became more fluid, so to speak! At about 6 the next morning we got a
very rude awakening as we were hit by another yacht. One of the very few
charter yachts we had seen (we were very surprised at how few yachts, both
cruisers and charter we saw) had dragged its anchor and had its stern hard onto
our port side bow. Our anchor chain between their rudder and propeller so we
were stuck together. Luckily the wind was not strong, battling to be more than
10kts which begs the question of why did they drag anchor in the first place.
It took a few minutes to work out what was going on. To disentangle us I had to
pull our anchor chain up a bit to release our snubber line. The charter guys
didn't seem to understand this and got quite upset as our anchor chain came up
the side of their hull. However once the snubber was released I could let out
chain quickly which allowed it to drop down under their rudder enabling them to
motor away to reanchor. Damage, our forward navigation lights broken but luckily
all else seemed OK. We dingied over to the charter yacht and they agreed to pay
for new nav lights. By phone we got a price from the chandlery in Punat and
were reimbursed, catching the charterers just before they left the bay. On
shore Zoran worked his magic with the local officials, as he works for local
government on Krk, and found that, after over 25 years Smicics still had the
same holiday house. Armed with full address, Sasha and Mira went off to find it
while Zoran and I carted water by jerry can to fill Ednbal's tank. I was on
shore when a distort Sasha returned with Mira. Sasha's caught up with Vesna's
mother and sister only to find that her friend Vesna died just 4 months ago.
From Pag across, West, to Cres and a small uninhabited,
unnamed bay on the Northern part of the East coast as NE evening squalls were
forecast. We stayed for a couple hours but with darkening sky, thought it
prudent to head a further 2 miles to the deeper, more protected bay of Kruscica
for the night. No sooner had we cleared the bay than the wind piped up to 30kts
to give Zoran and Mira a taste of life on the angle as Ednbal heeled while
Sasha and I hurriedly shortened sail. In the protection of Kruscica we watched
the rain and foamy seas outside, so nice to be in a lovely calm anchorage when
the weather is raging! It had taken some days but it was now evident that Zoran
and Mira were really becoming comfortable on board. They had been thinking of
going straight home from here but decided to stay another night. Zoran repaired
our main PC's CD drive that had been playing up for months much to Sasha's
delight.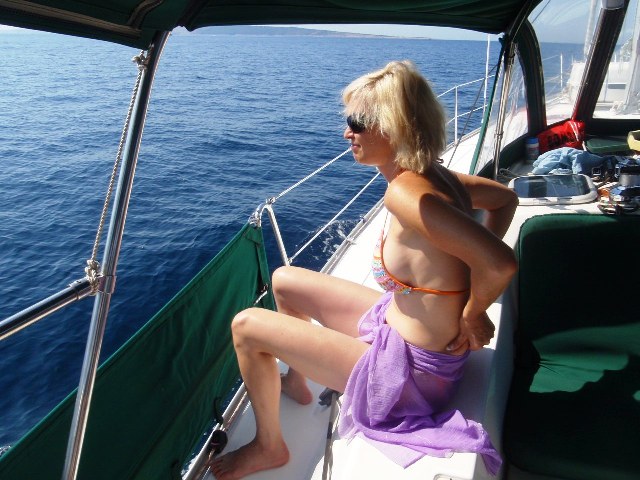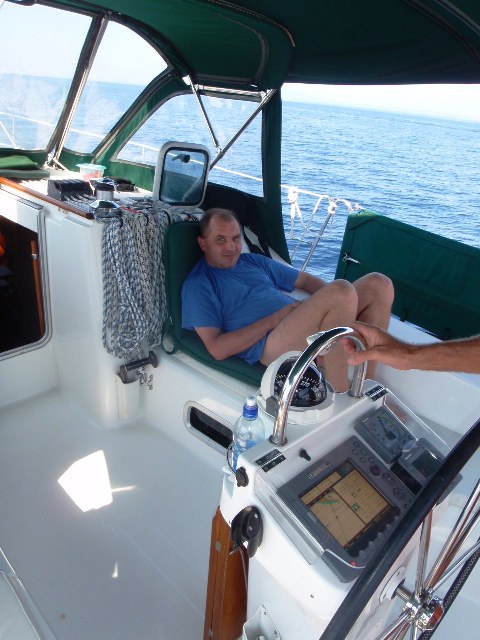 For their last night we headed back to Krk Island and anchored in Fuska.
Still no fish trawling but Zoran finally got his reward for patient fishing
with half a bucket of fish for Mira to clean. It was a most enjoyable evening,
the only boat in the bay, steep forested banks close in, fishermen setting nets
from row boats, sounds of crickets, great company, sundowners, dinner and
chatting. We dropped Zoran and Mira off in Krk, filled up with water from the
dock and headed back to Punat where we were to pick up Stef and Nicoletta who
had driven from Schio in Italy to join us for a weeks sail South to Brac.
Stef and Nicoletta arrived with parcels a-plenty.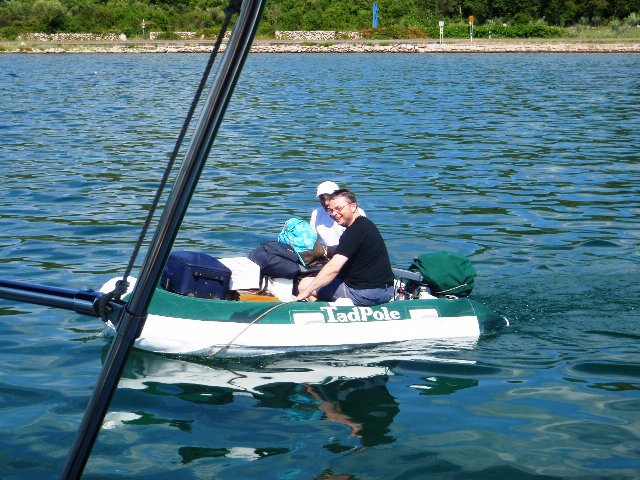 Items of
equipment that we had ordered internationally and sent to Schio (new 115 volt air-conditioning
compressor from USA and watermaker pump packing seals from Trinidad, a third
shipment, from the US that hadn't made it before they left would be on its way
by other means!), boxes of wine, only 3 dozen(!!!!), and their own things. Stef
had even made, himself, tee shirts "Croatian sailing adventure" for
all of us, just fantastic.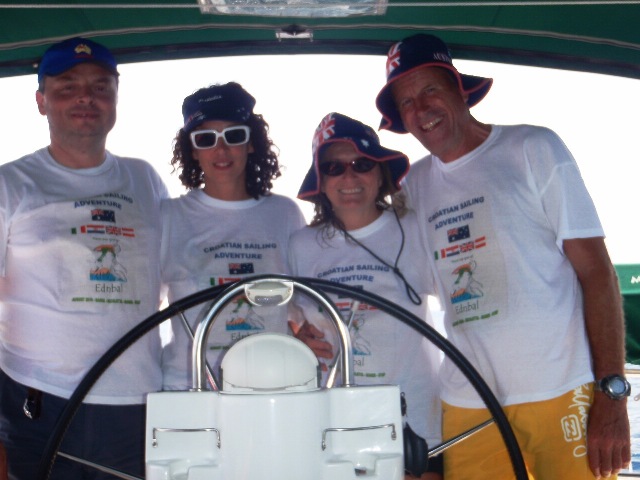 We stayed overnight in Punat as Zoran was bringing
us meat from his butcher, our new, self designed vessel log book that he
printed and bound for us as well as picking up a couple of items left behind.
In the morning we had Stef and Nicoletta signed on as new crew at the port
Captain's office, met with Zoran and set sail for Rab. Stef and Nicoletta,
neither of whom had sailed before, quickly fell into the routine of relaxing,
boozing, eating, sleeping and soaking up the experience. Stef is fluent in Croatian,
Italian and English, Nicoletta who owns and manages an English school in Schio
is native Italian fluent in English so we spoke mostly English which made it a
little easier for me to understand what was going on most of the time. The
wines, reds, whites, sparkling white Presecco and desert wines 'to enhance
meditation' as Stef put it , all from the region around Schio were top knotch,
would we knock of 3 dozen in a week, we'd give it a dam good try and enjoy
every minute of it!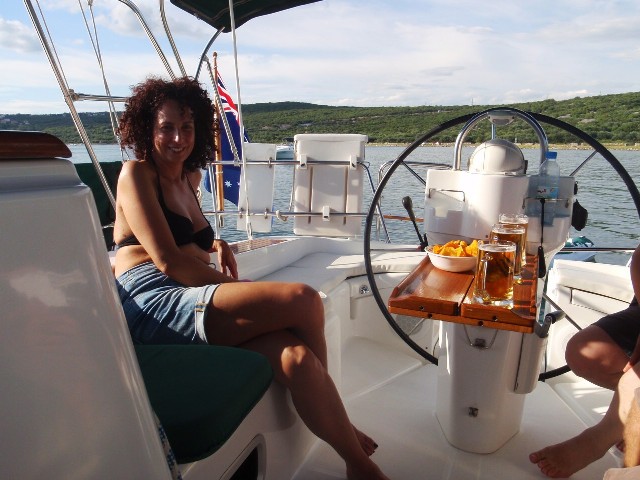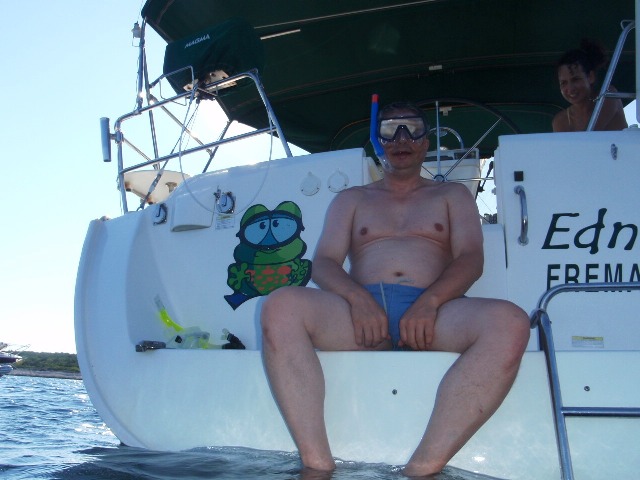 We had great weather, sunny without being too hot, some
breeze for a bit of sailing and nights just cool enough for sleeping, alas the
water was still on the cool side making for short swims. From Rab a nice sail
to Losinj, anchoring in Baldaka bay for the night before going through the
canal with the 9am bridge opening the next day into Mali Losinj where Stef
stoked us up with about a months supply of fruit. After refueling and topping
up the water we continued on South to Silba. Nicoletta was gradually getting
used to the wonders of the marine toilet, to the stage where she no longer
insisted the Stef do the pumping! Both Steff and Nicoletta were now well
relaxed while we were sailing, Stef, with very fair skin, kept out of the sun
as much as possible nodding off to sleep every now and then while Nicoletta
took to  sunbathing, exposing as much
skin as possible to the lovely warm sunrays while still maintaining her
modesty. 
If we were to get to Brac, primarily to meet up with mutual
friends, Joe and Patricia who have holiday house there, we would have to put in
a couple of longer days sailing. The more central,   commonly known as Kornati, islands are
somewhat more barren than those North and South so we decided to make longer
day sails and just call into an anchorage here or there for the night. While
under way on one of the warmer afternoons our Admiral decided she would like to
go for a swim. We were sailing down wind on a light breeze doing about 4kts. I
trailed a long line astern, with a couple of hand grip points along it. Sasha
dived off the bow and swam around behind to catch the rope. We were going a
little quicker than she thought and found that it took quite some effort to
haul herself up the line back to Ednbal. After such a courageous lead we all
took turns at beeing dragged along behind, all finding the hardest part to be
climbing out of the water back on board. Maybe very silly but good fun all the
same.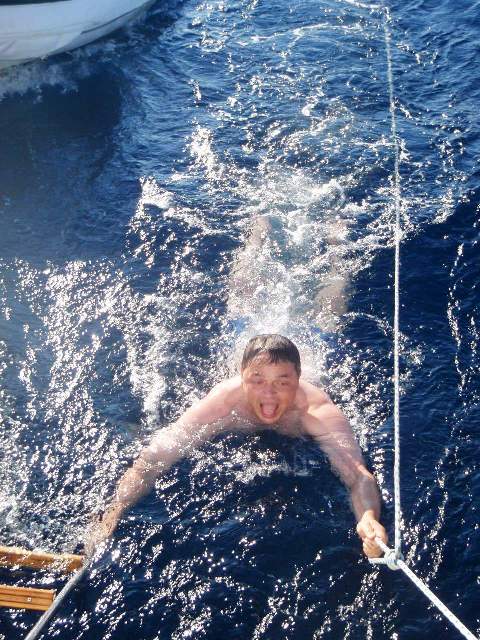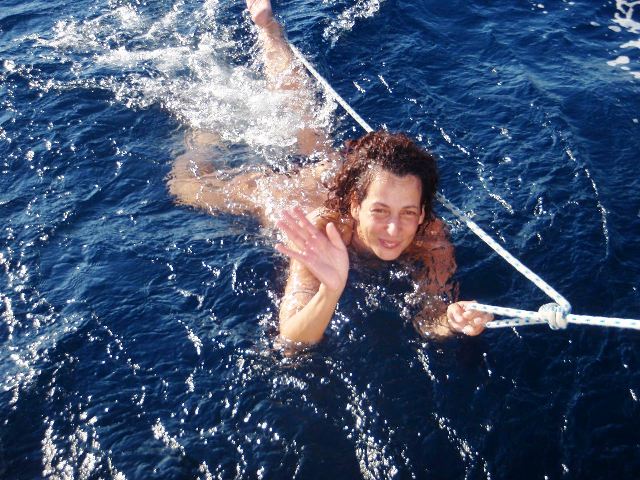 Our next stop of interest was up the Kanal Sv Ante, past
Sibenik to Krka falls. This meant motoring up the river about 8 miles to
anchor, in fresh water, at the little village of Skradin to take a ferry to the
national park falls as not even dingys are allowed. For some time Sasha had
been talking about the Dalmatian food specialty of spit roasted lamb and we thought
this might be the place. We found however, after checking out a number of restaurants,
that it was something done only on pre order and minimum 6 people. Instead we
settled for another local specialty cooking method called "under
bell" where meats or seafood and vegetables are put under a clay dome and
hot coals are placed on top to form a sort of oven for slow cooking. In a small
open air restaurant we had a lovely meal but certainly noticed the lower
quality of wine after being spoilt by those delivered on board Ednbal by our
guests. In the morning we caught the ferry, a somewhat ancient but most serviceable
vessel, along with a hundred or so other eager tourists, for the short scene
trip to the falls.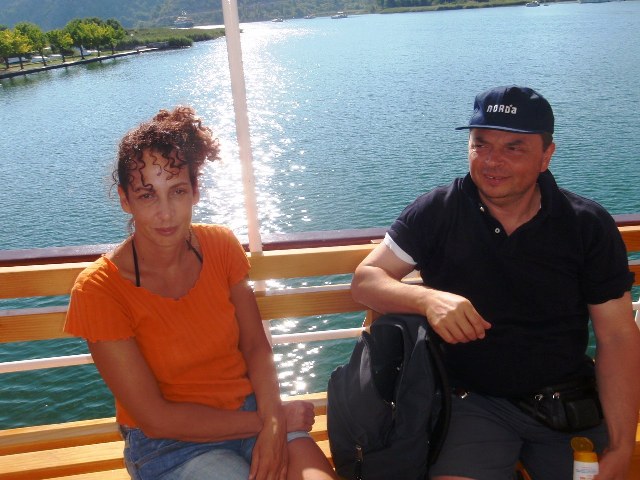 Sasha had been here, with her parents, as a teenager but it
had changed somewhat in that the age safety had arrived. No more jumping into
the water from any heights, no more sliding down waterfalls, all the fun things
now off limits! Made us think of and appreciate our time spent travelling in Venezuela
even more. Extensive boardwalks catered for the large numbers of people while
preserving the environment and giving easy access to falls and vegetation. We
went for a short "off the beaten path" walk to sit in the forest and
enjoy our cold beers and pre lunch nibbles.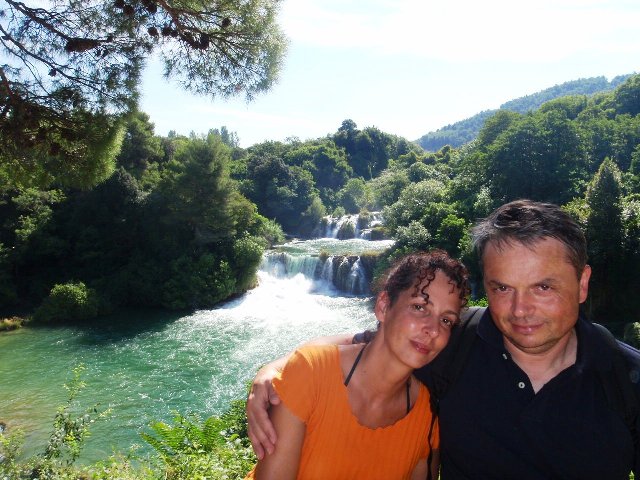 Krka Falls is also the site of the
second hydro power station in the world, going into operation just after the
US's Niagara Falls system. Parts of the water turbine were on display outside
the original power station that was undergoing restoration when we were there.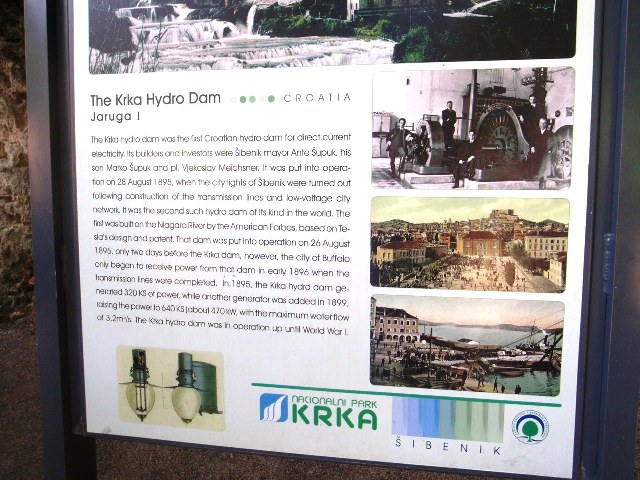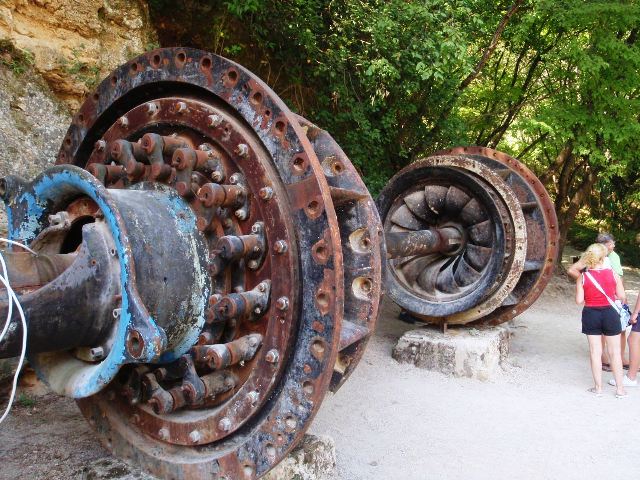 After picnic lunch we caught the ferry back and headed back down the river in
Ednbal. On the way up we had seen several oyster farms so on the way back we
stopped in at one. It turned out the guy running it had spent some time in
Fremantle. We bought 30 fresh, unshucked, oysters and continued on our way
while I squatted on the transom shucking oysters. Sasha prepared them in 3
variation for wonderful dinner starters.
After anchoring overnight off the deserted island of Dvainka
we were underway at first light to get to Sutivan, Brac for early afternoon. At
about 15:30, after numerous sms messages to and from our friend Joe we motored
into the tiny restaurant and bar lined Sutivan fishing harbour, barely big
enough to turn Ednbal around in. We made quite a spectacle of our selves, Sasha
and Nicoletta dancing on the bow to Men at Work's "Down Under" played
at full volume.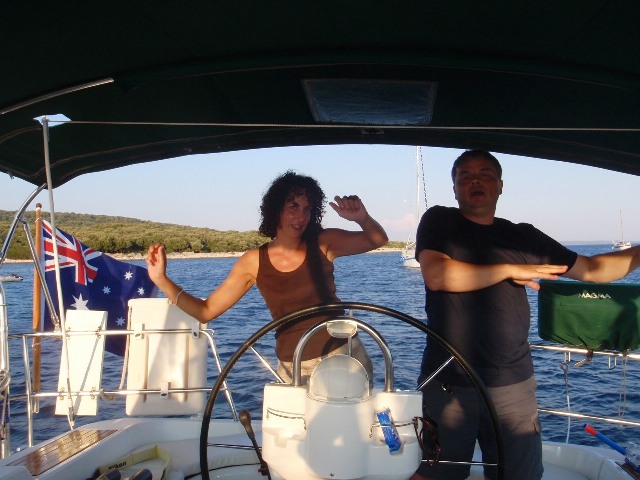 Joe was not impressed, he didn't even get up from his table at
one of the bars but a few other locals cheered us on from the dock! With no
where to put Ednbal we anchored outside on a rocky bottom with, to say the
least , suspect holding, while we went ashore. Later Sasha and I moved Ednbal
to alongside a ferry in the harbour before joining Stef,  Nicoletta, Joe and Patricia for dinner at a
local restaurant for too much excellent food and too much, very nice, wine.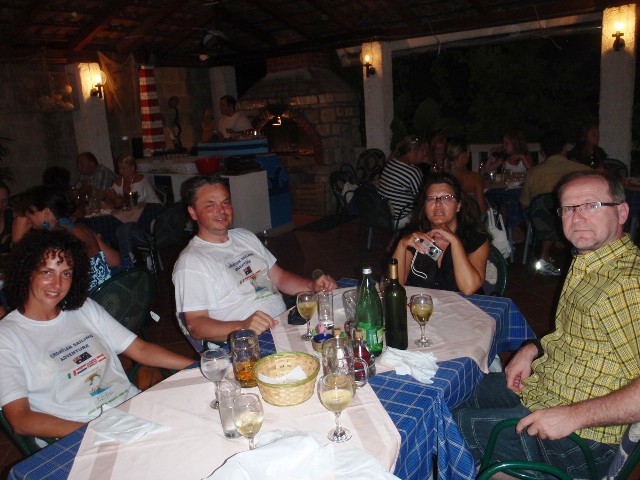 Another early start to get Stef and Nicoletta 6 miles across
to Split so they could catch a bus back to their car in Rijeka. After a fond farewell
and a reminder from one of ferry staff that we could not stay but 5 minutes at
the ferry dock, we sailed out to Drvenik where we anchored in a lovely tiny bay
village to have a nap and give Ednbal the once over before going to Vinisce to
meet up with one of Sasha's old Uni friends, Ksenija and son Dorian. Ksenija
and Dorian had dinner on board  then
joined
us the next day for an outing in the popular bay of Krknjas
on Veli Drvenik just 3 miles away. A lot of "catching up" was done as
Sasha last saw Ksenija in 2006.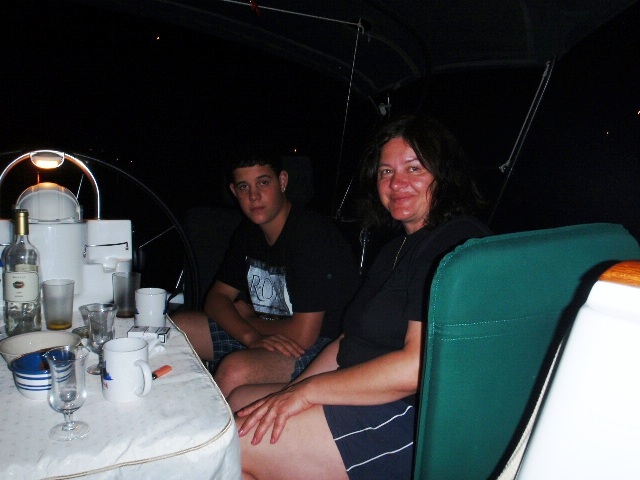 We returned them to Vinisce and anchored there
for the night before returning to Drvenik again the next day for the big water
maker pump repair.
It was now mid August, we had been without our watermaker
for a month. Stef had delivered the parts, packing seals, for each of the 3
cylinders in the pump, as recommended and supplied by the watermaker
manufacturer, Eco2tech in Trinidad. So far we'd had excellent service and help
from Eco2tech and hoped that we had all we needed to overcome water leaking into
the lub oil. It was very much a two person job, Sasha holding the pump as I
eased it away from the motor spline. Once separated we striped the pump and
soon saw the offending leaking seals. Like most jobs, the first time you do it
takes a long time especially the tricky parts like extracting the 4 part
packing seals from the cylinder.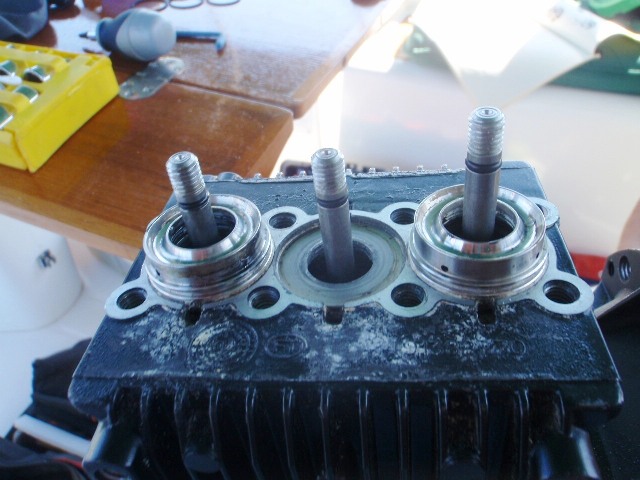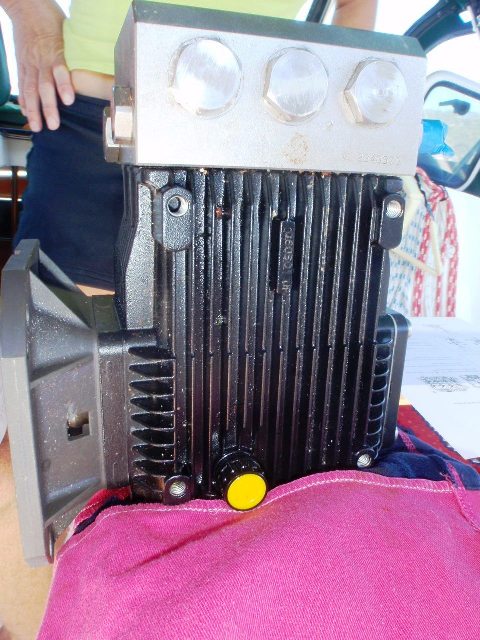 In the end it went pretty well and by the end
of the day the pump was back on the motor and running. Oh so good to have a
watermaker again, just would not contemplate cruising without one. Early
evening we had a visit from a two guys in a small power boat, one young, who
spoke English and one older. The young guy explained that he represented the
harbour master and wanted to charge us for anchoring. We had heard that people
try this on but this was the first for us. I argued that we had paid a newly
imposed tax, an accommodation tax for staying on your own boat, when we entered
Croatia and that covered all anchoring, we need only pay if in a marina or
using dock facilities. After some time he said he would go and refer the matter
to his boss, the harbour master. That's the last we heard of it. In the morning
we, along with three other anchored vessels were asked to leave as a ship was
coming in so we had an earlier than planned departure for Brac where we
anchored in a small inlet a mile from Sutivan. In Sutivan we met Joe and
Patricia with friends Miro and Vanda (live in Perth where they migrated from
Croatia about 20 years ago) and Adrian and Tanja (Vanda's sister) who live in
Rijeka  More boozing more eating good
times had by all.
Next morning we took Miro, Vanda, Adrian and Tanja for a day
out on Ednbal.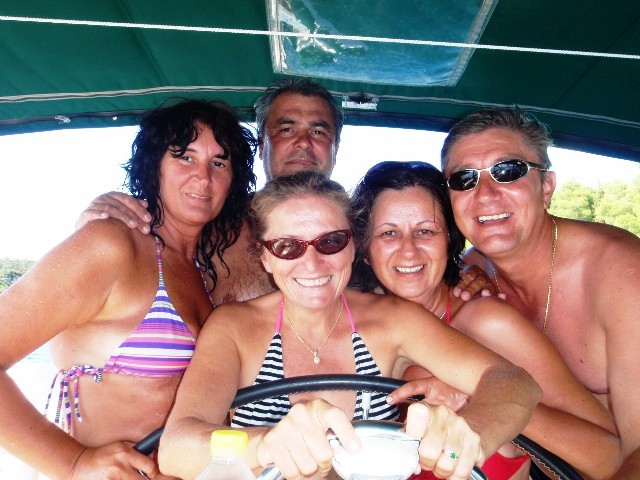 Again it's a small world,
Miro works with a former close work colleague of mine from 27 years back when I
was the Engineering Manager at Westinghouse Electric in Perth. In one of the
two bays we stopped at I found a mooring chain covered in lovely big oysters.
Free diving I managed to chisel about 20 off which Adrian put into a bucket and
swam back to the boat. More oyster shucking still using the right tool for the
job that we got in the USA, some of the biggest oysters I've ever seen.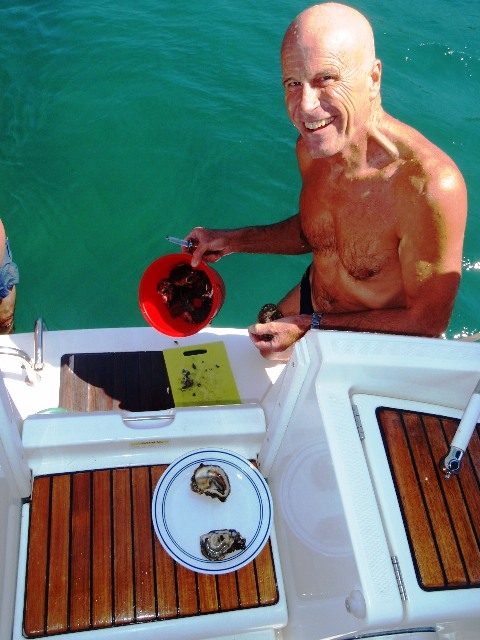 Later
we delivered our guests, except for Adrian who came with us to Split, back to
Sutivan. In Split we dropped Adrian off to watch an important soccer match and
anchored in Split harbour ready for sight seeing the next day.
A poor nights sleep, Split harbour was a very rolly
anchorage. Alas the most notable first impression of Split, the walk along the
water front promenade in front of the famous old city was the strong smell of
sewage. How anyone could sit in any of the many open air restaurants and eat
with that smell is beyond me. For those into famous old walled cities I'm sure
Split would be a place see but us being caught up in wall to wall people
dodging cheap souvenir shops is not our idea of enjoyment. After a walk around
and picking up some supplies of fresh fruit and veg we headed back to Ednbal,
lifted the anchor and headed for Vinisce where we had arranged to pick up
friends Kris, another old Uni friend of Sasha's 
and her husband, Miro. We sailed to the same nearby bay on  Veli Drvenik to give them a small feel of
sailing that they had never done and a stay in a nice calm fairly clean, except
for plastic items scattered on the sea floor, 
anchorage. Kris and Miro said they didn't drink, could've fooled me!
Sasha and Kris both felt they did not have enough time to catch up although I'm
sure they must have had saw jaws. In no time we were dropping them off again
in  Vinisce and heading back to Split,
this time anchoring in the much calmer Kastelanski Bay on the northern side of
the city and Marjan hill - Split's major recreational area.
As we had one gas bottle empty and were low on provisions it
was time for a restock. Both the gas fill station and a large shopping complex
with supermarket, homeware and hardware were virtually on the shore on the
other side of the 2 mile wide  bay. On a
beautiful calm warm day after our morning exercise and swim, a routine that had
suffered with visitors on board, we headed off. Only tricky part was dodging
the sea planes that were continually coming in to the calmest water, ouching
down, filling their tanks and water bombing nearby bush fires. We made it
without getting run over although the return journey was somewhat slower with
the dingy laden with food. After another warm sunny  day of relaxing on board and occasional swim
in the cool, 18C, water we did some more walking and sight seeing before
returning to Brac and a couple of bays we had not seen and refuel.
After refueling at Milna on the Western end of Brac we
sailed the few miles West to Solta and into a small bay near Krusicki Rat
(point). A lovely narrow bay wide enough for just one boat but deep enough for
a few to anchor one behind the other. On shore were a few houses, some summer accommodation,
no shops and a hilly walk. It was late afternoon as we walked up the hill and
past a house perched on the side of a hill overlooking the bay and still under
construction. It was obvious a lot of work was being put in, 10s íf not 100s of
metres of stone terraces to make some flat garden beds, two level house in
reinforced concrete, the typical 
building method here. As we walked the road that curled around the house
a guy called out to us, where were from? "Australia", "so am
I" came the response in heavily Croatian accented English. We stopped and
chatted to Jerry, 75, lived 50 years in Spearwood, just South of Fremantle, was
here to build a house on what was his father's land, spending 6 months a year
(being Australian that is all he could spend on a visa) for the last 5 years
working on the house doing it all himself! After learning his life story and
getting the "cooks tour" we bid him farewell and wished him
luck.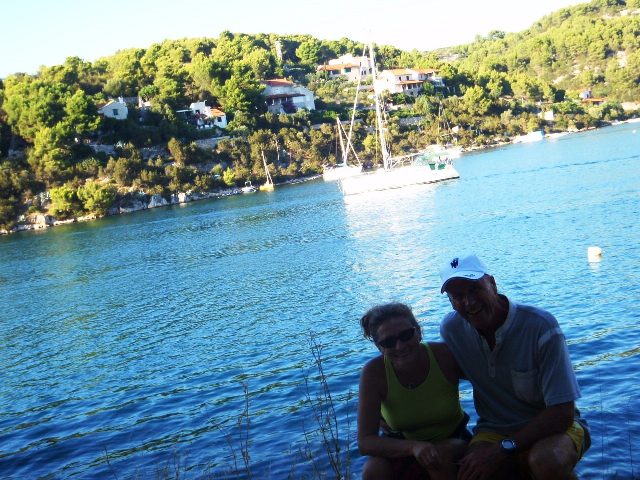 From Solta, 10 miles over to Hvar and Pribinja Bay to hang
on one of the moorings put down by the "Gringo" restaurant owner. The
restaurant being one of only a few buildings in the bay. On a warm, almost hot
day in the sun, we hitched a ride into Hvar town about 5km away on the other side
of the island. It was busy, ferries coming and going, both local and
international, mainly Italy, day sailing, well motoring, 100ft charter boats
and a sprinkling of yachts in the marina and anchorage.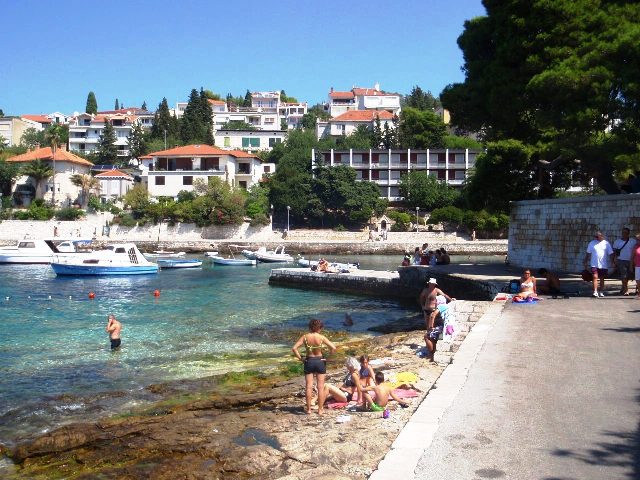 Although the main
square and harbour side were busy as soon as you walked a hundred metres in any
direction people were almost scarce. Apart from Split old city and the city
centre of Hvar Croatia didn't seem to be having a heavy tourist season. After a
couple of beers, from the supermarket, and light lunch, from a pastry shop,
consumed on the upper level balcony of the museum, overlooking the harbour we
walked back to the dingy and Ednbal. We felt obliged to have dinner at the restaurant,
mistake, although our guide book recommended it, the food and wine quality was
poor and the prices higher than we had seen advertised for the same sort of
dishes in downtown Hvar. We vowed we would not go to another restaurant for at
least a month.  On the way into the restaurant,
from the water side, we said hello to an older guy cleaning fish to be cooked.
When we left he was still there so Sasha had a chat with him. Turns out he was
retired, living on a Croatian pension of 12,000 Kuna  (less than $3,000) per year and was helping out
his son who ran, did not own, the restaurant. He also spent time, in the 1960s
in Albany, Western Australia.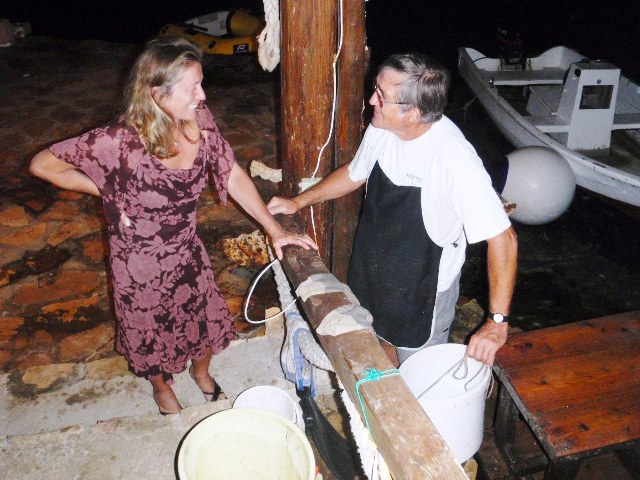 He was quite critical of Croatia, saying that
people thought the old Yugoslavia was bad but now found the new Croatia far
worse and going down hill. Before sailing out in the morning I took a harvest
of lovely mussels from our mooring rope only to have the restaurateur come out
in his dingy to tell me off as they were his mussel. Still I kept them so we
had Sasha's chili mussels for dinner that night in Pakleni otoci, Marinkovac
Island, darn site better than any restaurant. With a forecast of deteriorating
weather, strong North wind, we sailed back around to the North East side of
Hvar into a very sheltered inlet  area
called Luka Tiha within the large Starigrad Bay. So protected we hardly noticed
the wind and at the same time we went walking on some of the trails that criss
cross the headland.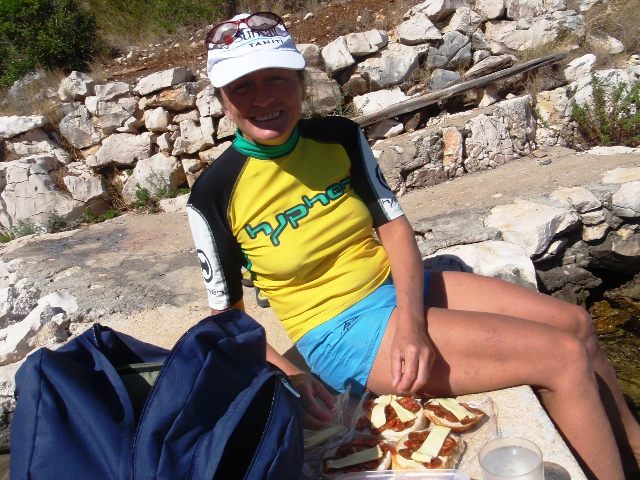 Even dingyed the couple of miles to Starigrad
village, a very nice spot, similar to Hvar on a smaller scale. A couple of days
later we were on our way back to Sutivan and saying goodbye to Joe and Patricia
who were soon returning to Abu Dabi where Joe works.
Summer holidays in this part of the world were all but over!