EMYR Part 1
Category: Mediterranean
Created: Saturday, 24 April 2010 17:06
Written by Roger Boxall
Hits: 2133
EMYR Part 1
EMYR 2010 Part 1 – From Istanbul to Alanya
24 April was our first day of the East Mediterranean
Yacht Rally, commonly know as the EMYR. We had moved into Karakamis Marina on
the 23rd and the first get together, our introduction to the EMYR was at the
briefing in the afternoon. We were presented with our "packs";
shirts, flags, name tags, pins, group colours and most important, the rally
manual, to be called the bible! Most questions could be answered in the bible.
An English couple, Dave and Kath Gerrard, two rally committee members would
sail with the rally as the main organisers through out. After the briefing was
cocktails (beer, wine, raki, gin, vodka and mixers along with cheeses, olives
etc) followed by magnificent dinner of local Turkish food.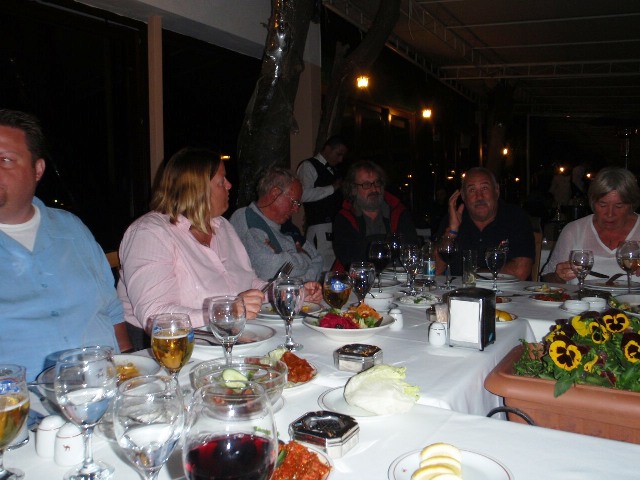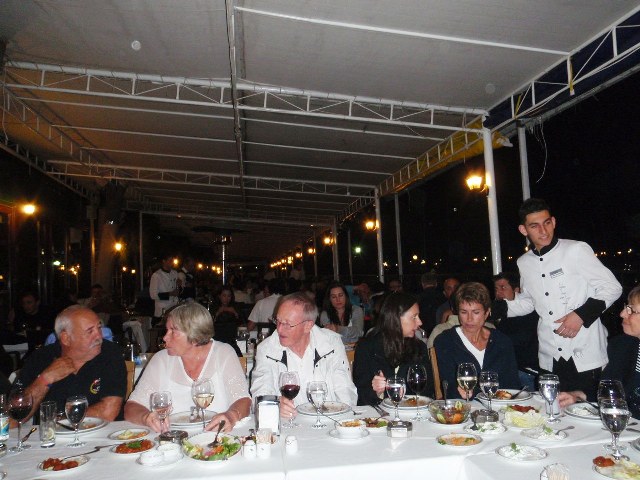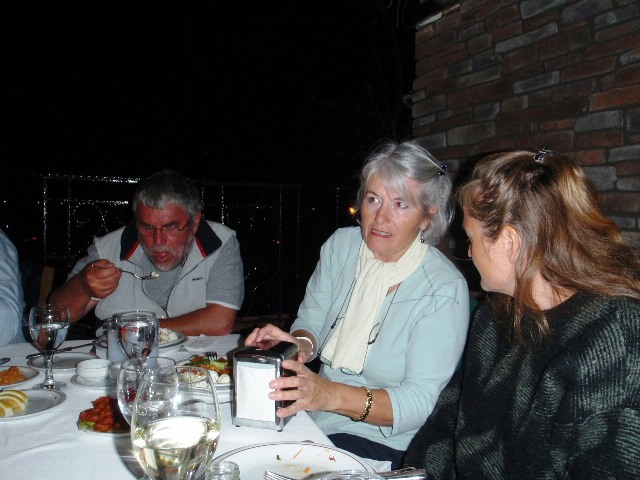 The rally started in the early hours of 25
April with 5 boats heading down the Sea of Marmaris to the first stop, Murefte,
close to the Northern end of the Dardanelles. With next to no wind we motored
most of the way. Shortly after arriving at the fishing harbour it started to
blow, by night up to 30 knots. One of the yachts, Manca, that was med moored,
his anchor out and stern on to the dock, dragged his anchor and ended up side
on to the dock, pinned there by the 30 knot wind directly side on. Luckily he had
plenty of fenders, 14, and while there was no damage the crew had an
uncomfortable sleepless night. Next trick, how to get the yacht off the dock without
damage. I managed to drag the anchor chain down the side of the boat and with
rope on a winch relieved some to the pressure of the wind pushing the vessel
against the dock. After much deliberation and advice from the harbour master,
in Turkish of course, it was decided to tie all Manca's long lines together to
reach the adjacent dock and use a 4 wheel drive vehicle to tow the yacht off
the dock so he could then use his engine to retrieve his anchor and go
alongside the dock on the lee side of the harbour. It went off without a
hitch!. When we arrived we tied alongside the section of dock that has us
pointing directly into the wind. Although quite comfortable, Ednbal ended up
covered in sand that blew down the dock, it would be several days and washes to
get rid of it. On 26 of April, the day after ANZAC day, there was a bus tour of
Gallipoli but as we had already seen it and Sasha was down with a cold, we
stayed on board, rugged up against the cold, still 30kt North wind. In the
evening a rally dinner with locally whole fish as the main accompanied by many
other local Turkish side dishes. A local, very enthusiastic Turkish band
(guitars, sax, bongos and a sort of banjo) provided wonderful entertainment and
music to dance to. With the wind gusting well over 35kts our departure the next
day was delayed and we had a very interesting tour of a couple of local wineries
instead. One in particular was very much a small local family affair, certainly
nothing sophisticated, just basic wine making, aging and bottling. They were
very proud of their organic wines.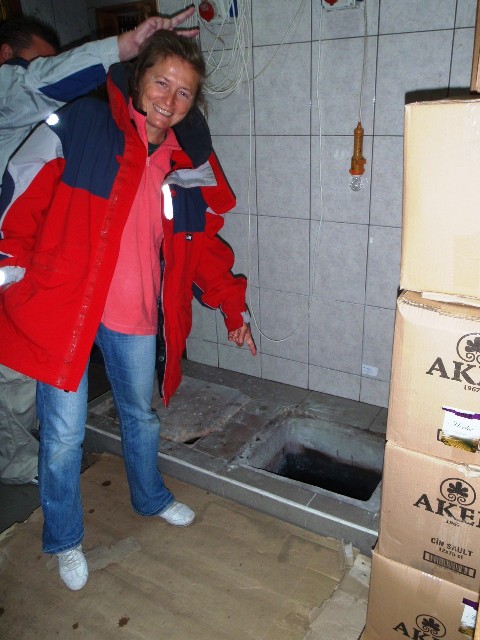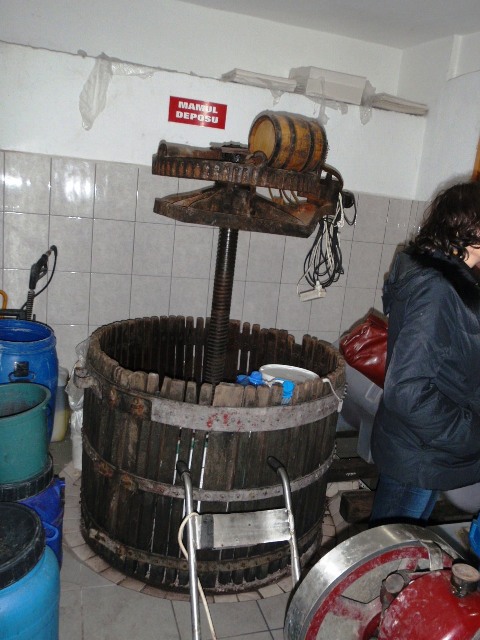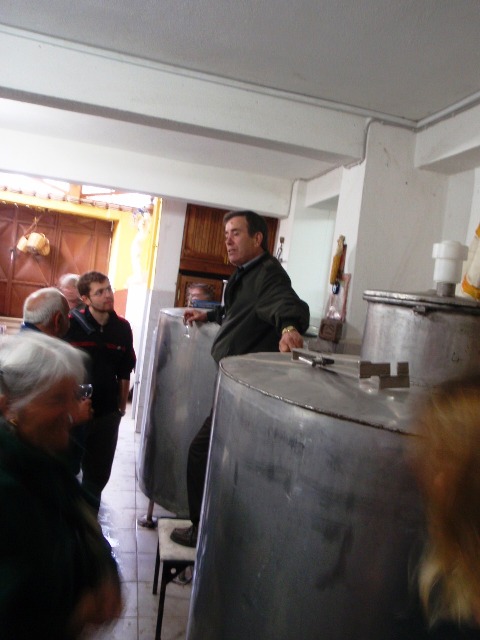 With the North wind forecast to drop to 15
to 20kts we set off the next morning down the Dardanelles, this time with the
wind and current for one of two islands in the Aegean, about 80nm away,
Goekceada or Bozcaada. The former to the West, the latter to the South. Dave
would decide, upon exiting the Dardanelles, whether the wind direction and
strength would enable us to comfortably sail to Goekceada or whether to run
with the wind and current straight down to what was programmed to be our 3rd
port of call, Bozcaada. We ended up tied alongside the dock in Bozcaada harbour
in the late afternoon. Having called in on our way up to Istanbul we were a
little familiar. On the island tour the next day we visited the major
attraction, wineries. This, former Greek island has, for its size, extensive
vineyards and several wineries. One that we toured in particular, owned by a
successful architect, was very modern, automated, stylish and produced a range
of somewhat more expensive wines.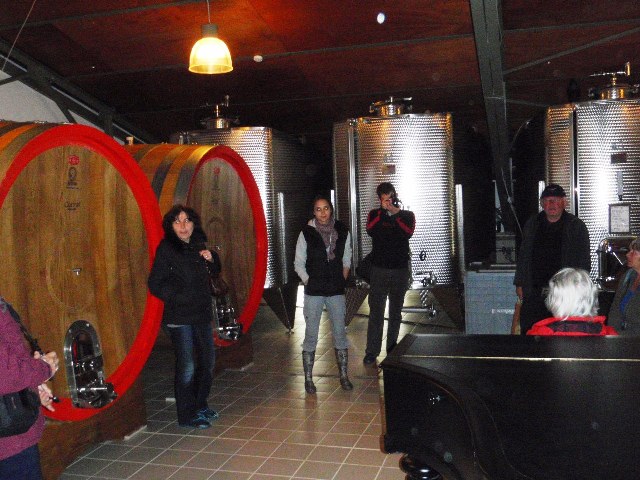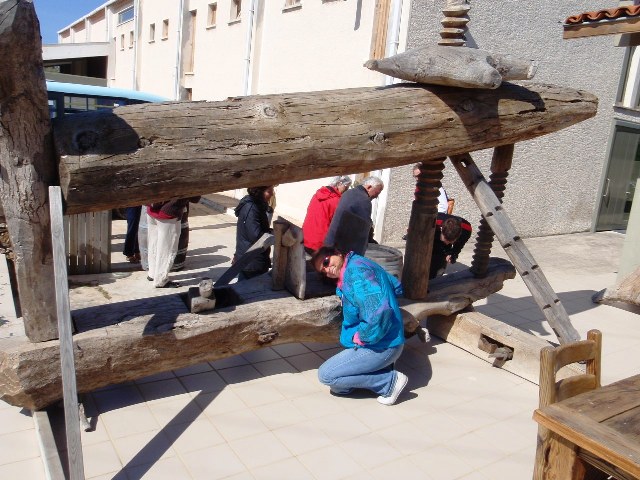 In the evening we attended a rally dinner
of local foods and beautiful whole barbequed fish as the main course.
Next stop Ayvalk, 50 miles which again we
managed to sail most of the way in light winds. This time we were in a full
marina. For some reason the organised tour to Pargamon had been cancelled so we
caught a bus and did our own thing. Of main interest were 2 sites, the original
walled city dating back to centuries BC and the first recorded hospital. It was
a most enjoyable walking self guided tour on a lovely sunny day with one of the
live wires of the rally, Marie from the French yacht Marick.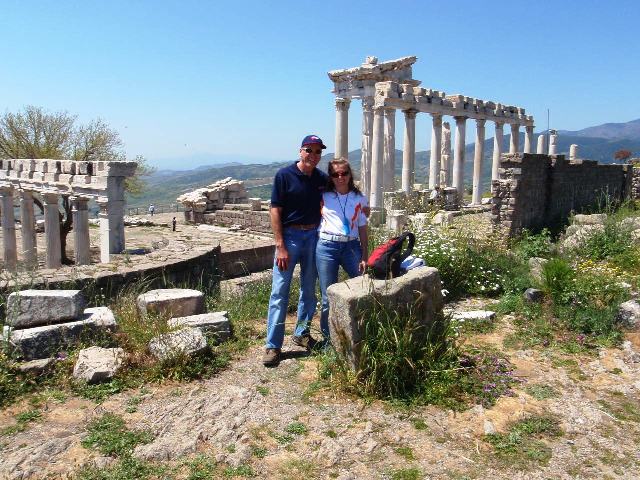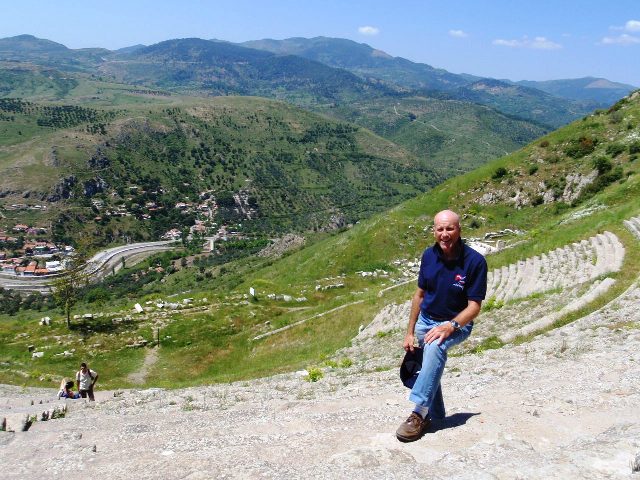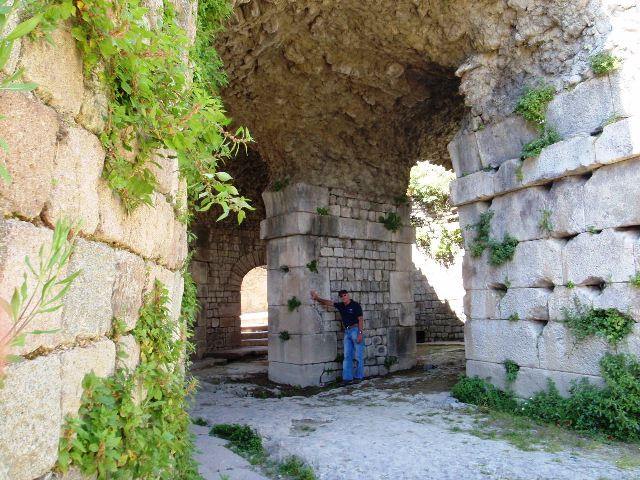 We had a local traditional lunch of "lamachun"
(crisp tin pizza dough with minced meat and spices spread on top) at a tiny
street side cafe with tables on the footpath. When we ordered beers the waiter
ran to the small supermarket down the road to get them, real service.
Next an uneventful sail, on 2 May, 70 miles
to Cesme. What a lovely town, in a brand new marina not yet officially open,
with a huge open air fruit and veg market and a long open promenade along the
water front. The scheduled trip to the ancient site of Pamukkle was cancelled
due mainly to lack of interest, suited us just fine. We caught a local bus to a
small neighbouring port where there were hot springs in the rocks. It was
natural and enjoyable sitting in the sea with the locals and swimming out into
the cooler waters occasionally. For a bit of exercise we walked the few miles
back to the boat, stopping for a beer on the beach on the way. Beats rocks and
ruins any day! The evening rally cocktail party had full spread of local finger
foods, beer, wine and Raki. By now, we had learnt that rally cocktail parties
don't mean you get served cocktails. 5th May and off to Kusadasi, 64 miles,
sailing half, motoring the rest with no wind. Major highlight here, the full
day tour to the partly excavated ancient city of Ephesus and the supposed home
of the Christian Mother Mary.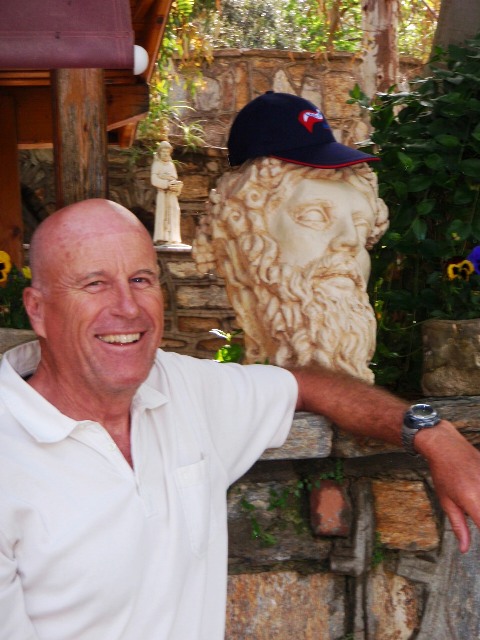 What a disappointment. It was a seething
mass of people, bus load upon bus load poured out. Our guide did her best but
it was almost to the point of ridiculous. Heavy duty touristing is definitely
not for us. Pity really as Ephesus is one of the premier ancient well preserved
site in Turkey.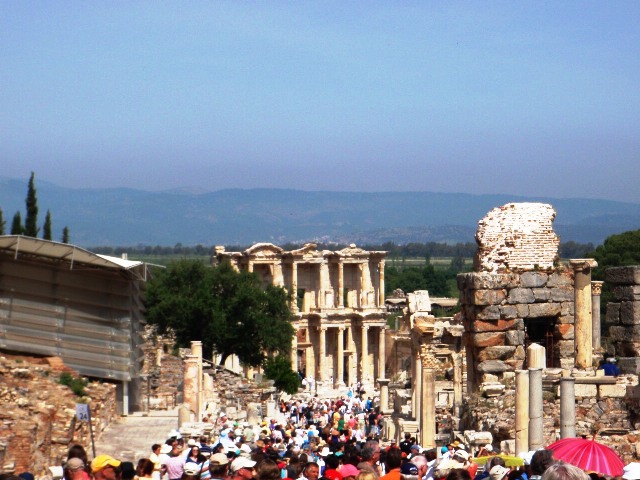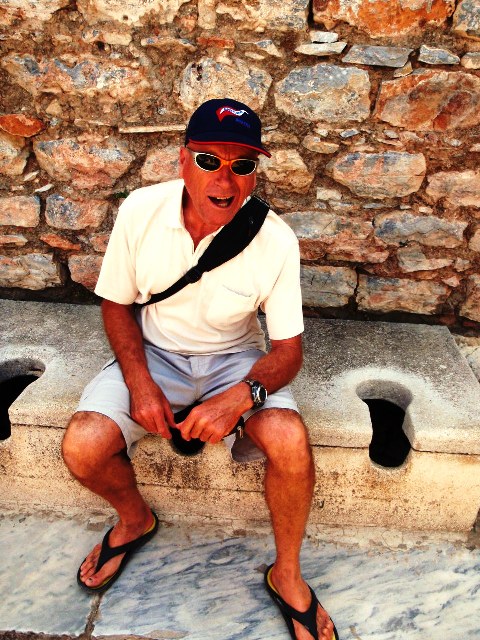 Evening BBQ was cancelled but the cocktail party, a little more

down market this time, the next night gave a chance to mix with crews of newly
joining yachts now up to 12. I suddenly found it was my turn to present the
small model yacht gift, on behalf of EMYR, to the town Mayor.  From Kusadasi to Didim Marina, now this was a
change, brand new marina, less than a season old, set quietly out of town with
full hotel luxury including a big swimming pool that we took full advantage of.
A half day tour to the famed Temple of Apollo and the ancient city of Meletos
was offered. After our last experience we were not too keen but went along.
What a difference. A great guide and our group, around 30 people were virtually
the only ones there. We enjoyed both sites, an awesomely large temple, a lot
still standing, and the city with theatre, baths and other municipal amenities,
thousands of years old, still standing.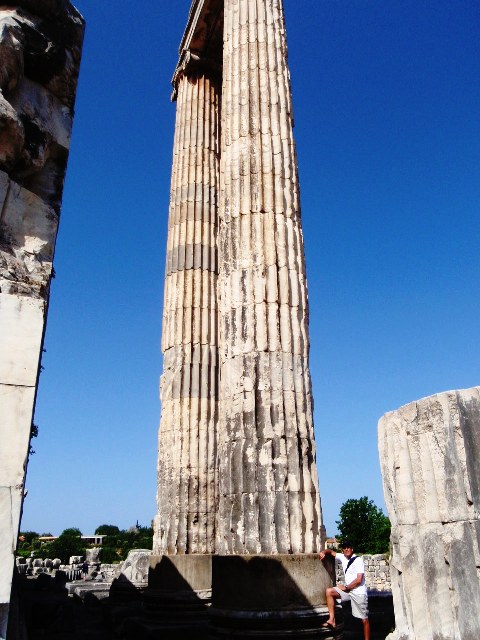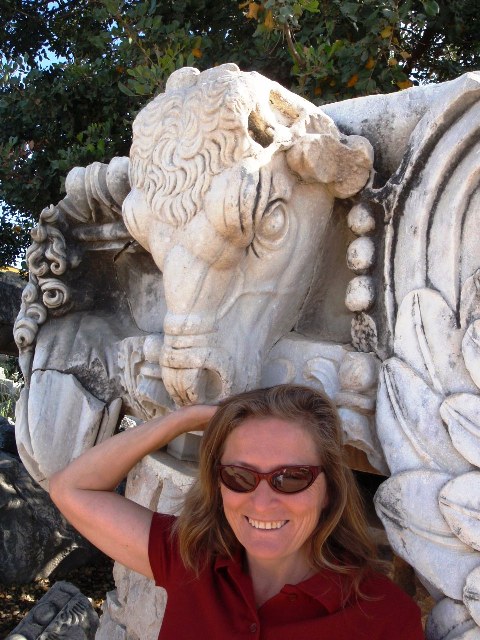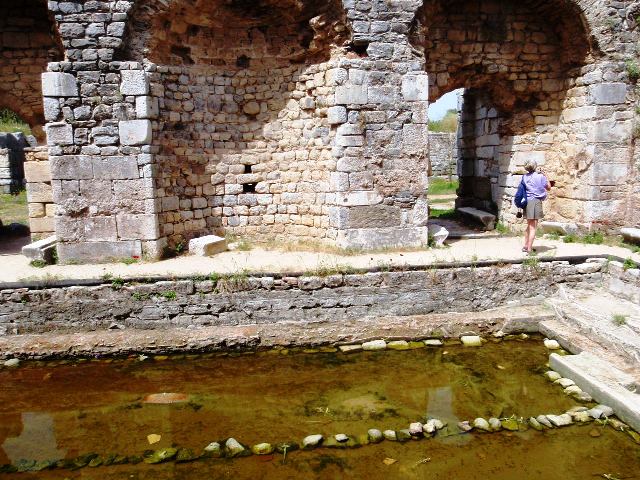 Back at the marina we had the cocktail
party not to be forgotten. A variety of local beers, top knotch wines and
finger foods delivered to all guests by very attentive waiters all set around
the pool. On top of that was the centre piece, coloured ice carvings and
"flowers" made from fruits and vegetables, just stunning. Also me met
with Rob Henkell, Imray author there.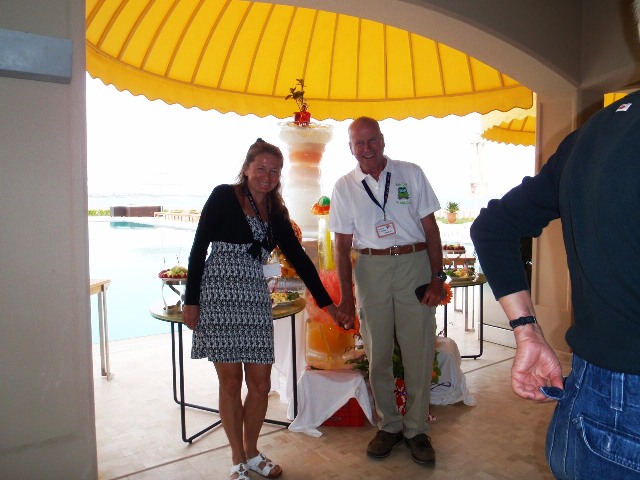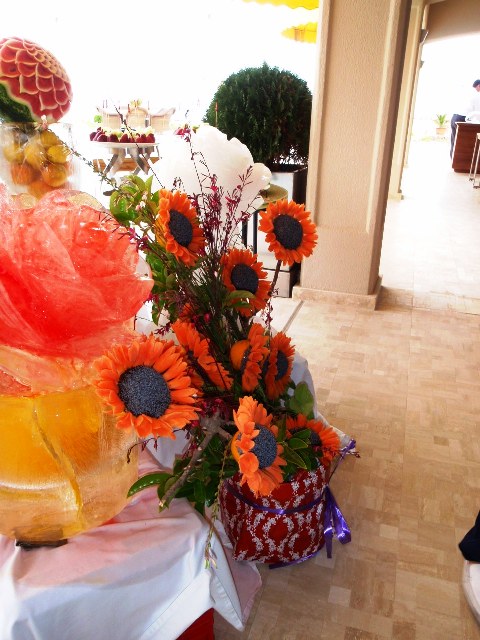 Two days later we were off to Marti Marina,
87nm and very close to where we started out, Marmaris. Major decision was when
to leave Didim in order to catch the forecast sailing wind. Most yachts left
early in the morning to anchor overnight somewhere on the way. They ended up
motoring most of it into a 15kt head wind. The forecast was for the wind to swing
from South East to South West later in the afternoon so we, along with 2
others, Mette Wuns and Marick, decided to wait. It turned out to be a good
decision, we didn't stop anywhere and finished up at the marina early the next
day, having sailed most of the, albeit slowly at times.
At Marti we met up again with Aussie

friends, Jim and Carola off the yacht Koza, cause for celebration! The fleet
was now up to 14. We caught the bus into Marmaris mainly to buy some bits and
pieces for Ednbal, makes it a lot easier when you know where everything is.
Seems these EMYR organisers have some strange concepts of BBQ. The evening
"BBQ" was again more like other cocktail parties, certainly no meats
or seafood on anything resembling a BBQ, perhaps a bit more like a buffet, good
food, booze and fun, all the same. I might add that all the dinners and
cocktail parties are put on by either the marinas or the local municipal
authorities. At most dinners we had to buy drinks but otherwise all provided.

Our next port was a major stop in that the
fleet suddenly swelled by an additional 30 plus vessels at Gocek. Once again we
were in a new facility, well new floating docks with limited on shore
facilities. The docks, with fully covered walkways, were certainly something
else, with what can only be described as "angle parking". Here we met
up with several friends made during the winter in Marmaris, including former
hard standing neighbours, Aussies, Patti and James off La Aventura. Not
forgetting, Mike and Carin off Windjammer, Chris and Steve off Scott Free,
Trevor and Lesley crewing on Serafina. We all enjoyed a few beers sitting on
the couch seats on the covered dock.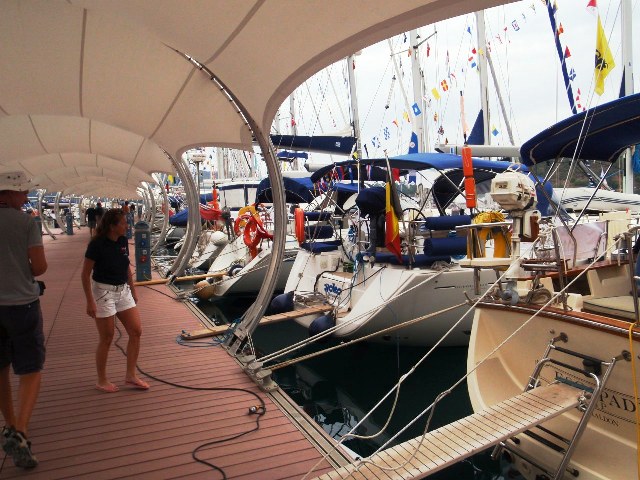 The highlight of the tour which included a
ferry boat ride up the river to view ancient cave tombs, from a distance, was a
visit to the mud baths. Somewhat smelly and, of course slimy, would be an
adequate description but one just had to be in it, even if most others were
not.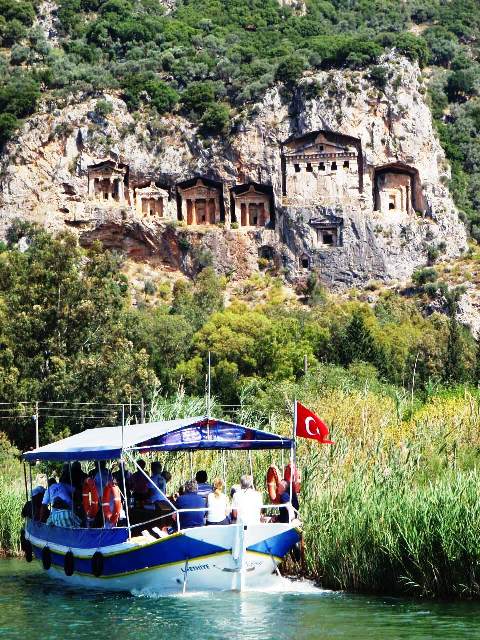 Our next leg was 68nm to Kekova Roads. For
us a small diversion to the harbour of
Kas where we caught a ferry to the
nearby Greek Island of Kastellorenzo for a visa run.
Our 90 day Turkish visa would expire before the rally left Turkish waters so we
had to renew it. Easiest way, leave the country by ferry, Greek Island,
and come back in again, collecting a new 90 day visa on re entry. We spent a
relaxing few hours in a picturesque bay, in a typical Greek style village,
stocked up with pork chops and nice Champaign, and returned back to the Kas
harbour in time to set sails for Kekova Roads.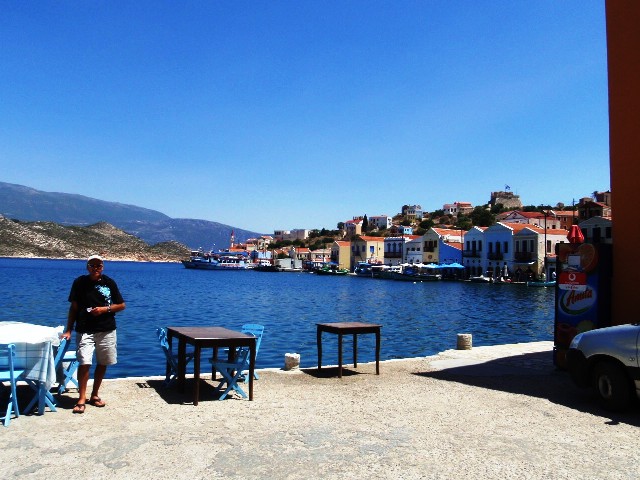 In less then 4 hours of a lovely spinnaker
run, we rejoined the rally group. Kekova Roads was an anchorage for some,
including us, due to the limited space on the small fishing wharf. So nice to
be on an anchor again away from the crush of a marina. We went on a short glass
bottom boat tour to see a "sunken city", required considerable
imagination to make anything out of a few rocks on the bottom!. After a few
drinks and dancing to live music at the cocktail party we went out for dinner,
with Trevor and Lesley, and stumbled across a wonderful small, open air, local restaurant.
Next door was a carpet shop, the owner of which came and chatted to us in near
perfect English.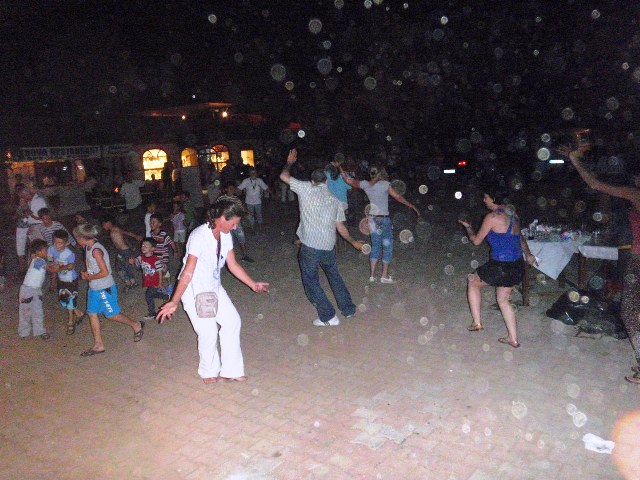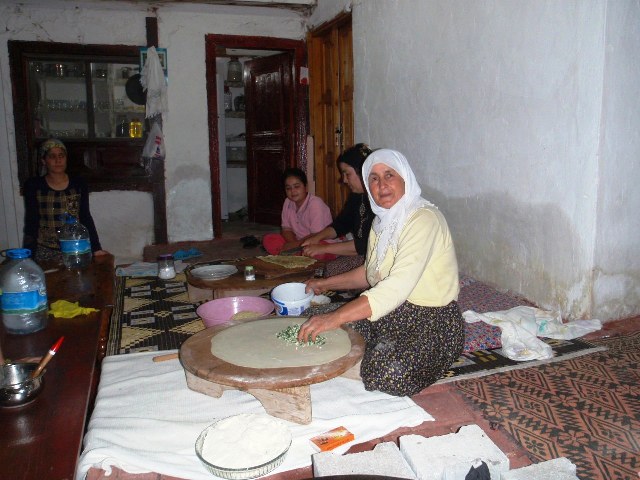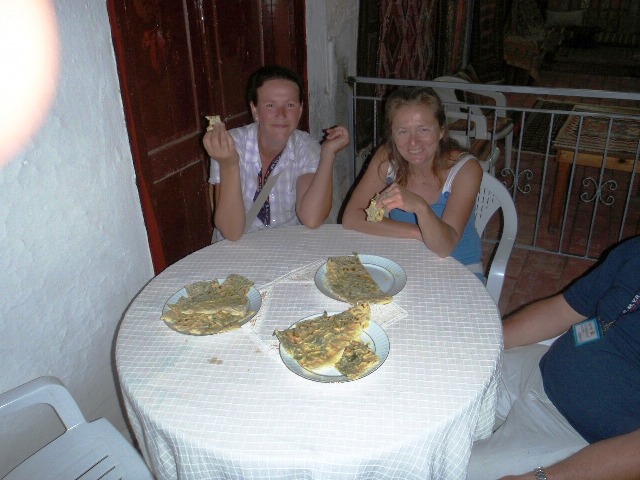 Lesley and I went to his shop to have a
look, despite assuring him we were not in the market for any carpets or rugs.
He showed us his stuff and his house then gave us a big bag of tomatoes and
fresh herbs from his garden. Fantastic Turkish hospitality. From Kekova Roads
off, this time for a short sail of 20 miles to Finike. Here Sasha went to a
Hamam, along with many other rally participants, but unfortunately only got a
"cut down tourist version" of the treatment. After walking the
streets of Finike another evening cocktail party with live music and dancing,
man the social activity was starting to take its toll.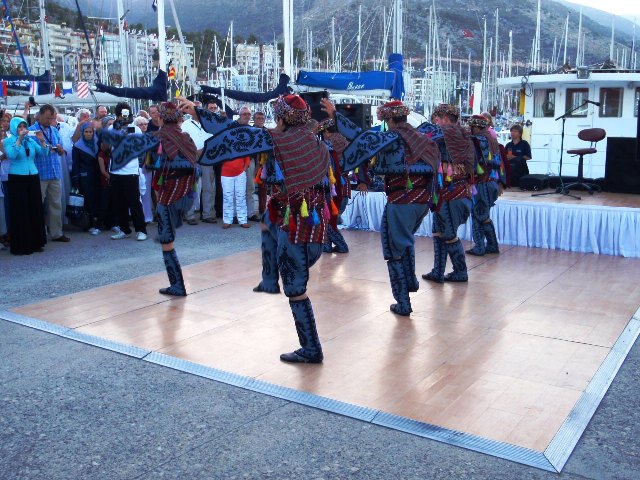 18 May, 45nm further, around the corner,
literally, sailing most of the way with almost gale winds, but abeam and at aft
quarter, we had some adrenalin moments, before settling in Kemer marina.  Cocktail party on arrival was well deserved.
A lovely setting, lawn under trees overlooking the marina. In town, I indulged
in a shave, face and head, at one of the many barbers. The barber used the
flame thrower technique to eradicate the profuse growth of hair from my ears - interesting
to say the least and much to Sasha's amusement.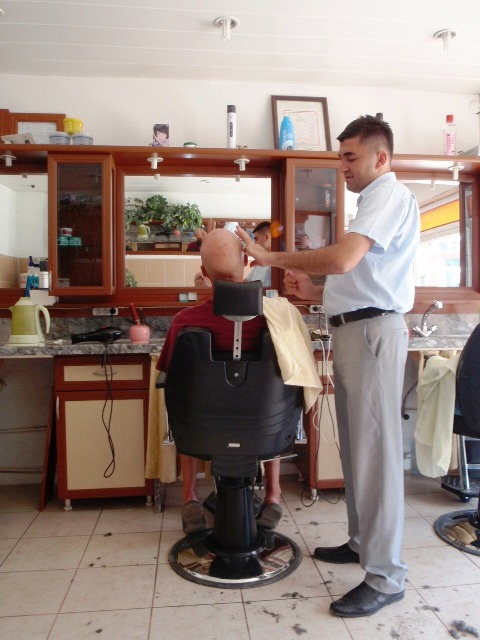 A walk around town, a few provisions, beer
stocks were getting low, and back to the marina for another cocktail party
followed by a formal, jacket and tie, dinner. Full table service with wine for
over 200 sailors, very impressive. From Kemer another 68nm to Alanya, a new
marina where most of the remaining yachts to join the fleet, bringing the
number to over 70, were waiting. A highlight was to be a 2 day tour to the
ancient site of Cappadocia, some 700km inland, featuring a land of fairy
chimneys – rock columns, pyramids, mushrooms and a few camels – were formed
alongside the valleys of cascading white cliffs, when Mt Erciyes erupted. The
intervening millennia added the remarkable Cappadocian canvas, with Byzantines
carving cave churches and subterranean complexes to house thousands of people. Unfortunately
the whole thing turned to a bit of a disaster. Three coaches carrying 120
sailor tourists left Alanya for the sights at 4:30am. We had breakfast and
lunch on the way before descending on the sights. The 3 buses stayed together
so that at each site there were 120 people crawling of each other.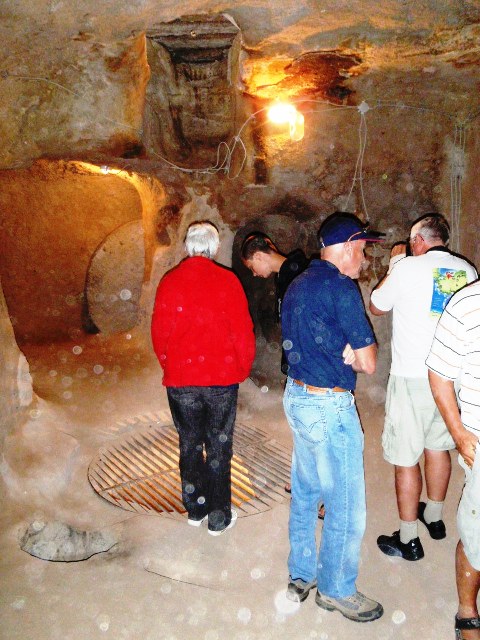 Guides had
trouble keeping track of people and, due to the time constraints, stops were severely
limited and the tour soon degenerated to site tick off, seen that even if only
from a distance!! To top off the day the tour organisers booked a hotel in
another town over 100km away where we arrived at 10pm very tired, hungry and
frustrated to have dinner, sleep and be at breakfast for 6am ready for the
drive back to Cappadocia, more sight seeing and the trip back to the marina. We
both agreed that cattle truck geriatric touring was not for us! The next day we
went white water rafting, what a completely different experience. Sasha and I
went in a two person canoe, they called it a kayak but it was more like a blow
up rubber Indian canoe, that we managed to keep upright for most of the time.
With good river water levels we had a most invigorating 14km ride down the
river with a couple of falls of a metre or so. Part way along we stopped to
stretch our legs and jump off a tree platform about 4m above the river, all opportunities
for the rafting operators to take photos to try and sell to us at the end.
Another break for lunch and beer before the final few km to the end. Sure beats
the hell out of looking at ancient rocks!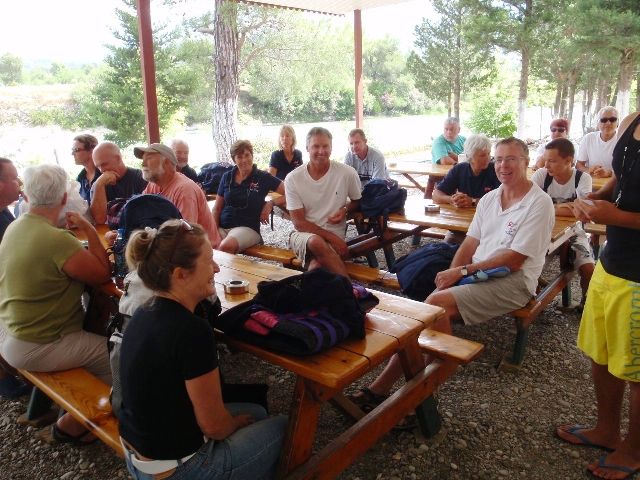 Last activity in Alanya was the EMYR
games with people competing for their rally group, ours was group 2, orange
colour. Most took part in various water based events, dingy rowing, men's, women's,
2 person, 4 person,  raft building and
race, and the finale "water polo", played using dingies, I won't even
begin to try and describe it.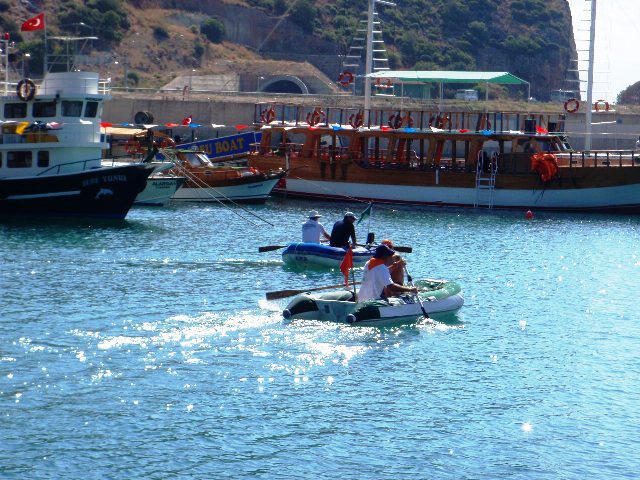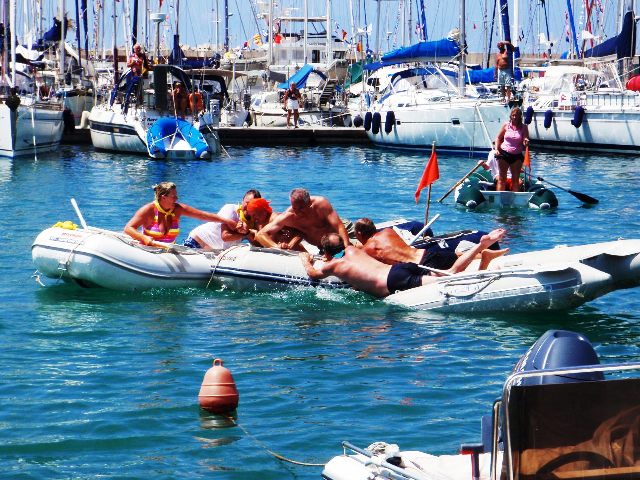 Anyway all good fun and orange team lead by Kiwis
Amanda and Bruce from Kiwi Volant won the day!!